---
Review of Prada Spring 2023 Men's Fashion Show
Prada's Summer Wardrobe Checks Out
By Angela Baidoo
What could be simpler and more symbolic than a sheet of fresh paper? The many ways with which this humble material could be used was explored by Miuccia and Raf, first in the invitations – which unfolded to make up a 'wearable' coat – to the set design that consisted of huge rolls of paper that was cut into to replicate the windows of a house, much like that of a paper dolls, but what it really reiterated was the brands desire to convey "simplicity as a concept, as a choice" as confirmed by Mrs Prada herself.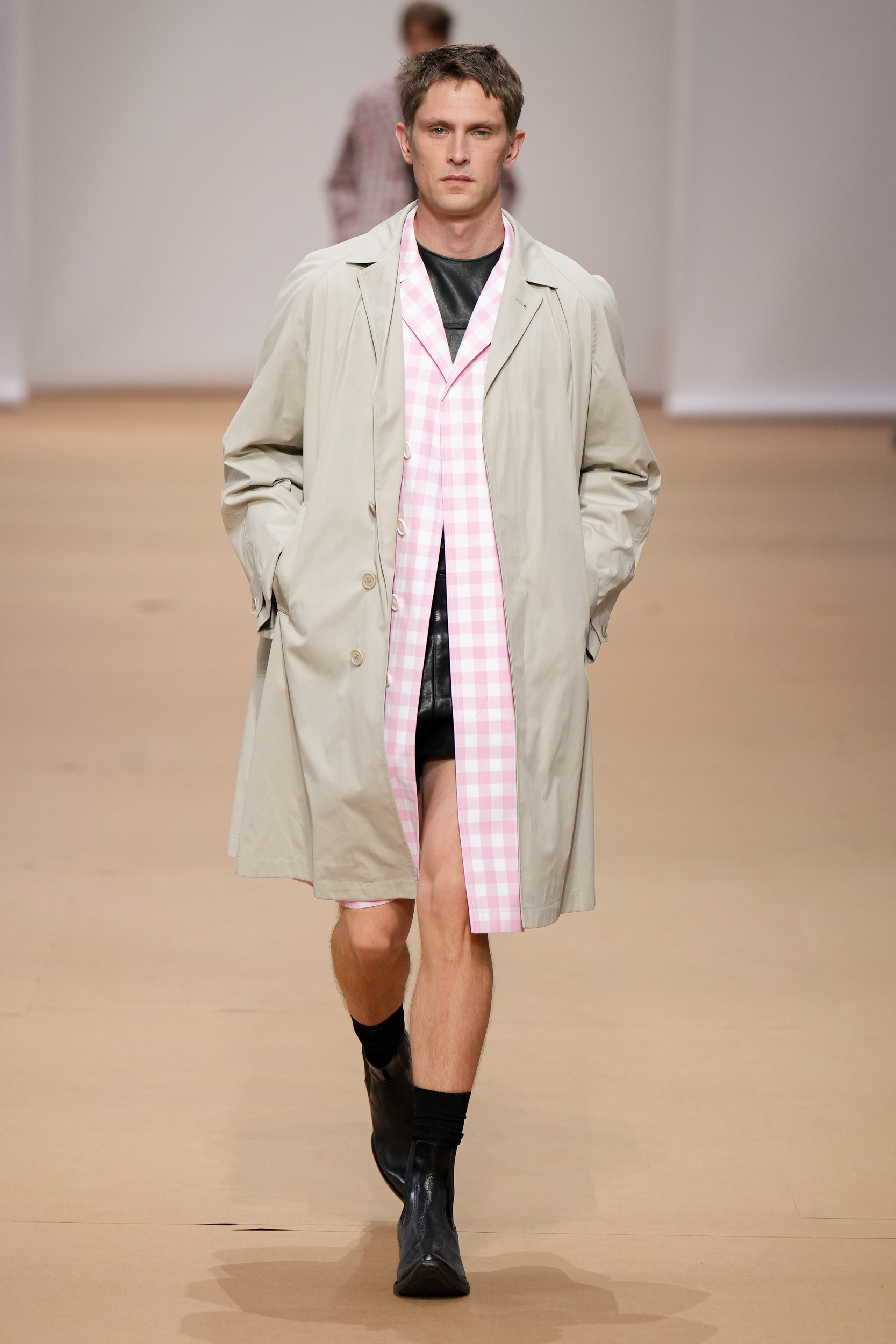 We are attracted to the idea of 'normal' clothing – to classic pieces…every garment is simple, direct, pure, but there is a complexity to their combination.

Raf Simons
Miuccia and Raf happen to be right, of course. Everyday the decisions we make about what to wear are a choice, as was outlined in their show notes, what we put on is a choice we make, eliminating from the thousands of options we have, even when those options seem identical there will be something that speaks to us – a buttonhole placement, collar shape, or shoulder construction- and we will know that, that jacket, that pair of jeans, or that shirt is the one "So much [of] the base is really a conceptual choice – a coat, a jeans, a suit. They appear simple but are the result of a process, of choice" confirmed Miuccia Prada on the shows key theme.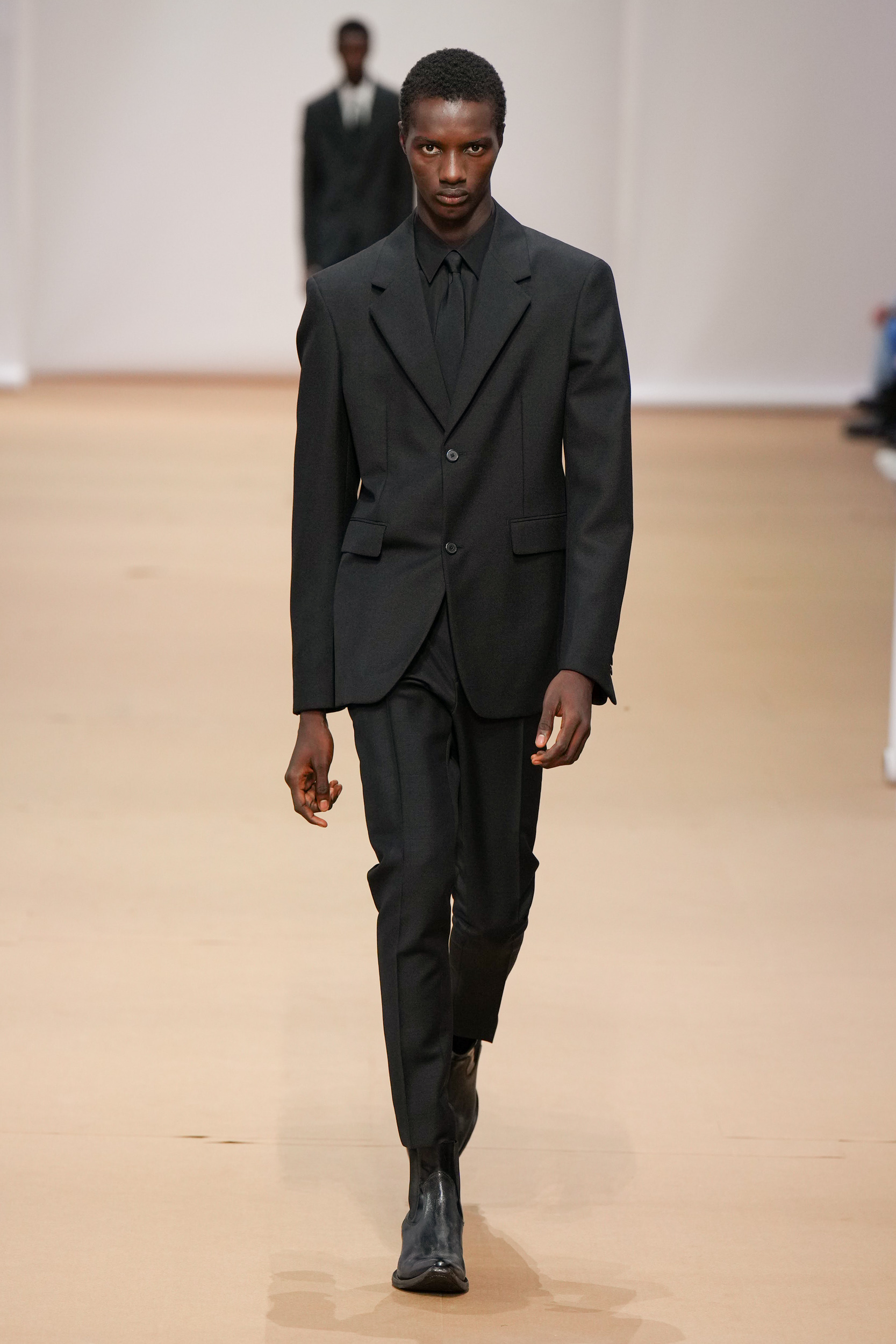 This season owes a debt of gratitude to the LGBTQ+ community, as everything from the fitted tank to the short shorts – trending across the week – has been borrowed from this community. Designers are presenting collections that are encouraging men to get comfortable in displaying their sexuality more overtly knowing it won't hinder or affect their masculinity. Prada's take will be another step in the widespread acceptance – read commerciality – of this look, as the leather ensembles of shorts, vest, shell top, and fitted bomber can be pulled apart and worn separately for any easy transition into the trend, or worn together for a kinkier twist.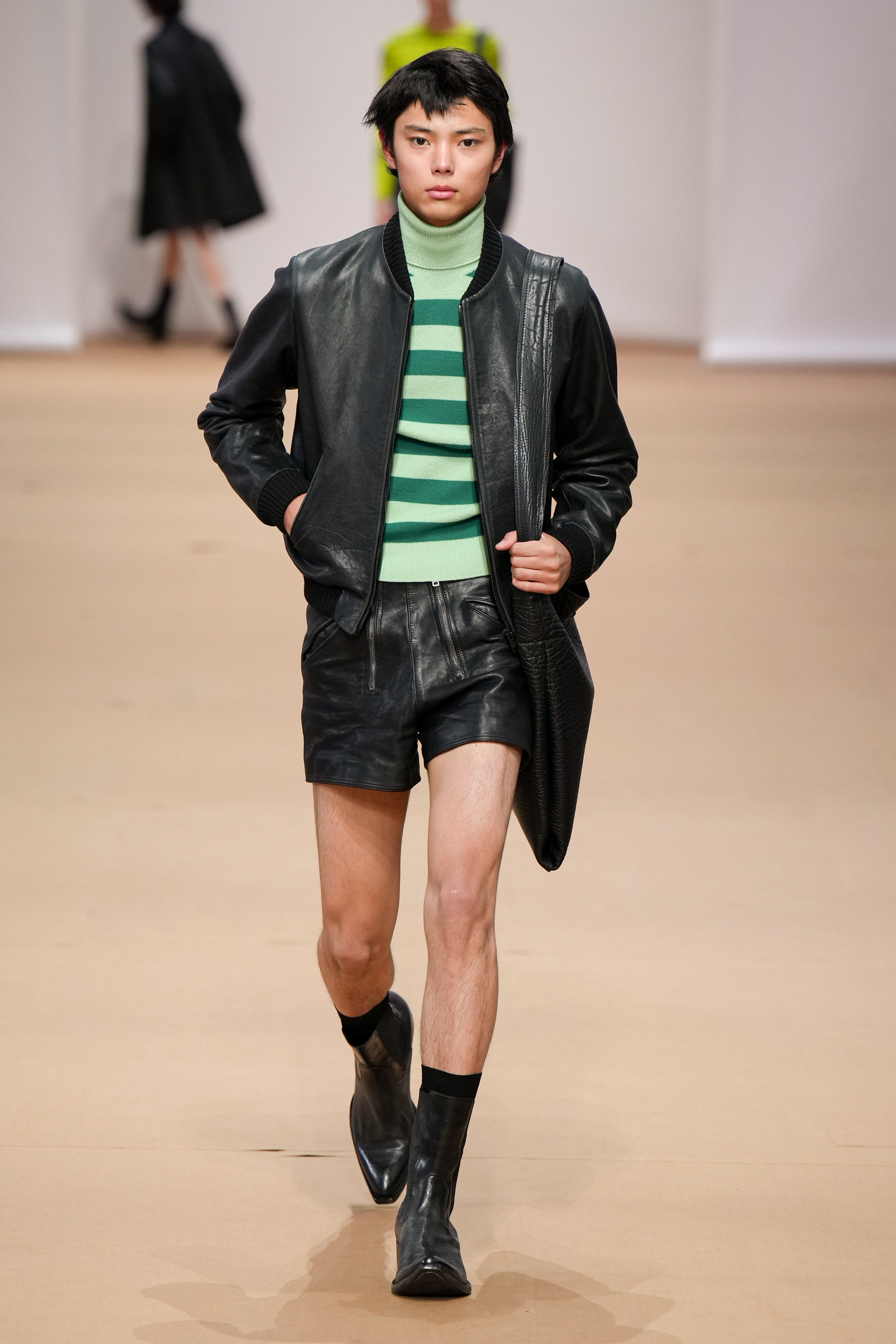 Nothing quite says simplicity more than the nostalgia-tinged picnic check. Reminiscent of a throwback to the before-times, the red-and-white pattern was a staple at a million childhood summers spent dining al-fresco or at the kitchen table in a domesticated setting. Prada's (due to the setting) felt like a grown-up version of what may have been found in a Wendy doll house. As on closer inspection rickrack decorative trims were used to recreate the outline of the Prada triangle branding – recognisable at 50 paces – on boyish button-back tops, while buyers will be demanding the oversized gingham car coats in every colour.
Checked patterns can simultaneously evoke memories of childhood, domestication or sophisticaton

Prada
The increasing omni-presence of the Cowboy in popular culture – Netflix's The Harder They Fall and Year of the Dog, Gucci's Love Parade collection, and of course Lil Nas X – was alluded to with the shows subtle take on western, as the choice of footwear, which reference Raf's Calvin Klein era can attest too, the Wild West trend thats due a revival, is on the horizon. An easy buy-in will be the clean denim pieces which have been given an almost dustbowl-style wash that creates a sense of time and place.
Black suits which looked like they had been plucked straight from the wardrobes of the brands sales advisors, and so looked a little out of place on a runway, were actually another fitting tribute to simplicity. In a brave new world of in-the-office then out again, rinse and repeat, we have all forgotten how to get 'dressed' – are sweat pants ok? When they were all that were worn on bottom halves during zoom meetings – so stripping back key staples such as the tailored suit to its very core will make early morning decision making a simpler task.
In doing so, Prada is taking the hard work out of daily, often unnecessary, decision-making
and saying 'here, this is the suit you want/need' effectively giving back the customer their freedom through restricting choice, a contradictory concept, but when your suits are some of the best in the business, one that actually works. 
"The garments are classic, but their mix contradicts, making them exciting and new" Raf Simons
---