---
Review of Puppets and Puppets Spring 2022 Fashion Show
Let Them Eat Cookies
By Mark Wittmer
Puppets and Puppets is a bit of an enigma. The brand has produced endlessly covetable star pieces, as well as staged an entire show that featured one-of-kind custom looks that were pretty much unwearable and entirely unpurchasable – but they were spectacular. Despite this commercial and creative rollercoaster, Puppets and Puppets has garnered a steadily increasing cult following, and which is even starting to turn mainstream.
With riffs on loungewear, miming, and the work of legendary comics artist Moebius, the indie label's previous collections have tended to revolve around themes, which could sometimes feel obscure, but still identifiable. Spring 2022 made this process of identification far more challenging than ever.
The collection was eclectic, to say the least. The show opened with a wrinkled, oversized blue suit over a bright orange shirt – then nothing of the sort appeared again. Strange sparkly bits, skirts over pants, plaid, very wide dresses, very narrow dresses, antique prints – the variety was astounding.
And yet as we focus in a bit more and start to recognize repetitions and even themes, it begins to seem like the chaos was there with the express purpose of distracting us from what was really going on. The antique-inspired prints that occurred on diverse pieces were quite beautiful. The brand has explored 18th-century costuming in almost every collection, and they pulled this theme through were a lot of references to renaissance or aristocratic dressing, with puffy sleeves and corset-like pieces that also played into the cottage-core trend.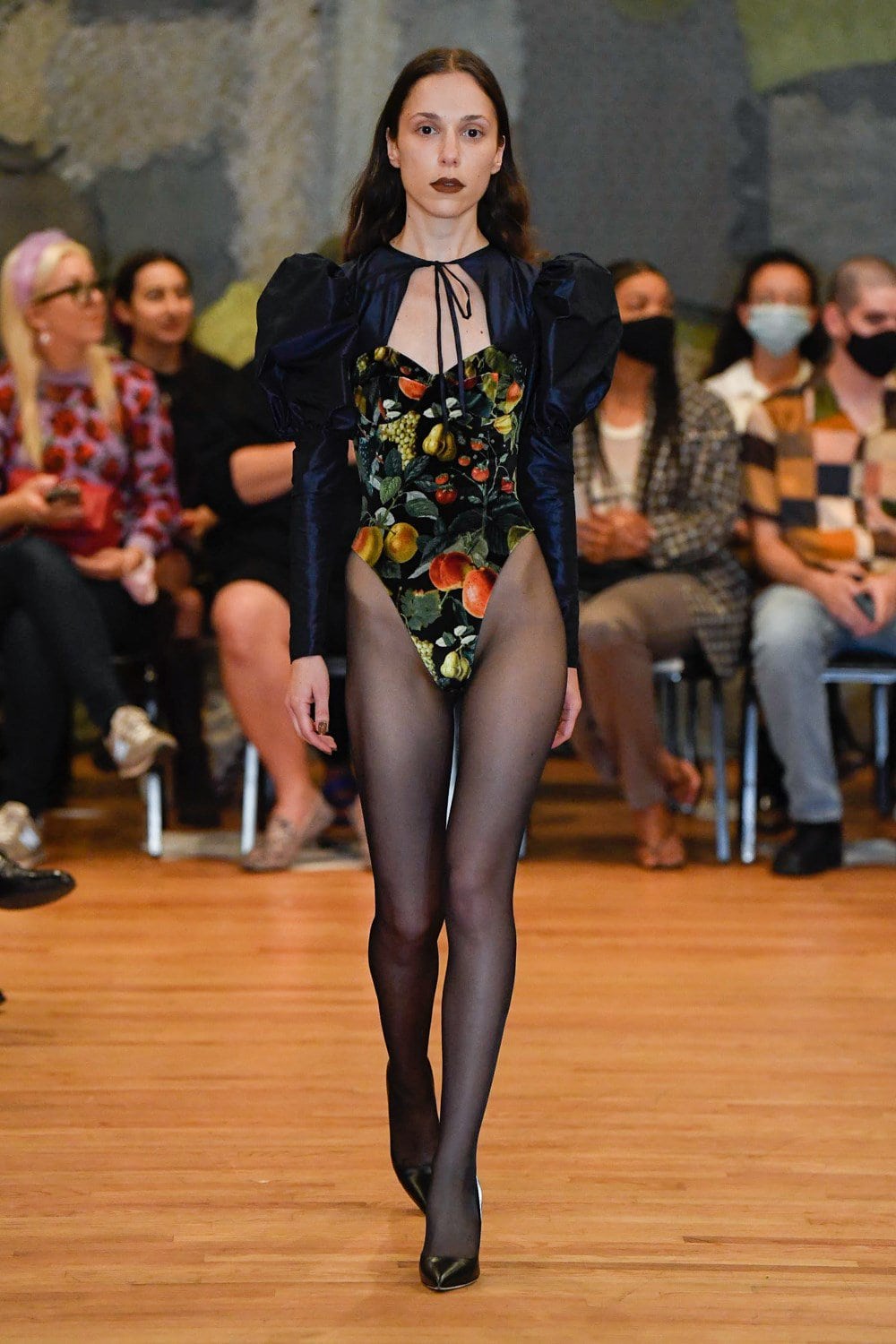 One poofy-shouldered bodysuit was especially beautiful, and it made for the most focused and precise look of the collection.
The brand's penchant for creative knitwear was also on display, and their signature very-long sleeves made a return.
Another mini-theme that ran throughout the collection was food (again, one we've seen from the brand before), inaugurated by the cheesehead on the otherwise unassuming third look. This thread was very wittily picked up by cheese wedge wedges, and a dress with tea saucers on its, pardon my French, tits and ass – very cheeky, but also perhaps a rather highbrow reference to Li Xiaofeng's work? The same dress offered another reference to classic print styles on both clothing and ceramics with its toile du Jouy pattern (could this also be a subtle dig at Maria Grazia Chiuri, who makes frequent and definitely not ironic use of the style at Dior?).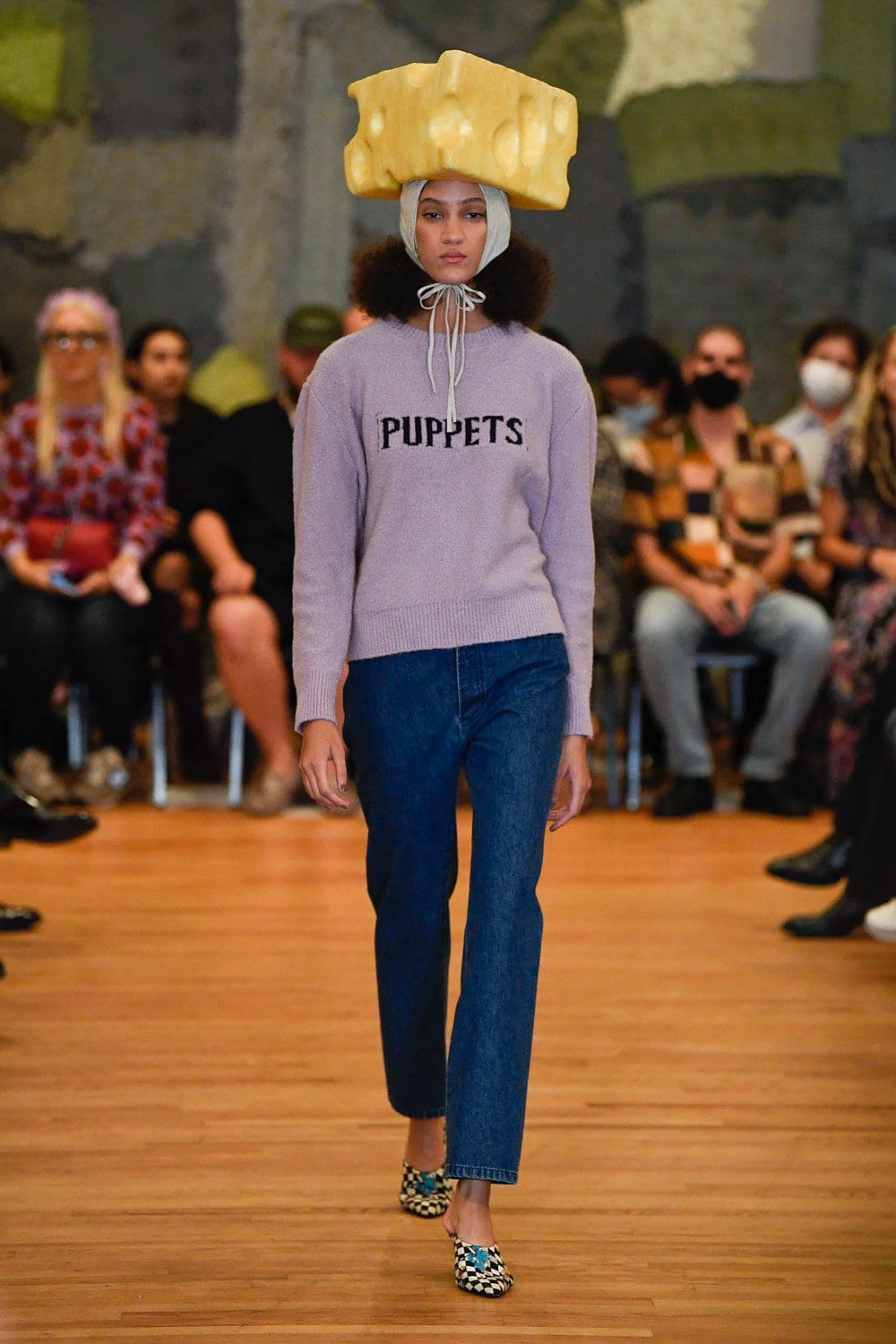 The brand also developed on its cookie bag, already something of an underground icon, updating it with a black-and-white cookie (again, iconic) and braided bagel versions.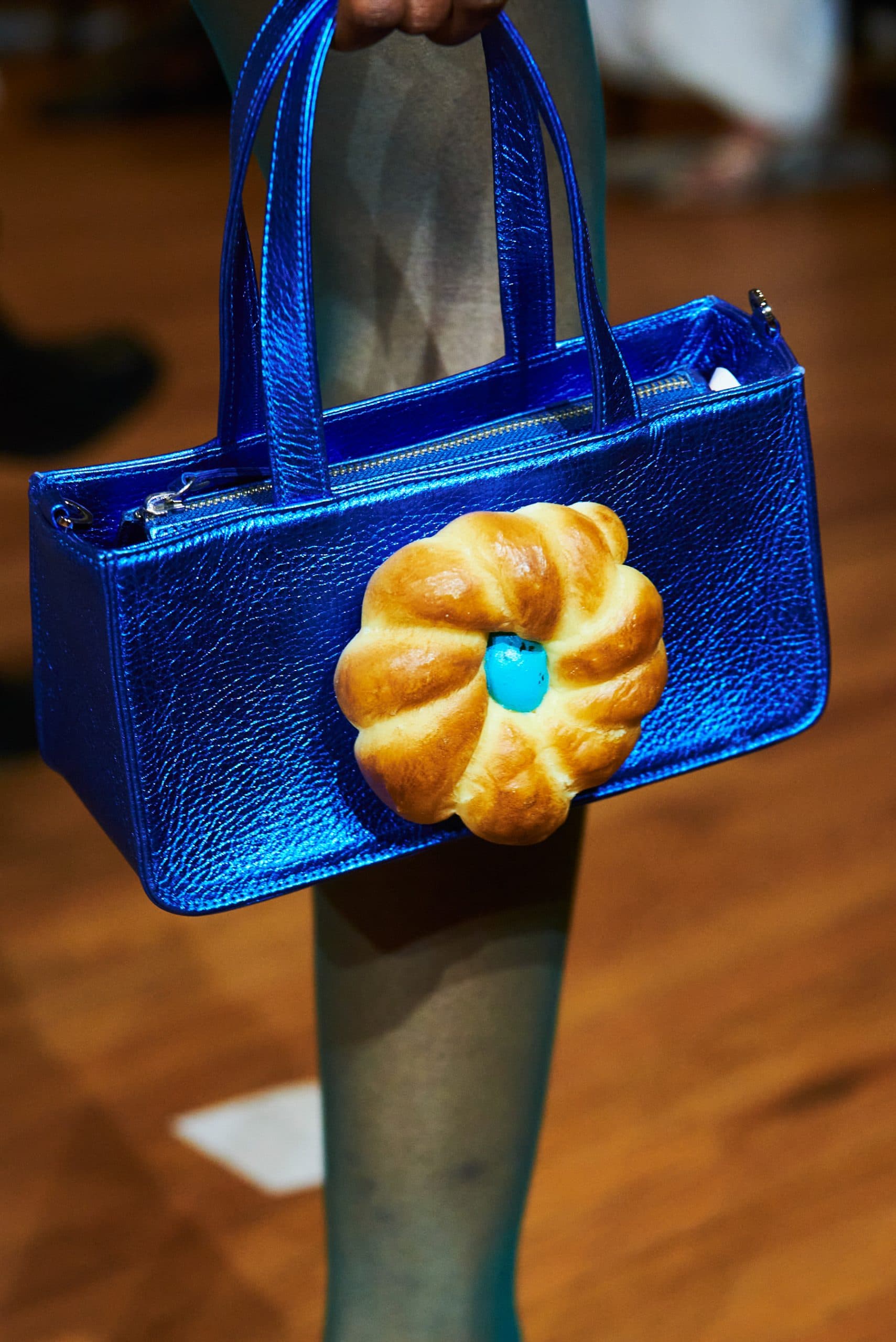 Coupled with the pseudo-thrift-store maximalism in styling and prints, these food references seem to point to a theme of abundance – perhaps a dig at the excesses of the industry and fast fashion, as well as an ironic way to point out the brand's own aims for sustainability, close production communities, and circular production.
Considering the hints of very interesting conceptual themes, it feels in a way like a bit of a letdown that the collection was so chaotic – like the designers combined the ideas they were interested in with strange versions of trendy pieces and vintage finds, then styled the looks in an extremely dark room. There is a tease of consistent ideas, but no real cohesion.
But then again, maybe a total lack of cohesion… is total cohesion? Perhaps in pushing the celebration of late-capitalist ideals of independence, abundance, and supposed freedom to their maximum extremes, the designers show that these ideals devolve into meaninglessness. In this connection, the aristocratic vibes of the poofy 18th-century-esque designs take on an interesting aspect – some of these courtly pieces might not be too far off from what was on the bodies of French aristocrats as their heads rolled.
But that all may be a little too heady to establish a solid brand identity – relatively few of these pieces are distinguishable from something from a thrift store, something homemade, or something from some other trendy and vaguely experimental throwback brand.
Luckily for Puppets and Puppets, the pieces that are recognizable as their own, like the cookie bag, cheese wedges, ultra-long sleeves, and kooky knitwear, are quite distinct. While they may get somewhat lost among this season's confusing styling decisions, they are sure to be hot sellers.
It's exciting to see such a young brand come out with such strong concepts and express them so playfully. It's also both exciting and frustrating to see them act like they could not not be bothered to consistently develop these concepts or make anybody recognize or care about them. As the brand breaks away from overarching themes and begins to explore more nuanced territory, we hope to see them find new ways to create a cohesive identity while keeping things fresh and unexpected. Until then, we can have a little critique of capitalist excess, and a cookie, as a treat.
---