Review of Rabanne 'Chasing Dreams' Fall 2023 Ad Campaign by Artistic Directors Julien Dossena and Marie-Amelie Sauvé and Photographer Alice Mann with models Sun Mizrahi, Alix Bouthors, Victoria Fawole, Margot Gaspar, Raynara Negrine, Jiali Zhao
Rabanne challenges artistic dichotomies to send a message of empowerment with its new Fall 2023 campaign. The campaign was shot by photographer Alice Mann.
Fall 2023 marked the first Rabanne collection from creative director Julien Dossena since the passing of the brand's eponymous founder, and he paid homage to this fashion visionary by reviving two of his most beloved motifs: the chainmail dress and artworks by Salvador Dalí, with whom the designer had a personal friendship and creative kinship.
This latter art influence in particular also works its way into the campaign's visual structure. Mann captures her models on pedestals and platforms as if they are rare works of sculpture seen in a museum. But this idea of static viewing is subverted by the powerful, active presence of the women themselves; they have defiant, elusive, and powerful attitudes that refuse to be categorized as things for simple viewing pleasure. The traditional dichotomy of sculpture and pedestal is challenged as well, as the pedestals are elevated to the status of sculpture via intriguing textural applications like fur or sheet metal that riffs on the visual impact of the clothing design.
It's a testament to Paco Rabanne's vision that the design ideas that felt so forward-thinking when he debuted them almost 60 years ago still feel so futuristic and surreal today. Embodying the Rabanne muse as a woman who dares to challenge conventions and bring this strange and beautiful future into the present, the campaign is a powerful statement of just how resonant those house codes continue to be.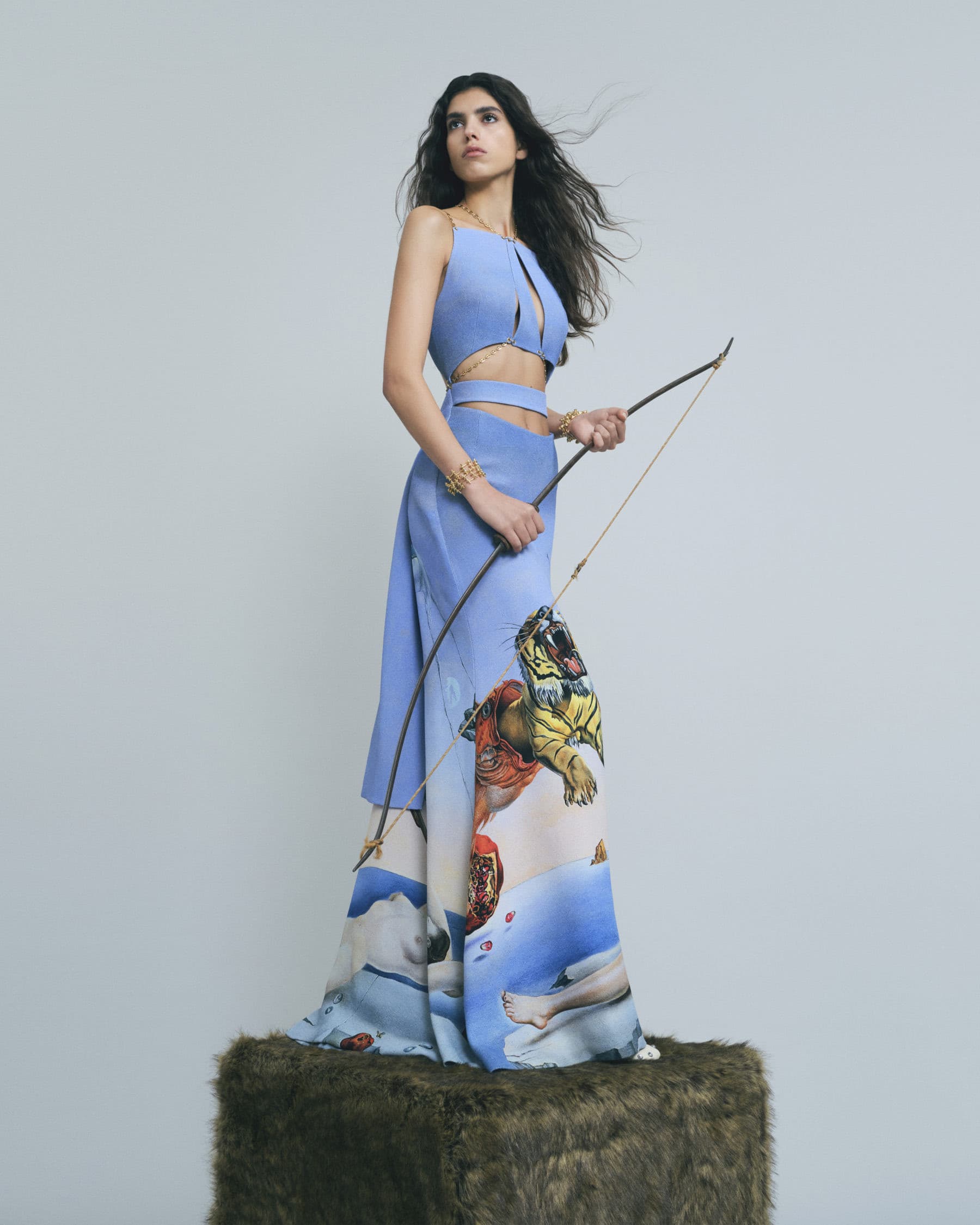 Rabanne Creative Director | Julien Dossena
Artistic Direction | Julien Dossena and Marie-Amelie Sauvé
Photographer | Alice Mann
Models | Sun Mizrahi, Alix Bouthors, Victoria Fawole, Margot Gaspar, Raynara Negrine, Jiali Zhao
Stylist | Marie-Amelie Sauvé
Casting Director | DM Casting
Set Designer | Olivia Aine
---