---
Review of Raf Simons Spring 2021 Fashion Show
Back to the Origins For Today
By Long Nguyen
"Teenage dreams, lush, influx, dandelion, solitary, hum, question everything" were the words forming some kind of loose catchphrase on Raf Simons' Instagram as teasers days ahead of his spring show with the first official launch of the women's collection that reminisced his early days in the mid 1990s associating with music underground movements and youth culture.
Back in those days, Simons launched his first collection with a grainy black and white video featuring unknown 'kids' from Antwerp in February 1995 then followed by shows in Paris at the end of January 1997 that debuted for the Fall-Winter 1997-1998 season in a show with a particular point of view – 'American college students and English schoolboys with a background of New Wave and Punk' – staged in a parking area at Impasse de Mont-Louis near the Bastille.
It was in these shows early on in his career that Raf Simons established his fashion sensibilities and his takes on his aesthetic of fashion with a direct connection to the underground youth culture, and how he was able to translate his language of clothes back to this young generation. Early on, Simons normalized underground tenets and popularized them in pop culture and in fashion, of course – from 'gabba' subculture at the time (Dutch and Belgian subcultures devoted to hardcore techno music), to the Manic Street Preachers and Joy Division that figured prominently in those years and in his Fall-Winter 1998-1999 show Radioactivity featured members of the German electro band Kraftwerk wearing the clothes.
Simons created a dialogue with this generation that wasn't the focus of fashion brands early in his career, his clothes were like the hard banging at a great rave get-together – a communion of sorts.
Simons had personal identification with the clothes he made. Perhaps too, his audience felt personally connected to the ideas of the clothes and the idea of the grand sense of belonging together these clothes convey. More importantly, Simons' fashion at that time and its enveloping subcultural mores, was a severe rejection of the prevailing mood emerging at the end of the 1990s where Tom Ford's sexy, sleek and glossy style for Gucci was taking roots, deep roots for that matter. For this spring collection, the designer brought back the 'outsider' culture as a nod to the changing social environment.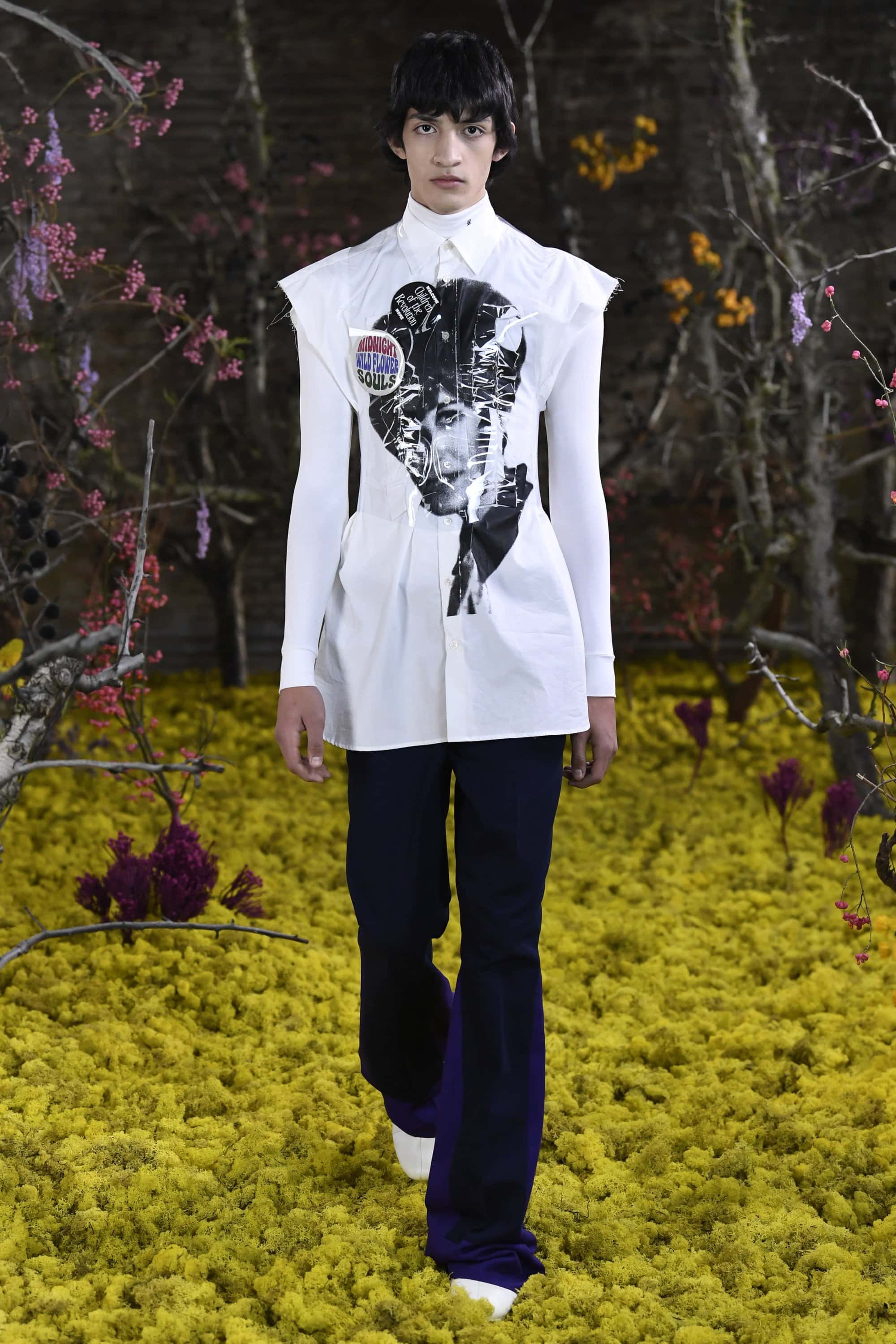 Raf Simons has come a long way in the twenty-five years since he started in seemingly another universe where once everything for him about fashion was personal. His obsessions with youth culture weren't just feigned or borrowed or stolen – he lived through those subcultures and related to those 'kids' and interpreted their ethos with clothes, his own way of doing the clothes to be more precise.
But Simons had never wanted these kids to only wear the kinds of garments they were familiar with – instead, he introduced them to more classical tailoring but done in a relatable manner – the pants falling off the hips just a little bit, the jackets a little shorter or more fitted or a little longer.
"I don't want to show clothes. I want to show my attitude, my past, present and future. I use memories and future visions and try to place them in today's world."

– Raf Simons
Twenty-five years later, what is even youth culture anymore besides those silly posts at TikTok? Perhaps not in the same kind of a shared community as before when the music, the party, the clothes, the hair, the bit of dark eye shadows was something shared person-to-person rather than screen-to-screen. Since about a decade and a half ago, Simons's work had shifted slightly to emphasize the structure of fashion in a more industrial design approach – clothes that were about the shapes and the forms and their links to modern art more so than underground cultures. Ruby Sterling has replaced Kraftwerk in the last decade. The stalwarts of culture for Simons were artists rather than musicians, and his clothes became more intellectual than subcultural.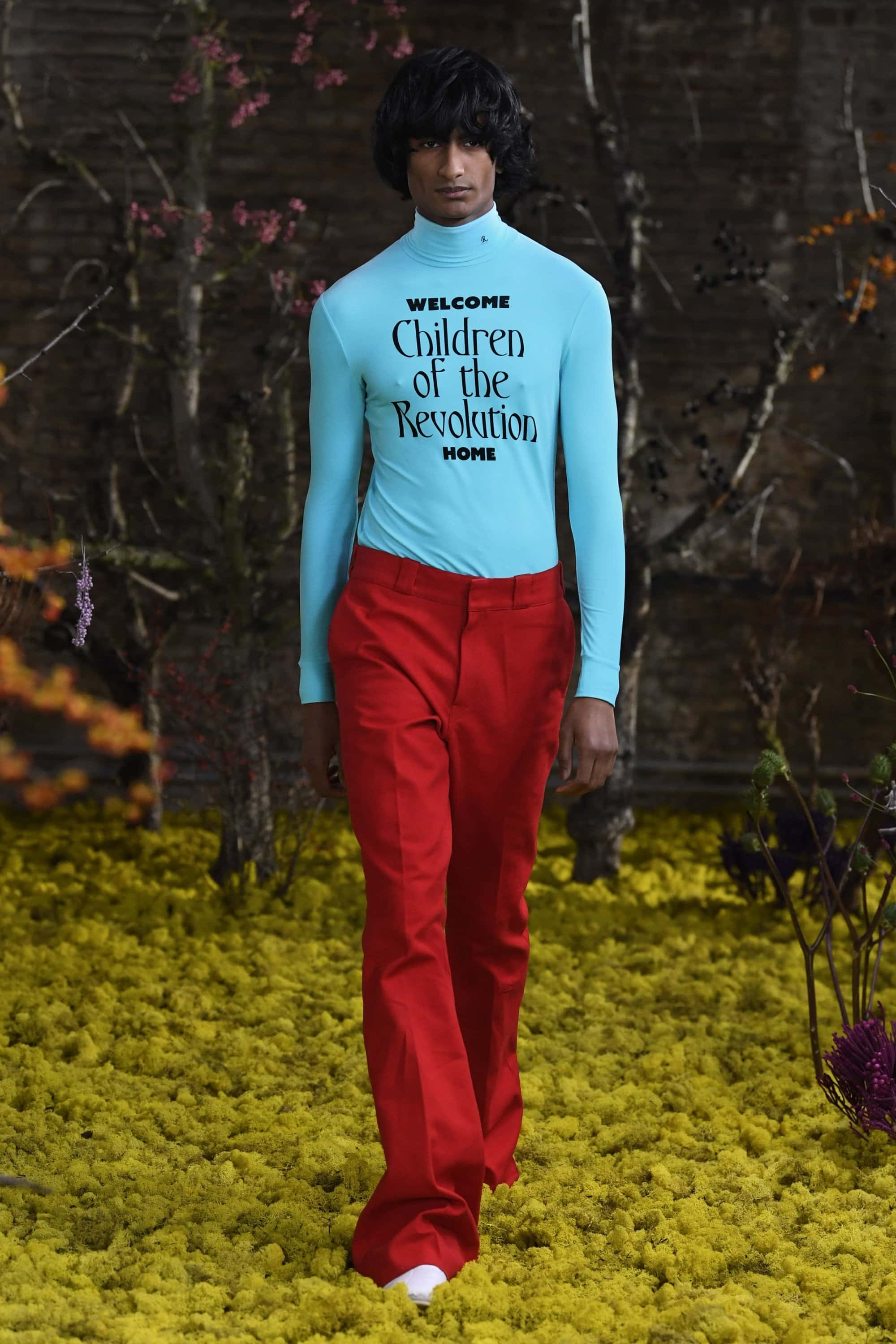 Simons had his models literally crawling out of a hole into a fantasy garden where the grass is yellow in a film presentation of the new spring collections. The small trees have tiny pink fruits hanging on to its bare branches with the first two models setting the new mood wearing flared red and black pants with stretch long sleeve turtlenecks with the new banners – 'Disorder, Disorder' and 'Welcome Children of the Revolution Home' – a sort of homecoming with models wearing signatures Raf Simons silhouettes that recalled those from his collections in the late 1990s and with new vivid colors. Still, signature looks with tailoring and cuts that have been reinvented and renewed for today.
Perhaps the summer of youth outrage and protests have led Simons back – or perhaps it is now an emphasis placed on how young people will determine the future – both as citizens and as luxury goods consumers.
The tangencies that Simons saw in the youth of the late 1990s with their creed of underground music to differentiate themselves in society, to stand for something as individuals have now shifted into a new generation of youth marching on the streets, carry banners that they hand wrote on homemade wooden poles and on their tee shirts.
Words today have replaced the loud sounds of New Wave or punk rock or electronic music as the youth template. Now the tangencies in the culture have shifted rapidly, and so are Simons' references, which this time felt more on the ground than the high art stuff he adopted.
The stellar collections for both men and women felt less formal with few of the tailored suiting looks always prominent in Raf Simons shows. The most formal look was probably the dark navy single breast long jacket worn over a dark chocolate wool knee length vest-jacket and black flare pants and colorful print pattern turtleneck. Even the women black long sheath dress with metal decorations at the neck doesn't look like an evening dress.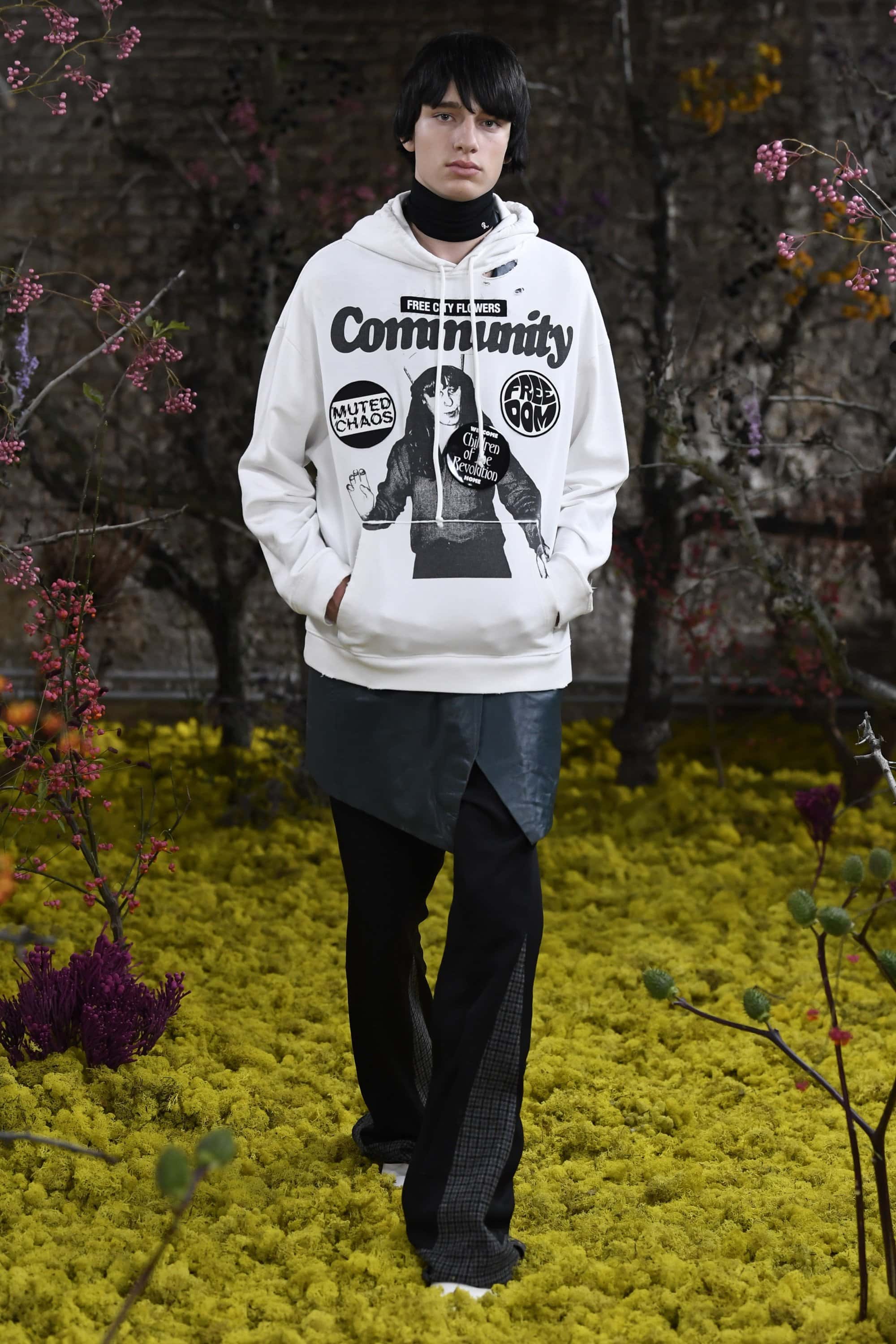 The men's silhouettes are long and linear proportions with pants that are more straight slimmer cut towards the knees then flare out to past the ankle and dropped to the ground like black wool pants in a triangular inset of grey plaids that added the flare volume at the bottom or as the red large buckle belt flat front red pants paired with a stretch ice blue turtleneck with the Welcome Home Children of the Revolution printed in large black letterings on the front. The halter single breast jacket – a completely new cut that is meant to replace the actual traditional jacket in single or in double breast – in black wool is paired with matching pants and a vivid green turtleneck or as the brown leather jacket worn underneath a purple sleeveless knit vest and black flare wool pants. The dark navy cotton long coat with front buttons and yellow pants is another of this sinuous long shape that contrasted sharply to the loose white asymmetrical sleeveless vest. Only the buttons in black, blue, white, or orange with slogans like 'Join Us,' 'Youth Against,' 'Echoes of Love,' 'Question Everything,' 'Free Admission with This Button,' or 'Muted Chaos' were the essential decorations on the clothes, with these words to strike meaning with the new youth rather than shiny sequins.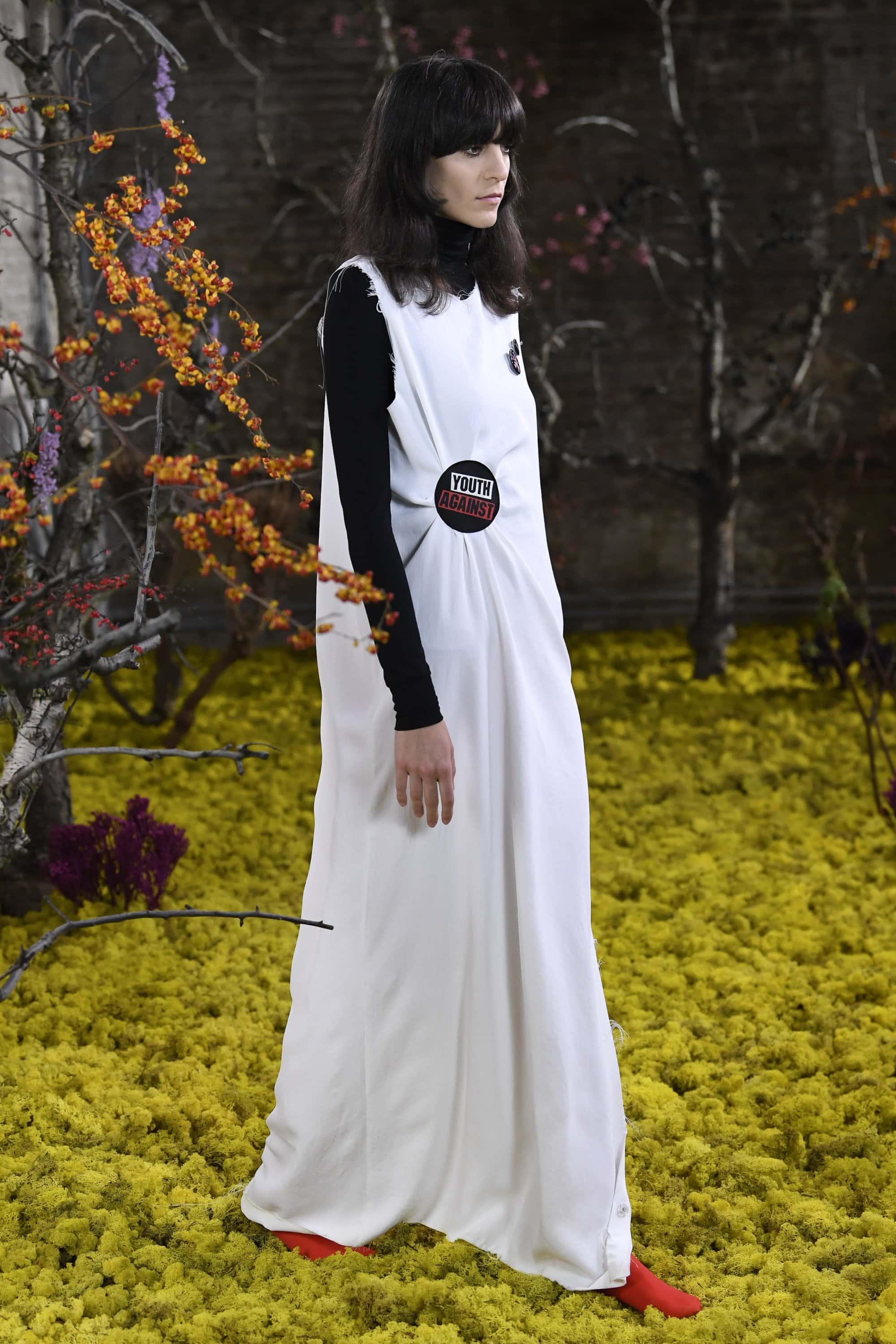 The women's clothes are more of a twin of the men's silhouettes and aesthetics rather than any grand gestures of fashion that Simons has been known for with his work in womenswear like his meddling with haute couture shapes and proportions at both Jil Sander and then Dior. The men's side is far stronger than the women's, but a lot of these clothes are already sex-neutral as many of the garments aren't focused so much on gender. The garments convey a sense of what clothes are for young people today with that idea of nonchalant and a bit of detachment from current fashion like a long white single breast jacket with rolled-up sleeves and white long skirt, a white sheath dress with clear plastic over a vest and multicolor pattern jersey long sleeve tee shirt, or the series of long, lean sheath dresses with sleeve cape that seemed just right for this moment.
Simons knew how to create that balance proportion by the combination of colors and shapes that make each looks with an individual flavor, such as a yellow loose sweater with a black patch with the words Rite Joy on one sleeve over a long silk satin shiny skirt, a light pink cinched hooded parka and long purple velvet skirt, a purple zippered cape long sweatshirt-coat or one in the colorful pattern cotton with velvet purple pants.
It is now a Simons signature to mix the garments in ways that the clothes no longer have specific functions – like how a vest-jacket can be worn as a vest-jacket as a new suit or worn underneath a sweater like an under shirt. One garment can be worn in different ways – the light pink long belted trench coat first seen as a trench coat but could also be a softer take in a black shirt like trench under a clear plastic vest, or the pink lapel less and sleeveless patch pocket long vest-coat or one in light orange worn under a back cardigan coat.
Show Invites | The Archive of Long Nguyen
---