---
Review of Ralph Lauren Fall 2022 Fashion Show
Empire State of Fashion
By Mark Wittmer
Celebrating a legacy of iconic American design while reminding us why these looks are just as relevant today and tomorrow, Ralph Lauren's Fall 2022 runway show from New York – the first live show for Mr. Lauren since 2019 – was a sparkling and deftly focused return to the runway and a heartfelt ode to the designer's home.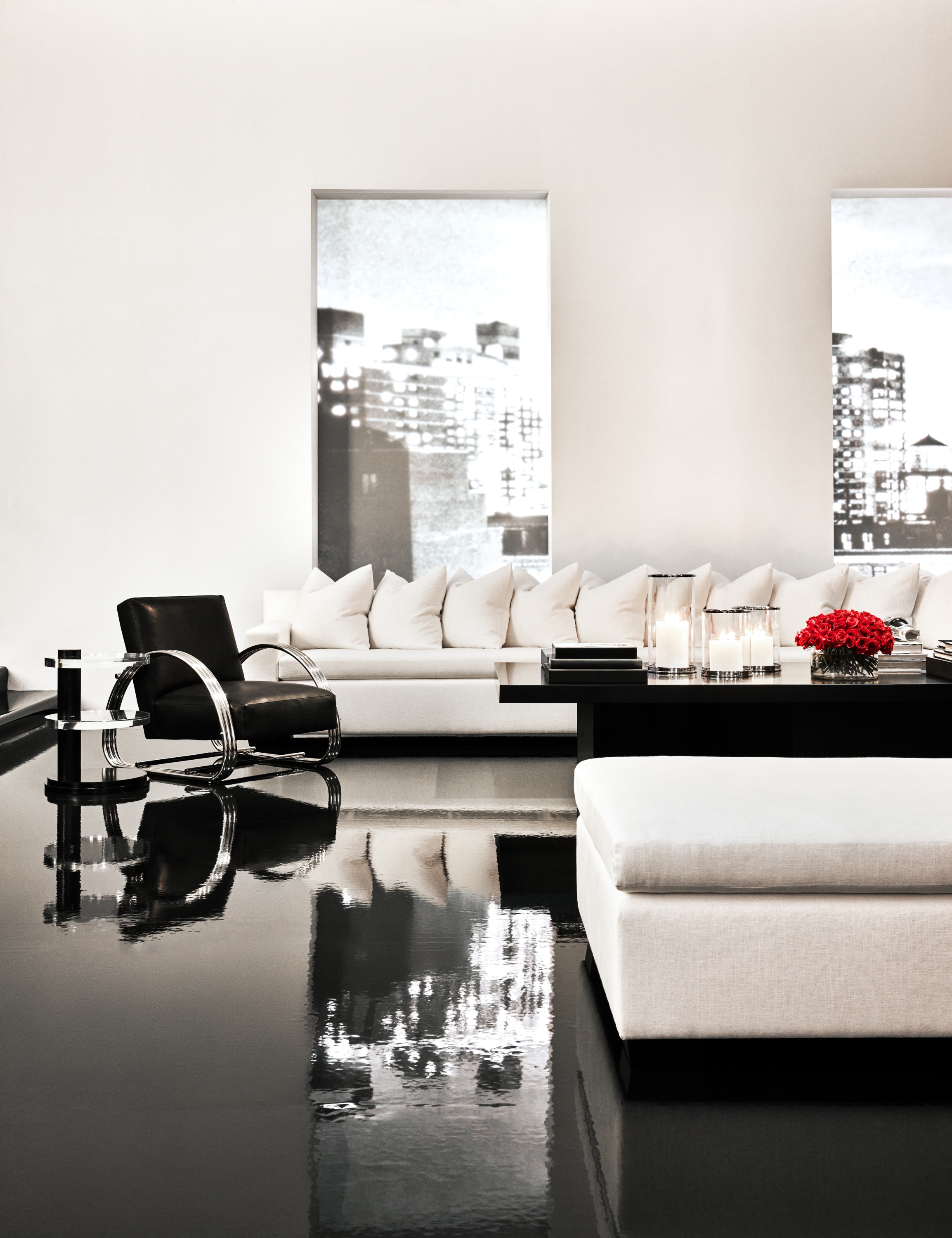 The venue of the Museum of Modern Art set the tone for the collection's celebration of distinctly New York City society and culture, which the space's reimagining as the designer's own apartment further developed (in a set developed by the team at Prodject). Dressed in cocktail attire (per the well-designed show invitation's request), the guests lounged and couches and chrome armchairs around coffee tables adorned with low-burning candles, while faux windows looked out to a black-and-white New York City skyline.
Immediately at home in this space, the collection (comprising both women's and men's) felt exactly like what the return to the runway for Ralph Lauren should be: sophisticated, crisp, and classic. Anchored by excellent tailoring in a color scheme almost exclusively of black and white – occasionally punctuated by brief, bold moments of red – the looks drew on a wealth of design history while feeling poised for a cocktail reunion in 2022.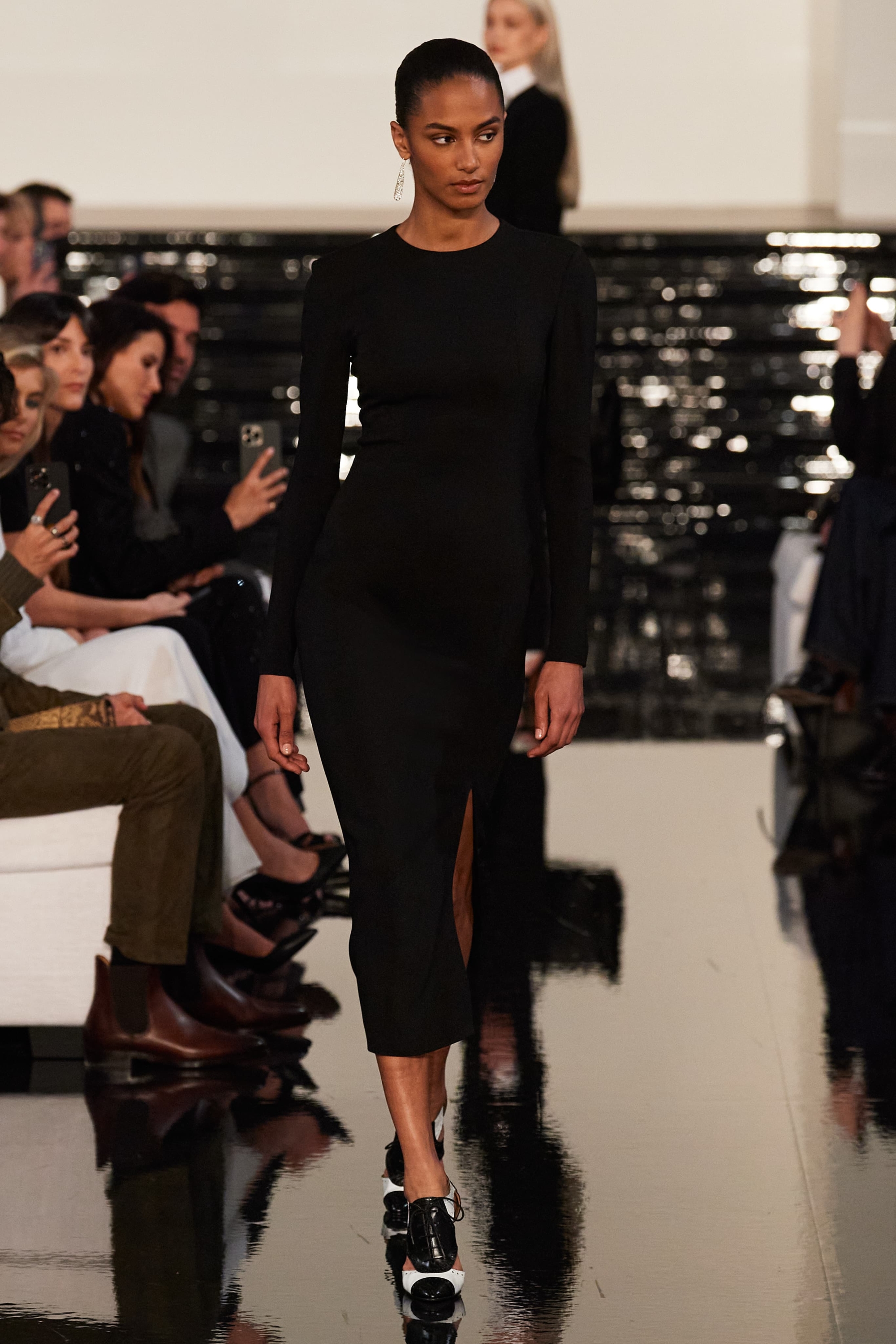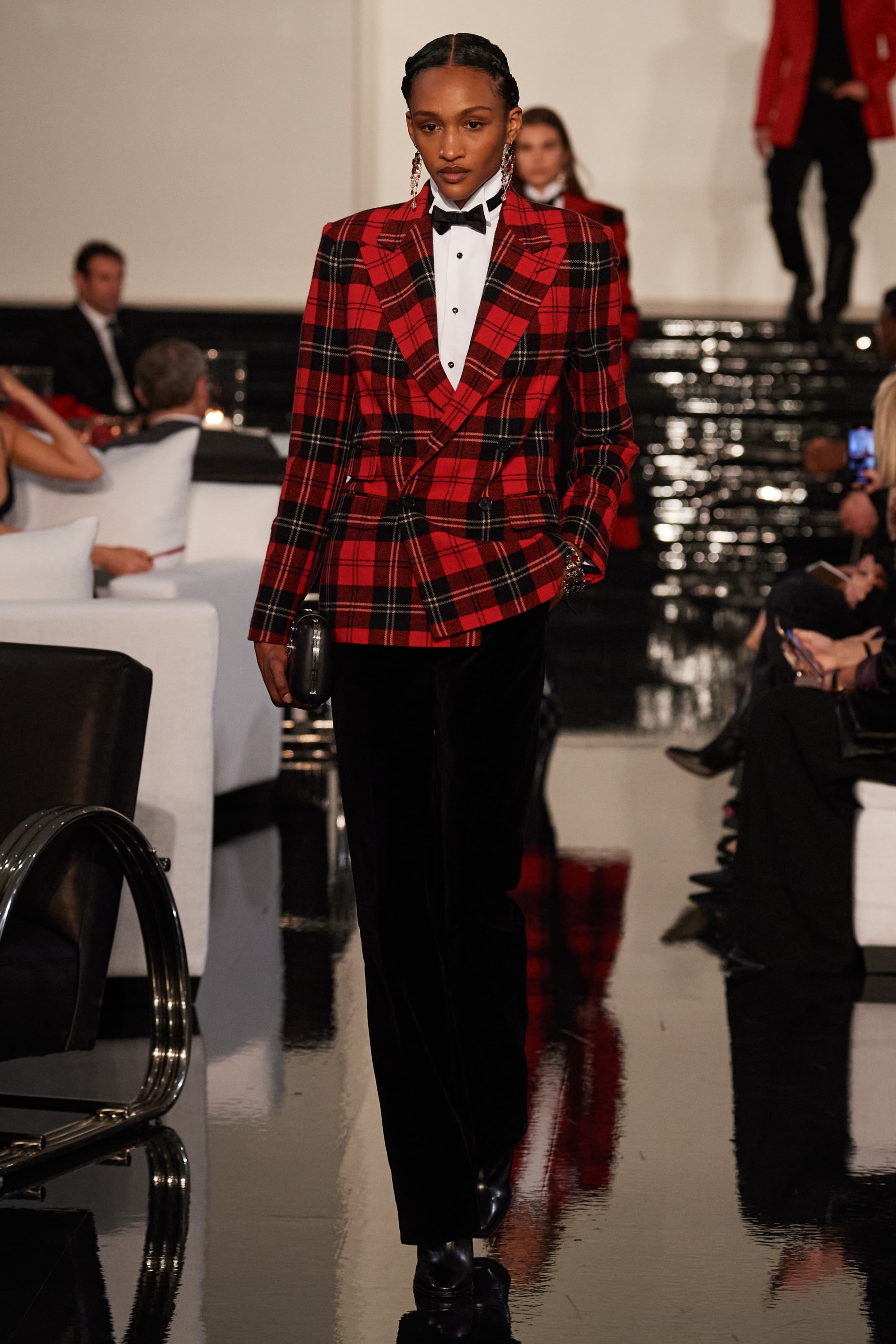 Some well-placed Americana details like cowboy hats, dusters, and plaid hearkening back to the RRL heyday were incorporated into the sharp cocktail formality with impressive cohesion, reinforcing the celebration of the brand's place at the heart of the American sartorial identity.
A sense of the noirish was palpable in fedoras and double-breasted three-piece suits, while pieces like a smoking jacket or jodhpurs touched on the designer's familiar connection to New England nouveau-aristocracy.
Despite all the crisp simplicity, the collection maintained a sense of magic and sparkle, most visible in its not infrequent but not unfocused use of sequins and shimmer.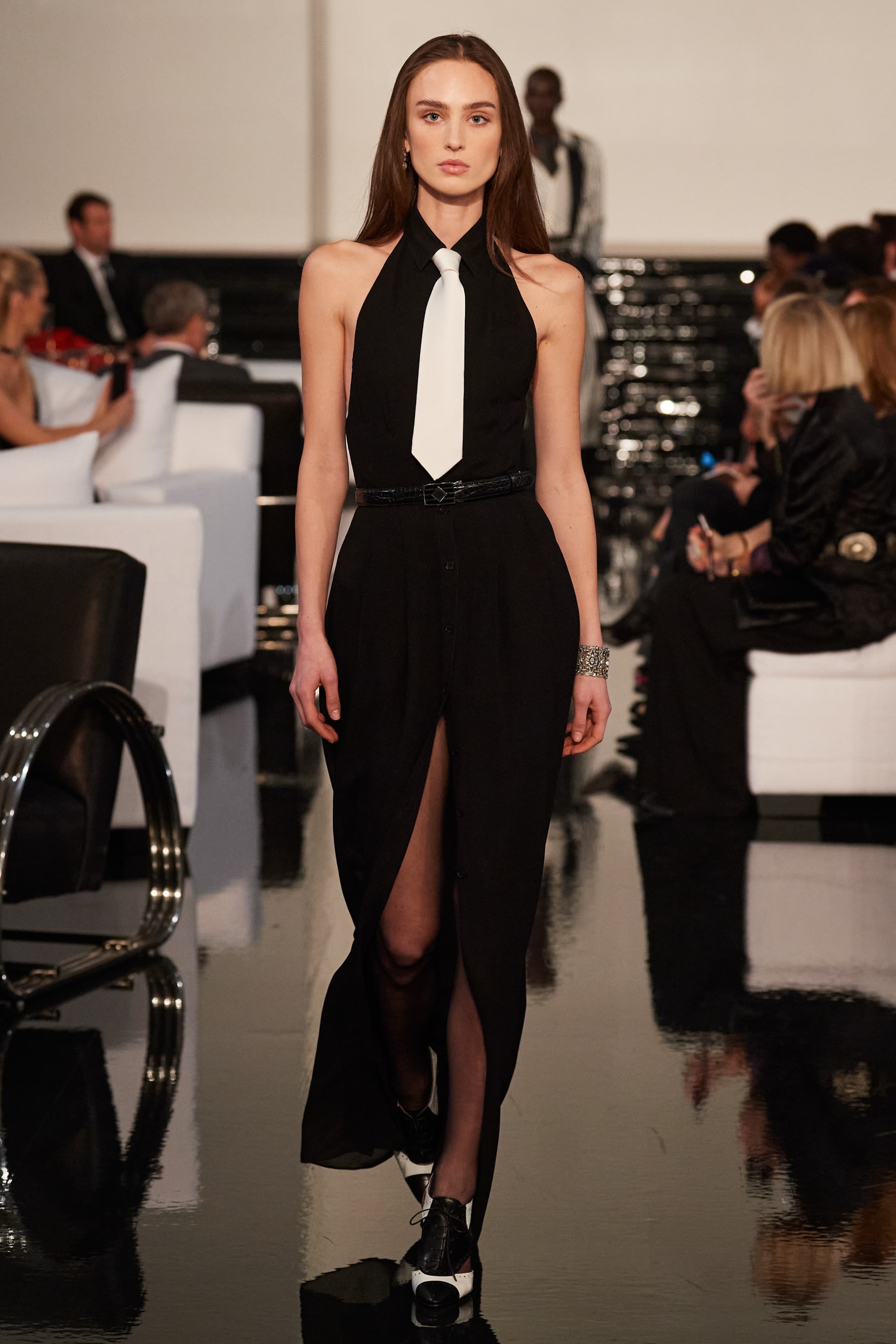 Nor was it without welcome signs that the designer is willing to push forward by blending and blurring traditional modes of genre and gender, as evinced by exciting moments of unique cuts and structure, and pieces like the women's jumpsuit suit or the shirt-and-tie dress.
Perhaps as important as Lauren's designs themselves is his brand's ability to foster a sense of community and inclusion. He was one of the very first leading designers to champion true diversity in casting, a commitment which was emphasized tonight by the age- and color-diverse cast – which featured the return of Tyson Beckford, Polo's leading man throughout the 90's – and which was further and generously realized through the recent Polo for Morehouse and Spelman Colleges collection.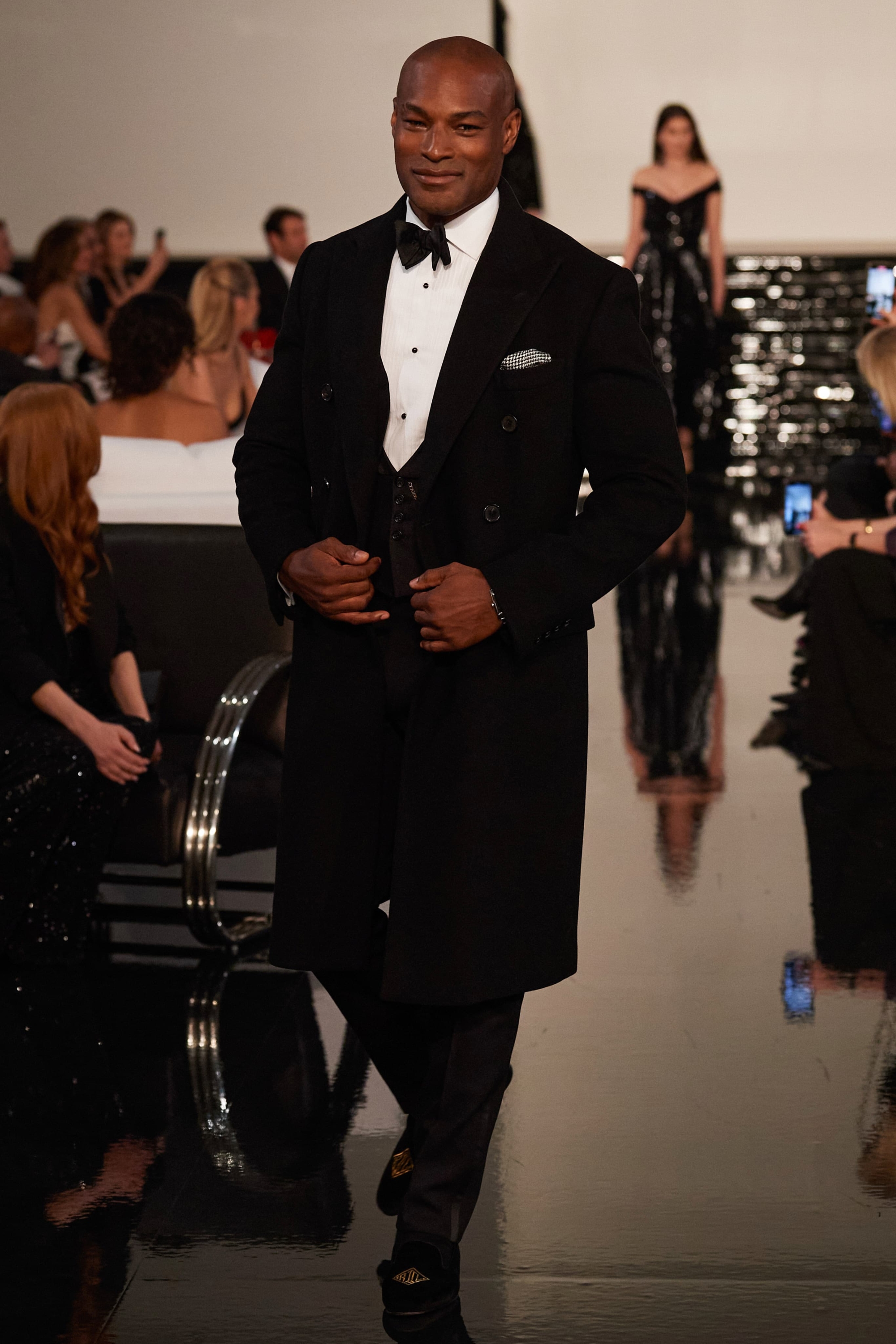 Reasserting both the brand's sense of community building and its legacy of iconic American style, the show channeled that magical, rare energy of a night out on the town with friends that is impossible to forget.
---