---
Review of Ralph Lauren Spring 2021 Fashion Show
ALL OR NOTHING AT ALL
The Permanence of Style Amidst an Imperfect and Malleable World
By Long Nguyen
He plays the piano in slow notes in a black tuxedo jacket, a black bow tie, a white tux shirt, and white pants with black stripes running down the legs. A friend stands in a white tuxedo jacket again with a black bow tie and black pants on his left. On his right, another observer stood with his hands tapping the top of the piano's wooden panels. He is wearing a black smoking suit with small white linen hanker chief carefully inserted inside the chest pocket. As the camera moves back, a young woman in short wet hair walks past the same tuxedo suit as the piano man.
This filmed scene in sharp black and white serves to introduce the Ralph Lauren Spring 2021 Woman Collection and Men's Purple Label. In the form of snippets of a long love story in the old tradition of Hollywood cinema heritage, here perhaps recall similar familiar scenes from the 1942 romance/drama Casablanca for example. Or, as the brand's Instagram states, the evocation of "the Golden Age of Cinema, Ralph Lauren's love of Old Hollywood comes to life. The #RLColletion and RLPurpleLabel paint a picture of timeless romance set against the backdrop of intrigue, mystery, and style."
Following this introduction, the singer Janelle Monáe with a superb performance filmed at the brand's Beverly Hills flagship mansion boutique. Wearing a black tuxedo jacket and white pants, Monáe delivered her opus singing Peachtree Blues, Dorothy Dandridge Eyes, and Frank Sinatra's All or Nothing At All. The Sinatra song title this immersive experience to this see-now-buy-now spring collection available for purchase globally.
This Spring 2021 collection is another quintessential, the Ralph Lauren classic aesthetics, one the designer honed to perfection over the decades. The concise thirty-nine co-ed look collection reflects the affirmation of the Ralph Lauren signature silhouettes built on the excellent strength of traditional tailoring that captures what is now known as the All-American look. More than just refined, timeless, and sophisticated clothes, the collection belongs together with a specific worldview and a lifestyle, one that the designer has carefully crafted since the start in 1968 with the 'Polo' men's line.
My designs have always been about creating a world that is beyond fashion, a world of romance and timeless sophistication. My collections for both women and men intertwine those feelings and express a personal style that is modern and enduring.

– Ralph Lauren, via Instagram
A timeless aura based on classic cinema's visual imagination requires the robust backing of actors, in this case, the spring clothes crafted with impeccable tailoring skills.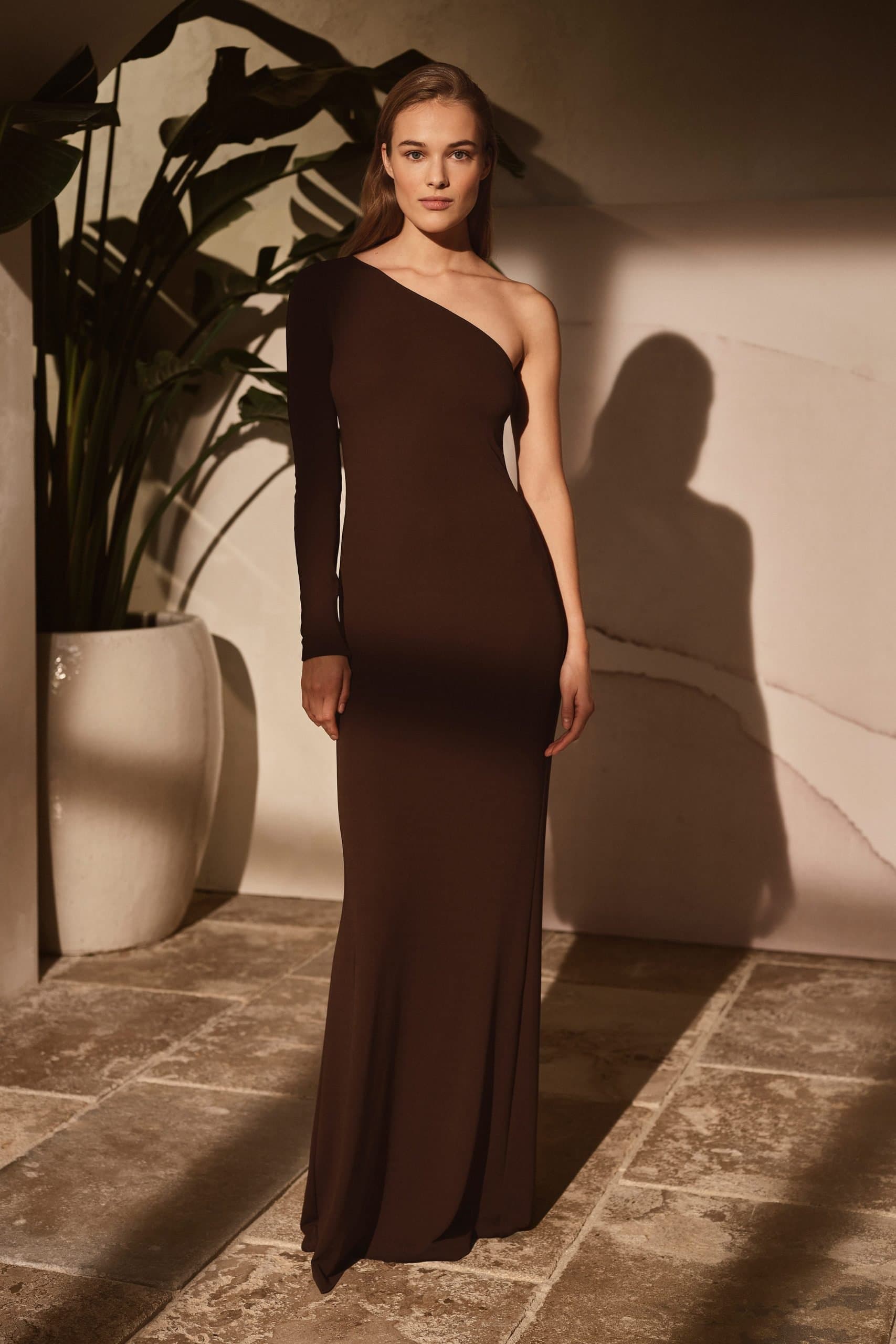 That means a chocolate long Ashtym one-shoulder evening dress, a black Callahan wool Barathea tuxedo jacket and white pants, a black Lilli sequined wool jacket with white pleated pants, and a black Jaela floral print jersey day dress for starters. Then there are the cotton striped Capril shirt and floral pants for women, clothes from day to evening both retaining the same crafts and luxury fabrics.
There are a black Kent pinstripe Dobby double breast sport jacket with white pants, a white Kent handmade silk dinner jacket and black pants, or the black Kent pinstripe Dobby single breast pantsuit for guys.
There are ranges of co-ed garments at the Ralph Lauren website, from leather jackets to dress shirts to jumpsuits and even simple white cashmere polo sweaters. In a built-out tent in front of his women's flagship store on Madison Avenue between 71st and 72nd Streets, Ralph Lauren is one of the premier designers converting to the see-now-buy-now format, creating a second Fall 2016 collection available following the show that year.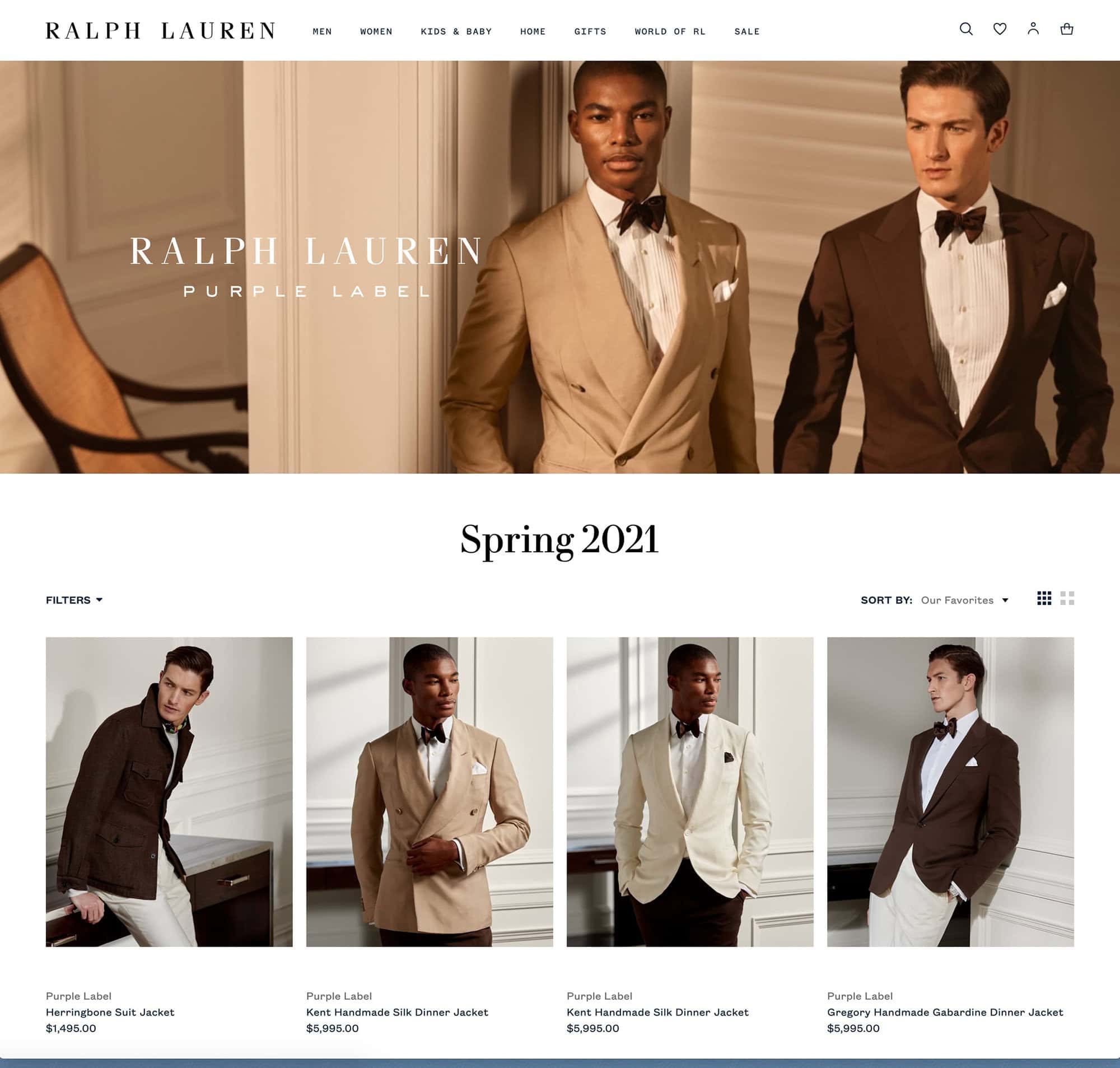 The Ralph Lauren brand has since remained firmly committed to this in-season model, one of the very few major brands working with this retail format. Other designers like Tom Ford only experimented with this retail innovation for just one season, Fall 2017, then returning to show the following Spring 2018 season in advance.
The black and white film/performance surely distills what audiences are conversant of the Ralph Lauren 'world'. The spring clothes confirm the aspirations of this lifestyle. The French designer Yves Saint Laurent once said over two decades ago, "fashion fades, style is eternal." That proclamation from Saint Laurent indeed is applicable here in the evocation of these signature RL garments that are instantly recognizable because the minor seasonal alterations in fabrics and colors do not in any manner change the substance of the silhouette.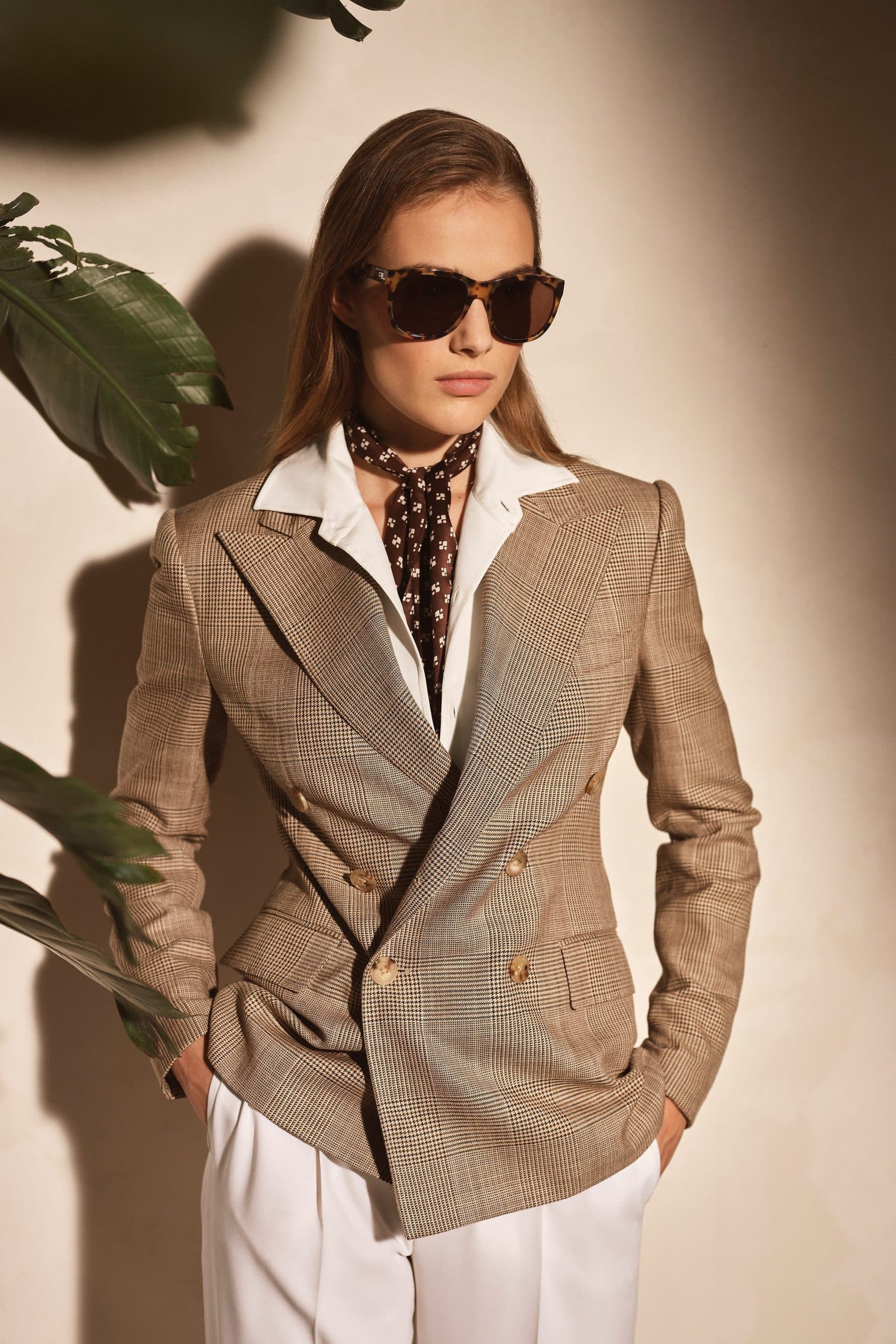 That six buttons square shoulder light brown wool plaid oversized lapel double breast jacket with a plain white shirt accented by a light burgundy scarf and slight pleats white gabardine pants has always been a show look for the woman collection since like forever. For Spring 2018, this double breast pantsuit was white linen with flare pants; for Fall 2016, it was a light chocolate jacket with a soft khaki skirt and a camel cashmere sweater. And for Spring 2007, it was a simple lean cut white double breast suit with a white shirt and black tie.
Sure, one of the primary functions of great fashion is the designers' capacity to create worlds from their visions. These worlds endure through social upheavals and generational and cultural changes.
As presented in this immersive fashion experience, the world is one where there is never any dust on any tables or any discords apparent anywhere, and more importantly, where every crease on a pair of pants falls where it should.
There is never a single hair out of place or a face not moisturized in a perfect manner. The black bow tie ties perfectly with its knot in the center of the crisp white smoking shirt, or if left untied, the sides fall evenly on the white shirt as worn by Monáe as she stripped off her smoking jacket.
The question to ponder here is whether this adherence to an established and powerful world view, while seemingly critical for luxury brands, is sufficient as an engine to capture the imagination and the affinity of young people who may be much less accustomed to this perfectly manicured vision. The world around these kids today may have less in common with this depiction of the polished and cinematic imagination and also the assurances the clothes allow as an entry ticket. As seen here, this spring presentation does not diverge from each season's glossy presentations. 
It isn't clear from this spring showing how the Ralph Lauren brand is reaching out to the younger Millennials and the Gen Zers, the groups that will dominate luxury consumption globally in the next few years. It does not doubt that some will form their affiliations with this RL community, but at the same time, it may also be a too specific and impeccable vision.
---