Review of Reebok by Pyer Moss Collection 04 'UZGD' 2022 Ad Campaign by Creative Director Kerby Jean-Raymond with Photographer Hot Thunderstorm (Kiera & Israel Veintidos)
Reebok celebrates the launch of its final collaborative release with Pyer Moss following the departure of creative director Kerby Jean-Raymond with a bright and graphical campaign captured by Hot Thunderstorm, the photography duo of Kiera & Israel Veintidos.
Jean-Raymond became creative director of Reebok in 2020, during which time he also continued to lead Pyer Moss, the label he founded in 2013, and the two brand's creative worlds have intersected much during that time. The creative director announced plans to step down from his role at Reebok following a change in ownership earlier this year.
The campaign imagery takes a similar approach to previous iterations of the project, capturing the collection in simple yet energetic studio portraiture that uses brightly colored backdrops to draw out the bold graphical impact of the collection. This time around, however, Jean-Raymond handled styling and casting himself.
The designer has been a vocal advocate of championing Black voices in the international luxury fashion space, where they are still underrepresented. This commitment is reflected in the casting, which features the colleagues, family, and friends that have gathered around the brand and who embody its values – a powerfully meaningful way to mark the drawing to an end of one chapter and the beginning of another.
The images are finished off with "Pyer Moss" front and center, unabashedly marking that this is the last time the two brands' logos will appear together, and now is the time to get in on it.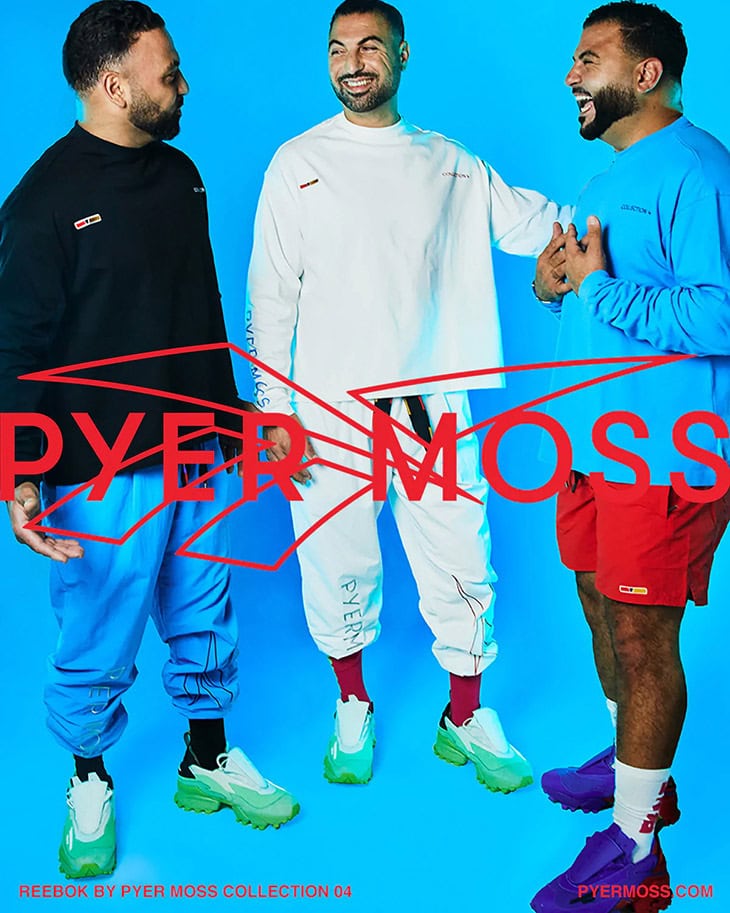 Creative Director | Kerby Jean-Raymond
Stills Photographers | Hot Thunderstorm (Kiera & Israel Veintidos)
Director of Photography | Jolver Cutino
Talent | Abed Abushi, Arlyn Imbert-Hugo, Corey Stokes, Damian Calliste, Damion Presson, Derrel Anthony, Dilcia Williams, Ellison Taylor, Eric Taylor, Fadi Abushi, Francesca Bonaventure, Geron Mckinley, Howard Levy, Jean-Claude Jean-Raymond, Kay Unger, Kerby Jean-Raymond, Maggie Gormon-Vazquez, Nidia Gonzalez, Rechelle Dennis, Rich Dennis, Robbins Cleozier, Rosco Abushi, Sophia Dennis, and Toby Oniyitan
Stylist | Kerby Jean-Raymond
Stylist Assistant | Pierrah
Hair | Nigella Miller
Makeup | Eunice Kristin and Yanna Pena
Casting Director | Kerby Jean-Raymond
Producer | Abdur Rahman
---