---
Reviews of Berluti, Sankuanz, TAAKK, Bluemarble, Kidill, and Rhude Men's Fall 2021 Fashion Shows
The Future of Fashion Belongs to Individuals with their Own Voices
By Long Nguyen
Paris remains, as the men's fall 2021 presentations are underway today in the French capital, the only fashion global city left with a serious and sensible men's fashion week.
The Milano men's shows that just ended after a 'five-day' calendar schedule was a sorrowful moment that demonstrated how resistance to changes could reveal the system's weaknesses. Over the 'week,' only three shows really mattered to fashion – the Prada show's debut by Prada and Raf Simons, the Fendi show, and the Ermenegildo Zegna show. These are major brands that can show at any time and do not require these pre-determined calendar slots.
While the Camera Nazionale della Moda Italiana did their best to fill the empty calendar with a few young designers giving them a platform to unveil their digital initiatives, the organization did nothing to address the more permanent changes, particular the major anchors of the Italian men's fashion moving towards co-ed shows namely Gucci, Bottega Veneta, Giorgio Armani, and Versace. What exactly is an Italian fashion week without these anchors is what was seen over the five days in Milano that was more thin air than addressing how to transform the men's presentation season amidst adversities to make the season more viable.
The time for a major overhaul for the men's calendar in Milano is now.
In Paris, it is more or less business as usual, well, as usual in this pandemic era where a curfew still currently in effect in a demonstration of how better organized the French federation is in trying to preserve a veneer of a stable show system despite several important absences from the men's schedule like Celine and Saint Laurent. Paris now belongs to the younger generation of designers who benefit from a greater level of organization and perhaps lend their voices a backdrop of authority.
Even as a digital-only fashion week, there is still a breath of fresh talent doing their own work in creative ways that aren't seen elsewhere. This is apparent on this opening day in Paris that belonged solely to this new crew embarking on their new fashion adventures with specific visions and projects.
BERLUTI
In opening the Paris fall men's 2021 digital show season, Berluti is following the path of its LVMH big brother Louis Vuitton by revealing just a teaser but not an entire collection with plans for an actual physical show in Shanghai, the new global fashion capital and the main market that matters most to all key luxury players, in the first week of March.
In lieu, Van Assche worked with Yoann Lemoine aka Woodkid, who is on the verge of releasing a new album as a consultant, and together with the video director Antoine Asseraf and choreographer Olivier Casamayou created the minute-long film titled 'Living Apart Together' basically as a preview featuring a new platform heel shoes and several colorful outfits more or less based on the house's classic patina shades. The Berlin-based Russian/German contemporary artist Lev Khesin who specialized in silicon-based sculptures and paintings will also contribute his talent and colorful 'art' pieces to this apparel collection.
"Craft is the center of what I do. Craft has become the inspiration, the justification, and the essence," Van Assche said in an interview at the French federation platform for the entire Paris show calendar. The designer spoke about his first exposure to handcraft in fashion when he started at Yves Saint Laurent, and there he encountered an old gentleman from the Maison Michel who came to the office with a demonstration of the complicated procedures of handmade hats, an experience so radically different from what he had learned as a fashion student in Antwerp. "Patina is not a print," he said about the special process of coloring and bleaching of the leather through the hand application of solvents, essential oils, pigments, and dyes to procure that lived in shades and textures.
A cropped oversize red wool double-breasted four button double breast jacket paired with bluish-purple boxy, tapered leg pants, a brown wool plaid knee-length coat with piping trims paired with bright Fuschia cigarette pants, and a brown dyed leather blouson with a series of dyed cotton shirts are the few well-crafted outfits gleaned from this brief film. The rest of the collection would have to wait until the Shanghai show.
While essential, the focus on craft is not the most exciting way to get the young generation to be part of the brand's fan club. Any consumer purchasing a pair of pants, a jacket, or a coat from a luxury brand at a high price expects the product to be made with the highest quality of fabrics and fabrication standards – that is now a given.
Craft isn't exciting and isn't the road to young people's hearts. Sure, there are no doubts that everyone would want these highly crafted and modern cuts jackets, pants, or coats but providing the perfect male fall wardrobe isn't all that a designer luxury brand should avail. Young consumers would want to partake in the brand's non-product values.
SANKUANZ
Unable to travel to Paris for his annual Sankuanz shows, Shanguan Zhe chose instead to make a film featuring the small replica of the Paris complete with the Eiffel Tower as well as Paris style architecture building, a Champs Élysées avenue, and fountains in Tianducheng, a housing suburb of Hangzhou in Zhejiang province constructed in 2007, to make a film for his new fall Sankuanz collection.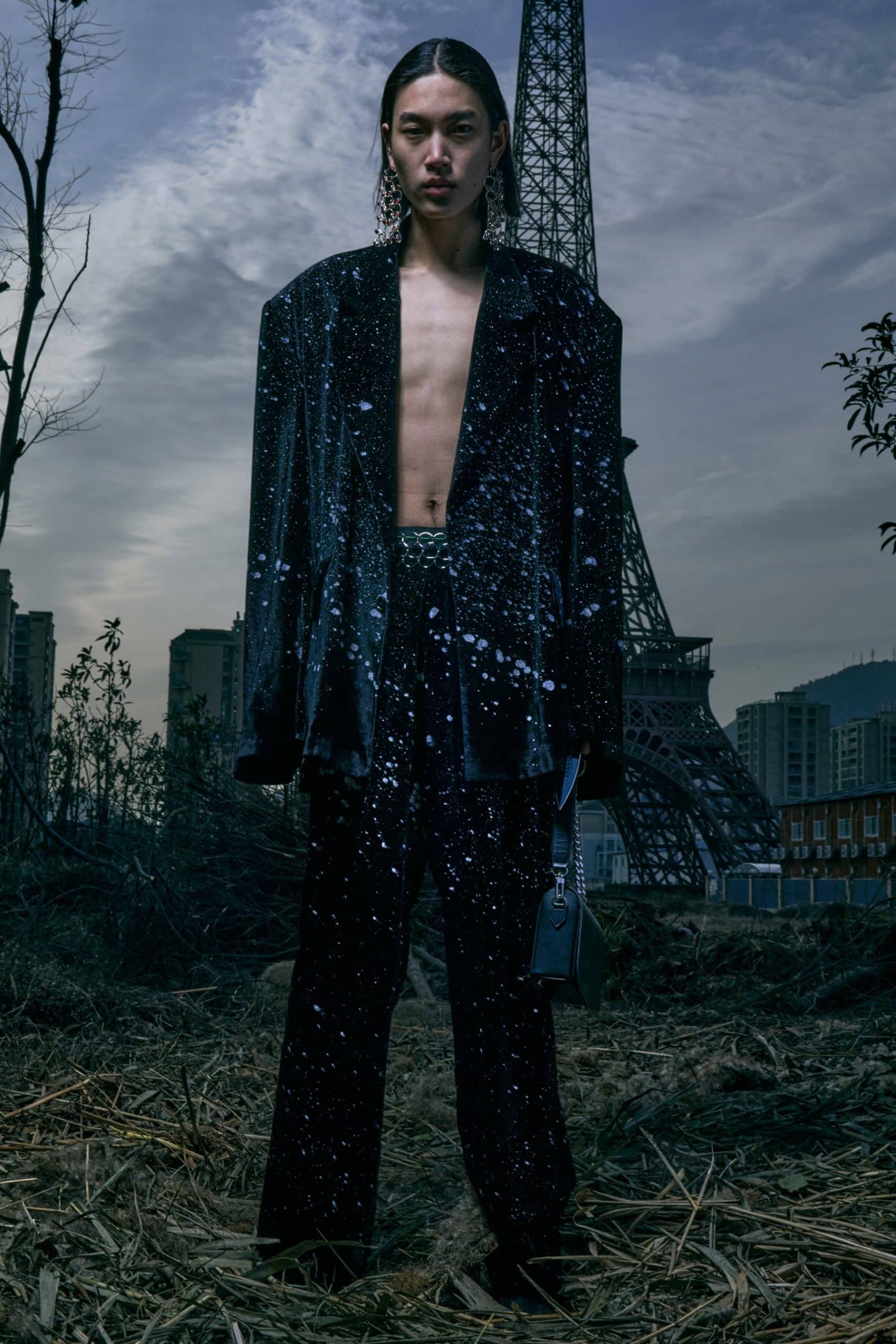 Ever a devotee of youth culture, fine art, music, and pop culture, Zhe's new fall co-ed collection borders on the militaristic theme with a fast-paced short film directed by Feng Liang titled 'Turn Black' featuring models walking inside the second level of the 'Eiffel' and wearing black leather biker suit with long metallic spikes, knit sweater with silver yarns and metal chain fringes and leather spikes pants, or a cameo field jacket again decorated with long metal spikes and a head mask with sharp long needles pointing outward. These militarist elements on both streetwear and tailored garments are familiar in Zhe's work since he launched his Sankuanz brand based in Xiamen in 2008, all of course with an urgent and perhaps dystopian allusion to his more utilitarian clothes with the artist Zhou Yilun contributing his subversion of oil painting art in creating splash paint on a cameo vest worn outside a long cotton coat and pink v-neck tee shirt.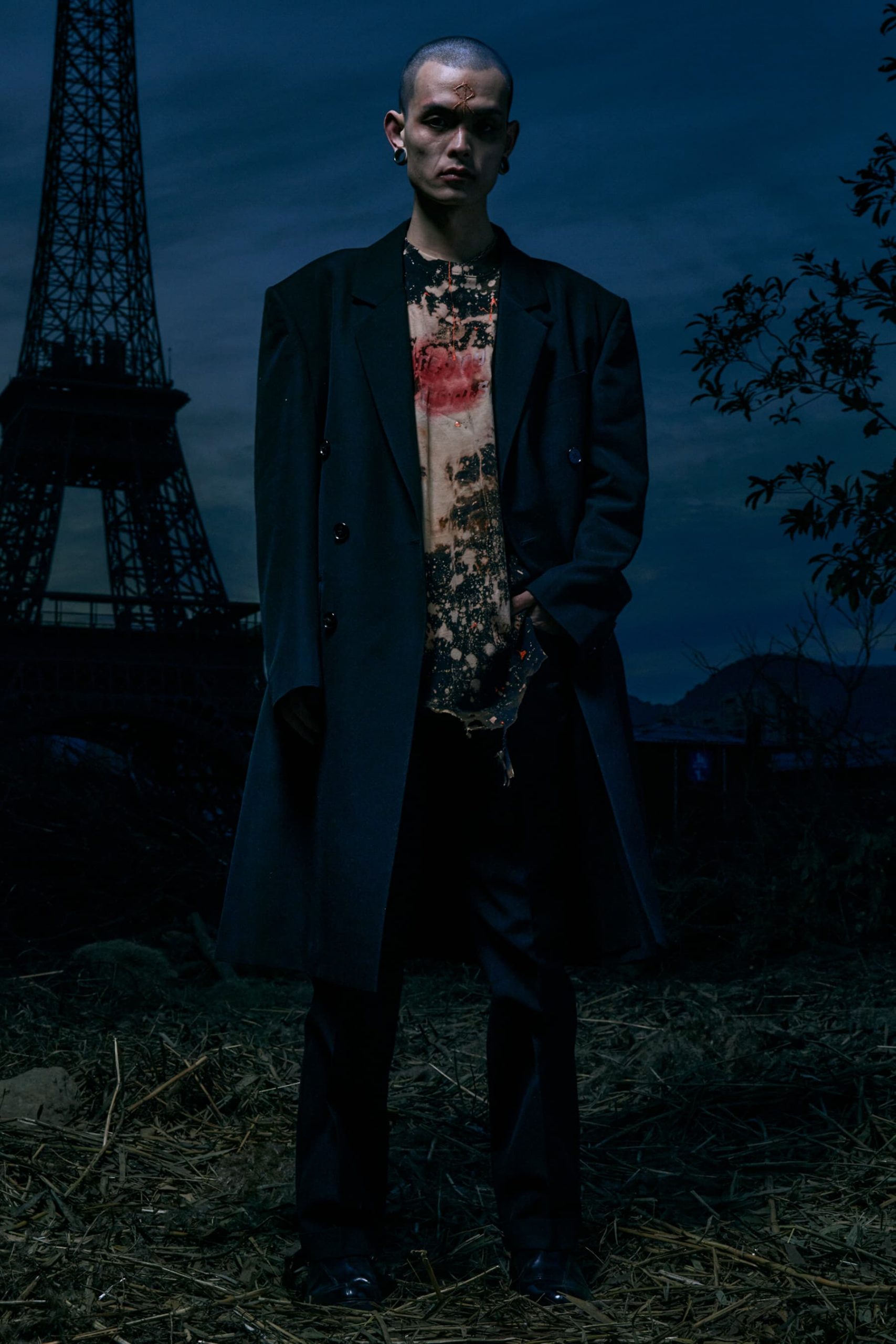 Between the handwritten torn cotton tee shirt and hand-painted cotton pull-on pants and the hooded cameo coat and painted beige cotton trench lies Zhe's subtle but firm tailoring skills in the cuts of a slim black one button fitted jacket decorated with silver small figurines and paired with slim pants or even a tailored Mao collar black suit with black shiny rectangular or the pagoda shoulder black tuxedo. Or even just a plain black slim suit with a lime rectangular pattern.
The collection merges a bit of traditionalism amidst the sea of hardcore street style with a great cast of all Chinese models walking at night inside and around a replica Eiffel. The film is real and not science fiction, the backdrop is real good replica realness, and the clothes is one of Sankuanz sharpest in recent seasons.
TAAKK
The Japanese designer Takuya Morikawa launched TAAKK in Tokyo in 2013 following an eight-year tenure at Issey Miyake where Morikawa learned the process of design and fabric innovation that has become the modus operandi for his independent brand's push to reshape the traditional boundaries of menswear, focusing especially on the construction patterns and on the utilization of fabrics created from scratch by working with artisans.
Directed by Nagisa Kodama with the model Keiju Furuya and inspired by the abstract nostalgia in Saul Leiter's photography, the moody short film portrayed a young kid on a bus moving to a new city and discovering a new life with a mixture of reality and dream merging seamlessly. The young man looked out the window of a moving bus and descended into a new world-first wearing a charcoal grey fuzzy wool coat to wandering around the park in a light green velvet jacket with a faux photo print pattern of a double breast jacket.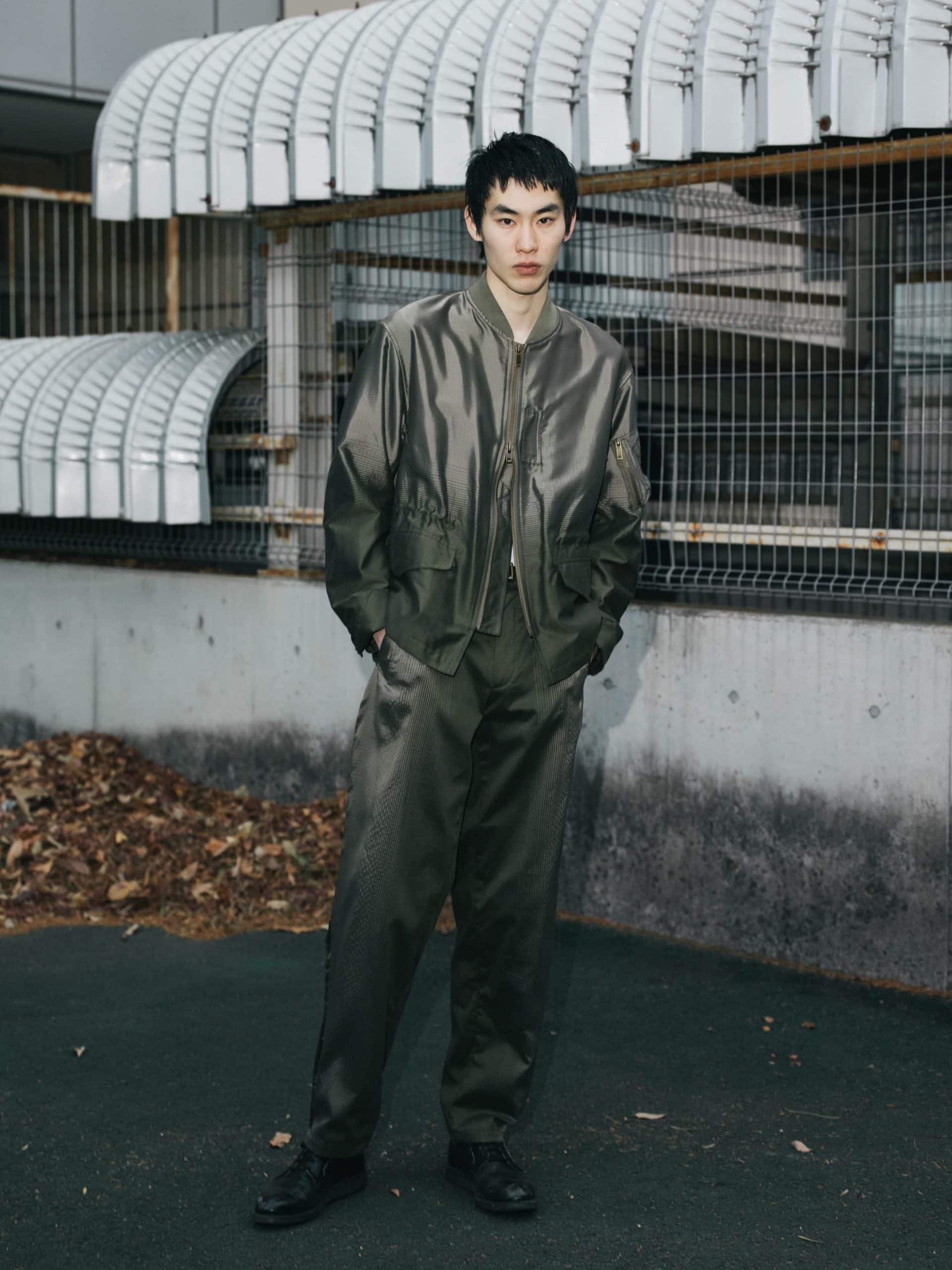 Morikawa's signature boxy tailoring this time comes in a light grey cropped jacket with flared front pleated pants and matching coat or in a black cropped jacket with flare pants and a dyed leather coat. The designer juxtaposes different fabrics materials layered upon each other to create a field of volume in a silk nylon short coat worn with a baggy high waist green leather pants and a white cotton mandarin collar shirt.
New this season, but a crucial element of Morikawa's work in his constant efforts to invent new shapes is the shirt/single breast jacket combo in a light blue/light green dyed with a front pleated pant as a new version of a suit and a single breast jacket with the trims and the front zipper of a biker jacket. The classic jacket became a shirt. The detail of the fabric of an MA1 bomber is extraordinary – the shiny brownish blouson has a single piece of fabric that is flat at the top then changes into a stripy pattern than to a lighter brown at the bottom, reflecting the transformation of a formal jacket into a casual bomber coat.
"Six hours, seventeen-minute, four hundred kilometers. I thought it would be more exciting. Here I am. So now what? It's a non-starter I know, but some parts of me expect it to feel different. A year from now, I will look back and said, what an idiot, but right now, that's exactly what I am doing," said a male voice narrating this journey of self-discovery. Part of this journey is the journey to discover new fashion, and perhaps her new inventive clothes from Morikawa.
BLUEMARBLE
Anthony Alvarez, the French-American-Philippino, who founded Bluemarble in 2018, is fond of travel. Using memories from these excursions as a canvas for his fashion creations that reflect Alvarez's different routes around the globe, the designer used these abstracted settings to Bluemarble's fall video montage.
In a video filmed within the confines of the various spaces as backdrops both real and faux – office, warehouse, hallways, basements, libraries, and even a mountain road – models walked as in a real physical show wearing Bluemarble combination of sporty utilitarian wardrobe with a slight nod towards tailoring albeit not exactly classical tailoring. The overall pastel color results from the colorful northern lights in the winter with an expanded selection of clothes that range from an ice blue boxy jacket to light yellow wool coat to colorful print cardigan suit to large khaki trench poncho over a striped tracksuit.
By keeping the collection small, Alvarez can focus on each of the garments, attending to small details like the heavy crease line on a pair of faded denim or the double line buttoning of a patchwork cotton stripe shirt.
The asymmetrical striped shirts and the uneven ruching on a dyed blue top or the metal fastening on denim jeans' leg add design details to these youthful clothes in fresh color combinations.
KIDILL
Japanese designer Hiroaki Sueyasu brought his Kidill collection to the French capital in 2019 for the first time. His very personal fashion, with its heart deep in the youth punk music scene, especially the new Japanese punk scene, is a deeply hidden world far away from J-pop's glossy and within another hideaway world with unknown bands like Ms. Machine, Fadeaways, Jebiotto, or Tropical Death.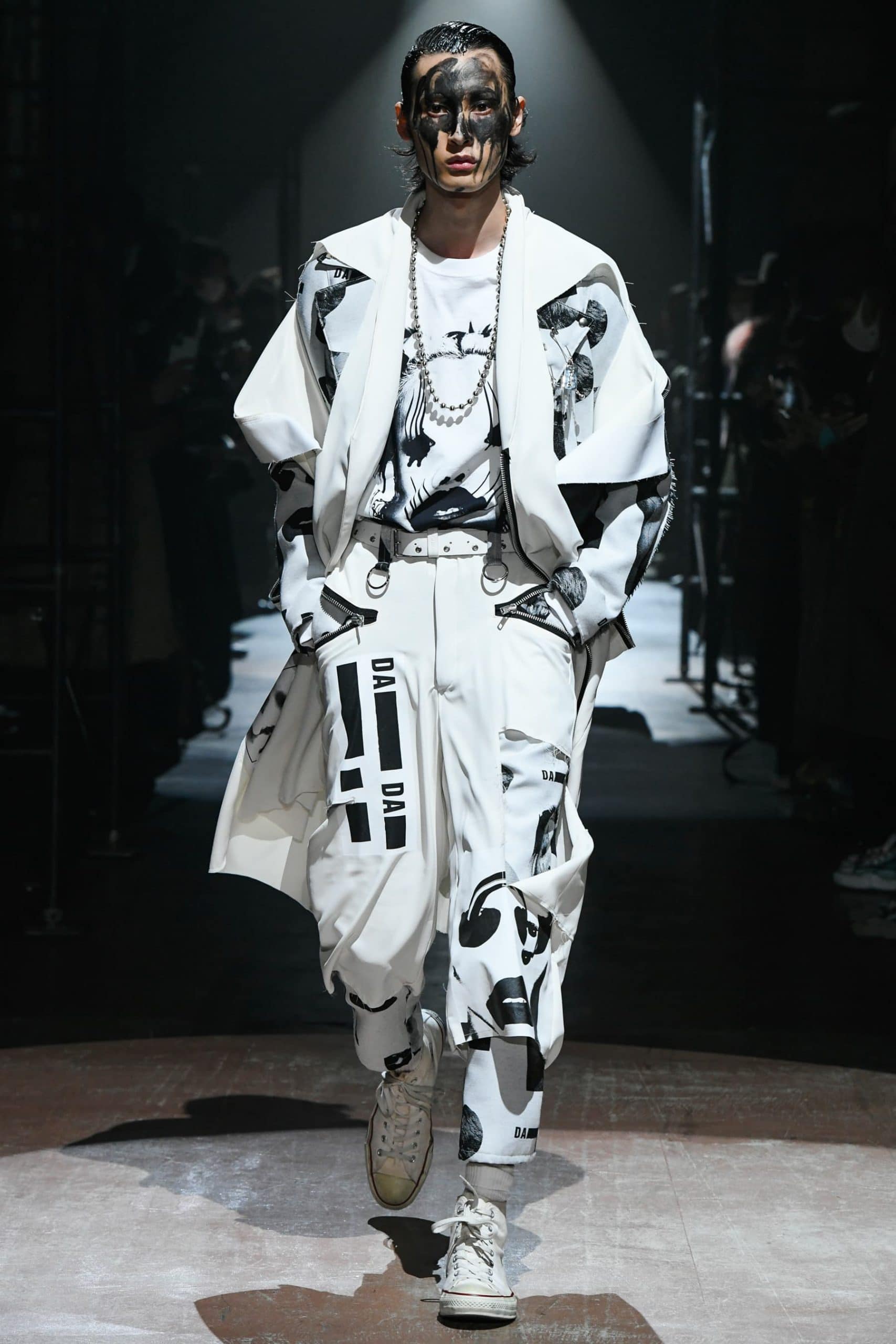 Sueyasu's sense of fashion is born from his deep understanding of the Japanese underground music scene and its importance in shaping youth culture. The designer incorporates graphic elements common to punk culture into clothes that the youth who populate these underground concert scene would wear – for example, the black decorated bikers from fall 2017 and the blue tartans long pants and vest from spring 2018 or those tartan oversize work patchwork coats with attached dolls made in collaboration with Siouxsie Sioux of the band Siouxsie & The Banshees. Punk music for Sueyasu is not just music but a life and a lifestyle.
In a black and white film titled 'Desire' that features the avant-garde music of Keiji Haino, Sueyasu had models, some with heavy black eye makeup, walk around an empty loft-like space with concrete columns. The American visual artist, illustrator, and art director Jesse Draxler contributed the drawing of faces on the surfaces of white cotton long shirts and pants, canvas denim jacket and patchwork jeans, or white knit sweater with black drawings. The designer also ventures briefly into the tailoring arena with a few sharp cut blue elongated silhouette jacket pantsuit worn with a black print long shirt-dress or a blue overcoat paired with a matching red print shirt suit. The strongest looks and perhaps the most Kidill looks are the long white double breast coat and pants with black and white face print and a similar version as a suit in black with white print faces.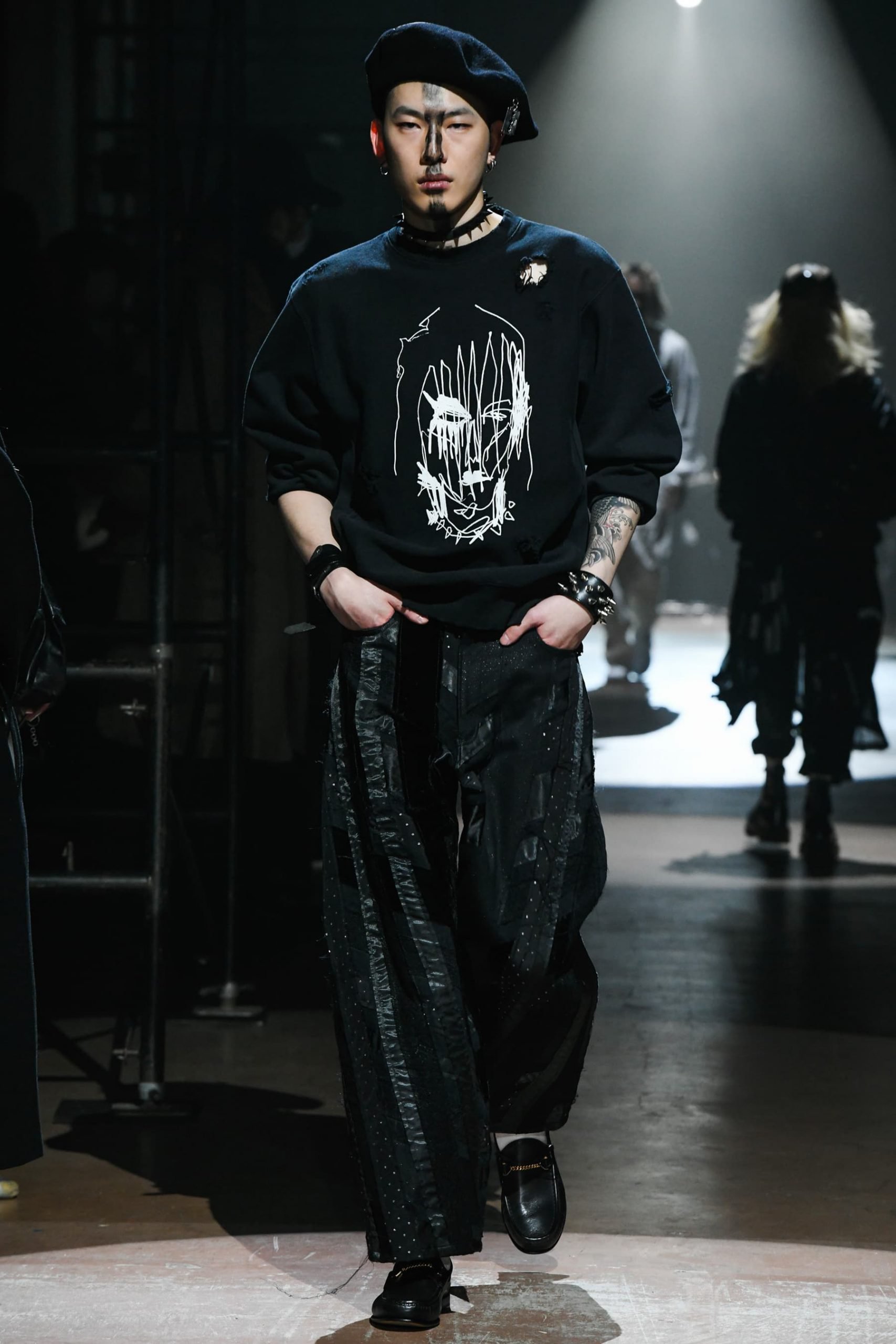 It is noteworthy to remember that besides his talent for a broad range of music and musical instruments, Keiji Haino is also known for his long hair. Also, having just one sartorial style of the same black clothes – mainly fitted jackets, shirts, cigarette pants, and black leather boot – and black sunglasses throughout his entire career is still ongoing. Perhaps to someone like Sueyasu, this stylistic consistency is a value to cherish personally. As an aesthetic for his brand Kidill that season after season he has sharpened its fashion offering from the underground currents that are surprisingly coherent and uniform. Haino appeared at the end of the film in a long black coat, walking away from the screen, and disappeared behind a turn.
Kidill is a small brand launched in 2014 that big luxury houses should learn from for the valuable lessons today of how to connect to today's audiences. The brand's central aesthetics flow from everything the house does, from products to images to the people the brand collaborated with, in this case, the rock musician Keiji Haino and the artist Jesse Draxler, both chosen because these artists are like an extension of Kidill rather than playing the decorative role just for a fashion show, and to make a few sweatshirts. It isn't far-fetching to say that both artists more than share the brand's sensibilities and are natural for the Kidill consumers' sensibility.
Loyalty is born from the commonality of values, and perhaps also with the kinds of clothes that look and feel like they are made by people who have similar outlooks, desires, and attractions. Kidill, currently at the New York and LA Dover Street Market, is like a fashion cult for many of its followers and consumers. The young audience and potential customers can see and feel this consistency of aesthetics and of image.
RHUDE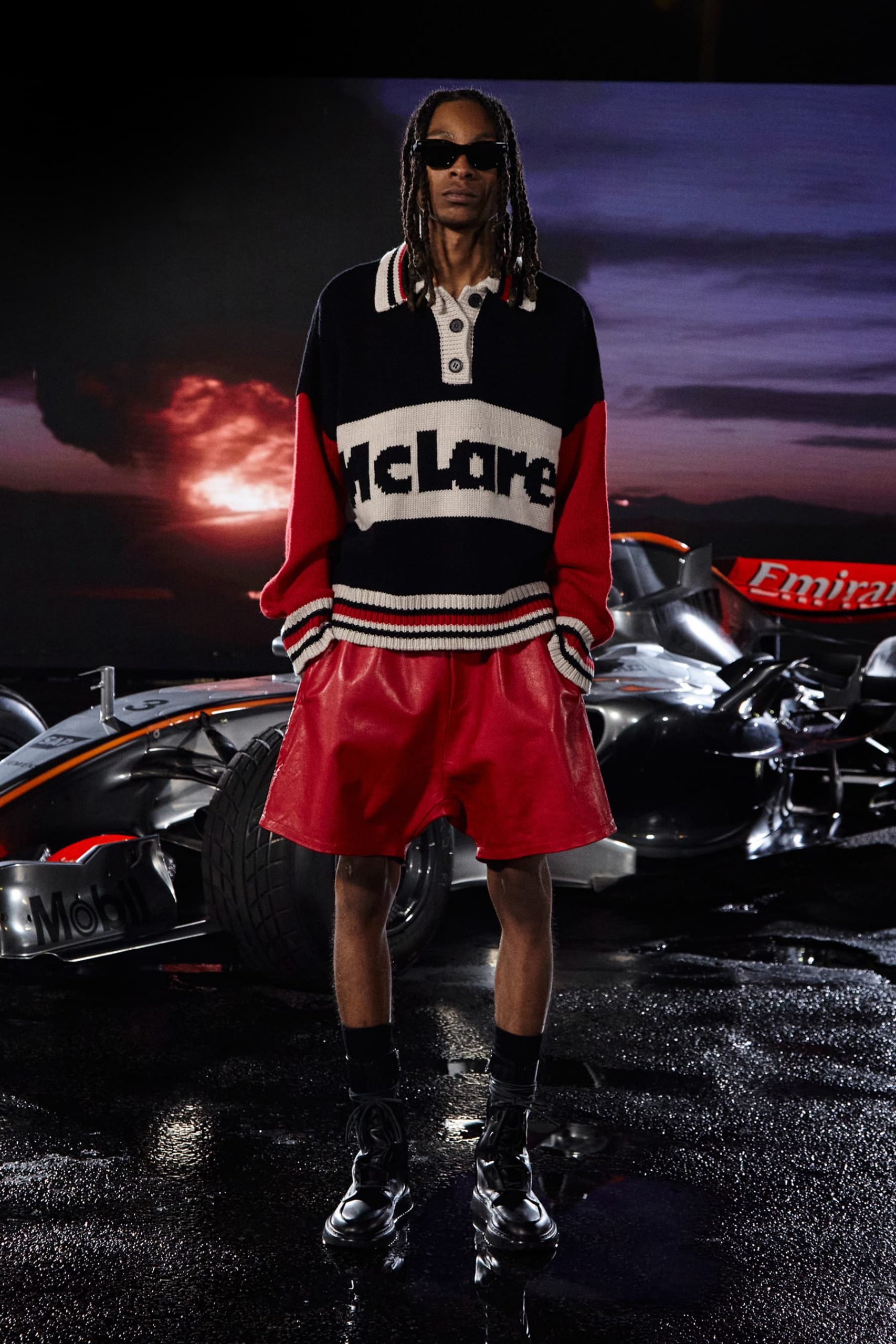 The McLaren racecar with the Rhude logo on the side in the opening shot of the film titled 'Storms Never Last' signal surely a partnership with the Formula 1 Racing Team with logo sweaters and the launch of a larger scale women collection since the few looks offered in fall 2020 steps forward for Rhuigi Villaseñor's brand launch in 2015 to capture that allure of the Los Angeles 'style' with the view of expanding this new fashion bohemia into a lifestyle clothing company.
There was a moment not long ago when this LA style meant something like nonchalant luxury or something in the range of having luxury but don't really show it as a luxury idea. And a few LA designers are quick to capture and catapult these perceived parlances of 'LA cool' and 'LA luxury' into a snapshot of a fashion moment for their respective brands.
Models walked around the parked racecar in a night time filming wearing new iterations from the Rhude fall collection with a mixture of sportswear casual and sportswear dressy. That meant on the sporty side knit polo with the McLaren logo and red shorts, cardigan blouson with the Rhude logo or a black leather jacket with black pants; and on the dressy side a white tailored coat or a four-button short double breast wool jacket.
This collection pays homage to the work of Tommy Hilfiger, a giant in American fashion and a designer who has an eye on the changing topology of culture and the people making and changing these zeitgeists.
Hilfiger just recently launches his fifth capsule with the driver Lewis Hamilton under the special label TommyXLewis. The range of the clothes in this Rhude collection isn't that far off from the offering of the Hilfiger collaboration with the superstar driver, and now it seems to be an on-going rather than a one-off project.
This is a territory that Hilfiger owned over the decades. Still, Hilfiger could offer his products linked with each of the pop-cultural moments – hip hop, professional sports, musicians – all played and participated in his rise as one of America's largest fashion companies. In a way, Hilfiger borrowed from and attached his brand to each of the current pop movements out there, and the designer kept vigilance on the vagaries of attitudes over time.
None of these clothes are exciting, and none of these clothes are innovative either by design or by fabrication. In other words, these clothes don't offer a unique point of view in any way. Putting the logo of a premier racecar brand on a sweater isn't going to somehow transform Rhude into a cool brand in manner, at least to the kids who can discern between the good, the bad, and the ugly.
---