---
Talking and Reminiscing Fashion
BY LONG NGUYEN
The London 'shows' continued today opening the day's presentation with words not clothes.
Podcasts and live conversations are a new horizon for fashion designers to engage with audiences beyond the seasonal promotions of the fashion shows. For the past few seasons, John Galliano sent out a 30 minutes podcast explanation of his collections for Maison Margiela via Apple. Galliano walked the audience through his complicated thought processes to explain how he came about to create the collection just seen. It's personal and also it engages the listener in a way the fashion show may not.
But Galliano's podcasts are the real exceptions not the norms for designers as few fashion houses have begin to explore this supposedly growing avenue. At least the three live broadcast conversations here can be a start of something new to come from fashion houses and designers. But in the age of Zoom perhaps these podcasts and conversations will become more of a standard going forward than the exception.
Jd.Com Talk With Anya Hindmarch & Hu Bing
Hu Bing, the Chinese actor-singer and former top male model for decades and LFE China Ambassador, hosted the accessory designer Anya Hindmarch in a live broadcast on JD.COM, the largest Chinese e-commerce site by revenue and a sponsor of LFW. Hu and Hindmarch spoke in Chinese and English respectively with instant translation for the dual audiences and discussed the crucial problems and possible solutions as the fashion industry remains the top five producers of waste and pollution that exacerbates the global climate change crisis.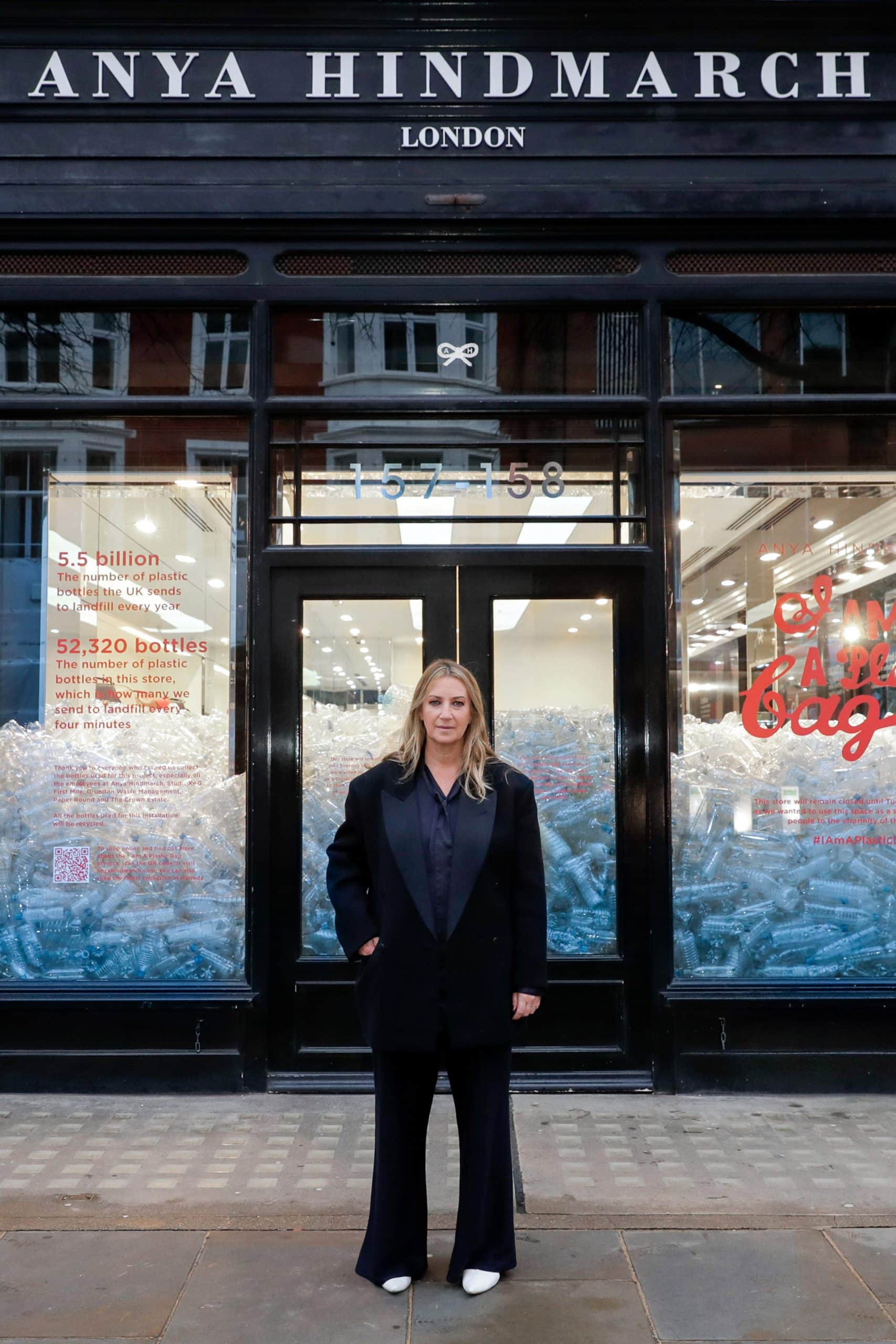 I am very passionate about accessory and fashion. I care about things that are beautifully made and ultimately made better, and I am passionate about sustainability.

– Anya Hindmarch
Hindmarch expressed herself as she sat at her office in front of a white wall with colorful letterings hung together to form the phrase 'CREATIVITY will eat STRATEGY for BREAKFAST'.
As the talk is hosted by an e-commerce site, Hindmarch discussed her current fall which is available now at the Chinese site rather than anything about the future spring line. Perhaps this is a version of an intellectual QVC where ideas are exchanged but on-screen nothing is being physically sold. It is actually an unusual happening. "Our fall collection is based on the subject of waste and how we can build with less waste. We worked on a patchwork collection that used all the small pieces of cut leathers that would have been discarded into landfill – how we can resurrect them and repurpose them and make them into something that people would want," Hindmarch said.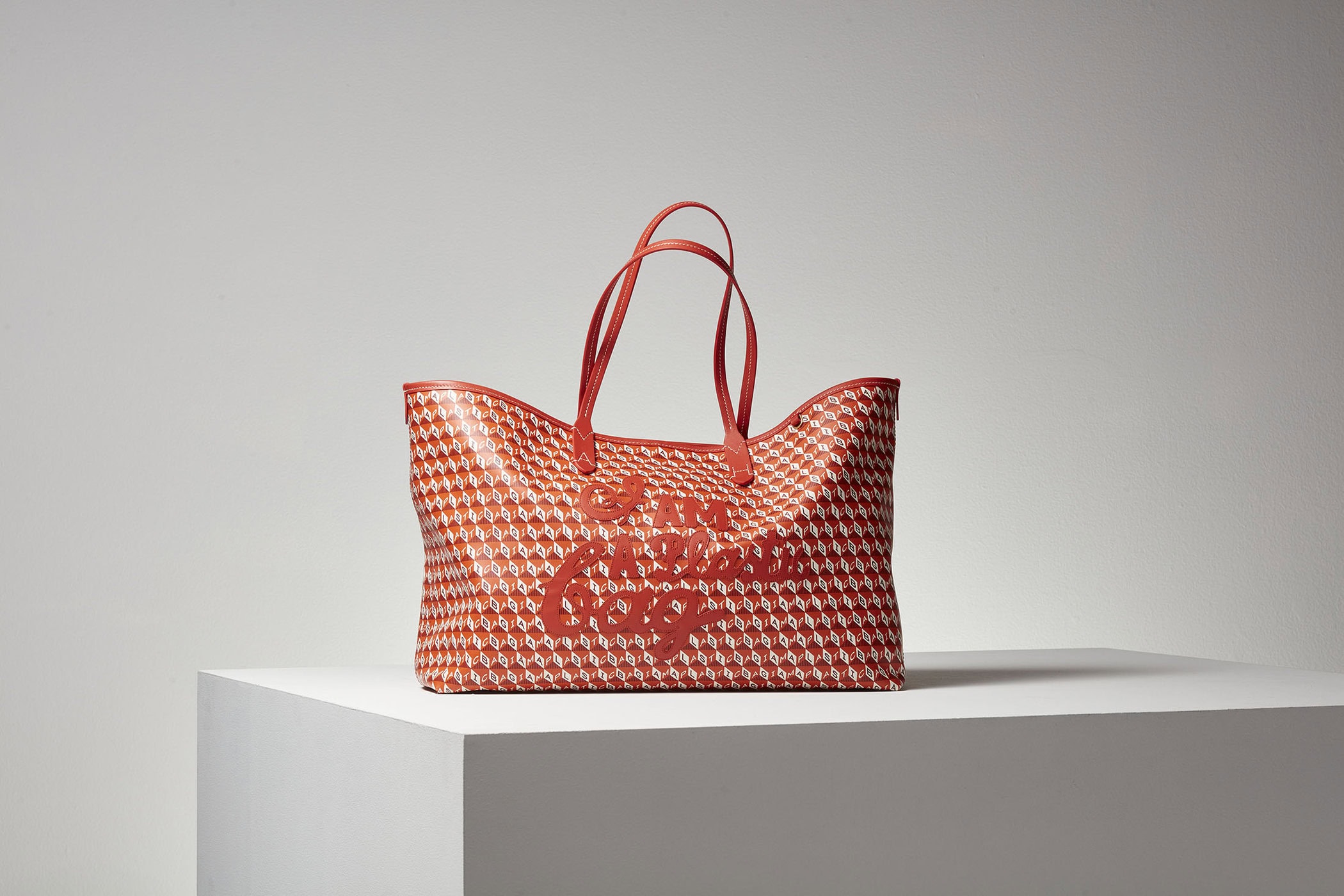 "We got to know the brand through 'I am not a plastic bag. Recently you launched 'I'm a plastic bag' collection. How is that evolving?'" Hu asked. "I am not a plastic bag' was a project that we launched in 2007 with the purpose to create awareness of the single-use plastic bag and awareness we got and there was a queue of 80,000 at the store for the cotton tote bag made. Here we are in 2020 and the problems have actually not gone away so we started 'I am a plastic bag' which is made from plastic bottles that would have gone to landfill. The problem is also how do we keep the eight billions tons of plastic from going to landfill? Even the coating of the bag is made from recycling plastic glue. We have to keep fashion circular." Hindmarch explained.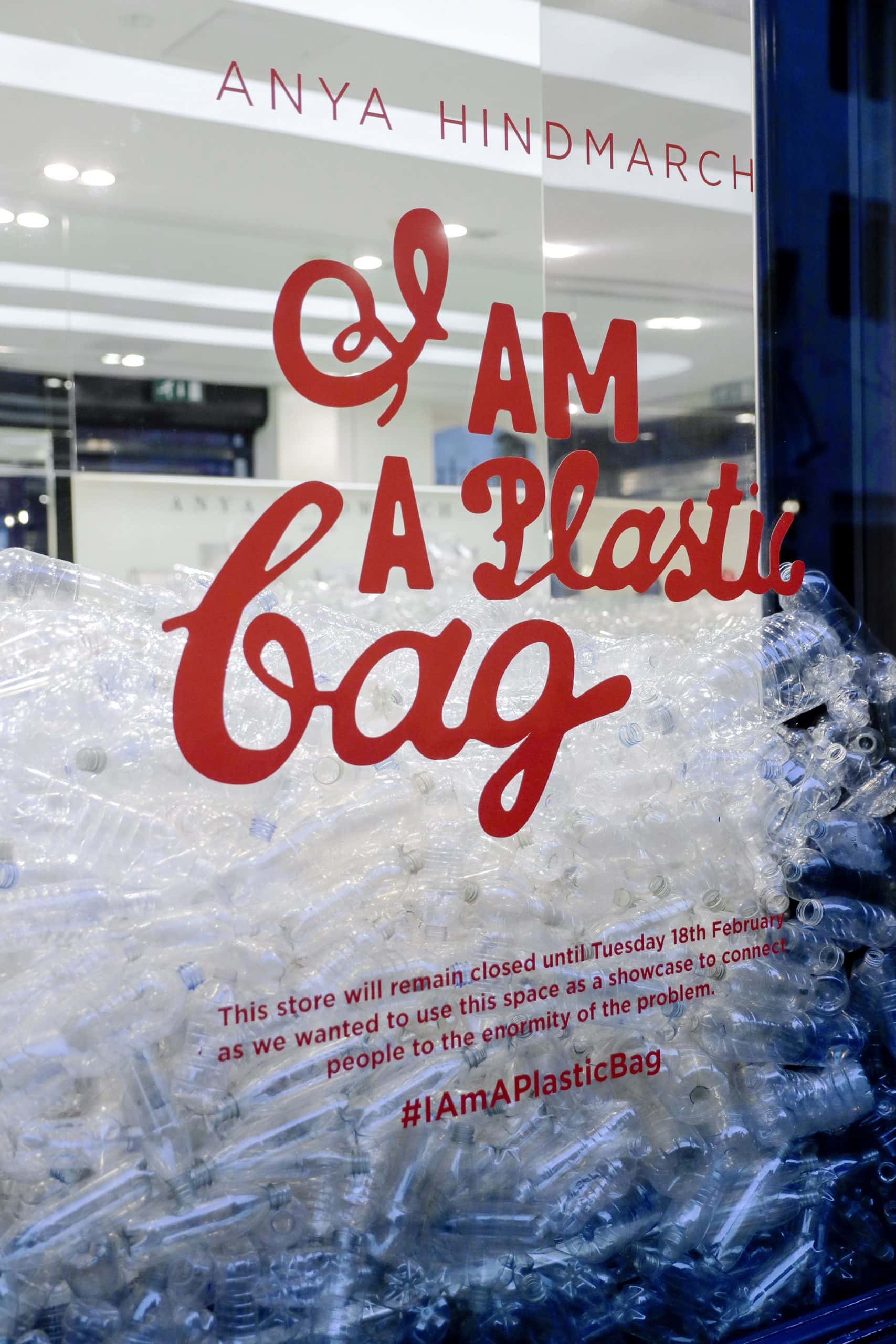 Living and consuming in the age of sustainability aren't easy feats. "if you go to a landfill site, it will change your views completely," Hindmarch said that the most important aspect is to apply common sense and thing about what are disposable. Hindmarch's common sense approach applies to her products most of which are multi purposes with versatile bags that can function all day long.
Hu asked about her experiences of during the lockdown. "It was a busy time for me creatively," Hindmarch said and also that of spending more time with her family and kids.
RAEBURN
The fashion industry has experienced a radical shakeup in the last six months. Are we really facing a genuine reset, and if so, what's next?

Christopher Raeburn
This is the question that Christopher Raeburn was attempting to answer among other questions from his studio RAEBURN LAB in Hackney East London with Sarah Mower, the British Fashion Council Ambassador, as they discussed the current and future of where fashion is heading. The conversation was broadcast live on Instagram and at the LFW site.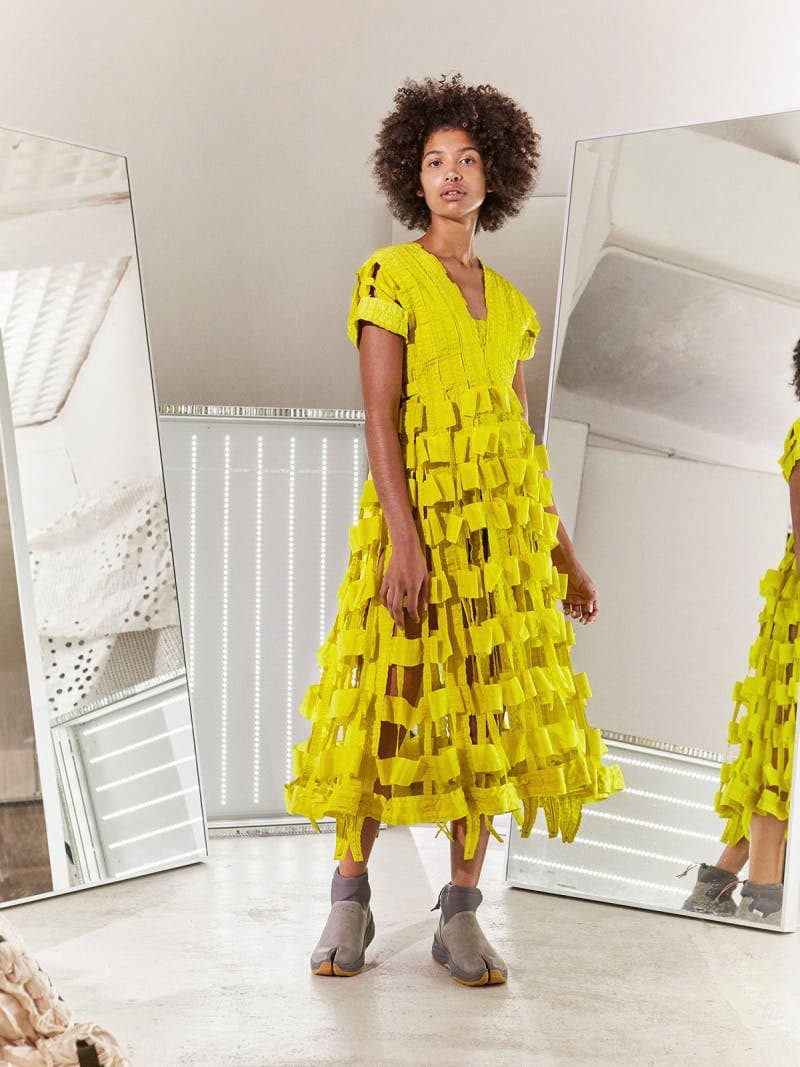 "Remade, Reduce, Recycle" are the three words central to the fashion work at Raeburn Lab where the designer is launching the RAEBURN RAEMADE by special order collection that uses Surplus Air Brake military parachutes into a capsule women collection comprising of yellow nylon panel cutout pants, white or black perforated nylon dress and a black evening dress made from the same flight materials. Each dress is made from one entire parachute. The clothes are designed in such a way that enhances the look and feel of the parachute fabrics – it's hard to tell that a marigold yellow short sleeve dress with overlay fabric strips is made from nylon flight from decommissioned parachutes.
Re-appropriation is the current word of the day.
"At home with my family, reflecting and thinking a lot," Mower said of her lockdown.
"Fashion has shifted to films and a wide-open field with little formula attached," Mower said reminiscing about the fashion show circuit routine that was standard six months ago. "Maybe the catwalk is not the pinnacle anymore?" Raeburn asked if this could create a new area of conversation. "Halpern shifted to making an incredible film with women from the front line and that was incredible. So is Bettany Williams and the Magpie. It's about the community and the realness of what these designers do that is fascinating," Mower said of the way several of the London designers have adopted these new ways to their advantage and doing so without forgoing their visions.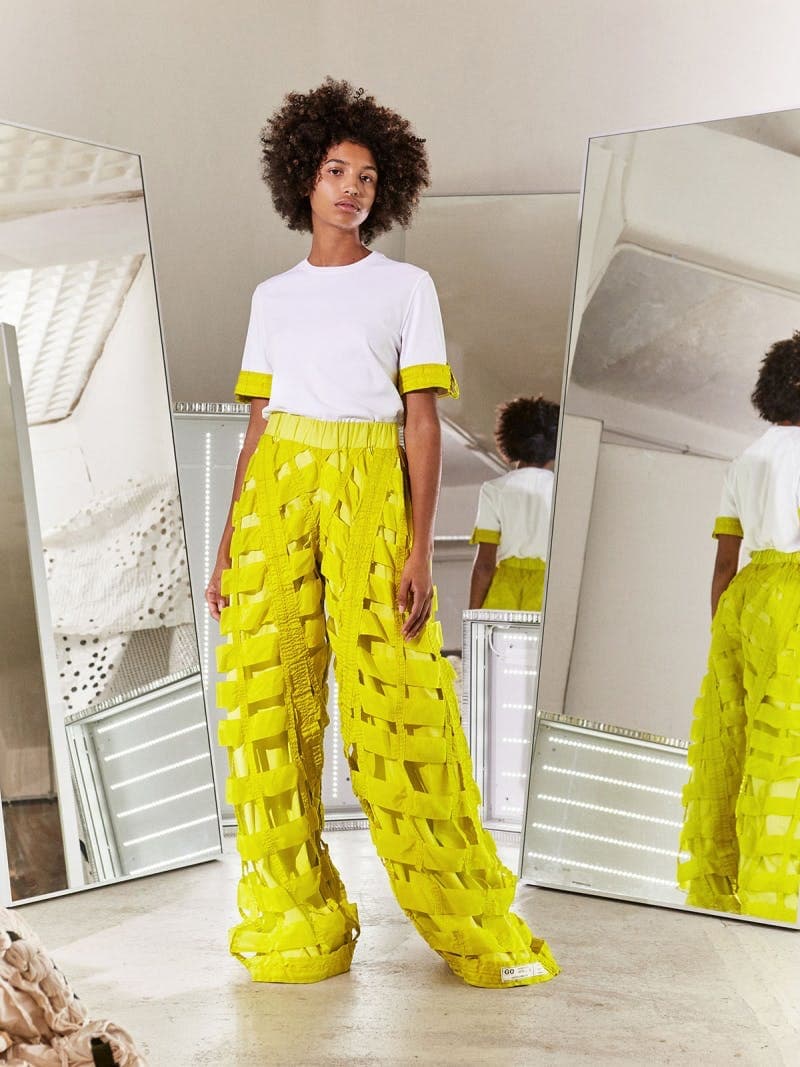 "I believe the answers are coming from young people. They regard themselves as citizens and they buy from the company in the ways they operate not just by the looks. Ten years ago no one use the word sustainability." Mower mentioned and asked Raeburn about his own brand's adoption of these novel concepts a decade ago. "Scale! That's driven by investors and they want to make a lot of money," Mower agreed with him about keeping the company smaller and manageable.
Both Raeburn and Mower talked about conservation thinking that should start with textiles like cotton since these fabrics came from the ground and that consumers are often cut off from where the products they consume come from. "London is becoming a hub from upcycling.
"I don't know what's next," Mower said with a laugh. "Locally may be the answer. You can change what you do and who you do it with."
THE BRITISH LIBRARY CONVERSATION
"Fashion can't just be about cutting and pasting and mood boards," Sarah Mower said sitting at the British Library with Nabil Nayal, a Syrian born British designer and a Royal Academy of Arts MA graduate whose collections reflect his obsessions with crafts and dramatic constructions, as the pair had announced last month of a BLxBFC Fashion Research Competition. "I spent a lot of time here looking at the manuscript, and I immerse my self getting closer to the materials here when I was doing my doctoral dissertation," Nayal said of the British Library and the availability of prime resources. They sat in front of a brown chiffon dress Nayal made for his spring 2019 collection.
Nayal is currently a Course Leader in MA Womenswear London College of Fashion since last year and has a PHD in Elizabethan dress from Manchester Metropolitan University. "I would say I am more of a practice base researcher who is making stuff and imparts knowledge," Nayal said when Mower asked him to define himself for the live audience. Research is critical in the process of education, particularly when confronting the biggest disrupter of fashion ever.
When lockdown hit, we were halfway through a project, and do we carry on or react to what's happening around us? Nothing is normal.

Nabil Nayal on having to alter his course.
We had to ask, "What is a theme? That's a 1982 word. What is a line-up?" Nayal said in emphasizing that the changes in the language and in the terminology are just as important for fashion in crisis. Fashion is supposed to educate and inform. "When somebody has put together elements of their world in a configuration that is unique to them," Mower responded about how new talents can define themselves.
I think it's now less about grandeur, less about smoke and mirrors, it's about authenticity that will drive success.

Nabil Nayal on the new mood, and how established principles no longer hold true
"Fashion has always been taught from a very linear perspective and time line and it never took into consideration about empire and the exploitation of the working people," Mower said about the materials available at the British Library on different topics and more now accessible digitally.
SIMONE ROCHA
In a salon live presentation with ten models at the Hauser & Wirth Gallery and strict adherence to the U.K. health regulations, Simone Rocha showed by it mattered to actually see the clothes in person and on a model to really understand the complexities of clothes, at least in the way she designed them with meticulous attention to materials and constructions. It is certainly not the same to see these new spring clothes on-screen and as they simply don't come alive on these flat surfaces not allowing for the appreciation of the details workmanship.
Since starting her label in 2010 in London with Fashion East, Rocha has developed her fashion with a unique view and imbued her clothes with a sense of the grandeur of history with her innovative deployment of proportions and employment of new materials together with traditional fabrics like lace and silk satin. "Simone Rocha's designs challenge our preconception of femininity, often toeing the line between pretty and perverse. Sugary hues, ruffles, and floral blooms are tempered with revealing cut-outs and sheer panels," is how the large e-commerce site MyTheresa described Rocha's aesthetics to its consumer audience.
The oval shape as a soft silhouette permeates throughout the spring collection in their bits of familiar dress historical forms either in the black wool flare jacket with puff sleeves and long skirt, ecru cotton long coat with neck embroideries, or a nude embroidered light cotton flare coat with loose short pants. The brown jacquard puff sleeve long coat with cotton corset inset in the front and red bead embroideries to emphasize the contour of the breasts is one of the strongest outfits that embodied this sense of reminiscence of Victorian and Edwardian shapes now construction destined for the modern audience. This brown jacquard coat-suit with flare culottes pants epitomized Rocha's design ethos – studied body forms, elaborate mixture of materials, and superb handicraft. But Rocha's eyes also focus on the commerce of the brand with a light cotton asymmetrical puff sleeve blouse and cuffed culottes pants shown at the presentation with a black metallic crochet corset.
PER GÖTESSON
"My grandmother was a garment factory worker who has a specific appreciation of what's beautiful. The way she lived her life, how she appreciated craft, her taste, and how she combined things has all informed this collection," said Per Götesson about his spring line for 'working class princes' using repurposed fabrics and cut to highlight the masculine shapes dedicated to his grandmother who passed this year.
The first short teaser titled 'For Lillie' was just that a sampling of the mood. This montage teaser who fast pacing collages with images of his studio assistant as the model wearing several of the looks that include a white short laced tank and underpants, washed denim tees and mixed denim fabrics pants decorated at the ankles with recycled metal trinkets, acid dyed tee shirt with ruched necks and some great customs jewelry necklaces and tiaras made by Husam el Odeh, the designer's partner.
The second teaser 'The Ghost of Gulliver' showcase a few more of the spring – ecru asymmetrical tee-shirt, denim pant jumpsuit dress with open side pockets, white tee dress, and a denim pleated front pants.
In Götesson's work making womenswear for a man's body, a knee-length denim zippered coat is cut like a dress or a new slouchy denim shorts that sit flat at the crotch but gathered at the knee. There is no gender fluidity or genderless clothes here to speak of as these Götesson clothes are made for men only. A few of the design items may look odds at first but given a few seasons more and our eyes will adjust to these clothes.
LIAM HODGES
In lieu of an actual showing of clothes, Liam Hodges culled different scenes from cell phones cameras that documented his trip in January 2020 to show his 'Brave Old World, New Ideas' collection in tandem with Fashion East to make a short documentary video offering scenes of the flight, the fitting of models, the pizza and scenes around Milano – all seemed to be from another dimension at this moment when fashion is lived on from memories, struggles, and hopes. 'Ciao Bello' (Goodbye Normal).
A graduate of Royal College of Art Hodges started his streetwear luxury brand in 2013 in London with the express intention of serving a new generation of online born consumers who are more self-aware and self-knowing than the previous generation prior to the advent of the digital age in the last decade. His graphic, rugged sportswear and slouchy shapes clothes like a red hooded sweatshirt with crochet embroideries in the back or old an old print tee shredded and sewn on to new tee-shirt.
At the end of the documentary, the working group in Milano shared glasses of champagne. It's an image we won't see for some time.
PALMER/HARDING
"My name is Nancy Palmer and Levi Palmer is my son. As a child Levi was very delightful and full of joy and full of life," said an older woman wearing a blue cotton shirt and black skirt standing in front of a wooden house somewhere in a deserted town. "My Name is Suzanne Harding. I am Matthew's mom and I'm Levi's mother in law," said another woman in a countryside setting near a small brook wearing a white shirt tied in the back and a black skirt.
The short film titled 'A Story of Our New World' should become one of fashion's classic in the early era of fashion films that have now replace physical live shows and or even new physical clothes during this season's spring collections fashion weeks. In lieu of a new collection, Levi Palmer and Matthew Harding – both graduates of Central Saint Martins – decided to create a short film featuring different members of their families in their fall clothes that happen to be available for purchases now. The idea of revisiting the fall clothes shown in February in a new setting – at Palmer and Harding's parents' home in Westphalia, Texas, and in Rickmansworth in the northwest of London respectively – conforms to the current mood.
These changes include an immediate implementation of greater sustainable practices and a return to seasons in line with the weather: winter collections that deliver just before winter as opposed to July as in the past. This delay in delivery has allowed many of our retailers time to adjust to changes in consumer patterns and clear excess stock, as well as enabled out mills and factories to work safely at a manageable pace.

Levi Palmer & Matthew Harding
From their start with artful recreations of the classic white shirts, Palmer Harding has now developed into a full range wardrobe line that they recut and deconstruct a skirt, a short or a pair of pants. The new configurations of these classic garments can be seen on the designers' family members – Ever Mainard, Palmer's cousin, in a white double short sleeve shirt and a skirt-pant or Gemma, Harding's sister, in a silk striped shirt and black pants.
The most memorable moment of the film has to be the scene with Georgia, the five years old daughter of Harding's older sister Gemma, who wore a large white front wrap shirt on a swing and introduce herself while looking at the camera –"My name is Georgia and I live in St. Albans and my uncle has a job makes clothes and I miss school a lot."
"I am most looking forward to life as normal again experiencing all the joys of being alive," Nancy Palmer said at the end.
FASHION EAST
"I am in awe of their visions, creativity, optimism and the resilience they have shown throughout these difficult circumstances," Lulu Kennedy, the founder of Fashion East, said to mark the 20th anniversary of the non-profit's support for young talents in the last two decades, with a list of alumni names like Kim Jones, Grace Wales Bonner, Simone Rocha, and JW Anderson.
Maximilian Davis, Nensi Dojaka, Saul Nash, and Goomheo are the four young talents featured in this season's chosen talent whose collections are filmed into a narrative that showcases their newest work.
The Trinidad born Maximilian Davis said his grandmother and his Trinidad roots are guiding posts for his first collection "using tailoring and elegant clothing to build upon a strong figure' that includes white fitted suits and blue and black sliced and cut out ribbons dresses. The white and blue two strips front vest-jacket worn with matching high slit skirt seemed a bit odd. Davis's strength in the future maybe with menswear and not womenswear.
The self-taught dancer and choreographer Saul Nash makes clothes that are technical garments specifically cut to facilitate easy movements. His troupe of dancers performed a routine on a hillside overlooking the ocean wearing a nylon purple tracksuit,
Ice blue nylon tank and shorts, a black nylon strips tank and black pants, a white nylon anorak and a great hooded sweatshirt both with side zippers that open on the side, Nash's clothes link performance and fashion in a new very modern way with a devoted sense of community.
The Albanian Nensi Dojaka, a 2019 Central Saint Martin MA graduate, launched her collection in 2017 after her BA show at the London College of Fashion. Dojaka's very fitted cuts using layers of stretch mesh and sheer fabrics with a lingerie construction as dresses with misplaced lines and seams with one layer of fabrics over another to create a double visual effect between covering up and exposing the body. The all-black collection she showed in the film continues this ethos – stretch black short dress with multiple straps and semi-sheer shirt-dress with bra and a micro skirt.
The South Korean designer Goom Heo likes how real people dress in her hometown of Seoul, something she rarely notices until after he had moved back from studying in London. Her keen observations of street style worn by ordinary people, not fashion folks informed his off-kilter sportswear template with her uses of the shaping of stretch fabrics. The films showed several of Goomheo's creations – colorful patchwork pants, fringed tee-shirt, and zippered tops, fuschia ruched long sleeve cape top, and a yellow tee-shirt with layered long pants. Heo's clothes are inventive, experimental; and daring and at this early stage in her fashion career, they should remain so.
These are four designers with different acumens for very personal views of fashion. Let's hope they can refine their visions and learn from whatever mistakes or difficult circumstances coming their way as they embark further and deeper into this journey that is fashion.
---