---
Review of Givenchy Spring 2021 Fashion Collection
The New Era is Here!
By Long Nguyen
You find the pieces of the puzzle for a collection, building it from symbols and signs, but never forgetting the reality of the person who will wear it and bring it to life. The women and men should be powerful and effortless, equal and joyful, a reflection of who they really are – only more so. It's about finding the humanity in luxury.

– Matthew Williams on his first outing for Givenchy
Matthew Williams elaborated by saying that this premier spring collection is but a starting point, a new beginning but one that is 'intermingled with elements of the archive and is a utilization of Givenchy's distinct lineage, pointing to the past, present and future."
That's a lot of words to set the stage for the debut online release of the photoshoot of the spring collection Williams designed instead of a splashy fashion show that normally accompanied any LVMH brand debut.
But the 54 looks presented as the spring collection were uneven with both an emphasis on tailoring and the super casual of a black tight short, black bandeau bra and a sheer tulle overlay.
Granted that Williams' own line 1017 Alyx 9SM was never a brand prone to making statements about its collections but merely send the new merchandises down the runway each season. Thus there was no overall theme or stated creative direction from his newfound start at Givenchy.
From the clothes it is hard to see any of the Givenchy codes past or recent saved for those horn heels shoes and devil hats that recalled the brief Alexander McQueen era. If the slim red knit tucked into a high waist red pant or a similar version in tan leather shirt-pant can be said to allude to the allure of the founder's era, so be it. But the mission of the new creative director should be to create for the now instead of having to rely on codes or DNA that can be a trap.
The women clothes ranged between fine tailored jacket pant suits and beautifully done coats to variety of looks like a nearly sheer ecru tank paired with sliced jeans pants, a spaghetti strap short dress with front dangling fringes, a black satin corset and a long black denim skirt and a black sweater decorated with various hardware decorations and a sheer decorated skirt.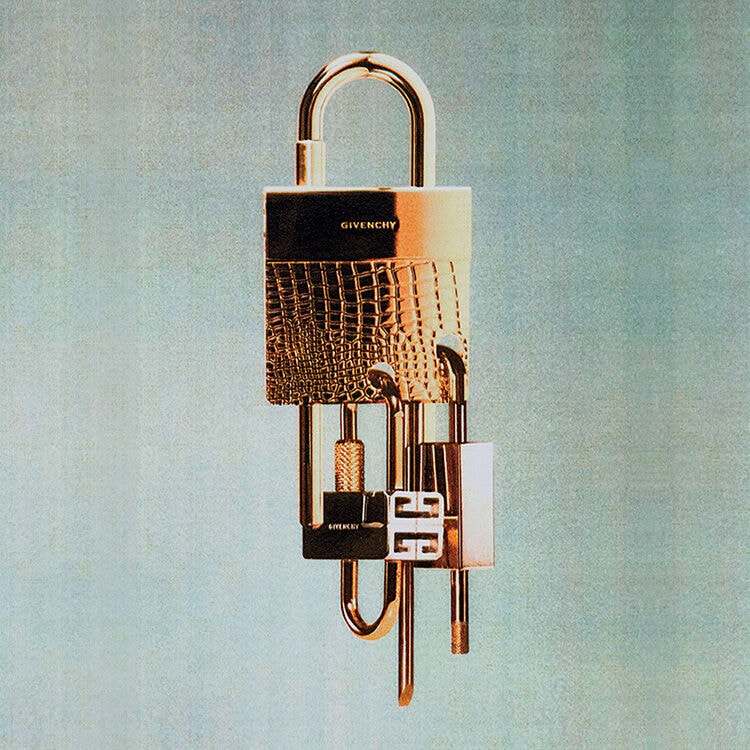 'Hardware' as in metallic logos chains necklaces and padlocks on the bags or leather belts were the only element that tied together the men and women products.
Men's clothes were far better at least better in the sense that there were more possibilities for merchandising but the white or black handbag-cape worn over sheer white tee and tan wool pants or the two sheer print tee shirt worn with a half open cut out crocodile vest seemed a bit off the radar. The white double breast jacket and pink dyed jeans, the white and black parka paired with leather swim trunks and the tailored pants were fine men's merchandises.
Sure there are plenty of tailored clothes mostly lean straight line silhouettes in the collection but all the jackets are cut with that open cut out leaving an open space where the sleeves of the jacket meet the shoulder curves as well as slits from the sides of the sleeves slits in ecru wool single breast with cigarette pants with thick stiff cuffs, or a long black spread lapel coat for women and ecru single breast slim cut suit, black one button cropped jacket slim pantsuit or black leather jacket with a wool lapel for the guys.
Here's the thing to think about. At a house like Givenchy, where there are atelier and specialize seamtresses that can make any kind of tailoring any designer or customer would want, having a range of tailoring in the line especially for any luxury brand is a given not an exception.
Great tailoring is the work of the ateliers and not the designer who provide the aesthetic guidelines more so than being in the trenches cutting the jackets and coats. Is the new Givenchy to be built on tailoring when so much of the formal sense of dressing has been abandoned even by the business world?
But at the end of the day what exactly was the clear and poignant point of view of this Givenchy collection was difficult to discern.
For a luxury fashion house or for a startup fashion line, a point of view is critical and more so now than ever at least to the discerning young consumers who are more in tune with the vagaries of fashion than any previous generations. It is not just them as individuals but as a community of their friends, sharing ideas, values, and what is good fashion.
I remembered in the early days of Riccardo Tisci's tenure, there were collections that were confusing and difficult to absorb since they seemed on a parallel universe. For example one with a flare of the disco 1980s but regardless of whether or not one like those clothe, there was a sense of direction. Here the creative direction is unclear. Perhaps the collection should be viewed through the lens of what retailers used to call 'item' driven collection. For sure there are many variations of handbags – nearly every model carry some kind of bag as a reflection of the house's business priority. But is this is enough of a business venture for Givenchy?
Williams did not delight nor surprise in this debut.
As the Givenchy website indicated on its homepage, this was a new beginning but not a promising beginning in terms of how this point of departure is relevant at this juncture in time and in fashion. The signals ahead are full of red lights. Consider this – the immediate success of say of Demna Gvasalia at Balenciaga and Daniel Lee at Bottega Veneta was that customers reacted emotionally to their powerful and unique fashion message, a message that permeated through every product of each brand. Above all the message from both Gvasalia and Lee felt authentic which is something that is immensely difficult to initiate and to create. And if any luxury brand wants the allegiances of the 'kids' well they have to earn that loyalty and earn it by transparency and authenticity.
Givenchy needs a radical point of view at this point in time. Radical means a sharp, uncompromising and succinct creative direction with clarity and authenticity coupled with products delivered by the house's couture ateliers and suppliers – this will give Givenchy that much-needed edge in fashion and in pop culture as Givenchy can not simply become a product-based brand. 
---