---
Once Upon A Time There Was A Separate Men's Fashion Week
BY LONG NGUYEN
This semi-annual event took place in mid-July and early February where the stalwarts of American fashion like Ralph Lauren and Calvin Klein flexed their muscles to support their significant menswear business. The New York Fashion Week: Men's organized under the aegis of the CFDA in 2015 lasted for about five seasons when less than three years later the men's schedule was merged into a ten-day-long expanded women show week.
In the past year, this hyphenated men's week has collapsed to just a day of collective presentations known as New York Men's Day. Debuted in 2014, NYMD weaves together a mixture of new and creative men's brands by showcasing their collections staged together at large photo studios during the course of the day's event.  
Now NYMD is incorporated into the Runway360 platform – diminished in size but not in the creativity of these menswear designers.
CARTER YOUNG
"I started Carter Young in 2017 when I was 18 years old," said Carter Altman with reference to his first capsule line in spring 2017 at in his hometown of Birmingham, Michigan.
"For me, clothing design has always been the most natural form of expression. When I was younger, I was interested in footwear and started modifying my own shoes with paints and dyes. I wanted to make footwear for skateboarding, and as I researched designers and their work, I became intrigued with how they approached wearable designs on a bigger scale. I started to notice the silhouettes of my older brother's jeans and how they stacked on top of his shoes – or how the colors of his laces matched his t-shirt. I grew up in a creative family, with a mother who was interested in vintage clothing, so I was always absorbing visual material. Once I started sketching I couldn't stop," Altman said via Instagram.
In the short time as an independent business, Altman has learned the basics of an independent fashion brand in the digital era where community building brand awareness and direct to consumer with e-commerce, private client, and custom tailoring programs are the new roads to growing his fashion company. "Adapting to a post-COVID industry was initially difficult for us, as it has been for so many, but now I actually find liberation in the digital-first world. Right now, fashion presentations are being democratized in a way – where the work can disseminate more easily without having a large marketing or production budget. I've found it more fulfilling to collaborate with other creatives as well, since there is less pressure to juggle multiple projects, and more time to focus and reflect," he said when asked about the current environment.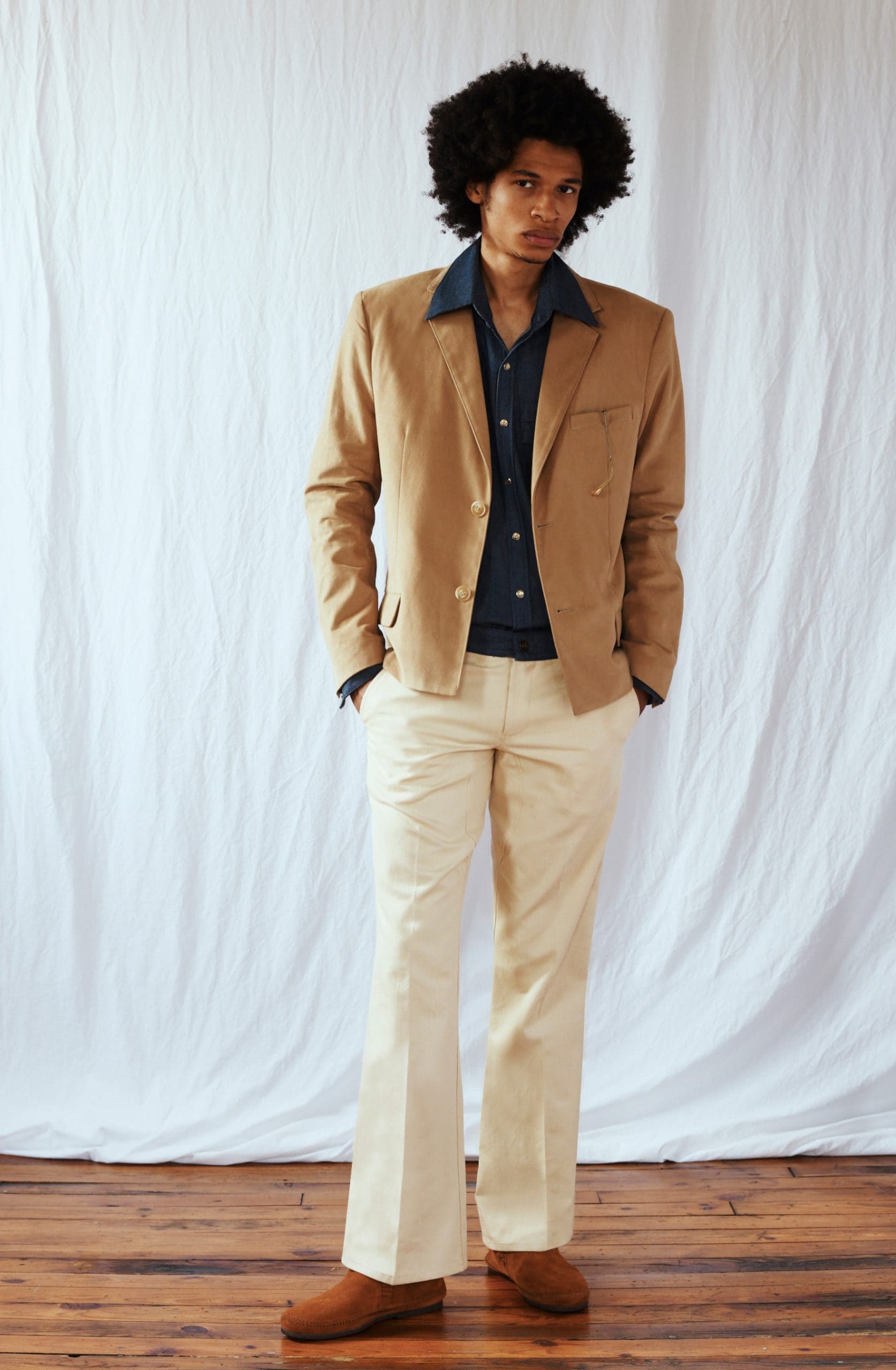 In his second fashion week presentation, Altman said he drew from the ideas of Americana from the images of cultural icons like Robert Redford and Peter Fonda. What this means in terms of actual clothes are cropped two buttons sanded cotton twill single breasted jacket with cargo back closures worn with black cotton spread collar shirt and ecru cotton slightly flared straight leg pants with a denim waistband, a tan cotton broad shoulder pantsuit, a large collar blouson and matching pants, or a olive khaki cotton large patch front pocket shirt with large collar flaps paired with chocolate brown denim pants. As a new brand sharing the values of sustainability, most of the clothes are made from dead stock fabrics like the 'Chili Pepper' denim with black and red dye warp and weft threads, leftovers from the Cone mills for example. And all the clothes are made in New York City.
The clothes don't seem trendy. Despite being made from old and existing fabrics, they don't feel vintage. Rather, they are the kind of clothes that you seem to have always had somewhere in your closet but perhaps you have forgotten about them and suddenly there they are just being rediscovered again. A video directed by Haley Anderson projects this sensibility showing a narrative of friends going about on location around New York City in the summer.
FUTURE LOVERS OF TOMORROW
"This debut is about effortless and season less dressing. We want our customers to really live in these clothes. They were inspired by nature and adventure. The idea of exploring a new place and falling in love with the unknown," said Kyle Smith who has worked in styling and creative art direction said of his debut launch of his brand Future Lovers of Tomorrow.
Smith's new clothes are the kind of garments that are right for this moment with that combination of casual streetwear but still distinctive detailing like a shiny skinny pants with side zippered patch leg pockets, a mixed fabrics blouson, and a range of sweat and tee shirt featuring the brand new logo. It is a smart debut start that focuses on just the essential staple. Perhaps in future seasons, Smith can evolve the line to expand the category of wardrobe products.
KA WA KEY
"We usually build our collections based on our personal views and stories. They are our memories and experiences from our homes – Hong Kong, Finland and London. Sunsets, nightless midsummer nights, and busy Friday night in Dalston Street. We called it 'There is no place like home. It's ideas, visuals, and memories," said Key Chow about his point of departures for this spring season Ka Wa Key collection via email from his London home.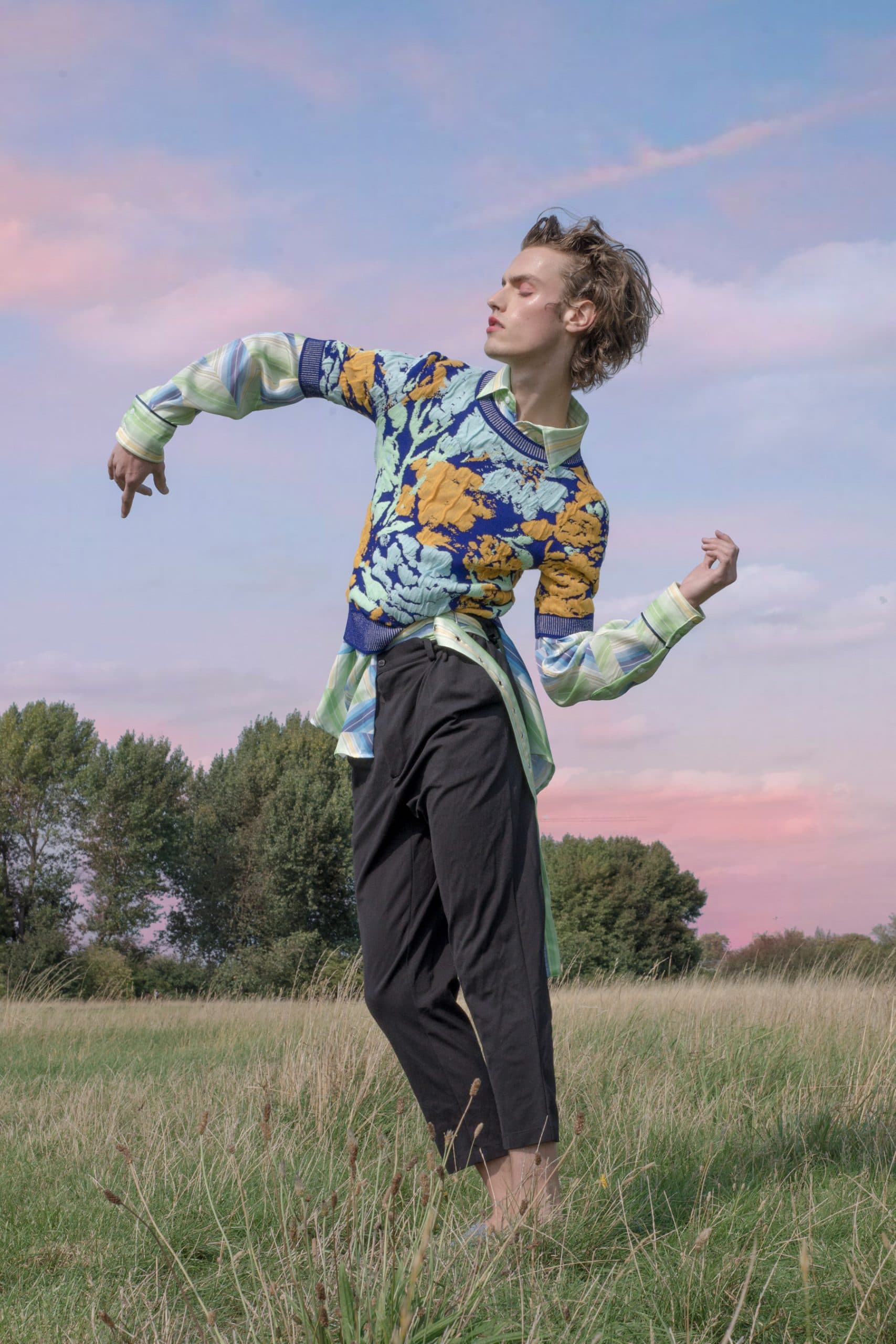 A graduate of the Royal College of Art in London with a master's degree in menswear fashion where his graduate thesis show was subsequently featured in the 'Double Je' exhibition in Paris at the Palais de Tokyo in March 2016. Ka Wa Key collection premiered for Fall 2017 and the brand has shown in Paris, Shanghai, Tokyo, Helsinki, and now it's fifth showing in New York. The Finnish art director Jarno Leppanen collaborates with Key to realize the imageries and the aesthetics of the brand.
Ka Wa Key's aim of 'reimagining traditional textile crafts using sustainable materials only to infuse everyday casualwear and knitwear with roots of Asian and Scandinavian heritage' according to their website is translated this season into clothes that reflect the brand's stated ethos of 'soft masculinity'. The inventive use of knitwear in these colorful patterned shirts, loose pants, cardigans, and jumpsuit provides the impetus for the soft silhouettes of the entire collection.
APOTTS
"I was inspired by topsy-turvy dolls, which were slave-era dolls. These dolls had a finely dressed doll on one side, and when flipped, the other doll was dressed to represent forced servitude. This collection is about exploring that social dynamic, flipping the clothes inside out and upside down…distorting notions of male/female, casual/formal … all through the joyful lens of a child playing dress-up with their doll. The title of the collection, Babyland Rag, actually comes from the name of the company that produced these dolls en masse," said the Detroit born and Brooklyn based designer Aaron Potts via email about his upcoming spring Apotts collection that he started in 2018.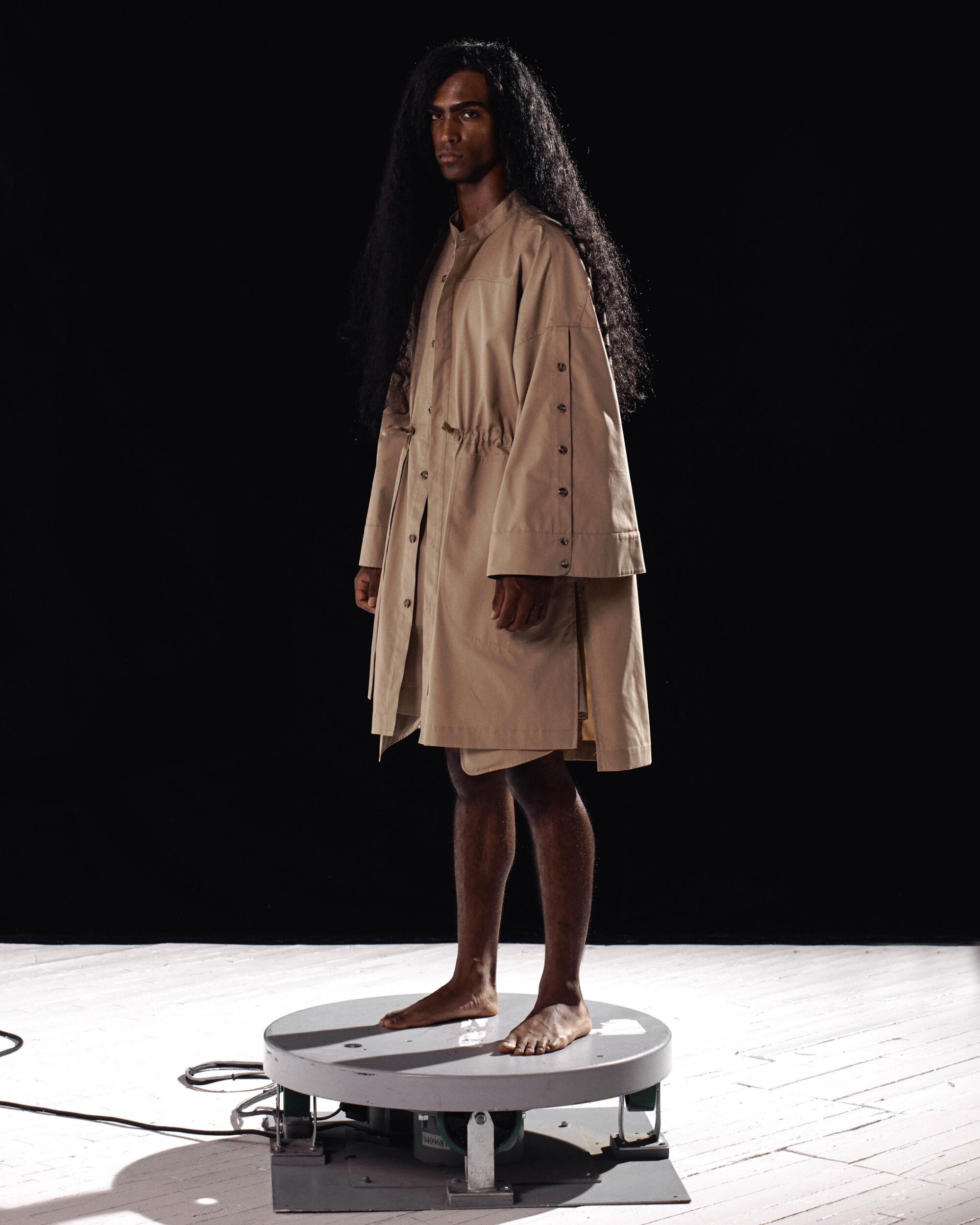 "I'd just finished the gorgeous novel about the Haitian revolution, Island by the Sea by Isabel Allende. The rabbit hole of inspiration led me from Haiti to the antebellum American south," Potts mentioned how in addition the dolls represented for him not only the different ways of looking at clothes and construction but in the south, dolls often concoct a racial divide albeit in silence.
The unisex collection features very oversize and loose shapes clothes made in simple materials such as cotton gingham, denim, and parachute cloth that transform basic workwear into fantasy and in many ways imaginative garments. A short sleeve shirt is now a full-length coat-shirt, a drawstring pant has double waistband and roll up fringed cuffs, a mandarin collar work shirt becomes a flare A-line short coat, and a denim work jumpsuit has extra long sleeves – clothes once familiar now transformed into playful garments.
OFFICIAL REBRAND
"The state of the world has forced us to appreciate and accept that everything is colliding and collapsing. I used this collection as an opportunity to interpret what I've been witnessing and look to other periods of unrest and transition to contextualize the moment. This research has fortified my belief that we do not fit the system and the system and the system does not fit the world. Historical imagery and accounts from worker and gender liberation movements helped me develop the collection's aesthetic. My material choices also reflect the urgency I feel with respect to climate change. This anti-extractivist ethos is visible in the materials I choose to work with, such as repurposed sailcloth, deadstock fabric, and reworked vintage garments," said MI Leggett about this season's Official Rebrand, a line founded by the designer in 2017.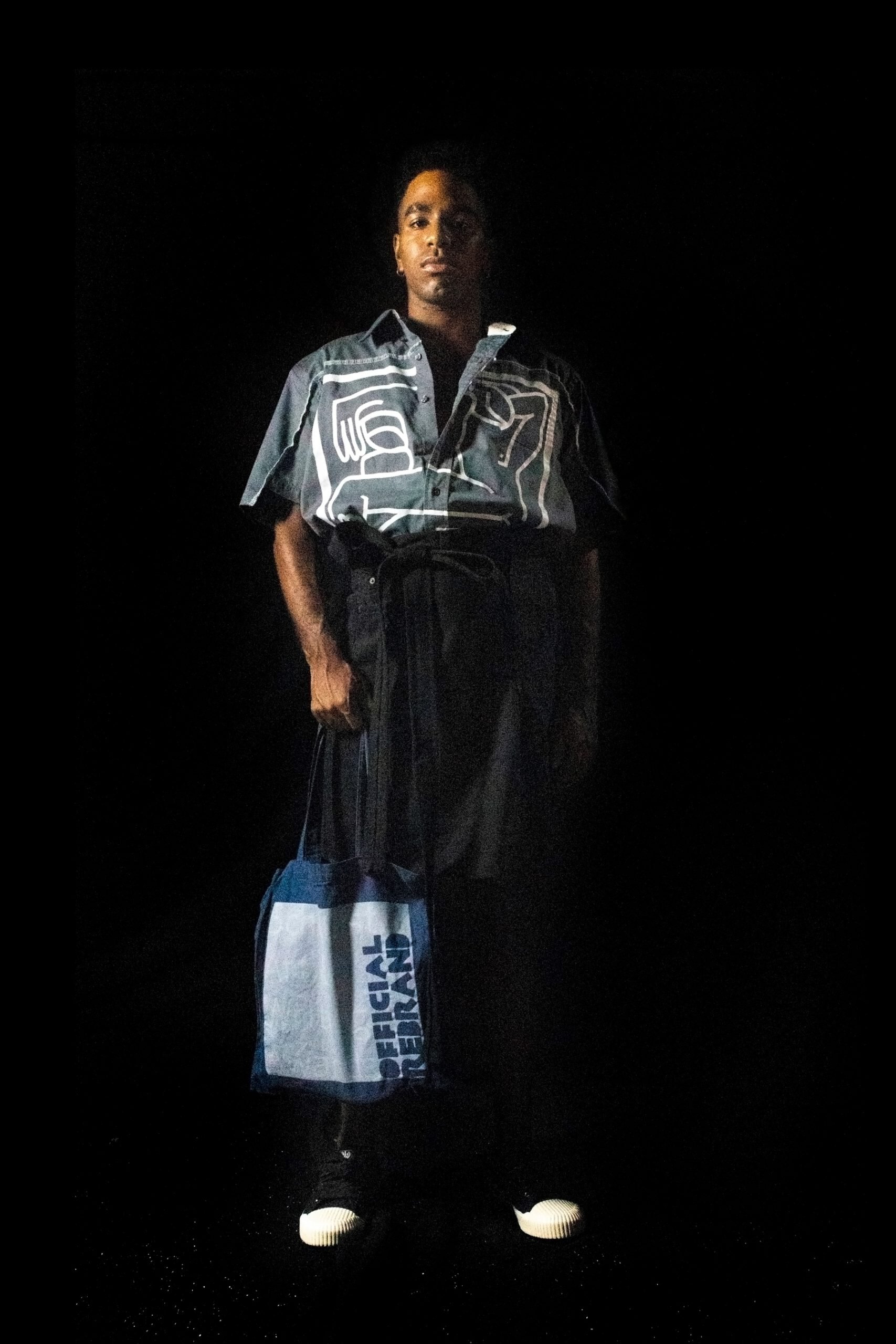 The fundamentals of 'rebrand' which means 'remade clothing, gender-free altering, painting, drawing, and screen printing on used garments – consumed and discarded, they are reimagined and consumed again' according to the brand's manifesto on its Facebook page. The sleeves are cut off from a black jacket and painted with white graffiti, the bottom of a gray sweatshirt is chopped off and resized into a cropped sweater, and what looked like a shirt is now a corset top. Recycling is the new sustainability and here executed in a fun and creative way.
DAVID HART
"The seasonless collection is based on a series of digital dialogues that took place on Zoom between neo-conceptualist artist Peter Halley and The seasonless collection draws on inspiration from a series of digital dialogues between neo-conceptualist artist Peter Halley. During the calls, we discussed creativity in the time of the pandemic, artistic practice, and the future of artists and creative," said David Hart via email.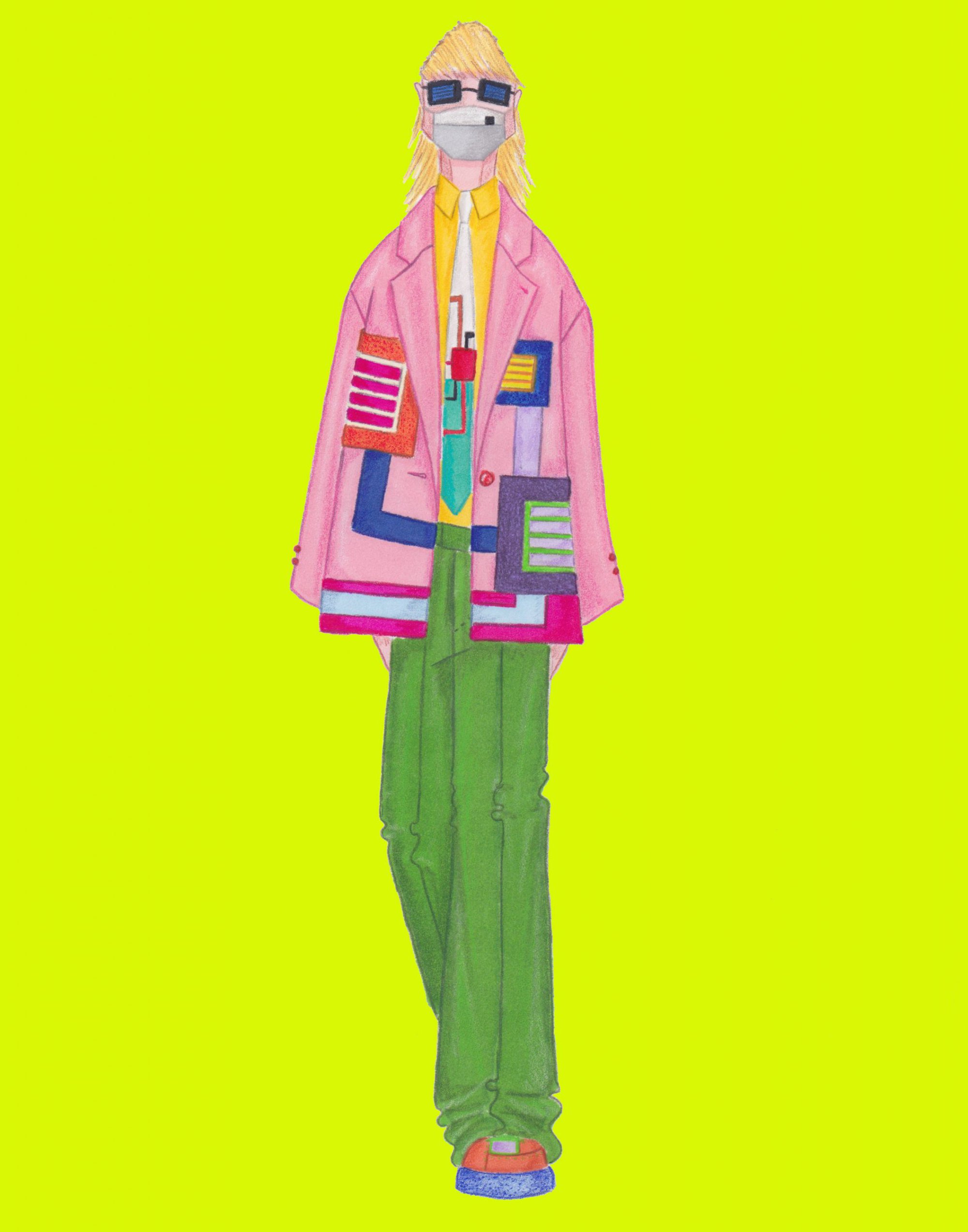 In the spirit of art, Hart produced a series of sketches that should be his spring collection if these drawings were to have been executed into actual garments. The sketches epitomized Hart's adoration of color combination like a fuschia pink coat over a bright marigold suit or a color pattern pink jacket with yellow shirt and leaf green loose pants.
Hart expects to make some of these clothes depending on the special orders via e-commerce and from private clients. This is a new avenue for the business based on client response rather than prefabricated products ready for sale. It remains to be seen how this model will work especially for small independent brands.
WATARU TOMINAGA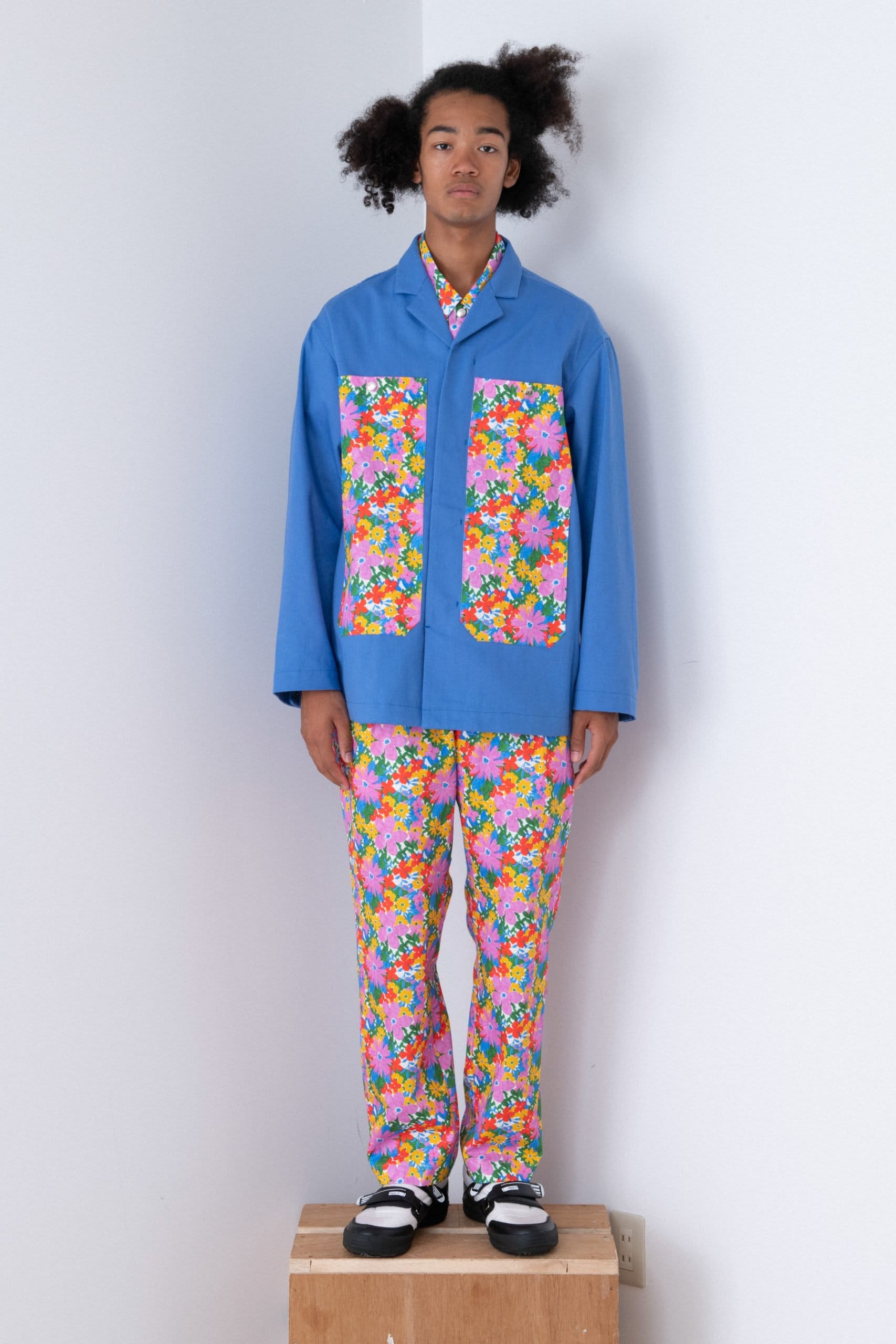 "I always collect visual images almost every day. It is kind of making a continuous mood board, but I don't use words to describe the concept. There are 1970's photographic flower print, embroidery of somebody's apron, unknown brand mascots, etc. Mixing with reference to streetwear and styling. And I like mixing everything I got regardless of any gender. It's an accumulation of random visual memory like a patchwork," said Wataru Tominaga of his new spring collection and his debut at NYFW.
Flower print and vivid color combinations pervade throughout this joyous collection with pink cotton floral print short sleeve shirt with matching pant, solid blue jacket with pink floral front patches, and an orange baseball jacket paired with gold pants. The clothes are a sure mood changer after this coming winter full of the unknowns.
TEDDY VONRANSON
"My aesthetics for the brand and collection always stem from my personal experiences and my history. This season I was inspired by my natural surroundings while in quarantine on Long Island. The ocean air, seascapes, the endless beaches brought comfort and inspiration to me during such a challenging moment in time. Spring 2021 continues to root itself in American classism, bringing refinement to the free-spirited surf culture, beach life, and nods to modern Americana through design details," said Teddy von Ranson on the eve of first debut showing at NYFW.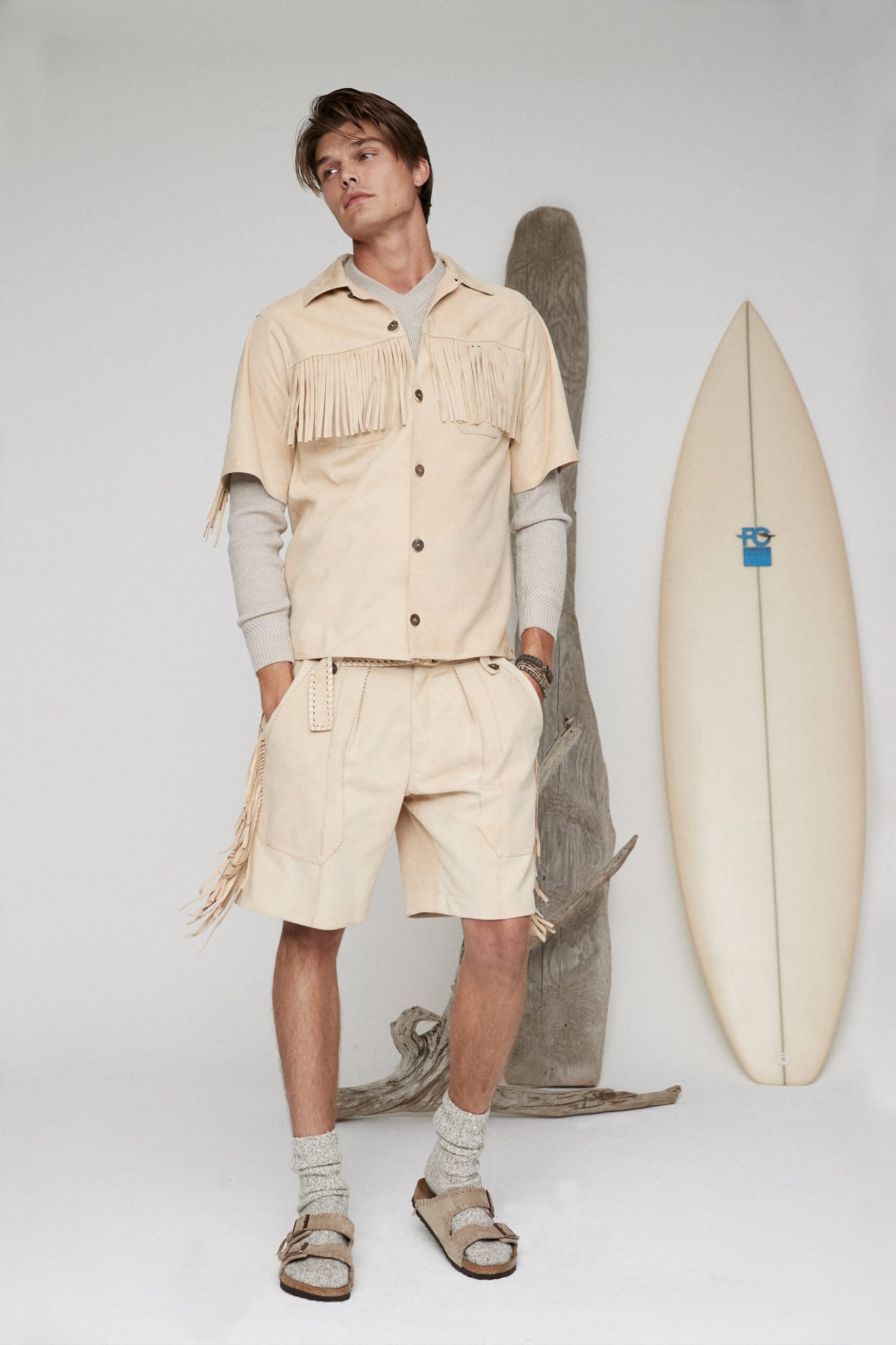 Von Ranson's spring collection is a mix of sharp tailoring with sporty elements executed in fine fabrics in many hues of blue, ocean blue to be exact ranging from navy slim suit, blue weave blouson, embossed leather trucker jacket to a cotton light grey blue herringbone jumpsuit. There are plenty of products to select here from a more fashion look like a suede ringed camp short and matching fringe board short to an elegant wool twill double-breasted white jacket and shorts for that perfect summer evening gathering, hopefully by then.
STAN
"In my curatorial exploration this past winter along the Eastern Seaboard and up through the cold of Vermont and Maine, I unveiled the wintertime stories of age-old antiques from granddaughters of quilters and hidden gems of the Smithsonian American quilt collection. The wonderment I found in the snowy roads and dense forests was the same as the marvel I have in my routine West Coast Northbound surf trips in my constant pursuit for the perfect wave. For this collection, I am exposing the cold winter, nighttime stories of warmth among families with a heavy quilt that the East knows so well, to the West Coast. Long coats made from thick padded wool quilts and heavy jackets from muted tone winter cabin blankets and family heirloom textiles," said surfer and model Tristan Detwiller of his year-old Stan brand, founded in his final semester at USC in 2019.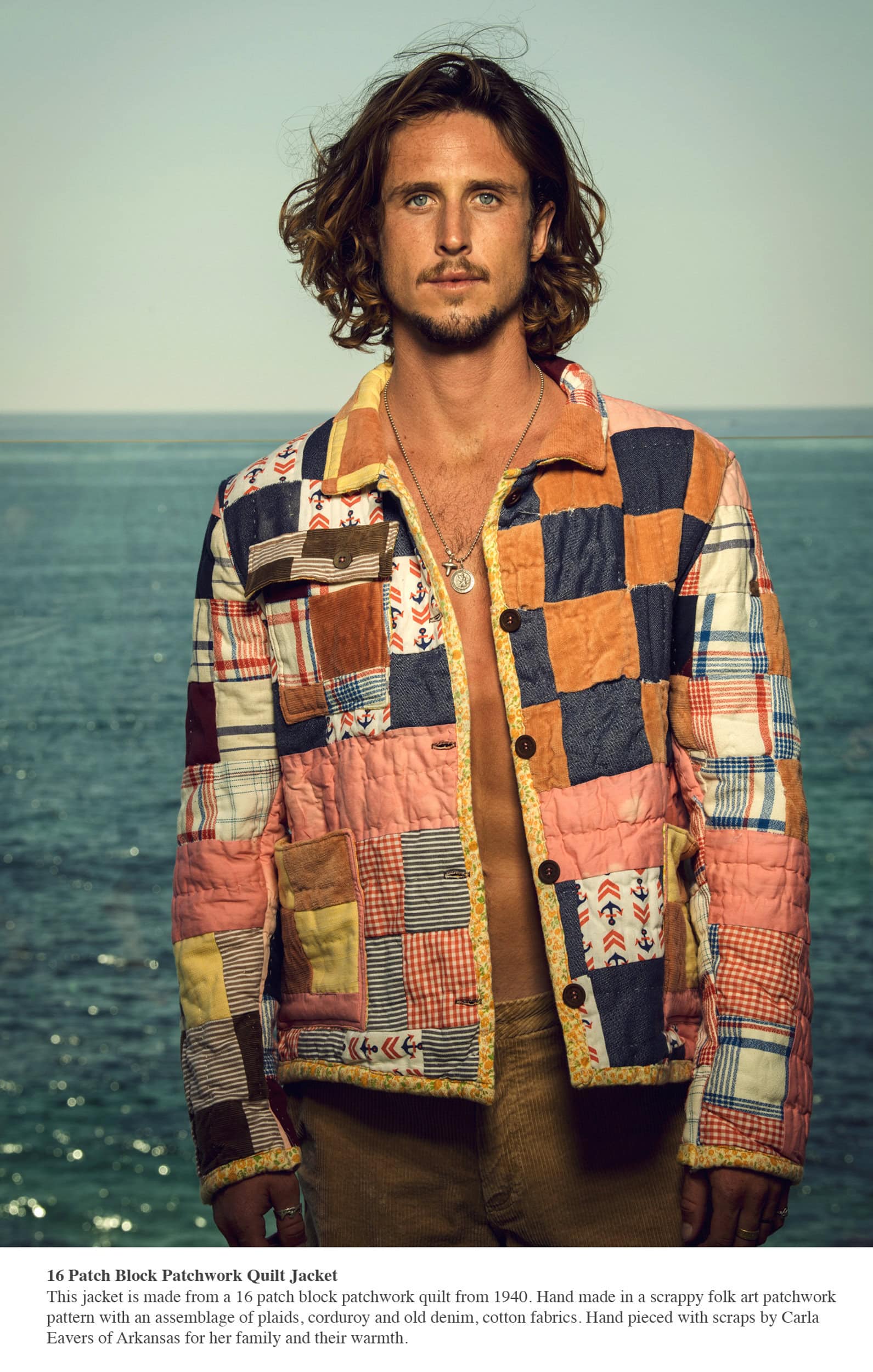 Based on the California surfing lifestyle from the 1970s, Detwiller made a collection of jackets, coats, and outerwear by hand from the patchworks of combining many different fabrics that he has sourced from various fabrics some dating to the 1940s like a jacket and hoodie made from orange and white patch quilt from a family in Minnesota or coat made from a wool block from 1910 from the Mid West.
Each piece is unique and has a unique history. There is a blouson made from grain sack from the late 1880s that shows how the sacks were reused and repaired over the decades.
TIMO WEILAND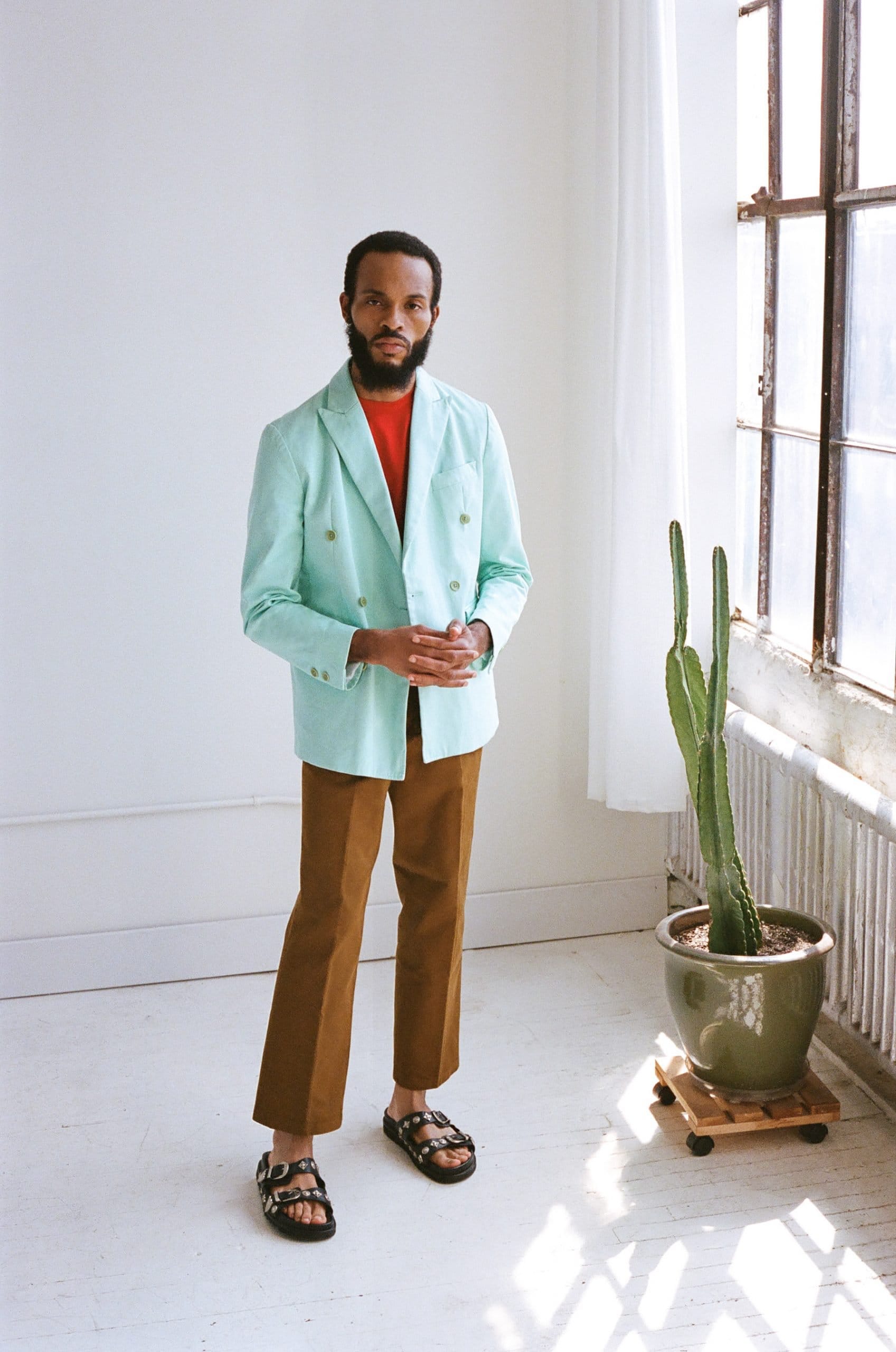 "Alan, Donna, and I are inspired by each other and our creative and diverse group of friends in NYC. It is very much based on our personal stories and reflections on the current times in which we live – steadily upbeat and colorful in a time of global upheaval," said Tim Weiland, one of the three multi-tasking founders of Timo Weiland that includes Donna Kang and Alan Eckstein.

Making a jacket casual is a Timo Weiland's trademark signature look and this time the trio give the double-breasted jacket a new sensibility by cutting the sleeves and the body of the jacket a little shorter and the front a little boxier and in pastel colors like light brown or celadon and paired them with slim shorts or ankle length pant to the visual effect of deformalizing the garment. The jacket feels more like a loose shirt.
Looking at these lookbook images and their accompanying short videos and asking these designers questions about their feelings about fashion reminds me of my own experiences of going to apartments on the Lower East Side tenements or to other wayward neighborhoods before the advent of gentrification. Then and now, these startup young designers often worked at various jobs to support their fashion dream.
That was a time when these young creative designers exist on shoestring budgets and they often depend on an assortment of favors to get projects accomplished. It seemed a universe away from the corporate-dominated fashion industry today but it also seems like that kind of depravity is necessary to usher creative solutions. That's the motto of their creative process and these personal gestures provide the real spark of creativity that is often lacking at the New York shows.
What these ten designers clearly share in images and in clothes is their fashion stems from their own personal experiences and from their own emotions. There is also something primal and raw about these voices now with these men's designers in the same way of the fashion from the young kids I saw in the late 1990s at a moment of heightened creativity not just in fashion but also pervasive in the arts, music, and entertainment spheres.
You can feel their passions.
---