---
Review of Rick Owens Fall 2022 Men's Fashion Show
The Cult of Owens
By Mark Wittmer
Staged among the pulsatingly lit concrete intestines of Paris' Palais de Tokyo, Rick Owens's Fall 2022 men's collection shone a harsh but brilliant light among the designer's characteristic darkness. Bringing specificity and reflection – though not without its share of mystery – to his cultish legion, Owens shared a darkly seductive vision of a meta-humanist near future.
Though it of course still oozes that signature sense of post-modern, structural rebellion, by Rick's standards this collection felt a bit more… dare we say… wearable? Among the ballooning puffers, shredded knits, and apocalyptic desert raider garb, sensibly oversized jackets – sometimes trimmed with fur, often sleeveless, and even one in denim – were a frequent sight.
But the collection's defining motif were its light-fixture headdresses.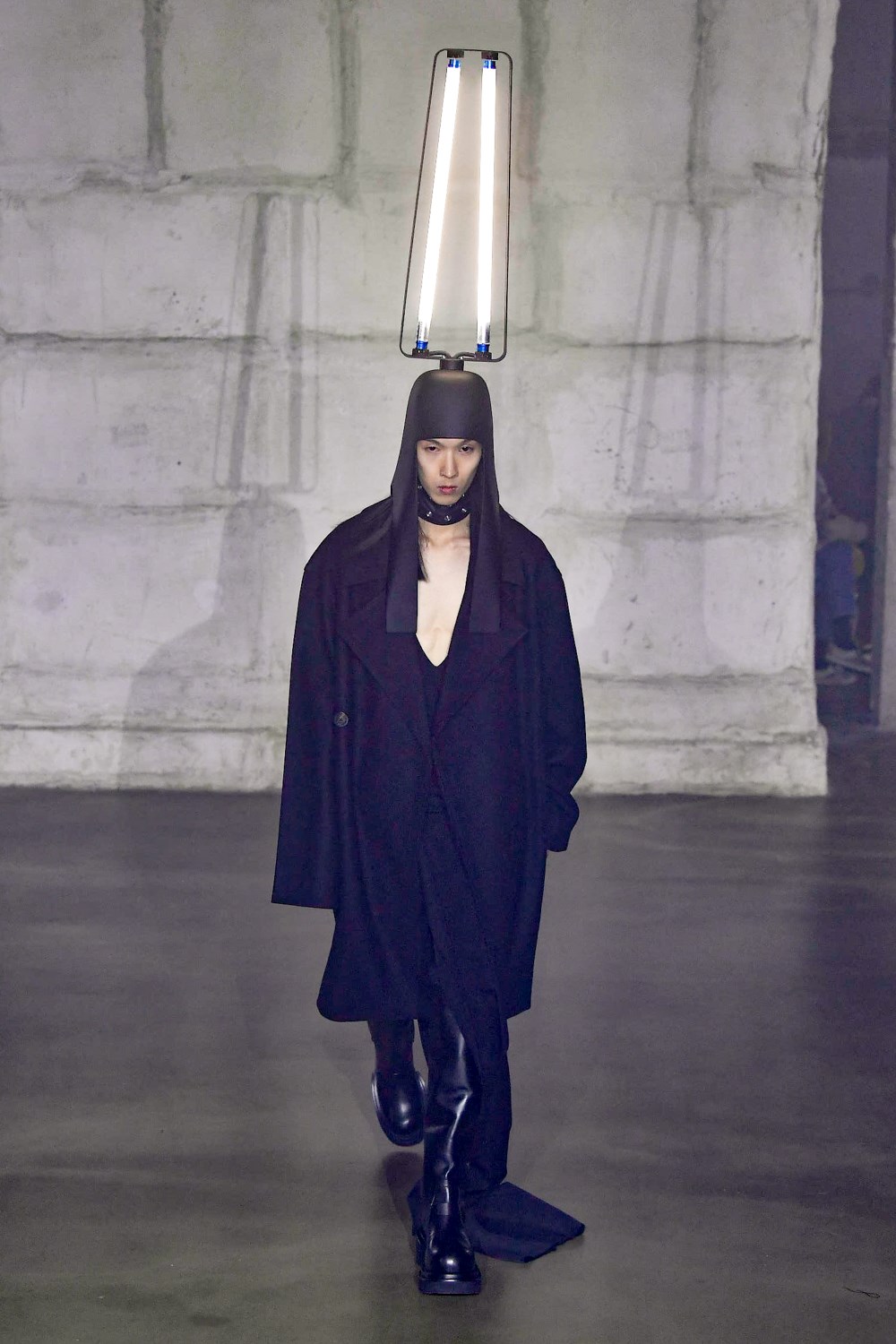 Atop headwear reminiscent of that worn by the pharaohs, bright industrial tube lights extended directly upward with regal and oracular ominousness. "
Waiting to appear until about a third of the way through the show, these commanding pieces focused the theme of cultish industrialism and metahumanism that ran throughout. Less obvious but still evocative pieces that developed this thread include puffer hoodies that zip all the way up with face sections that resemble an executioner's hood or a gimp mask, esoteric and transhumanist slogans, and industrial bondage-gear details. Owens has always been a bit cultish, but coupled with the headgear, these identifiers point to a more present sense of theme and aesthetic world-building.
Perhaps it's an industrial, subterranean world where the air on the surface has become too toxic to breathe, or where the destruction of the atmosphere has made the scorching heat of the sun unbearable, and the harsh light of these glowing tubes is the only warmth known to man. Sex no longer fulfills us, machines no longer work for us, our bodies, as suggested by the net and cage constructions, have become our prisons.
Whether Rick is warning us of our imminent destruction or simply reveling in the downfall, it's going to be a stylish apocalypse.
---