---
Review of Rick Owens Fall 2023 Men's Fashion Show
Witch Craft
By Mark Wittmer
With strict, industrial production that saw high-booted models stalk down steel catwalks over swirling fog, Rick Owens Fall 2023 men's collection cast a spell in its brilliant synthesis of the unknown and the familiar.
The collection stayed close to Owens' core design DNA while introducing a hint of occult mysticism and recoded riffs on contemporary trends.
As is always the case with all of the men's shows for close to four years now, the show was opened by Owens' protégé and muse Tyrone Dylan, who wore a thigh-high rendition of the designer's signature Kiss boots, elevated gym shorts (as if we needed another reason to believe he spends a lot of time in the gym), leather gloves with no thumb – an interesting practical detail as you can thus text in them – and a torso-revealing cape and mantle.
The next few looks reprised Rick's familiar dark geometry with moto-jacket influences and broad shoulders. Sculptural but soft body wrappings made another appearance, and last season's peaked shoulders also returned, but its bright colors did not. Instead, the collection was loaded with black, a dark yet familiar choice that, coupled with some of the cloak-y, cape-y looks and the dramatic face paint, created a feeling of the occult and witchy.
When colors did creep in, they were scummy green and poison-berry purple, the former of which frequently appeared as a gradient dye on gray denim, recalling algae-covered concrete or a dip in a swamp.
Outlandish and avant-garde as his reputation may be, Rick isn't at all out of touch with current trends, and the collection showed some smart thinking on incorporating some familiar pieces like puffer and bomber jackets or grungy shredded denim into his own oeuvre. Nor does he lack commercial viability, even beyond his expansive cult of loyal fans, as a classic and perfectly tailored jacket or an oversized parka points out. And still these pieces feel at home alongside the most combative and daring moments of the collection, suggesting that their world isn't as distant from ours as we might think – or perhaps that what we're familiar with is much stranger than we think.
The striking power of the silhouettes as a whole can make it easy to overlook the exquisite details and materiality throughout the collection. Classicism meets conscious innovation: mohair twill is sourced from vintage 1950s looms owned by legendary Italian fourth-generation textile maker Bonotto; flight jackets are made from GRS certified recycled polyamide which is dyed by using eco-pigments on synthetic fibers, while other looks derive their color from olive waste.
Rick Owens is always inviting us to reconsider our standards, to call into question what is our normal by confronting or seducing us with what feels weird.
This collection went another layer deeper into this conversation by reappropriating both from itself with iconic elements of Owens' stellar and astoundingly consistent career and from the new world of fashion that has arisen since he began designing – a world that has been largely influenced by him.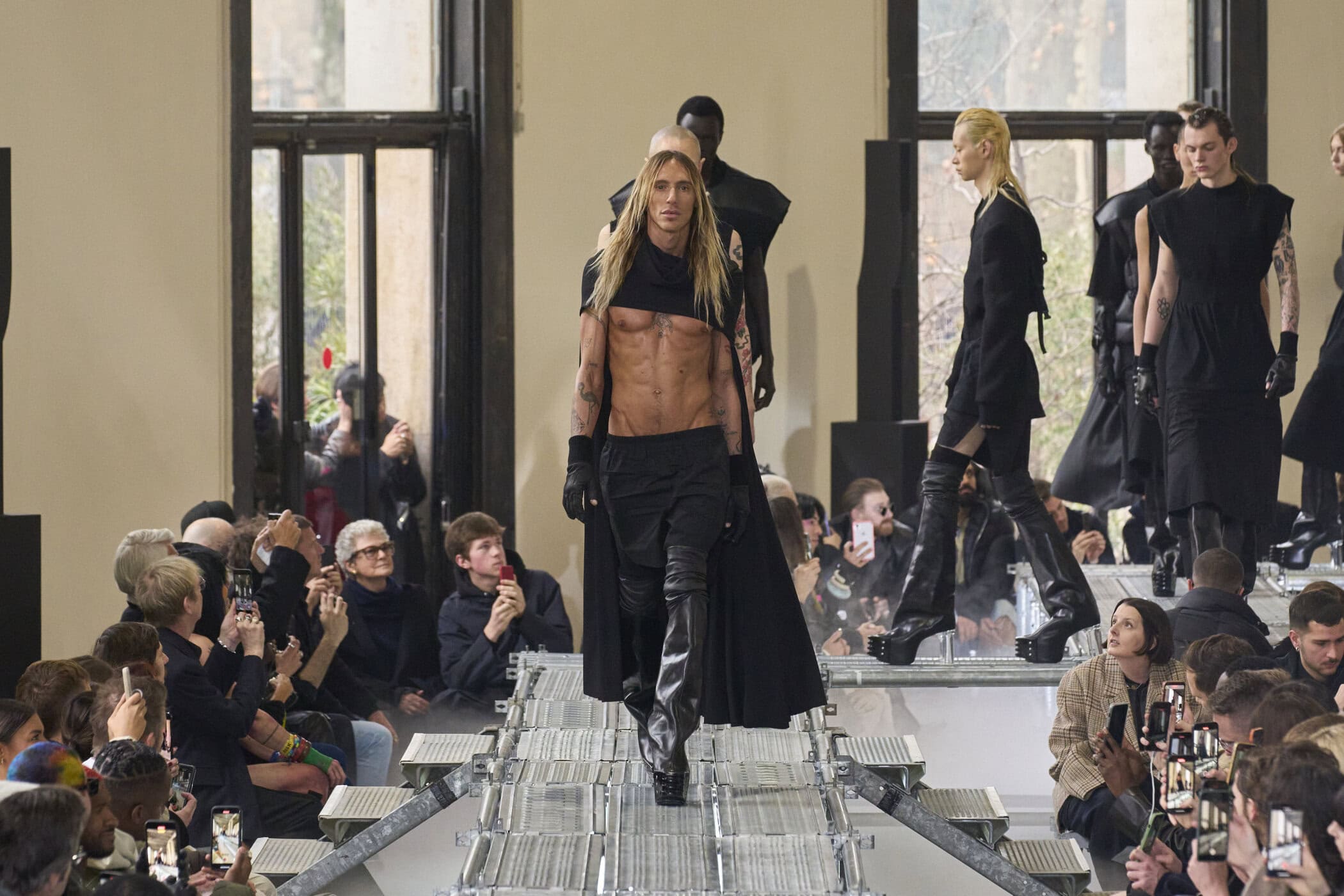 ---