---
Review of Rick Owens Spring 2022 Men's Fashion Show ' Fogachine'
Fog Smoke and Water Sprouts Welcome the Familiar and the New
By Long Nguyen
A screen in black and white broadcasted a snippet of five-second moving images from the beachfront of Lido in Venice showing a black rectangular box with streams of white smoke blowing upward, then taken by the light wind in the inland direction from the seawater visible behind. Beneath this wooden box were black wires buried under the sand and equipment covered by a white tarp.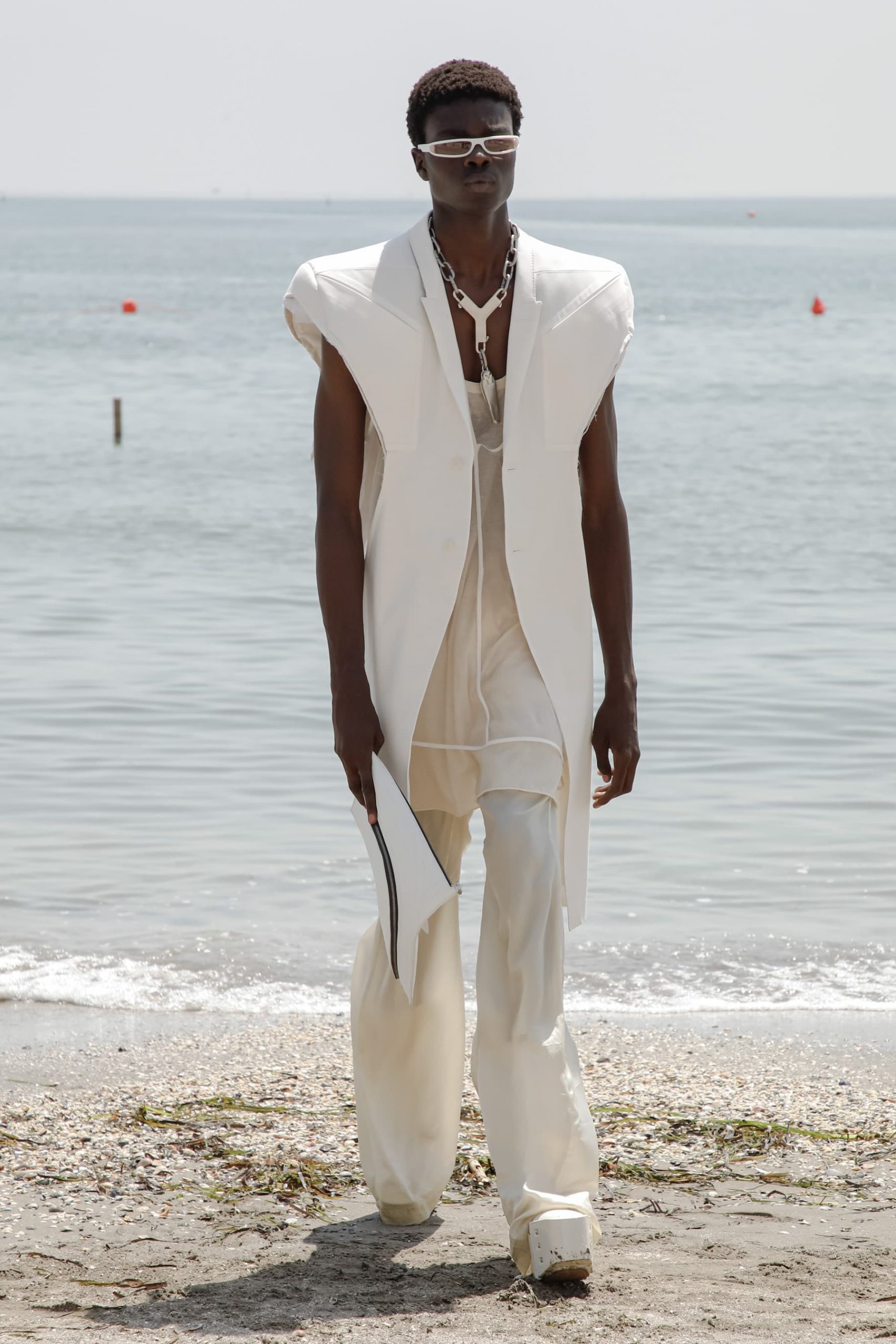 For those frequent attendees at Rick Owens shows, especially the men's in the early summertime or even in the middle of January in Paris in the courtyard of the Palais de Tokyo with the Seine River in the background and the Tour Eiffel on the right side, the fog is a customary sight. In the vast courtyard dotted with carved statues, the smoke coming out of these various boxes was a sign of welcome like an active and living doormat.
At Rick Owens, fashion has always been the mixture of the familiar with the unfamiliar. Each collection foments a dialogue towards a sense of what the new can be.
"This will be our fourth and last Covid era show set on the Venezia Lido Beach where I live half the year and where my team can join me from our factory a short drive away. Doing live shows here felt like the right thing to do during this strained moment – it felt reduced, intimate, honest, and raw. Doing live stream shows on the beach in front of my house felt like a retreat but not a defeat," Rick Owens said in his letter after the live broadcast in the very early sunrise hours along the U.S. East Coast.
"With a post-covid in view, there might be a sense of frustrated appetites demanding to be doubly satisfied this summer that might make for a voraciousness forgetting the humbling experience we all just went through together. This collection embraces hedonism but in a gentle, grateful way reflecting this new period of contradictively trying to mix glam with responsibility and thoughtfulness," Owens continued as he raised the questions about what fashion should be like in the post-pandemic era now emerging in uneven ways.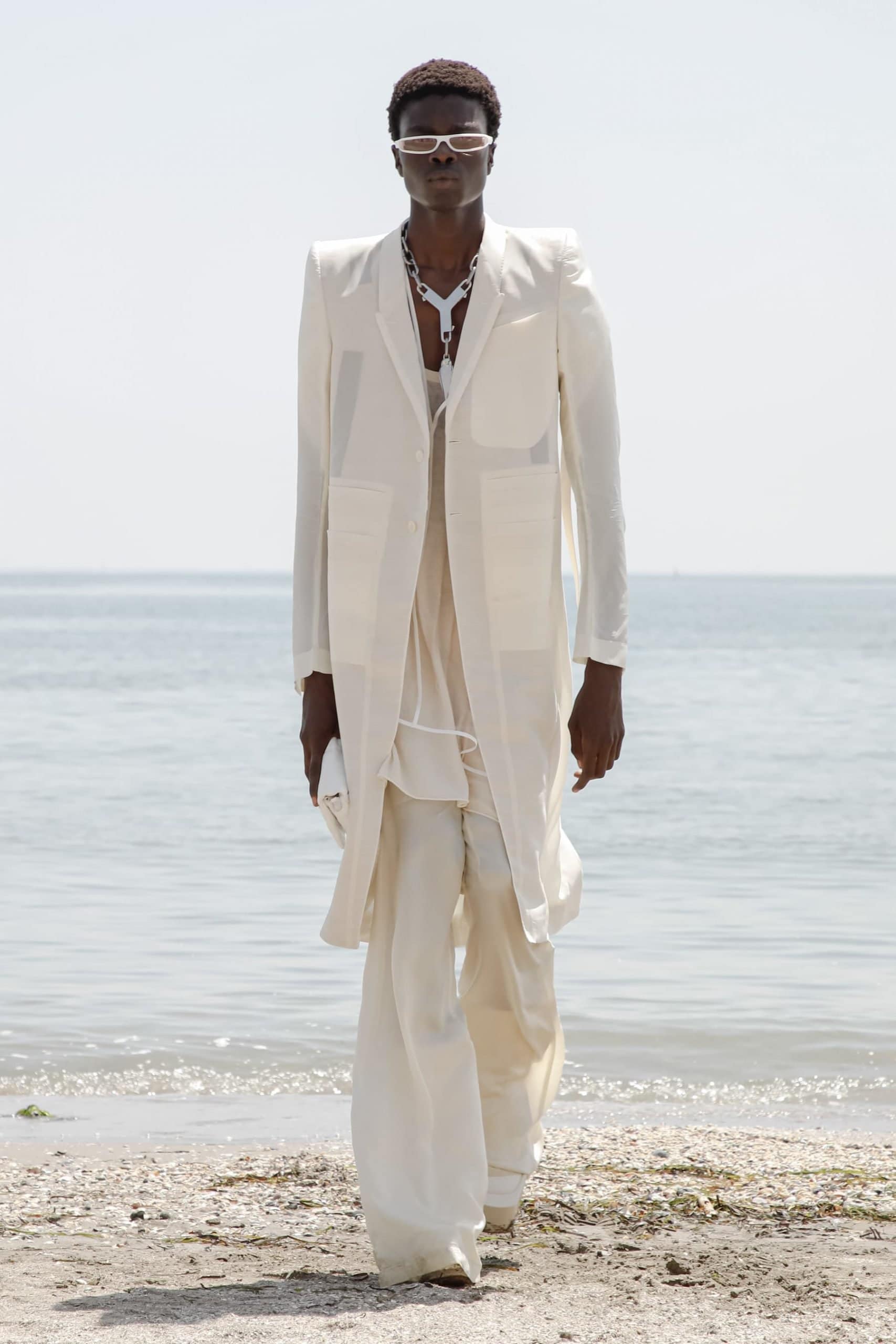 Owens' answers in these men's spring collections are the more refined, elegant, and sleek clothes with the superb tailoring seen throughout the show that merged elements from past seasons interpreted anew, creating a different garment. It's the idea of a new elegance without the needed decorations or embellishments tacked on to these softer silhouettes monochromatic clothes. Even a long ecru cotton evening dress with a cape train or an ecru jacket with long ecru coq feathers from the Maison Février, the last operating plumassier in Paris founded in 1929, is subtle and not overdone.
The new shape of the tailoring that dominates in this show is a long line to the knee, not boxy but roomy enough to allow for some movements of the front panels and cut at the bottom hem to bounce against the legs. The jackets are made with very light cotton to mimic summer shirts rather than full-on constructed garments.
The giant pagoda shoulder that debuted over two years ago has now reduced to its primal element as shoulder pads for a long, lean, light ecru cotton sleeveless with no buttons or two-button jackets. The new jacket length falls at the knee level, worn with long tank tops and flare pants or frayed fringe denim shorts.
However, these American football shoulder constructions do not make the jackets rigid. Even one with black sheer tulle sleeves or a black cotton version falls softy on the body over light cotton tank tops and cut out ecru denim with GOTS (Global Organic Textile Standard) certified cotton from a local Italian mill founded in 1597. Otherwise, the range of denim in black or ecru is custom woven selvedge fabrics made on vintage Sakamoto shuttle looms from a factory in Okayama Prefecture, Japan's artisanal denim capital.
"My comfort level with our tailoring crew has let me savor developing the internal structure process and exposing it and celebrating its confection. We sliced our coats and jackets, ripping off sleeves, deepening armholes, cutting away fronts and back, and rendering everything un undyed cotton organdies and undyed silk chiffon that exposed the structural interlining beneath," Owens explained the tailoring process that is virtually invisible at first sight. 
But the deconstruction of these tailored jackets/coats is subtle, not violent like the kind of fashion deconstruction so common in the late 1990s. Here, the jackets are not torn apart, but instead, different elements – an armhole, a sleeve, and padding – are removed to examine the result. A black oversized shoulder jacket has oval exposures cut out on both sides, leaving the jacket with no armholes. One jacket in sheer black chiffon with elbow sleeves is just as light as resembling the mere 'ghost' of a jacket, paired with a chiffon overlay tank top and black front zippered pants.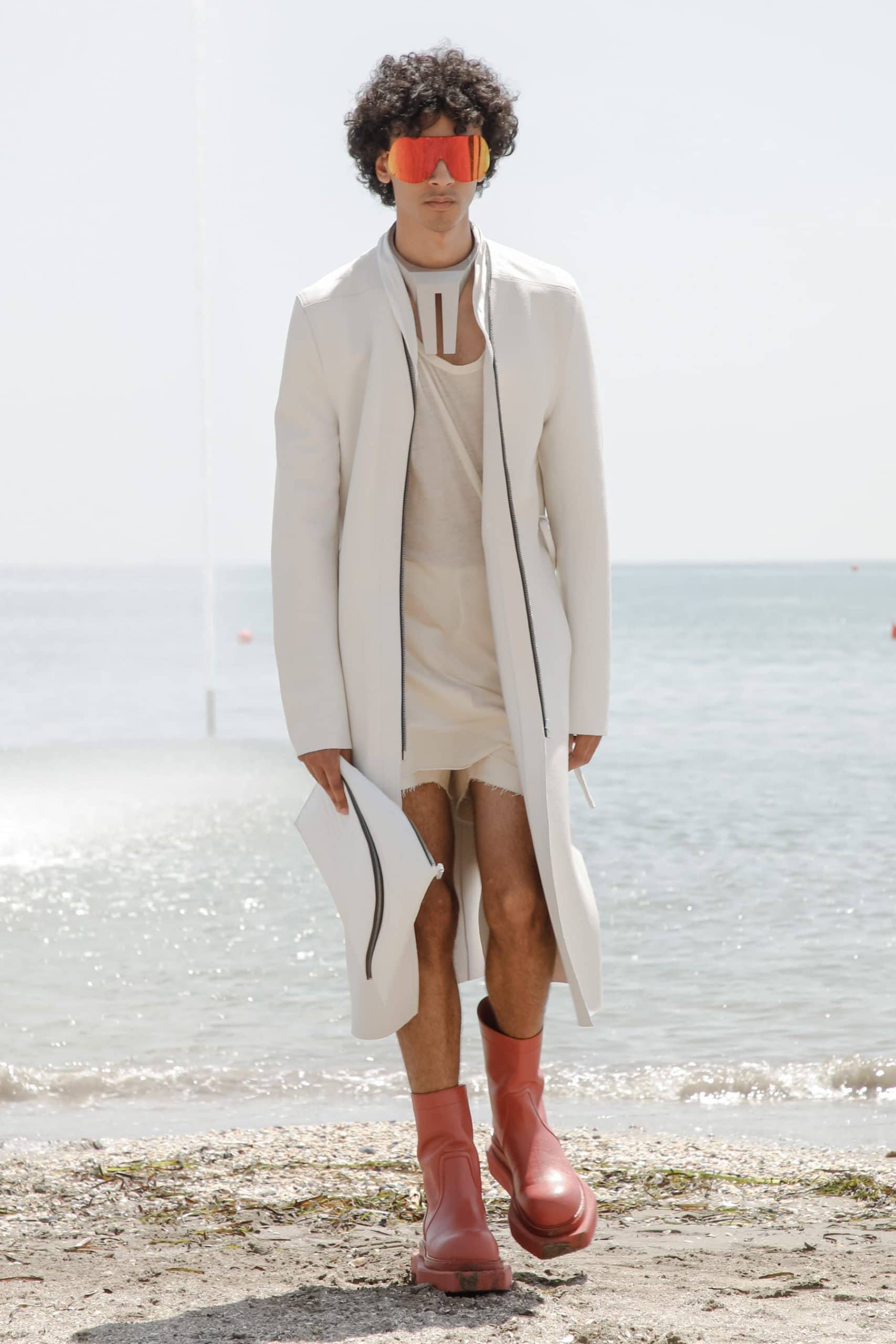 But the idea of structures underneath permeates throughout the show with a sheer layer of deep neck overlay tunic worn over long tank tops. Here, it is just the design of the clothes that is the center of attention rather than invoking a grand scheme. Design still matters the most, and ideas in Owens' past collections always resurface in a dialogue with the new – this is how a signature look is born.
There is a natural lightness, in clothes and thinking, to this optimist collection. The clothes no longer telegraph any sense of rage or anger but meditative tranquility.
Indeed, we are no longer somewhere between Dante's Inferno's seventh or ninth level, nor are we at the Gethsemane garden awaiting some judgments.
---