---
Review of Roberto Cavalli Fall 2021 Fashion Show
SEASON ZERO
Rejuvenating an Eccentric Heritage, One Tiger Print at a Time  
By Long Nguyen
In the year 2021, young people are very tuned into 'fashion,' perhaps in virulent ways, checking out the latest sneakers and the myriads of non-ending collaboration with just about everyone else. Today, these young kids get fashion rapidly unlike any previous generation, so the previous generation did not know the name Roberto Cavalli or what the Italian designer did in creating his style. A quick Google search may point to summaries of Cavalli such as 'exotic prints,' 'sandblast jeans,' 'glamour,' 'flamboyant,' 'intarsia leathers,' 'decorative,' and so forth.
Oh, and yes, the snake.
Beyond these basic facts, there isn't much of a Roberto Cavalli aesthetic circulating in the digital space, and surely not one that still resonates out there in fashion today or one that anyone remembers.
This lack of a known trademark or one that the young public doesn't recognize is like a double-edged sword for Fausto Puglisi, the new creative consultant hired in late October last year to revamp the men and women fashion collections and the crucial segment of accessories. Known for his sharp tailoring, maximalist sexy dresses, and couture craft, Puglisi has a tough road ahead. Thus the seasoned Italian designer has an open road ahead, with many possibilities as the requisite homage to the Roberto Cavalli heritage isn't the prime directive. Paying tribute to the past at all times can very much hinder Puglisi's work.
Since 2014, the Roberto Cavalli Company had gone through tumultuous up and downs as the brand owner try to salvage the brand by selling off to private equity investors looking for a quick turnover. But, fashion is not an industry attuned to any rapid development, certainly not in the short-term time frame eyed by the outside investors looking to make a quick bucket. Fast forward to late 2019, and finally, the Dubai-based Vision Investment, a vehicle of DAMAC Properties, closed on the deal to own the brand outright.
During one of the most essential and critical decade for fashion, the years 2009 to 2019, aka during the birth and the consolidation of the digital era, the Roberto Cavalli brand was moribund with virtually nothing of consequence to contribute to the visual and cultural landscape or to the ongoing conversations in fashion in that decade.
As Puglisi explained in a Zoom call, the creative strategy at this initial stage is to quietly launch a 'Season Zero' fall 2021 collection with a strong focus on just perhaps the most recognizable Cavalli heritage – the animal prints. The idea is to take a past signature and, in a way, work through the new collection with as many manifestations in clothes as possible.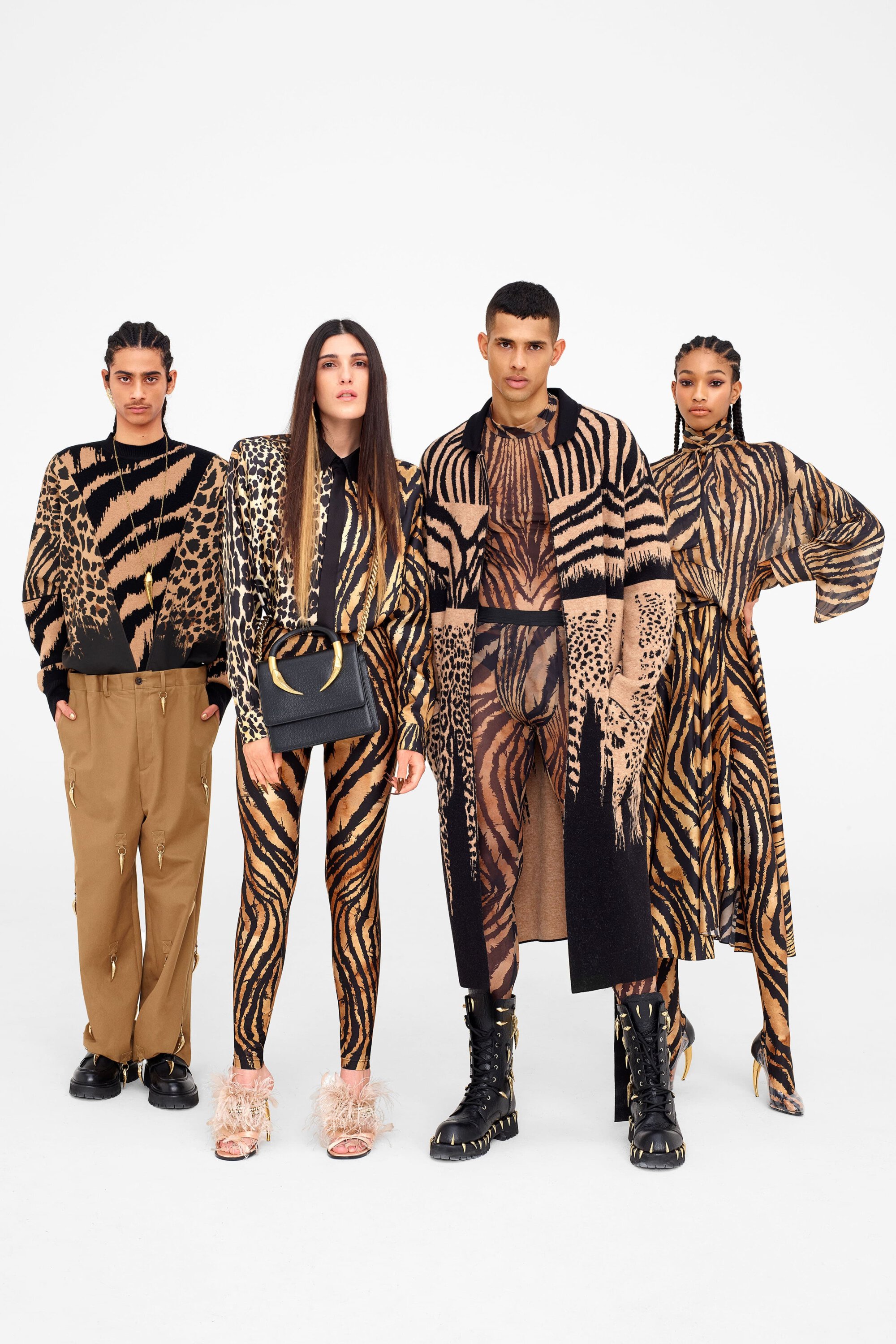 I want to single out one of the most recognizable aspects of Cavalli – the leopard, tiger, and zebra prints – and bring them forward with the clothes that are made in the spirit of this new generation. Here the clothes are made with multi-generations in mind. Also, in this multicultural world.

– Fausto Puglisi, Roberto Cavalli Creative Consultant
Going on to explain the collections need to cater to diverse groups of people and potential customer base. He pointed to the series of striking leopard print looks, starting with a one-shoulder silk sleeveless long boxy dress to a tiger print mock neck paired with a long puff skirt.
Focusing on the animal prints allows Puglisi to create the panoply of garments around these fabrics ranging from cotton to silk, expressed in leopard blousons, patchwork knits, tiger coat with a black feather collar on a navy wool leopard pantsuit. A few fancy corsets with ball skirts or strapless brown tiger dress with side slit decorated with black feather fringes – the kind of garments from the 1990s Cavalli era.
In the womenswear, the daywear is far more robust than the evening portion, with a few of the cut-out dresses slightly gimmicky. But today, what's exactly is the real difference now between day and evening wear is hard to distinguish.
But, on the whole, Puglisi managed to provide a wide range of wardrobe essentials at different price points, from puffer coats to black sliced and cut-out evening dresses, not just tiger skin pattern motifs but also heads of roaring tigers as a print motif.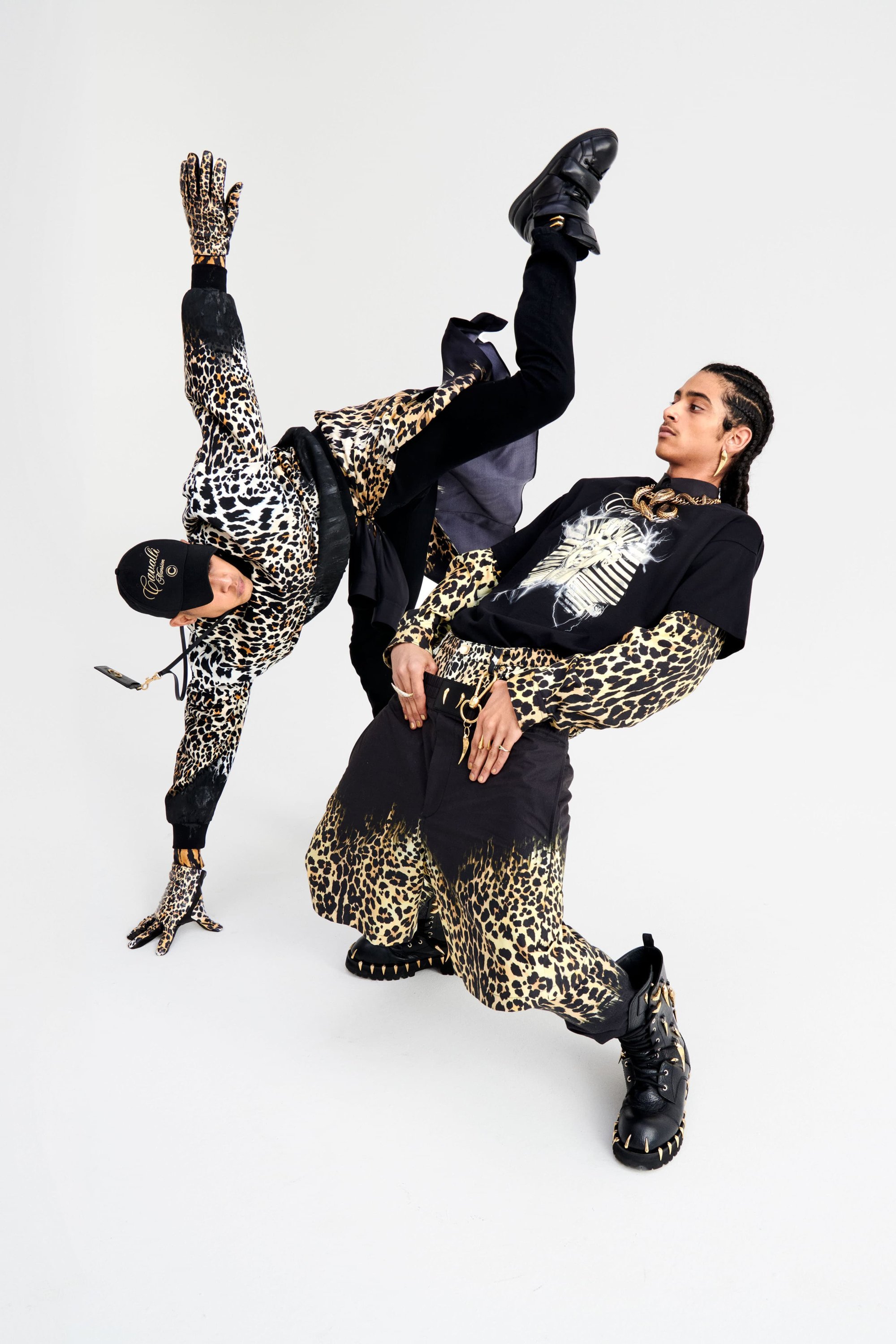 Like the new Cavalli women, the menswear is also full regalia of tiger head prints like a nylon parka with a matching shirt and shorts or a lightly sheer camel tiger print mock neck, leggings, and single breast overcoat. The blue or brown tie-dyed denim 'suit' with washout polo or shirt and jeans or a brown tie-dyed leather jacket are strong men's casuals that also include black leather bikers. There are black leather high boots with metallic feline claws.
The menswear is much less formal. A black double breast suit with all-over decorative embroidery is the most dressed-up look placed against more streetwear-sensitive men's offerings. There is, of course, a simple black suit as underpinnings to a print rain parka. Denim is a substantial part of the menswear and an area that can be further developed.
"I want the collection to appeal to an extensive range of people from across the globe, from kids to professionals to art people," Puglisi emphasized one of the prime directives of the new Roberto Cavalli brand in the future. For this to happen, the new brand must contend with starting small at the local level and creating niche communities, and building upward. A big splash here won't do.
That said, however, this debut effort is laudable for this sharp focus on a singular vernacular and iconography of the Roberto Cavalli fashion aesthetics, with the intent to illustrate a mean to put down an anchor of what is the past. The next seasons will be critical in moving forward onto the real business, not resuscitating this brand but creating a new one under the same name.
At least, for now, fashion isn't all over the place. Focusing exclusively on the prints is a smart start, one that Puglisi can apply to the trinkets of products, and he did so in providing an expansive range of garments and price points.
Rejuvenating an old brand isn't as easy a prospect as one likes to believe. At least, here, the brand owners do not seem to insist upon just updating the brand's heritage for today. That business and aesthetic model will not work.
Roberto Cavalli's fashion never really impacted the way young people dressed two decades ago. And, whatever limited impact Cavalli did have on style in the last three decades, those memories are long forgotten, especially in the times before this digital era.
It's a good starting point, but surely it isn't a panacea. In the next two seasons or so, Puglisi has to define anew what his specific vision for Cavalli is without the need for references upon references.
The designer has to ask himself what is Cavali, then set out to enmesh the brand with that overriding aesthetics. That can start with deciding a straightforward thing – is it Cavali, or is it Roberto Cavali?
Young people today don't care so much for heritage, especially fashion heritage, in this moment of rapid social, cultural, and political changes. Making the brand relevant to young people requires building a community around the brand and showing how the products carry the same value embrace by young consumers.
---