---
Rodrigo Bazan has lived and worked around the world – in New York City, where he is based now, Paris, London, Florence and Buenos Aires, to be precise. CEO of Thom Browne, Bazan previously worked at such brands as Alexander Wang, Marc Jacobs and Alexander McQueen. His fashion world experience started with joining Domenico De Sole's team at Gucci after having worked at Deloitte and Motorola.
We caught up with the executive about Thom, the state of menswear, the importance of mentoring young talent, and, of course, Hector, the designer's delightful dachshund.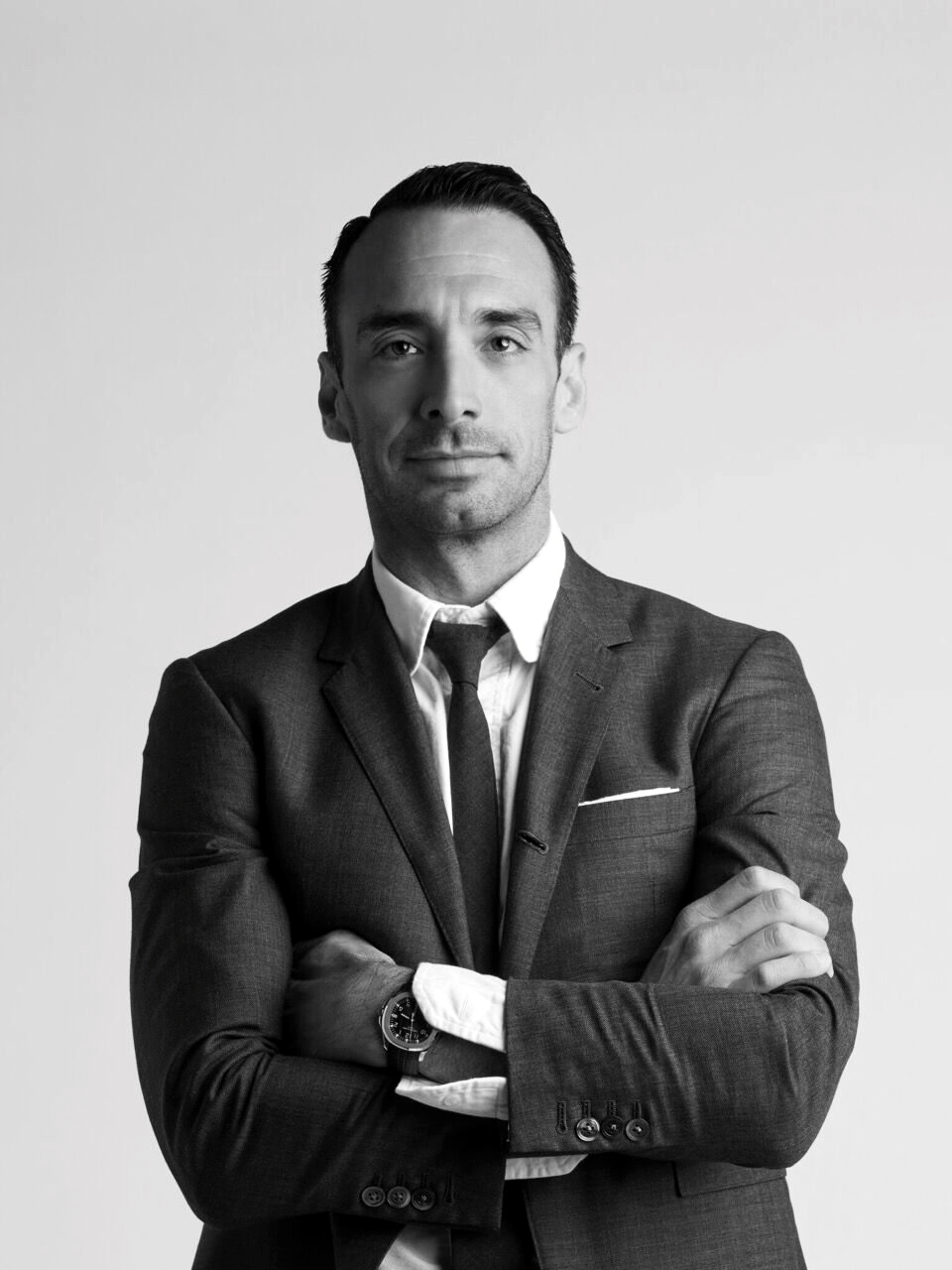 Marc Karimzadeh: You have been at Thom Browne since May. What have you learned about Thom, the brand, and menswear overall that you didn't know?
Rodrigo Bazan: Since joining Thom Browne, I have been repeating the words "fascinating" and "uncompromising." Since the first meetings with Thom and then working with the team, I can't stop thinking that this is a "fascinating" brand, and it's a fascinating business managed by a fascinating team.
I knew how influential Thom has been on men's fashion over the course of the last decade. I guess I've learnt how much of Thom's success with his collections has been built around his uncompromising vision and the unique clarity and consistency in his designs, and last but not least, the excellence in tailoring and craftsmanship that complement Thom's design.
Marc Karimzadeh: How have you adjusted to Thom's suit silhouette?
Rodrigo Bazan: My first Thom Browne suit came well before joining, so I didn't have to make any adjustment. I love Thom Browne's tailoring, and I love wearing the uniform. Wearing Thom Browne is the easiest part of my job.
Marc Karimzadeh: Where do you see the main growth at Thom Browne?
Rodrigo Bazan: Product categories, markets, channels of distribution… with the solid foundations built by Thom, we can now look positively at growth opportunities all around us.
Marc Karimzadeh: Thom is known for producing some of the most memorable fashion shows. How important is that experience in your opinion? What does it bring to fashion?
Rodrigo Bazan: Thom has a unique gift in surprising us all with his amazing shows. This is a part he enjoys very much, and so do we and our supporters.
The shows are the key defining moments and expression for the brand. Probably even more than the gray suit, which embodies the Thom Browne aesthetic.
Marc Karimzadeh: How would you describe the fashion landscape at the moment, and how is it shifting?
Rodrigo Bazan: This is a very exciting time. In the last 10 years, the internet has become very much part of our life (on our phones, at home, at the office, in communications and in retail). There are no more 'emerging' markets, there are no more defined seasons. I see a growing consumers' appetite for brands with a clear point of view, high quality and tight distribution. The big differentiating factor is a great product. Quality, craftsmanship and long lasting products (both in terms of quality and also timelessness) are very much appreciated today.
Marc Karimzadeh: How do you see the menswear sector evolving?
Rodrigo Bazan: The menswear market has seen tremendous development in the past 5-7 years. It has shown male consumers a much bigger choice of product range and has, by default, helped us increase our awareness in aesthetics, range of looks, and how to express ourselves with our clothing.
Menswear retail floors have grown very significantly globally. And, great e-commerce players have helped to express this visually in digital form.
Marc Karimzadeh: You also serve as a mentor to young talent. Why is that so important to you?
Rodrigo Bazan: It's always a great pleasure to be exposed to different brands, teams and situations. We all learn from them. I have a huge respect not only for designers, but also for founders of brands. In a world that moves faster and faster, the future belongs to the younger generations. Working with young people gives better access to the future.
Marc Karimzadeh: Finally, do you ever get to watch Hector, and if so, how do you enjoy that?
Rodrigo Bazan: Hector has an incredible positive energy. He always gives all of us at the office and the store a huge smile. And he has become a great Instagram phenomenon. We are very excited that he is still keen to spend time with us despite his fame…! [laughter]
---