The Serbian-born, London-based designer is creating a unapologetic vision of modern femininity with her multi-disciplinary brand
By Angela Baidoo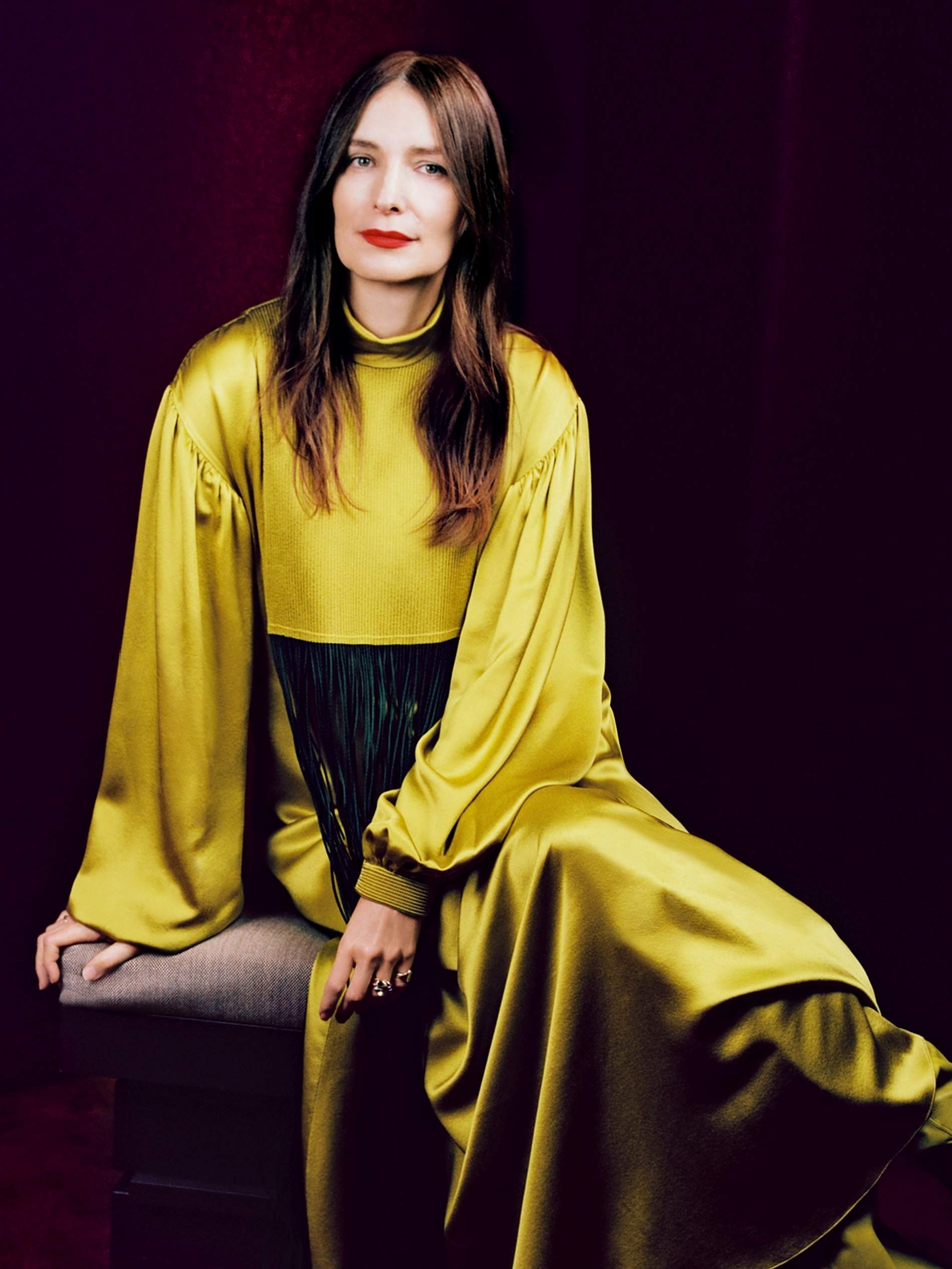 Born in Serbia, but now based in East London, Roksanda IIinčić first studied Architecture and Applied Arts at the University of Belgrade, but as the designer has often cited, fashion design continued to draw her, capturing her attention in a way that her original specialism of study never could. This realisation led to an enrolment in 1999 on Louise Wilson's infamous MA Womenswear course at the world-renowned Central Saint Martins in London.
Founding her namesake label in 2005, Roksanda was born of a new-wave of brands who rose up and made an indelible mark on the young British fashion scene during the early noughties. From Christopher Kane, Giles Deacon, Jonathan Saunders, Mary Katrantzou, and Temperley London. She has since become a mainstay of the British luxury fashion industry and an enduring draw for editors, celebrities, and stylists during London fashion week.
Throughout her career, Roksanda IIinčić has sought to modernise femininity unapologetically, within her structured, yet fluid forms.
In Living Colour
It is not often that a designer can become instantly recognisable because of their way with colour, but it is a lane IIinčić has successfully carved out for herself, despite initial pushback in her home market. But her saturated sheath dresses in vibrant reds which are then contrasted with a splash of ocean blue or her emboldening of a voluminous blouse with a shock of neon coral have now become a calling-card for those looking to make a statement on the red-carpet.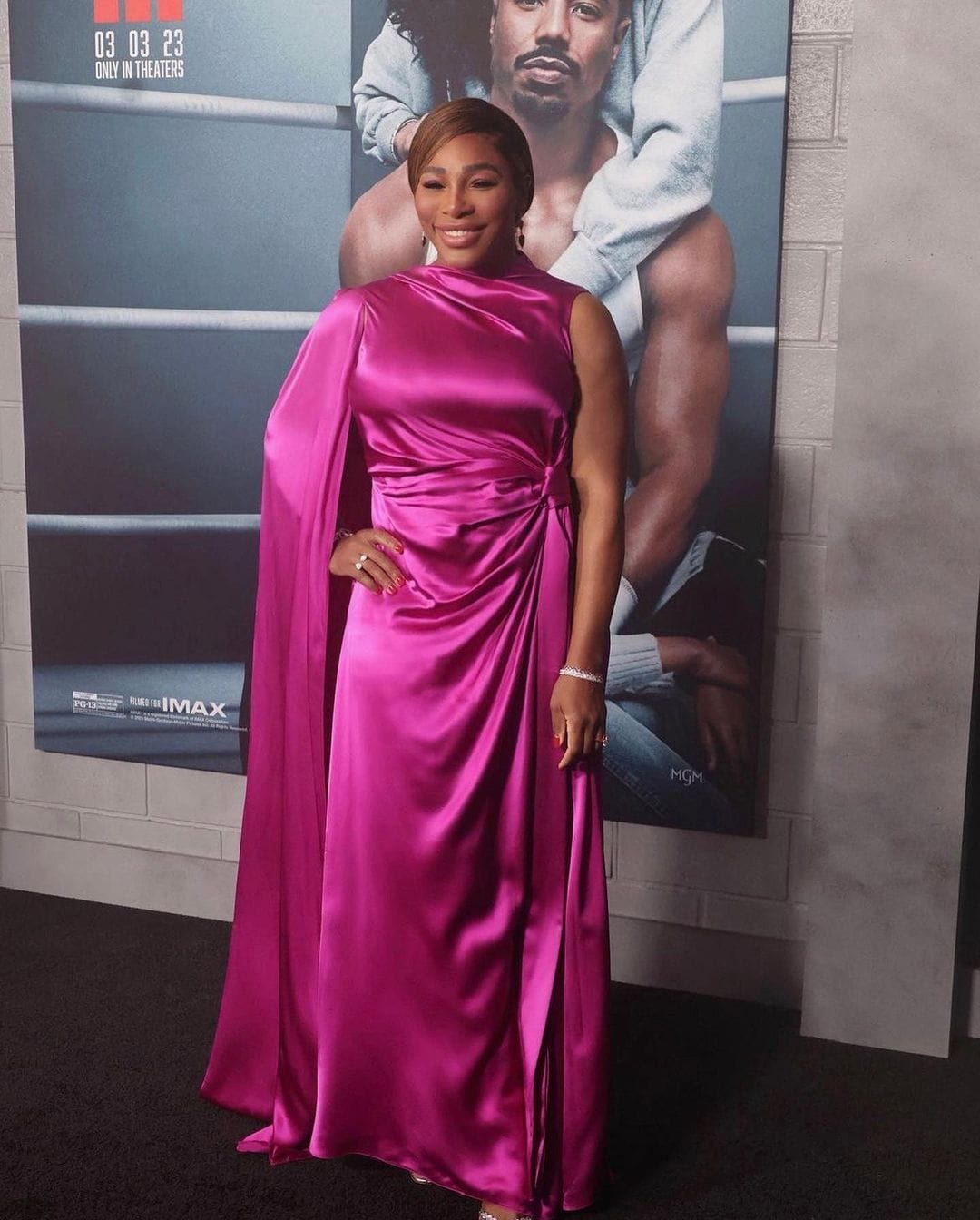 The designer also looks beyond singular colour messages, where a hue comes to represent the brand – think Bottega Green, Valentino Pink, and now Ferragamo Red. Her colour play tends to at once clash, then work in harmony, before acting as a canvas for unique artwork which affords her designs an elevated level of timelessness. And as a brand whose founder is consistently expanding their horizons through the mediums of art, poetry, and architecture, a certain sense of knowing is found in her vibrant collections which tend to sit outside of the realms of fashion calendar seasonality.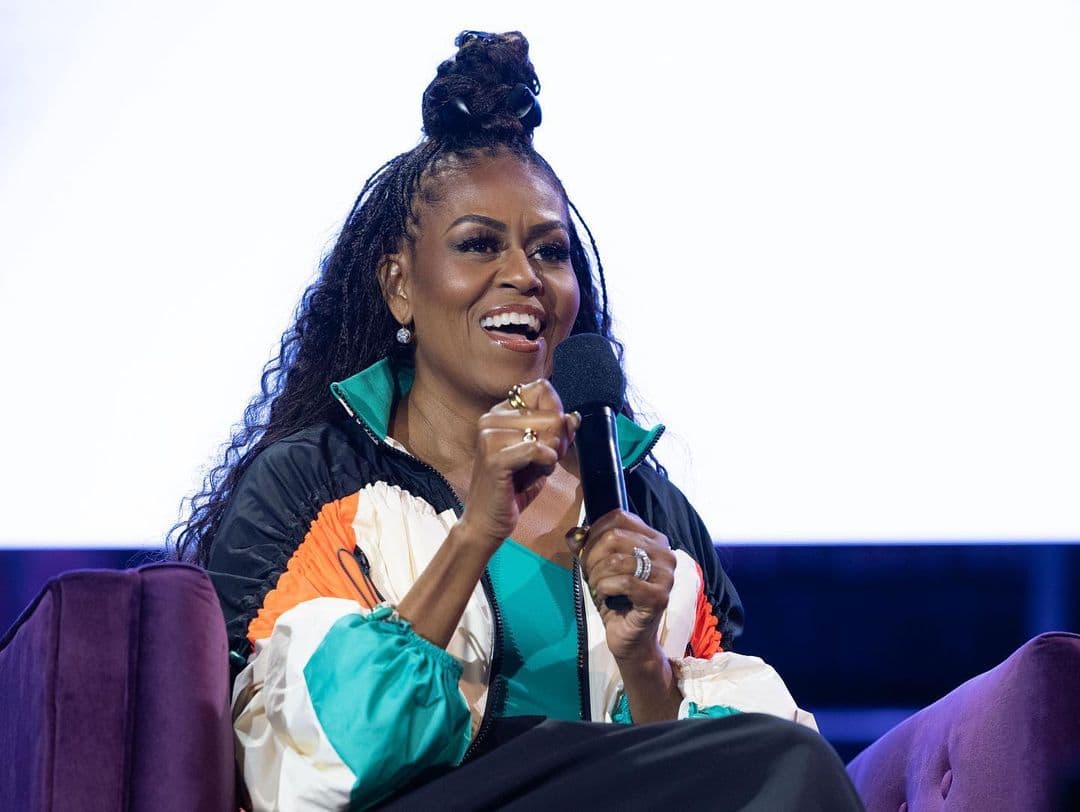 Forgoing the traditional ambassador route, IIinčić has been fortunate enough to find a community of like-minded women who have taken to wearing and championing the brand, from red carpets to state visits. Not only famed for dressing royalty and former first lady's – The Princess of Wales and Michelle Obama to name but a few – the brand has worked hard to create a community from its customers, considering them an extension of the brand as a sort-of Roksanda Family, many of whom can be spotted in the rows of seating at her runway shows, which have in recent seasons taken place in settings which deeply resonate with the designer.
The Power of Partnership
Collaborating with Italian sports heritage brand Fila and British heritage brand Barbour has opened up the designer to new categories, as well new consumers who may have never been exposed to the Roksanda brand. Saying of the Fila collaboration: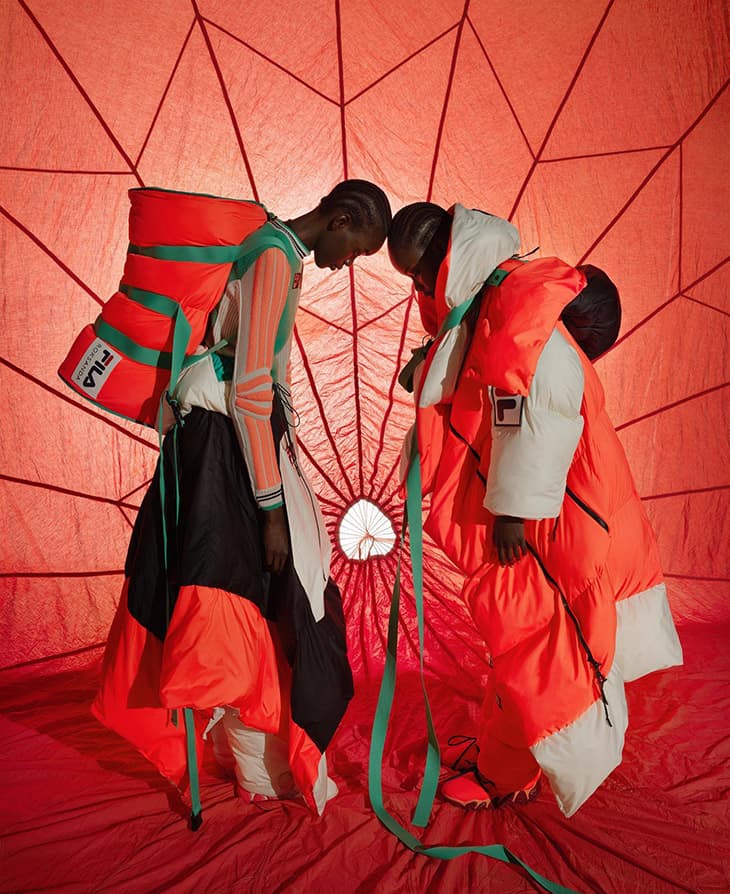 Growing up in Serbia, I cherish personal memories of how much we all loved Fila pieces coming from Italy. This collection allowed me to give a new point of view on such a beloved heritage: one that merges my shapes and colours with a sense of performance and the outdoors. The soft, enveloping message is perfectly timely, I believe.

Roksanda IIinčić
The brand created an intersection between "two very different identities" according to the press release, harnessing the technical know-how of Fila with the dramatic voluminous shapes of Roksanda, an empowered attitude was achieved through the medium of sport and design. Realised at a time when the rejuvenating properties of time spent in 'The Great Outdoors' was gaining in prominence, this collaboration offered the ultimate version of luxury sportswear and a highly-functional outdoor solution, which provided shelter and comfort, for when the wearer needed to seek refuge from the volatility of the wider world.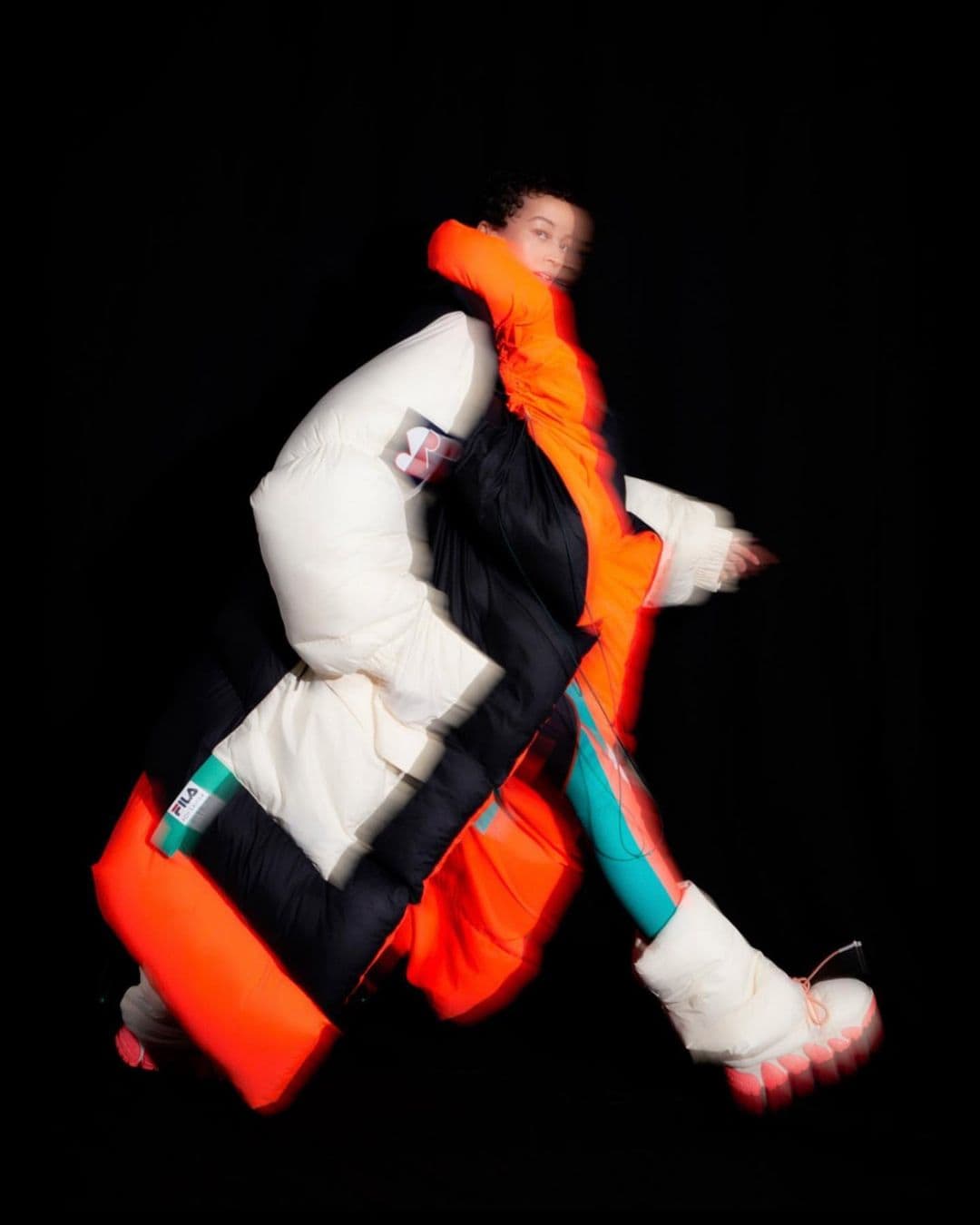 Having worked with the Royal Ballet in 2020, the designer reprised her role as principal costumer once again in 2021, when she was invited by choreographer Valentino Zucchetti to dress the four principal dancers – Francesca Hayward, Fumi Kaneko, Mayara Magri and Yasmine Naghdi – for their world premiere performance of "Prima", which was a female-focussed reinterpretation of Christopher Wheeldon's "For Four". Tapping a female designer to see the story through her eyes meant IIinčić had the opportunity to bring her signature drapery and fluid volume to the stage. To then be given an innovative new translation through movement. Bringing the idea of what it means to be a modern ballerina into the future, her silhouettes revealed an unexpected flash of colour when the dancers pirouetted. And hemlines infused with boning to create an organic structure which was, in essence, sculpture-in-motion, in burgundy, teal, and orange, forming a high-fashion, high-art hybrid.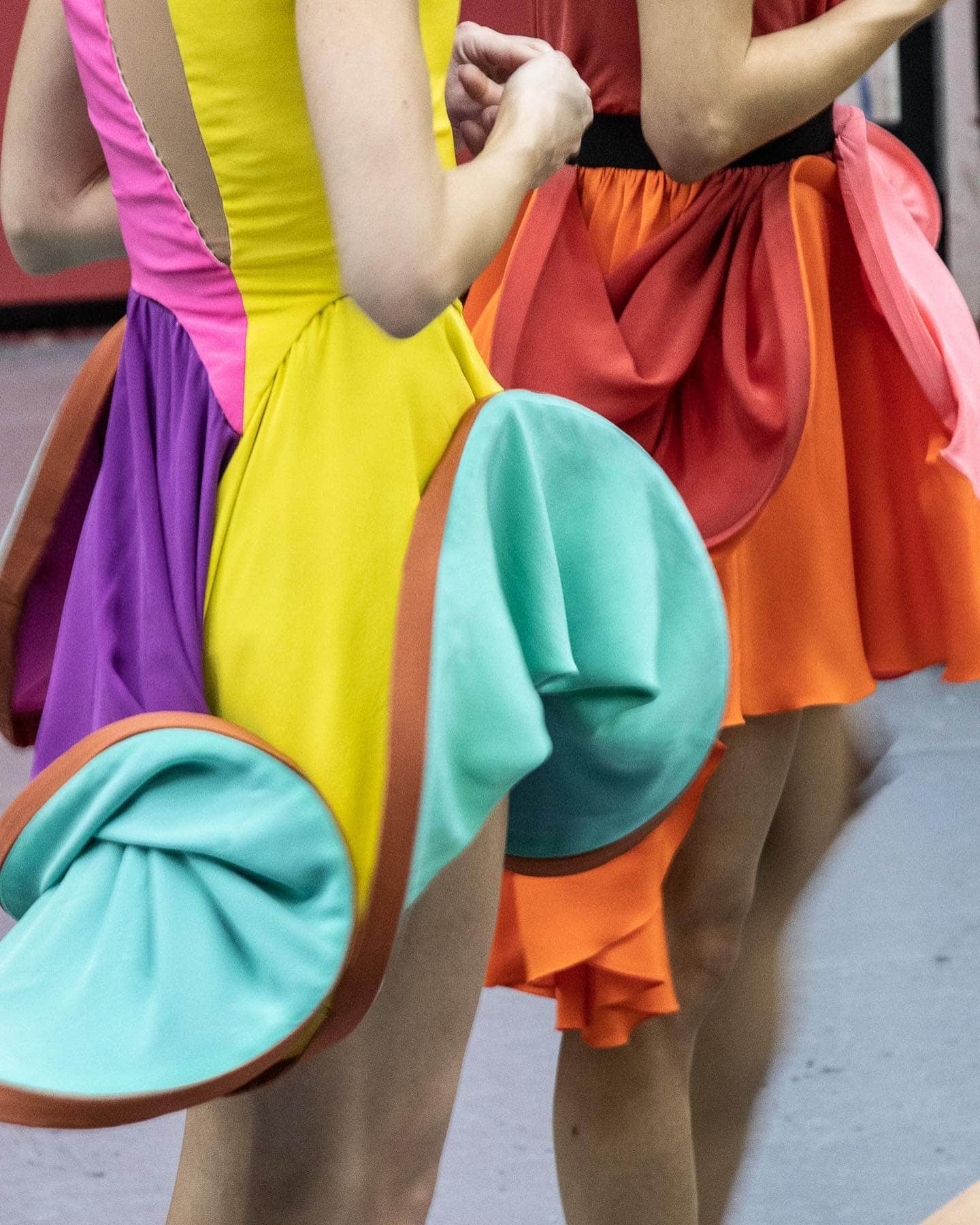 The Art of Survival
Speaking to SHOWstudio in 2012, the designer's words would gain new relevancy almost a decade later, when she said:
We were passionate about fashion, and how that was something that was really driving us and bringing a lot of positive energy. And its something which gave me a lot of strength as well, to do things when the times are not quite right, to be able to design collections in different circumstances

Roksanda IIinčić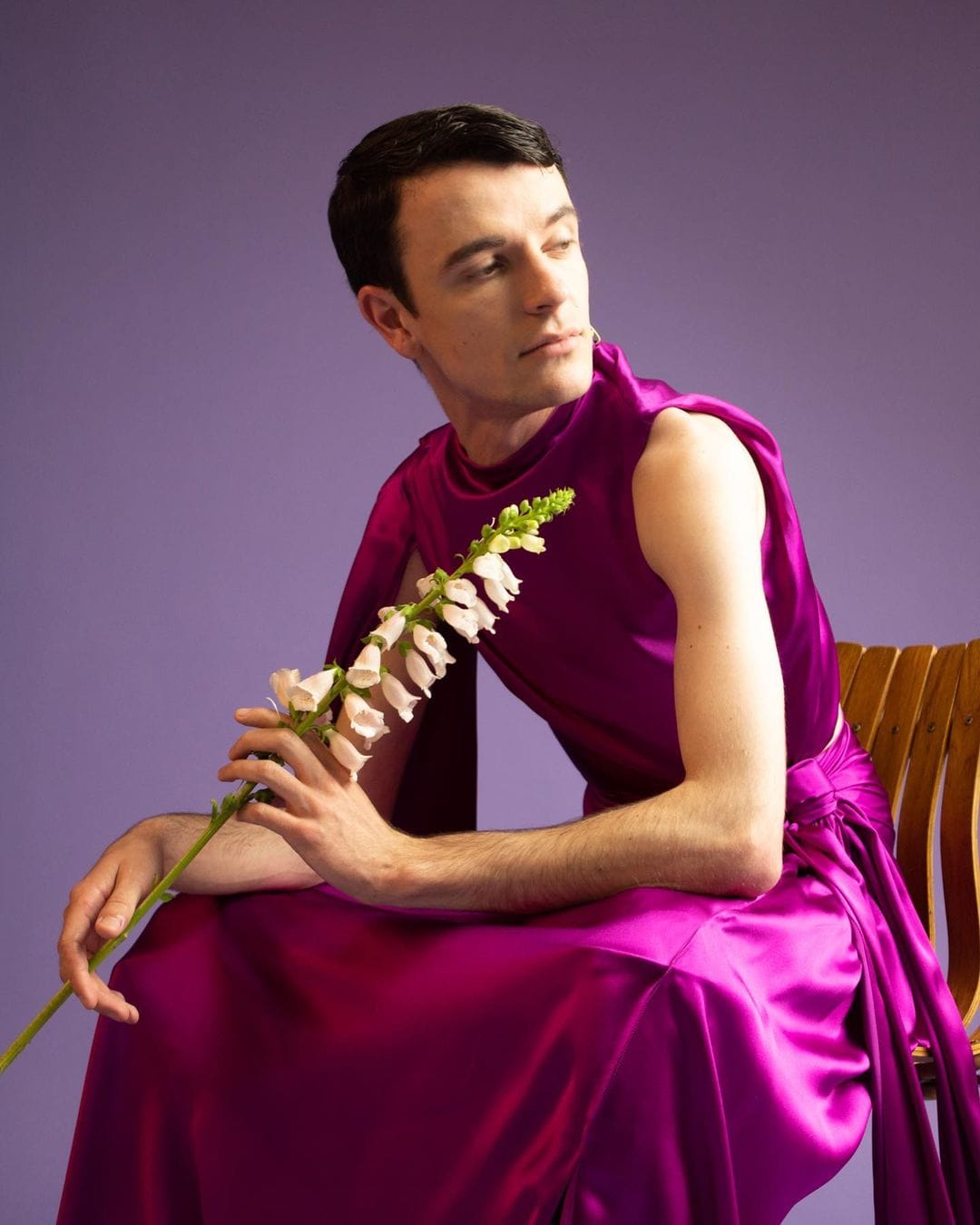 As with many brands the pandemic was a time of re-assessing, stripping back to what were the key elements that had provided success in the past, and realigning with them. And for IIinčić this manifested itself in reducing her collections back down to two a year (fall and summer). During a visit to the brands studio to view the most recent fall 2023 collection there was an of-the-moment eschewing of seasonality to the clothes on display, from the mid-weight selection of fabrics and the optimistic palette, to the more minimalist tailored pieces (which sat amongst red-carpet-ready suiting which came affixed with dramatic trains), such as the two-in-one jacket rendered in a textured wool upper and compact knit lower half, which focussed on following the female form and could be worn in more everyday settings. For summer 2023 the runway show also featured a number of looks worn by male models – notably an asymmetric satin tunic, a fluro orange second-skin jersey, and a sunflower yellow gathered taffeta top and wide leg trousers – nodding to the brands natural fluidity (and unrestricted nature, which affords the wearer a sense of freedom) across the genders, demonstrating how the clothing has the ability to adapt by design, working across a range of body sizes and shapes.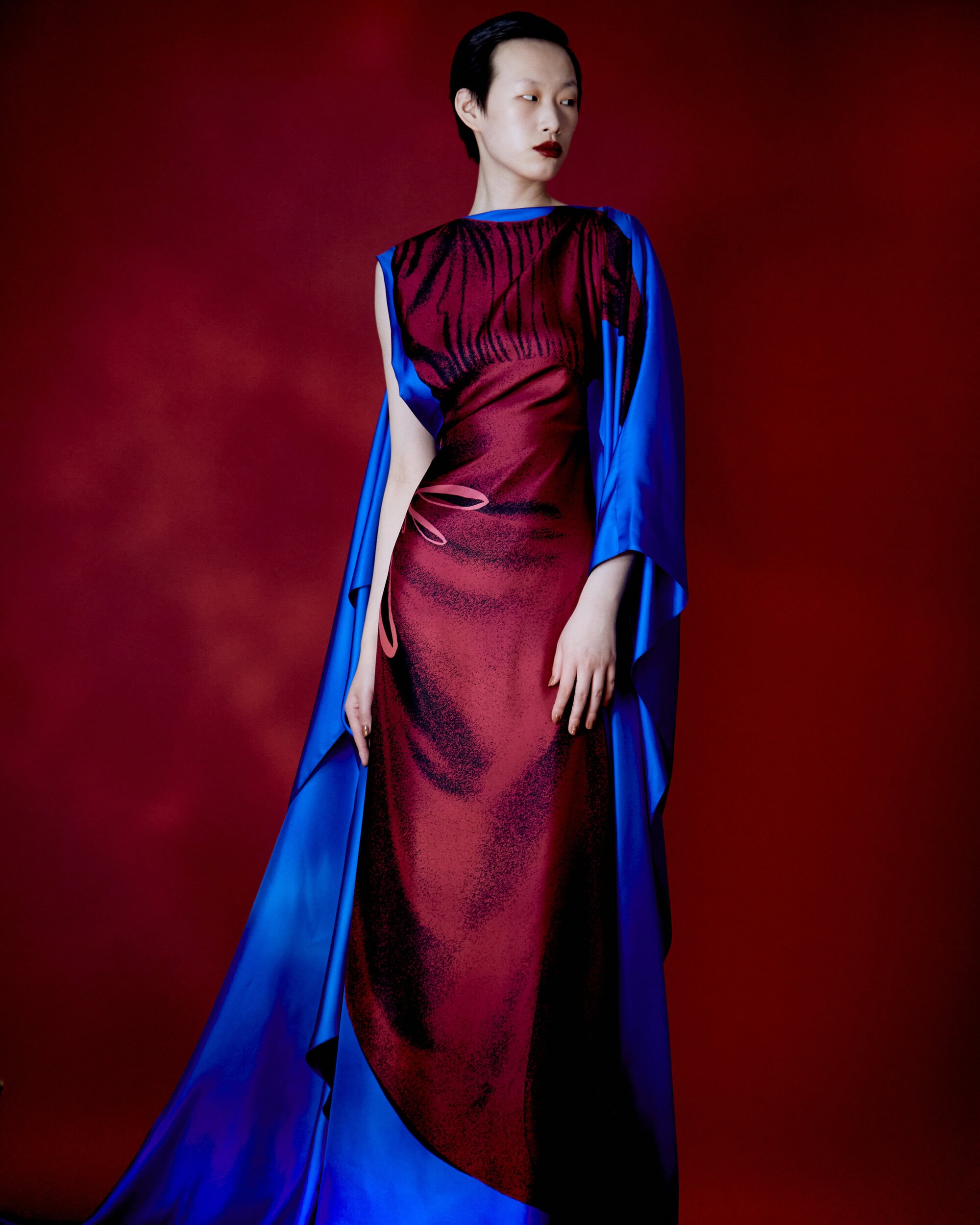 The brand has also branched out into new regions, setting its sights on the Middle East, where they have found a kinship in the customer base who reside there. Taking the time to visit the region, which has become their biggest market to date, the team were able to strengthen their ties with their retail stockists. This follows on from the growing trend of key players, from LVMH (20% market share according to statista.com), Kering, Richemont, PVH, Chanel (15% market share), Hugo Boss, and Giorgio Armani increasing their market share through store openings and hospitality partnerships, as well as occasion-specific capsules. Ramadan in particular has seen Stella McCartney, Fendi, Missoni, Net-a-Porter, and Jimmy Choo release limited-edition collections to commemorate the holy month in 2023.
Roksanda has also worked with and created content for Vogue Arabia, Harvey Nichols Kuwait, and 3oud.com, and the modest leanings of her designs, which aim to empower women, have been popular in the region, being seen most recently on Rajwa Al Saif, the fiancée of Crown Prince Hussein of Jordan.
Its A Feeling
Coming from a culture which values being open with ones emotions, the Serbian-born designers heritage – which considers the sharing of your life with your extended community of family, friends, and neighbours – goes some way towards explaining the way in which her clothes are an open invitation, a dialogue, and a way of building a relationship with the things we buy.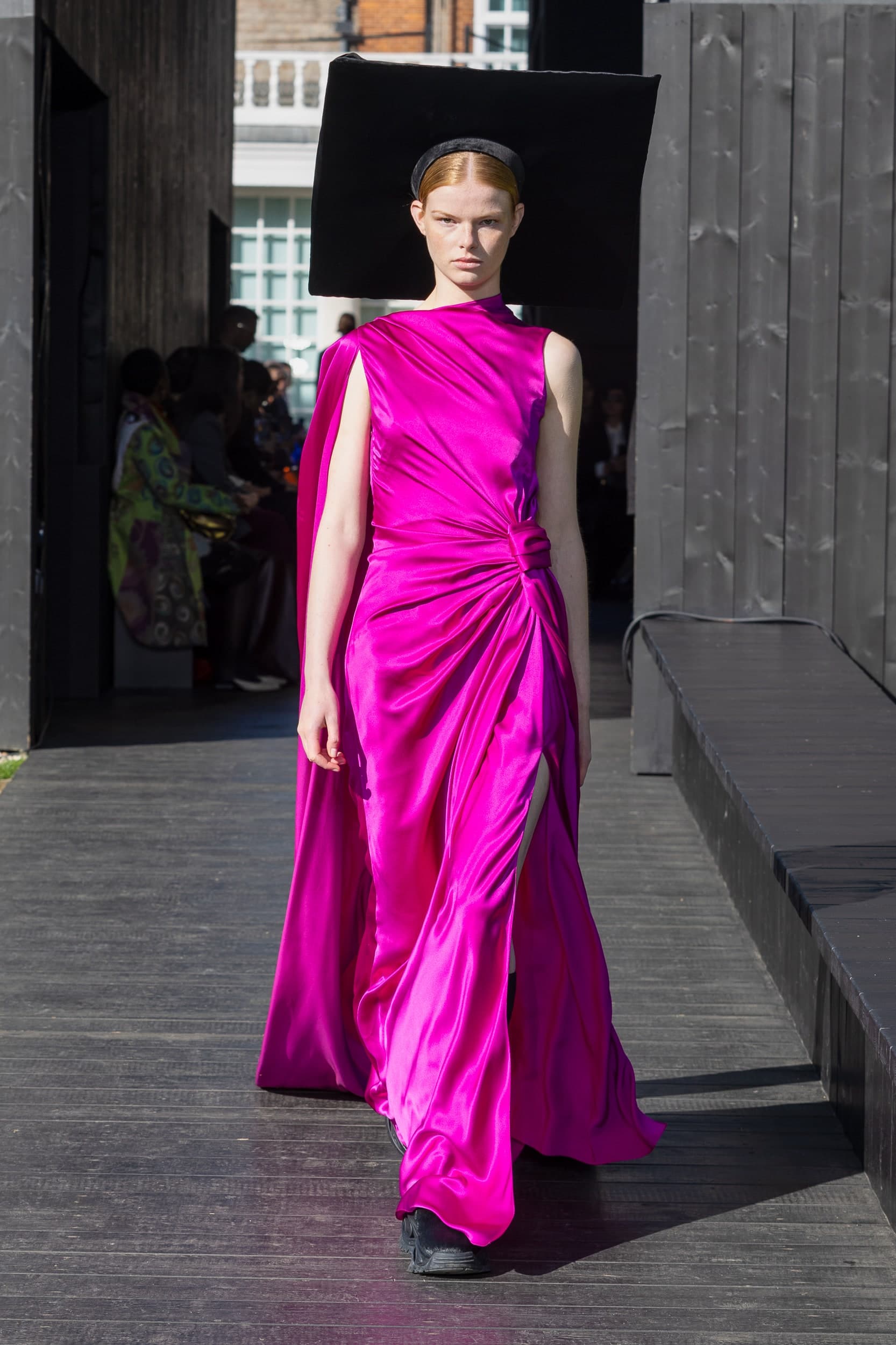 Many references to folk, poetry, and the romance of her home country come through in her designs. But also the emphasis on the intense illuminating properties of the sun, often associated with the Mediterranean region from which the designer hails. All of which have been a heavy influence on her signature use of colour, which is refreshed each season, from fall 2023's bright yellow, crimson, peppermint, and rich pink to summer 2023's peony stone, sunflower, coral, and lime.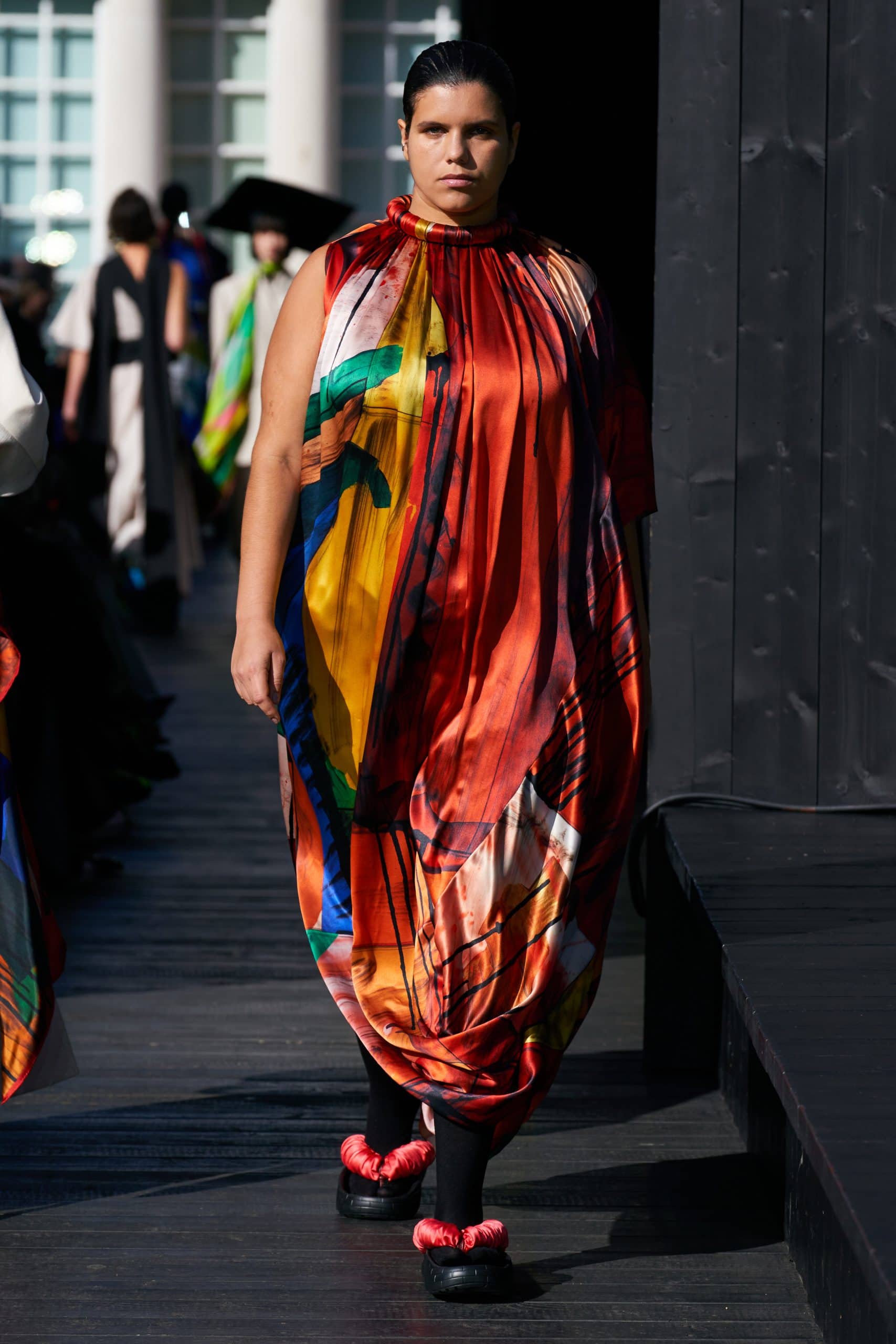 Roksanda expresses itself as a 'multi-disciplinary brand' drawing on influences not just from the world of fashion, but also architecture (owing to the designers education on the subject), music and art. With the last two disciplines merging seamlessly for her fall 2023 show, as Japanese visual artist, Atsuko Tanaka was a key source of inspiration amid the flowing silk dresses within the collection which acted as a canvas for a reinterpretation of the artists 'abstract expressionism'. The bold circular forms which are repeated in many of Tanaka's works were also reimagined as complex tubular forms, which seemed to come to life on the carpeted runway due to their being formed in and around swathes of chiffon, whose purpose according to the show notes was to invite "a deeper connection between creation of the body and craft, beauty and technology".
There was also a reciting by contemporary lyrical poet Arch Hades of her piece titled 'IV Silence' as models walked through the intimate setting of the Claridge's Hotel, with her words ringing true as an observation on today's world:
There is no requirement
for you to be extraordinary
That accolade's a human judgement
One that's deeply arbitrary
Let the silence of the sky remind you
of how small you really are
It makes it easier to let go
Change direction and re-start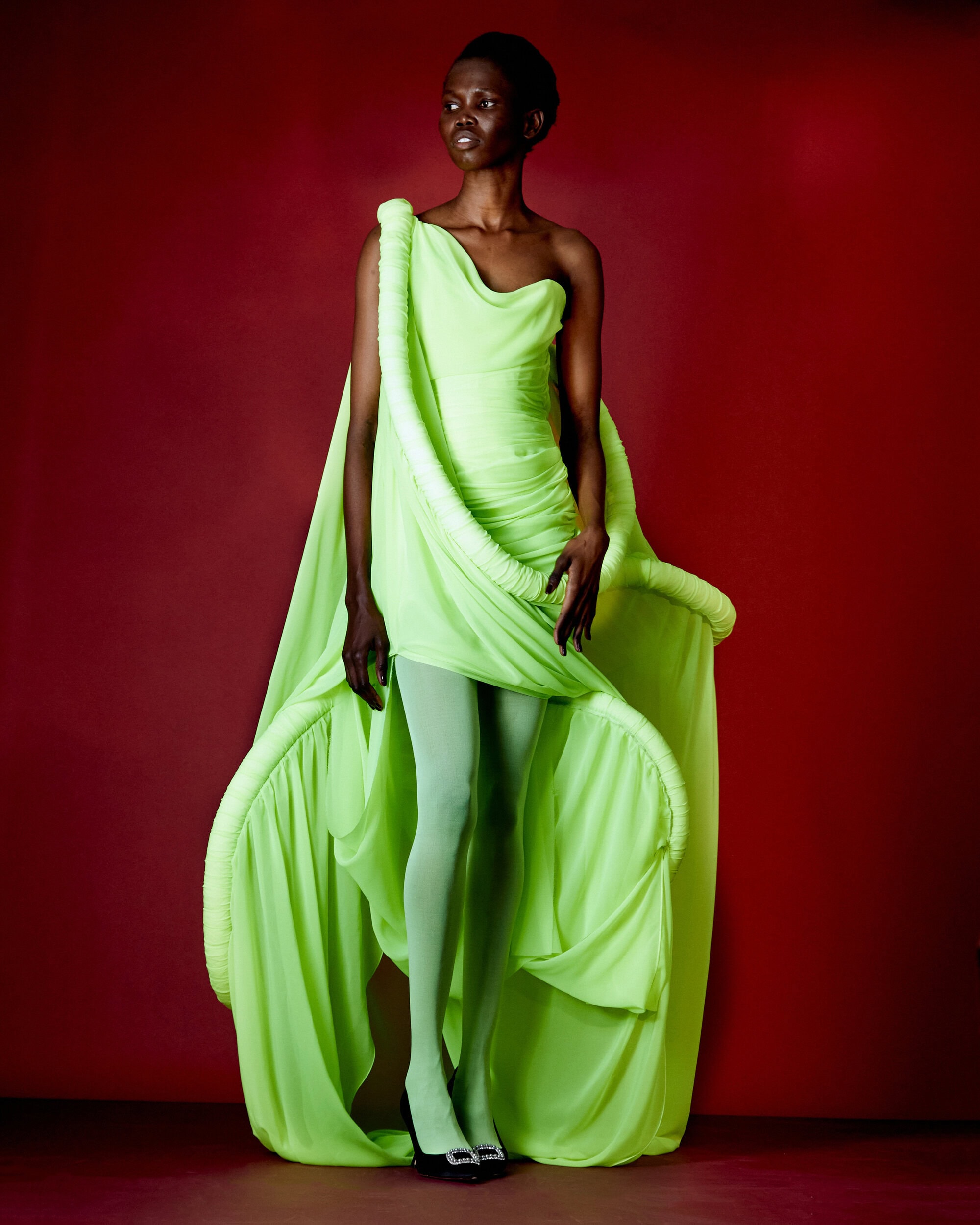 Roksanda IIinčić Speaks to The Impression
How do you ensure you carve out time for 'analogue' first-hand research, whether through libraries, museums, or travel?
Inquisitive by nature, I am always looking to my surroundings for research. I love exploring new productions and exhibitions, discovering new creatives, and listening to spoken word. Recently, I went to Holly Blakey's incredible show 'Cowpuncher My Ass' at the Southbank Centre. The moving human is always at the forefront of my mind, so this is a wonderful example. But I also like to look inwards, I am so lucky to have with me an incredible team who, individual in their own right, bring unique and fresh perspectives to my inspiration.
What compels you to seek out the innovative collaborations that you have done in the past? Your partnership with Fila being such an unexpected and successful example of two brands who operate at different ends of the industry coming together and making magic.
I am always excited by the opportunity to play on ideas where structural shapes and unusual colours from two contrasting identities can come together and offer a new modern femininity. I always try to surprise people, continuously looking to push boundaries through innovative combinations and opposites
How would you describe the Roksanda woman in 3 words?
So hard to narrow it down to three; Feminine, creative and inspirational, are only a few words to describe all the incredible women that are part of my community.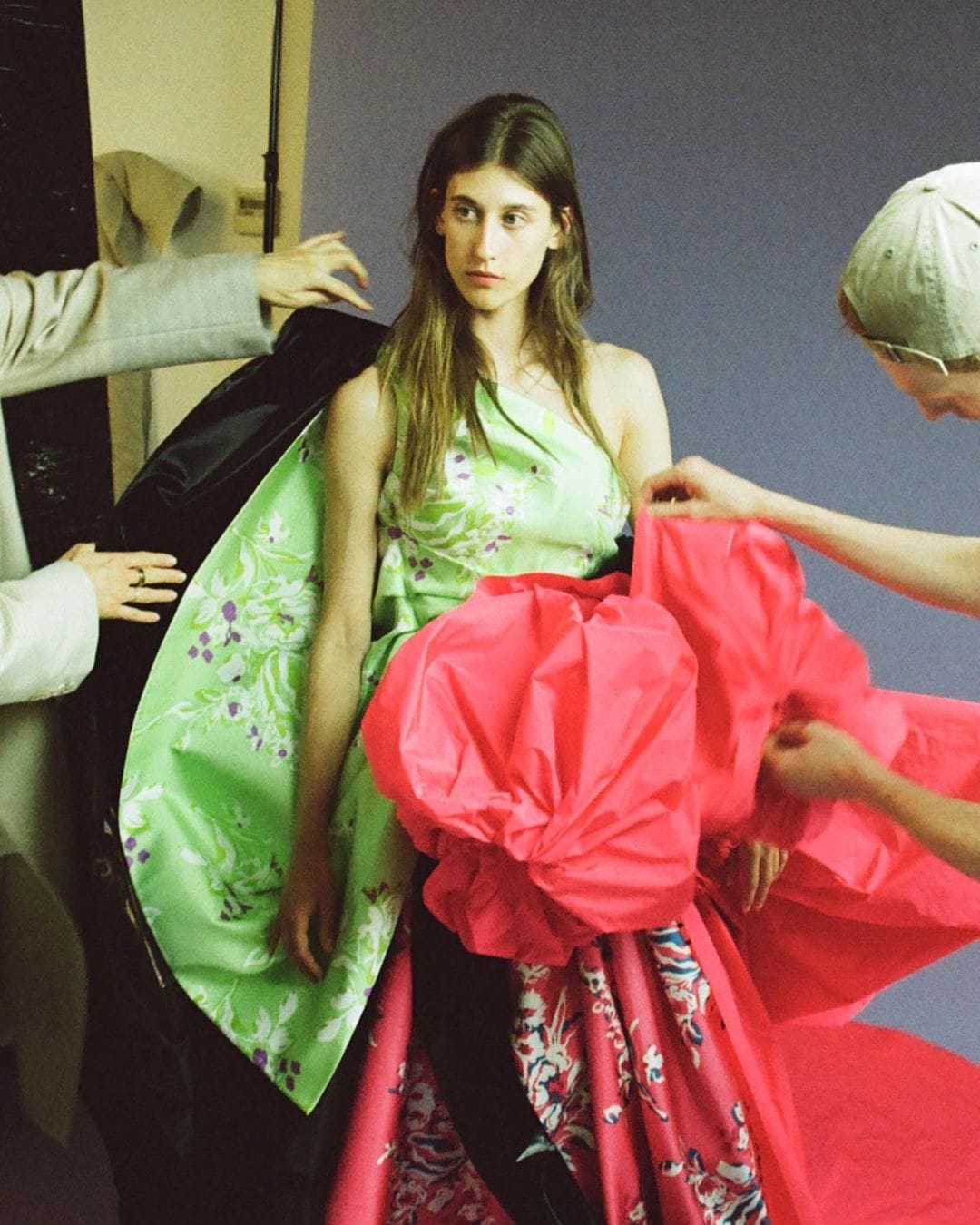 As a brand whose founder is consistently expanding their horizons through the mediums of art, poetry, and architecture, a certain sense of knowing is found in her vibrant collections which tend to sit outside of the realms of fashion calendar seasonality.
---