---
The first sustainable couturier on how surrendering for the greater good… wins the larger war on climate, racial and social injustice
Back in April, when the world was shocked and battered by COVID-19 and it seemed like fashion was canceled, 2020 was canceled, Ronald Van Der Kemp staged a spectacular 5-minutes-to-midnight action with his "Army of Love," 30 models waving large, white flags from individual balconies at Amsterdam's Hotel de l'Europe in a dramatic gesture of surrender.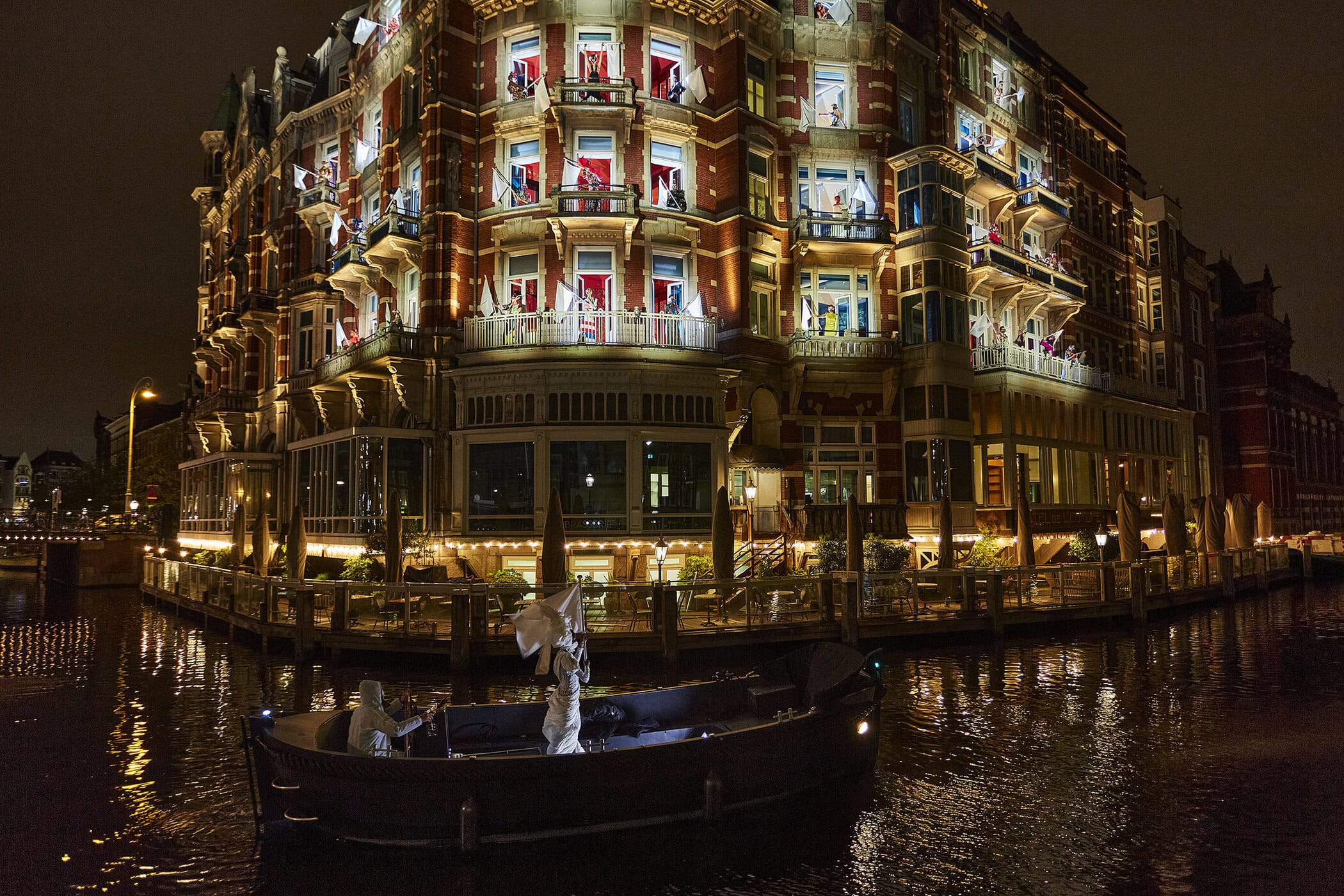 Van Der Kemp is known for drama – his unique creations are full of personality and style, as are the high wattage clients who wear them, from Céline Dion to Katy Perry to Tracee Ellis Ross and Lady Gaga. But his clothes are not the only thing making statements. RVDK is fabulous first and sustainable, too, which is like having your cake and eating it. His message of giving in for the greater good in order to get through the pandemic applies just as well to climate change and a more equitable future, a motivating and founding principle of the house.
In fact, general compliance with temporary restrictions contributed to a cautiously optimistic mitigation of the crisis in parts of Europe, with some semblance of daily life and travel returning for the summer. So when Ronald was in Berlin for the weekend, The Impression's Dao Tran caught up with him at Cecconi's in Soho House to talk old school couture glamor, building a wardrobe instead of keeping up with the collections, the incredible freedom and opportunity of this unique moment, and what people want. As coincidence would have it, an independently planned trip to Amsterdam was perfectly timed to repay the visit and see the atelier irl.
Dao Tran: How did you get interested in fashion?
Ronald Van Der Kemp: I grew up in a small village in Holland. When I was young, I wanted to become a ballet dancer. When I was 12, I tried to get into dance class but it wasn't really done, for a guy to do that at that time. So I studied ballet until I was 19 and found out that my back wasn't really working, then I turned to fashion. I always had this interest for fashion, I was always knitting and making things. I started to sew things as well. My mom was always making clothes, doing stuff, so that was a good example for me, and my dad was kind of creative in his garden. Then I studied fashion at the Gerrit Rietveld Academy in Amsterdam.
Dao Tran: Where did you get your start?
Ronald Van Der Kemp: I did my internships in Paris at Courrèges. But I always wanted to go to New York and I had never been. Then I won this bursary which enabled me to go. I gave up everything in Amsterdam and moved to NY in 1990. After a while, I got a job at Bill Blass. I think that really formed me because what I saw there was real old school couture clients, like Nan Kempner, Betty Buckley, Jessye Norman. You had all these real personalities, these women with character and real personal style.
Dao Tran: That makes a lot of sense; I can see that influence in your clothes.
Ronald Van Der Kemp: What I love about his clothes is they have a kind of casualness, but at the same time elegance. This really formed me, in a way. And these women when they walked into a room, everybody would be like oh, who's that. This has always stayed with me; this is what I want to do.
Dao Tran: What compelled you to start your own house?
Ronald Van Der Kemp: After Bill Blass, I was the in-house designer for Barneys New York for a long time. Then I went to Paris for Guy Laroche. Then I started consulting for all these different luxury companies. And at one point, I started to see that this whole fashion world was going in such a weird direction. I saw that they were trying to copy the whole cycle of fast fashion and I also saw that the attention to the clothes was slipping.
I wondered, who buys all these clothes? Then I found out about things being destroyed, the problem with surplus. I wanted to get my hands on the warehouses full of clothes and fabrics and make something new and exciting with it, on a big scale as well. Solve a problem, do something new, and also change people's perceptions.
So it was really those two things. The fact that we were producing clothes that are later destroyed was a big problem for me and something that I didn't want to contribute to. And the other thing was that I felt the whole love and passion for fashion was sucked out of the clothes. When I looked at all the clothes from all the brands in the stores, including the people that I was working with, they didn't really do anything for me. But when I would see vintage pieces, for example, from the 80s, couture pieces – they gave me goose bumps. I thought: This is what I want to do. These are the kind of clothes I want to make, clothes with a story, clothes with a soul that are really beautifully made with nice fabrics, maybe with a little imperfection, clothes that are alive.
That was sort of a revelation. So I started working with fabrics and pieces of leather and stuff that I had collected over the years in my apartment. I gave up all my consultancies and I just started making clothes. Without a concept. With just the idea of a wardrobe. I thought of how people build wardrobes; they collect things around a certain personality. You know what you're about, you have pieces that you wear every day and pieces that you only wear once in a lifetime. But because you have them, you are what you are. This whole concept for me is very important.
Dao Tran: I love that because I feel like it's more organic to the way a woman has clothes, and buys and owns and wears clothes.
Ronald Van Der Kemp: Exactly. So I made a wardrobe. I wasn't going to build a brand or anything; I just wanted to do it as a project for myself. When I went to Paris during couture and met a few editors, they really loved what I had done, so one thing led to another.
Dao Tran: You started in 2014 as the first sustainable couture house. How do you see sustainability in couture, when it's high quality, unique, one-of-a-kind anyway?
Ronald Van Der Kemp: For me, couture always had the position of leading everything else. So, I wanted to have an old school couture house with a message. Couture is almost a sustainable thing, but traditional couture houses buy the taffeta in 6 colors and they don't even know which color they're going to use. That print they've done in three color combinations – they might use 10 meters and discard the other 100. My mission is to do something at a very high level with all the leftovers. And while the whole sustainability story for me is important, I want people to first look at the clothes and get excited about the clothes.
Dao Tran: So, after that first presentation in Paris and everybody reacted very well, how did it go from there?
Ronald Van Der Kemp: It was very organic. In the beginning, we only invited 10 editors or something. So people were writing about it. And, at that time, style.com put pictures online, then some stylists came to pull for celebrities. Celebrity requests started quite fast. For the second wardrobe, I did something with the American flag which became an instant hit – I think it was in all the Vogues, from the Chinese to the American.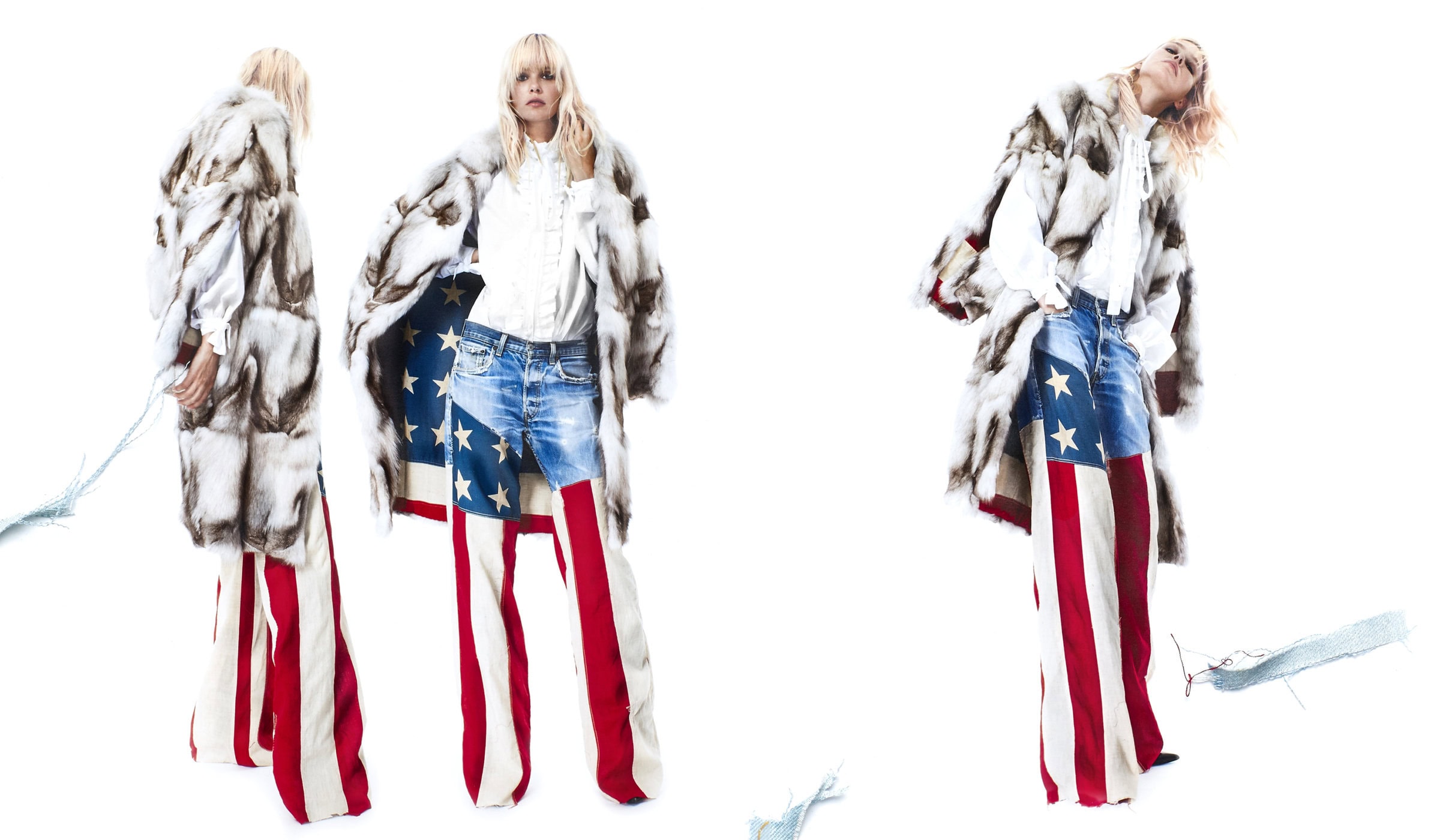 Dao Tran: There's a power to the American flag; that's a motif that always works.
Ronald Van Der Kemp: It really got me so much publicity; Katy Perry wore it, Miley Cyrus wore it.
Dao Tran: Was there a message behind it?
Ronald Van Der Kemp: There wasn't really an idea behind it – on one of my shopping trips, I found this vintage American flag and I just decided to make jeans out of it and it totally became a thing. I do everything very intuitively. It got a lot of people's attention, and slowly and organically, people started looking at what I do.
Dao Tran: Who would you say your client is?
Ronald Van Der Kemp: At the beginning, we worked with a few retailers. We started working with Net-a-Porter, we worked with Bergdorf, Brown's, Galeries Lafayette… That was for our limited edition series, but we decided to stop that part. And we got our first couture clients. In general, the type of woman that buys our clothes are women that have personality, have a culture in fashion, and understand the workmanship and the history of fashion a little bit.
Dao Tran: Couture is a different population that's not been very much financially impacted by this crisis. However, all the reasons for them to shop, all the events for them to go to, have been cancelled.
Ronald Van Der Kemp: Well, this is what I was thinking when I did my couture presentation – since it's not for the red carpet or a wedding or a party, I approached it more as art. I also did some half-scale models with the thinking that it is more like an object. I started painting and I collaged all the paintings together and made them into dresses, so for me it was more about art and something that you might want to put in your house. I made this big coat –
Dao Tran: The patchwork, that was fabulous!
Ronald Van Der Kemp: It's something that enwraps you and you don't need a fitting, it's a coat that fits everyone. This is the kind of thing, it's a different spirit, a different way of thinking. And this is also why we did the movies and everything, more like as a statement about all that went on in my mind, how I thought about the world and everything, what I intuitively felt was going on. I felt it would be inappropriate to make typical couture dresses with lots of tulle in this world.
Dao Tran: Well, it just feels a) tone deaf and b) irrelevant.
Ronald Van Der Kemp: Exactly. It's not relevant. So I was surprised that a lot of people did do that. I was like, ok, it's nice, but why, you know? This is the thing, fashion used to be about what's going on in the world, it was one step ahead… Now I feel like fashion is trying to hold on to the past. I try to think more ahead, like what are people thinking and what the world is going to be. This is what interests me. I don't have the answers, but I'm trying to look for it, at least.
Dao Tran: So, Virgil Abloh's presentation of Louis Vuitton men's in Shanghai featured a new selection called "Upcycling Signal Logo," wherein looks from previous seasons were recycled, upcycled, or reissued. Last season, John Galliano introduced "Recicla" at Maison Margiela, where they also upcycle vintage clothes. This seems like a page from your playbook, actually.
Ronald Van Der Kemp: Yeah, I see it a lot now. I don't know if it comes from me, but wherever it comes from, I'm very happy that other people are waking up and doing something because I want people to change their habits and their perception of how fashion should be done. That's what I want to do – change the system.
We've been doing it from the beginning. I'll take pieces from Wardrobe 1 and put it in Wardrobe 4. Cardi B requested a dress that was made three years ago. It's not like you can't wear it anymore because it's from last season. It's still a great dress. This is the change in perception that I want to give people – it's not about a season or a theme, it's about building a wardrobe, you can pick pieces and combine it in a different way or style it in a different way to make it new again. This is why during the corona lockdown, we did this presentation in a hotel in Amsterdam where we used clothes from previous wardrobes and we made matching couture masks to show that you don't always have to produce new things all the time. You can do one element new, put it in a different context, and make it exciting.
Dao Tran: Those masks are beautiful; they're like works of art.
Ronald Van Der Kemp: We're going to auction them together with the framed original sketches through Christie's to benefit the Refugee Company in September.

Dao Tran: I think it's interesting because of the politics of the masks, especially in the US. What I liked about the vision that you offered is that it could be an aspirational thing, a thing that you can show off with, instead of a limitation or regulation by the government.
Ronald Van Der Kemp: If there is an issue – and this is what we did with sustainability – I think you have to make something beautiful out of it. Same with the masks. This was something that people felt negative or worried about; people were scared.
I think we should try to make something beautiful out of this problem, this is when you reach people, when you make something positive out of something negative.
Dao Tran: The image reminds me of the iconic Ormond Gigli image, "Girls in the Windows." Was that an inspiration?
Ronald Van Der Kemp: Well, we wanted to do something on Dam Square, the Royal Palace in Amsterdam. But that would have been impossible with all the regulations. Then I thought in a hotel, you have a different room for every girl and you can implement the appropriate safety measures. Then of course we came to that image because that's the logical continuation.
But for me, it was very important to have this message of surrender, that's why we did all the white flags. What was most interesting about this whole period, was that people were finally quiet and listening and doing what they were told by the government for safety. So I thought if they can surrender to a virus, why can they not surrender to sustainability? This was my idea. This is why the girls came out with the white flags. Fashion world, it's time to wake up, surrender to sustainability, this was my message.
Dao Tran: That's a powerful message.
So, I'm curious: Couture pieces, they're eye-catchers, they're very recognizable. How do you get people to think about it differently and repeat looks?
Ronald Van Der Kemp: I have pieces that are very recognizable, but there are also pieces that are more classic. There are dresses that I've shown twice, even three times, and nobody ever noticed because it's styled in a different way or I added something or did something.
Dao Tran: When you don't have a specific theme around each presentation, it can end up very eclectic. What is the red thread, how do you bring it together?
Ronald Van Der Kemp: In the beginning, I wanted to get excited again about fashion and thought the way to do it is if you don't have a theme but you just make clothes. By the end, you have a bunch of clothes and then you have to do the show. It's a little nerve-wracking, but it's also very exciting because this is when you're on, you have to make something out of it and this is what I do. I don't really think too much beforehand how I'm going to put it together. This is also why I want to do the styling myself, because I want it to be very personal, my point of view, what I sense about that moment of time. It's kind of scary but it keeps you alive. If you think of a theme, you know already what you're going to get at the end. This is what I don't like. I don't understand why people still do it, I find it really very old-fashioned when I see a fashion show with a theme. I'm like, how does that excite you, you're just filling in the blanks, you're not challenging yourself.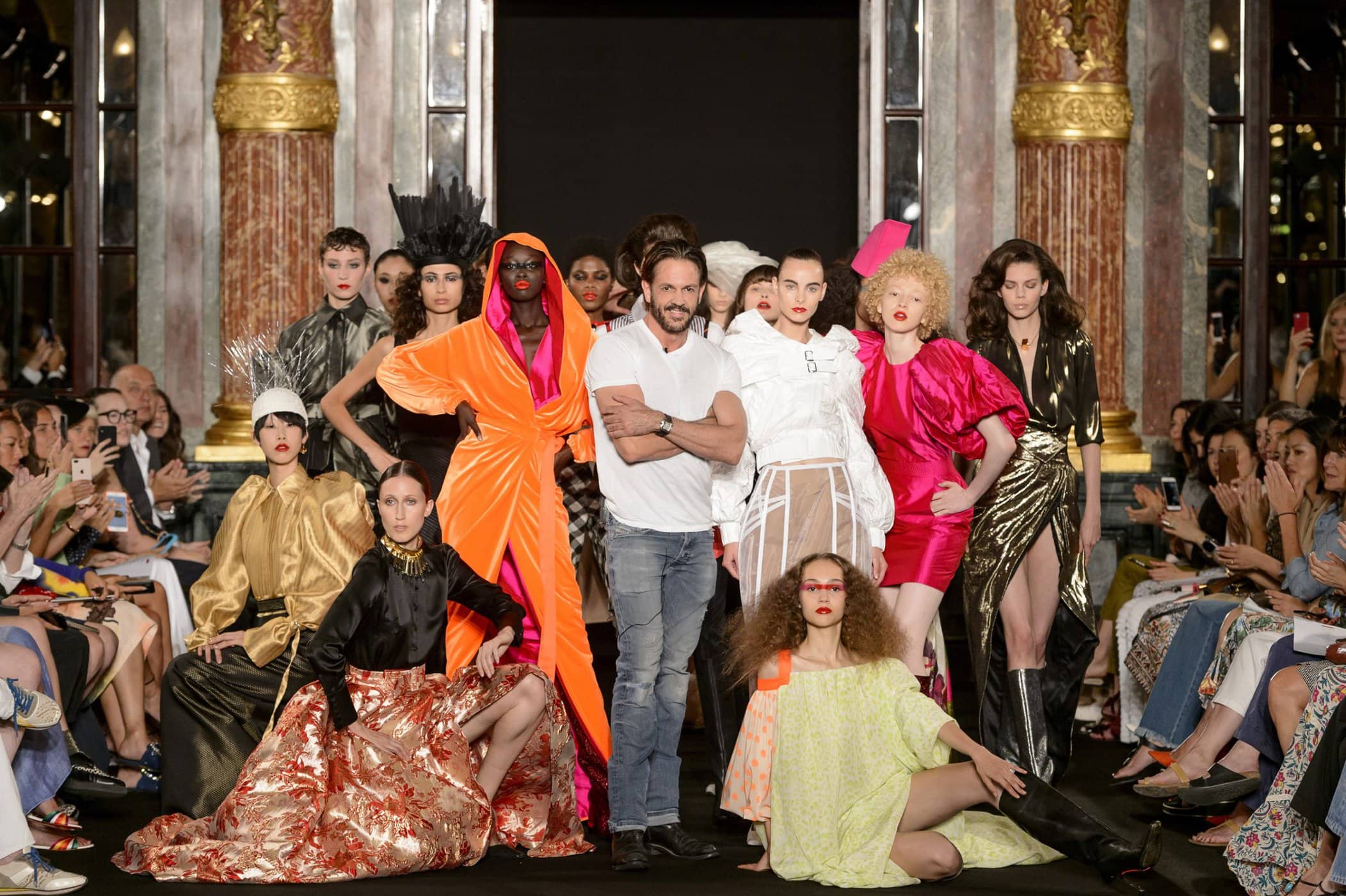 Dao Tran: So, right now, we're all being challenged. The structures that we know have imploded. Now that we've gone through the first round of digital fashion weeks, what are the learnings that you have taken away from that experience?
Ronald Van Der Kemp: I saw it as a real opportunity because I think finally people are listening. When I did that presentation in the hotel, all the big brands were very quiet, nobody dared to take a stand. Because there's a lot of things going on in this world, it's not only about sustainability but it's about the racial issue, inclusivity and everything. And I feel like none of the big brands took a stand; they're scared to alienate potential customers. But I have the luxury to show what I feel because I'm such a small, independent little company. So for me, I see it as an opportunity and a chance to shine.
Dao Tran: Did the new format give you new ideas for how to move forward, or are you going back to the status quo?
Ronald Van Der Kemp: It sort of gave me the freedom in my head to do whatever I want to do, that I don't have to fit into the system so much. I think that's what I learned from it. I don't know, I'm not saying that I don't want to do a show anymore, but I feel like it's more open. I'm glad things are changing, because that's what fashion is about. Things should change; everybody is so stuck in their collections and shows, but now it's more open. And this is why everybody's panicking, but it's great because it's exciting. You have to move with what's happening, you have to move with the times, you have to react. I find it really weird that everybody has such a problem with it, because this is exactly what fashion should be about. It's about moving with the times.
Dao Tran: Well, I feel like the people who have gotten comfortable with their formula are the ones being unsettled right now. Other people, who live in creativity, are thriving in this moment.
Ronald Van Der Kemp: Yes, you're challenged in a good way. I think it's a good moment. It's a difficult moment, there's terrible things happening, but it's also a good moment for change.
The film we did was the biggest project that I've ever done.
Dao Tran: Does it make you want to do more?
Ronald Van Der Kemp: I learned so much from it because it's a new medium for me. It feels like a whole new world. I loved it. Definitely, it opens up your whole world and I never dared to call myself an artist, but I really loved the approach. So, yeah, it made me want to do more of this kind of thing. I felt such freedom, not having to fit into the system anymore. Well, I never really did, but now, I am taking more freedom.
This is what fashion is about. It's not only about those clothes in a show, no, it's about what's going on, what people want. This is what I'm looking for. I don't know, I don't have the answer, but it really interests me. What do people want, and what can you give people that is fashion that inspires them or makes them happy or makes them excited?
Dao Tran: Usually, when I think of what people want, I start with myself and ask what do I want? So, what do you want?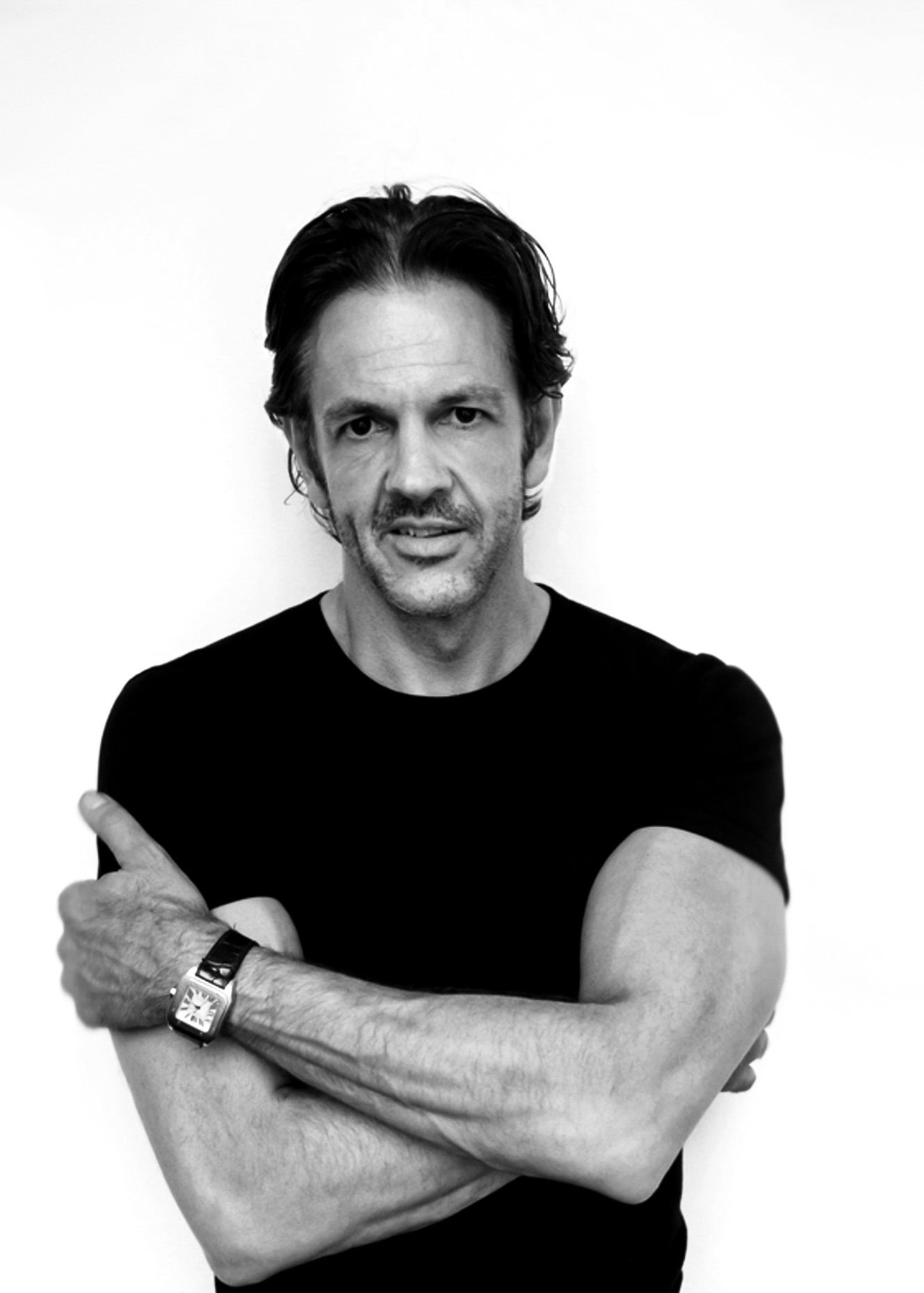 I think you want something that makes you happy, makes you feel good, but also something that has a reason to be, a raison d'être, and it's not just because you want to indulge yourself. There needs to be a little more to it than only that. I want to make clothes with a soul and I want to make things with a meaning.

– Ronald Van Der Kemp
Dao Tran: I know that you have this idealistic view that the bigger companies would become smaller and independent companies can thrive. Unfortunately, I don't think that's necessarily indicated by the situation caused by the virus. I feel like the bigger companies are going to get bigger and eat up some of the viable contenders, and everybody on the bottom gets flushed out.
Ronald Van Der Kemp: That would mean that I would disappear or I would get eaten up by a big company, but I believe there is a real space for independent people and for different voices. So, in a way, I don't agree. Yes, I understand the power of the big companies, but it's a very old-fashioned way of thinking. Maybe I'm too idealistic, but I think it's just not valid anymore in this world. I understand that there's all the shareholders and the public companies, I understand it's not easy to change it and they probably don't want to change, but I find with the way they are now, if it continues, they are going to damage a lot of the world.
Dao Tran: Well, I feel like cosmically this whole coronavirus crisis has been caused by all the damage we've been doing to nature.
Ronald Van Der Kemp: I almost believe there is a god, which I never believed.
Dao Tran: It does feel like we're being forced to the point of action now.
Ronald Van Der Kemp: People have to deal with it now. You have all the racial issues as well. Before, people cosmetically dealt with it, but now you really have to deal with it. I think this is what's needed. So I truly believe that it will change a few things here and there. Maybe not to the extent that I would hope it would, but still, I think people have woken up now.
Dao Tran: Do you have people asking you for advice?
Ronald Van Der Kemp: I also teach sometimes and I do workshops at different colleges, so I have lots of students.
Dao Tran: That's great, they're the next generation, it's the future!
Ronald Van Der Kemp: Yeah, but the problem with students is if they want to work in the industry, everyone's dream is to work for the big corporations. Everyone wants to win the LVMH prize. But what do you gain by winning it? You get told how to build a company in the wrong way. And I'm like no, they should be free. Don't tell them how you have to do it. You have to do it your own way, find a new way. Forget about what everyone's doing, try to think of a new future. This is what I wish students would do.
The problem is, at all the colleges, they want people to succeed so they train them to work for the big companies. A lot of the big schools, they feel responsible for people getting a job immediately afterwards, so they train them to be traditional.
Dao Tran: I feel like the education that you need to be a successful designer now is more business than design.
Ronald Van Der Kemp: I teach a class called "Man and Identity" at Eindhoven Design Academy, which is more for interior and architecture. These are the fashion people of the future. It's not so much about designing clothes, but it's more about what people want, it's more about identity. It's a more conceptual way of looking at fashion. I think it's very interesting where things are going. The more traditional fashion colleges I find are all so old-fashioned. I think you have to think very free if you want to change something.
Dao Tran: Thank you so much for your time and looking forward to this era of change.
Ronald Van Der Kemp: Thank you. When you're in Amsterdam, feel free to stop by the studio because we're right in the center, on the canal.
Dao Tran: That's a great idea! I totally will!
Studio & Lookbook Photos | Marijke Aerden
Runway Photos | IMAXtree
---