---
Review of Sacai Fall 2023 Fashion Show
Chitose Abe Just Can't Miss
By Mark Wittmer
Sacai is a rare example of a much-hyped brand in fashion that has actually earned its hype, with the credit pretty much entirely going to creative director Chitose Abe's keen intelligence and sincere commitment to innovation. Her Fall 2023 women's collection was another affirmation that, no matter how much hype she gets and however well her many unique collaborations sell, she doesn't seem to ever slow down.
While women's looks made up almost half of those from her corresponding "men's" show in January, this outing sees Abe take advantage of the standalone women's format and explore a focused and refined sensibility that is less utilitarian and experimental (and collaborative; the men's show featured collaborations with three other brands) and more based on putting her own spin on familiar practices of women's dressmaking and tailoring with a professional setting in mind.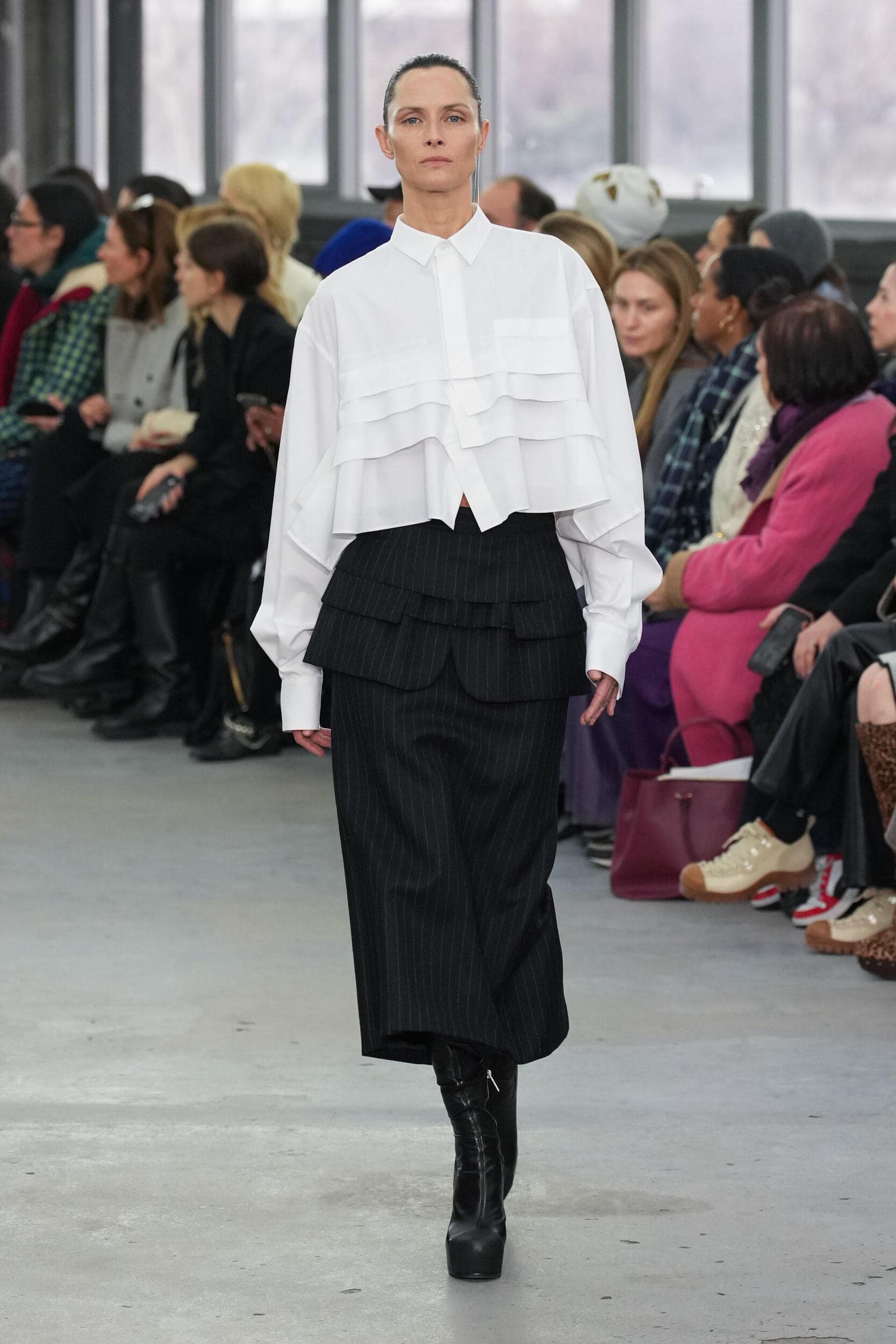 Nonetheless, the collection still delights and surprises as Abe applies to these categories her brilliantly progressive sense for hybridity and layered, asymmetrical construction.
The collection takes as its baseline familiar categories and materials from the world of women's professional and semi-formal wear. But while every piece feels based in the soberly familiar, they also each feel totally fresh and alive thanks to the multidimensionally reconsidered approach to cut and construction that Abe brings to each piece. The opening look crosses an 80s banker's pinstripe suit and overcoat with a flowing wrap dress belted at the waist. A smart gray suit jacket is cropped at the waist, but continues on nonetheless in asymmetrical layers that grow out from under one another until they culminate in a pleated, ruffle-hem skirt (the look reappears later with pinstripes and wide pants). Paired with a reconsidered silk ascot with a button that suggests modular styling options, plush faux-fur coats are constructed to twist and tie back into themselves, a look that may seem convoluted in less masterful hands but is executed with elegance and fluidity, creating a luxurious sense of motion and volume.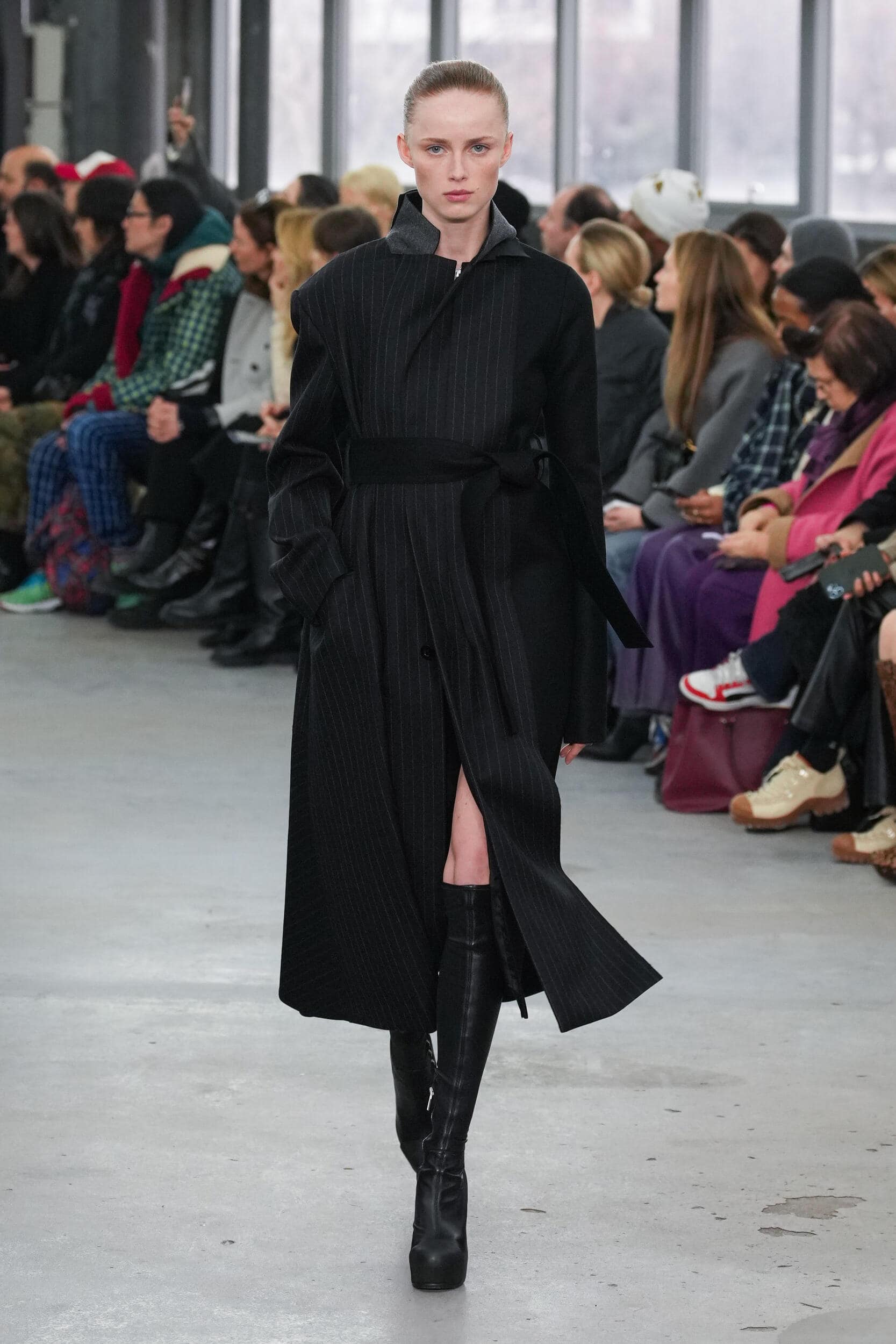 While there's nothing here that could be called sportswear or workwear, the know-how of Abe's frequent forays into these design realms can be felt in the collection's confident sense of structure and fabric paneling, as well as in details like an unexpected yet perfectly placed flap pocket or the funky straps that travel from mid-skirt over a shoulder, creating an interesting sense of volume and asymmetry, and which we suspect can be remove for alternate styling options.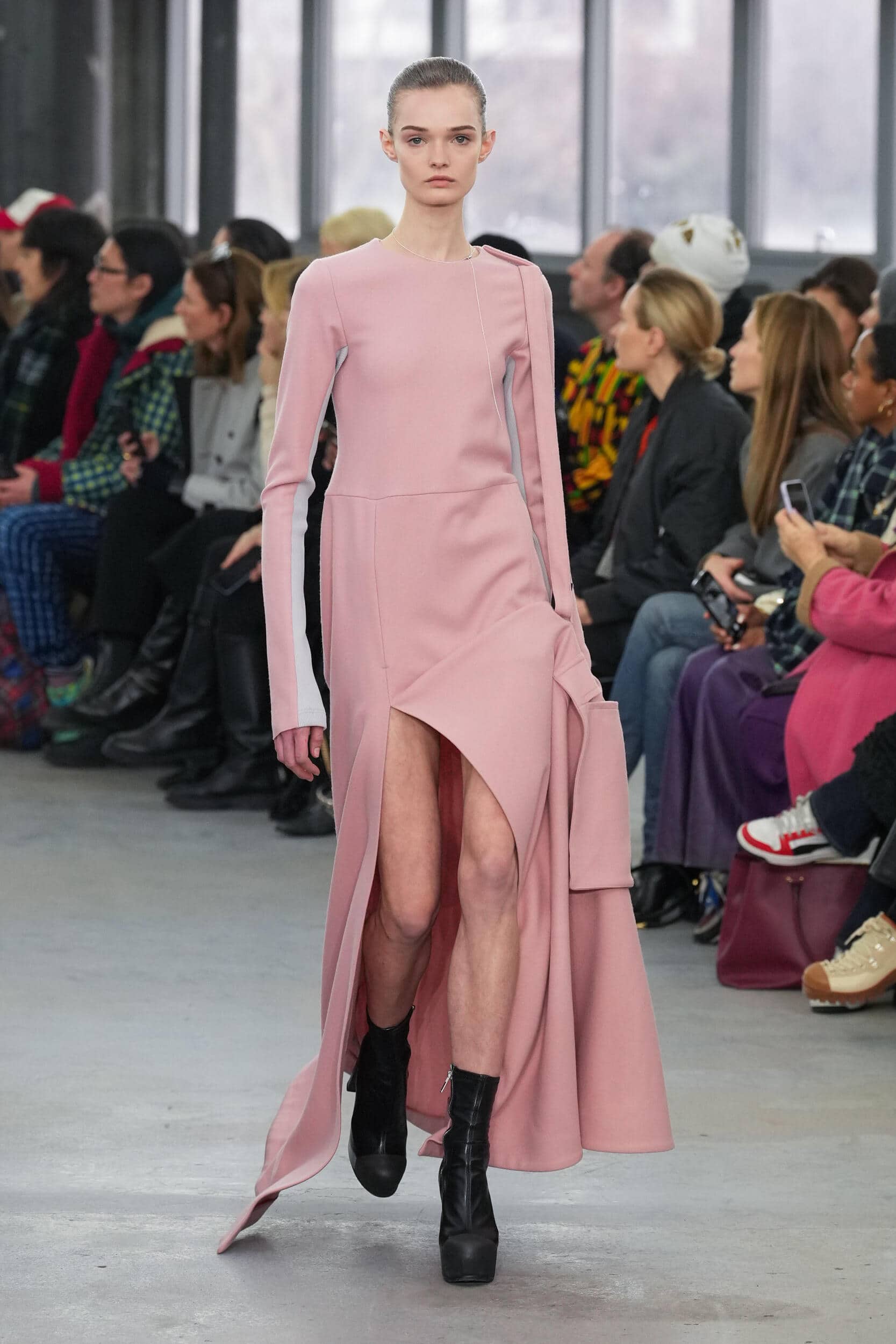 While the long unfinished threads that continue out of running hand-stitched embellishments might prove to be a hazard when getting out of a car or the subway, it's a great detail that moves beautifully and speaks to the collection's sense of design and dressing as something that is in progress, an unfolding process rather than a static maze of traditions and expectations.
A lot of brands and designers introduce a simulacrum of newness into their seasonal collections by bringing in different concepts or references to the work of other artists outside of fashion each time, but ultimately end up delivering the same pieces we're so used to seeing. Not so with Abe and Sacai: the designer's commitment to constantly pushing her work forward is tied to her working directly and deeply within the practice of fashion design, digging into the details of construction in order to reimagine them.
Building upon itself and upon the history of clothing design of which it finds itself at the forefront, Sacai sets itself apart with its purity of intention and seemingly effortless balance of intelligence and cool.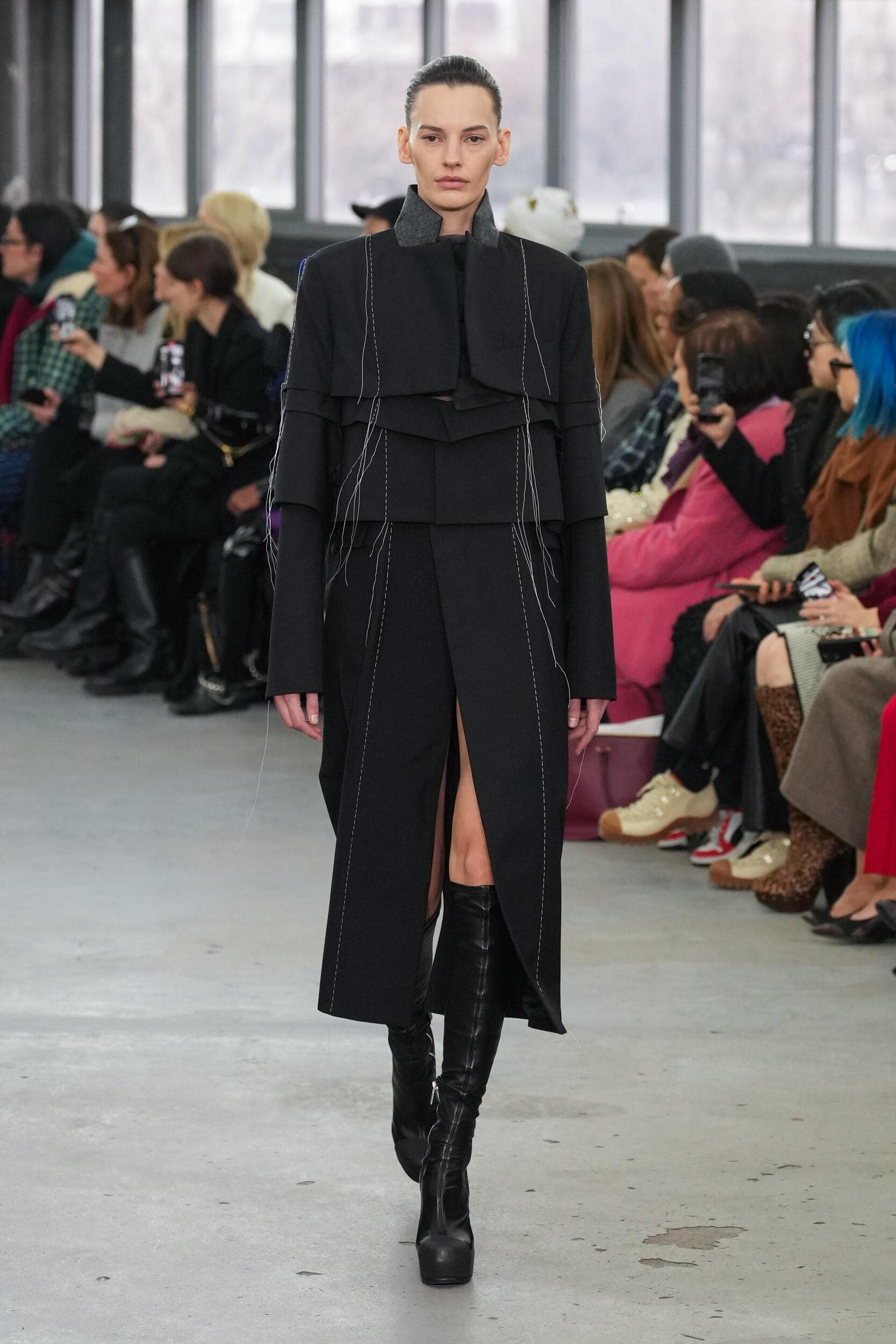 This collection is another beautiful example of that unique winning combination.
---