---
Review of Sacai Fall 2023 Men's Fashion Show
Chitose Abe's Hybrid Wizardry
By Mark Wittmer
Presented on the freezing final day of Paris Men's Fashion Week, Sacai's Fall 2023 show was a transcendent statement of fashion ingenuity, an affirmation of creative director Chitose Abe's mastery of hybrid design that was further bolstered by the exciting introduction of collaborations with Carhartt and Moncler.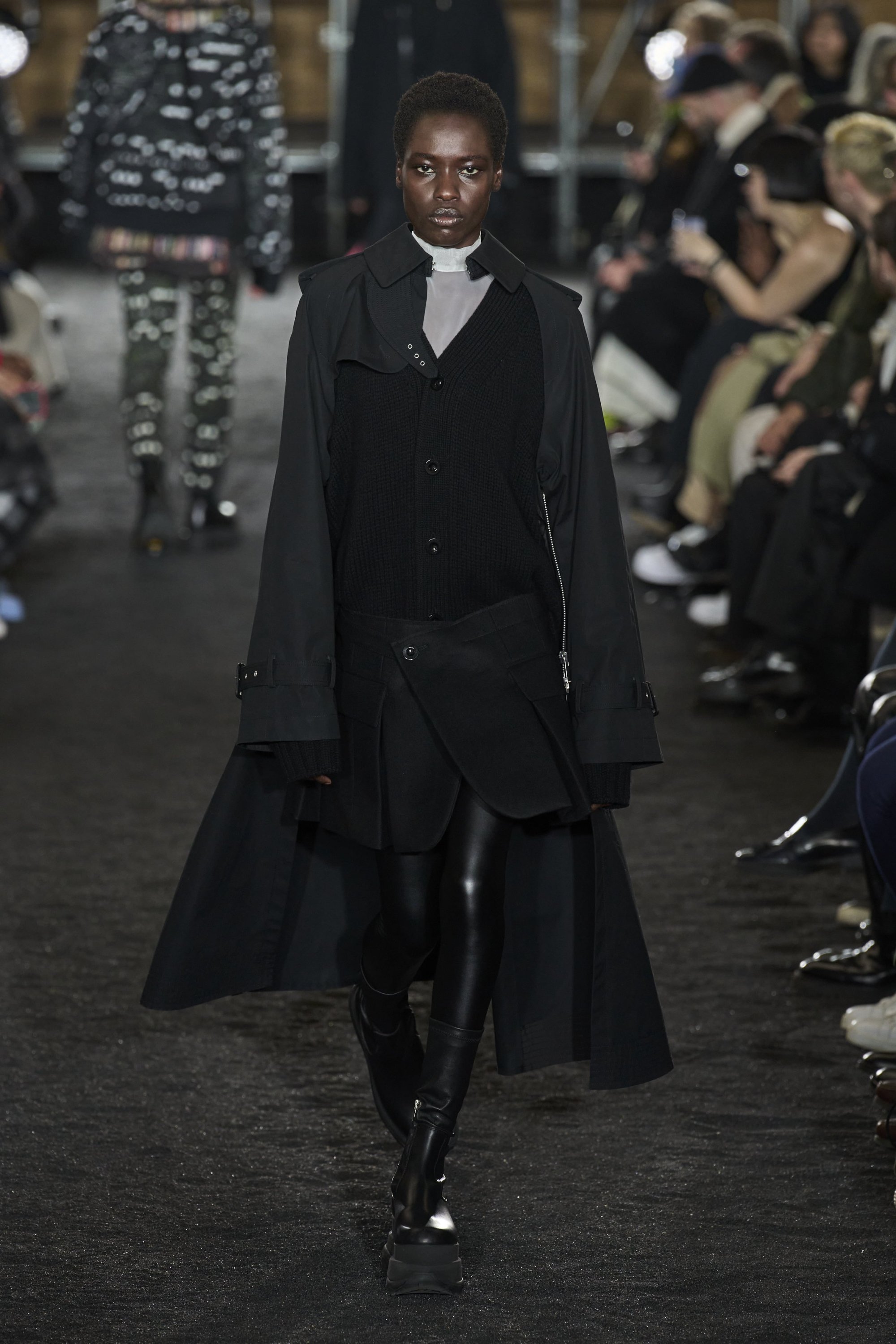 Continuing to disrupt the boundaries of formal and casual, technical and classic, Abe puts her deep understanding of contemporary fashion craft to work in moving beyond its categories.
In the first look down the runway, what feels like a simple and familiar statement of the supremely chic when seen from just a silhouette perspective reveals itself on closer inspection to be full of ingeniously idiosyncratic details and material combination: technical fabric meeting with knit wool along a zipper seam that allows the wearer to modulate its openness and asymmetry. The Chelsea boots that completed the look got a contemporary update through a chunky Vibram sole.
This slick yet surprisingly complex statement is followed by other pieces that keep things in the black color scheme and close to a classic tailoring sensibility while working in subtle moments of de- and reconstruction, before expanding to encompass a workwear ethos and twist it with materials and shapes that are more familiar from the world of winter sports gear, which come courtesy of the brand's collaborations with Moncler (a partnership that debuted ten years ago) and Carhartt (which made its introduction today).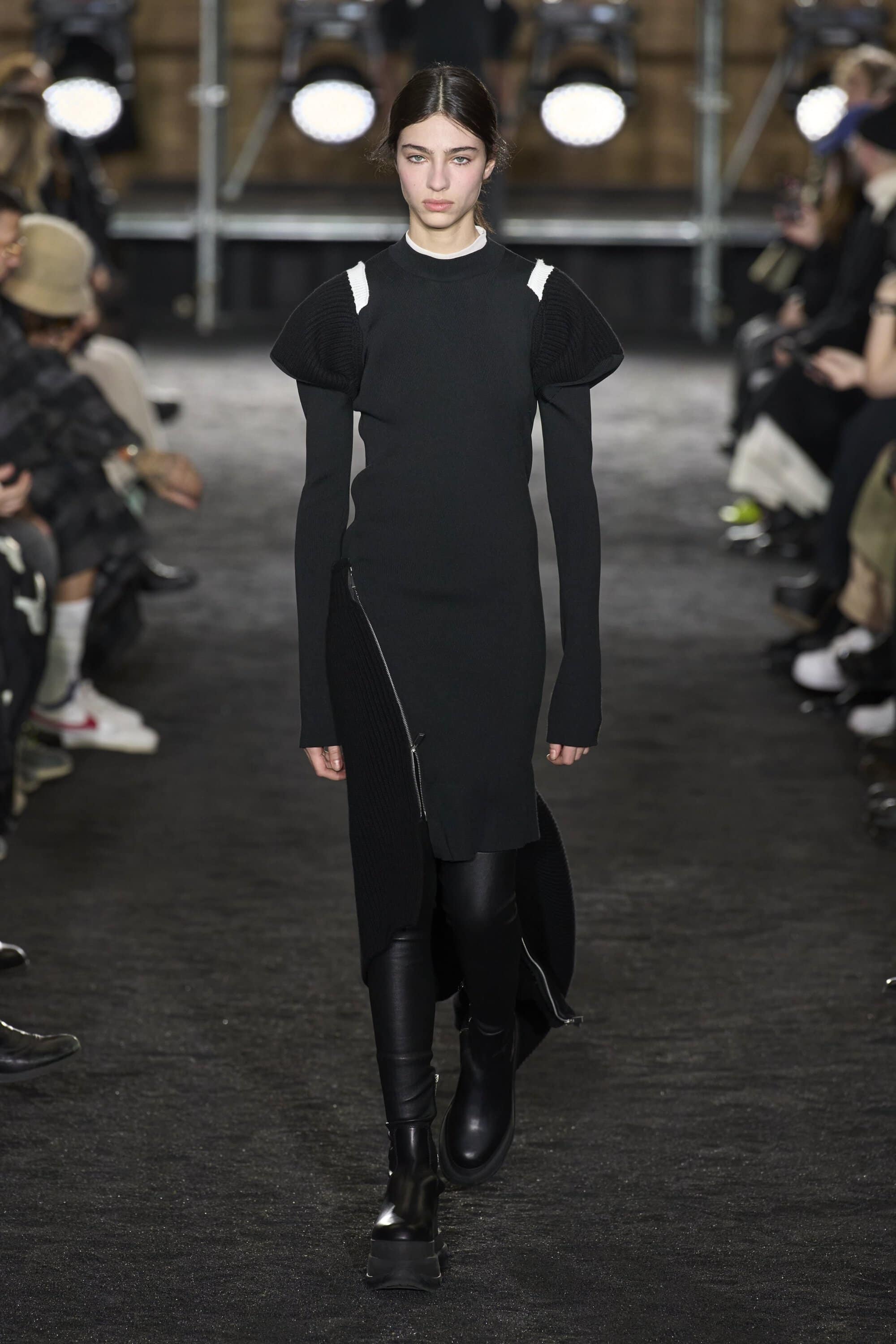 The workwear theme reaches its apex in the middle of the collection with a surprise introduction of Sacai's collaboration with Carhartt via the increasingly popular workwear brand's fashion-forward WIP offshoot. These pieces feel both recognizably Carhartt while fitting seamlessly into the collection through Abe' worked's hybrid magic that reconstructs these familiar garments and imbuing them with a layered complexity. The brand's classic Detroit chore jacket is also reimagined via knitting, transforming the hardwearing workwear staple into a cozy, cardigan-like fall layer.
Sacai's popular ongoing collaboration with Nike also pops back up throughout with a new chapter as Abe turned her eye onto the brand's Air Footscape, a model that's less popular with western sneakerheads than the other models she's reworked, but that has been consistently popular in the brand's home of Japan.
Abe continues to riff on the workwear theme after the Carhartt numbers drop out, but the theme of hybridization picks up speed as she crosses the beams and combines emblematic tailoring constructions or chic staples like a pleated skirt with rugged oversized pockets or protective parkas. As much as she jumps back and forth mesmerizingly between genres of dressing, none of the looks feel confused or haphazard; they all breathe an effortless impact and seem that they are just the way they should be, even if we've never seen anything quite like it before. It's not just for looks either; modularity and practicality is at the core of these designs, with removable sections and linings or jackets that can be worn like backpacks when not in use offering freedom and flexibility to the wearer.
The latter stages of the collection see two prints work their way in, one that references the dots and dashes of morse code intertwined with astronomical charts for a sort of slick retro sci-fi look, and another that leverages a photograph of a bookshelf into a play of horizontal and vertical stripes.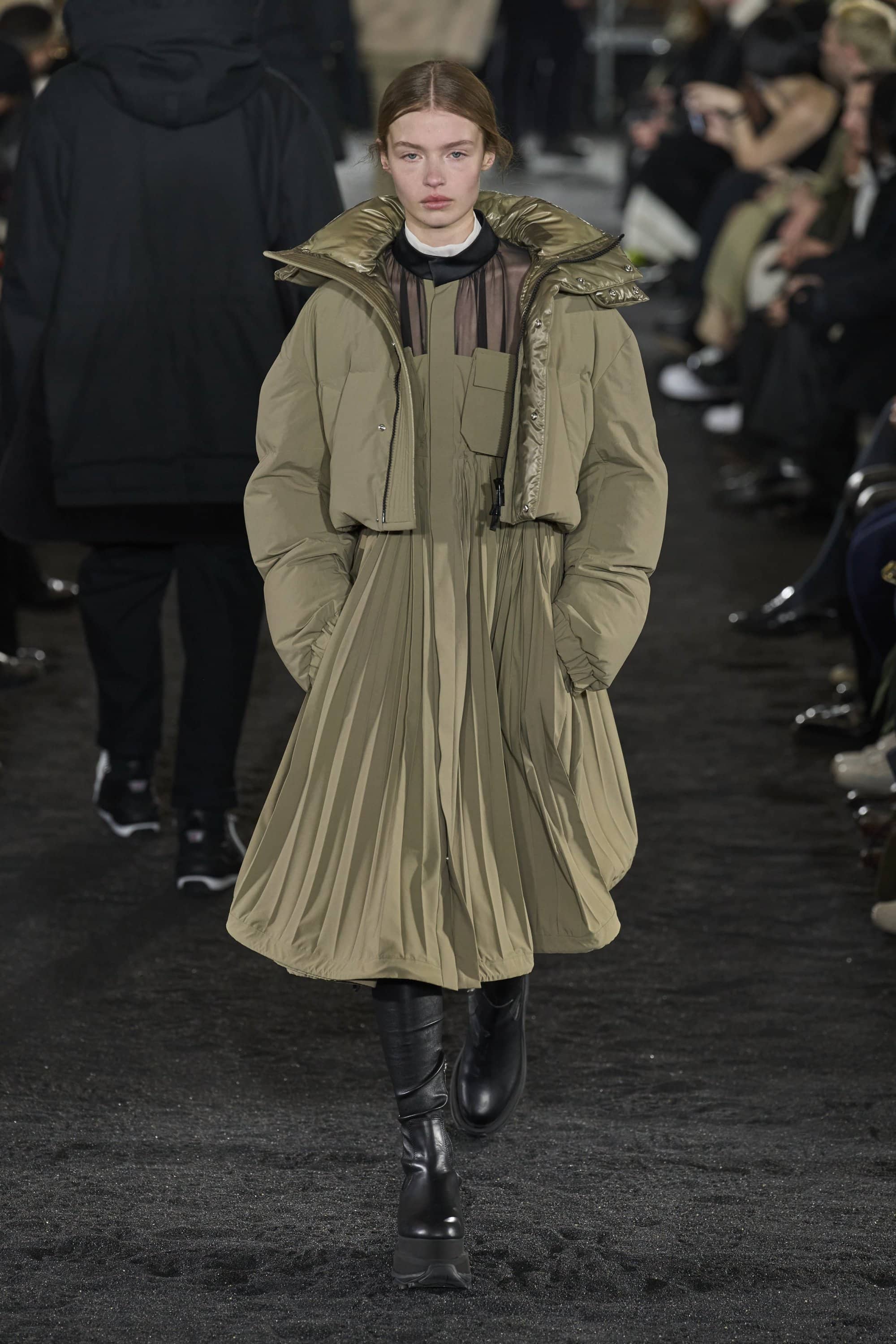 While the collection doesn't have any literal references or conceptual themes (Abe continually evolves her ethos and approach for Sacai across and between seasons), these intriguing prints drawn from objects and ideas firmly outside of fashion expand its creative approach of integrating what seems distinct and opposed.
Abe uses a studied understanding of garment construction to think beyond the limits of style categories and create a kind of fashion that is just as multifaceted, individual, and dynamic as the people of today.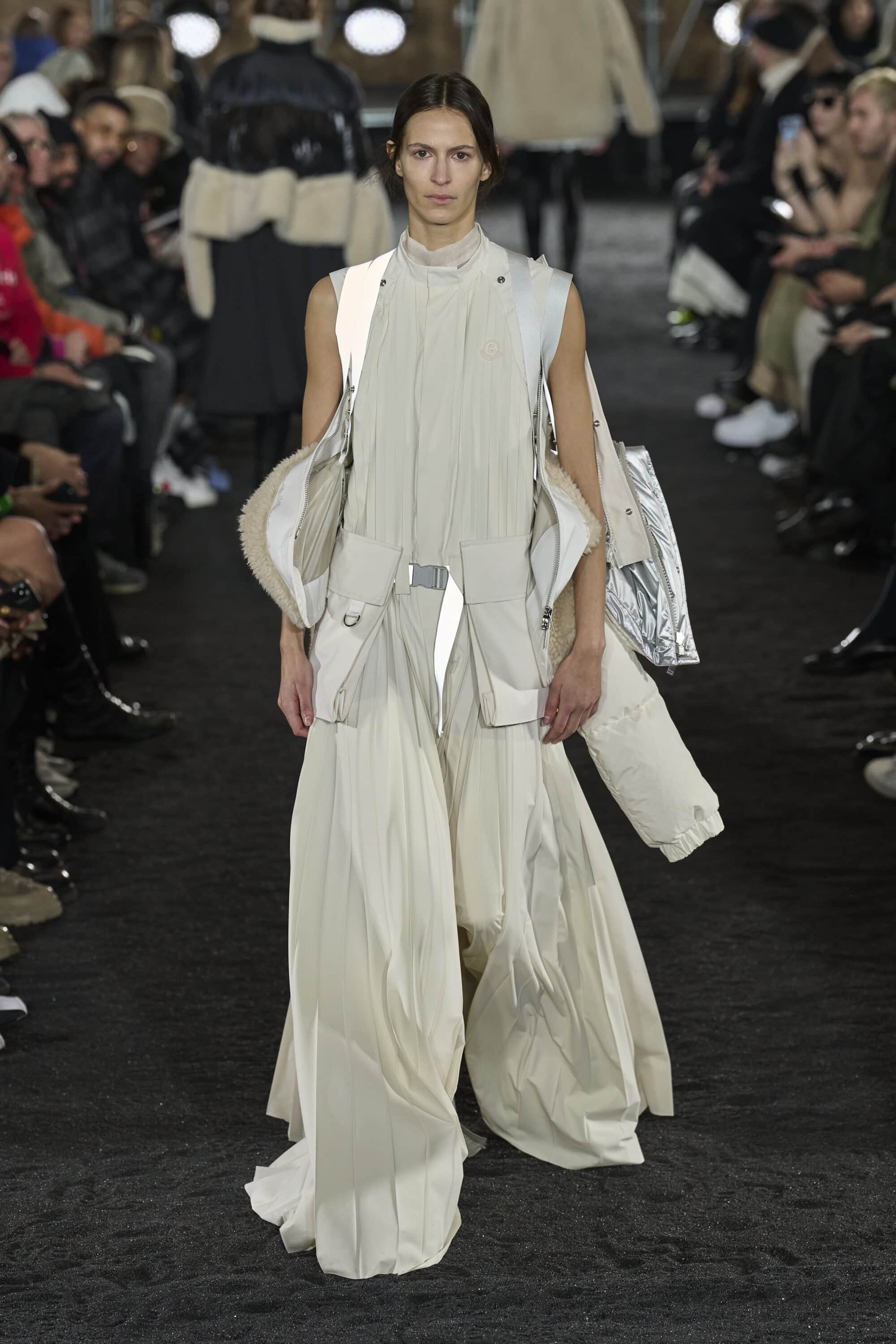 ---