---
Review of Sacai Spring 2022 Men's Fashion Show
Fine Tuning the Signatures with Tech and Functionality
By Long Nguyen
"Last year, the Spring 2021 collection was about on my favorite fabrics – this may have been from being introspective, but one continuous thread I've maintained pre-pandemic, during the pandemic and now has been about bringing positivity and the spirit of 'moving forward. The Fall 2021 collection focused more on the women's with an emphasis on the desire to get dressed up again," Chitose Abe said via email from Paris. After her Gaultier Paris x Sacai show during the Fall 2021 Haute Couture show season in early July, Abe remained in Paris to prepare for this men's spring 2022 and the women's resort collection.
"For this Spring 2022, as the world has slowly opened up, I was thinking about the outdoors, whether it be having picnics or simply enjoying the outdoors. I wanted to incorporate the functionality of utility and performance gear and transform them by bringing elegance and volume to the pieces.

– Chitose Abe on her desire to bring opposing ideas into one, especially in creating a new garment
Abe's fashion language is deep rooted in the intricacy of design.
Her design process focused solely on the physical garments, not so much dousing the clothes with aesthetics, mythology, or heritage. The designer changes the perspective and the vernacular of how to look at physical garments. Her rearrangements of, say, the sleeves of a nylon MA1 flight blouson onto a wool overcoat or as part of a dress create a new item.
This men's collection revolves around utilitarian workwear and how Abe transforms these basic and functional clothes into new clothes and uniforms with such her strong identity. Here, a work jumpsuit is now black short sleeve wool tailored jumpsuit with shirt collar and bright purple mock neck short sleeve tee shirt, and a 'blue collar' type of cotton work uniform now transformed into a blue cotton two-buttons cropped and slightly oversize single breast jacket with slim matching pants with a string tied at the ankle. The blue jacket also has a work wear collar detail.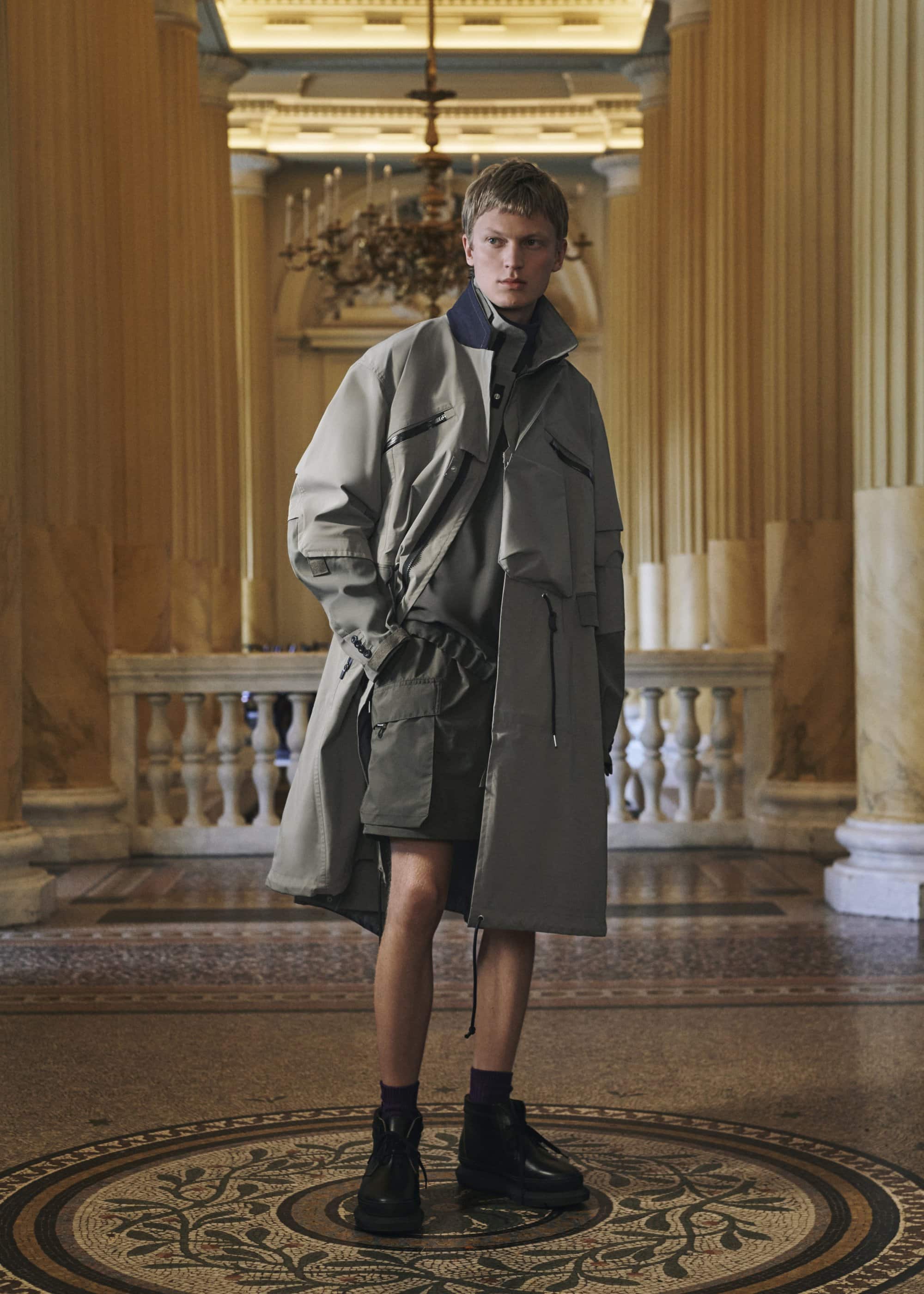 The bright Fuschia patch pocket jacket-coat and matching short pants, a green patchwork bandana cotton short sleeve short and matching shorts, or a dark olive jacket and cargo pants are deliberate pairings for the young generation's new versions the old tailored pantsuits. These new suits pair a purple mixed cotton short sleeve pullover and creased pants.
Suits can no longer be the exclusive provinces of the single or double-breasted jacket-pant variations. At Emernegildo Zegna, Alessandro Sartori, the artistic director, has installed an urgent mission to create a new suit that's completely different in cut and in temperament especially to cater to young people. Here, Abe makes a clear demarcation, moving the goal post the supposed tailored suit much further into her own territory with clothes that are now evolving towards the more casual and sporty side. This is precisely how men's fashion is changing, adapting to new aspirations and new audiences.
As a nod to high tech, the dark unwashed denim jacket and fitted zippered denim pants are with water-resistant denim fabrics. The orange bandanna coat has a layer of waterproof nylon on top for water resistance.
"This time, I collaborated with another friend, Acronym. I hybridized his technical utility gear with Sacai's shapes, fabrics, and details. What is normally in technical gear is transformed into an elegant dress or elegant oversize outerwear. The short jacket has a hood with detail and function of a hood attached to outdoor performance gear long with seam sealing tapes and so forth," Abe said about the new pieces made in conjunction with Acronym.
Founded in 1994 by Errolson Hugh and Michaela Sachenbacher as a design consultancy based in Munich, Acronym has evolved into its domain specializing in merging style and technology with innovative design in a monochromatic palette for technical and functional apparel.
The idea of uniforms from workwear then transformed them into functional and technical clothes is central to the Acronym pieces like the olive parka with multiple zipper pockets and a large front patch pocket paired with dark cotton olive cargo shorts and a dark olive tee-shirt with elastic waistband or the olive nylon bomber blouson again with patch pocket details.
Outerwear is the strength of this men's collection with various short and long parkas, each displaying a functional elegance like the patchwork bandanna dark green parka with bright yellow trims. The Sacai classic MA1 bomber now comes in light camel nylon, cropped with an added inner layer of a brown cotton zippered coat.
There is something confident and tranquil – an aesthetic cohesion – about this new collection, smaller and more focused on what's important. It's like seeing all of Abe's work in more than two dozens or so outfits, each with its own Sacai vernacular. And in this moment of a turning point in fashion, this clarity of thought, clarity of process, and clear purpose merge in the physical clothes.
You can see this in the multi stripes sweater with a pair of knit shorts. You can see this in the green and black plaid buffalo checks sweatshirt shorts suit. Or you can see this in the black bandanna motif parka jacket and matching shorts. Simply because these are the designs and fabrics that Abe has used in her past collections, now a bit refined in a fine-tuned spring men's collection.
---