---
Review of Salvatore Ferragamo Spring 2022 Fashion Show
Italian sportswear with a bohemian twist.
By Lizzy Bowring
There is so much to say about today's Ferragamo presentation it's a bit hard to know where to begin. So let's start. The craziness outside the venue of the beautiful Rotonda was like a frenzied mix of who's who. Great for people-watching, with almost as many photographers as there were guests.
Secondly, since the departure of Paul Andrew, the creative director, a long-awaited turnaround of the brand seems even more in the distant future.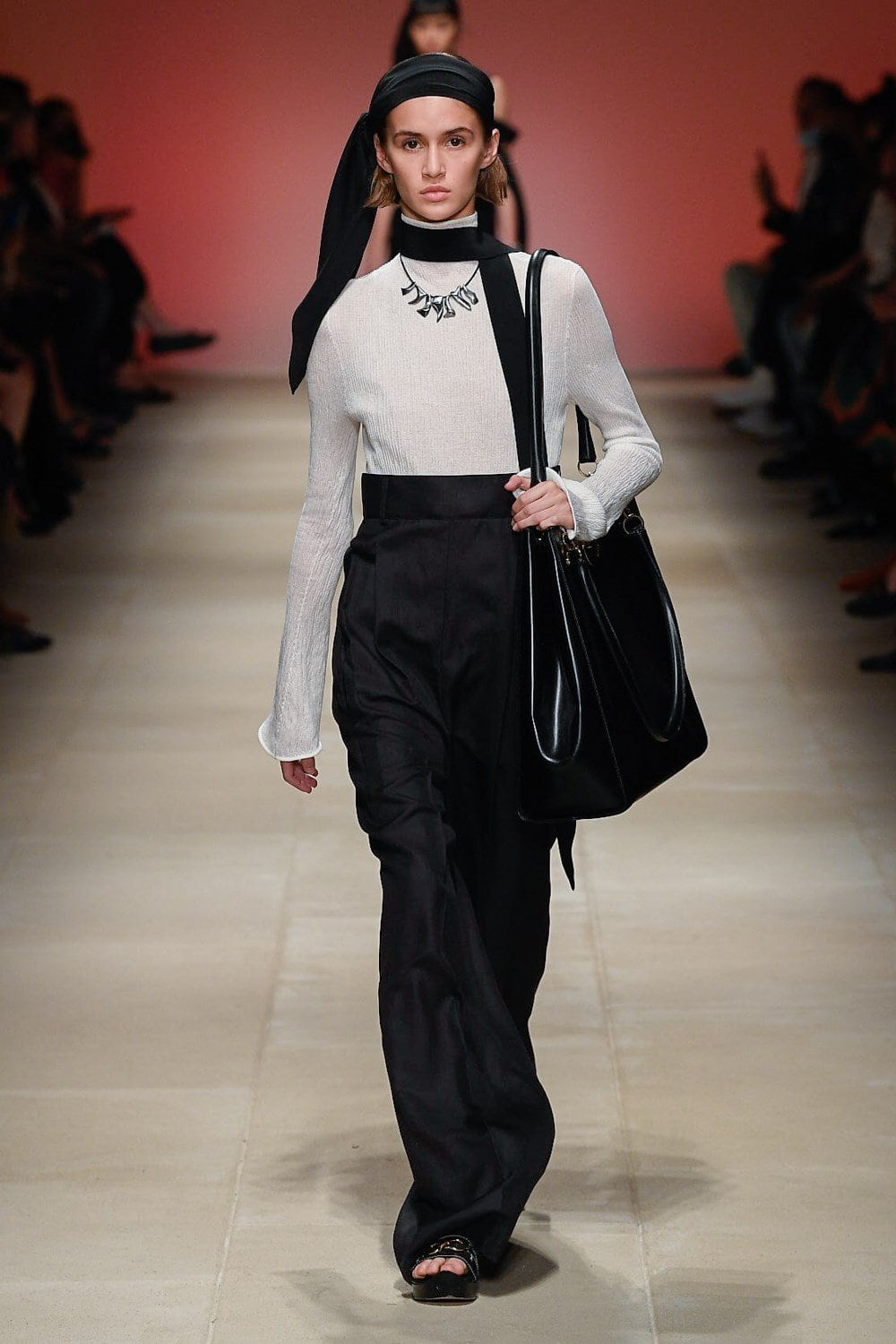 Ferragamo said its in-house team, led by Guillaume Meilland, the menswear r-t-w designer, will now design the brand. However, replacing Andrews is not expected until Marco Gobbetti, Burberry's current CEO takes the helm at the end of the year.
And next. Returning to the Rotonda (the taxi driver on the way kept reminding me of my mispronunciation), it took my breath away. Inside, Ferragamo's attention to detail was omnipresent. Just the same as the colours in the scarf delivered to my hotel, so too similar hues were gently diffused on the walls, reflecting graciously off the columnar glassed pillars that majestically swept up to the domed ceiling.

There was nothing earth-shattering about this collection, but the easy pieces were just good down-to-earth summer silhouettes as commercial as the shoes and bags that position Ferragamo as a heritage footwear brand. And for now, going back to one's roots is not a bad thing.

The folds of a pair of trousers caught neatly at the cuff bore the signs of a relaxed approach; gone are the sci-fi silhouettes under the helm of Andrews. Instead, knitwear was a key component and came in two-piece sets for both men and women, the slubby surfaces as textural as it gets in a polished array of clothes while both a short and long trapeze-shaped dress underscored the relaxed nature.

Print was scarce, but Meilland searched the archives and reimagined a poppy print that showed up on an all-in-one and a shirt. Unfortunately, the oversized painterly floral came just as understated as the collection and, quite frankly, did not offer much on the whole.

The colour combinations, reminiscent of late Italian summers, were beautiful warm versions of ochre played back with a softer orange than we have seen lately, but the hue was equally as delicious.
The punch of blue aqua was a little jarring in the overall scheme, but it worked well with the sunset hues. A sunset orange columnar dress was adorable, intricately twisted to reveal a portion of midriff, but I did not get the significance to what appeared to be a grass skirt, but it worked with the knitted top.
As lovely as this collection was, it felt like a transitionary bolt-hole before things get shaken up with the imminent arrival of Gobbetti.
---