---
Review of Schiaparelli Spring 2022 Fashion Show
"In Difficult Times, Fashion is Always Outrageous."
By Anna Ross
The late Elsa Schiaparelli once said, "In difficult times, fashion is always outrageous." Fitting – in that – as the industry slowly re-invents itself post-pandemic, this particular label, almost 100 years since its creation, seems to be having quite the renaissance.
Now in its third year under creative director Daniel Roseberry, the weird and wonderful designs of Schiaparelli have been lapped up by some of the world's most famous women: Lady Gaga's inauguration dress made headlines worldwide, while Bella Hadid's lung dress seen at Cannes divided the internet.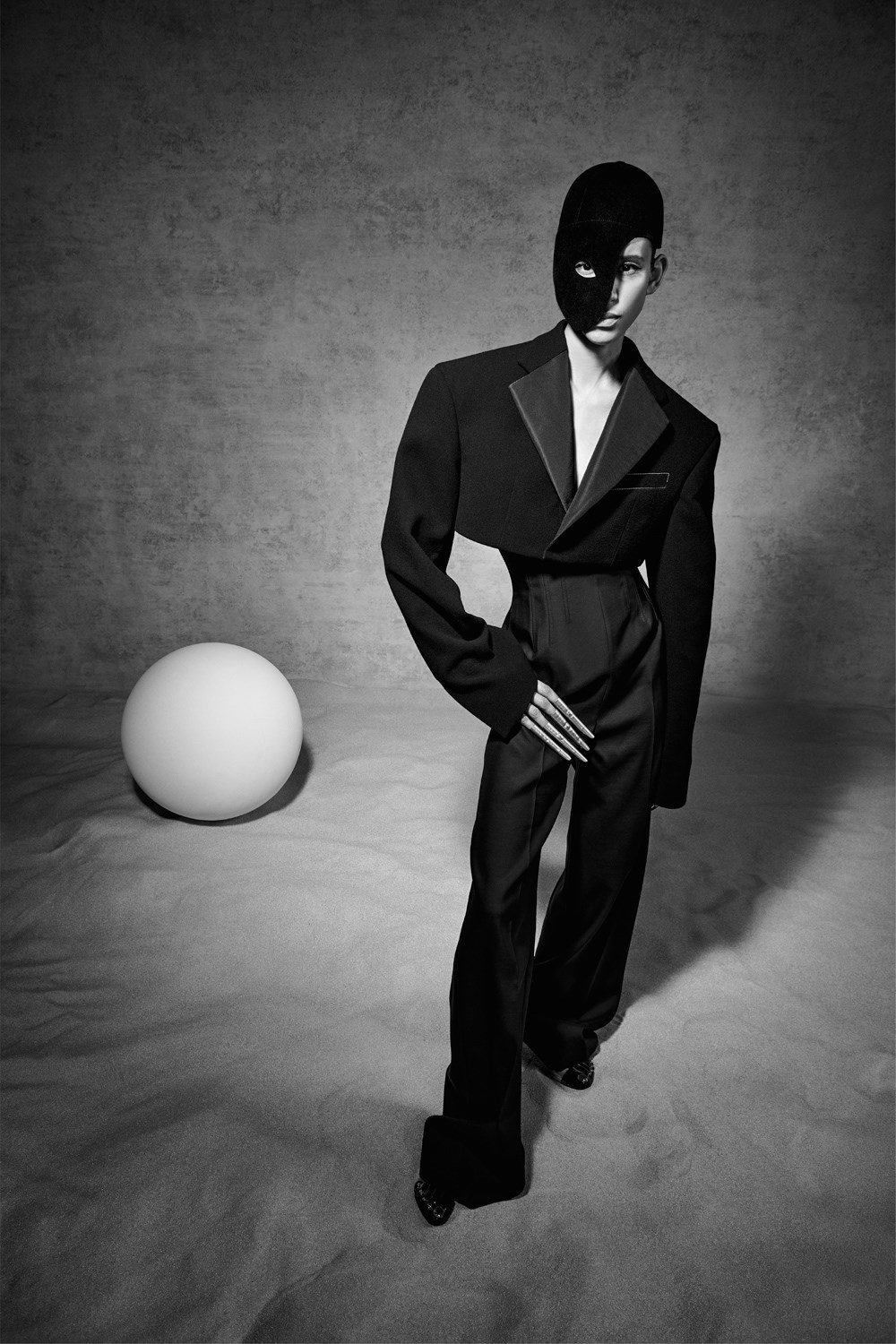 A few days ago in Paris, rapper Cardi-B was spotted on the streets sporting a gold-gilded nipple blazer and giant headpiece to boot. Sources say she was just out for a walk— theatre, even in everyday mundanities – Schiaparelli through and though.
Their retail expansion signifies their recent success and next steps for the brand – opening up a store inside New York's iconic Bergdorf Goodman later this month. For fans, it seems there'll be plenty of theur ready-to-wear on offer alongside their range of beloved surrealist accessories.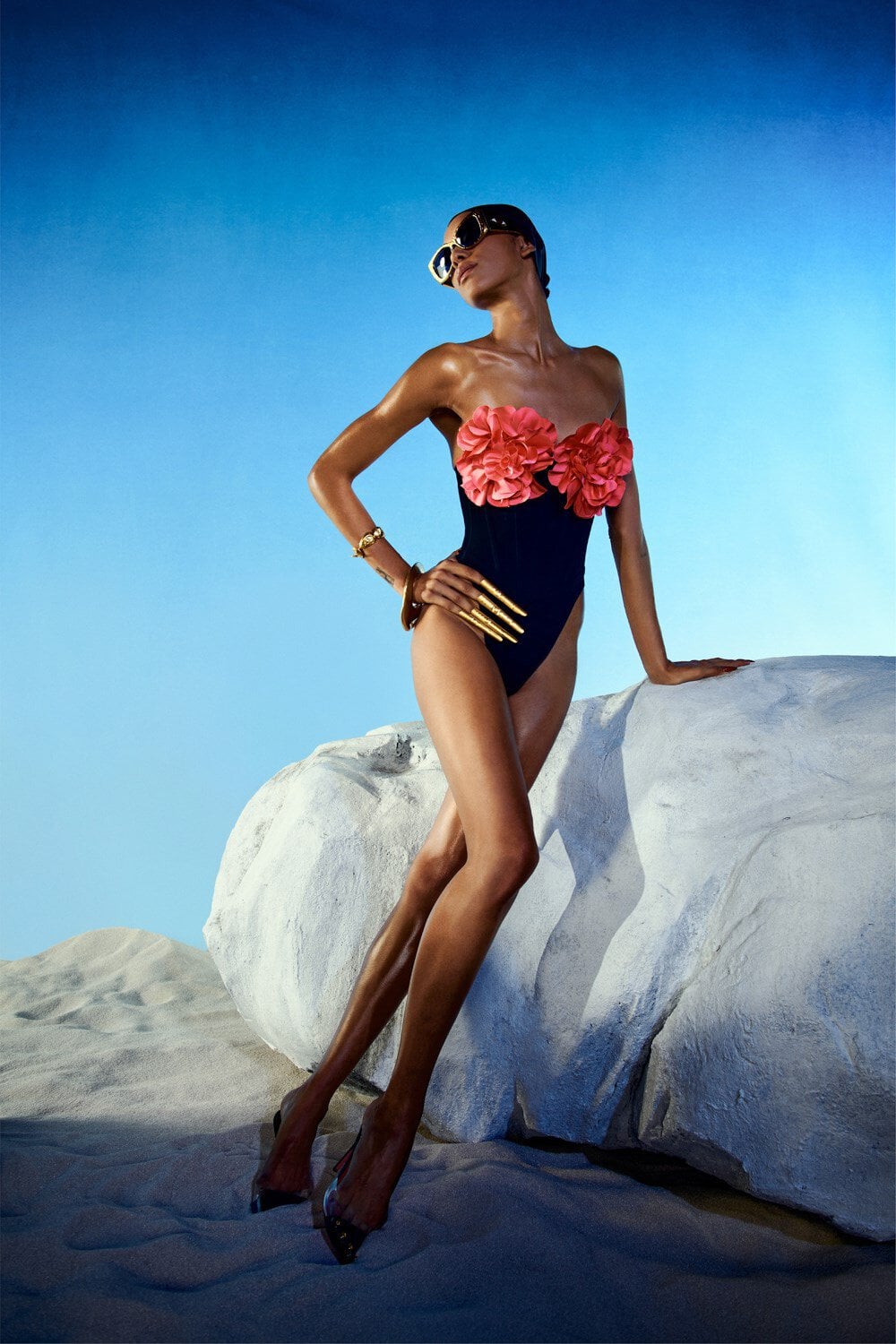 For S/S 22, the house presented a video alongside a series of intimate studio appointments at their showrooms in Place Vendome, with the designer using Elsa Schiaparelli herself as the season's muse. "Who was she at home or on holiday? Who was she when she stepped off the stage, when she was alone, away from the glittering Parisian demimonde?" questions Roseberry.
It turns out, unlike the rest of us, Schiaparelli wasn't big into sweatpants. Instead, her bathrobes were made in white cotton and terrycloth jacquard, embroidered with floating eyes, guided brass piercings and rhinestones.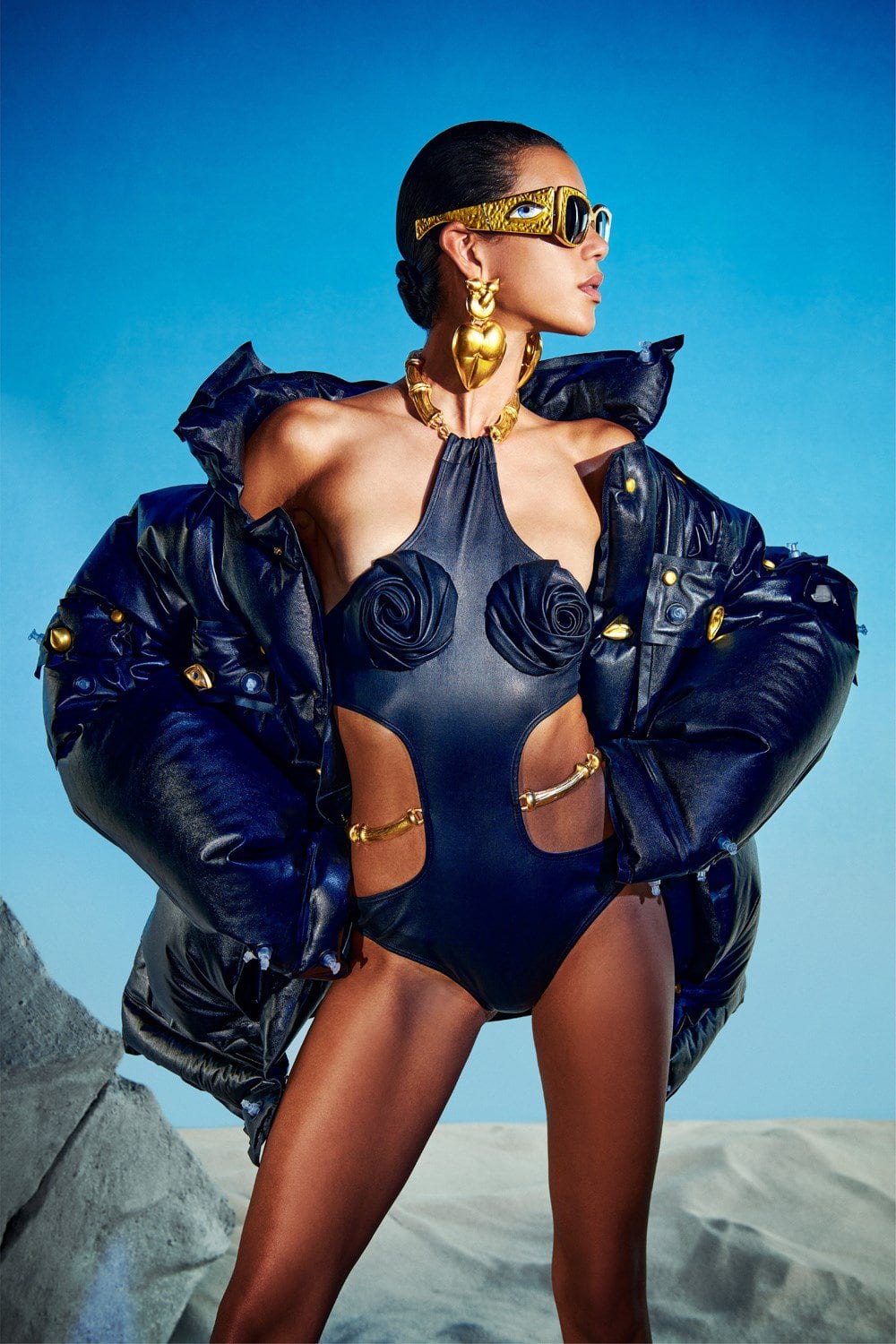 When the bathrobe comes off, why not slip into this season's it-piece – the bodysuit? Of course, at Schiaparelli's pad this entails a plunging neckline complete with a gold resin abdominal plate, its navel pierced with a crystal rhinestone ball. For smarter days spent working from home, Roseberry suggests tailoring. Though far removed from your run-of-the-mill two-piece, Schiaparelli suiting comes clad with trompe l'oeil nipple buttons, horse-bit fastenings, gilded brass jewelry buttons in anatomical shapes, framing basque waistlines and matador style shoulders. A hell of a statement for all those impending Zoom calls.
As she slides into Summer, or, "Seaside-Elsa," as Roseberry puts it, a plethora of swimsuits and beachwear are on offer for high-summer in high fashion. However, these are not just holiday clothes for a physical destination, but your mind as well. Swimsuits are offered with giant petal busts, silver seed bead embroideries, gold bamboo hardware or Gaultier-esque trompe l'oeil conical breasts. Roseberry suggests pairing these statement-making costumes with inflatable black leather boleros and parkas. Swimming, but make it fashion.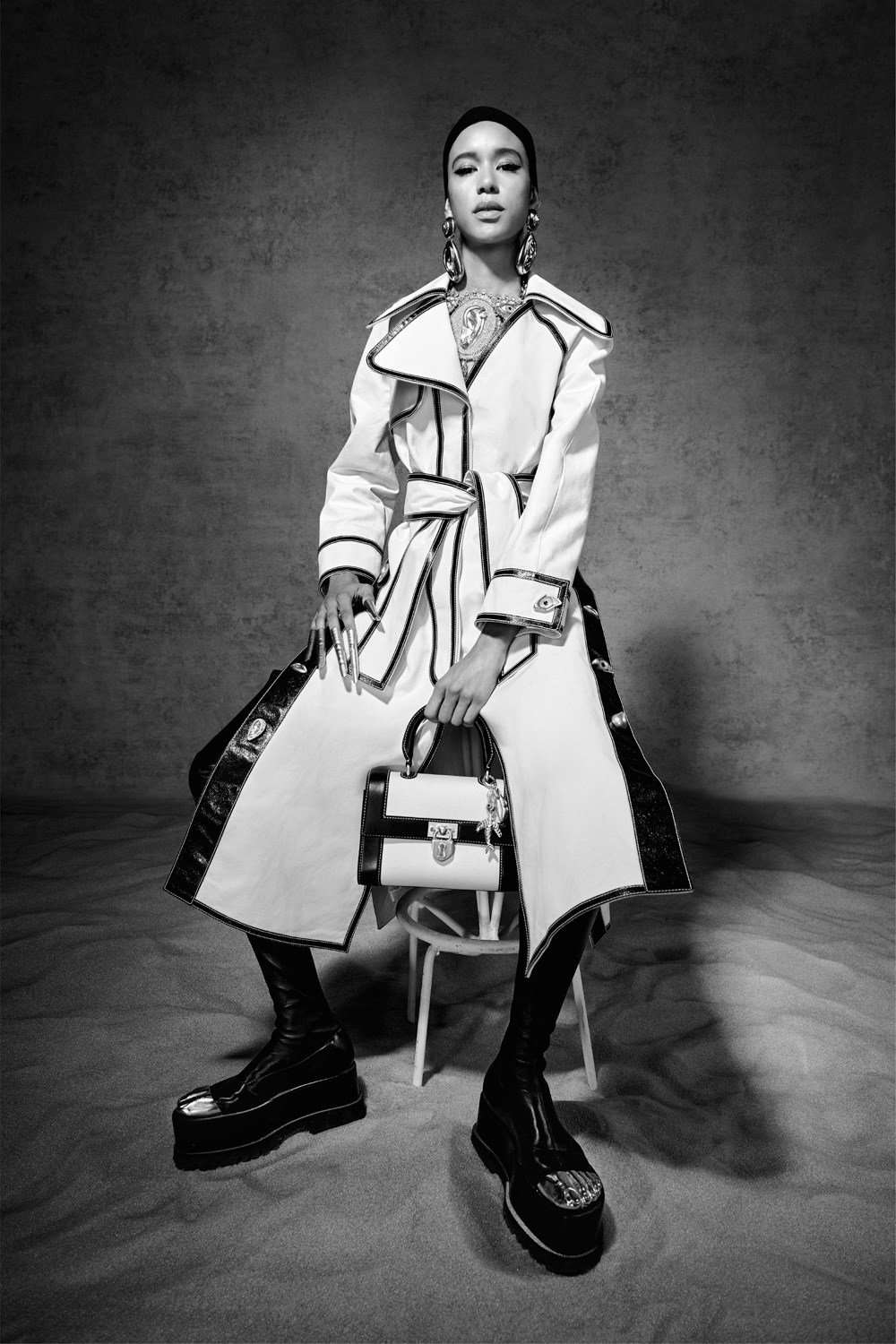 As she moves from the beach to the bar, Schiaparelli-at-sea doesn't get any less avant guarde. Cocktail dresses borderline couture in draped black silk suspended from gold chokers, while sequin-laden dresses feature the Maison's signature eye motif.
For every look, there are equally decadent and downright surrealist accessories to match. Oversized earrings and necklaces in brushed-matte finishes; snakeskin shoulder bags in umbrella stripes; the brand's bags come equipped with facial adornments and padlocks, clasped by elongated, gold-guilted finger covers – perfect protection in lieu of hand-sanitizer.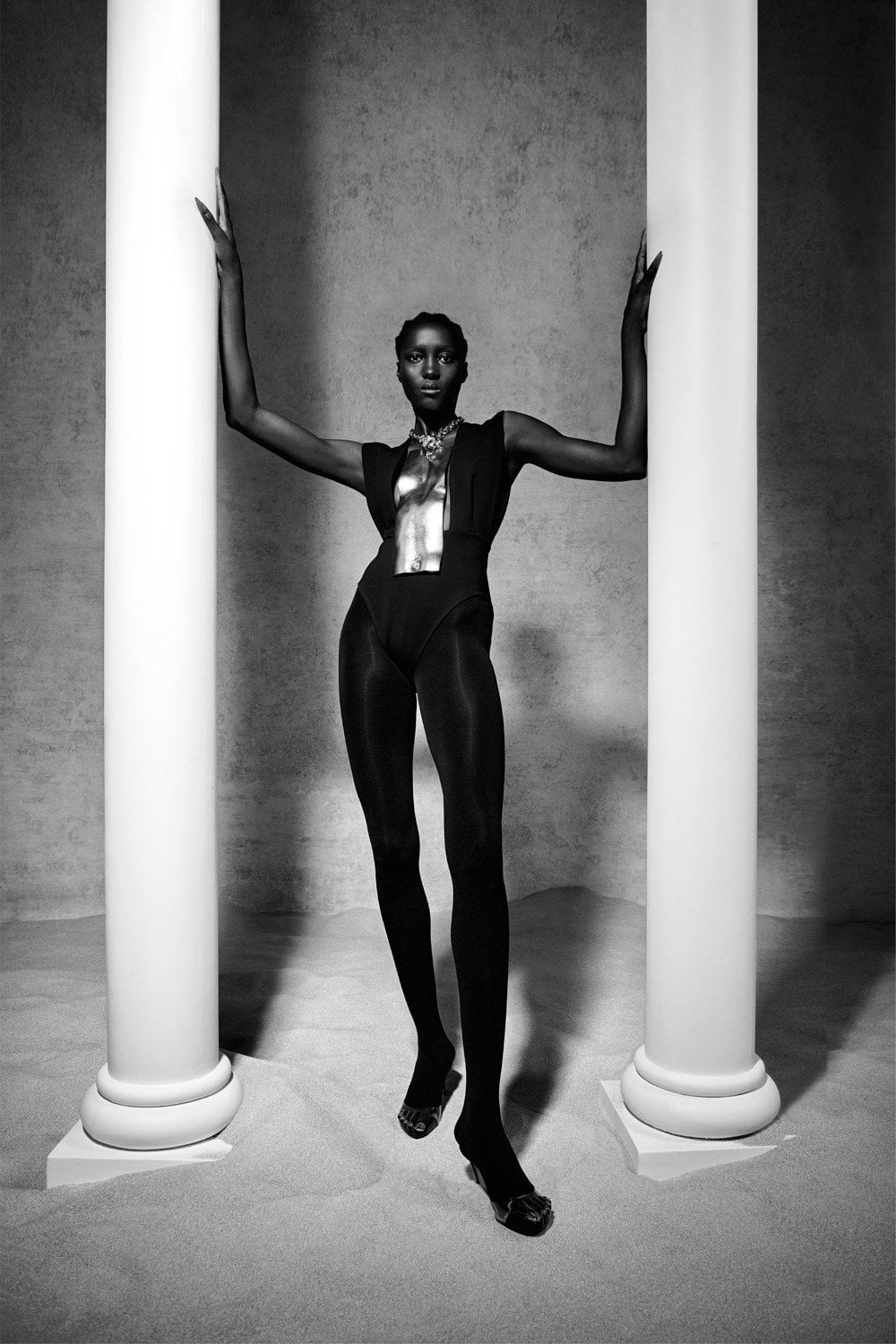 This brand's hatred of the banal and minimalistic remain unwavered almost a century down the line. Times have been tough, and perhaps exactly what we need is a little outrange thrown into the mix for good measure.
---