---
Ezra Petronio leads Self Service Issue #53 Into The Next Era of Fashion Media With A Filmgazine That Elevates the Game
INSIGHTS
By Long Nguyen
"This is an idea that we have always wanted to pursue and have done different versions of it before such as our Ipad editions (since the fall 2010 Issue 33 in with the Ipad app and the Fall 2017 Issue 47 with augmented reality and the magazine website since 2008) but not to the same depth. So in a way, we have always been looking at adopting new technology to make the issues in the past. When we got confined, we knew we had to explore alternatives to print that was becoming a necessity as everything was close, and everyone was in lockdown. During this period of strife and economic crisis, it is the right moment to push forward but in our own way," Ezra Petronio said over Facetime from Paris. "We want to reaffirm the idea of print with a Self Service film issue that features animation, music, spoken words, and moving images."
Launched in the spring of 1994, Self Service is a bi-annual print magazine founded by Ezra Petronio. The magazine exists as a collection of collaborations between the divergent group of creative leaders working in the multifaceted fashion industry – photographers, editors, stylists, musicians, designers – to stirring unlimited and unrestricted creativity. The magazine's authoritative perspective depends on the participating contributors, each adding a unique voice and a unique set of imagery. For the first time, there will be both a printed magazine and a film magazine (henceforth filmgazine) for this year's single issue, number 53.
"Self Service is a laboratory for new ideas … forcing the industry to look at fashion from a new perspective," Nicolas Ghesquière said in the magazine media kit that explained the concept.
In his spoken editor's letter, Petronio spoke to the changing environment, exacerbated by the pandemic, and the creative industry's difficult choices to operate so far outside its normal range. Petronio admonished the thinking of the 'now' saying that the need for "filling the void, created unnecessary noise with creative 'hopelessly acting on the instant.' Doing rather than thinking. Within the context of the now, we must remain awake if we wish to see creativity, undiluted visions and ideas prevail and the need for critical thoughts and progress." Within this context of change, Ezra introduced the film portion of the actual print magazine not only to address the immediate needs for digital content in the internet era but in "recontextualizing the narrative of our printed magazine in a multi-layered film experience, expanding our reach and vision beyond boundaries." Fair enough, as now is the prime time for assessing and reassessing values, traditions, and creative practices.
The pandemic's interruptions of normalcy this spring only heightened the already fragile print media industry, which is in free fall for more than a decade without an ending in sight. Disruption in print media isn't anything new, but the embrace of innovation has been slow and reluctant rather than charting a clear course ahead. The pandemic seemed to have accelerated the digital transformation. The usual channels for fashion brands suddenly became unavailable, spawning an incredible awakening to take the digital era seriously and incorporate online initiatives as part of the supplement's primary strategy.
But the tremendous pressure to digitize in a kind of fetish digitalization drive in fashion has yet to produce the level of the digital desire experience necessary for holding the online audience captive to the contents and thereby fostering potential conversions into brand consumers. Perhaps the most memorable moments from the 'shows' since July were from Valentino haute couture hybrid format and maybe the Dior haute couture lyrical mythology short film. So many other film presentations weren't so memorable.
In the last two decades, the crisis facing print magazines is a considerable reduction in the real estate necessary for selling physical magazines on newsstands and bookstores.
The pornography industry faced its existential moments in the 1980s, moments that forced porn purveyors to innovate how to distribute contents from the different physical formats in theaters to the being first purveyors of digital platforms at the dawn of the internet era or like how the music industry adapt at the start of Napster. Even in the years before the pandemic, stores selling magazines in Manhattan had declined as their margins were insufficient to cover the rising rents.
The music industry has adapted better in the digital era where music streaming and selling can all take place directly with consumers with little interference from any middle source and include the musician communicating their creative vision directly to listeners. According to Nielsen Music, this week alone saw Ariana Grande breaking a record with a top spot on Billboard chart as the queen of streaming for her new album Positions with over 174 million streams. However, this was about 116 million streams less than the 290 million Taylor Swift garnered for her Folkfore drop this past July.
These kinds of streaming numbers for musicians far exceeded what fashion achieved with live shows. Fashion as a specific category and especially luxury fashion attempts to be on a comparable footing with music in this crowded cultural space. For example, the numbers for fashion at the recent spring 2021 shows in Paris with a combination of live and digital initiatives are still far below what entertainers achieved. The French Federation central fashion hub, Paris Fashion Week, created in partnership with data search and insights firm Launchmetrics, tallied 230,000 visitors, and 606,000 page views for Paris Fashion Week. This year, the number of Tweets using the #PFW hashtag dropped to around 18k from 140k for the same period in 2019 due to less global attendance of a full scheduled show week the prior year. These numbers don't account for individual brands' social media efforts that showed brands with live showing fared better than those with only digital.
Why fashion cannot digitalize the way, the porn industry did with so much ease remain an open question. Today, practically, the entire sector of pornography exists mainly in digital formats, shifting away from other means of delivering their products to audiences due to a hostile environment to the quick transformative power of new technology. The demolition of one of New York's big porn theaters and emporiums on 8th Avenue between 44th and 45th Streets paved the way for the Worldwide Plaza where the blue-chip giant law firm Cravath, Swain & More, and advertising agency Ogilvy & Mather Worldwide, replaced the red light big complex storefronts marquees like the Cameo, the Adonis, the Show World Center, the Playpen and the Show Palace.
Pornhub, the world's largest online porn site, today has more than 125 million daily users. Of that, over 17% of them reside in twenty of the largest global cosmopolitan cities, with New York, London, Paris, Los Angeles, Chicago, Osaka, Sydney, Melbourne, Houston, and Bangkok in the top ten according to Pornhub statistics. The site averaged more than 100 billion video views per year – about 12.5 porn videos per person on earth in 2019, with 75% of the traffic coming from smartphone devices and tablets and a younger demographic of over 60% of all users under age 35. Most people across the globe today consume porn online.
In the last two decades, the rapidly exponential decline of print magazines did little to scorn the idea of a real digital property based on the same creative impulses that foster the kind of bi-annual publications. Like the collapsing porn industry in the 1980s and 1990s, print magazine distributions suffered from the lack of real estate distribution to sell magazines short of trying to get consumers to buy into yearly subscriptions that were also on the downward projection.
The fashion industry engendered some of the best creative minds, yet the embrace of creating a truly digital experience of desire remains elusive.
Most of the digital efforts so far by the giants of the industry from Hearst to Condé Nast, have focused more on rapid clicks of information than producing anything that has a longer shelf life.
"This is an idea that we have always wanted to pursue and have done different versions of before, such as our Ipad editions (fall 2010 Issue 33 and Fall 2017 Issue 47 with augmented reality and the magazine website since 2008) but not to the same depth. So in a way, we have always been looking at adopting new technology to make the issues in the past," explained Petronio.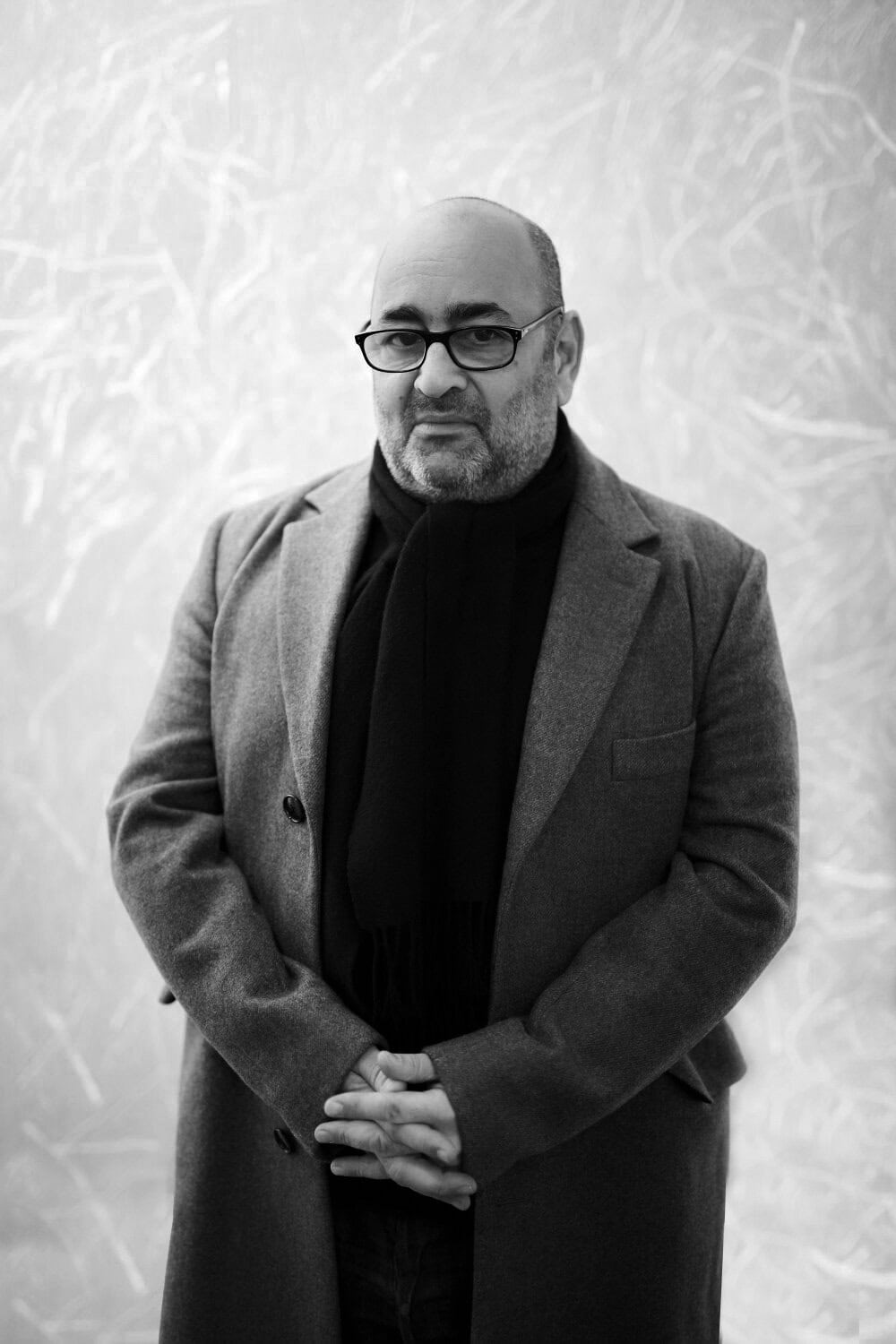 When we got confined, we knew we had to explore alternatives to print; that was becoming necessary as everything was closed, and everyone was in lockdown. During this period of strife and economic crisis, it is the right moment to push forward, but in our way. We want to reaffirm the idea of print with a Self Service film issue that features animation, music, spoken words, and moving images.

– Ezra Petronio
"The film version is intended in a way to specifically keep something that looks and feels like the spirit of the print magazine. A magazine is made of words and images, and I wanted to make sure the film version conveys the same experience. Still, with images, words, sounds, and moving images – it's like adding different layers to the print experience. For the film, the narrative is as immensely critical as it is in print – each section has to work together," Petronio said.
'More than ever' – the issue's title for both film and print with three separate covers, one rendered into a painting by Richard Phillips – is a highbrow narrative rendering with a mixture of photography and film of the best fall 2020 clothes interspersed among spoken testimonies, artists projects, music review by musicians via analysis of iconic album covers, and a series of advertorial featuring the exclusive collections like the features directed by Senta Simond, Luo Yang, Douglas Irvine, and Moon Kuy Lee with exclusive Bottega Veneta, Chloé, Dior Men, and Lanvin respectively.
Instead of page numbers, the table of content lists the contents in the exact minutes where a feature can be seen within the hour and eighteen-minute long film posted to YouTube.
'Obsessions,' the three anchor seasonal fashion features, combined moving and still images within one editorial section with different photographers rather than say the standard of 10-12 pages devoted to one photographer. In Obsession 3/3, photos by Bryan Liston, Camille Vivier, Alessandra Lesse, Matteo Montanari, and Theo Wenner with clothes from designer brands like Celine, Prada, Giorgio Armani, Bottega Veneta, Y/Project, Hermès, Maison Margiela were placed with an intermission of moving images directed by Larissa Hofmann. Mert & Marcus shot a story on hills and seaside with clothes from JW Anderson, Loewe, Balenciaga, and Saint Laurent; Julie Verhoeven directed a short about shoes obsessed; Glen Luchford mixed old and new photographs, and David Sims shot a series with clothes from Saint Laurent.
In between these mixed editorials are other various features, including music, dialogue, odes to creative enterprises, art, and a section reminiscence of the fashion shows from the formative late 1990s era. Pedro Winter selected different artists to talk about their favorite album covers. Christine and the Queens correlated Bjork's Homogenic cover, where she appeared as a geisha with the breakthrough music inside. The English electronic music group Metronomy on 'Road to Ruin' by the Ramones album cover of the group's comic drawing in leather bikers, faded jeans, and old Converse canvas sneakers. Jeshi explained how Pink Floyd's Wish You Were Here album cover were two men in suits shaking hands with one in a black suit bursting out in yellow flames conveyed a sense of the music inside. In dialogues, Joel Meyerowitz, David Sims, and Jurgen Teller spoke about opening up oneself for the creative process to happen.
The Issue # 53 filmgazine ends with a montage of old Guy Bourdin footage in grainy colors. Somehow the moving images of the photographer and his subjects at different locations seemed much more urgent. Embracing nature and freedom that is much lacking in present-day art. This old experimental and natural Bourdin film clip has a feel and an urgency reminiscence of the hyper-creative years in fashion in the late 1990s, especially with the runway segments from that unprecedented era of creativity around fashion with shows like Comme des Garçons Spring 1997, Helmut Lang Spring 1998, Yohji Yamamoto Spring 1999, Martin Margiela Spring 1996, and Raf Simons Spring 1998.
I was lucky enough to have witnessed and experienced these shows during that hyper-creative period in the late 1990s. So little of today's shows, for all the available resources, have come close to these shows back where ideas were center stage, not sideline costumes in search of internet glory and fame. That we still revel about these shows speaks volumes about their power and influence undiminished by the passage of time over two decades. These shows were a reminder of the importance of physical fashion shows that impart cultural values beyond the clothes.
"It took more than six months to make the actual film because there is a very long process of organizing the shoots to editing the different contents so that they flow in a narrative format just like a person would opening and turning the pages of the print magazine. We treat it like an actual movie with all the technical requirements. The audience can watch it on TV, phone or desktops," Petronio spoke about the process involved in making Issue # 53. Soon, luxury fashion will be both in retail stores and e-commerce, just as fashion media will continue with minimal print and more creative digital medium. The new generation of young audiences will pick whether digital or physical formats will be dominant. Editors and leaders of fashion brands have to cater to this new consumer and their preferences.
Ads spreads from luxury houses Louis Vuitton, Prada, Saint Laurent, Hermès are done in still-moving images combination rather than just a static view of the usual campaign imagery in double-page spreads layout specifically for print magazines. The innovation here is in how the actual advertising campaigns have transformed into more interactive rather than just a digital turnover of the page. For example, brands' logo are dropped onto the pages, and multiple images are loaded onto the same page. The Louis Vuitton ad images are dropped on to the different color background as the pages move forward, the Gucci campaign featured actual campaign video inside a white spread with the Gucci logo, and the Burberry campaign was a small segment of an official film campaign. A phone rings in the visual of the Balenciaga ad spread.
Ad placements occurred throughout the film. A spread for Jil Sander appeared more than halfway through the movie between a David Sims shoot with Saint Laurent clothes and a conversation with Jurgen Teller about where inspirations come from.
Self Service collaborated with Dover Street Market to create a unique advertising section where young designers spoke out about sustaining all these new and independent voices in fashion in a symbiotic way. Dover Street Market has emerged as the unique retail space today that is "a place for creators from various fields to gather, encounter, and collide with each other in a burgeoning atmosphere of beautiful chaos. It is a home for individuals who share a strong voice and a personal sense of vision. Space where the synergistic coming together of these kindred spirits amounts to a new and symbiotic community." Marine Serre and Liberal Youth Ministry talked about being conscious of the moment and making products that are right for the environment and the times now. Kiko Kostadinov spoke about the need for being self-critical in the products and the images created to avoid compromising situations. Supriya Lee told of her brand as an expression of her Indian identity but made afresh.
Cartier took the back cover of the filmgazine just before the credits rolled.
While Self-Service isn't the first publication to experiment with film formats to supplement, issue # 53 remains, on the whole, a more complete, more digital visual experience in an extended form than, say, the 50 or so video series filmed with vintage analog equipment for that lo-fi look. But this Love magazine excursion into the film format #MovingLove for its Spring 2019 issue was more of a series of behind the scenes footages of an actual photoshoot featuring the different talents like Kate Moss, Bella Hadid, and the like of the entire Aboah family.
This filmgazine Issue # 53 should be the flagship for magazines' future format solely in the digital space.
Perhaps the print issue was necessary as the luxury houses are much more conservative and less risk-averse in their advertising and marketing placement. The old mentality that print is somehow still valid with luxury brands that wanted their ad spreads seen in a physical format, a barrier to any process toward full digitalization.
Luxury brands' love fest with print is probably what still drives this segment of media, prolonging print within the rapidly changing consumption patterns of a generation growing up with the internet's full impact in the last decade.
The supercharged acceleration of digital habits' penetration has altered at least the perception that luxury brands are behind the curve rather than innovators.
Just as many luxury brands want their customers to go into stores for that 'luxury buying experience,' can the same be said for fashion media consumers, or is the experience of media consumption substantially different from, say, looking at a great fashion photograph online or on fine printed papers? It is strange that for an industry always clamoring about innovation, that same industry is resistant to changes even as these changes are inevitable and necessary.
Across the fashion industry, short films have become the 'go-to' format in the absence of the physical fashion shows, particularly with the haute couture and men's Paris in July. However, this is only the beginning of this medium's penetration into fashion communications that will only become more important soon despite physical shows' return.
These types of experimentations' metrics will not immediately result in anything close to huge numbers, and that may not be what mattered the most here. The audience will grow.
"In the near future and next issues, we are looking at doing a shorter version, perhaps around half an hour as opposed to 80 minutes in perhaps different VOD platforms. We have to continue to evolve fashion to engage the new generations," said Petronio about looking ahead.
---