---
Review of Stella McCartney Fall 2021 Fashion Show
The Bold Wide Leg Pants Transit from Ease to Glamour
By Long Nguyen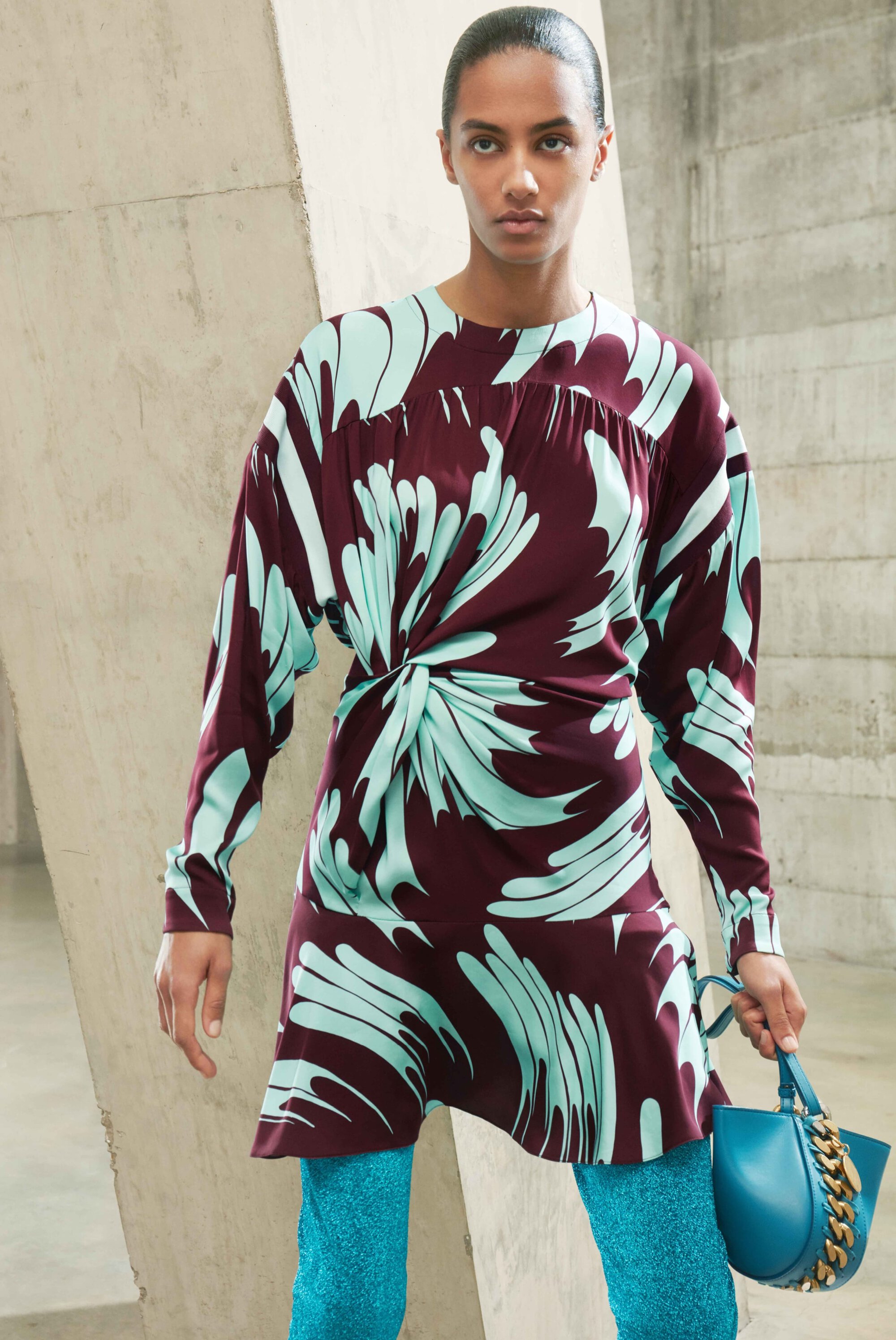 This season, I wanted to have a sense of powerful graphics experiences. From the colors, there are a lot of patterns as well. It is as if the patterns themselves are moving along with the body and the women wearing them. There is a kind of eccentricity, and there is boldness. I think it's rare for us, but yes, bold. I wanted the collection to feel the youthfulness of feeling unafraid.

– Stella McCartney after the premiere of her fall show
This highly focused and precise fall presentation, shown as a short taped film shot at the Tate Modern in London, is probably Stella McCartney's most fashion-forward collection in a few seasons. In a decisive mixture of comfort and glamor, McCartney layered the oversize silhouettes of the menswear jacket she began in the Spring 2021 season with bold flare pants and sporty flight jackets. A red-green gingham wool double breast paired with a forest green Econyl nylon jumpsuit with vibrant graphic knitwear.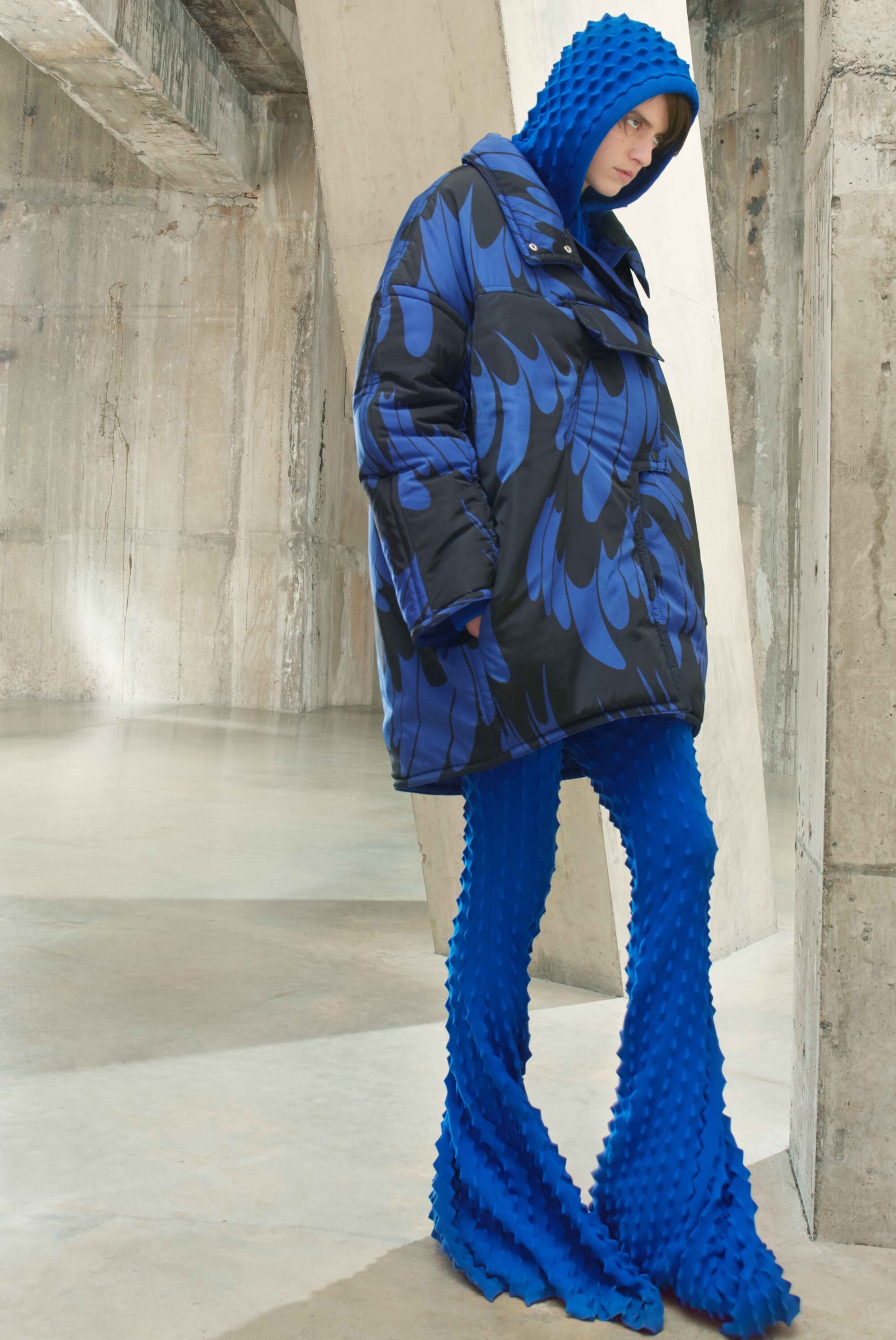 Anchor by the new slim extra wide-leg pants, the clothes felt more a giant step forward, moving beyond the signatures of a brand founded in 2001 on the principles of responsible production and consumption towards a more fashionable outing.
It is as if after owning the sustainability arena now, with over 77% of the products falling within these new standards, McCartney is finally venturing on and going back to her fashion roots.
Her answers in this collection are firmly on the side of optimism, the optimism expressed in a non PVC After Mat yellow sequin puff sleeves mock neck short dress over a rusty red tight wide-leg pants.
Of course, the heritage wool dogtooth coats and the tailored pantsuits used wools from regenerative farming practices. This practice should now be evident at this British brand that has always equate welfare and fashion in the same regenerated nylon parkas, double breast pantsuits, and checker patterns knitwear. The tailoring shapes continued from last season, with the loose double breast jacket worn with a pair of slim extra wide-leg pants, surrendering the more classic tailoring with perhaps bouts of a fashion punch.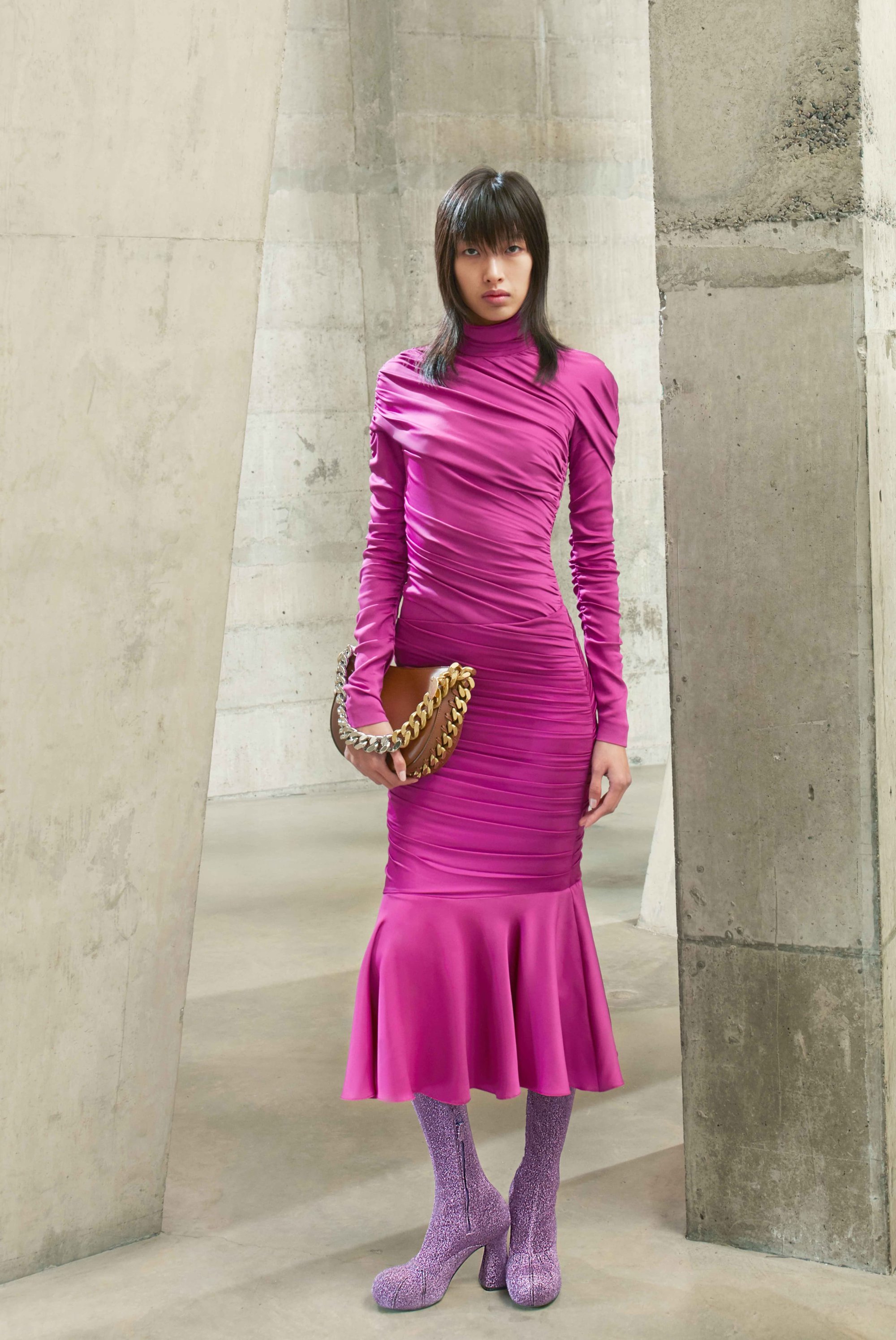 There is desirability and a sensual side to this collection. D is for Desire from the AtoZ alphabet. I always feel that winter is a sensual season. I miss going to a basement and listening to awful music and dancing and want to feel how that feels again. Suppose I close my eyes and transport myself to that place. In that case, this is what I saw,

– Stella McCartney
McCartney expounded on the slightly more skin-revealing looks within the show lineup, such as the black bodycon one sleeve cut out motif dress made of forest-friendly stretch viscose and or the one sleeve knit long grey dress with cross body twists. "I celebrate the body, and there is a lot of movements and clashes of unexpected colors and patterns."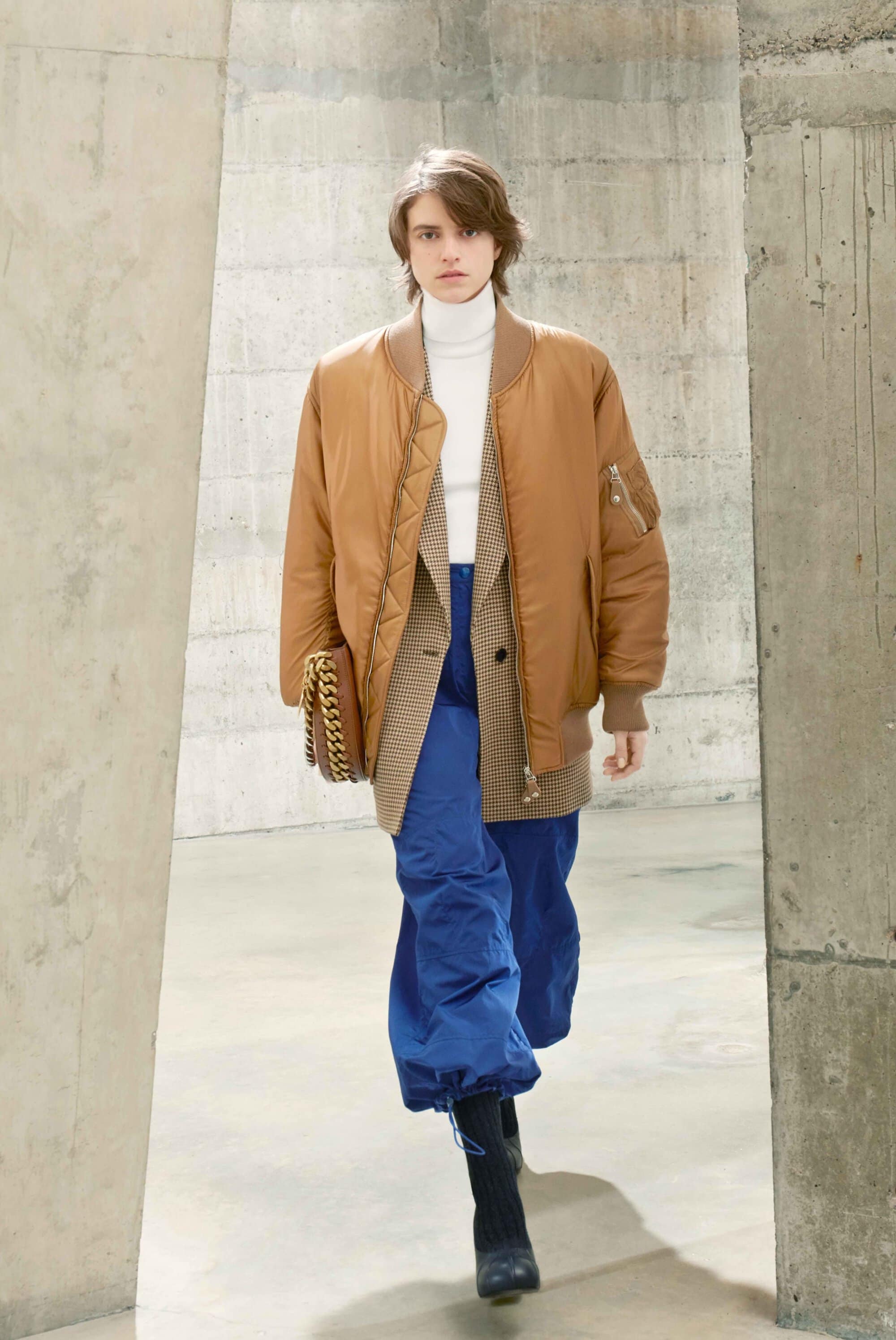 There is a sense of freedom of movement in the juxtaposition of the cropped and oversized MA1 nylon bomber jackets in camel with a tailored double breast jacket and flight pants or Fuschia with a black pantsuit. The black bomber over a jacket and a long dress break the tailoring formality, allowing a sense of more unrestrained movements and perhaps also a sportier glamor. That sense of comfort and glamor rests on the knitwear looks where the graphic and the texture like the electric blue 'popcorn' knit hooded top and flare pants and on the stripes mock long sleeve flare sparkly jumpsuit.
"The ease and effortless are still there, but there is an unapologetic side of winter collection. I don't want this woman to be shy about who she is and what she stands for with her fashion. So there are a lot of extreme silhouettes," the designer said about how these clothes are there to wear come fall season. The slim-to-flare pants anchor, this fall collection, giving the clothes the grounding in reality.
Across fashion brands this past year, the size of fashion collections shown has been significantly reduced in terms of the sheer number of outfits usually physically shown at a sit-down fashion show. Perhaps this avoidance of waste should be a lasting legacy of the pandemic, as designers may feel they no longer require seventy looks to make a statement when about thirty is more than sufficient.
"Waste is a big thing in fashion," McCartney said as she slims down the number of looks offered to nearly half the size than when she was showing at the Palais Garnier in Paris with the motto of doing more with less and focusing on efficiency.
Deceleration isn't alarming, and smaller collections don't mean they are weaker, often just the exact opposite.
"Technology is one of the answers we need for the future of fashion, but there is a way to go from experimentation to actual materials used in production on a larger scale," McCartney said. She mentioned the time it takes to transform Mylo, the mushroom 'leather' grown in labs without the usual land or water usage, into a material to make apparel.
In the end, though, McCartney mentioned that the pandemic virus is so connected to our habits and choices of living. We had to veer ourselves off all of our typical courses in the past year. Still, an on-going crisis as France, Italy, and Germany issued new lockdown orders last week amidst rising infection levels.
Yet, there is a light green oversize short dress or that ice-blue sequin mock neck jumpsuit waiting at the stores when the leaves will turn brown again.
---