---
Review of Stella McCartney Fall 2023 Fashion Show
To Run Free with the Wild Horses
By Angela Baidoo
Stella McCartney's love of horses will be well known to those who have followed the designer since her days designing for Chloé.  But this season there is an overt love affair with animals that has resulted in everything from simple graphic motifs to full-on face prosthetics which transformed models during New York fashion week.  But McCartney's love goes beyond the conversational, and for fall 2023 she is using them in her fight to implore the industry to exalt all animals, and the planet on which we inhabit.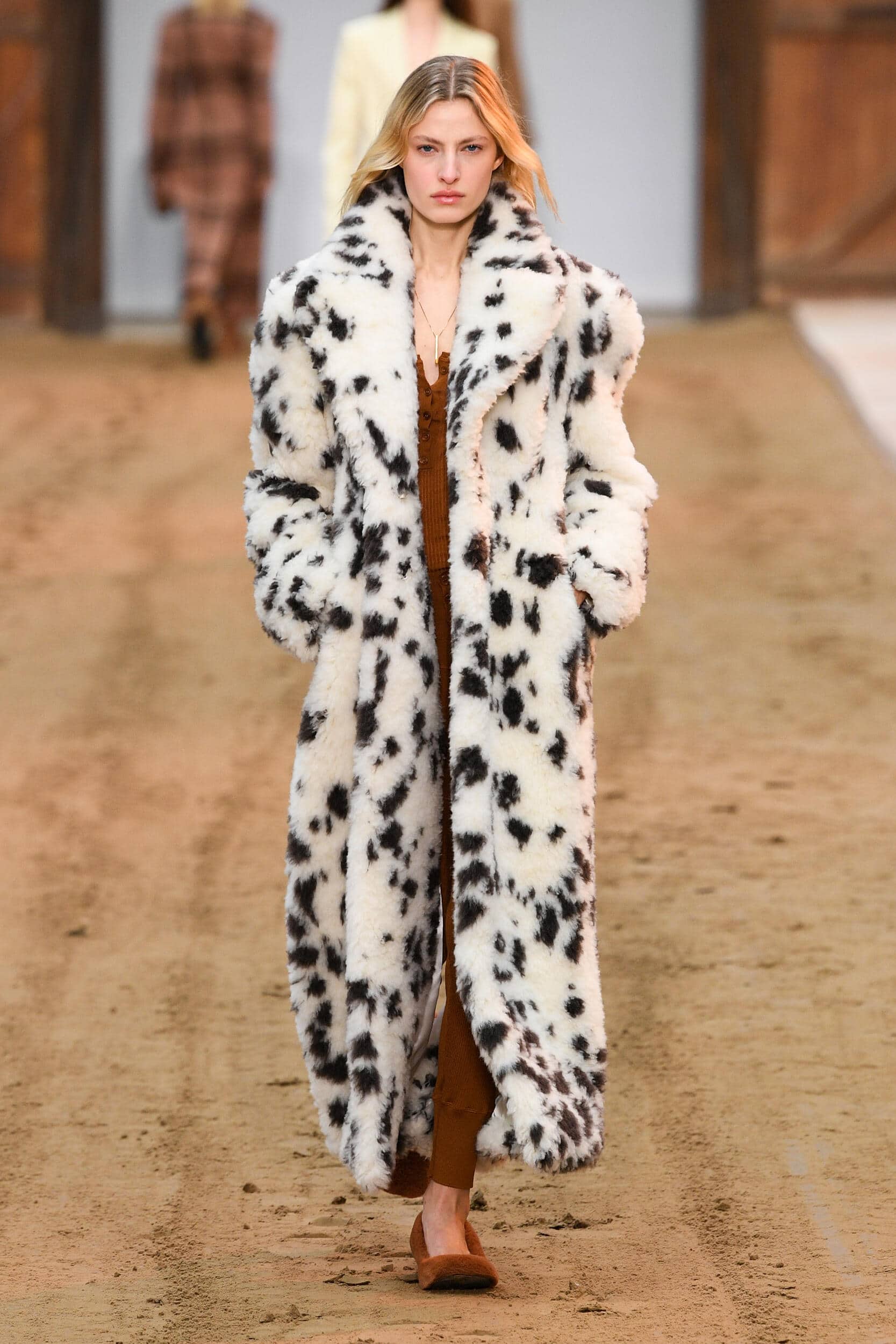 There is so much leather, fur, and feathers on the runway, especially in winter, and I just wanted to show that you can do it in a different way

Stella McCartney, Backstage
Not satisfied with just speaking about her passions for her fall 2023 outing – which was staged at the historic Manège de l'École Militaire, France's oldest riding school – the designer truly put on a show, at which no animals were harmed of course, speaking to The Impression backstage she elaborated with "It's a big part of being British, there is a long history of equestriansim, I have a farm in the country and there's still a hunt next door. It's all so beautiful, the tailoring, the bespoke work, and for me there is the relationship between the man, woman, the horse, and nature, its a pull and push, and I think there is a poetry at the centre of it all".
Led by renowned horse whisperer and rescuer Jean-Francois Pignon a troop of horses raced out in a synchronicity that was hard to believe, before Pignon took to the floor and directed them in a choreographed performance. The old saying goes never work with children or animals, but the grace and poise that these horses displayed, confidently taking their commands from Pignon, galloping in tandem and dusting themselves off in the sand all the while providing a most unique background visual for the models walking the show, is an exception to the rule if ever one was needed. As without this moving example of what we stand to lose, the true message of the collection may not have broken through with today's attendees.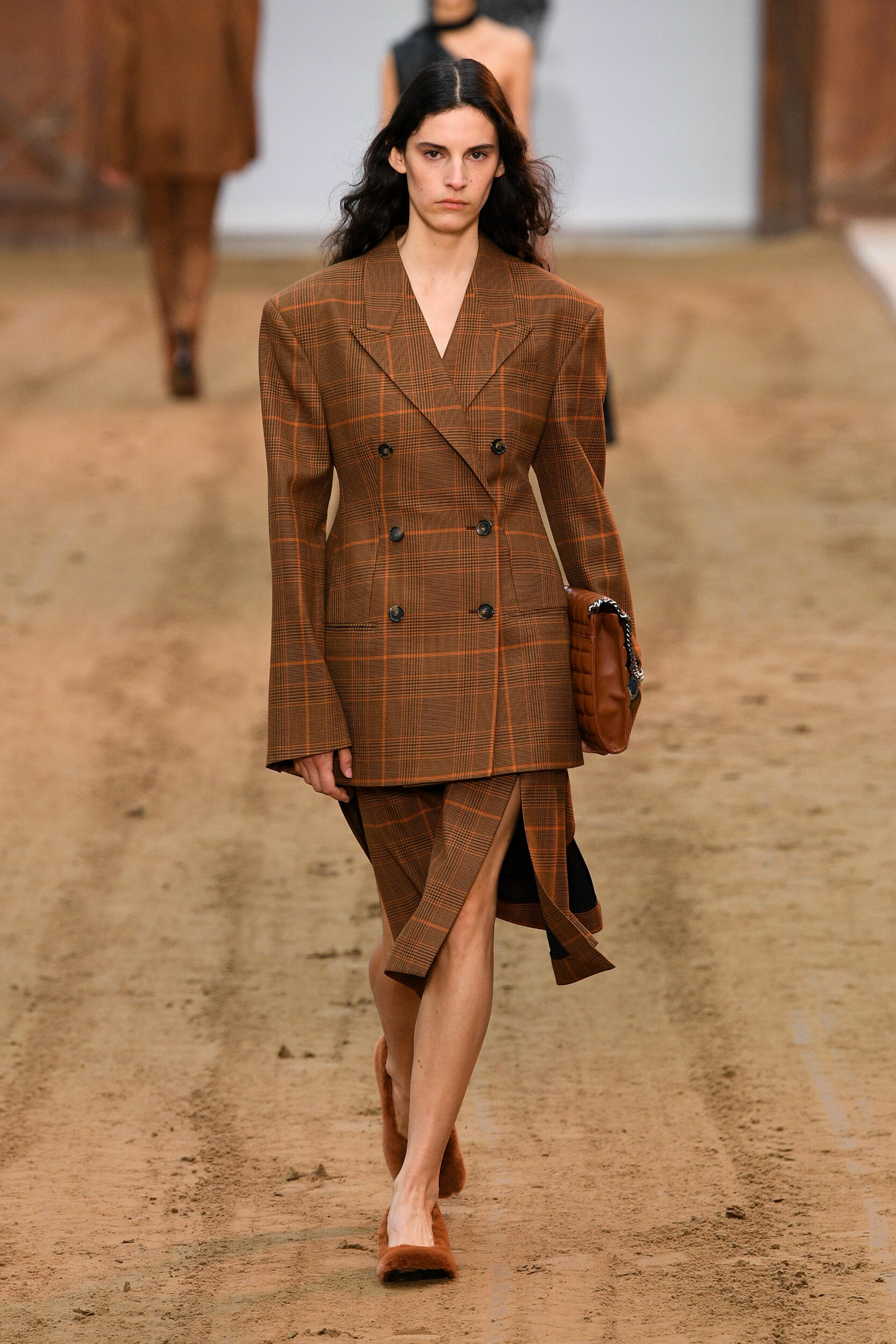 For a collection with such a focussed centre of inspiration it never fell into the world of clichéd equestrian tropes. Instead we were presented with a mash-up of Savile Row tailoring and New England Preppy, as rugby polo shirts were worn oversized with all-over horse prints or embroidered crests, and a navy tracksuit with red stripe came complete with a training whistle. A look fit for any horse whisperers in the making.  Add to that a touch of military frogging, which once again looked fresh, and was definitely down to the fact that there is now enough distance between now and the last time it was seen on the runway, and it was executed tonally – white-on-white in this case – as opposed to the classic gold, which can sometimes come across as costumey.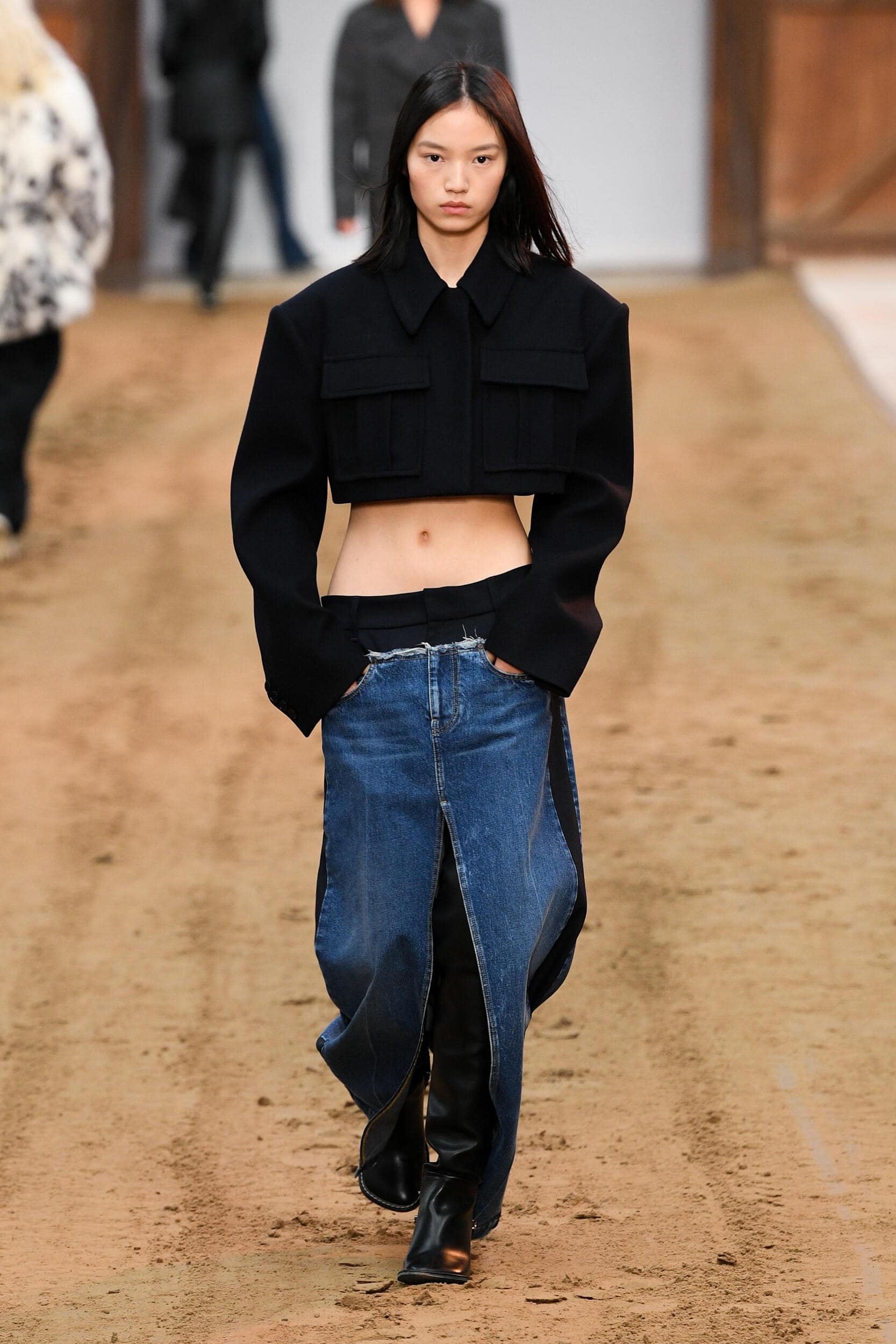 The horse imagery used in the show was created by McCartney's late Mother Linda and sister Mary, and were printed on panels across colour-blocked evening gowns or weaved into a jacquard purposefully pixelated to create an altogether more artisan effect which was achieved when a horse motif was used for the front of a 'Fur-free Fur' jumper according to this seasons show notes. Leaping horses that were used as an all-over pattern on knitted skirt sets and horse – not cow or Dalmatian – print is set to be the next go-to animal pattern to have. Seen here across brushed cape sweaters and maxi coats.
How many ways can the suit be worn? A question that has been the subject of many collections this season, but at Stella McCartney they were converted to double-breasted bandeau dresses, a new take on the blazer dress which could be layered up for evening. A softer skirt suit in a maxi length toughened up with horse print boots whose cruelty-free pony was created from crushed cotton velvet. An homage was paid to the 1980s in the strong shouldered  plaid versions. While a shrunken waistcoat paired with what the show notes dubbed banana trousers, was the designers update of the three-piece suit. There was also a little noughties nostalgia as the chain and diamanté details from last season were revived for hip-hugging straight leg trousers, which also came in a fully embellished style, much more wearable for having been paired with a knitted jumper dress and maxi tailored coat.
I have long dreamed of the day when we would see a plant-based alternative to leather that does not kill a single creature and can be easily given back to Mother Earth, without creating waste. There is no compromise on desirability or durability; the future of fashion has arrived.

Stella McCartney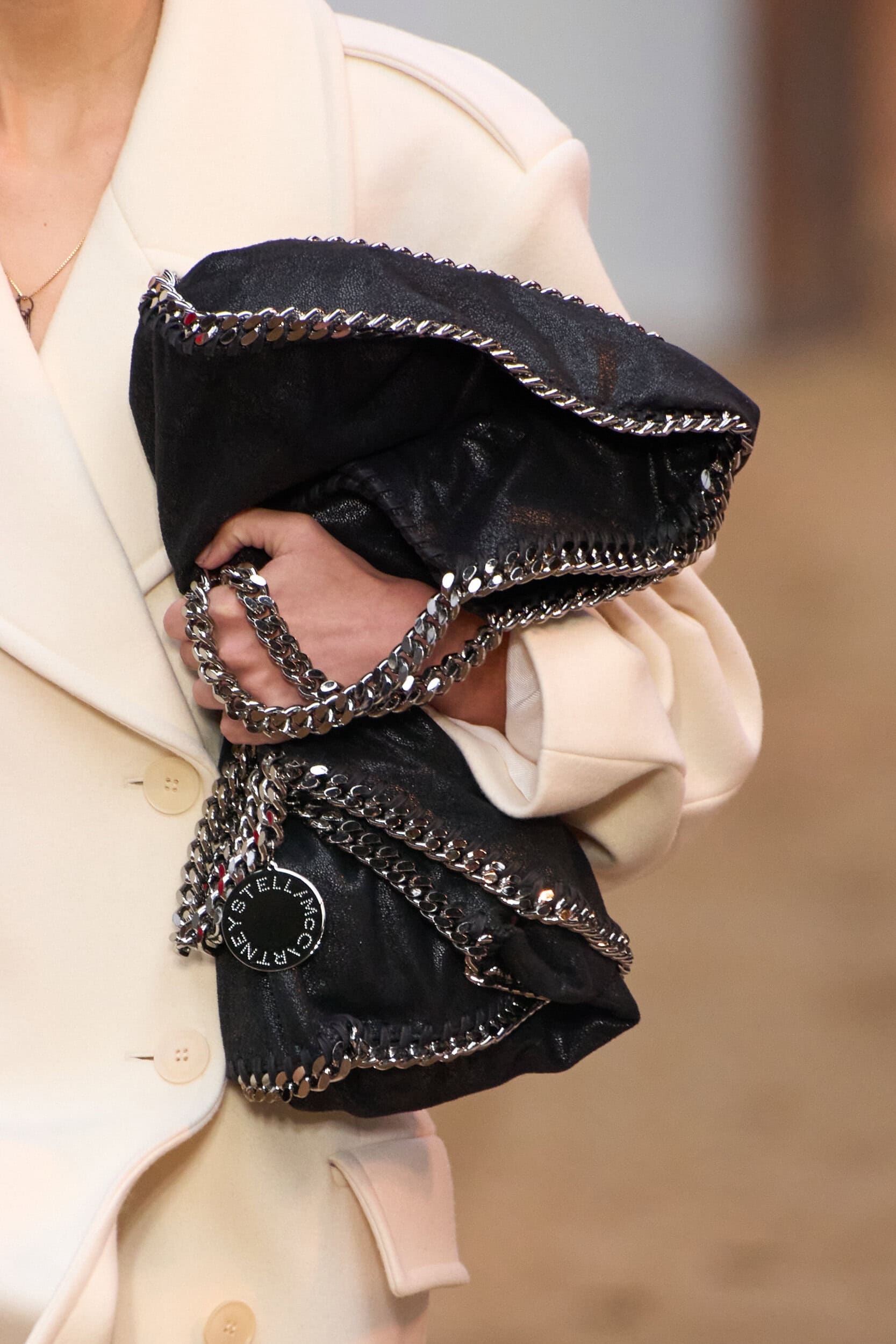 Fall 2023 also marks the launch of the designers – and worlds – first luxury handbag made from Mirum, which is a plant-based alternative to leather that is plastic-free and circular, crafted in new editions of the brands iconic Falabella and Frayme silhouettes. One of the most significant milestones in this development is the fact that this innovative material is 100% recyclable and can be returned to the Earth at the end of its life-cycle. Going some way to solving the industries end-of-life problem.
Much in the same way that Nona Source is helping to re-distribute deadstock from luxury fashion houses to young designers, Stella McCartney's expertise and steadfastness in her pursuit of fashion that not only looks good but does good, is an untapped resource just waiting to be rolled out as an educational tool for both emerging and established brands across the industry.
---