Dinner Guests in Yellow Face Masks Chanted "Wuhan Girls! Wahoo! Bravo!" & the Subsequent Silence of Leading Fashion Brands
By Long Nguyen
On Thursday, April 22, 2021, the United States Senate passed the Covid-19 Hate Crimes Act, colloquially known as the anti-Asian-American hate crimes bill, with bipartisan support of 94 to 1 – only Senator Josh Hawley voted in opposition.
"To our Asian American friends: We will not tolerate bigotry against you. We cannot – we cannot – allow the recent tide of bigotry, intolerance, and prejudice against Asian Americans go unchecked," Senate Majority Leader Chuck Schumer (D-NY) said on the Senate floor just before the actual voting.
In super-partisan America and the hyper-partisan U.S. Senate, these anti-Asian hate crime bills are a significant feat of common decency. The mass shooting in Atlanta brought public outrage and highlighted the issue of anti-Asian hate crimes, occurring at constant frequency since the start of the pandemic that far-right advocates called "Kung flu" in March 2020. A week prior, an older woman in San Francisco suffered an attack on Market Street in the continued wave of attacks on Asians in the Bay Area.
In fashion, the outrages galvanized the community into the formation of #stopasianhate, a trend that raised awareness of the prevalence of anti-Asian racism. Asian-American designers like Phillip Lim and Prabal Gurung led the discussions to raise consciousness. On Instagram, black squares with the new hashtag #stopasianhate became the new instant trend, with brands from Dior and Valentino to Nike and Adidas taking a public stand.
On April 8, 2021, Diet Prada reposted a short video – the original already having been deleted – that DJ and music producer Michel Gaubert had shared on his Instagram page. Seeing the original video on Gaubert's Instagram, to be honest, I had to view it repeatedly to assure myself that I was seeing what I was seeing.
Inside a posh Paris apartment around a large dinner table ready for an after-dessert aperitif, a group of very nicely dressed people – men and women – all carry a circular white face mask with slanted eye cutouts, one decorated with blue sparkles. A few of them stand with their other hand waving in the air while they chant, "Wuhan Girls," then "Wahoo," and finally, "Bravo."
The video conveys both a sense of spontaneity and careful crafting with moody music. In Gaubert's apology following Diet Prada's outing, Gaubert said Marie Beltrami made the masks – male and female versions – originally for Harper's Bazaar, and similar dinners with these same masks took place at least weekly in the past six years. This one broke France's current third lockdown regulations and curfews.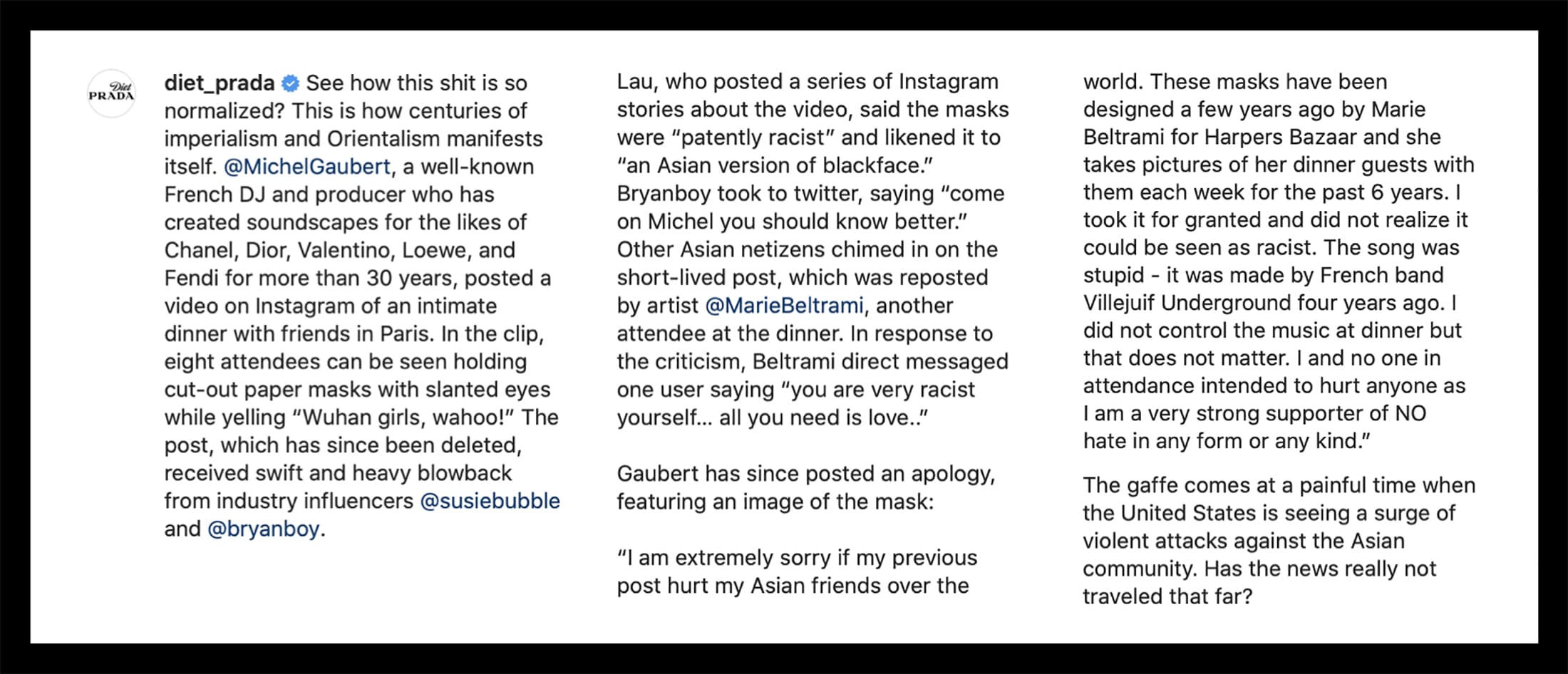 Dressed in full racist regalia, the intentions of the people at this dinner event are clear. Gaubert's apology is even more incredulous because within this false apology is the silent acceptance and agreement when they donned the masks and chanted, "Wuhan Girls! Wahoo! Bravo!"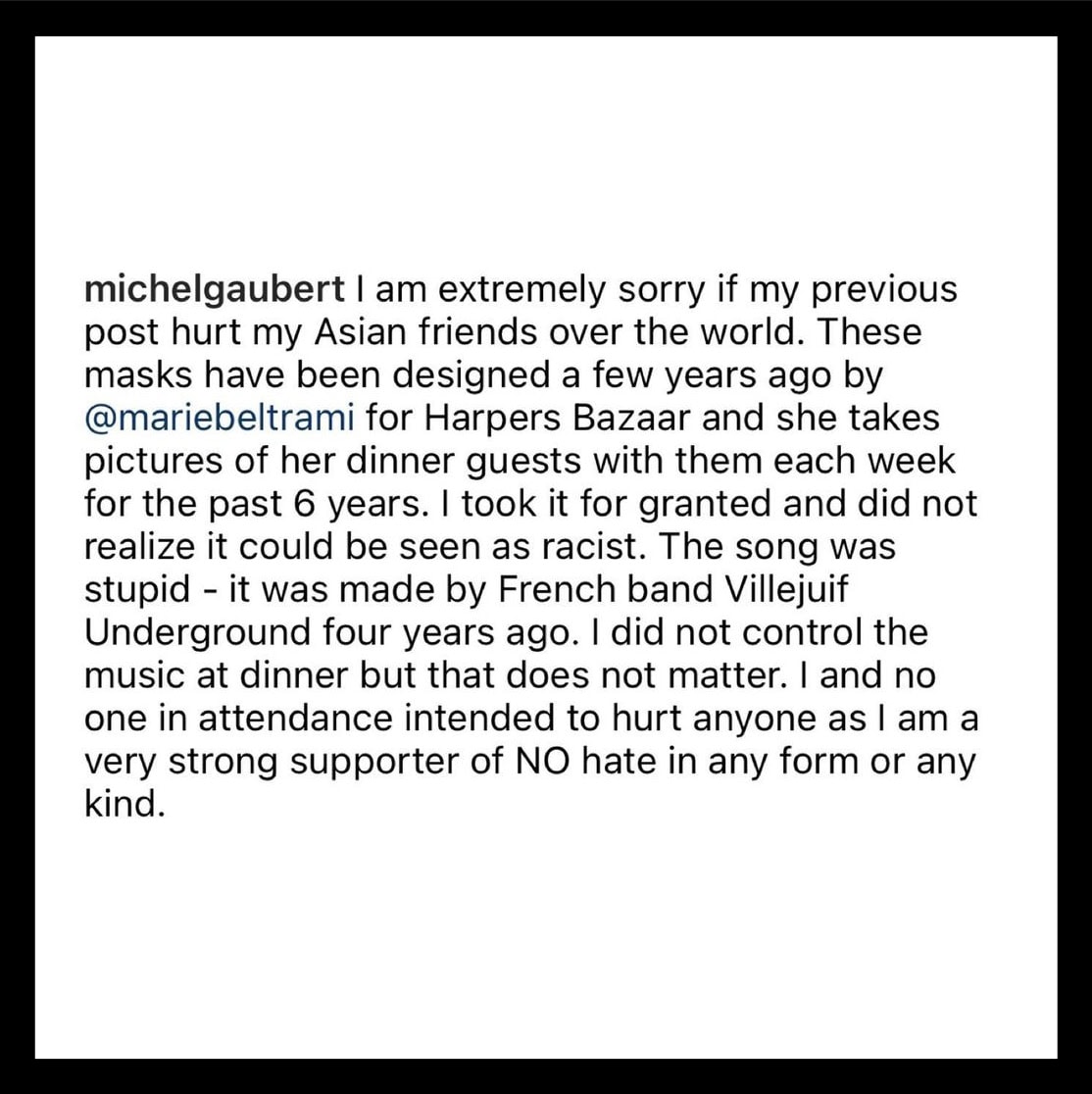 To me, the apology read and felt truly insincere. He says, "I am extremely sorry if my previous post hurt my Asian friends," while they happily sang with their yellow facemasks. Claiming to be a "strong supporter of NO hate," Gaubert said nothing about the implicit racism as if it was too bad that any Asians would feel hurt watching.
I would say that this dinner party is just as bad as the physical violence of the Atlanta shooting or the various assaults against individuals perpetuated until that moment. The participants are elites who choose to wear elaborately designed masks and who happily chant "Wuhan girls, Wahoo! Bravo!" It is the psychological violence here perpetuated inflicted so casually.
Wealth, power, privileges, and white elitism are at the center of this dinner event. It is also a center of the privileges of the elite luxury fashion world.
Luxury fashion brands don't connect to those Asian people who suffered, but many fashion brands are linked directly to Michel Gaubert. Unfortunately, this dinner event sat at the center of the privilege of elite luxury fashion. Yet the venom of this glorified dinner isn't much different from the shootings, assaults, and venomous terms like 'Kung flu,' which are deployed to degrade a whole group of people. An inclusive future can't accept the most elite member of the fashion industry knowingly mocking 'other' people.
Yet, the outpouring of emotion that led to the creation of the #stopasianhate phenomenon weeks earlier was totally absent from the corporate fashion community and the usual diversity activists. The real outrages and condemnations came from just a few – Suzie Lau, who called the masks yellow faces, Bryan Boy, and Tina Chen Craig, and the netizens who denounced this racism. In striving for the values of diversity and inclusion, these fashion brands should have condemned this racist outburst.
I don't have a problem with the Gaubert video because I understand that perhaps he and the participants have a different set of values than mine, and that is fine.
While anti-Asian racism does not easily fit into the dominant black-and-white narratives of race in fashion, it is hard to imagine the reality that all fashion brands remain in utter silence. It should not even take so much imagination to assume that the fashion industry would be far better and far faster at responding to anti-Asian racism than the highly partisan U.S. Congress. Except for an Asian cluster in fashion against this vigilant and veiled hatred, this dinner party went under the radar. The question, though, remains whether there will be fundamental structural changes, in mentality, in values, as well as in practice.
But, in the two weeks between the date of the Diet Prada posting and the CNN piece, none of the fashion corporations that have or had worked with Gaubert – which include some the most prominent luxury fashion companies, such as Chanel, Dior, Fendi, Louis Vuitton, Sacai, Kenzo, and Loewe – said anything. This event could have been an inflection point for fashion because it happened inside fashion's privilege set and setting. If a brand won't stop racism inside its own house, how will it stop racism at large?
This racist incident could have become a moment of a fundamental shift of identity for many of these luxury brands forging a road with young consumers by calling out the overt racism hiding in plain sight among their rank of elite privileges.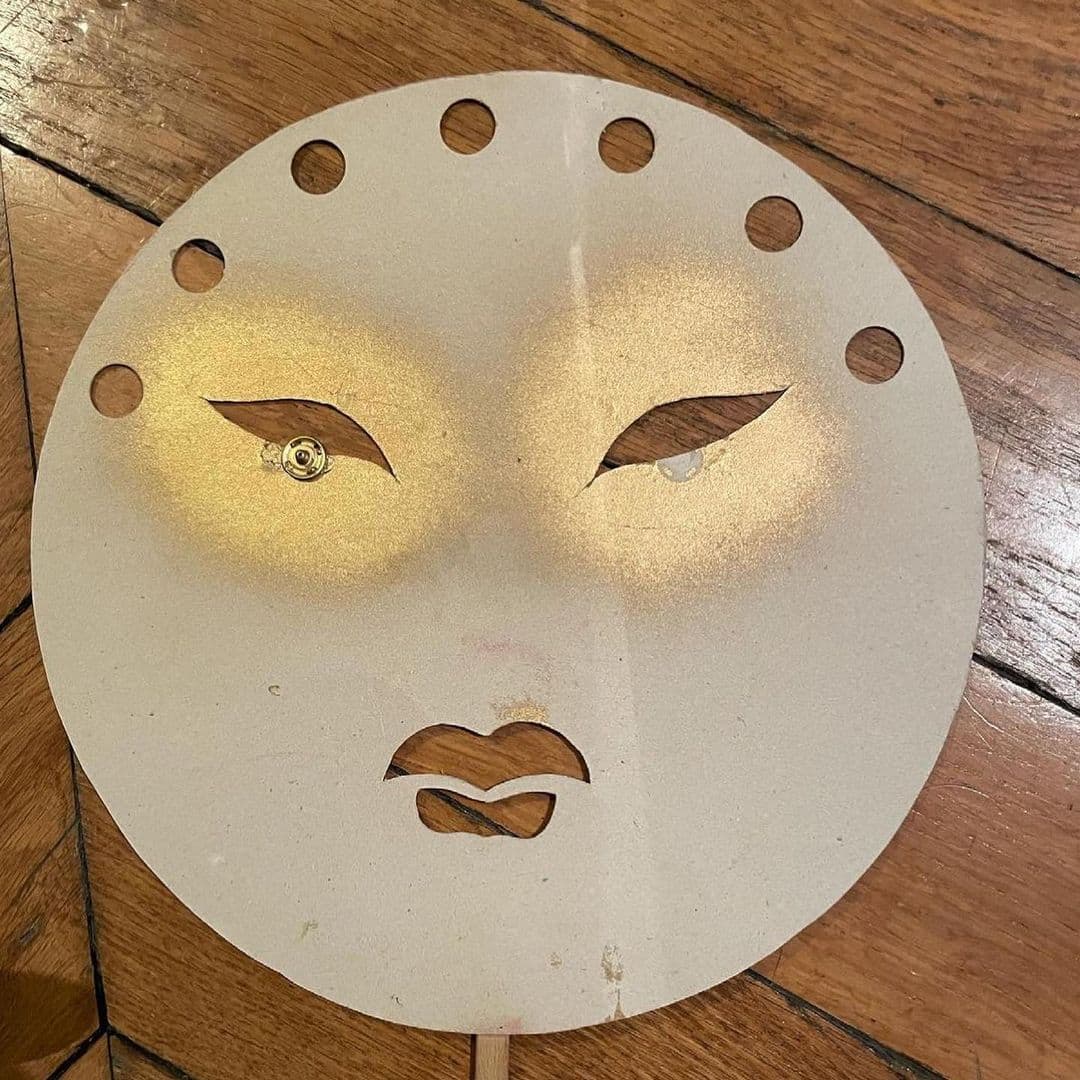 The puzzle of this non-response probably has to do with how to overcome fashion's exclusionary past. The fashion industry can come together to defeat nonchalant racism in any form, regardless of whether any brands have or had any relationship to the music producer. Why have fashion brands remained so silent when someone inside the fashion system commits this hideous and knowing act? Still, the appalling embrace of the racism inherent in the video posting of a group of wealthy fashion intellectuals chanting racist slurs and wearing Asian masks at a clandestine dinner during Paris's current lockdown barely turned any heads.
Many fashion brands that remain silent, saying they don't have anything to say because they don't have a relationship with the DJ, are beyond frivolous. Does saying no to the degradation of other people require a business relationship or a personal relationship? Of course not.
And with the natural casualness carried on by the participants, this dinner party video cannot be dismissed as a momentary gaffe. What is clear, though, is how this form of rampant racism will continue to exist in fashion when there isn't a bit of enthusiasm to extinguish the flame given a chance.
The backlash to Gaubert's act of overt racism is invisible. Beyond the swift social media takedown, no fashion companies condemned this, even if only for no other reason than the significance of the luxury business revenues anchoring in Asia. Instead of the expected outpouring of anti-racism and even the temporary suspensions of the business relationships, absolute silence dominates in the aftermath of the video posting expanded by Diet Prada.
Luxury fashion brands posted many black squares with white letters deploying the hashtag #stopasianhate as its headline this past February but failed to issue any statements against this racist act. But what do these postings even mean if no concrete actions were taken? You would expect brands to take a stand.
How is it possible that the luxury fashion brands that have worked with the music impresario, some for decades, remained so silent on this matter of the moment? How is it possible that this casual racism can go on with little or no repercussions but a slap on the hand with mere words? While the performative postings of black squares are laudable, actual actions against discrimination against Asians were absent here.
One of the clearest rebukes came from a French art teacher and editorial project manager. The author, Julien Arnaud, wrote, "Yellow Face. Cluster dinner. At a time when each can and must deconstruct their privileges when we need to be able to count on our respective awareness of the world as we want it. And figures like yours disappear behind a racist mask, music confirming this racism which seems to pass through your toes and not into your ears, and a public publication because you find it too funny, joyous. Now weak excuses, with so few perspectives of conscience, that it is not an anecdote but well and truly cynical and racist (today, the racist unconscious no longer exists) a great disappointment. We get up, and we break." That's an indictment.
Habitual hyperbole and black square postings are not enough when actual actions are required.
Racism in France is a complicated issue and a subject much less discussed publicly and openly. "I noticed indeed there was no reaction from any French media or personalities towards what Gaubert and his friends did. I believe there were different factors: systemic racism supported by institutions that do not recognize racial differences and, by consequences, social stigmas. I believe if two French personalities had told French media instead of Susie and Bryan, it would have been different…" the French designer and fashion scholar Pierre Antoine Vettorello said via Instagram direct message.
Vetterello has been working on recreating the wardrobe of French black women who have been erased from fashion history to rewrite history through clothes and is planning to attend the Ph.D. program in Antwerp in the fall. There is also the fact that somehow France does not have any "representative of Asian voices in Fashion in France… due to as well this blindness to race." Vettorello noted that only the daily Libération covered this as news.
On the whole, the gamut of French media – Vogue Paris, Numéro, Le Figaro, and Le Monde -were radio silent. "Unfortunately in France, we don't talk about this … as the French may not even be shocked by the Gaubert video. Ils s'en fichent." ("They don't care.")
On an individual level, 'ils s'en fichent' isn't much of a situation. Still, this attitude seems to have at least penetrated the corporate fashion level, judging from the complete silence of the fashion companies who have long working relationships with Gaubert, some spanning decades.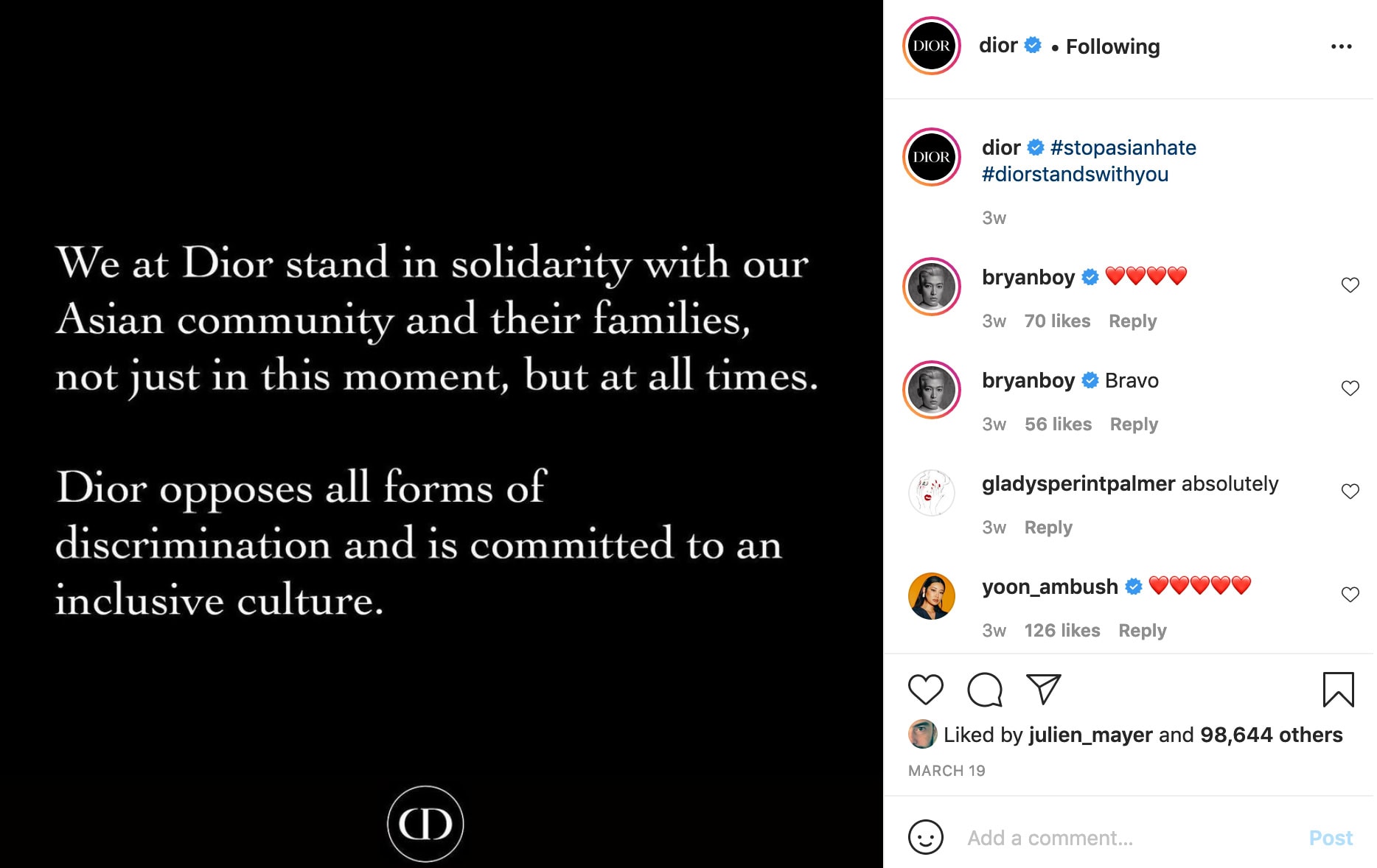 In France, it is not surprising this issue of anti-Asian sentiments is more muted than elsewhere. France is a country with a long history of colonialism and imperialism in Indochina and North and West Africa. But, in modern France, there is no hyphenate. There are no French-Chinese, French-Algerian, French-Vietnamese, or French-Tunisian – just French or not French. Unlike the Mexican-Americans, the Korean-Americans, the African-Americans, or the Chinese-Americans.
Despite this heritage in France, these are global fashion brands with, yes, global values.
"Careless hate speech and casual racism disguised as 'harmlessly fun' dinner party conversation dehumanize Asians and is one of the direct reasons why we are being attacked and murdered daily. I was incredibly disappointed to see a party of adults behaving in a way my teenage son wouldn't. And shocked that, out of the nine guests (supposedly "woke and liberal artists") present, not a single person stopped to point out how racist and inappropriate the actions were. They did not try to hide the party nor their actions. Instead of posting it gleefully on social media, it shows how comfortable the world is at laughing at the expense of Asian lives," Tina Chen Craig, the founder of U Beauty and Bagsnob, told me via email. Craig grew up in Taiwan but moved to the U.S. when she was nine and has been outspoken about how racist this Gaubert video was at the very beginning.
"We are talking about basic human decency whether they are spending or not – maybe I am wholly naïve. Just because Asia being the dominant market – we are talking about something more fundamental. It's the respect for other human beings beyond what they can spend in a store," Susie Lau said on a Sunday afternoon in a global chat on a Sunday afternoon in a group at Clubhouse, echoing the words she had written on Diet Prada's Instagram.
"In fashion, we laud ourselves for being liberal, fluid, and welcoming. Now, you don't know what the friends say behind your back – the kind of casual talks, casual assumptions, and casual stereotypes that go on – we are talking about these private conversations," Lau continued.
In April 2020, at the start of the global lockdown, the famed photographer Glen Luchford made a post about the Chinaman who ate the bats and started the whole thing. "Wow – I love your work. It's hard for me to go on respecting this work – someone that would have prejudices like that," Susie Lau said during the recent Clubhouse chat.
Fashion is so rapid to deploy words and emblems, hoping that these nomenclatures and symbols – rather than actual actions – would solve any arising crisis. But in this case, the inaction is more than transparent. In Asia, there is a concise description for this symptom – 'paper tiger.'
That brands publicly address this controversy is a surprise.
Remember that the SILENCE = DEATH, that 1987 ACT-UP slogan conceived by a six-person collective spearheaded by Avram Finklestein during the Reagan years, protested the utter government silence of the imploding Aids crisis and helped to raise the public consciousness of the health emergency at the time. Black squares and hashtags are direct descendants of SILENCE = DEATH.
Brand values now are just as critical as brand creativity at this point. This Gaubert moment is a prime example for brands of all levels to speak up, whether they have an association with him or not. Speaking up is about the clarity of their brand values in this seminal moment for anti-Asian racism, not dissimilar to the Black Lives Matter movement.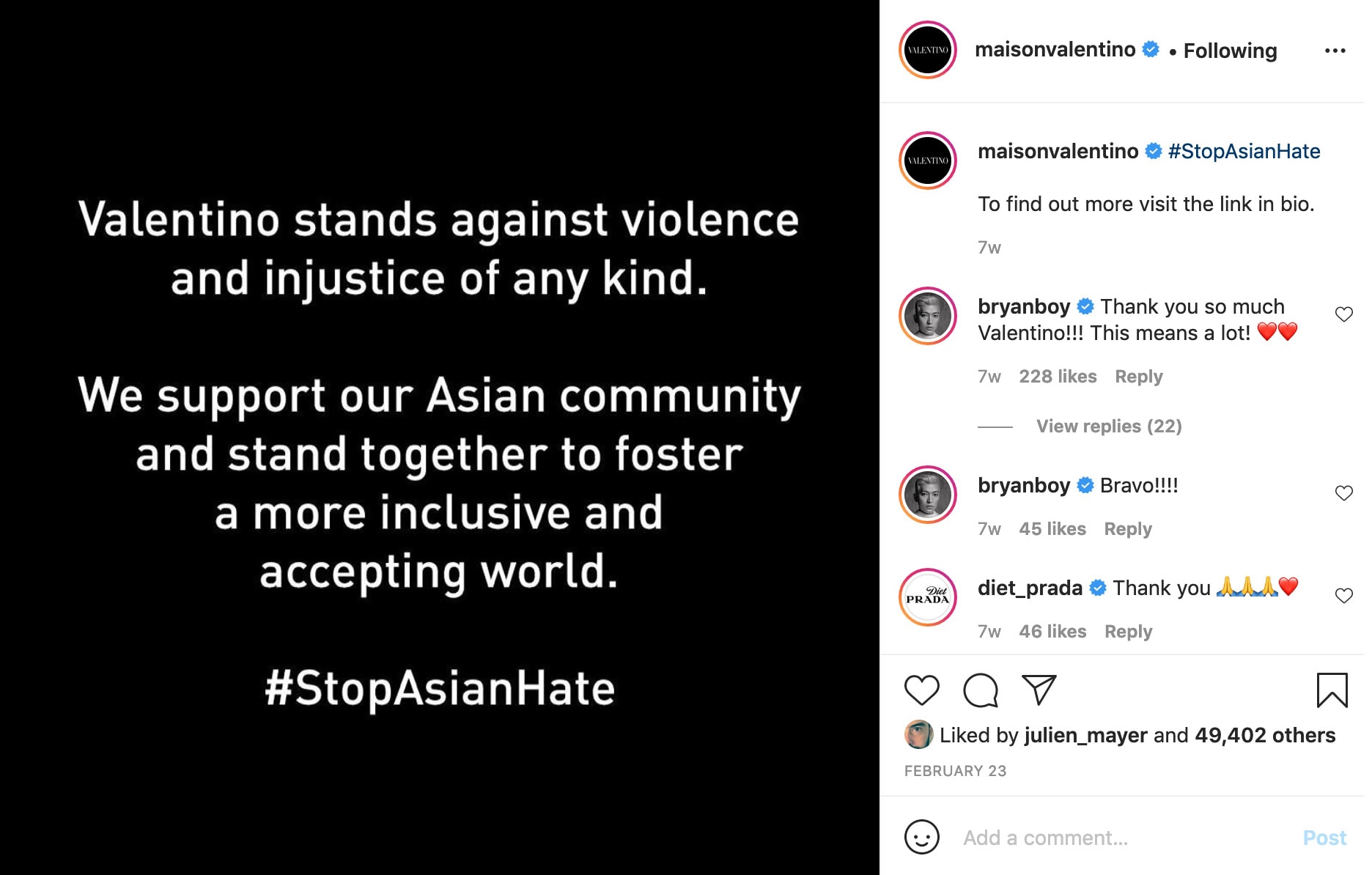 Ask yourself this question – how is it possible that the partisan U.S. Congress can unite this anti-Asian racism issue, while in contrast, so many luxury companies purportedly against this same sort of racism did nothing? Yes, actions beyond just mere words. If fashion luxury houses can't stand up against anti-Asian racism, how can these biases and stereotypes be rooted in the fashion industry?
Calling for actions against Gaubert is not cancel culture in any way. Staying silent is no longer a trivial matter, especially when luxury brands hope to align their brand's values with young consumers. Kids today no longer espouse these kinds of introverted racism. Taking actions and pausing working relationships is intrinsic in how luxury brands respond with values at the forefront. Today's increasingly more affluent young consumers are shopping with personal values in their minds, associating brands with their perceptions and world views.
Over the last week, I have reached out to many global fashion brands that have worked with Gaubert. The mission is to ask about how they handle this illuminating moment of racism and whether they plan to continue future projects. Surprisingly, only a few brands answered the request for how they respond to this polemic.
"Balmain has a long history of fighting for inclusion and denouncing hate. Olivier Rousteing and the entire Balmain team are proud of this house's leadership in putting forward a vision of fashion that reflects the diversity and beauty of today's actual world. We were shocked by the recent video posted on social media. We are, of course, presently investigating that incident. Once we have all of the facts, we will decide how we will act and with whom we will work going forward. As always, our decisions and actions will reflect this house's values and commitments. Balmain will make no compromises with hate or racism," the Balmain house said in a statement from Paris.
In Rousteing's now decade-long tenure at Balmain, the French couture house has become a beacon of diversity and inclusion since the very beginning of the designer's work, years before inclusion became a center-stage issue.
The New York headquarters for Thom Browne, who had worked with Gaubert in the past, said they have not recently and have no plans to work with the DJ, and reiterated the brand's commitment to the rejection of all forms of racism. Valentino has not worked with Gaubert since 2019, as the focus has been on live performances in the recent shows – FKA Twigs at menswear Fall 2020, Labrinth at Spring 2021, and Robert Del Naja for Haute Couture Spring 2021. Louis Vuitton responded with a 'no comment.'
Many brands with past associations with Gaubert did not respond to multiple requests for comments for this article. The Japanese brand Sacai, the LVMH brand Kenzo, the LVMH brand Fendi, Proenza Schouler, Acne Studio, the LVMH brand Loewe, Chloé, Raf Simons, and the Korean brand Juun.J did not respond, despite multiple attempts. Similarly, Dior did not respond to various requests.
"Chanel denounces all forms of racism, discrimination, and violence and stands in solidarity with all communities that face racism around the world. As such, we understand the hurtful and unacceptable nature of the video posted on Michel Gaubert's social networks, and we have spoken with him about it. Gaubert has issued a deep apology on his Instagram account, stating – " Asian hate is not acceptable, and I condemn it like any other hate. I am committed to hold myself accountable and become a better person." We have spoken with Michel Gaubert about the video he posted online. We have decided to continue our collaboration with him, as his apology was sincere and as he has understood the importance of the matter and how unacceptable this was," said the statement from Chanel headquarter in Paris.
Chanel has a remarkable long relationship with Gaubert dating back decades, and thus perhaps the brand has a deeper understanding of the situation. Again, this isn't about cancel culture.
Reading the Chanel statement reminded me of what I have experienced and learned over the years in fashion being subjected to overt and covert racism. In dire situations, there are rooms for discourses and rooms for growth. In many cases, there are nuances often not immediately understood, appreciated, or easy to grasp.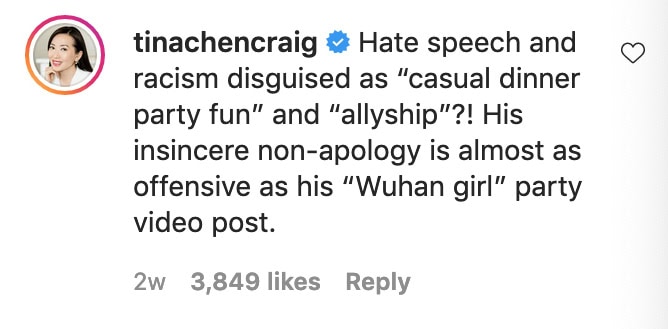 I have become immune to the covert racism apparent at fashion shows over these many years. How even young ushers or 'cravate rouge' looked at my invitation and gave me that skeptical look simulating the puzzle that there may be something wrong. It is subtle, not spoken aloud, but in that five seconds of pause, there is a history of learned and accustomed acceptance and non-acceptance of 'other people.'
Then, after sitting down, I was always conscious of the 'gaze' or 'stare' from others sitting in front or nearby with that distinct look given to a neighbor signaling unwelcome. Those were the days before Asia became the hub of the luxury business and spawned its section at the shows. Or, I can't recount the many times I was directed to the 'China' sections when I was heading towards the American seated area.
Do you think a front-row seat at fashion shows changes the way people see you? If you are white, sure, but otherwise, they are still suspicious. That this type of silence and casual racism is so obvious is just as wrong as the shootings or attacks against persons.
A Japanese journalist told me over a decade ago that there were more Asian girls at the Paris show seasons because major Asian daily papers were more amenable to publishing photos from the shows if they featured Asian models. Business, not just aesthetic, dictated.
Suzie Lau wrote about her own experiences of being looked down on in a piece she wrote for Vogue UK. Lau spoke about going to press appointments only to arrive at, say, the Bond Street store, saying it's closed for press only. In my case, the building people told me to take the service or freight elevator at the other door or on the other street entrance. Similarly, of all the times I sat at shows, people glanced at me as if I had taken someone else's seat or was perhaps a seat filler at the very last minute to prevent a hole from being spotted in the runway show pictures. All those looks and facial expressions convey you don't belong here.
Imagine yourself as an Asian person speaking Italian in Milano. I have many times during Milano fashion weeks. Whenever I entered a taxi and gave the driver my destination in Italian, there was always that momentary pause when the driver looked at me with that brief surprise. I spoke to these drivers during the itinerary towards my destinations; they assumed that no Asian persons speak Italian. The Chanel statement reminded me of these incidents so long ago yet somehow still fresh – there are rooms for conversations, rooms for persuasions, and rooms for learning, then changing attitudes.
Why fashion brands did not speak out against this act of anti-Asian racism at the center of the fashion industry's intersections remains a mystery. Perhaps this dinner incident isn't a big enough exposure for brands to come out swinging.
If there is any truth to this thinking, it is sad because the racism here is just as violent as any actual beatings or shootings. But, whatever the reasons for these reservations, brands should have spoken out regardless of whether there is a business relationship. Values are an intrinsic part of a bag, a sneaker, or a cape.
Violence isn't just of the physical kinds, although an assault or a mass shooting indeed garnered so much greater attention. Violence can be of the psychological type that reduce the individual's sense of worth. Violence can be in more minor daily gestures that inflict and perpetuate the stereotyping of different people.
"Ils s'en fichent," as the French succinctly said.
In 2021, we are still having serious conversations about the color myopia of the fashion industry.
"First of all, no, I don't think America is a racist country. But we also do have to speak the truth about the history of racism in our country and its existence today," Vice President Kamala Harris said on ABC's Good Morning America the morning after President Biden delivered his first address to the joint Congress. This observation, too, is accurate about the current state of racism in fashion.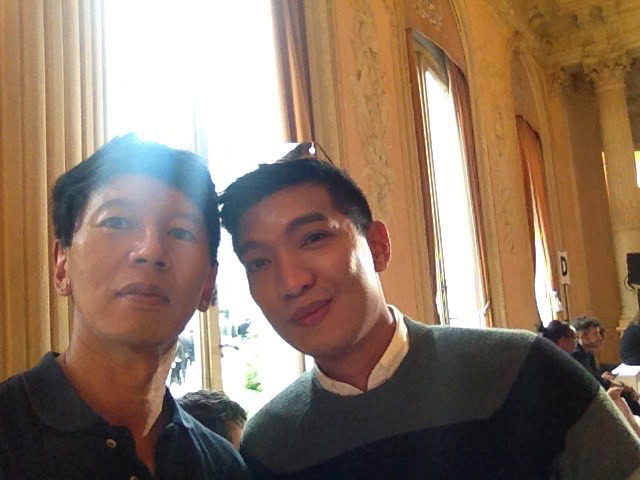 ---