---
100% of Net Profits from sales of the 5050 VOTE Boot will be donated to 'I AM A VOTER.®' a Nonprofit, Nonpartisan Organization to Support Voter Participation
Stuart Weitzman has announced the launch of the 5050 VOTE boot, a limited-edition update of its iconic 5050 boot. Constructed with the brand's new LIFT sole — a lightweight rubber lug sole engineered for durability and resilience — the 5050 VOTE boot is innovative in both design and concept, with only 100 pairs available. Its design represents an evolution of the brand's iconic back-stretch boot, and in terms of concept, the boots are a means of raising awareness about voting during an important moment in history. 100% of net profits from the sale of the style will be donated to I AM A VOTER.®, a nonprofit, nonpartisan organization that aims to increase voter participation nationwide.
The 5050 VOTE boot is inspired by the brand's signature 5050 back-stretch boot, whose name derives from its unique half leather and half micro stretch construction. It has been one of Stuart Weitzman's most popular styles since it launched in 1993, with more than one million pairs sold since. "5050" also nods to the notion of equality, which is especially significant now as society continues to take steps to achieve equality across multiple fronts. The 5050 VOTE boot is distinguished by a "VOTE" motif on the back of each in either black or silver text.
This limited-edition style is available exclusively in the U.S. with only 50 pairs available in each color. The boot also offers a sneak peek at the brand's new lightweight and durable LIFT lug sole, which is set to make its official debut on a series of boot styles in November this year, just in time for Election Day.
We reanimated the 5050 boot in a way that captures the bold spirit and culture of today, while staying true to the essence of the original, iconic design. I love the way the letters that spell 'VOTE' are intertwined — it symbolizes how every one of us can make a difference — while the LIFT lug sole is engineered to literally lift you up with every step you take.

— Edmundo Castillo, Head of Design for Stuart Weitzman
Funds donated to I AM A VOTER.® will support the organization's voter registration text platform, designed to support voter participation. To get involved: simply text "5050VOTE" to 26797 to activate and receive reminders to participate in local, state, and national elections. The 5050 VOTE Boot launched Sunday, August 23rd in the U.S. with exclusive 24-hour access to shop via Instagram @stuartweitzman. The limited-edition design is available to shop on stuartweitzman.com.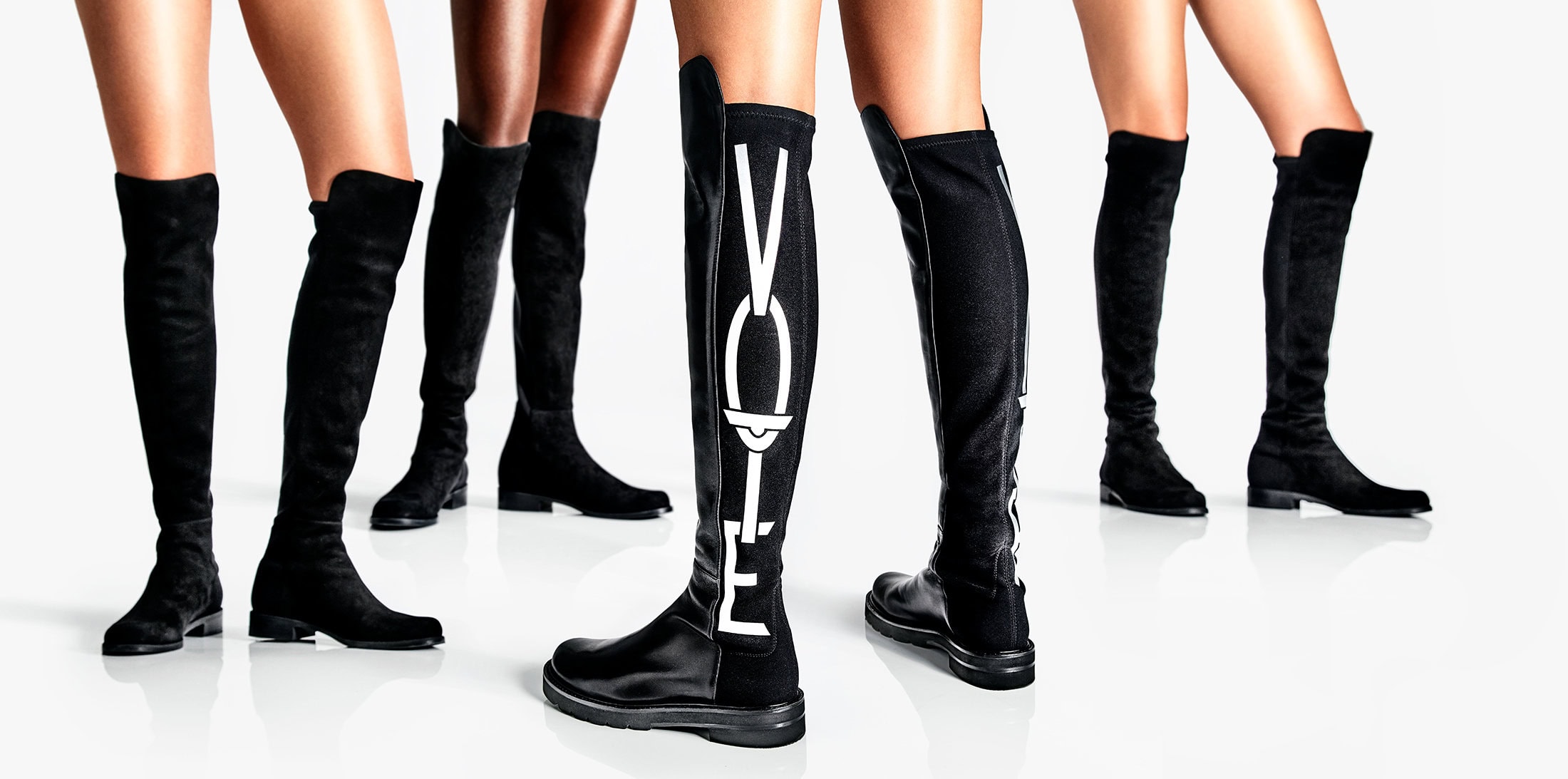 ---