[hr align="center" weight="thick" style="line"]
New York, United States – This week marks the sophomore outing of New York Fashion Week: Men's, which will come with a more than a few fashion firsts, including our first men's issue as well as our collaboration with new partners, the Council of Fashion Designers of America.
The CFDA and The Impression will collaborate on five print issues during New York Fashion Week: Men's and Women's, with content including coverage of the Fall/Winter 2016 collections, including the menswear season in London, Milan, Paris and New York, as well as NYFW: Women's, profiles of fashion creators such as designers, art directors and top executives, as well as beauty and street style trends. The content will run both in print and online at TheImpression.com and CFDA.com.
[column size=two_third position=first ][quote text_size="small" author="– Kenneth Richard, Chief Impressionist"]
We are honored to partner with the CFDA, not simply because they are an iconic institution, but because Diane von Furstenberg, Steven Kolb and the CFDA team have built a community that, like The Impression, celebrates and champions creatives. We are storytellers who seek to inform and inspire, and the CFDA is quite inspirational.
[/quote][/column]
[column size=one_third position=last ]
[/column]Like all good partnerships, this one happened organically – within five minutes of meeting, no less. Sometimes you just know. That knowledge comes from a sense of understanding of shared core values. Like The Impression, the CFDA strives to celebrate and champion creatives as well as inspire, inform, and generally help. While that may sound overly simplistic, the best ideas and partnerships are often that simple.
For the cover of the men's issue which breaks today, bringing together the best American men's designers for what we hope will become an iconic photograph wasn't a simple task. But it was worth it. Designers are the rock stars of fashion and to capture that essence, we went to rock's leading photography front man, Danny Clinch. With nothing but a simple set consisting stools and crates, Danny cleared away all the drama that comes with fashion to capture something more emoting, the quintessential edge of American fashion's leading spirits.
In this issue we learn that those spirits are visionaries from speaking to John Varvatos, who unveils how he drives his rebel point of view and partners with the 'other' rockers from Jimmy Page to The Roots. Joseph Abboud returns to the runway this year after a hiatus, and talks about bringing 'Made in America' to a whole new level, while designers Siki Im and Thaddeus O'Neil speak about architecture, photography, philosophy and being fashion first.
For our contributors' section, we asked our team about their first fashion show experience. In reflecting on my own, I realized how it inadvertently influences me today. My first show wasn't out front; it was backstage for a designer whose collection I illustrated weeks before the show so he could sense the show order. While anxiously waiting out front for the show to start, his business partner pulled my wife and I aside to let us know the designer had misjudged the time while chasing down some last minute samples. We would have to start without him. Suddenly I found myself backstage arranging a show order, wide-eyed with curiosity and excitement, trying to figure out who all the behind-the-scenes players were while the drama unfolded. That sense of wonder is still with me today and inherent in celebrating all that goes on behind and in front of the curtains.
We are honored the CFDA has chosen us to partner with for their first foray into media. This week, both TheImpression.com and CFDA.com will be celebrating all NYFW: Men's has to offer, spotlighting the latest design creations from the runway to behind the scenes. So go ahead, take a second look. You may just discover some fashion first.
– KENNETH RICHARD | The Impressionist
[hr align="center" style="dotted"]
NOTE FROM THE CFDA
[column size=one_third position=first ]
[/column]
[column size=two_third position=last ]Partnering with The Impression made sense for the CFDA. For one, its founder Kenneth Richard was once a designer and CFDA Member. In the past year, he and his team have built an impressive publication and online destination that has caught the eye of fashion creatives from designers to photographers to art directors.
"We are very pleased to partner with The Impression for New York Fashion: Men's and Women's. The Impression is a well-respected publication that tells the story of our industry in an elevated way, and together, we are creating exciting content that is informative and inspiring this season." – Steven Kolb, President and CEO of the CFDA
At the same time, the CFDA has set out to create and distribute exclusive, engaging content via CFDA.com and our social channels. The collaboration with The Impression allows us to do just that during both New York Fashion Week: Men's and Women's, and much of the content that we created together will live on CFDA.com as well as TheImpression.com.
Our goal is to tell the story of our industry in an elevated way that is both inspiring and informative. We hope you enjoy this season's issue of The Impression/CFDA.
– MARC KARIMZADEH, CFDA Editorial Director
[hr align="center" style="line"]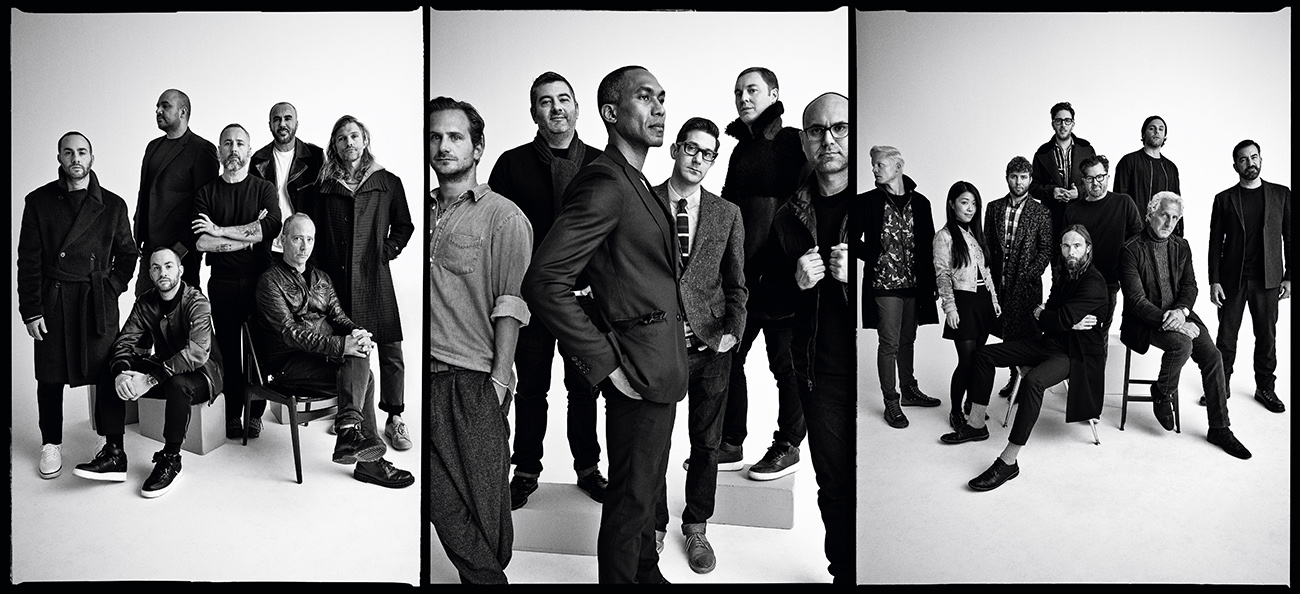 Designers from left to right
Dao-Yi Chow | David Neville | Richard Chai | Michael Kors | Marcus Wainwright | John Varvatos | Maxwell Osborne | Nick Graham | Matthew Orley | Alex Orley | Kenneth Ning | Samantha Orley | Brett Johnson | Loris Diran | Jeffrey Rüdes | Tim Coppens | Brian Trunzo | Todd Snyder | Patrick Doss | Andrea Tsao | Rio Uribe | Paul Andrew | Ariel Ovadia | Shimon Ovadia | Raul Arevalo | Steven Cox | Ricardo Seco | Daniel Silver | Thaddeus O'Neil | Robert Geller | Steve McSween | Donrad Duncan | David Hart | Stuart Vevers | Zachary Prell | Laurence N. Chandler | Donna Kang | Timo Weiland | Alan Eckstein | Ben Stubbington | Billy Reid | Joshua Cooper | Joseph Abboud | Michael Maccari
Photographer | Danny Clinch
Creative Director | Kenneth Richard
Senior Producer| Marc Karimzadeh
Art Director | Judy Downs
Producer | Miyazu Sato
1st Asst. | Edward Smith
2nd Asst. | Dan Prakopcyk
3rd Asst. | Max Clinch
Digital Tech | Adrien Potier
Groomer | Nate Rosenkrantz
Post Production by Box Studios
Senior Producer | Liz Brown
Image Director | William Kennedy
Shot on location at Pier 59 Studios
Special thanks to Box Studios

Special thanks to our shoot sponsor:

[hr align="center" style="line"]