The Impression Team Talks the Reign of Alessandro Michele at Gucci
The creative leaders seven-year reign at Gucci was marked with highlight after highlight impacting how the industry benchmarked success in design, creative communication and business. As the US heads into a long Thanksgiving weekend, the team at The Impression takes a look at what they have been thankful for in covering Alessandro Michele at Gucci.
Kenneth Richard
Chief Impressionist
While there are a slew of show and campaign moments that I've relished over the years of Alessandro's tenure, my favorite memories are from his intimate chats with key press members post shows. What I find endearing and memorable is how humorous and down-to-earth Alessandro is during these high profile moments. He always spoke honestly to the business, his inspirations; never over conceptualizing them with 'fashion speak.'
Often during these moments he reflected on his own decisions with self effacing humor, laughing at his reasoning, dreams and decision making. Journalist would throw opinions about his collections at him (rather than questions) and he would answer with wit, sharing how the references were never as high brow as the media would like to think. He did the Gucci Adidas because he remembered how cool he thought the Madonna one-off dress Adidas did in the 90s was and he always loved seeing branded everyday clothes from the street. He pointed out his gender fluidity at Gucci was simply because he was a menswear designer that designed what he knew and loved, the fluidity was a simply byproduct. His 'Ha-ha-ha' collection was driven from laughter with his friend Harry Styles, with the two of them playing in the design sandbox rather than over conceptualizing the collaboration.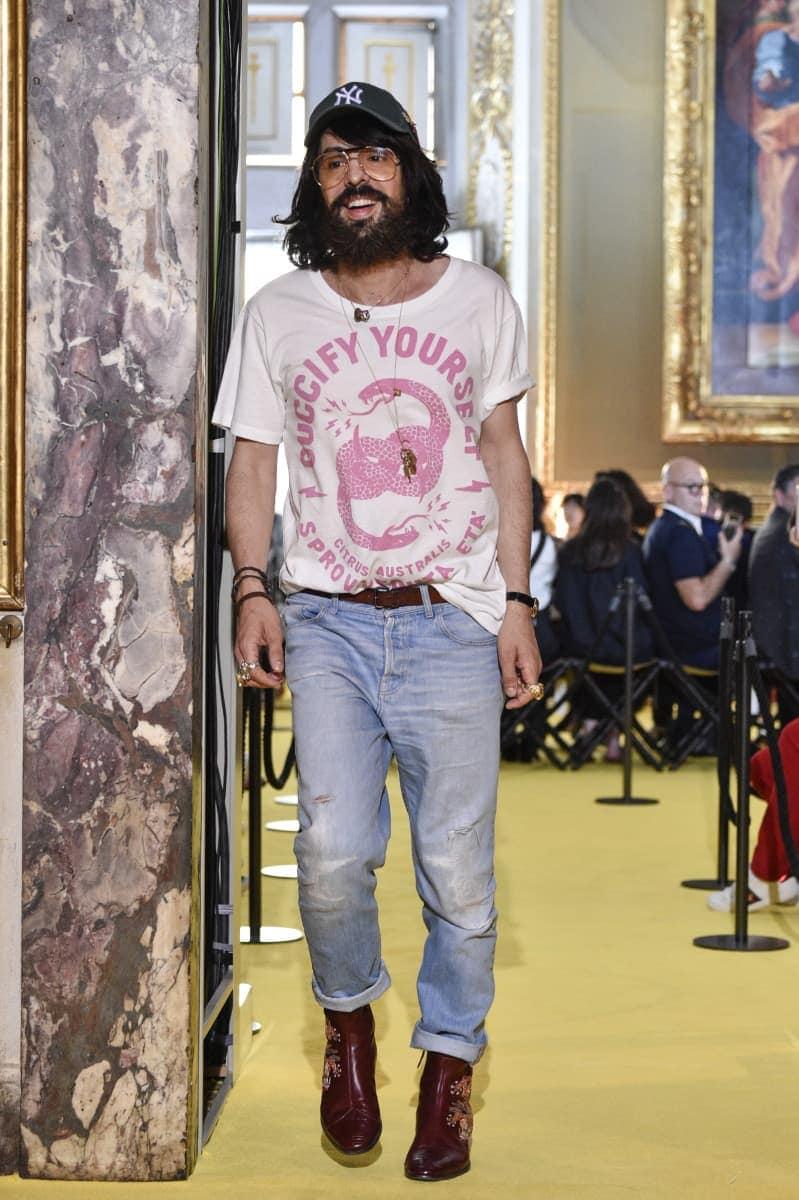 He has always been the best representative of the House, sincere, humorous, honest, and progressive. Alessandro Michele's reign at Gucci transcended the typical seasonality of fashion into a fluid, socially engaging, ongoing relationship with his audience. With some of the greatest fashion marketing, communication, and collaborations the industry has ever seen. It was unique, original, warm and heartfelt, like the man himself.
---
Angela Baidoo
Fashion Features and News Editor | U.K.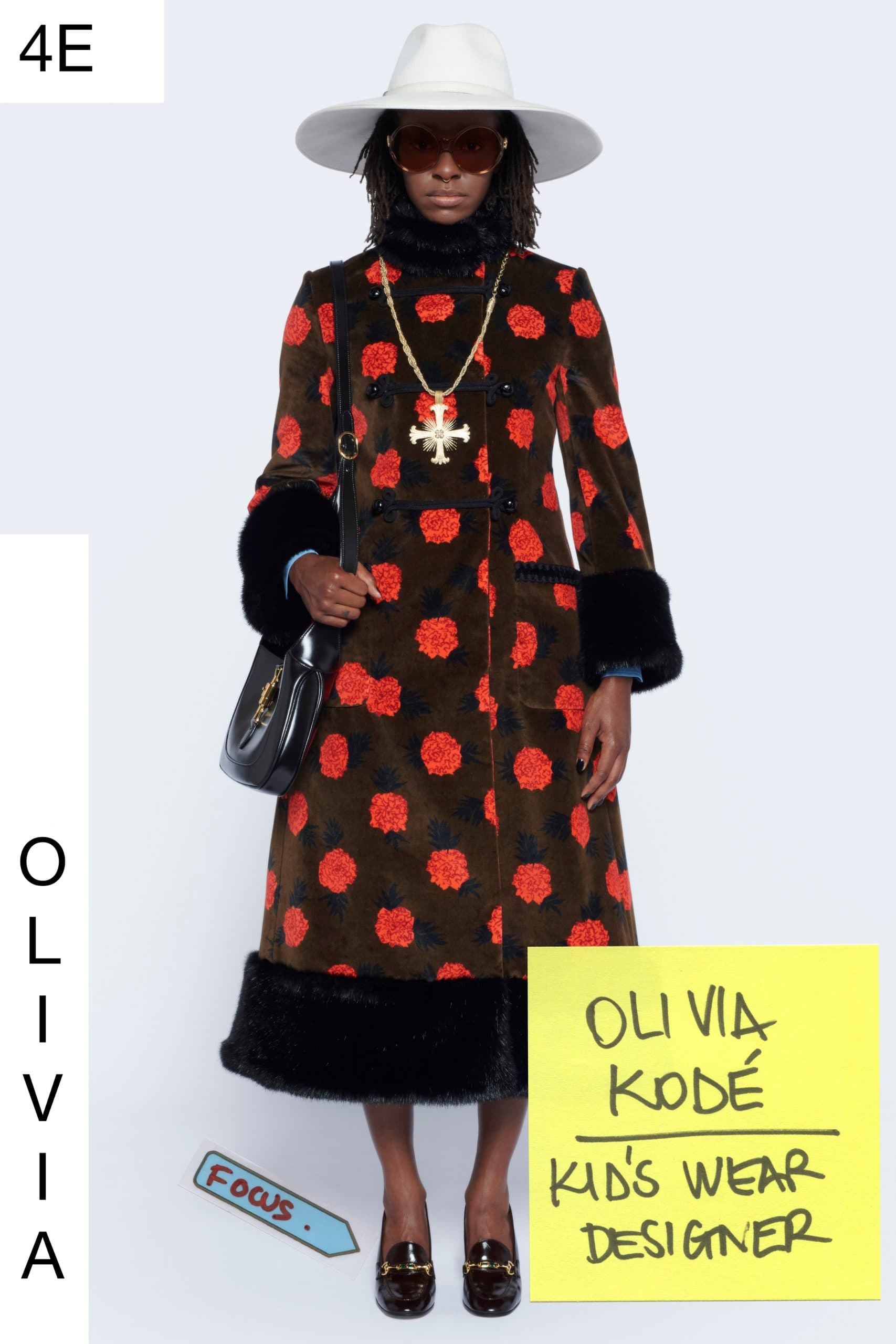 As we all absorb the news of yet another creative force exiting stage left, the impact Alessandro Michelle was able to have on both Gucci and the industry as a whole, will shore up his legacy in the hallowed halls of the fashion greats.
In recalling one particular collection which struck a chord from his seven-year tenure as Creative Director, his Resort 2021 lookbook shoot which was constructed during the not-to-distant pandemic days when most models, photographers, stylists, and make-up artists were sheltering in place, saw Michele create a compelling digital 'fashion show' that stood out among the sea of experimentation that was happening at the time.
The video and final images were a celebration of all who work behind the scenes and often go unacknowledged, and was perhaps a nod to how the designer himself was sought out by Marco Bizzarri from his post as 'Associate Creative Director' assisting Frida Giannini.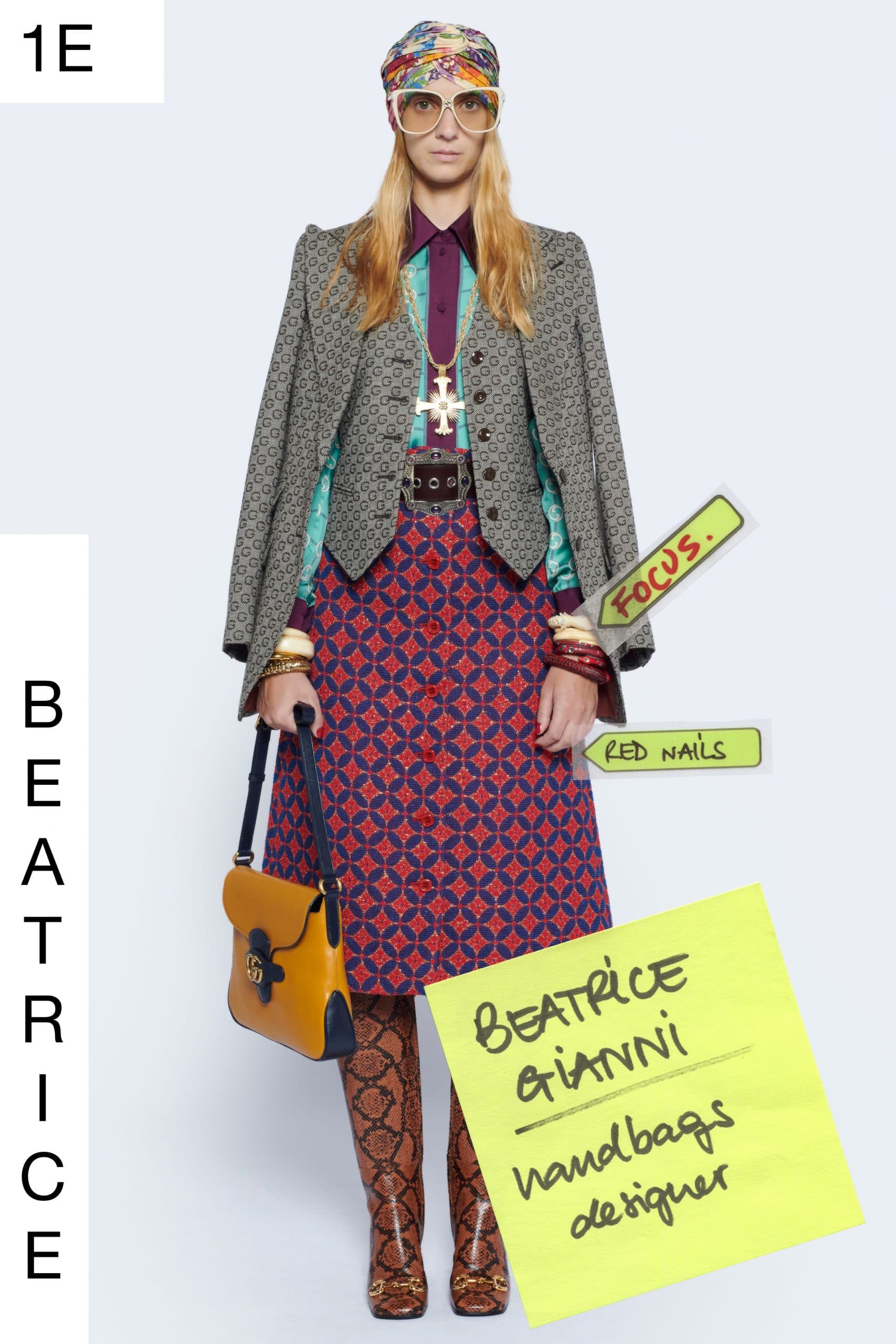 For each look of this Resort collection, a different member of the design team – from women's ready-to-wear to kidswear – replaced the models, with each team members name and position immortalised with their photo on a simple post-it note. Taking the time to shine a spotlight on his colleagues was reflective of the time, and of the designers desire for a much needed realignment, which he may now be able to achieve on his own terms.
---
Mark Wittmer
Senior Fashion Writer | U.S.
While Michele is beloved for his whimsically nostalgia-tinged designs, a major part of his success at Gucci was due to the ad campaigns he oversaw as creative director. One of the most memorable of these campaigns was the Fall 2021 outing for his "Aria" collection. Teaming up with famous photography duo Mert Alas and Marcus Piggott, Michele drew out his collection's play of lavish opulence and sexual innuendo into a lush visual world populated by liberated personae.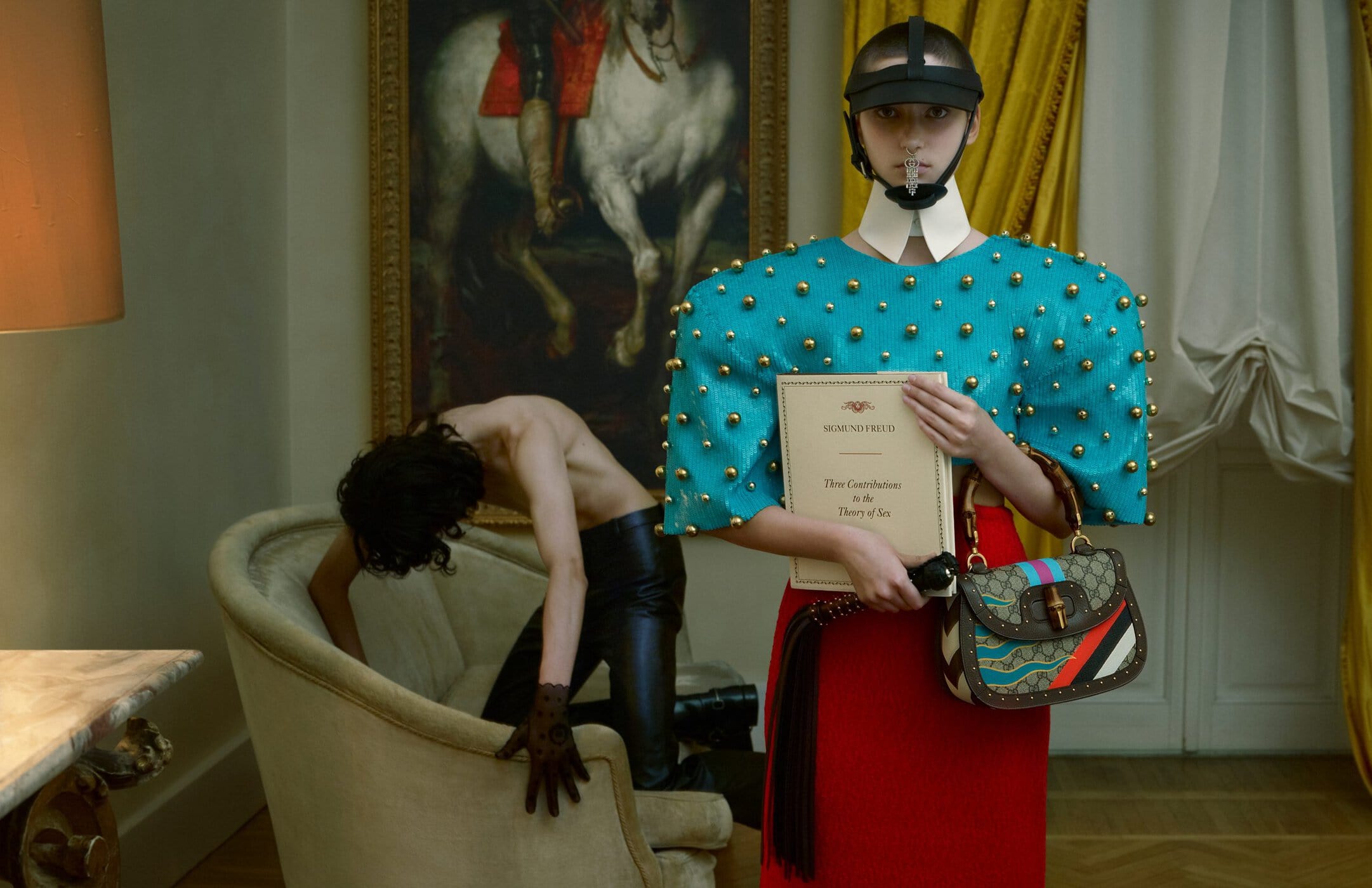 Countless brands rely on sex appeal, but here Gucci delivered a take on it that felt eminently modern, exploring the emotional and intellectual truths that are part of eroticism, rather than the banal immediacy of conventionally attractive bodies. Balancing fantasy and reality, the campaign was also a clever acknowledgement that fashion is only one expressive component in a larger human experience. Gucci's clothes are beautiful, but the greatest thing about them might be taking them off.
---
Lizzy Bowring
Fashion Editor | U.K.
In these strange, unprecedented times when the world has reached a tipping point, brands have had to improve their relationships with their target consumers and develop a sense of community to succeed. The partnership and mutual respect between Alessandro Michele and Gucci's CEO did just that. Marco Bizarri allowed the designer to explore his ingenuity and, in doing so, dramatically changed the look and demographics of the brand.
Michele is a designer who, over his seven-year tenure at Gucci, has touched the soul of the fashion industry with his deep and thoughtful creativity, manifesting in the most memorable collection for S/S 23. His stunning 'Twinsburg' presentation was passionate, surprising, and the season's highlight. It did not go unnoticed that so many show attendees left with a deep sense of heartfelt emotion. Isn't that the role of a Creative Director? To tell the story with profound effect?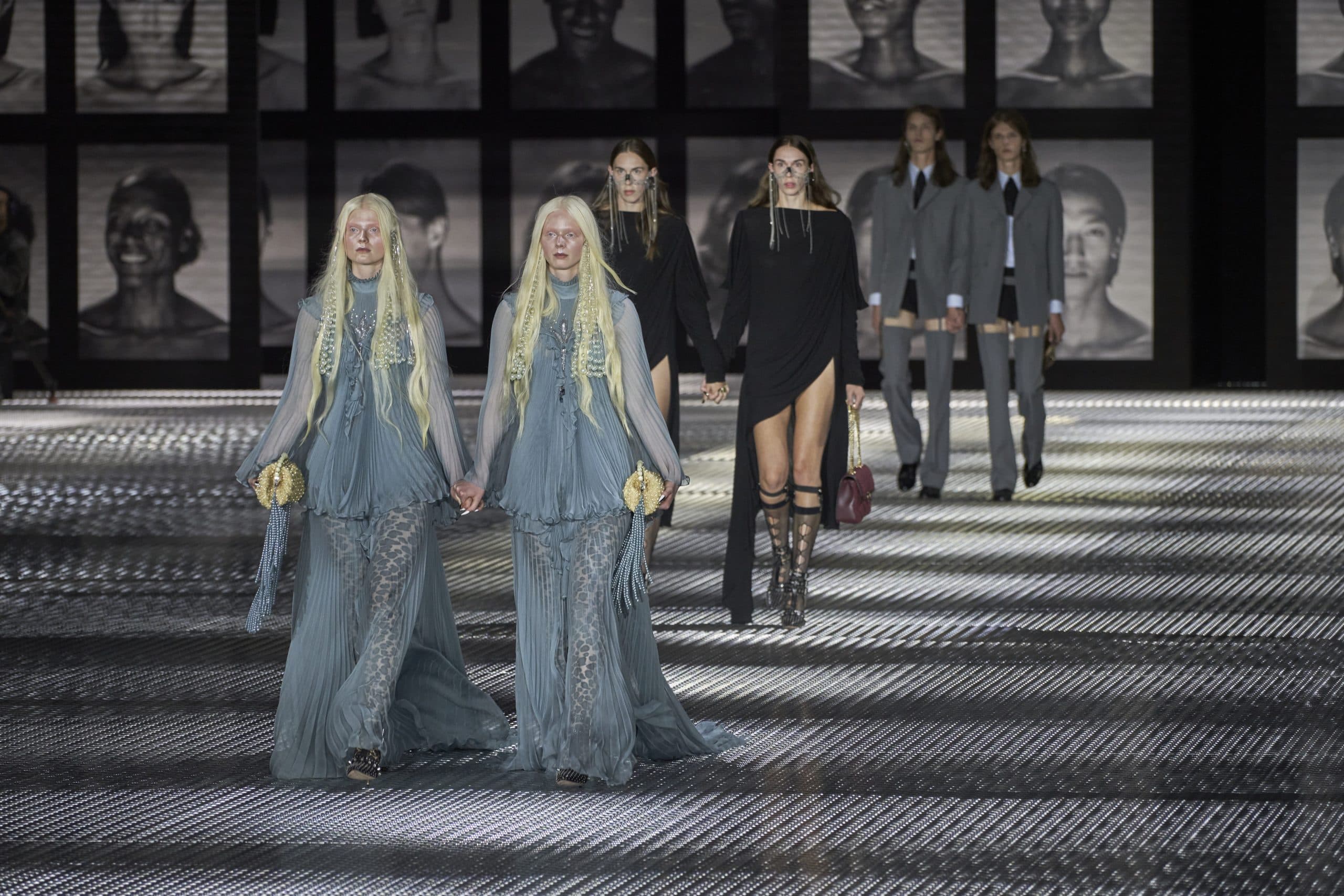 Still, there has been a burning question every season around how much this continuous reinvention of 'grandmother's closet' could continue to be successful. The words resonate from the pre-show posting on the Gucci Instagram, "The more you look, the more you see, a window to infinity." And if this were his swansong, Alessandro Michele would undoubtedly be an infinite memory for Gucci.
---
Dao Tran
Senior Fashion Editor | Germany
It wouldn't be a complete exaggeration to say Alessandro Michele did not only revolutionize Gucci in the time he was there, but also the whole fashion world. His diverse casting, gender fluid fashion, multicultural influences, play with maximalism and ugly chic flung open the doors to a celebration of individuality and diversity and creativity. It was wildly popular because everybody could see themselves reflected in some part of it, feel seen and welcomed.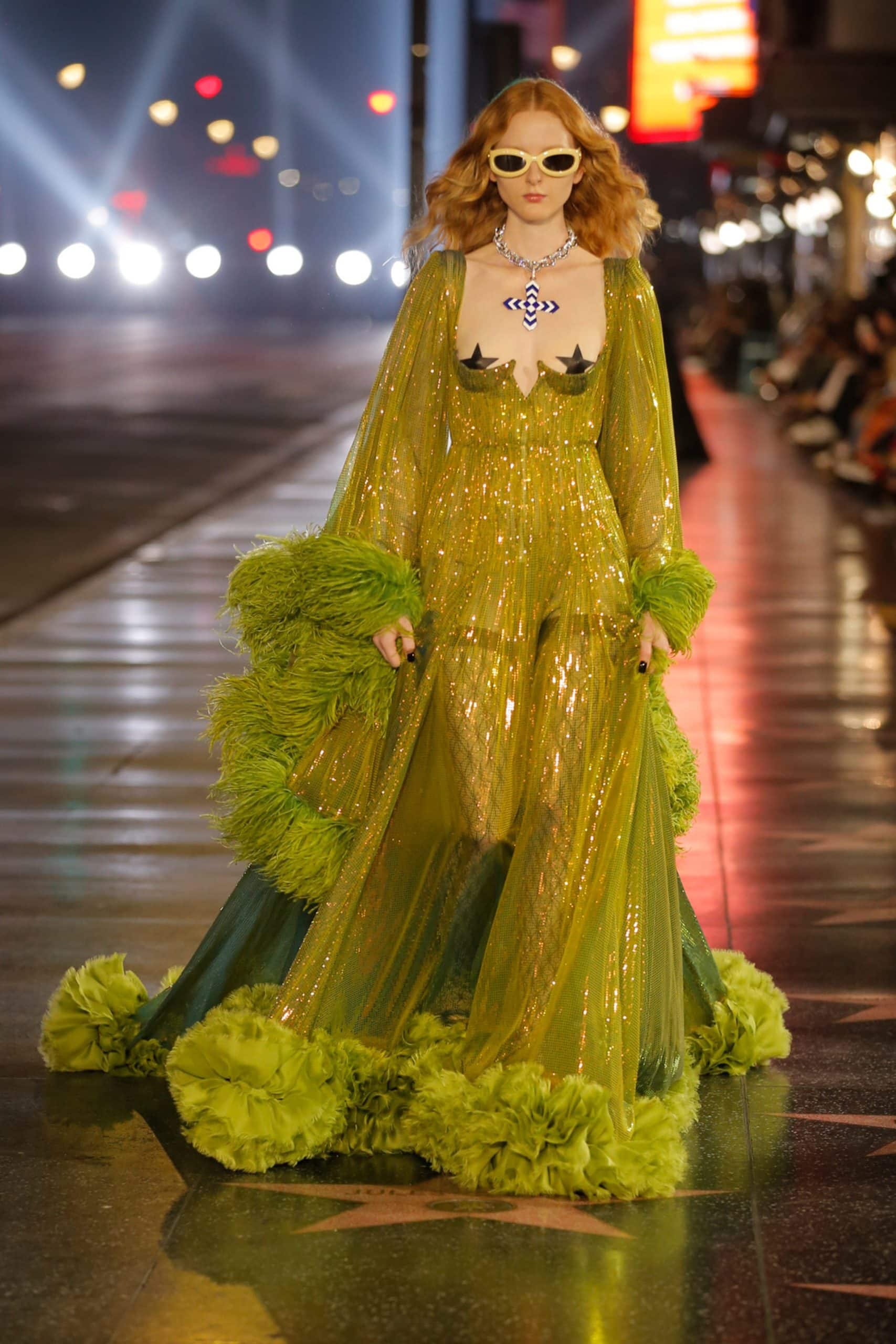 With authentic messaging to fly your freak flag and the creative community as its fan club, it was lived and amplified by mega celebrities like Harry Styles, Billie Eilish, Jared Leto and so many more to a passionate global community. Alessandro Michele's dream factory was peak manifested in the Spring 2022 blowout bonanza on Hollywood Boulevard, a dream come true of an event with all the glitz and the glamor and the sparkle, but also just a chill party atmosphere with your community. That is the magic of Alessandro Michele, such an inspired and inspiring creator will surely continue to shine wherever he lands next and his community will be right there with him.  
---
Obi Anyanwu
Fashion Editor | U.S.
Alessandro Michele is a marvel whose tenure at Gucci will not be forgotten. There are millions around the world who were introduced to the House through Michele's work and may consider his run as Creative Director to be the epitome of Gucci. To follow Tom Ford's sexually charged era and Frida Giannini's lengthy era that coincided with the House's rapid global growth is no easy feat, but Michele carved a unique moment in fashion that was the antithesis of rising streetwear trends and is the precursor to today's billowing menwear silhouettes seen with brands like Casablanca, Jacquemus and Bode to name a few. Michele bucked trends and started a new retro trend that many couldn't grasp until about 7 years since his first showing. Now, celebrities like Harry Styles and Tyler the Creator don authentic Michele for Gucci ensembles or looks reminiscent of the maestro's magic.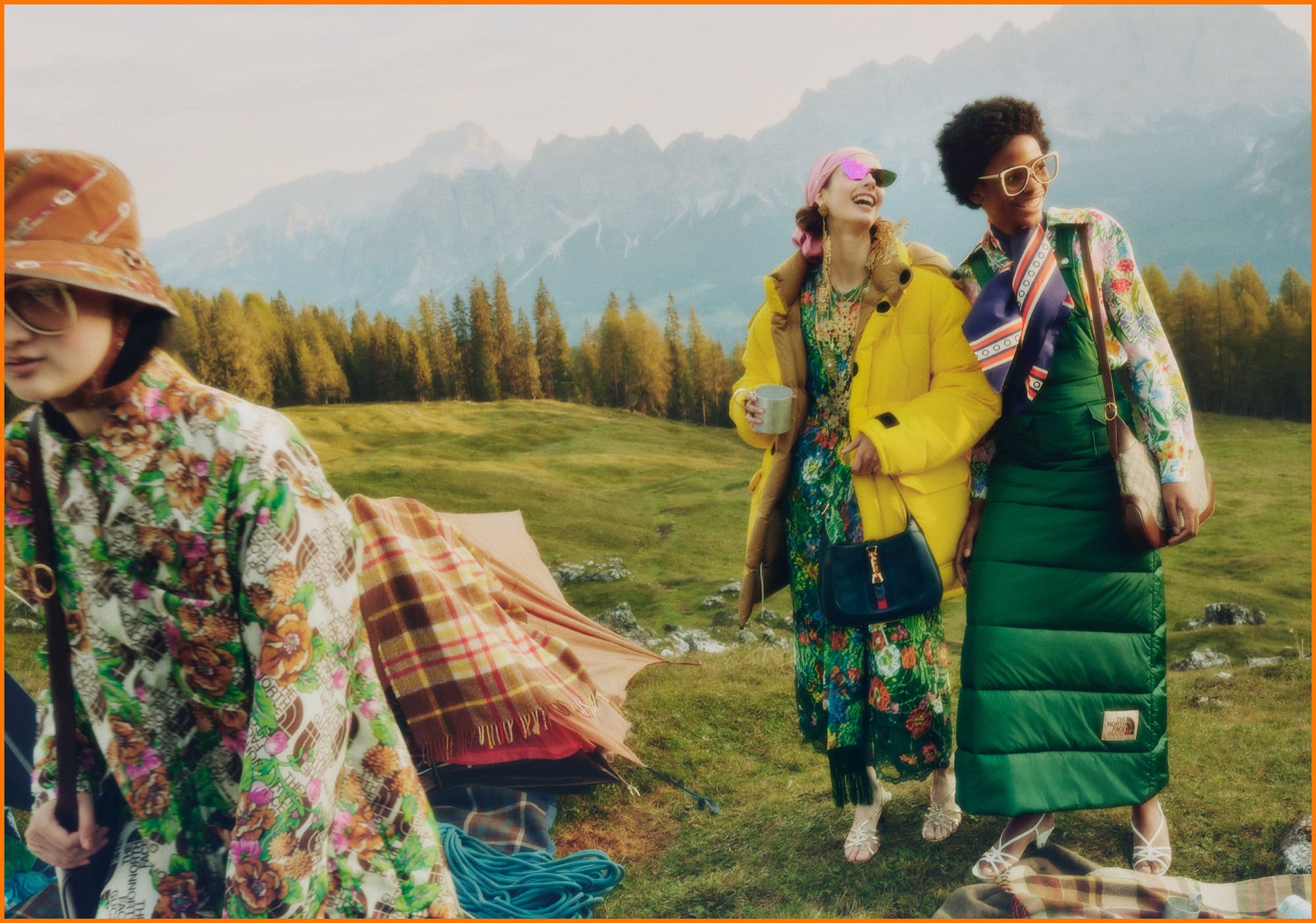 A very appealing part of Michele's tenure is how he was able to merge his retro aesthetic with modern streetwear and youth culture through collaborations with Adidas and The North Face, as well as the New York Yankees and Roblox. While Michele's work made 1970's flair prescient again, he continued to modernize the House with projects that the consumer has wanted to see for ages and new ones that never saw coming. That is how you honor the past and step into the future, that is how you create timelessness, and that is why Michele's tenure at Gucci will not be forgotten.
---