Pitti Uomo 103's Key Messages Shone a Light on the Many Diverse Directions the Menswear Market is forging for its Future
By Angela Baidoo
Away from the experimentation and prolific creative direction of the men's runways, Pitti Uomo stands alone as the industry-leading trade fair for the menswear market, attracting buyers, editors, stylists, and modern dandy's to Florence's Fortezza da Basso. This seasons winter edition saw four days of presentations, previews, and meet-and-greets with industry veterans Nigel Cabourn, who had partnered with Holubar on an exclusive collection, to burgeoning talent Luke Edward Hall's Chateau Orlando universe, which consisted of a capsule collection and limited-edition items inspired by the "Magnificent Renaissance city of Florence".
This season, the originality being displayed by attendees was more than closely matched by the collections being previewed. Fair-goers and brands continued to evolve what formalwear means within a working environment sans office (although many still used this stage as an opportunity to bring out their finest wares), while doubling down on some much-needed joyful optimism with bold colour (especially for knitwear and outerwear), and proving that manly pursuits into 'The Great Outdoors' will always provide a rich source of inspiration, as time out of the home becomes increasingly important.
In spite of global uncertainties which are poised to come over the horizon in 2023, Pitti Uomo 103 led with a number of confident key messages, which while feeling familiar and grounded in reality – something many buyers will resonate with – endeavoured to embed innovation through fabric treatments, surface interest, and future-facing durability.
Here at The Impression, we have rounded up the key trends from Pitti Uomo 103 which will be making the most impact at retail during the winter 2023 season.
Home Comforts
The home as the base for work, rest, and play becomes more relevant than ever, as companies embrace flexible ways of working. It is a no-brainer then, for brands to expand or dedicate a portion of their collections to comfort-led separates that retain an element of formality for impromptu zoom meetings. At Pitti Uomo 103 cashmere was king and lent itself to elevated lounge sets at Pashmere, and tracksuits and knitted hoodies at Jaked for comfort-driven fits. The adoption of the jogger as the pant of choice, saw the best of its features seamlessly transition and merge with the tailored trouser – think elasticated waists and multi-way stretch as was seen at Elmas Phil. And footwear was given a home-inspired makeover, as velvet slippers from brands such as Wai Shoes came with a rubber sole, and Farfalla embraced the hand-crafted slip-on for any unexpected trips to the grocery store.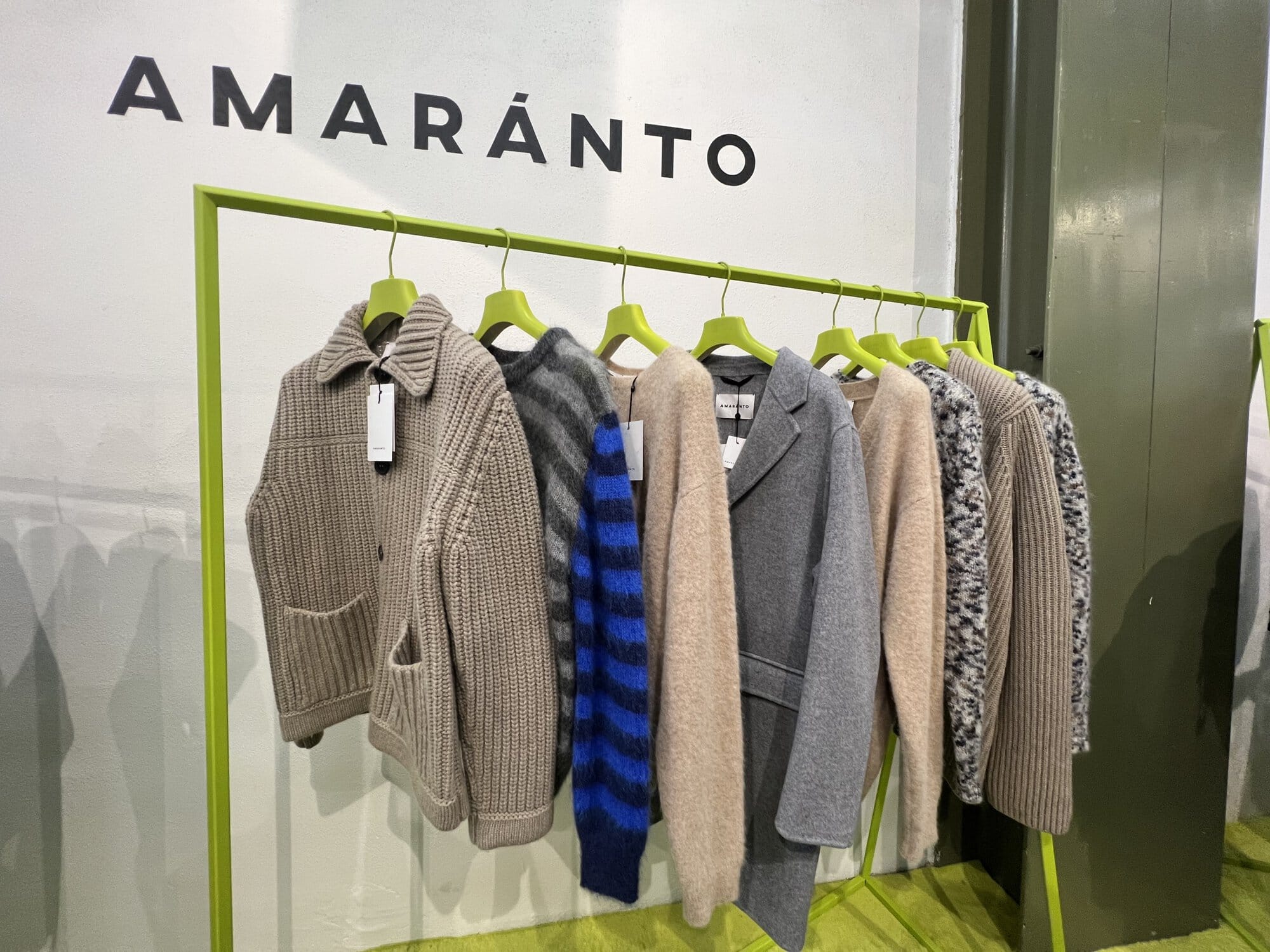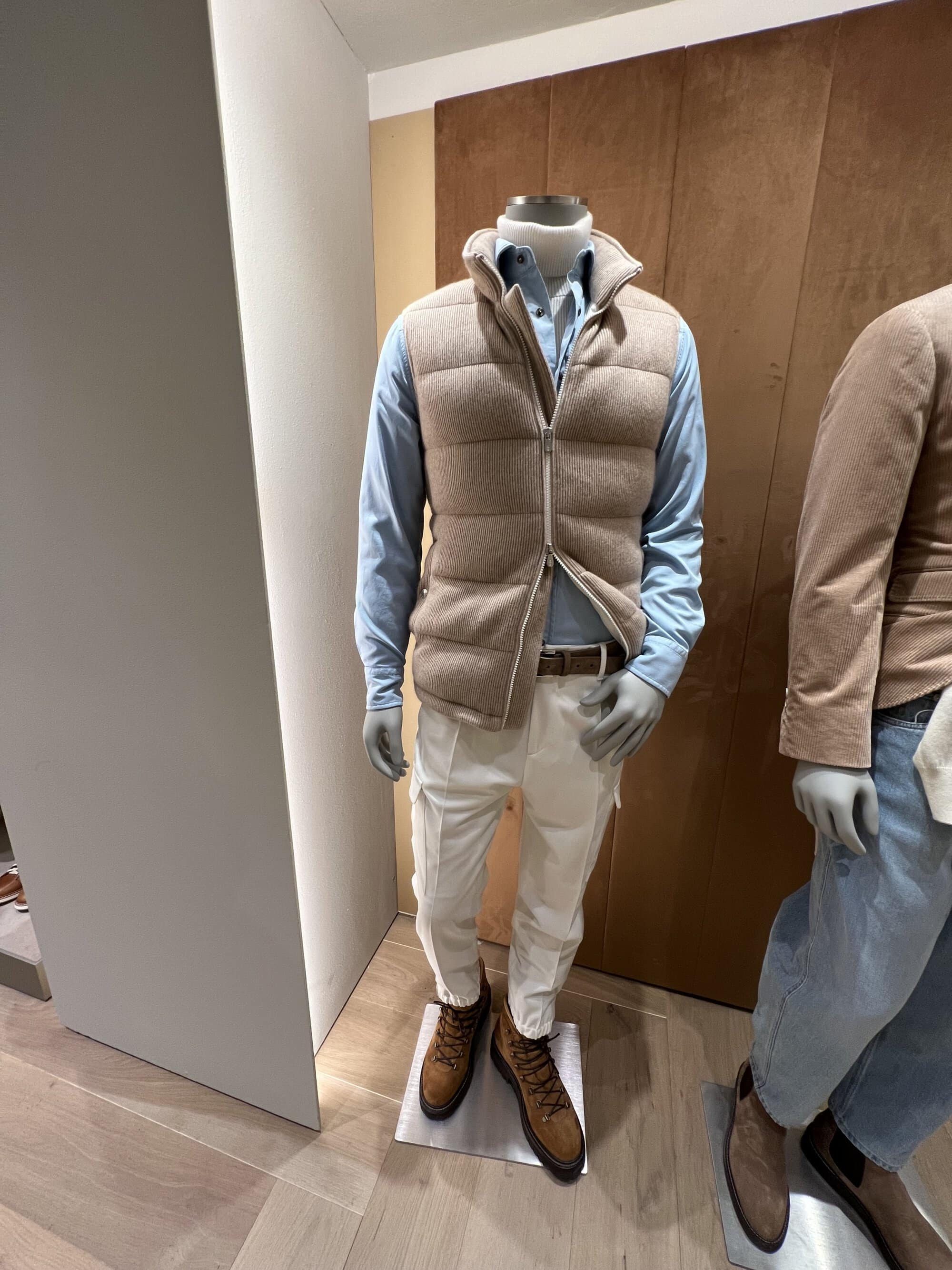 The Soft Sell
'Pitti goes Plush' as men can expect to be wrapped up in cosy fabrics that align with the up-trending #softlife movement come Fall.
As a way to add a dose of sensory stimulation fabrics and materials got hyper-textured. From super-soft fleece at Antony Morato to an increasing use of imperfect bobbly effects on colourful outerwear – see Brooksfield's Teal Donkey jacket for reference. Winter will mark the ascension of velvet, cord (needle, jumbo, and everything-in-between were spotted at KNT Kiton and Briglia 1949 in winter white), suede, and brushed wool. Signalling a desire to lean into the softer side of masculinity – something which has been a theme for a few seasons on the men's runways – materials will cocoon and comfort the wearer, while colours move towards a gender-neutral pastel palette, of lilacs, peaches, and sage greens which were seen across a number of key exhibitors at the fair.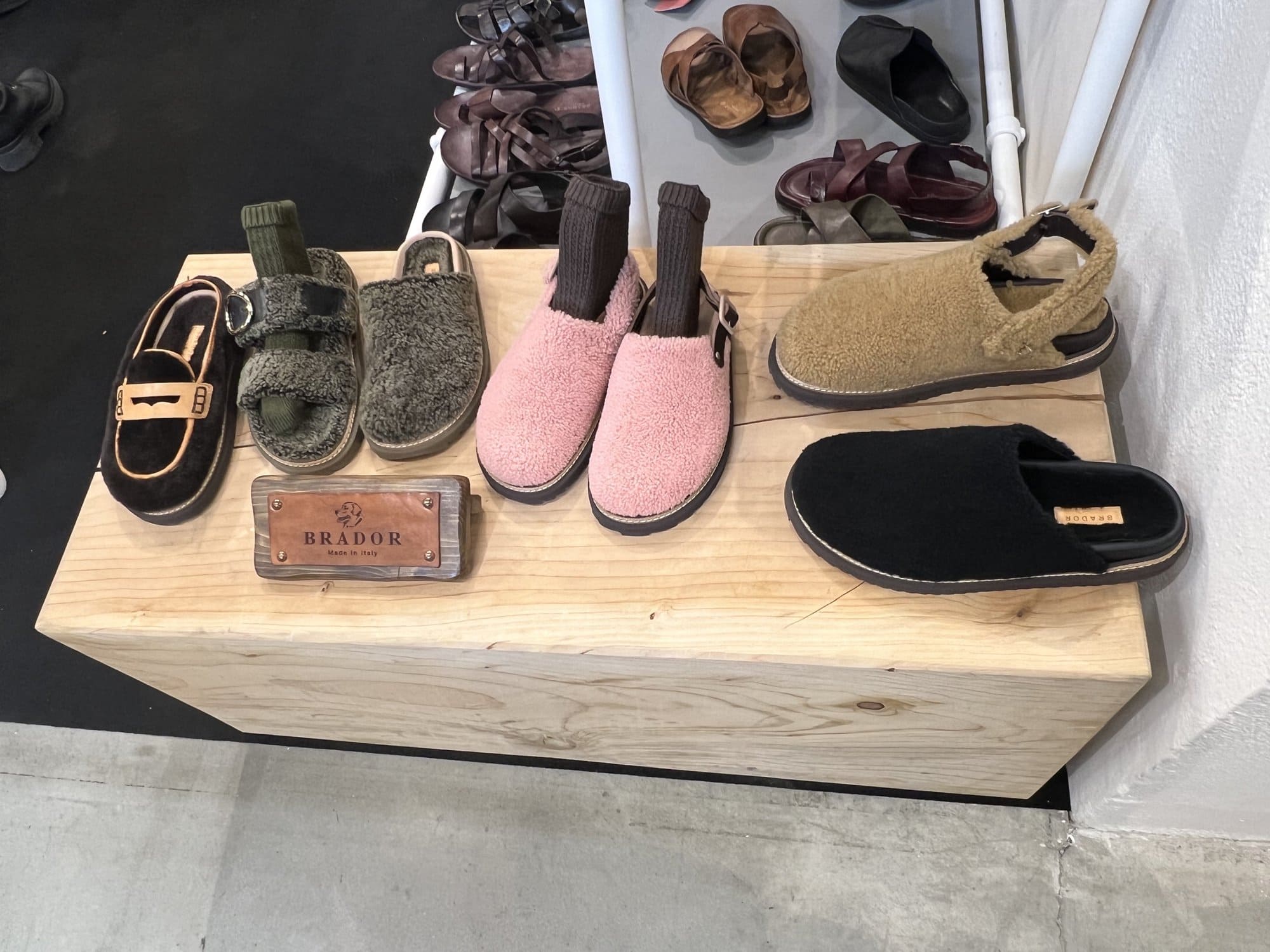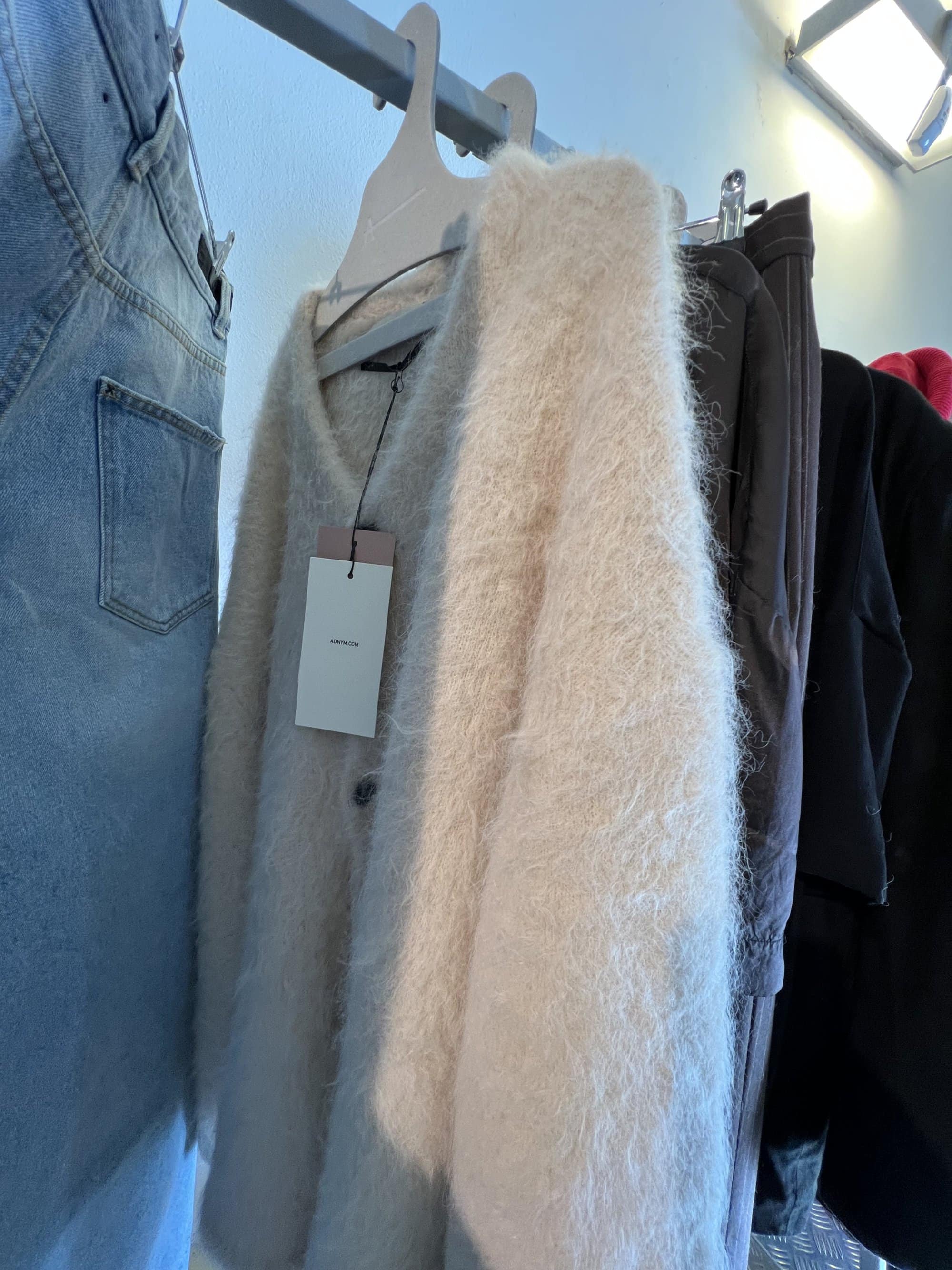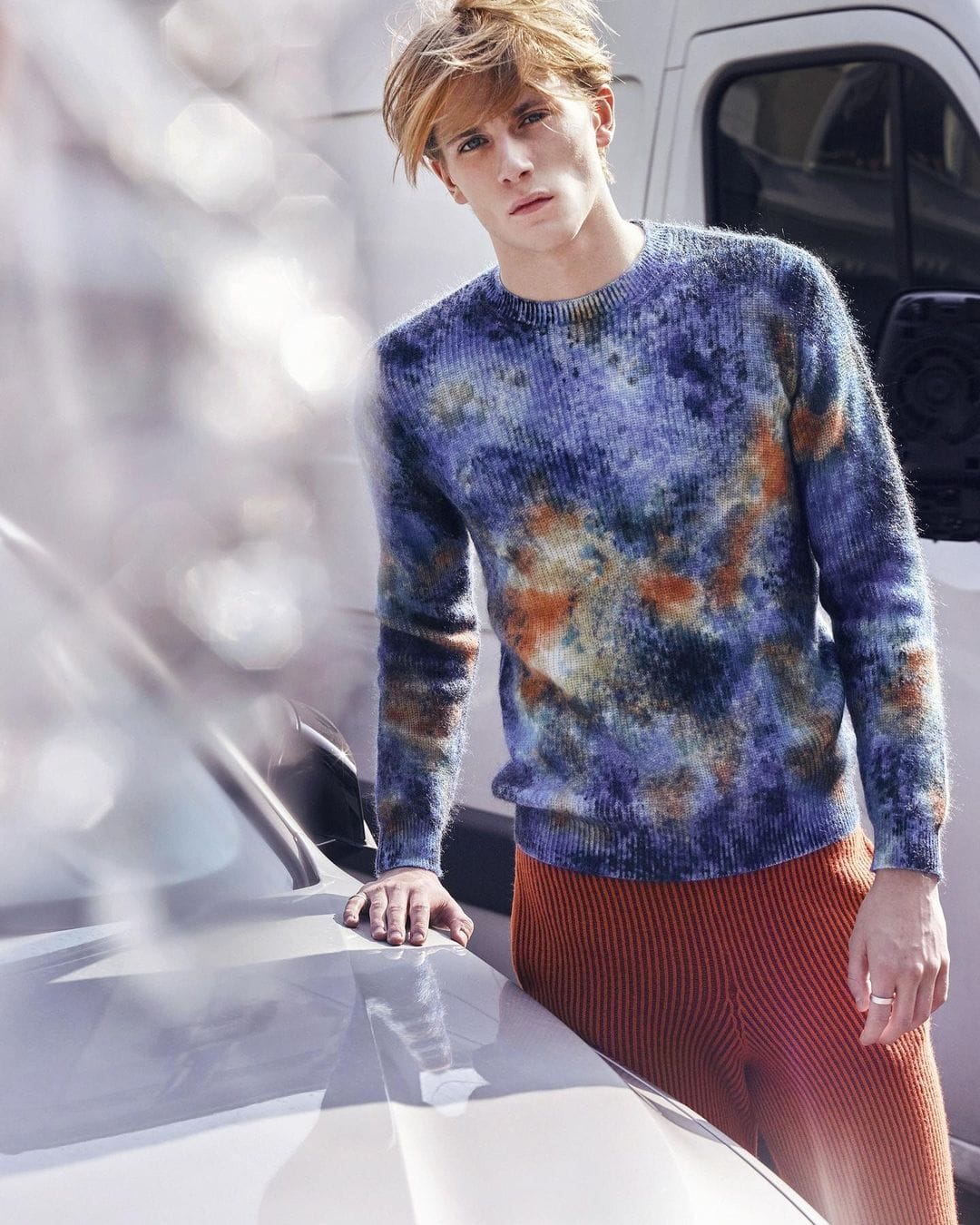 Let's Take this Outside
Manoeuvring through today's world as a man is as rough a terrain as any to navigate, so it is little wonder that the great outdoors – which relies on the basic rules of survival and being at one with nature – was still a major draw for many who operate within the menswear market. Brands tapping into the outdoor world provided a myriad number of options for today's man – you want to be an urban woodsman Filson and, In The Box, have you covered, mountain explorer Krakatau and White Space previewed their advanced outer layers, seafaring adventurers can turn to Keeling, and extreme snowboarders can rely on sustainable performance-fashion brand Holden, which through its cutting edge technology and luxury material aims to have a minimal effect on the environment.
Catering to those living off-the-grid, or simply masquerading as an urban dweller who is heading to their remote house upstate, products designed for outdoor living are meeting the increased demands of this growing demographic of consumer, who are seeking out ways to escape in their downtime. And next season we are set to see experimental dye patterns as the new camouflage (Nigel Cabourn x Holubar), climate-protective outerwear, and hyper-technical details from the base to the outer layer dominate.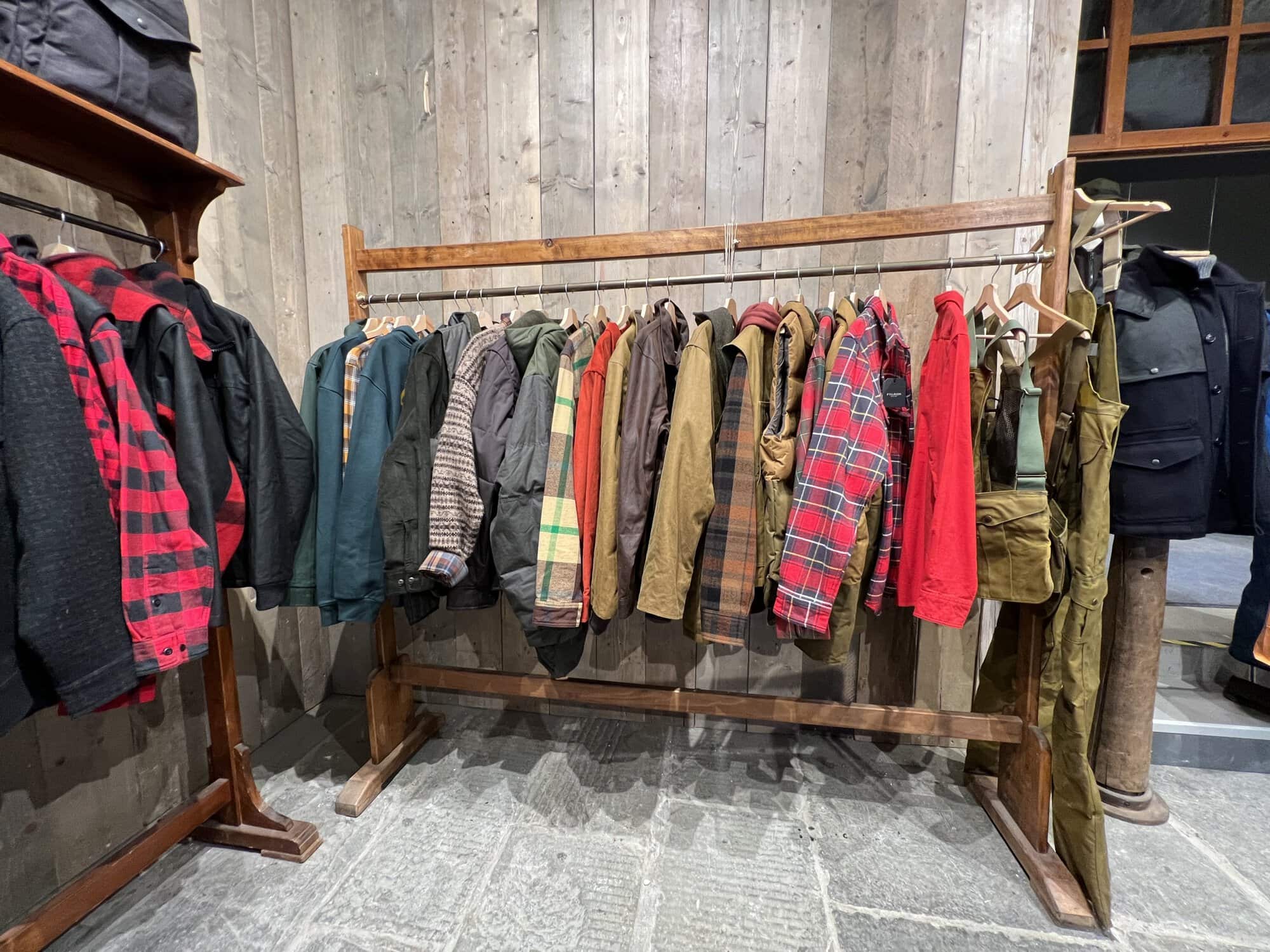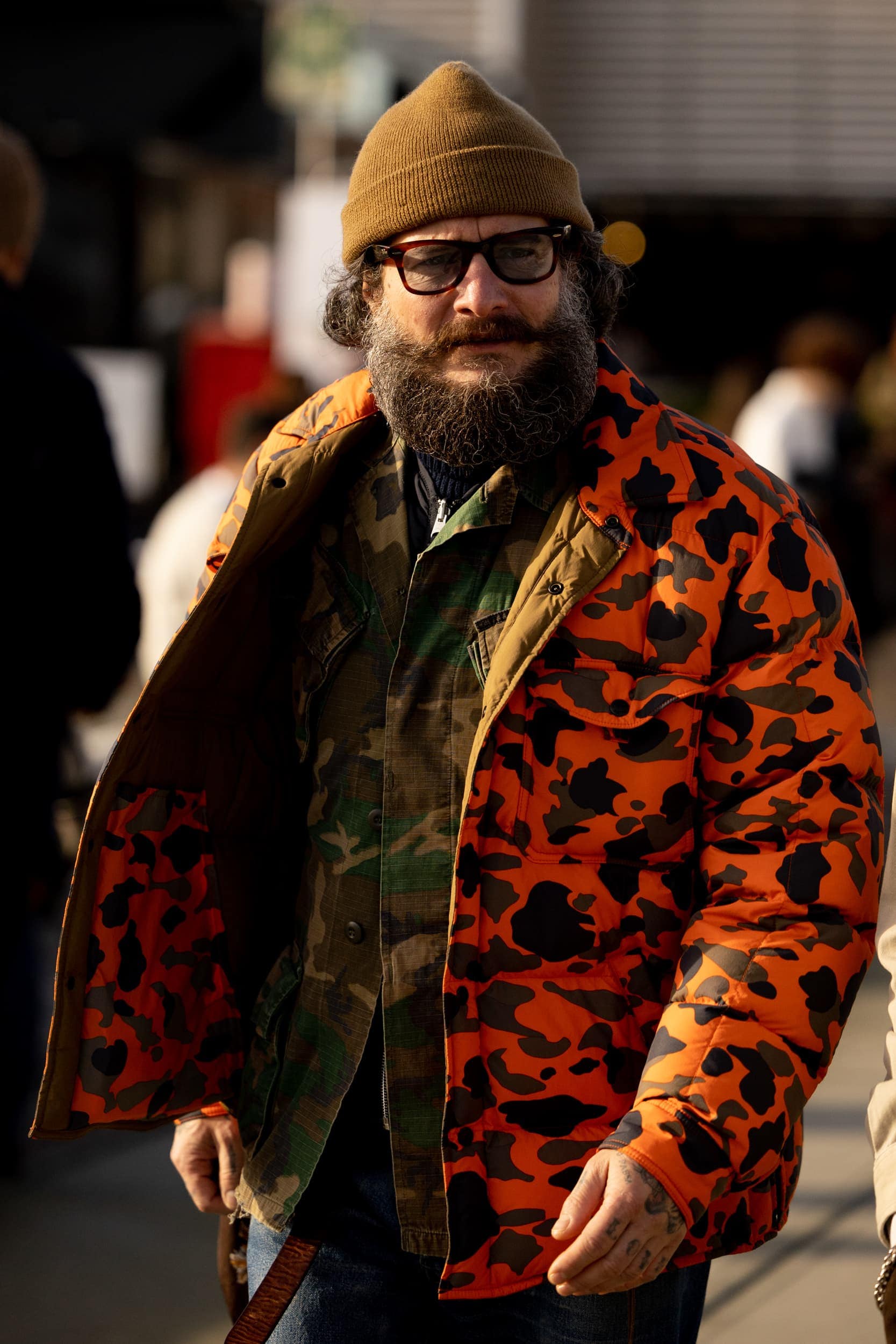 A Gentleman Caller
As menswear becomes much bolder and subversive – its most recent experimentation has seen designers tapping into queer communities for inspiration and blurring the gender lines – there is something to be said for traditional tropes, which at Pitti Uomo showed no signs of fading away. The English Gentleman was a key influences as classic three-piece suiting (complete with matching accessories) was the uniform of choice for those attending the fair. And while these fair goers certainly stood out for all the right reasons, it begs the question of what place this strict formal way of styling the time-honoured suit has in today's society. Is this retro-style of dressing making a comeback or can it only really be seen during events such as Pitti Uomo? The answer is yes to both, as while those photographed had made every effort to come in their 'Sunday Best', exhibitors showed how this traditional uniform can be styled for Fall 2023. Tweed blazers were reworked as gilets or incorporated a quilted technical lining (Morgano) or layered with cashmere hoodies (Stine Latino), corduroy trousers came with cargo pocketing, and check outerwear became outsized and wearable for both genders. Breaking down this look and slotting in preppy (East Harbour Surplus) and even active details will reinvent this wardrobe staple for a new generation who are seeking guidance on the ways of formalwear and could be converted into cos-playing the role of the gent.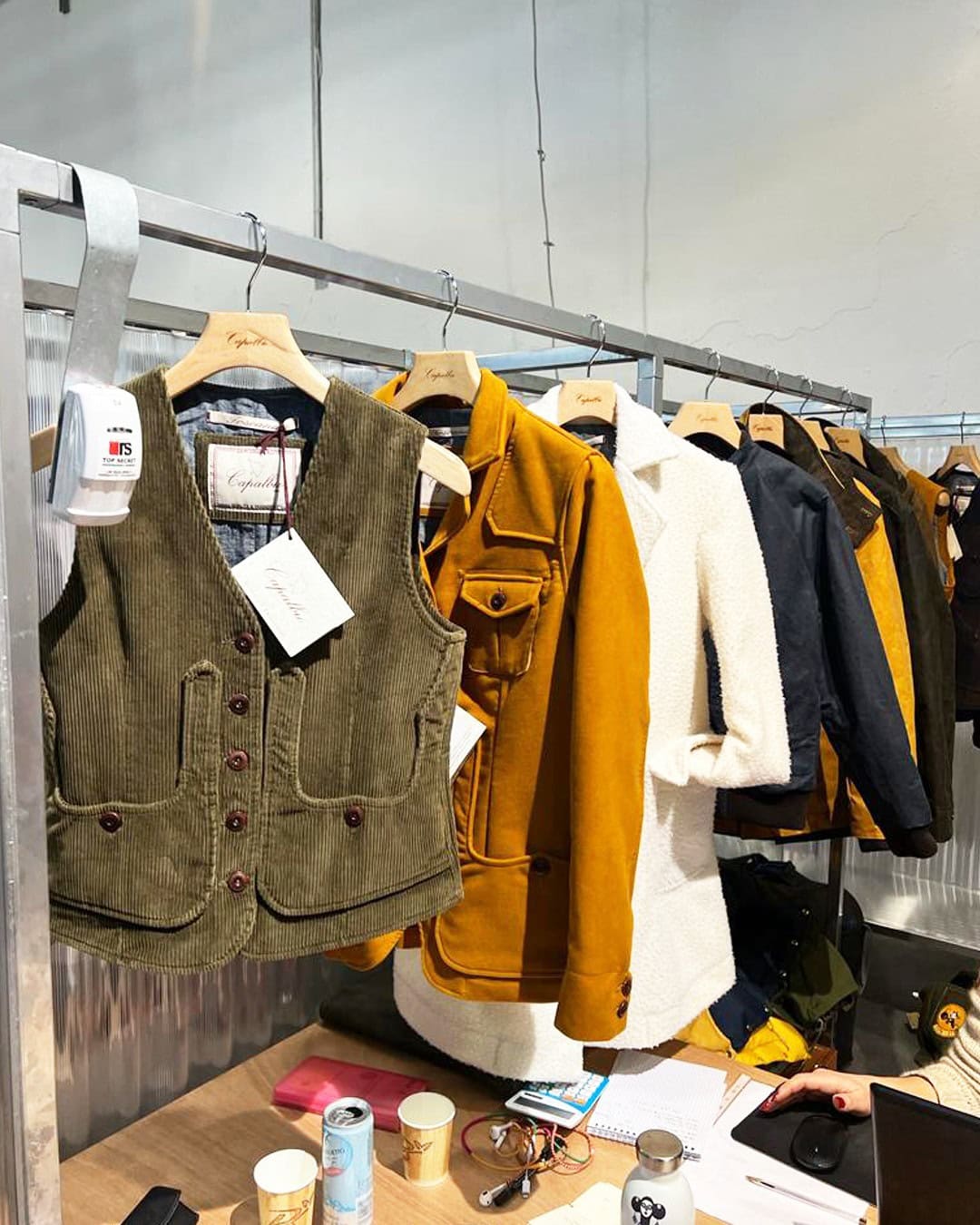 When Accessories go Ultra-luxe
There has been much talk among industry analysts about market uncertainties influencing the likelihood of customers trading down in order to continue partaking in the recreational sport of shopping, but at the upper echelons of the luxury pyramid there are high-net-worth individuals that are continuously seeking evermore extravagant additions to their home and travel collections. At the fair select brands – realising the value in this small, but important demographic – developed a number of elegant accessories made from exotic skins (Paolo Scafora shoes), quality leathers (Bonastre Paris), technical metals (Maison Phillipe Montagne's avant-garde bags for the luxury nomad), and hardwired with the latest digital features (Tru Virtu's card cases integrate scan protection to protect credit card data from illegal reading), that this customer will expect to come as standard. And for those who are more discerning, bespoke services that allow for all a fully customisable product experience, will ensure customers are the exclusive owners of one-of-one.
---