Brands Explore Individuality and Expression through Campaigns Starring a Single Model
By Mark Wittmer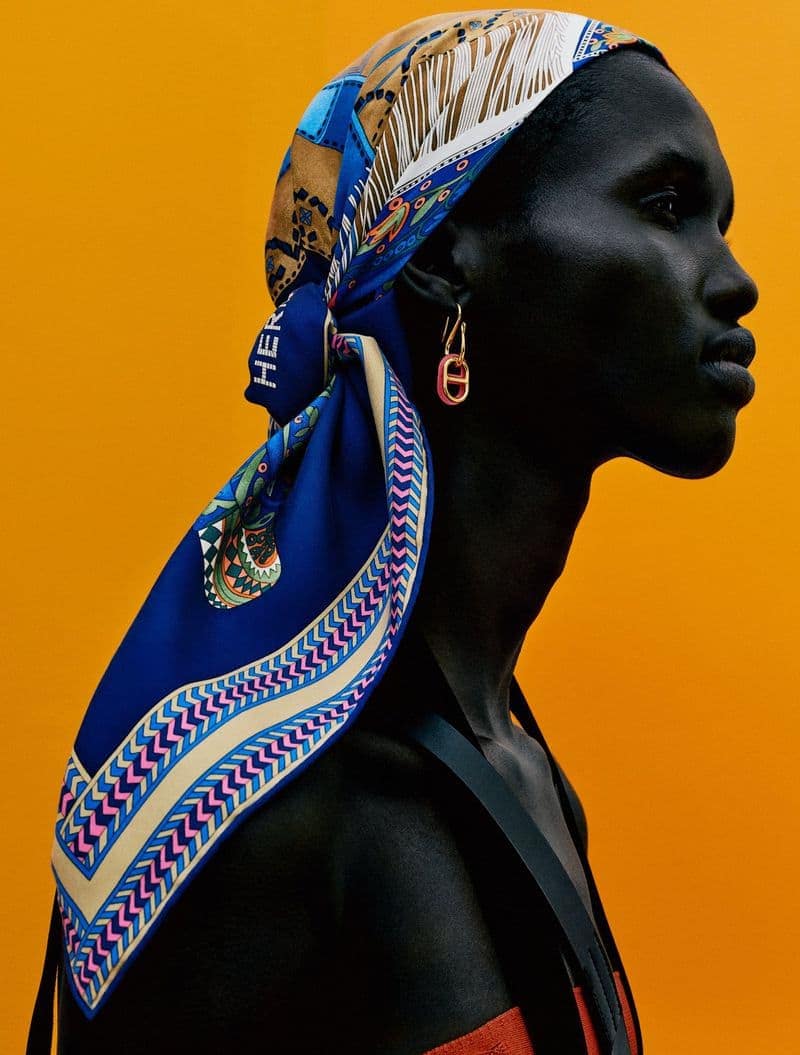 While this season's approach to campaign production saw at least a partial return to normal in terms of pandemic restrictions being lifted, many brands and designers seem to have enjoyed revisiting past ideas and discovering new opportunities for fashion communication during that strange in-between period. Now, we're seeing the fruits of this time of reconsideration, rediscovery, and exploration.
One important result of this process is that designers and creatives have leveled up their thinking for campaigns that star a single model. While the recent reliance on a sole model is in part a response to the difficulty of coordinating group campaigns while observing lockdown protocols, it also hearkens back to earlier days of fashion advertisements, which focused on one model, one look. The powerful presence of a single person has created exciting opportunities to explore themes of solitude, persona, and identity.
Some campaigns relied primarily on the look of their model to embody their brand's ideals and vision. In addition to being strikingly beautiful, Rafael Pavarotti's portraits of model Amar Akway for Hermès were a powerful lesson to the European fashion community on the importance of recognizing and celebrating the changing face of global fashion. For Celine, Hedi Slimane elevated Kaia Gerber's already iconic low-key look to embody his vision of Parisian cool-girl chic.
Other brands went beyond the surface, relying on the personal history and character of their models to create campaigns that make a strong statement about their past, present, and future.
Legendary supermodel Naomi Campbell was an excellent choice to embody the matriarch of Hood By Air's communal world-building in their comeback campaign. In the subtle reference to drag ball culture, we could see a nod to the brand's aesthetic origins, while Campbell simultaneously embodied its exciting progress into the future.
Ludovic de Saint Sernin's spring campaign actually starred Ludovic de Saint Sernin's boyfriend, Ignacio Muñoz. The intimacy of this personal connection is visible throughout the imagery, and the campaign feels like both a love letter and a manifesto of Saint Sernin's work. Coupled with Muñoz's natural beauty, Vanderperre's simple portraiture lets the strength and organic sensuality of the designs shine through. In a thoughtful styling move, Muñoz's hair is cut shorter in each image, which gives the imagery a sense of narrative unity and harmonizes with the idea of non-gendered expression and personal discovery. We feel honored and inspired that Saint Sernin and Muñoz have created for us this portrait of love and liberation.
Paris Hilton made a stunning return to the spotlight in a campaign for Lanvin. While relying on her star power, the campaign also drew its power from a concerted effort to subvert every past expectation we had of Paris' style and personality. Elegant, intellectual, and refined, the styling was about as far a cry from the sequined-Juicy-sweatsuit-with-chihuahua-accessory look as possible. Alternating between exquisitely tailored jackets and shimmering gowns, Paris perfectly embodies that classic New York City society woman – though in keeping with Lanvin's disciplined combination of heritage and forward-thinking, the approach to the designs feels distinctly modern. Even the soundtrack for the three brief short films – Brian Eno's classic weirdo bop "Baby's On Fire" – felt specifically chosen to disrupt our expectations of the sensibility and personality behind this famous name and face. The result was a campaign that felt in part like a feminist statement that Paris is her own person who determines her own worth and image, as well as a celebration of personal discovery and growth.
By combining a personal sense of aesthetic expression with thoughtful considerations of identity and individuality, these campaigns were able to make visual statements that became much more than visual.
As the global fashion conversation continues to pivot more and more around individuality and personal style, this kind of campaign forms a strong basis to connect with fans on a personal level. As nothing draws a person's attention like another person, the ability to express ideas and narrative through the image of one individual is extremely powerful.
---