The Top Menswear Trends of the 2024 Spring Season
By Lizzy Bowring
Clean Cut
Generated from a landscape of quiet luxury, Menswear has undergone a significant transformation, breaking traditional gender norms and embracing innovative nuances. And so, Spring/Summer 2024 is defined by clean, pure cuts and minimalist designs, redefining classic tailoring. Brands like Valentino and Dior have led this revolution with time-honored silhouettes reimagined for the modern man. Pierpaolo Piccioli at Valentino and Kim Jones at Dior presented a fresh take on tailoring, reinventing, and blurring the lines between traditional Menswear and informal dressing. Their innovative approach introduced a bespoke aesthetic, reflecting a renewed focus on comfort through unfussy lines and generously tailored shapes, promoting non-gender inclusivity. And while the mood is decidedly refined, meeting the modern consumer's need for flexible clothing that can transition seamlessly across different settings and scenarios – from business meetings to casual outings is a strategy that permeates throughout collections. The look is elevated, with a refined aesthetic that offers a new form of styling with a swing back towards clothes crafted for investment.
Details are essential. Closures are primary and highlighted with contrast insets. Zippers are not just for utility pieces but find their way into shirts' center front or back of tailored blazers allowing for extra volume in shape. Minimalist crisp white shirts, ties, and high-waisted trousers exemplify the newness in three-piece dressing – the pure lines speaking volumes to the look of redefined classics. Classic masculine tropes are gently subverted, softening the proportions of boxy blazers, replacing trousers with shorts and skirts, and integrating floral elements into designs, reinforcing individual vitality and a sense of romantic freedom.
Colors, too, are softened in dusted combinations from head to toe. These soft color injections underscore versatility while combining black and white creates discreet but striking designs from textural all-over prints to simplified lines and hand-drawn florals, making these clothes perfect for a new audience. The move toward warm enveloping colors of enlivened neutrals creates the unusual in tailored suits and coats. At the same time, shards of luminous green appear in vivid contrasts in the season's fresh take on the polo.
This meticulous approach to tailoring blends traditional elegance with formal suiting elements and relaxed components, contributing to the ongoing dialogue of redefined masculinity in fashion while showcasing that less is more through understated elegance and effortless chic. In this light, luxury is not about ostentation or extravagance but rather about the quality of the fabric, the cut's precision, and the garment's versatility. It is about making a statement through simplicity and authenticity, and the Spring/Summer 2024 menswear collections are a testament to this new definition of luxury.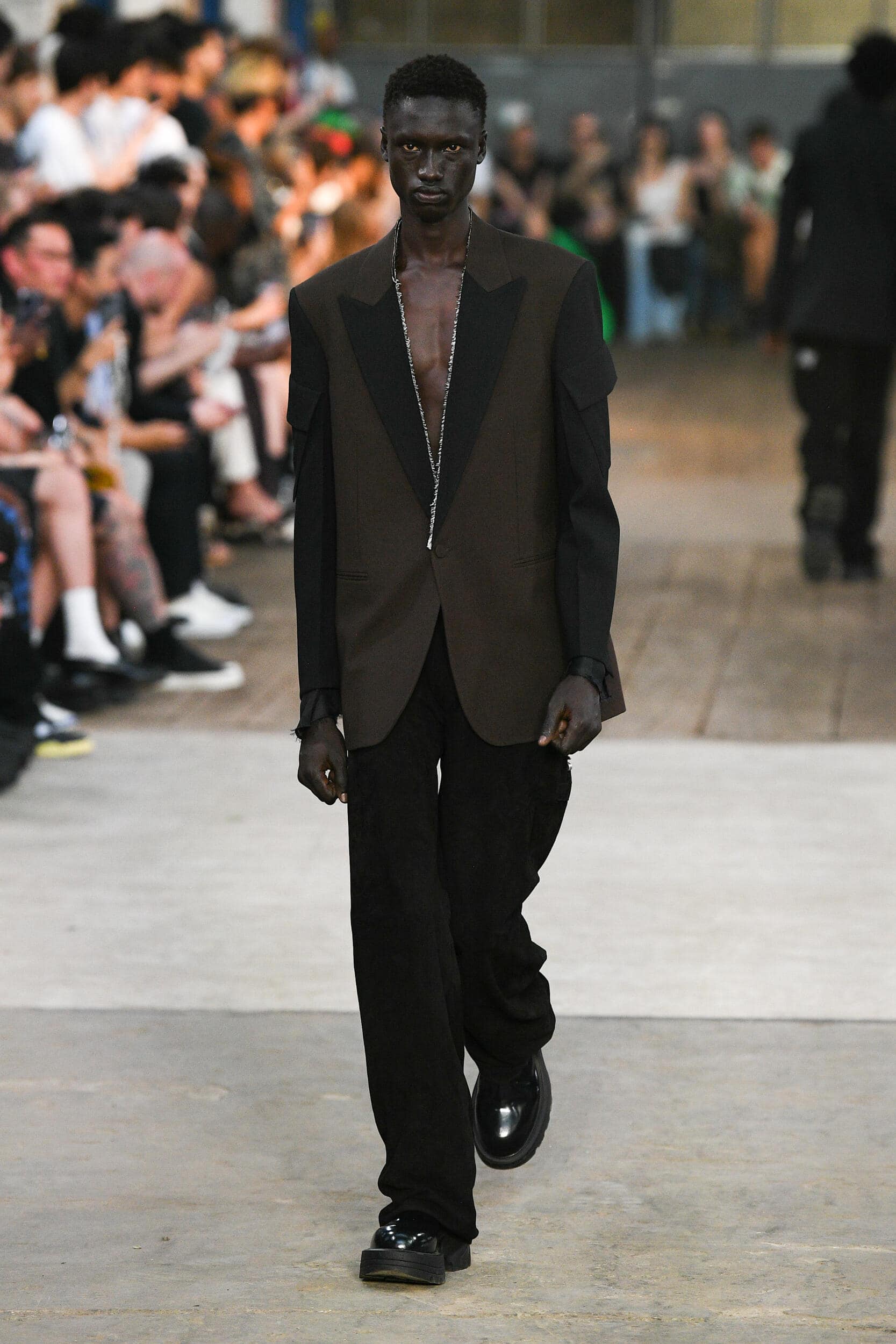 Inclusive Masculinity
Men's fashion has undertaken a paradigm shift, embracing gender inclusivity and reimagining traditional workwear to cater to diverse audiences. The trend is not confined to aesthetics; it mirrors a societal change in masculinity norms and fashion expectations. The designs were accessible, meaningful, and indicative of a fashion renaissance in menswear. This season, delicate design elements traditionally associated with womenswear made their way into menswear, offering a fresh perspective and giving rise to a sophisticated eveningwear trend. Draping, sheen and sheer materials, and skin-exposing cuts have been cleverly incorporated into menswear, adding an element of elegance and redefining traditional masculinity.
Menswear has entered a renaissance period with elegance and versatility at the core of this trend, with fashion houses like Saint Laurent, Dolce & Gabbana, and Loewe leading the way towards a new meaning for menswear. JW Anderson used sparkling surfaces to accentuate fabric manipulation techniques and introduced subtle draped effects in tops worn back with obligatory high-waisted wide-leg trousers. With its inherent sheen, Satin played a critical role in emphasizing design features standing out for its lustrous sheen that accentuated several draped designs seen at Giorgio Armani and Dolce & Gabbana, whose sheer tops and fluid trousers were a pleasant departure from the expected. At the same time, tailored jackets were cut with hourglass shapes, redefining a focus on the waist.
Shorts are omnipresent this season, from the seductively shortest to knee length. Ami paired abbreviated items with a cropped sweater, worn with the season's soft socks and flat brogues.
The V-neck style, another significant component of this trend, added a sensual touch to tops and jackets. Deeply cut, these designs exposed skin, embracing a redefinition of masculinity. The concept extended beyond knitted vests, infiltrating elevated woven tees. Rick Owens and Saint Laurent's Anthony Vaccarello offered collections embodying this trend, featuring light, sensual, and fluid designs. These presentations displayed a harmonious balance between hard and soft, classicism and innovation. Tank tops with deep décolletés were layered under bold jackets or worn openly, exposing bare shoulders; high-waisted pants were cut at the ankle or left to drape over boots. The transformation of everyday sweatshirts into high-fashion eveningwear underscored the theme of reinterpretation. And print, too, demonstrated the feminine side of this masculine equation in leopard spots and polka dots that appeared on sensually wrapped shirts and one-shouldered tops with flowing necklines, bow ties, and high-collared shirts, encapsulating the spirit of this inclusive masculinity.
Beyond the aesthetic transformation, this trend indicates the societal shift in perceptions of masculinity and the evolving expectations of men's fashion. The message is clear: Conventional workwear is reimagined, and gender-inclusive designs are not just welcomed; they are celebrated.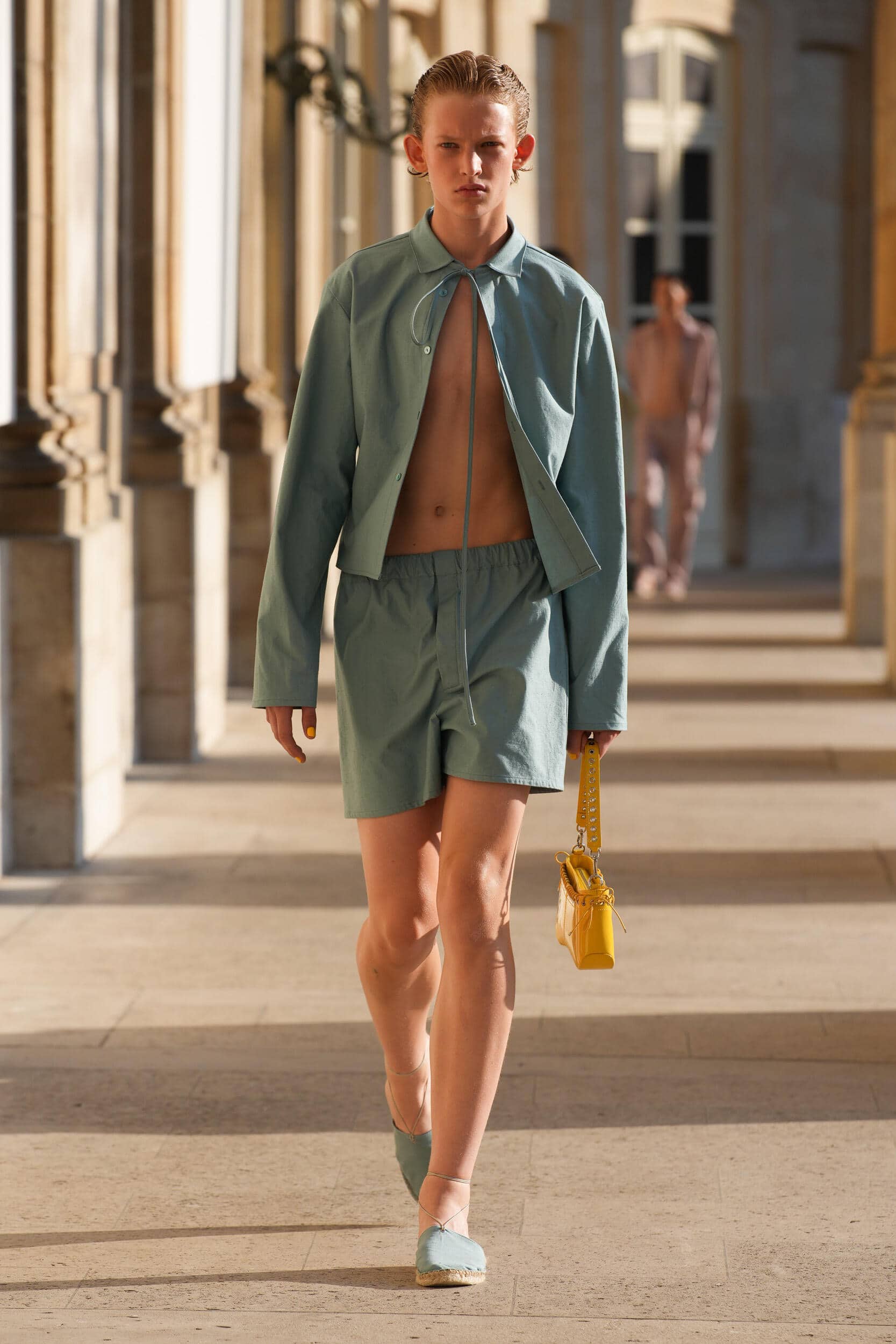 Resort
The future of menswear is anchored in the simple notion of effortless dressing – a response to a world where our lives yearn for decluttering, and our wardrobes seek versatility. This transformational trend embodies a casual attitude fueled by the consumer's desire for comfort, functionality, and style. Sports-inspired styles, utilitarian details, and casual sartorial elements have become prominent. And so it is, that no season is complete without the relaxed nuances of a summer vibe.
Designers have departed from vibrant colors, prints, and trims, preferring natural-looking materials and sun-washed shades to revitalize summer essentials like resort shirts.
At Amiri, floral touches and textured sweaters elevated essential pieces. At the same time, a palette of neutrals and sun-washed shades embodied the seamless transition from beach to city.
Color, a pivotal driving force for this sensual summer trend, brightens lives and uplifts moods. Neutrals and sun-washed pastels were used in rich contrasts, pleasantly feeding into the raw luxury look that continues gaining traction. When applied to natural fibers, these colors underscore a sophisticated elegance. This palette of enlivened neutrals is set to offer longevity, strengthening the connection between form and function, while the richness of these hues subtly infuses life into every garment, embodying the essence of a trend that is not just about wearing clothes but experiencing them.
With the resurgence of travel, there's been an increase in feel-good destination scenic prints, such as at MSGM. As more individuals seek solace in nature and rest, these prints, ranging from photographic to minimalist cutouts, capturing awe-inspiring moments, have become increasingly popular.
Dries Van Noten's collection reflects refinement, celebrating subtle details over bold gestures. Van Noten's artist's eye for color combined apricot and lilac, rust and brown, in harmonious, though unlikely, combinations. The collection's raw-edge cargo shorts offer an easy DIY hack for summer wardrobes.
Hermès, renowned for quiet luxury, effortlessly transitioned into the season's Resort trend and showcased iconic elements, integrating contemporary pieces such as lightweight shirts, see-through jackets, double-breasted blazers, and oversized trousers. Véronique Nichanian's breezy collection also featured gauzy lattice short-sleeve shirts and jackets layered over sheer vests, with slightly longer-cut blazer hems just above short shorts. Loose knits for cooler hours, and elevated beach bags appeared, while Fisherman sandals or open-toe were the go-to footwear at Hermes and Dries Van Noten.
The new narrative showcases a playful yet practical convergence; a storyboard of decisive designs unfolds with unexpected color combinations, sustainable materials, and intriguing textures.
In this light, the future of menswear promises to be as multi-dimensional and adaptive as the world around us.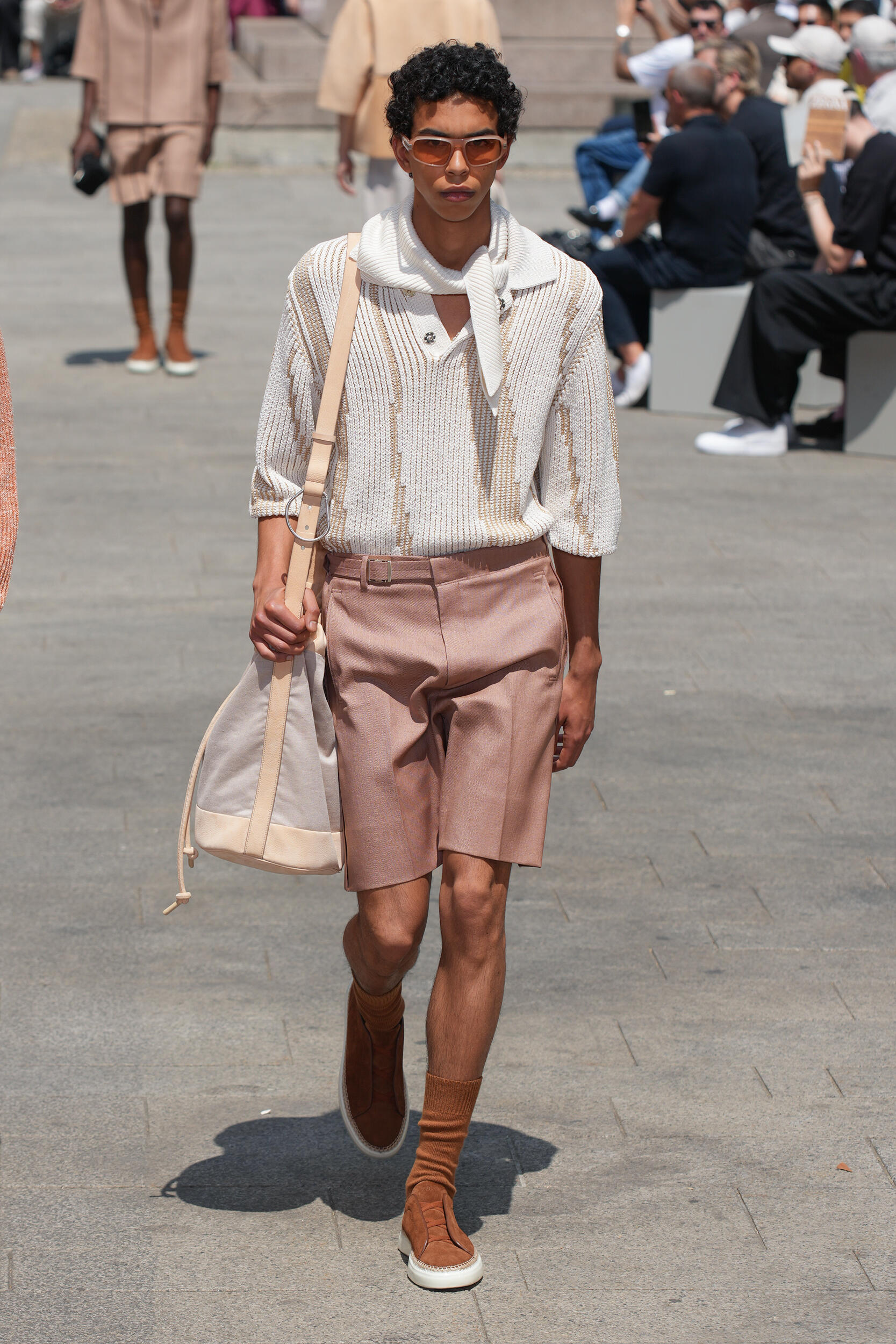 ---