In the gridiron of fashion, designer TOMMY HILFIGER is America's favorite quarterback who, with a knowing wink and smile, we all love to root for as he leads his team globally forward. For over 30 years he has brought his irreverent touch to American classics and along the way reinvented not only the preppy look, but also the way fashion markets. THE IMPRESSION spoke with the red, white and blue champion about his days as a rookie, surviving the limelight, his iconic campaigns, Gigi and showmanship.
[hr align="center" weight="thick" style="line"]
BY KENNETH RICHARD
Tommy, appreciate you taking the time to sit together and chat. Was interested to learn that you started off as a retailer. What provoked that brave venture at such a young age?
The fashion/music revolution. It was in 1969, the summer of Woodstock, and I was working in a boutique for the summer in Hyannis, Cape Cod. The boutique was like a hippie gift shop, with incense and black light posters and candles and cool stuff. That was a really exciting time for me. When I went back to my hometown of Elmira, New York, I decided with a couple of school friends to open a shop we called People's Place. We sold bell-bottom jeans, fringe vests, I mean, like, really cool clothes, and within a few years I decided I really wanted to build my own brand.
People's Place wasn't a one-off shop, though, as you expanded, right?
We opened stores on college campuses in upstate New York. We expanded, but we over-expanded. At one point we had 10 stores, but we weren't really well managed because we knew nothing about business. One friend managed a store here and then we would hire a great looking girl to run another store there. Some days we'd open, some days we wouldn't. It was a very free and easy way of running the business, and after six years we went chapter 11 because we didn't know what we were doing. Right then I decided I should really teach myself how to run a business. So I taught myself, with the help of listening to other people and older people and smarter people who knew how to run businesses, and then I decided that when I started my own brand, I really want it to be successful and profitable.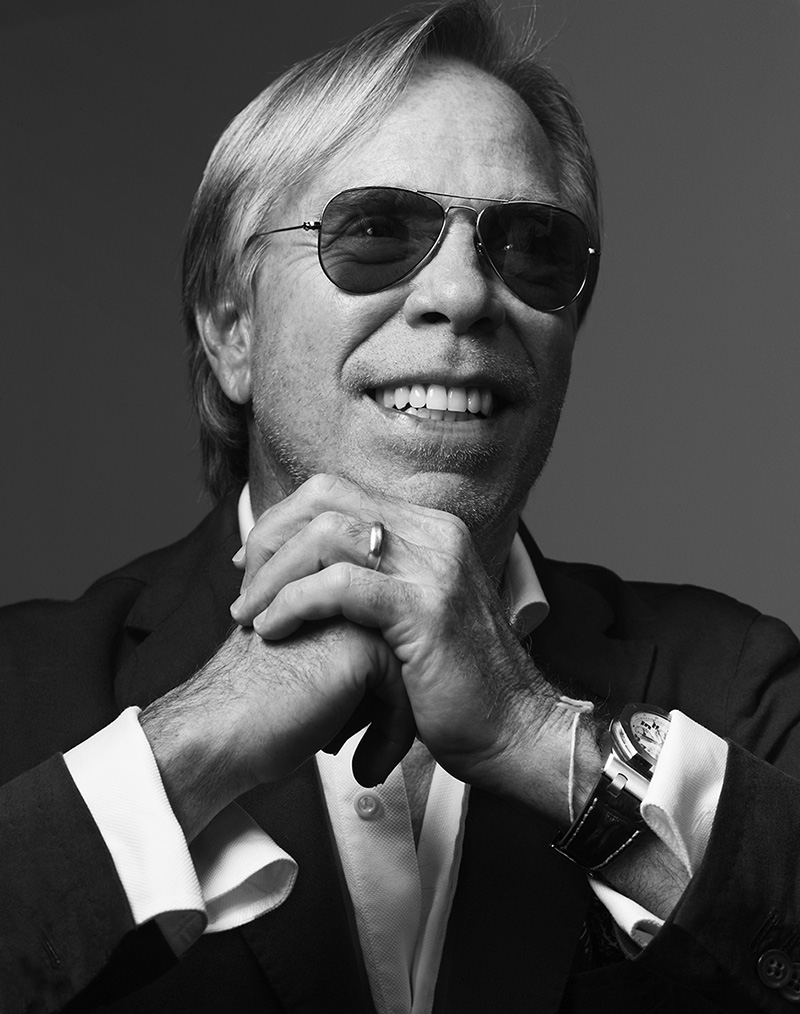 Did you know when you came out of People's Place that you wanted to start a brand?
I did. While I had People's Place I would sample different ideas and do test marketing with the consumer to see whether or not they would like my ideas. I would buy fabric from local shops, have local seamstresses make garments, and hang them in the shop to get a market reaction. At one point I thought I should really just develop a whole collection and be in business myself. My family and friends said, "There's no way you could ever do that; it takes tons of money, you need more training." But I knew I could do it because I can hire people who can assist me in making patterns or doing the things that I didn't know how to do.
So I surrounded myself with a small group of people who could sew and cut patterns and do what I didn't know how to do because I had the ideas, and I had the vision, and I knew how I wanted to set up my business.
Which is a little ahead of the curve because today, designers have to wear multiple hats, from being business people to branders. Were you a brander from the beginning?
Well, I always thought you needed three things: you need great product, some business sense, and great marketing – always. I've always respected people who understand the marketing aspect and it was very much a part of my focus from the very beginning to do the marketing in a very unique way.
Which is reflected in your launch after moving to New York. Marketing came into play in the very beginning and you ended up partnering with the 'Superman of Madison Avenue,' George Lois. How did that come about?
Well, I was fortunate enough to have a partner in Mohan Murjani, who was a master marketer. He created the Gloria Vanderbilt jeans collection before celebrity branding had ever existed, and it was really a successful business. It was at the beginning of the designer jeans revolution. Gloria Vanderbilt was a socialite, so he took that famous name with Gloria and her connections, and established a celebrity brand with jeans made to fit women. The business took off. He was very successful, he backed me and he thought that we should do something unique in marketing, which I fully agree with. He introduced me to George Lois, who is this incredible marketing genius that thinks so far out of the box. He created the whole 'I Want my MTV" campaign before MTV was even known by anyone.
I have to credit George for pushing the envelope so far. In his mind, it was a super home run before it was even launched. And I was a bit timid about the first campaign because I thought, "If this doesn't work I am really screwed, I will be out of business and I'm going to be a laughing stock and I don't know what I'm going to do after that." This is before my business had taken off, and I didn't really have any money. So I thought this is do or die.
That was the 'Hangman Campaign'. What was your first take?
When I first met George, I said, "I want to photograph really cool models on the beach in the Hamptons, with the wind blowing and no tucked-in shirts or anything like that." He said, "Are you crazy? You should do something much different than that. I'll show you."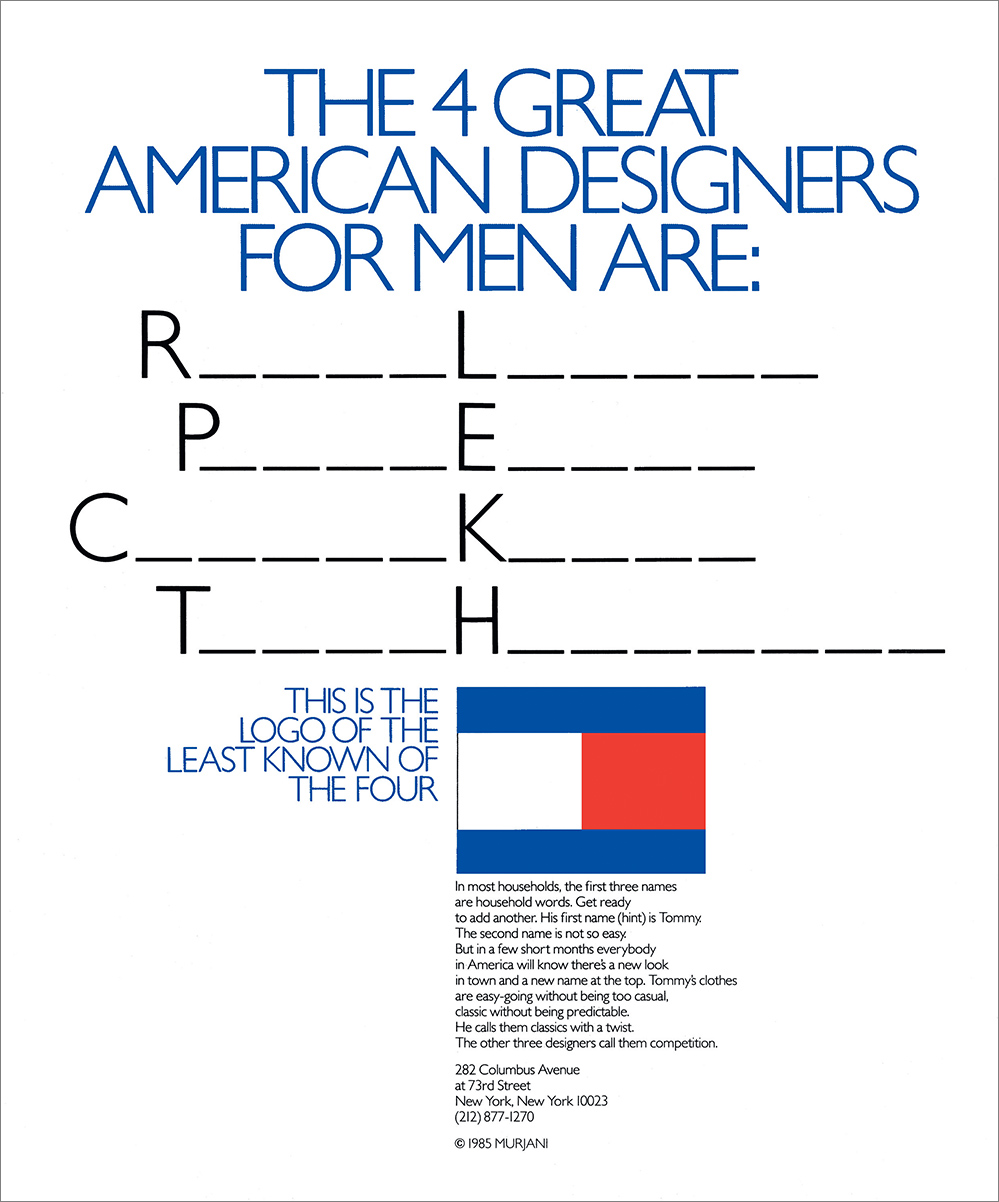 But before he showed me the Hangman Campaign, he showed me current magazine ads from Armani, Calvin, Ralph, Halston, Bill Blass and Perry Ellis – everyone really relevant at that time. He took the names off the ads and he challenged everyone in the room to determine which ads were for which designers. This is the time Bruce Weber was shooting both Calvin and Ralph and they both had horses in their ads. So it was a bit confusing.
He said, "So why do you want to do that? It will take you 20 years and millions of dollars, which you don't have, to establish your brand." Then he pulled out a concept ad which said, "The four great American designers for men are RL, CK, PE [because Perry Ellis was really big then] and TH." I said, "Oh my god, you can't do that, that's embarrassing!" But he said, "No, you don't understand. If you want your name to be known overnight, this is going to do it. After your name becomes known, then people look at the clothes. If you think the clothes are good, then you'll do this because then people will come buy the clothes."
He turned out to be right, but it took convincing because I was really worried about it. Joel Horowitz – my partner and the president of Murjani – said, "Let's do it," and we did. Right afterwards it was a shocker because the entire media came down on me and said, "Who does he think he is, he's not a designer, he doesn't do women's runway, he is not doing couture, he's not trained." It was the last time I ever thought that I should just hang it up.
But the clothes started selling and there was a real buzz around the brand and I thought I really should roll up my sleeves, focus on making the product great because that's the only way I'm going to dig myself out of this embarrassing situation.
It was early disruption. It was genius on George Lois's part. I will always be grateful and appreciative. There's a course they teach at Harvard about disruptive fashion advertising and this campaign is at the forefront of the classroom and the discussions.

That must have informed you, though, as you continued your business. Did it empower you to take more risks?
Yes. I like taking risks anyway because I think that if you don't take risks, there's no reward. Even when I redesigned all the preppy clothes, it was taking a risk because preppies like everything stiffed and ironed and buttoned up and like Brooks Brothers looking, and I made everything over-sized, relaxed, washed, with all sorts of details. I wanted surfers and the hip-hop kids and street kids. I wanted people wearing the clothes who would say, "FU to the establishment." I always wanted to be disruptive and I think that if you're not unusual or unique in marketing, you might as well just be plain vanilla, like everybody else.
From there you grew quickly and took on new partners.
Murjani over-expanded. He took on the Coca-Cola clothes license, which Joel and I did, and that was an explosion. It was very hot overnight, but as things sometimes go in this business, they become very hot and very cold very quickly, for many reasons. Gloria Vanderbilt was on the decline because it had its run. Same thing with Coca-Cola, and here is little Tommy Hilfiger trying to grow. We needed money, we needed financing, we needed all sorts of things to grow. So we bought it back from Murjani and Silas Chou came in as a partner. Silas was one of our suppliers who manufactured sweaters for us in Asia. We became friendly. When Joel and I told him we were going to banks looking for money, he said, "Let's do it together." We did and then he brought in his partner, who was a partner in Ralph Lauren in Europe, a guy by the name of Lawrence Stroll. It was the four of us Joel, Silas, Lawrence and me.
I have to say, these guys are the smartest guys in the business. Even today, if you look at what Silas and Lawrence did with Michael Kors, they're the smartest. Lawrence thinks really big. Silas thinks very strategically, and Joel is solid as a rock with the day-to-day business, the staffing, the numbers, and looking at the business from a financial perspective and strategic perspective. We were a great team and we set out to build big business globally, be affordable luxury. It still exists and it's still grown that way today. What we set out to do over 25 years ago is no different than what is happening today although it has changed hands.
You mentioned earlier about over-saturation, which causes most companies to implode. As you hit those windows, how did you navigate them?
As a public company, you have to continue to grow. We went public in the early 90s and had dramatic growth. Wall Street expected us to continue that growth but it started to level. When we reached the late 90s, we were over-saturated, and there was a dramatic slowdown in the U.S. What we didn't realize, although it was right in front of us, was that the European business was growing steadily in a well thought-out way mastered by Fred Gehring.
Fred had been working with Silas and Lawrence at Polo Ralph Lauren Europe when they became partners with me. We convinced Fred to leave Ralph Lauren and establish Tommy Hilfiger in Europe. What he did was he positioned Tommy Hilfiger Europe to compete with all of the top brands. It was slightly different in that it was free-standing retail stores next to Zegna, Armani, Ferragamo, Hugo Boss on the high streets, selling to all the top stores, and he didn't push the fashion envelope as we were doing in the states in the 90s with all the logos and the red, white and blue, and the hip-hop. We were really pushing the street fashion. He wanted it to continue to be very preppy, classic with a twist, cool but not fashion, not really on the edge. His positioning was so right, it saved the whole business. Because with dramatic growth and then a slowdown, you could easily go out of business, and with over-saturation, after they become very hot, they disappear.
We had tried to re-invent the brand in the US a couple of times, like in the late 90s, when things were becoming very minimal. I thought that's where the market is going, that's what we should also do. But when we tried that, the customer said, "No, we don't want it." Then we tried making it much more upscale, more expensive, and they didn't want that. What we found was that they wanted the original Tommy but done better, which was what they were doing in Europe.
During our 20th year anniversary we were talking about what we should do for growth, and we considered buying another brand. So a week later I was in Paris being photographed by Karl Lagerfeld for Harper's Bazaar magazine, and Karl and I hit it off, laughing and joking. So he invited me for breakfast the next day at his home in Paris and asked what I was doing. When I told him we were thinking of buying another brand to get growth, he said, "Buy mine." So we bought the Karl Lagerfeld brand. We didn't do much with it because I was overwhelmed with Tommy Hilfiger at the time, but we bought the brand, and I learned something very important from Karl that stayed with me. When I asked him how he made Chanel so successful, he said, "It was very simple. I went back to Coco Chanel's archives, I took everything she had done in the past and I made it relevant for today." That's genius in itself.
So I came back to the States, I went to my design team and I said let's go back to the archives, let's look at everything that we did in the 80s and let's make it relevant for today. Which we did, and the business started triggering again. But that's what Fred had been doing in Europe so successfully, so we took that formula with some of what we were doing in bringing back the originals, put that into a blender and then the business started growing again.
Going back to the brand's DNA for a little blending sounds very much like Michael Toth, whom you worked with in the 90s.
We were working with Michael in the earlier 90s, and he actually understood the brand. He wanted to help create a lifestyle brand that was very Tommy Hilfiger and not anyone else, which I loved because a lot of times creative advertising people want to do something that is similar to whoever is hot at the time. I love Mike's outlook of "Let's just make it Tommy."
For one campaign we started casting models and one of the guys coming through the door was Ethan Browne, Jackson Browne's son. He is a really cool looking guy. So I thought, why don't we do sons and daughters of all the rock stars? Like Lizzie, James, and Georgia Jagger, Theo and Alex Richards, Keith Richards' children, Sting's children, and Quincy Jones' daughter, Kidada. So we did this whole sons and daughters of famous people as a major campaign and then we put Aaliyah into it, and Mark Ronson into it. At one point, my brother, Andy, came and said there's this girl I want you to introduce to, her name is Britney, and she wants to model for us. I said, "Britney who?" He said "Britney Spears." I said I've never heard of her but let's take a look at her in the jeans. She looked pretty good so I thought we could photograph her and see how it goes. The day we were photographing her, her "Baby One More Time" hit went to number one.
So we're using Britney, then Andy said, "I want you to meet this really cool R&B artist." I said, "What is his name?" He said, "His name is Usher." I said, "That's a strange name – Usher. Let's take a look." So Usher came through the door. We put the clothes on him. We shot him. So it's Usher, Britney Spears, Mark Ronson, Kate Hudson, Kidada Jones, the Jagger kids, the Richards kids, Sting's children, Rod Stewart's daughter, and Ivanka Trump, Donald Trump's daughter, we had all these cool kids in our advertising and the business took off again. That was when we were launching Tommy and Tommy Girl, fragrances that were chart toppers for many years in a row. So Mike Toth actually helped us get this whole irreverent cool kid thing off the ground, and we were the only ones doing it.
And after those cool kids you took music up a notch.
I really want to be the brand that is connected to music. So we sponsored the Rolling Stones tour and dressed the Stones. We sponsored Lenny Kravitz's tour and dressed Lenny. Then we used David Bowie and Iman in our advertising because we wanted fashion royalty and music royalty together; that was chicer and a little bit more sophisticated. We were very involved in the MTV and Vogue VH1 Fashion Music Awards. We became entrenched in music. We even sponsored the Met Ball with Anna for the Year of Rock. We were dressing Steven Tyler, Aerosmith, Blondie, and were just entrenched in music and fashion.
So we pioneered our own trail, so to speak. Then in searching for the next great idea, we came up with this family campaign. I have a very large family and everybody is really different so we thought, why don't we just emulate that family? Why don't we do a family that is irreverent, very diverse, black, white, gay, straight, short, old and young? So we developed this family campaign and that became, I would say, another growth engine for the entire business.
And a partnership with Trey Laird.
Yes. Back while Trey was still working with the Gap and Donna Karan, I had already wanted Trey to come and do something with us. Peter Arnell had done some things with us. But Trey couldn't while he was still under contract with the Gap. After his contract ran out, we got in the saddle with him and the family campaign was brought into being.
Which had a wink and tongue-in-cheek vibe.
I like that because it is different from what you see in fashion. Many fashion people take fashion very seriously …and we're talking about clothes. I mean, we're not talking about brain surgery or a breakthrough for Alzheimer's or cancer or something – we're talking about clothes. Why shouldn't they be fun? Why shouldn't the business be fun? Why shouldn't the advertising and the marketing and the fashion shows have a wink and a nod? I mean, everything we are doing should be fun.
On the subject of fun, is that what prompted your purchase of the Raleigh?
I've always wanted to create a lifestyle experience, so I thought what better way than to do a hotel experience. When the Raleigh was presented to me as being an option, I jumped on it. I think it's a gem of a building. It's iconic. It was built in the 30s, which is a favorite era of mine. It's like nautical modern. It's on the beach and one of the most incredible cities in the world, which is now an international city, and I'm going to bring it back to its original glamour and beauty in a way that is very special. I am a proponent of wellness so we're going to build a world-class spa that will not only be about exercising but also about nutrition and health, with a restaurant component and we also have a nightclub. We're leaving the martini bar and the diner, so there are going to be a lot of different aspects of excitement within the property.
Can we chat about being different and embracing change? As a marketer, how do you know it is time to move on?

[quote text_size="small"]
I think that there's an innate gut feel that you have when you know it's time to move on, If you don't have the next big idea, you can get stuck hanging on to the old. But I've always been one to think of the next big idea before the old one gets still, because I think that in marketing if you don't move on, you could become history, and I think that stands to reason with everything we're talking about.
[/quote]
If you look at what's going on with the tech world and look what's going on with social media, we want to be a step ahead. We don't want to be a step behind because if you fall behind, you fall way behind, but if you're a step ahead, you can be with the program and you have the ability to have the vision ahead of you. I don't want to drive with rear view mirrors. I want to drive with the vision ahead. Fortunately, we have a great team who are always thinking ahead and even though we do lot of classic clothing, we do classics with a twist, we do something different with the classics. And in terms of the marketing and advertising, I like pushing the button and pushing the envelope.
So about that envelope, your shows have pushed the bounds of fashion showmanship. What inspired all of that?
Boredom. I don't want to just see models walk up and down a white runway. That is probably as boring as you could get. And if you don't put on a show, it's not memorable. So I think that to be memorable and to make a statement and do something unique, you have to put on a 'show.'
[quote text_size="small"]
We think that doing something spectacular is more important than having a billboard on the West Side Highway or a television ad. We think that doing something like what we've been doing is so important globally because the photos resonate. When we have Kendall and Gigi on the runway, we're talking about getting almost a billion impressions through social media.
[/quote]
You don't get that with normal models on a normal runway. You have to do something exciting, unique and different; we benefit tremendously from doing a real show.
I think it's modern thinking to ask yourself what a consumer really wants to see. And now, with the change in the fashion business, we are leading the way with a few others to do buy now, wear now, open to the public. It is a direct result of the consumer telling us she wants to see something on the runway and buy it that day and wear it the next day.
So we're breaking the mold this fall and not going to do the traditional editors and buyers only fashion show, putting clothes on the runway that you won't see in the stores for another six months. By the time they get there, it's old news. This is what our consumers have told us. So we are doing buy now, wear now, and we're featuring the Gigi Collection because we feel Gigi is the "It girl" of today, who resonates with an enormous fan base. So we invited her into our design studio to design with us and we created a whole collection. Gigi by Tommy Hilfiger will be launching at a live show in September with a buy now, wear now component and entertainment, because I think that if it's again just a show, then it would be great but it wouldn't be phenomenal. We want to mix fame, fashion, art, music, entertainment all into one spectacle that will be incredibly breakthrough, memorable, and unique. It's about the pop culture of today.
But there are inherent risks in owning the inventory for buy now, wear now. How do you convince everybody to get behind a strategy with that much risk behind it?
I think if you don't take those risks, you'd really risk being mediocre. And I think mediocrity is not an option because if you're a mediocre brand, you stand the risk of being extinct in a short amount of time.
Tommy, thank you so much for the time.
Thank you so much, Kenneth, my pleasure.
[hr align="center" style="line"]
[hr align="center" style="line"]