---
In the current media landscape, where Instagram-able moments seem to appear around every corner, it would be easy to take the impact of set-design for granted. However, over the course of the last several years, set budgets have increased due in part to Instagram and other visual platforms, which have served to strengthen the power of designers to communicate directly with consumers. Intense social media coverage of fashion shows provide the larger fashion community with instant access to front-row views, as they happen. Anyone with streaming internet can now experience fashion shows virtually, without delay, along with the elaborate set pieces. Stories behind each collection as told through the sets' lighting, color and sound are processed through the lenses of countless smartphone cameras and devoured in a seemingly endless cascade of posts.
We at The Impression love a good story and our Chief Impressionist, Kenneth Richard, understands how the storytellers behind the scenes like Bureau Betak, Prodject, and KCD help the designers to bring their vision to life. We applaud the narrative and are delighted to share it here as we showcase The Impression's Top 12 Spring 2020 Show Sets.
Anya Hindmarch
London designer Anya Hindmarch has always dazzled with technically sophisticated, conceptually compelling runway shows and exhibitions; her latest collaboration with maze and puzzle designer Adrian Fisher is no exception. The immersive art installation called Postbox Maze was inspired in part by the flexible materiality of old-fashioned "snail mail". Guests could experience actual letters being read aloud via recordings, which played at designated listening stations inside the maze. Visitors could also learn calligraphic writing techniques, and eat letter-themed cakes and cookies at the exhibition's cafe.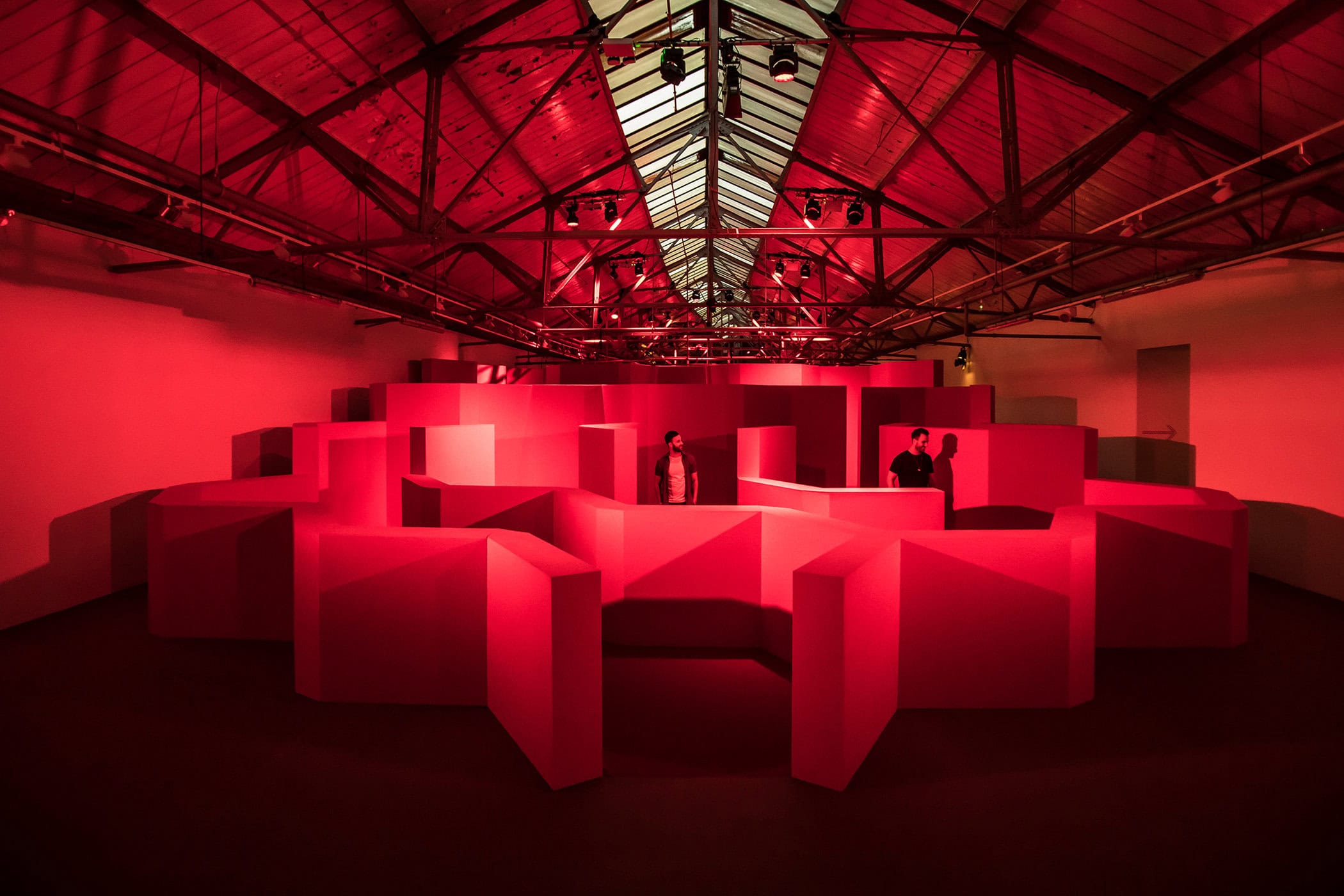 Maze Design Creative Director | Adrian Fisher
Production | Maze Design
Chanel
Chanel's runway set was informed by the timeless romanticism of Parisian rooftop views, with realistic architectural facades that included roof vents, brick chimneys, and skylight window frames. A grey gradient of synthetic sky completed the look, flanking the entire set and giving way to the historic metal arches of the museum Grand Palais, where Chanel shows have been held since 2005. 'The roofs of Paris remind me of the atmosphere of the Nouvelle Vague,' revealed artistic director Virginie Viard. 'I saw silhouettes walking on the roofs – I thought about Kristen Stewart playing Jean Seberg and all the actresses Gabrielle Chanel dressed at that time.'
Delfina
Delfina Delettrez Fendi, a designer and jeweler based in Rome, founded her company Delfina Delettrez in 2007. The brand has since become synonymous with modern, futuristic jewelry constructed with the traditional quality of fine Italian craftsmanship. Delettrez's designs are a hyper-modern fusion of the past and the future, hand-made by expert craftsmen. The unique aesthetic of Delettrez's work is reflected in this kinetic sculpture piece, an installation by Bureau Betak that highlights Delfina's classical goldsmith techniques and innovative use of contemporary materials.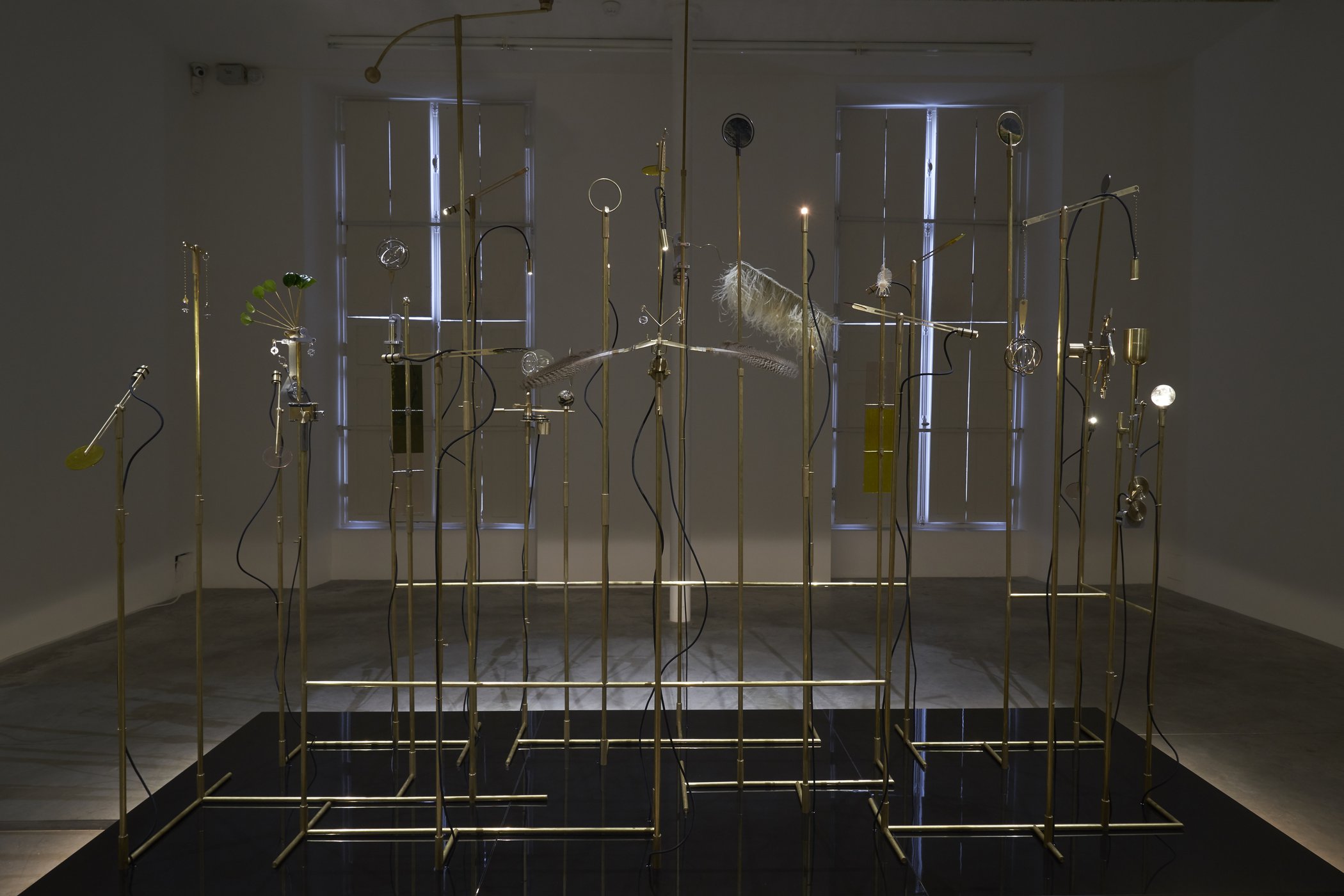 Bureau Betak Creative Director | Alexandre de Betak
Producer | Bureau Betak
Dior
Dior teamed up with Coloco, a Paris-based environmental design collective, to bring forth what creative director Maria Grazia Chiuri called an "inclusive garden" for their Spring 2020 fashion show. It has been widely reported that each tree from the Bureau Betak produced show at Hippodrome Paris Longchamp would be planted in projects around the city. Beyond sending a clear message about environmental concerns and sustainability, the lush backdrop of earthy foliage was offset by lighting which shifted to create hazy beams through an atmospheric fog, creating a magical combination of nature and otherworldly ambiance.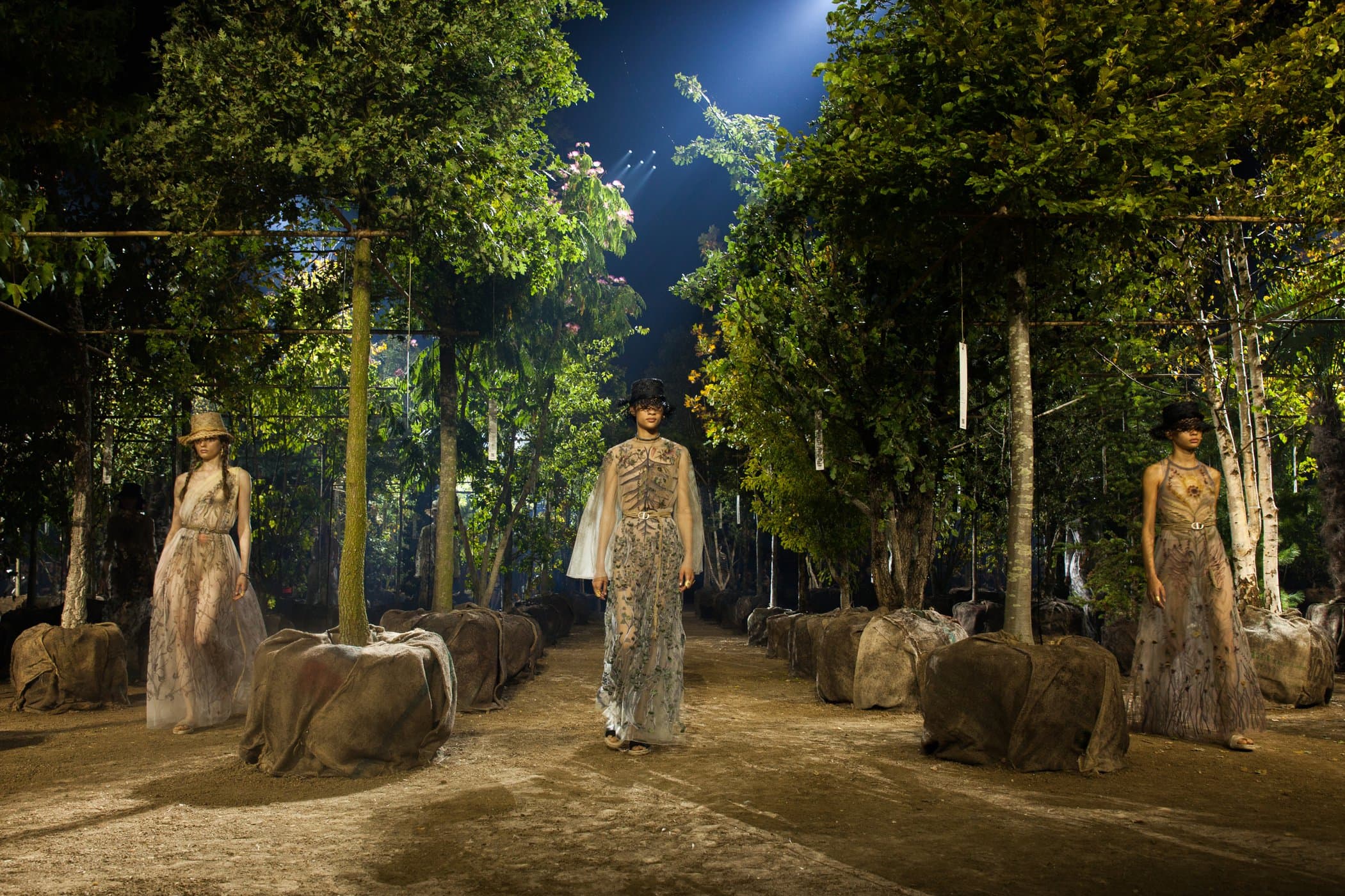 Bureau Betak Creative Director | Alexandre de Betak
Producer | Bureau Betak
Jason Wu Collection
The Jason Wu Collection fashion show set was a collaboration with Chameleon Visual and New York–based florist Emily Thompson, who filled planters of mirrored glass and neon with variegated blossoms and greenery at Pier 17 in NYC. The installation was called "A Garden at Midnight", and created the dreamlike illusion of models gliding through an ethereal bouquet of flowers; the set pieces provided a buoyant enhancement to the collection's light, playful wrap dresses and floral prints.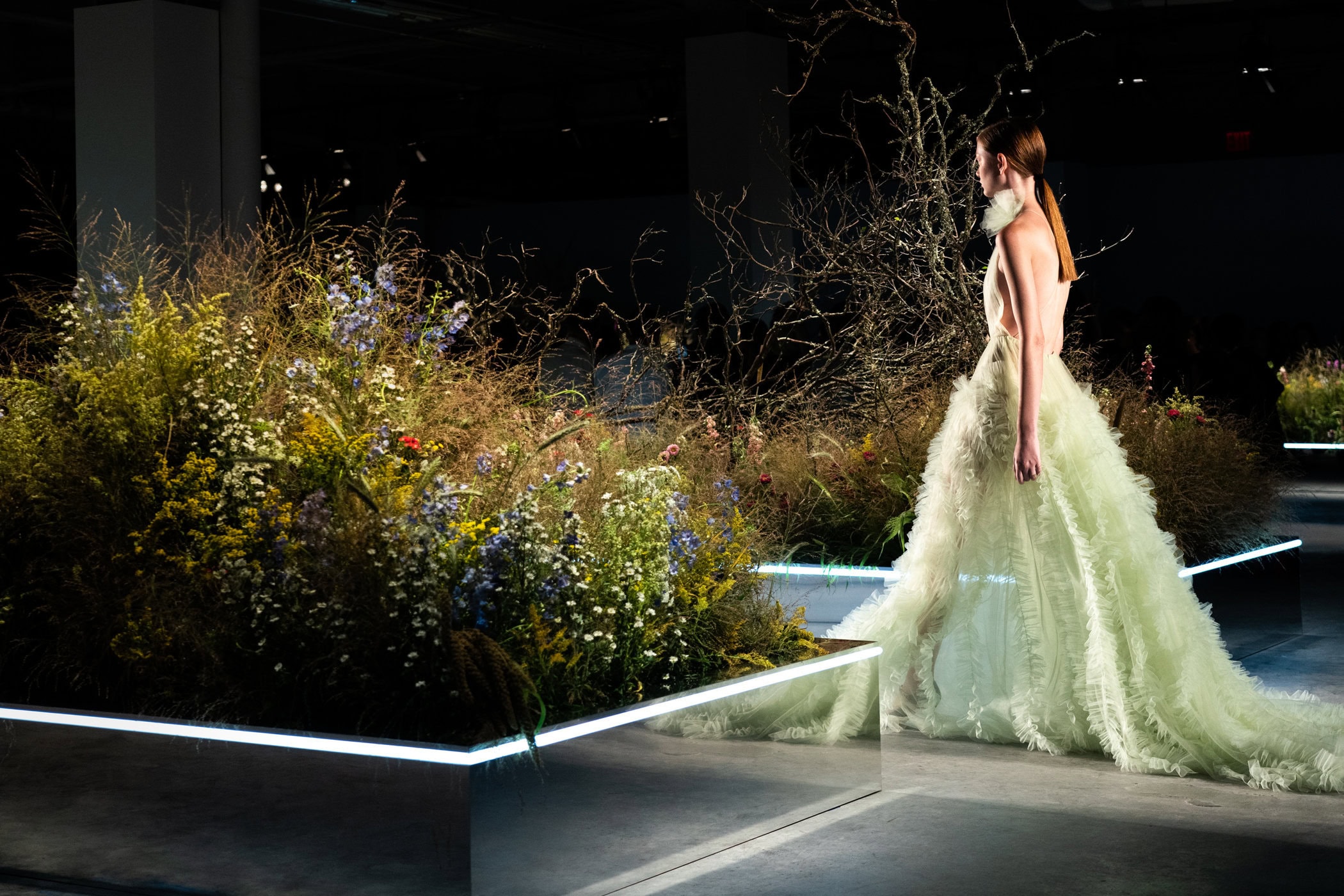 Set & Show Direction | Emma Davidge at Chameleon Visual
Production | CS Global
Floral installation | Emily Thompson
Jil Sander
Ten metric tons of stone were required to create this installation for Jil Sander inside the outdoor courtyard Pinacoteca di Brera, a gallery and cultural institution in Milan. The juxtaposition of zen-like conical mounds with the formal arches and columns of classical baroque architecture created an unexpected and awe-inspiring visual.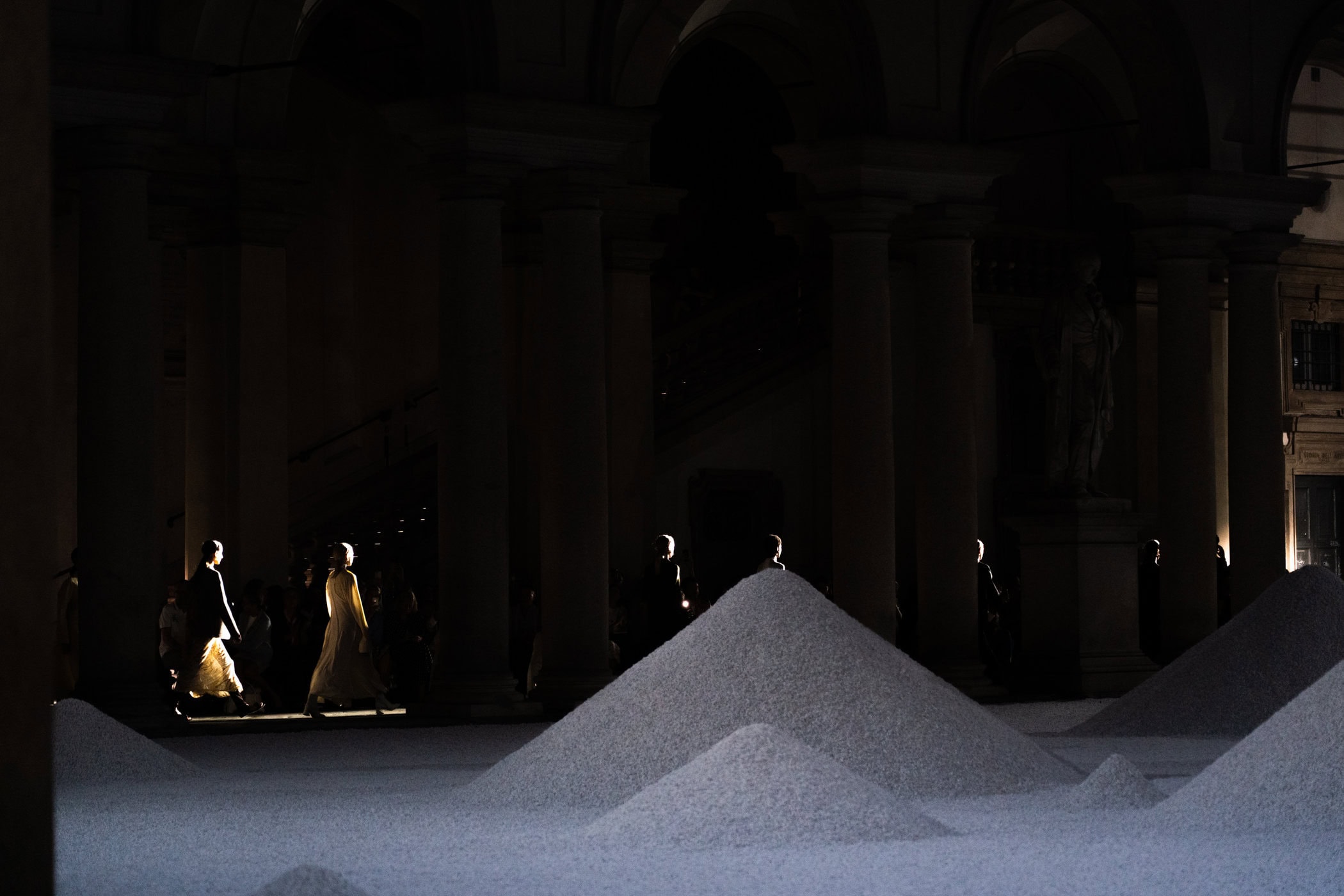 Khaite
Catherine Holstein, Founder and Creative Director of Khaite, harkened back to childhood memories of summers in Woodstock, Vermont (just an hour-and-a-half north of The Impression headquarters in The Berkshires). The fashion show's rhinestone headpieces sprang from memories of playing dress-up with necklaces on top of her head while visiting her grandmother's house, which she recently revisited for the first time in many years. The experience also played out in the set, composed of antique wooden chairs piled in a jumble to recall a sense of the Americana on which Holstein has built her brand, with a focus on "cherished items" such as jeans, knits, and shirting. Exposed brick and blacked-out window frames paired with the earthy wood tones created the perfect backdrop for Khaite's newest collection, somewhat of a departure with edgier and more experimental peices, including chintz-printed sarongs, navel-baring blouses, and sensual trousers of liquid silk.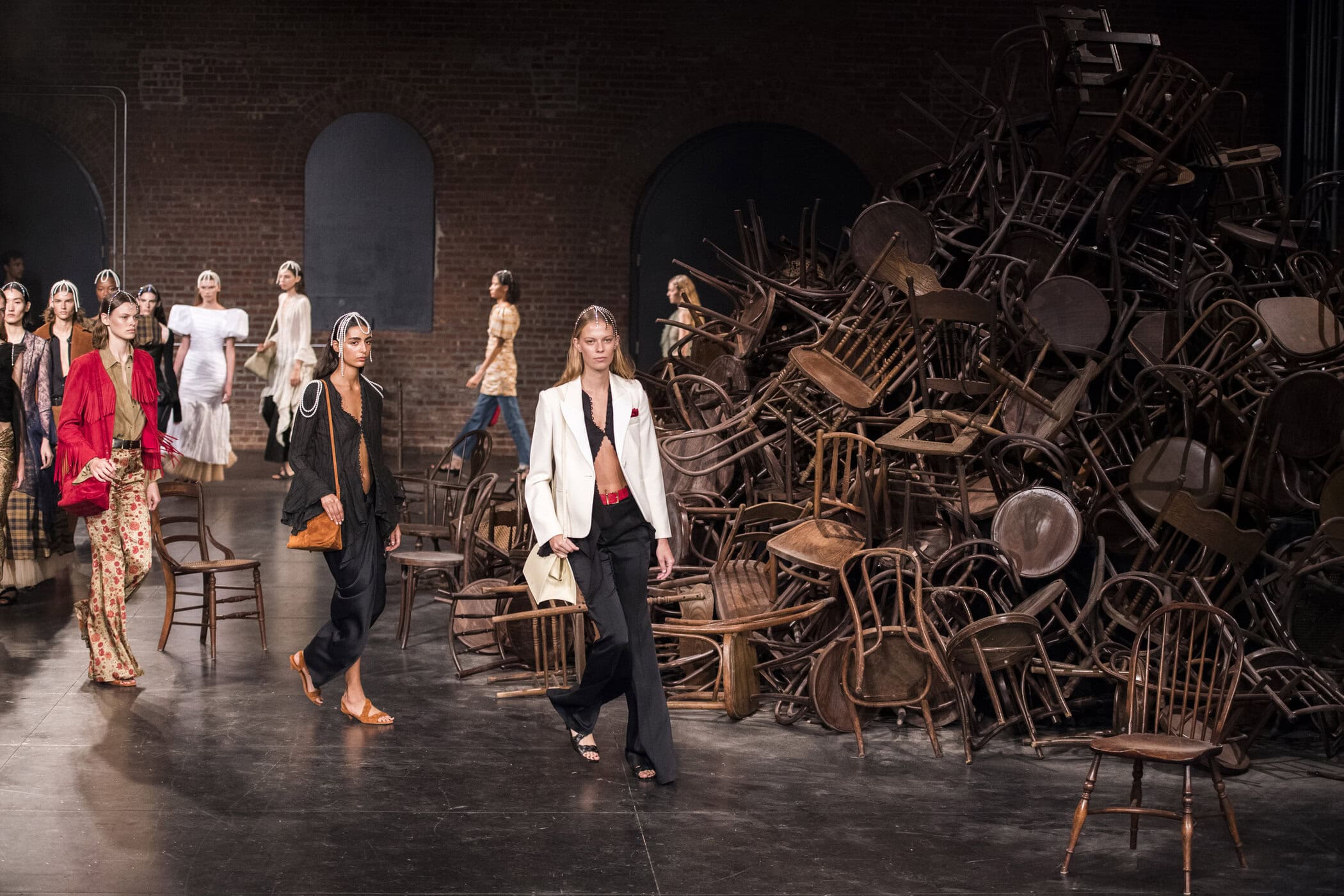 Producer | Prodject
Louis Vuitton
With a platform and bleachers of recycled plywood, and a dark screen which at first glance appeared to be an ordinary wall, the starting point of Nicolas Ghesquière Louis Vuitton's Spring 2020 RTW show was spare and gave away none of its secrets. Even when transgender singer Sophie Xeon, known simply as Sophie, appeared larger than life on the giant screen…her movements were subtle, and it was difficult to tell whether she was moving at all, except for the clouds behind her that were lit up like a dramatic sunset. Only when a door opened in her chest and the models spilled forth, like Athena springing from Zeus's head in Greek myths of antiquity, did Sophie seem to come alive and perform an extended version of her 2017 track "It's Okay to Cry." If a special award could be given to the set with the most dramatic flair, Louis Vuitton would win the prize hands down.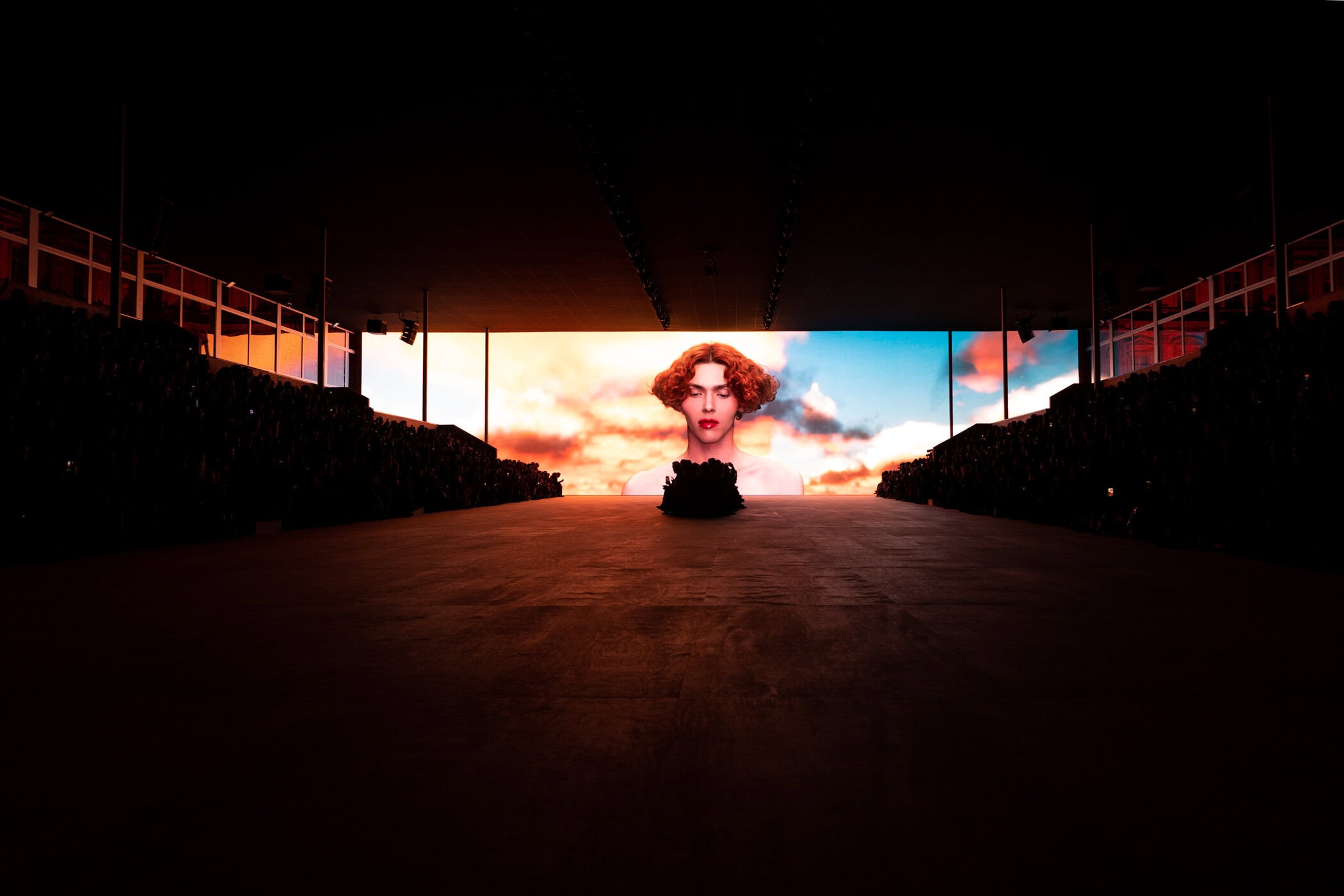 Saint Laurent
A combination of lighting and water is no easy feat. 414 bright-white lights made for the Bureau Betak-designed catwalk were reflected by floor wetted with serpentine puddles, creating high-contrast, mesmerizing effects. With a glowing Eiffel Tower as their backdrop, and the usual location at Paris' Trocadéro as the stage, Anthony Vaccarello's Saint Laurent Spring 2020 RTW show was a technically challenging, elaborate triumph. The synergized lighting photographed beautifully, but the full effect could only be captured by video, with strobing undulations that truly embodies the spirit of the "City of Lights". Also worth noting: the generators were reportedly powered by biofuel, and all energy consumed by the event was produced by renewable means.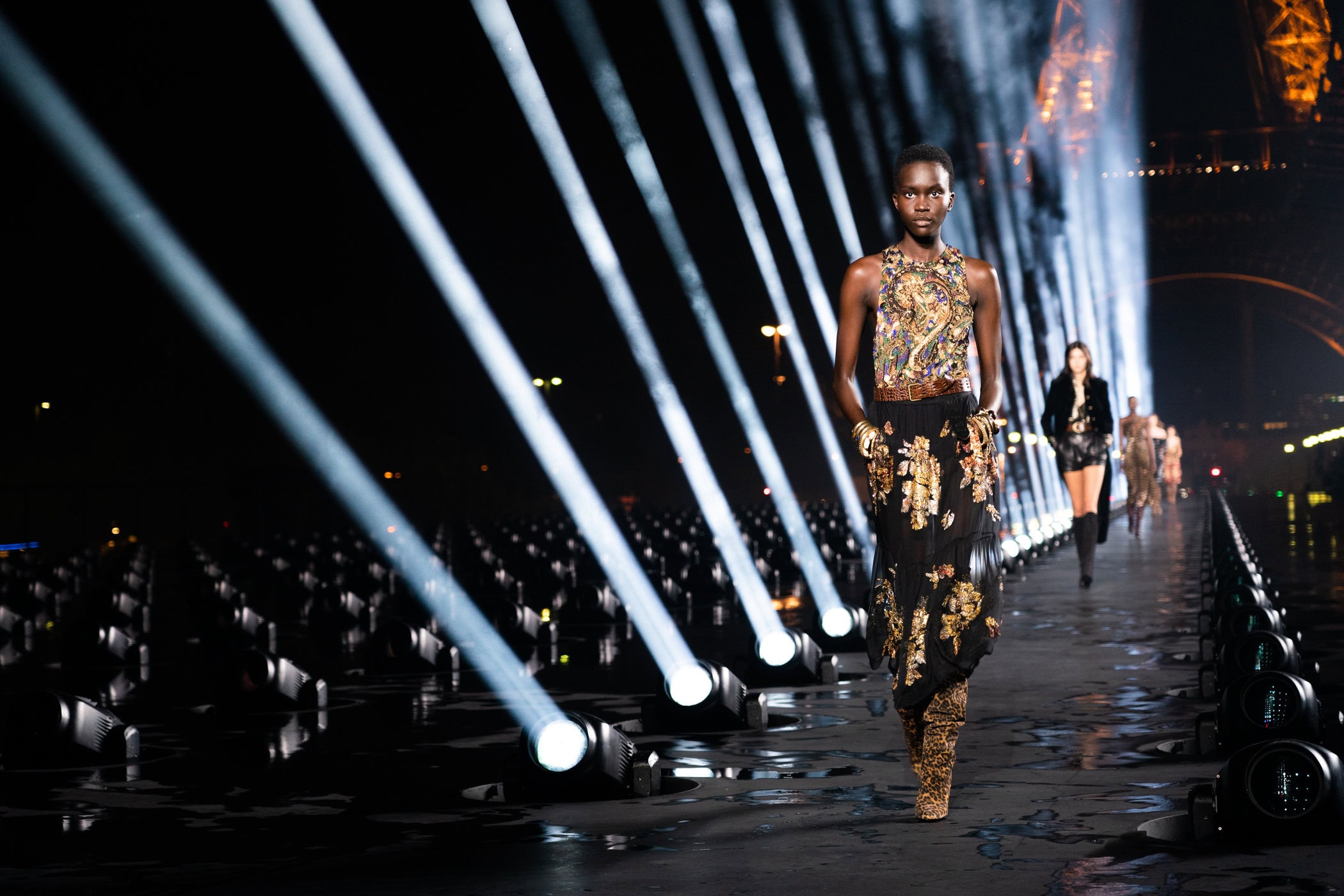 Bureau Betak Creative Director | Alexandre de Betak
Producer | Bureau Betak
Thom Browne
Thom Browne mixed classical music and speed metal as the soundscape for his visually whimsical set, featuring flowers of seersucker cotton. The centerpiece was a fountain cut from the same cloth, with a cherub that nonchalantly relieved himself into a pool of the same heritage seer-sucker, poking fun at the fabric that's been a staple for many of the house's past collections. A voice-over stating that "…it's time to take you medicine" added to the overall effect that was a dash of insane asylum, with a dash of the garden of Versailles.
The set first appeared soft and playful and slowly revealed a darker underside, as fashion folk who attempted to pluck the cloth flowers realized they were metal underneath the surface, and firmly affixed to floor. Models perched on towering shoes that were a visual admixture of porpoises and killer whales, and one had to be escorted down off the stage at the end of the show, presumably exhausted by all the excitement and grandeur.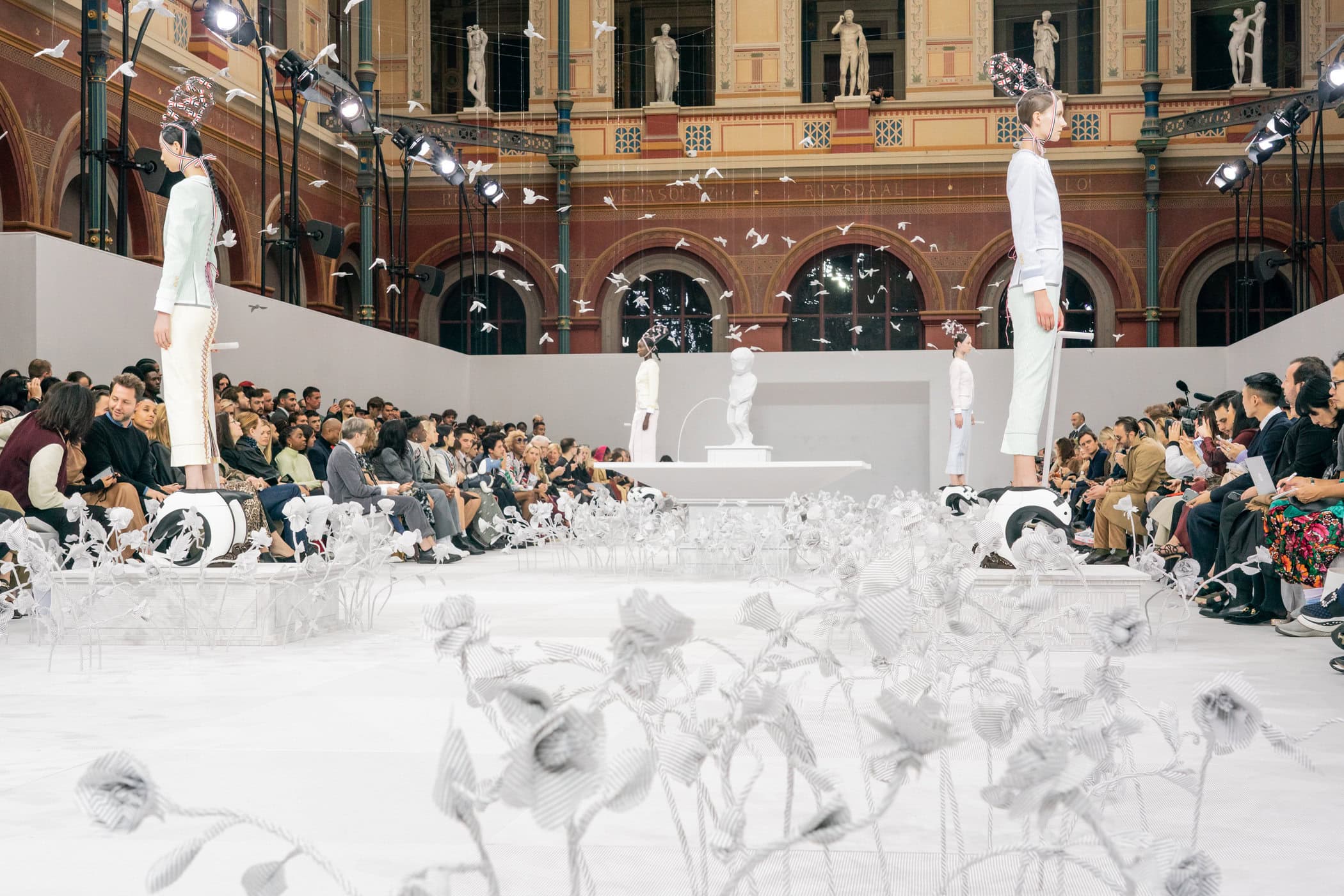 Producer | Back of The House (Thom Browne In-House team)
Tommy x Zendaya
In a cultural tribute to Harlem, Tommy Hilfiger debuted the fall 2019 TommyXZendaya collection with a runway at New York City's Apollo Theater. The set was built to mimic a city block, with brownstone facades and vintage cars. Jazz music provided the auditory backdrop for a collection informed by the era of power dressing circa 1970s and 1980s, with a VR component that allowed pieces from the collection to be purchased on the spot.
Bureau Betak Creative Director | Alexandre de Betak
Producer | Bureau Betak
Versace
For those not familiar with the story, Google Images was reportedly created in response to a torrent of searches for Jennifer Lopez wearing the iconic Versace jungle-print garment back in 2000. This is the story Donatella Versace referenced at a press conference before her Spring 2020 RTW show, stating that "We all follow technology; it's at the center of our lives today, but 20 years ago it wasn't. I'm proud that we inspired Google Images." Versace brought back the jungle print and J-Lo as well, in an updated version of the infamous dress. The fashion house collaborated with Google on the set, using Tilt Brush technology to create digital art projections that played on the walls of a space made to look like the iconic Oculus of the Roman Pantheon.
Producer | KCD
---