---
Scrappy – "disorganized" and "untidy" by definition – is hardly a term one associates with Tory Burch. Yet the designer referred to it repeatedly during a recent hour-long conversation for The Impression/CFDA. Burch uses scrappy in the context of her 2004 beginnings – before she became the American fashion phenomenon, when she was still working out of her apartment with lesser resources that required her and the team to be nimble and find out-of-box solutions to plot growth. While Burch won't be relocating operations back to her living room, her version of scrappy is something she is keen to instill in the company's next phase of growth. We caught up with Burch about, well, being scrappy, philanthropy, why women should wear their ambition like a badge of honor, and her future plans (spoiler: they involve a wedding).
Marc Karimzadeh: Tory, thank you so much for taking the time to speak with me. Let's talk about the Tory Burch woman. How has she evolved since you started your brand?
Tory Burch: She has really evolved, myself included, with me learning to be a designer and CEO and taking our customer with us. Our customer, in the beginning, was maybe 30 to 45. They were our friends, they were working women, but also moms. Now it's all ages. Sport has brought in a whole different customer, and I love how diverse it has become. Different kinds of women started wearing Tory Burch; it happened over time. In a way, they helped build our brand and they feel a sense of ownership in that.
Marc Karimzadeh: Was it important to you to cultivate a customer who perceives a sense of ownership in the brand?
Tory Burch: No, that was completely organic and not something I ever thought about. In the beginning, it was all word-of-mouth, and we didn't have any budget. The word scrappy is something that I am reintroducing to our company because we were always so scrappy. It was always about using your imagination and doing things differently. It's really about that now as well… a less-is-more attitude.
Marc Karimzadeh: How has your own philosophy evolved with it?
Tory Burch: As we have become more global in our footprint, it's been really interesting to evolve. From an intellectual/curiosity standpoint, it was important for me to understand different cultures and respect them. It's been an evolution from the product perspective as well. It has been very challenging to go through different crises, and to learn how to get a business through them. It's that challenge that makes you grow.
Asking hard questions, revisiting processes, and challenging assumptions – that's always very important. I am probably the hardest on myself, but always pushing things further because if not, I won't be proud of where we are and where we have been. I am interested in the future as well as the present.
Marc Karimzadeh: How has the fashion landscape changed since you started out, and how has your understanding of fashion changed?
Tory Burch: The landscape has changed dramatically through technology alone. When we started our company, people thought I was crazy to launch with e-commerce and told me that people don't buy online. Mobile is revolutionizing the way people shop. It's a new paradigm. In the beginning, the department stores were in charge; today, the customer is. She has access to an enormous amount of information. She is extremely savvy. The world has become very small with technology and travel.
Marc Karimzadeh: You have to go with that to be ahead.
Tory Burch: Yes, and social media. We were definitely early with social media because we had to think of different ways to reach our customer. We didn't have the budget to advertise so we had to be resourceful. The concept of an online magazine is something we did 9 or 10 years ago. To have original content was very different back then. It was a way to show our customer that we had all kinds of interests; we could teach them, we could learn from them, and we could highlight them. I was also interested in supporting other designers, and wearing them. That, and to start a foundation to help women, was so much part of my business plan.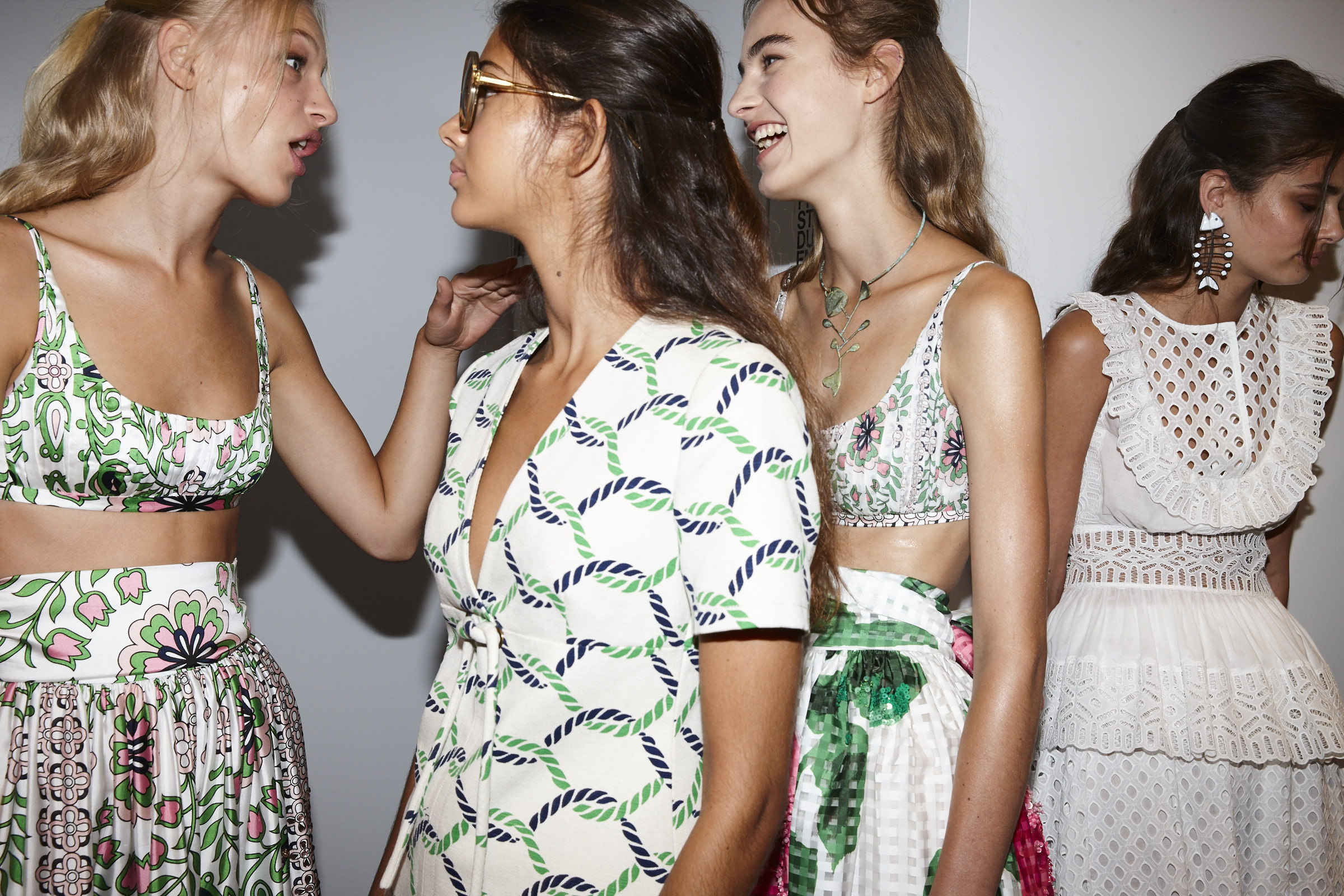 Marc Karimzadeh: How did your experience as an entrepreneur lead to the foundation?
Tory Burch: Thirteen years ago, when I was working on this concept and needed to fundraise, I went to friends, family and different business people for advice. We put in a small amount and needed to raise the rest. Part of the business plan was to build a foundation with the company, but I knew we'd have to have a successful company before we'd be able to do that. A lot of people I met with would say, "Never use social responsibility and building a business in the same sentence," but it has changed dramatically. Millennials care about social responsibility and giving back. It's appealing to a lot of people.
Traditionally, people built their companies, and 20 years later, they started a foundation. It would be wonderful if we can be role models as a startup. The foundation is such a pivotal part of our company. We also learned that it attracts people to want to work here.
Marc Karimzadeh: How do you balance the roles of CEO and designer?
Tory Burch: I think it's challenging… I am lucky that I can think in both ways because I care tremendously about the business. I have been careful from a design perspective—not the actual design –but from that word scrappy and mindful about how we do things. I came from a business background more than a creative one. I was in PR and Marketing, but I was always looking at it in an entrepreneurial, business way, and loved learning about the creative process and the product. It's a fine balance, and it's important to understand both sides to have a healthy company.
Marc Karimzadeh: What inspires and influences you today?
Tory Burch:

I always go back to art. I was an art history major at Penn. Architecture, music and film… And women. I am inspired by strong women, by their grace, their strength and ambition.
We are launching a campaign in March called Embrace Ambition, which will coincide with Women's History Month.
When I started the company, an article was written [about me], and a friend of mine called and said, "I loved it, but you shied away from the word ambition." I thought about it, and she was absolutely right. For me, it's hard to imagine that it's ok and applauded for men to be ambitious, but when it comes to women, it's viewed as distasteful. If we can help women embrace their ambition – whatever that may be, a mom or working – having the confidence about that word would be a great thing. It will be across digital and social channels. We have women talk about the concept of ambition and the hashtag is #embraceambition.
Marc Karimzadeh: How would you describe American style and how do you interpret the notion of everyday elegance?
Tory Burch: Particularly these days, I think about less-is-more. Growing up, I always felt my mom was so effortless and beautiful – sort of undone but beautifully put-together. It didn't seem contrived. American style is very diverse in an effortless and easy way, which sportswear ties into. I like the individuality. It's about confidence, conviction, and easy elegance.
Marc Karimzadeh: Besides your mom, are there any American women whose style you admire?
Tory Burch: Katherine Hepburn and Grace Kelly. They are so different, and so incredible.
Marc Karimzadeh: I love how both are tied to Philadelphia, Grace being from the Main Line and Katherine starring in The Philadelphia Story.
Tory Burch: Yeah. There is a bit of a connection.
Marc Karimzadeh: Your footwear and accessories have been particular successes. How do view the state of these categories, and where are they headed?
Tory Burch: These last two years, we worked on relooking and reorganizing everything – it's back to less-but-more. I want each piece to be meaningful with a point of view. When I challenge our team, I may say, "I want to do sneakers but I want them to be very feminine, so what does that mean?" We have a ruffle sneaker coming out. It's exciting to see something different and unique.
Marc Karimzadeh: How about Tory Sport? What has been the most exciting part about that launch?
Tory Burch: It was basically a whole new startup. It started with the concept of The Royal Tenenbaums and nostalgia and has grown from there. We wanted it to stand on its own. Though it's performance-driven, the concept of mixing fashion and function, and that tension, is interesting to me.
The funny thing is that men are wearing it, too. I love that. I did a post of one of my sons' friends in a Tory Sport tracksuit on Instagram. He's probably 22 and he looks great. I love the concept of unisex anyway. If I ever were to do men's, it would be small to start. I have no plans yet, but you never know. With three boys and three brothers, I am sure there is pressure at home.
Marc Karimzadeh: You have launched fragrance, which has added to your lifestyle concept. Do you have more fragrances in the pipeline?
Tory Burch: We have a couple more coming, including Love Relentlessly. When my father was courting my mother, he would take out ads in the newspaper's Help Wanted section, and sign it Love Relentless. The fragrance was on their love affair when they were young, and his relentless pursuit of my mom.
Marc Karimzadeh: Where do you see the brand in the next five years?
Tory Burch: I hope to keep learning, to focus on product, push our teams, and continue to organically grow the company in tandem with the Foundation. What is exciting about the Foundation as we grow our partnership with Bank of America, we have been able to effect women entrepreneurs. Right now, we are giving out, with Bank of America, over $1 million in affordable loans a month. I was always really careful talking about the Foundation in those terms because I wanted to see the impact and scale, which I finally do.
Marc Karimzadeh: And your personal goals?
Tory Burch: With nine children – my three boys, my three stepdaughters, and of course, my fiance's three boys – all I can hope for is their happiness. I am getting married. We're thrilled. We don't have a date yet, but we are working on it.
Photos | Courtesy of Tory Burch
---