Review of Valentino Promenade "Portrait of a Generation" Ad Campaign by Photographer Michael Bailey Gates with models Chu Wong, Estrella Gomez, Peipei Tang, Smilla Osswald, Anyiel Majok, Ella Rattigan, Sylwia Kuta, Clara Mdee, Yom Alier Apollo, and Justine Wesselo
Valentino shares a portrait of a generation with a new campaign for Pre-Fall 2022. The campaign features photography by Michael Bailey Gates and video by Luminescence Film.
With details drawn directly from the house's couture designs but reimagined with a character of youth and sensibility towards contemporary reality in mind – elements many don't often associate with Valentino – the Pre-Fall collection weaves poeticism with realism, denim and collegiate details with vibrant couture embellishments. "I want to breathe life into Valentino," reflects creative director Pierpaolo Piccioli.
I want its idea of perfect beauty to be somehow stained, so to speak, by the reality of today's life, and to make it alive and relevant for a community of people with no reverence towards fashion, but who inhabit fashion with sentiment and an attitude of personal creativity."

– Pierpaolo Piccioli, Valentino Creative Director
Set against the backdrop of London's Shoreditch neighborhood, Bailey Gates' campaign photographs both draw energy from this location while contrasting with its sober palette of gray skies and red brick. His portraits imbue their young protagonists with distinct and colorful energy, casting them as creative heroes both in touch with their everyday environment and dreaming beyond it.
The accompanying short film also takes shape as a series of portraits, emphasizing a sense of personality and individual style as it introduces us to the campaign's characters through a series of brief cinematic vignettes set to lilting violin strings.
The campaign sees Valentino stay true to itself while exploring an exciting new sense of contemporary character and youth expression, expanding its creative world with a vibrant yet grounded celebration of personal style.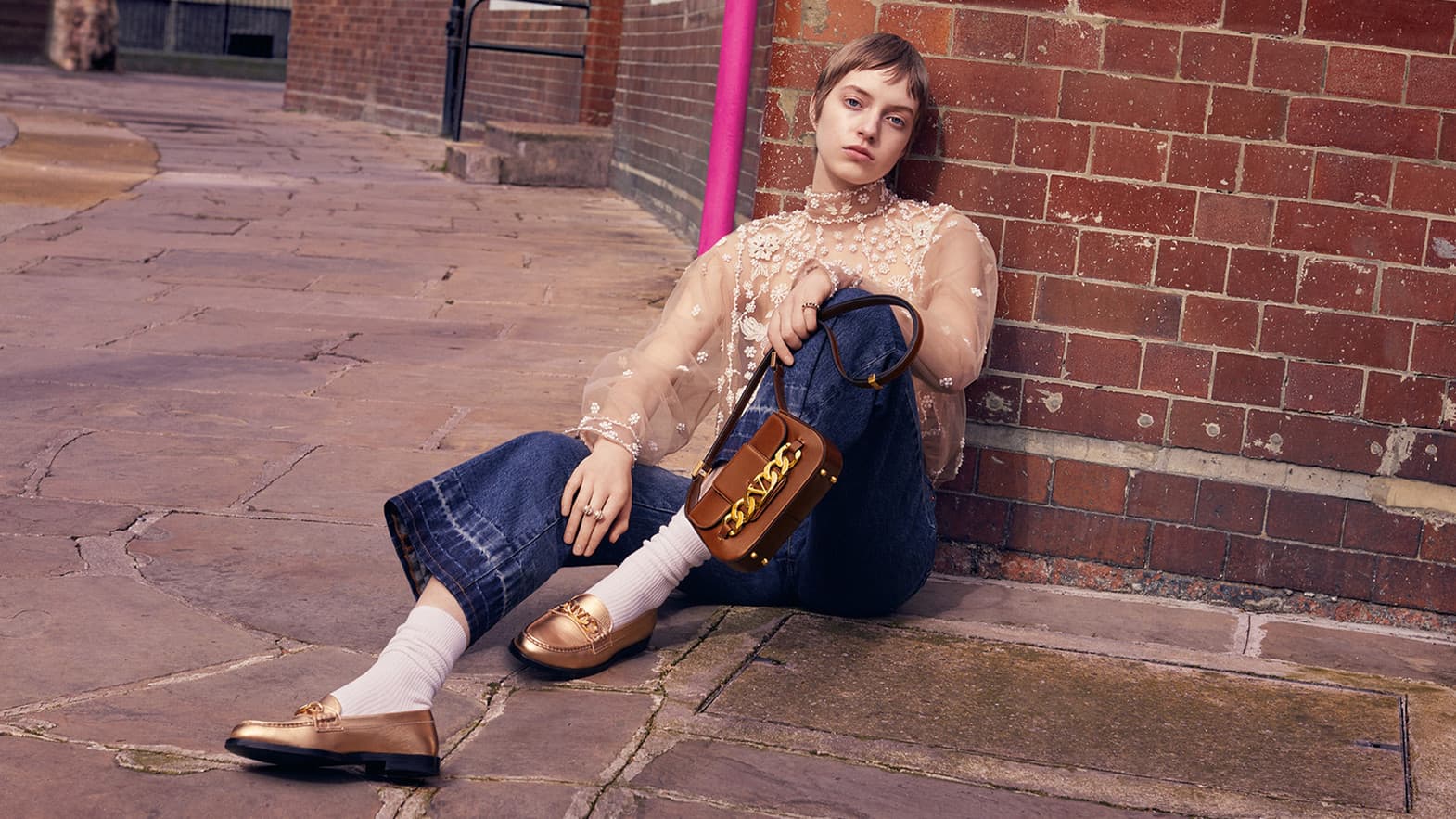 Valentino Creative Director | Pierpaolo Piccioli
Video | Luminescence Film​
Photographer | Michael Bailey Gates
Art Director | Riccardo
Models | Chu Wong, Estrella Gomez, Peipei Tang, Smilla Osswald, Anyiel Majok, Ella Rattigan, Sylwia Kuta, Clara Mdee, Yom Alier Apollo, and Justine Wesselo
Stylist | Joe McKenna
Hair | Anthony Turner
Makeup | Lauren Parsons
Casting Direction | AAMO Casting
Set Design | Poppy Barlett
Location | London's Shoreditch neighborhood
---