---
Review of Valentino Spring 2022 Couture Fashion Show
Breath of Spring
By Mark Wittmer
While Valentino's last ready-to-wear collection saw creative director Pierpaolo Piccioli infuse the legendarily luxurious house's DNA with more contemporary and accessible – even street-ready – elements, his couture collection for the season sees the designer return to an infinitely refined aesthetic that floats in a pure realm of color, softness, and warmth.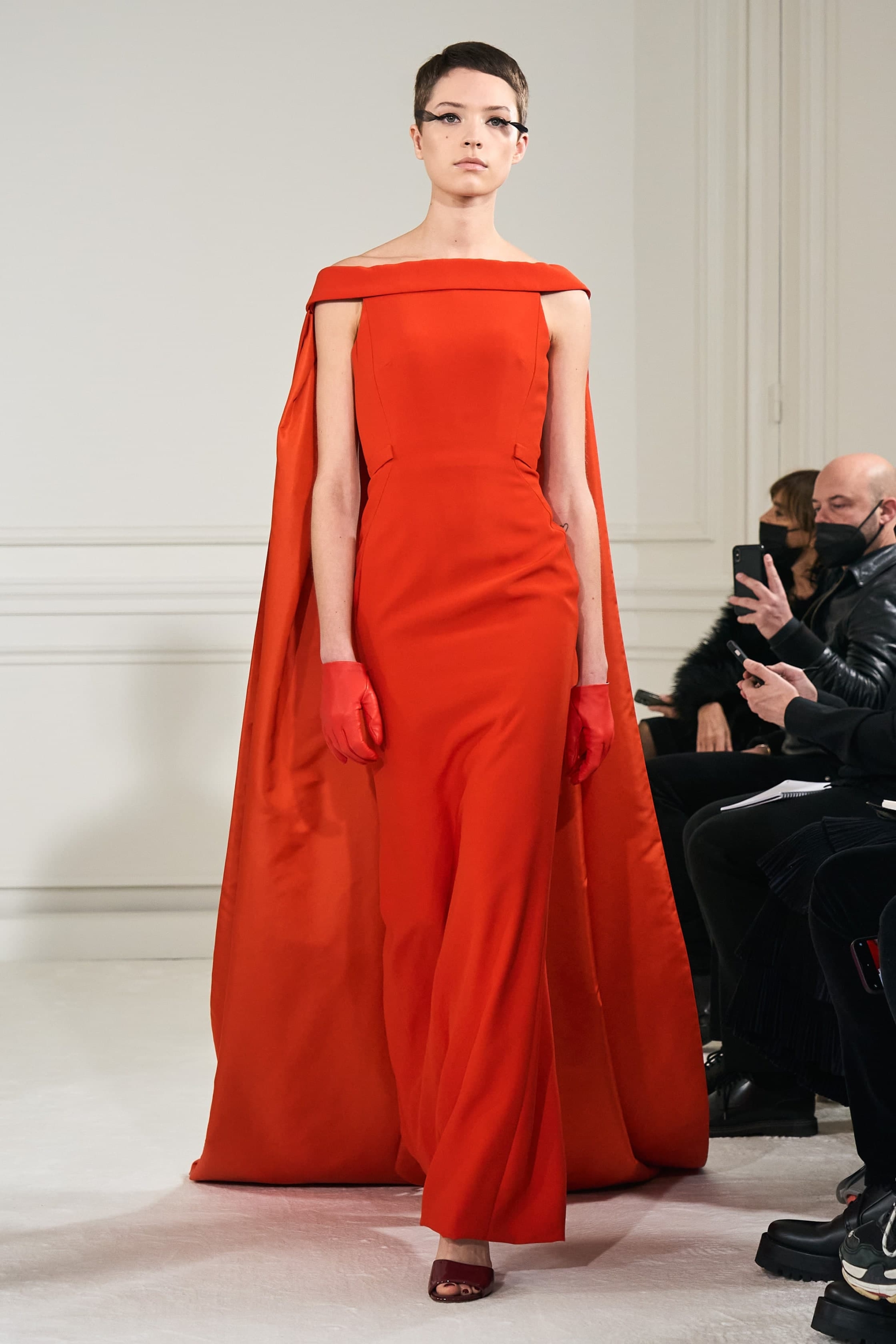 In his signature style even further refined for the occasion of couture, the overarching feeling of Piccioli's collection was classical grace and poise, but always expressed through inventive and emotive thinking on new possibilities for dressing the body. He rewrites established haute forms – strapless, bodycon, cape, jacket – with his fluid handwriting, blurring and synthesizing categories.
Looks with distinct shirt and pants are lent a flowing, gown-like quality through the addition of a cape; demi-dresses are paired with loosely flowing pants. Though we can identify separate parts or elements in these looks, each seems whole, exclusively itself.
Welcome for spring courtship, a slightly more present thread of sexiness runs throughout some of the collection, most readily evinced in the short skirt lengths and tights-clad thighs, as well as a sheer top with nothing under it – nothing but a body, that is.
But rather than any heavy-handed sexuality, this touch of the sensual blows through the collection as light as air: it's about the way a fabric falls against the body, the way sleeves and trains just barely kiss the ground they float over.
It's always great to see how the creative director incorporates menswear at the couture level, but, aside from an excellent coat or two, this season the men's looks seemed to lag behind the poetic inventiveness of the women's, especially after the greatness that was last season. Structurally, most men's looks were rarely more imaginative than a shirt and pants, with a T-shirt – an excellently crafted one, but a T-shirt nonetheless – even making an appearance.
Color-wise, the collection had a subdued beginning in black, silver, and eggshell, before blossoming – like a return of life after winter snow – into vibrant shades of pink, green, purple, orange, and cobalt, Piccioli establishing himself once again as today's master of solid color.
Aside from a few ornamental, sparkly digressions that felt a bit like a bit of a capitulation to expected, atelier-made couture codes, the collection felt focused and light. Refreshing our senses with softness and color, Piccioli and Valentino lift us up to the delicate joy of spring.
---