Review of Versace 'La Vacanza' Summer 2021 Ad Campaign by Photographer Camille Summers-Valli with models Lucas Barski, Simone Bricchi, Evie Harris, Blesnya Minher, Loic Namigandet, and Rozanne Verduin
It's a very Versace summer in the brand's latest swimwear campaign.
Shot by photographer Camille Summers-Valli in Liguria – the Italian coastal region home to the colorful fishing villages of the Cinque Terre and stylish towns like Portofino – the campaign brings Versace's classic sense of style and humor to a laid-back summer vacation.
With this shoot I wanted to create something fun that captures the spirit of a vacation. We all miss travel. We miss the excitement of being somewhere different, of meeting with friends and sharing experiences. These images are about enjoying life and feeling free, they encapsulate that summertime feeling of endless possibilities.

— Donatella Versace
The short film creates a dual sense of time, weaving the protagonists' somewhat distorted reports of their vacations in between footage of the humorously disparate reality of their activities. Lounging by the pool becomes swimming in the crystal-clear waters of the Mediterranean; lazily doing a crossword becomes reading great literature; eating gelato becomes doing a detox.
All the while the colorful patterns of the new collection, drawn from classic Versace codes like baroque patterns, sea life, and Medusa heads, illuminate the feeling of casual summertime joy. The deviously playful moods of the characters are infectious, and the longing for vacation is something we can all relate to – especially now. Versace has us ready to dive into summer.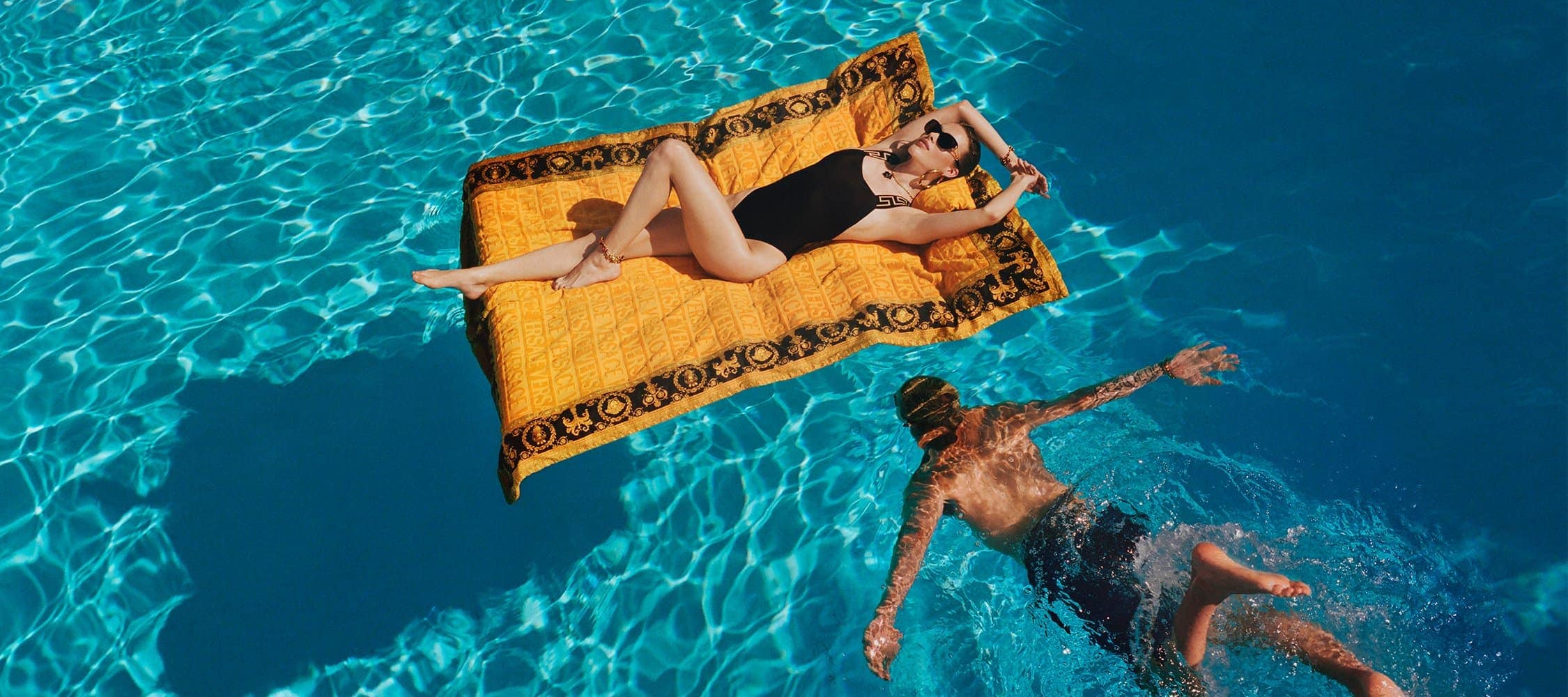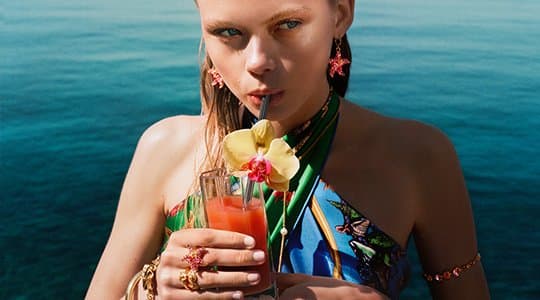 Versace Creative Director | Donatella Versace
Photographer | Camille Summers-Valli
Models | Lucas Barski, Simone Bricchi, Evie Harris, Blesnya Minher, Loic Namigandet, and Rozanne Verduin
Stylist | Allegra Versace
Hair | Patti Bussa
Makeup | Luca Cianciolo
Casting Director | Piergiorgio Del Moro
---