---
Review of Versace Spring 2023 Fashion Show
A dark Gothic Goddess
By Lizzy Bowring
There is always no mistaking a Spring/Summer collection from Versace. It is always full of vibrant colour, formfitting dresses and piles of subversive sexiness. The show notes began with A DARK GOTHIC GODDESS.
That's the woman in mind this season. But, let's be honest, that pretty much describes the Versace woman every season – a goddess!
Gigi Hadid opened the show, striding out for all the world as a strong, hard-edged diva.
The slither of her black dress hugging her figure in just the right places while obtuse cuts slashed and wrapped hungrily around her upper torso. But it did not stop there; the following dresses were equally remonstrating to the female anatomy. Look 5 took the dress length up to the bare minimum, albeit that it came with a protective long leather coat, the proportions as divisive as the silhouette.
These strong, incredible women signify business, and if that means taking every man in her path, then so be it!
But it was not just dresses that held our attention. Cleverly constructed tops cut and draped across the body in the most provocative of sheers were presented with skin-hugging leather, slashed with biker's fringing. A long skirt sliced to the high thigh was equally as evocative in its sinuous cut. Elsewhere, an oversized biker jacket cut in tough leather, held fringing that swayed across the body (obviously picked over from one of this Diva's conquests), came with a bustier and the shortest of shorts, displaying long, long legs.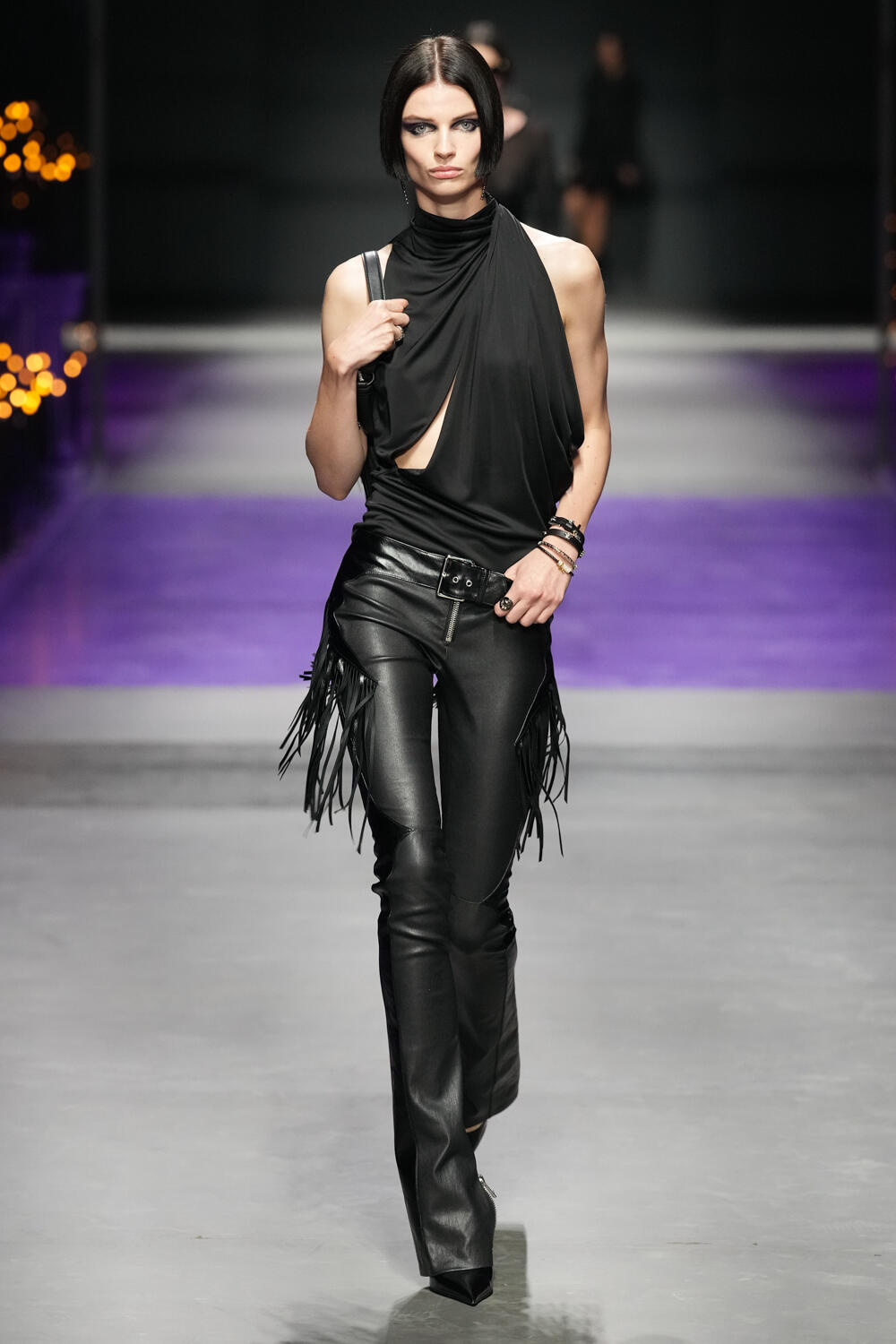 There were motocross jackets and low and wide hipster belts, knee-grazing black boots, and soft leather bags to carry all! These are outfits dressed to kill! Seems and a mix of materials helped define the body's shape even further and was reminiscent of tough sportswear—an overriding them of late. And there was some impeccable tailoring with jackets cut with only Italian know-how and attention to precision.
Back to those dresses. Donatella sent out more. Several, were cut in body-hugging jersey, the neckline plunging almost dangerously low to the waist and beyond, but the drape was clever and demonstrated a feminine side.
The dark black edge finally gave way to tropical pink and orchid purple seen in a long slim sheath, this time, worn under a black jacket that gave way to a printed sheer overlay of a dress, adding a certain je ne sais quoi. One particular outfit came head-to-toe purple layered over trousers, the dress inset with godets that gave a seductive appeal as it sashayed down the runway.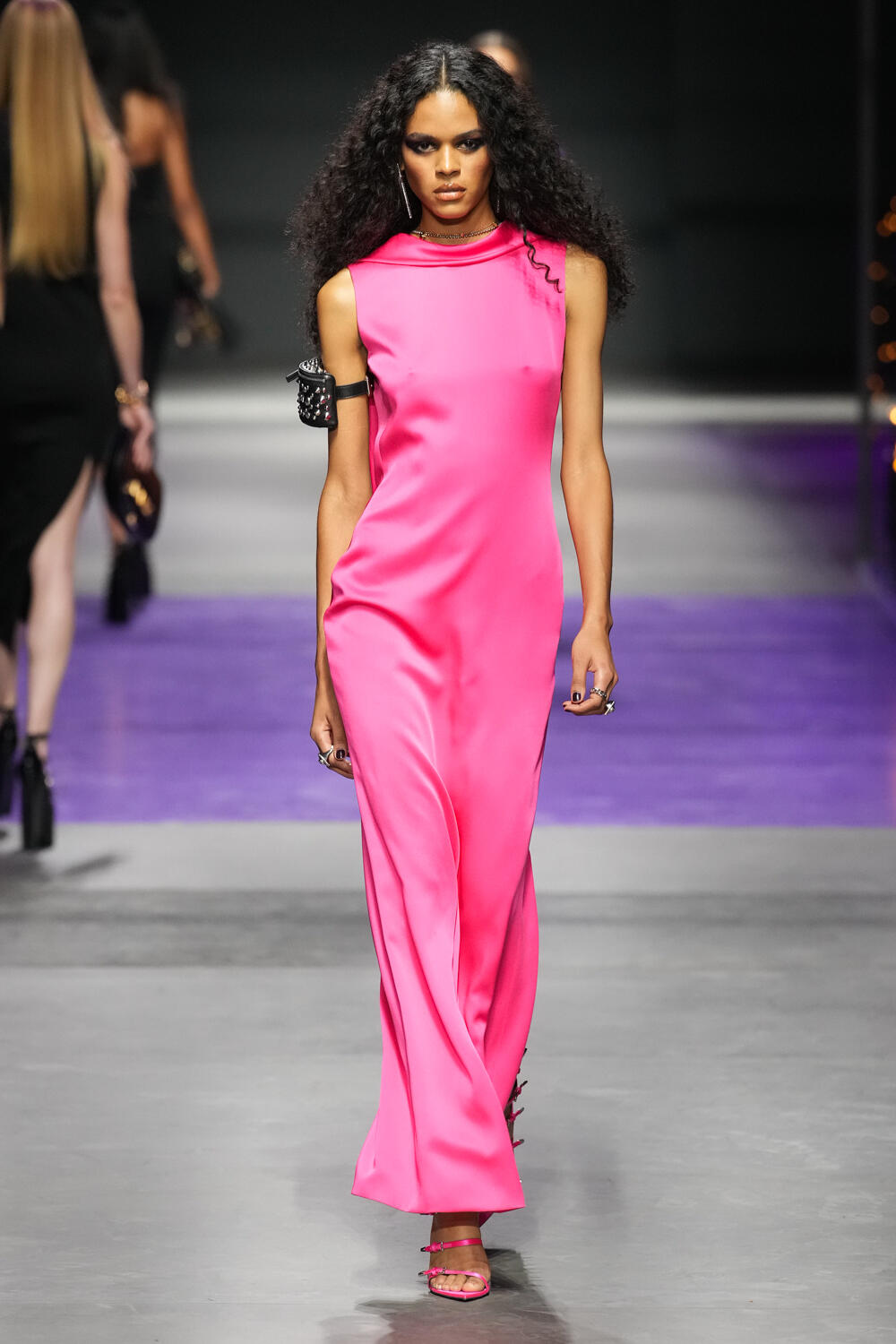 A relief to strong vivid color came in patterned cascading chiffon dresses worn over leather trousers. 'Versace on Repeat' print, and floral and zebra patterns were incorporated into laminated lace, fil coupé, intarsia, or metal stud finishes. Shaggy, fur-like coats and miniskirts were added to the equation, crafted from upcycled production off-cut chiffon and lace in an environmentally responsible approach.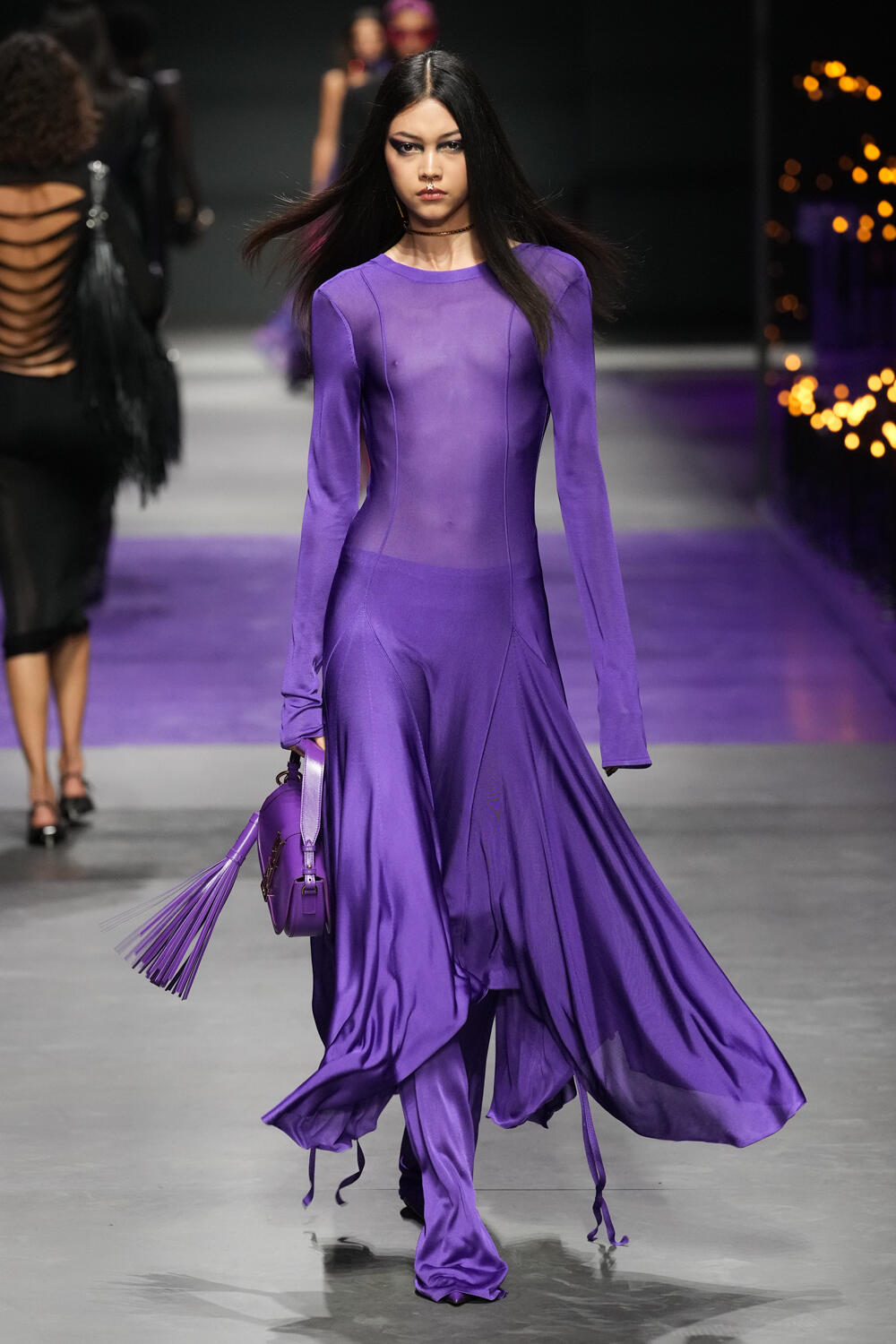 And the finale, Paris Hilton closed the show in a parade of Goth brides striding out in searing lime, pink and purple. There may have been plenty to talk about in this collection, but it all worked, just as a strong team of high-glam Divas would. After all, at the witching hour, they all stick together!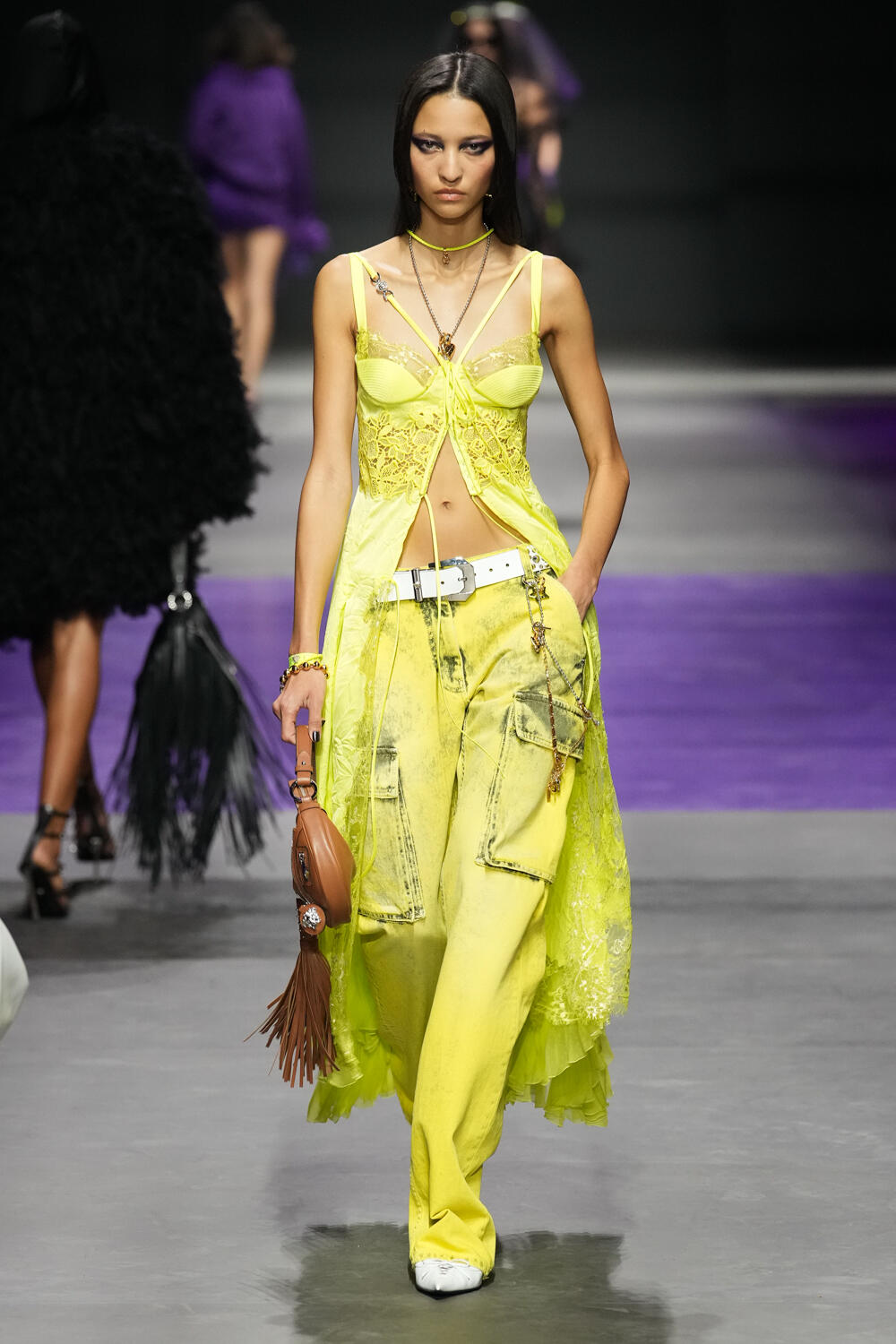 ---