---
Review of Willy Chavarria Fall 2021 Fashion Show
Shaping Clothes Through a Personal Vision
By Long Nguyen
The Mexican-American designer Willy Chavarria always has ingrained social, cultural, and political into the inclusive aesthetic foundation of the fashion label he founded in 2015, many years before fashion woke to these racial equality challenges, especially in the year 2020.
In his Fall 2018 show during the New York fall 2018 season in February 2018, Chavarria cast the show with a group of tough-looking working-class guys with tattoos primarily only black and brown Latinos who may live in the outer boroughs of Brooklyn and the Bronx in a celebration of people of color in the days before 'inclusivity' was a requisite thing in fashion now. It sure wasn't any deliberate casting for any other purposes than simply. It was just the people that the designer saw in his daily life and the people he designed the clothes for.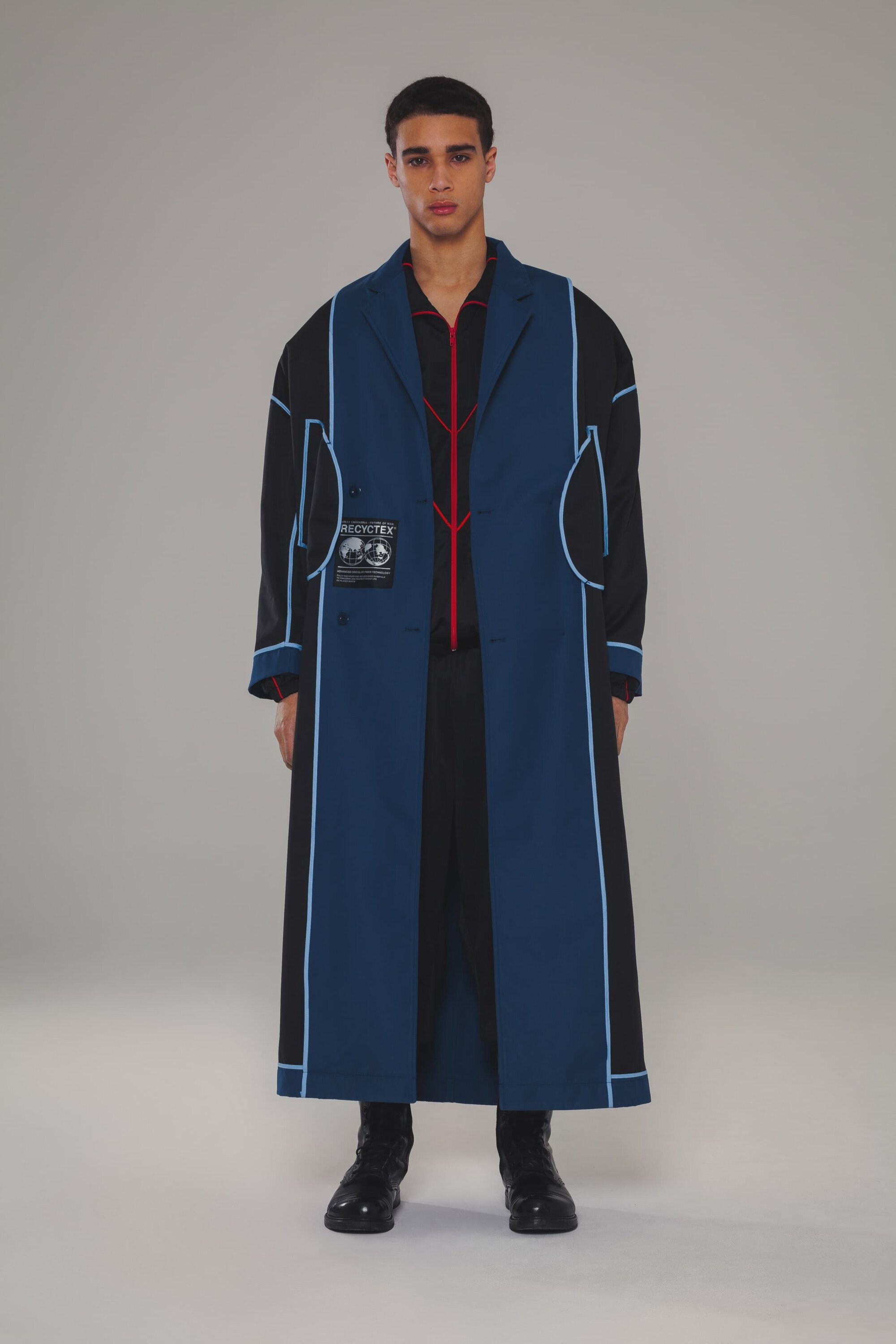 I remembered from that show in early 2018 how Chavarria shifted the notion of what was considered the prevailing male aesthetics at the time by allowing an underground aesthetic to surface into the mainstream. But this particular casting wasn't so much about making a statement as much as it was about having the people whom the clothes were an inspiration and whom the clothes were just a natural extension of what the designer would see these kids wearing on daily life.
Fashion for Chavarria is the arena where mixing of race, politics, sexuality can find expressions in graceful garments cut in at times exaggerated silhouettes in order to emphasize something perfect proportions often overlooked, a sort of life seen on fabrics. When he started the brand in 2015 in Brooklyn, he brought his personal messaging to become the aesthetics of the brand, and the clothes he put out since have remained consistent since that debut.
The designer silhouette takes its roots in the working class forum rather than any high fashion design intellectual process.
Here, a work shirt or a utilitarian coat is still the prevailing anchors despite their seasonal transformation, like the slightly exaggerated and blow-out shapes for this coming fall season that Chavarria had titled Real Men, meant to be a story about elegance and endurance.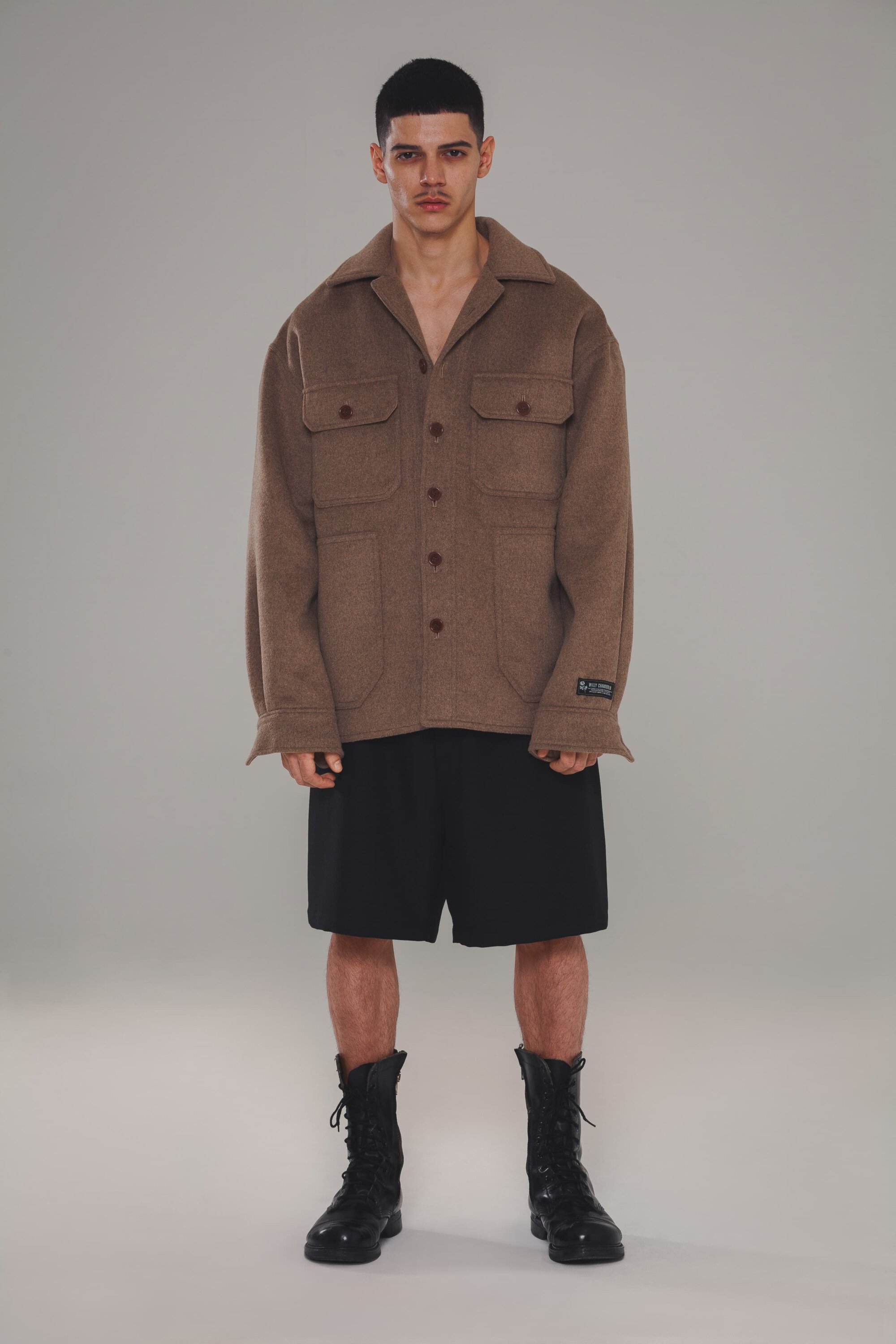 The collection is designed to be simple and straightforward, clothing that projects a strong sense of endurance. I want to communicate with clarity. I find it offensive to see brands flailing opulence and pretending that the world is joyful and glorious. It's ok for us to feel the way we do right now. Let's embrace it so that we can explode with joy later.

– Willy Chavarria, via Zoom from his Greenpoint studio.
This fall collection comprises of simple staple garments – wool zippered blouson, cotton elbow sleeve tee-shirt, wool double breast coat, wool felt work shirt-coat, wool shirt-jacket, knee-length short, or a short pants – all given a special design element where Chavarria added a bit of strategic placement of volumes that give each garment its own individuality. The strength of these clothes is the unseen design details because the fabrics are mostly wool and wool felt and in black, navy, and brown – colors that tend to hide the subtlety of techniques rather than highlight them.
"It is intentionally paired down in this presentation. It isn't about creating the newest noise for me. It's about creating subtle beauty that people want to wear. Of course, our knitwear is a key part of our brand – it is purely simple with longevity. So are cool forms of sweats," Chavarria said when asked about the consistency of his wardrobe staples over the years. "Tailoring should be relaxed and easy, as long as it feels good on the body and has some sex appeal."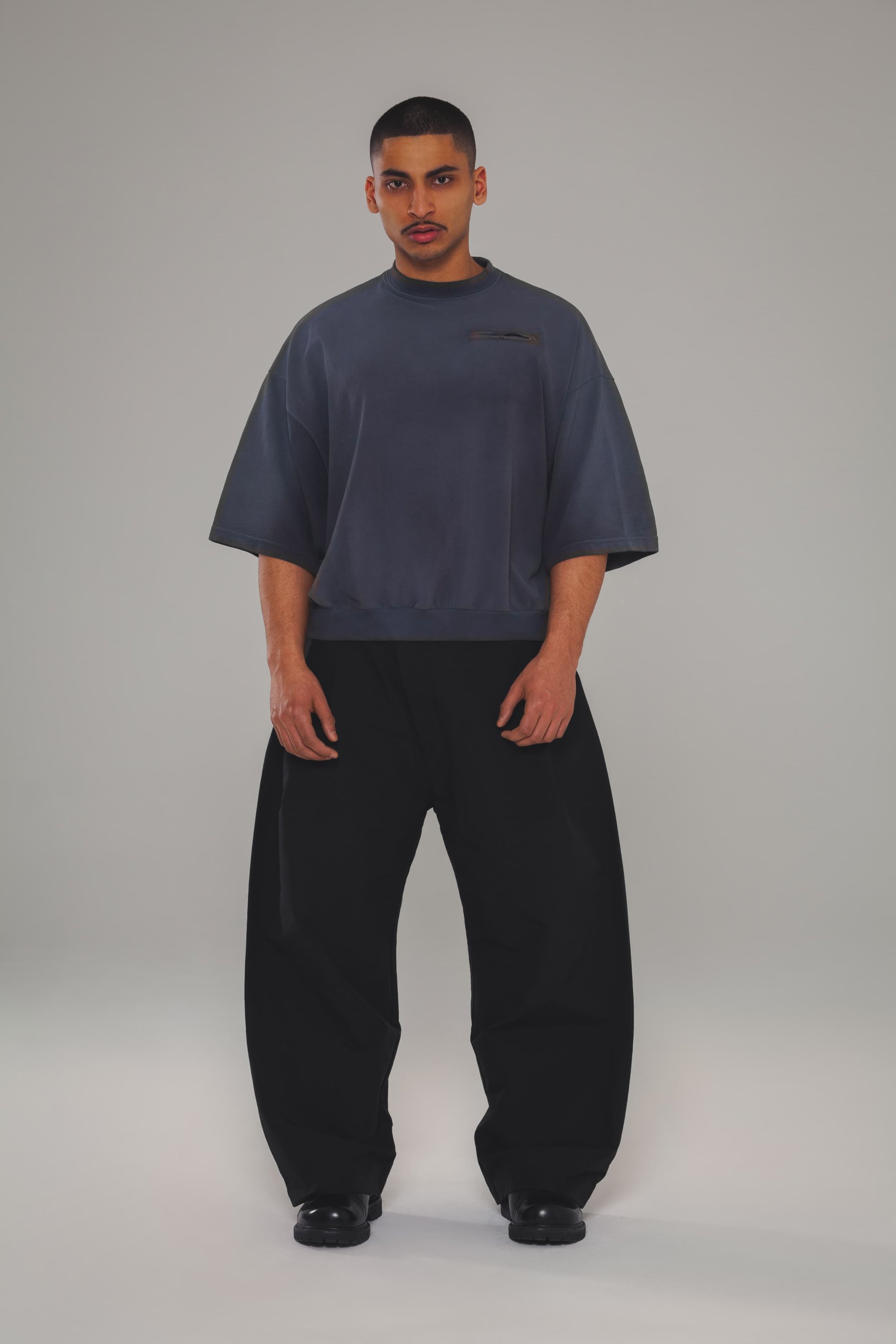 A black crop blouson has a pair of sleeves that are slightly engorged at from the elbow, creating an allusion of an elliptical shape worn with a pair of black pants with drop crotched with the pants leg cut so that the volume is evenly distributed on both sides of the legs with the bottom of the legs slightly tapered, thus giving the pant shape a more rigid structure. Likewise, a simple sweatshirt is now cropped to above the waistline with sleeves flaring out from the elbows like those 1970s hippie pants.
The slight tapering at the bottom is a design element that allows the pants' volume to be more pronounced – had it not been for this tapering, the proportion of the pants would have been more even, and the volume won't stand out. The eyes don't notice things in proportions, but the fashion effect is there in plain sight when the proportions don't match.
Chavarria even has a name for this pant – Honcho Chino.
"A larger silhouette has emerged from our ability to claim territory around ourselves. My patterns are not 'oversized' – they are simply shaped to create more volume where it is most impactful," Chavarria explained the discreet volume of the blue double breast four buttons coat that has no internal structure but is cut so that the fabric falls on the body with little interference. The coat is not oversized because it is not cut with extra fabrics to make the silhouette looks big. Instead, it is cut with enough fabrics to induce a sense of looking at a new shape, a fluid form that permeates throughout this entire collection. Oversized clothes are never fluid.
Asked if the black bottom paired with a parka or a shirt-coat with flare sleeve is a skirt as the picture of the looks aren't cleared as it could be a pair of extra wide-leg pants, Chavarria answered that it is a skirt. "A high waist twill skirt. I love this skirt paired with a coach jacket or a track jacket. For me, there has always been an embrace of masculinity from a queer perspective. I think a skirt today is not normally worn on a man, so to wear one with your macho jacket shows confidence."
Silhouettes and fabrications remain the cornerstone of the brand. "I make half of the collection with Recyctex, a brilliant fabric mill that innovates apparel manufacturing using recycled consumer waste," the designer said of the needs now to think about the production processes to reduce waste when possible. "The other half is made in Peru with Fair Trade factories. I have been working with Peru factories for years, and I love the cotton and the communities that make these garments."
"I hope to make clothing that is interpreted by the wearer to be personal. I'm not trying to sell this collection to everyone. Some people like the vision, and that's what matters to me," he said when he mentioned that the bulk of the business is on e-commerce with minimal wholesale scale as the direct-to-consumer offers close control of the brand and a more direct relationship to the consumers. "The brand is quite personal."
Here, there is a real sense of authenticity instead of the veneer of realness as seen with other mega brands that adopted some kinds of street culture like, for example, Virgil Abloh's adventures for his Louis Vuitton collections and even for his own Off-White line. In the short video titled Real Men that Chavarria presented as his fall film, the designer showed who his community is with vivid portraiture of guys, not models, who live and who wear the kind of clothes he has always designed. Perhaps, that's what is the difference between a real voice and one that creates a real community with its audience and consumers.
---