---
Review of Wooyoungmi Fall 2022 Fashion Show
When One Door Closes
By Mark Wittmer
Wooyoungmi delicately infuses a literary sense of fleeting connection into its signature ethos of precise yet nonchalant architectural refinement.
For her co-ed Fall 2022 collection, creative director Woo Youngmi drew inspiration from the shifting cultural landscape of early 20th-century Moscow and the novel A Gentleman in Moscow by contemporary American novelist Amor Towles. The novel follows a Russian count who, despite (or because of) being sentenced to a life of house arrest in a hotel, discovers a world of human connection.
This literary inspiration was most influential in the staging and production of the show, which comprised an all-white runway split up by a series of walls with doors through which models had to pass. Moving from both directions, the models were unable to see who was on the other side of the door and one, leading to organic and spontaneous moments of brief interaction.
The brilliant soundtrack was also drawn from this staging. Each door was rigged with an amplifier, making the sounds of their opening and slamming much louder. As the show progressed, these sounds were prolonged and distorted, treated with echo effects, and connected via MIDI to musical notes, making an improvisational, abstract soundscape.
The Moscow connection is less obvious in the collection itself, but does peek through Woo's typical fare of minimal and exacting contemporary classics. Fastened together at the front, scarves like mini capes suggest a modernist echo of monastic garb. One uniquely cut and layered trench coat exudes a magisterial air. The key colors, jewel tones in pink, blue, dark red, and green, reference the facade of St. Basil's Cathedral.
An appreciation for imperfection is also present in colors and material selection that pay homage to the work of early photographer Sergei Mikhailovich Produkin-Gorskii. Commissioned by Tsar Nikolai ii in 1909, Produkin-Gorskii captured scenes of life from across the Russian empire, now immortalized in photographs bearing the traces of time and technical imperfection.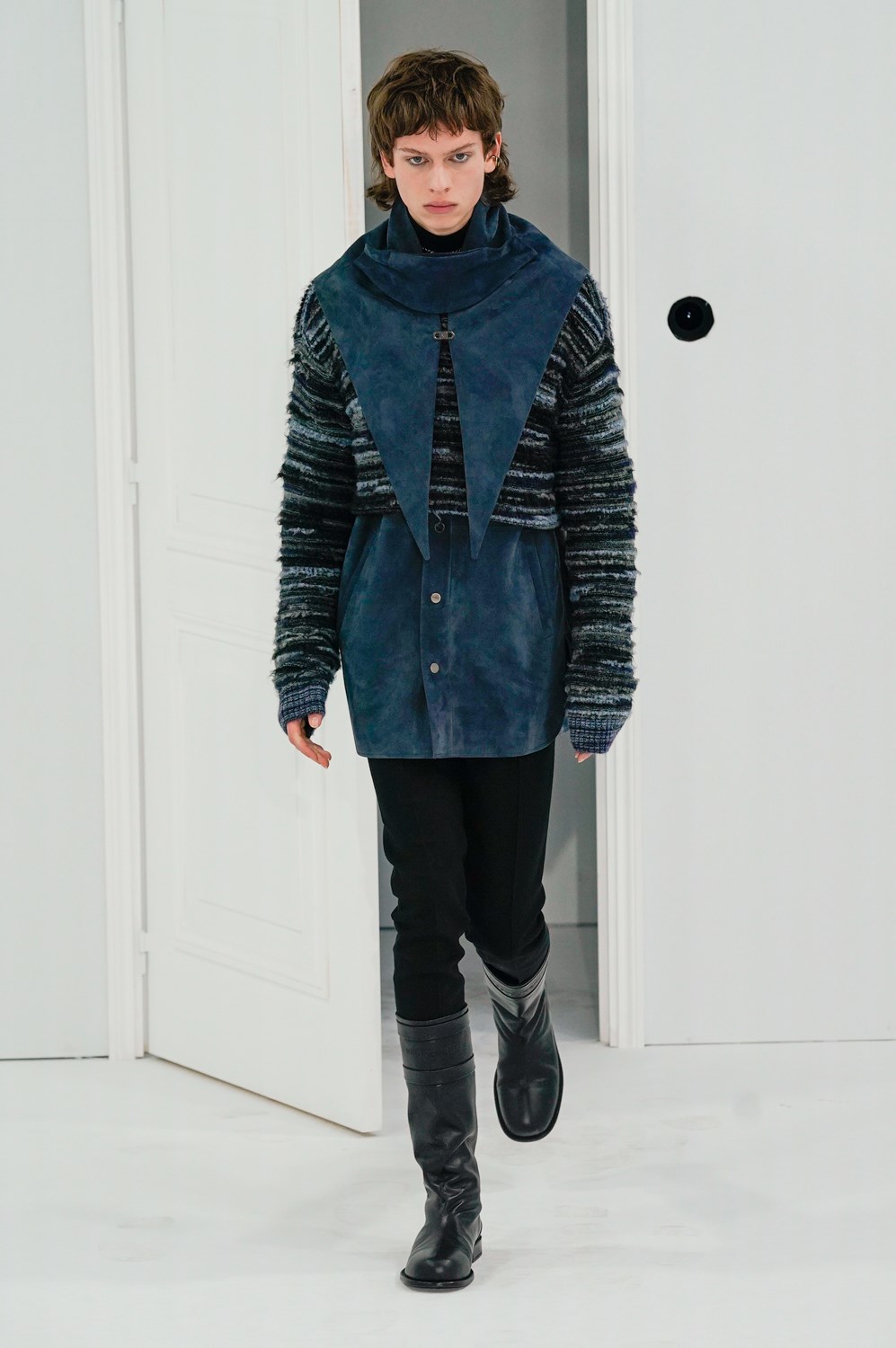 Frayed-edge knits, melange fabrics, and the fluid, blurred colors echo the technical artifacts and passing of time apparent in these old prints.
An inventive approach to layering runs throughout the collection, made possible by the designer's thoughtful approach to crop and cut. Sometimes cropped sweaters go over jackets, sometimes cropped jackets go over sweaters, and often an even longer shirt peeks out from underneath it all. It's an interesting choice that keeps open-ended styling possibilities in mind, displaying confidence in the wearer's independence.
This sense of respect for the wearer's independence of identity and movement is also present in the gender-fluidity of the collection. While Woo is still mostly known (and revered) as a menswear designer, her semi-recent push into womenswear has been strong. We're glad she hasn't had to change much in her approach, however; much of her pieces for women still fall under categories of what we might consider "men's" clothing. There are no skirts or dresses here.
Running throughout the collection, as always, are Woo's signature architectural hardware details. The collection in general doesn't chart too much new territory for the brand, and the motifs of its inspirational sources are incorporated quite subtly: they're easy to miss if they are not explained. But they are delicately woven among the designer's signature aesthetic, quietly illuminating and juxtaposing sartorial precision with an evocative sense of the ephemeral.
---