---
Review of Y/Project Fall 2023 Fashion Show
Deconstruction Reconstructed
By Mark Wittmer
Moved at the last minute from the men's to the women's calendar of Paris Fashion Week, Y/Project's co-ed Fall 2023 show from creative director Glenn Martens proved that the extra wait was worth it. Martens applies a focused rendition of his signature mind-boggling, gender-fluid experiments in construction to a range of what we thought were staple denim and outerwear pieces, transforming them via his distinct fashion vernacular.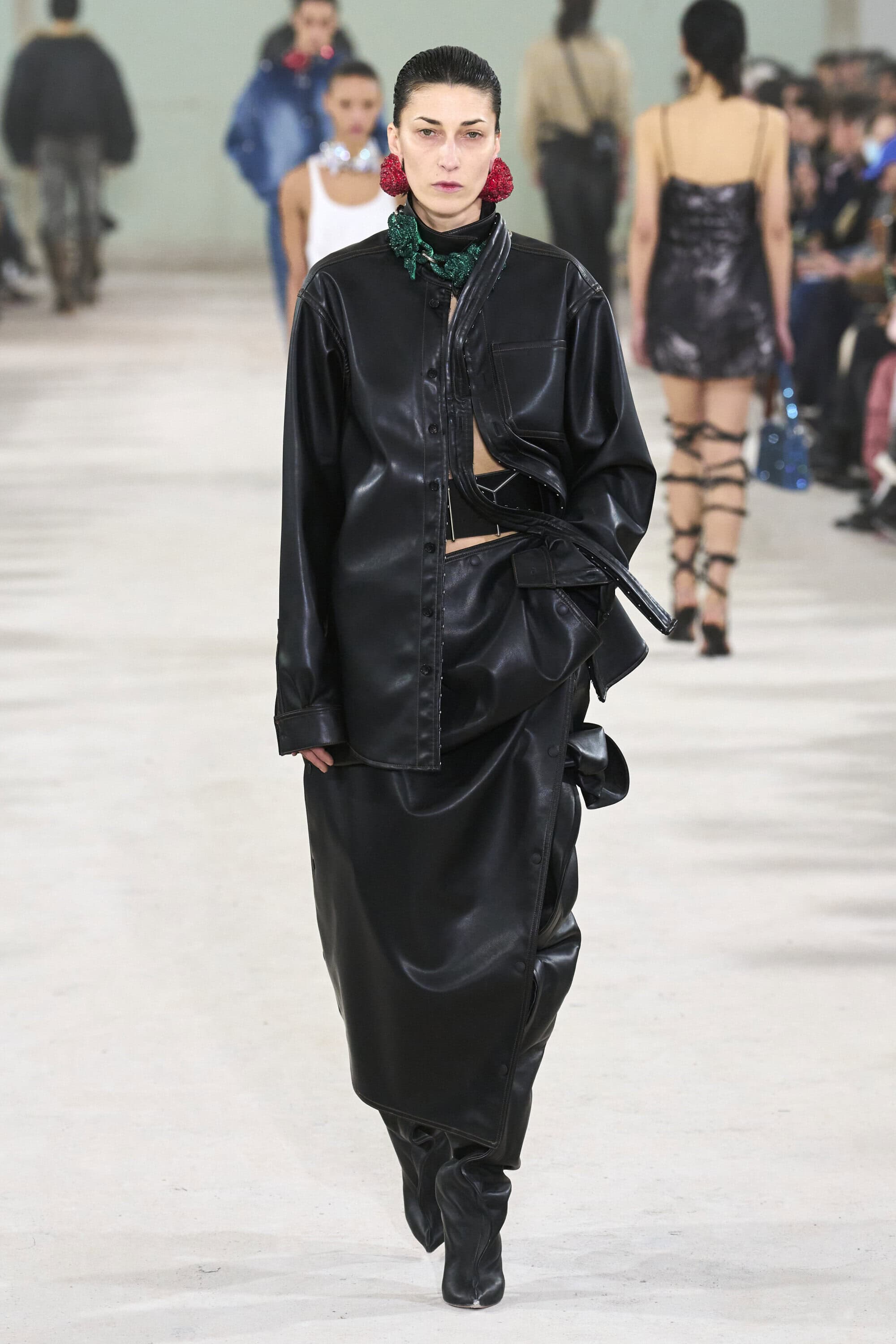 Relatively tame by recent Y/Project standards but still wickedly experimental, the collection focuses and distills Martens' unstoppably innovative takes on hybridity, dimensionality, and deconstruction.
Many of Martens' favorite ingredients from recent seasons – jeans with button-on front panels, pixelated jacquard gradients, trompe-l'oeil prints, distressed denim (which has gotten especially interesting since he also took at the helm at Diesel), and of course the internal wire structures that allow pieces to be modularly sculpted by the wearer – return, but worked into new flavor profiles. Though still not minimal in any typical sense, the looks feel somewhat less maximal than previous iterations; most have just one of these innovative construction ideas as their focal point – which, in a way, has the effect of drawing us deeper into the surrealist effect. The first look, for example, pairs a simple sheer tank with reconfigured denim on the bottom that makes it nigh impossible to tell where the joots end and the jorts begin. Modular fastenings like multiple zippers and panels attached with hook and clasp closures mean one thoughtful detail gives a single piece a plethora of wearing possibilities.
While Martens' use of distressed denim isn't nearly as thorough and over-the-top here as it is with his work at Diesel, it's clear he's still excited about his experiments in finding new uses for the familiar properties of the classic textile. He uses almost drippily frayed denim scraps as an embroidery-esque surface adornment, and they slash and mutate across coats and dresses.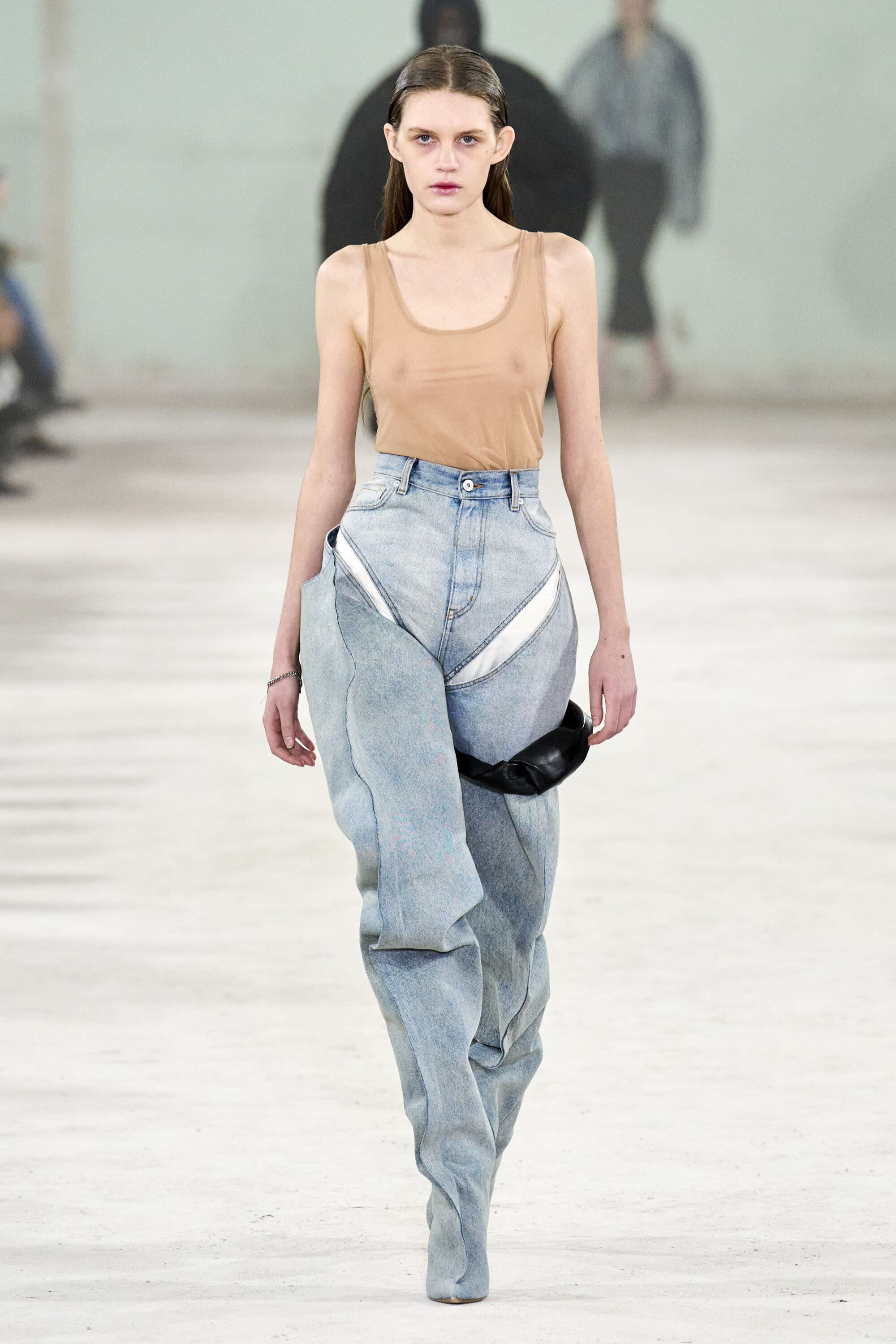 Y/Project's relationship with sex has always been at once nuanced and bold; it always feels obliquely present, but aside from the more literal skin exposure we glean it abstractly through Marten's commitment to concepts like freedom of choice and the erotic pull of the unknown. But the collection's defining print, which appears on simple jersey dresses, skirts, and shirts, makes no bones about it; its Kama Sutra-like tangle of naked bodies is unmistakable. At the same time, though, we can't make out any identities or explicit organs, so it still maintains an element of aloof yet rawly sensual mystery.
This flesh tones also fit nicely within the subdued and consistent color scheme that runs throughout the collection, which aside from a few pops of bright red soberly keeps it to blue, black, white, gray, and brown. His last season featured a barely (but masterfully) controlled chaos of colors, prints, and layers, so it makes sense that Martens would now want to take a somewhat quieter moment of introspection and focus in on the core elements of his craft.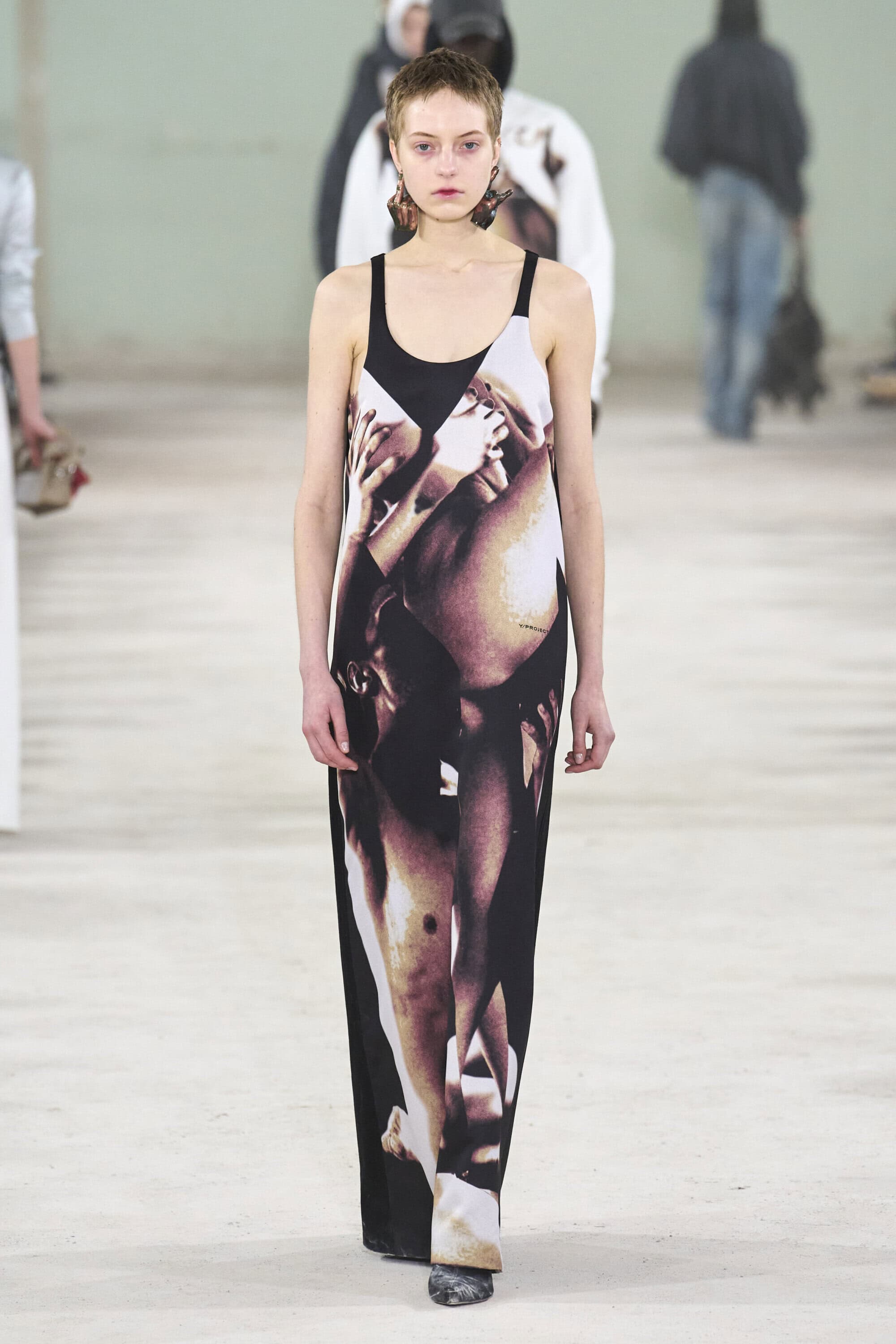 If you've been following along for Martens' time at Y/Project, you know that his collections collectively build upon one another, always developing on a core set of ideas while steadily amassing new ones. It takes patience and attention, but being a fan of the brand is incredibly rewarding in the moments when we see him take an established element of his design vocabulary (the double collars, the internal wire structures, the paneled jeans, the list goes on) and twist it into something new.
At once distilled and thrillingly multifaceted in its proliferation of ingenious details, Y/Project's latest chapter is another excellent entry in this always unfolding body of work.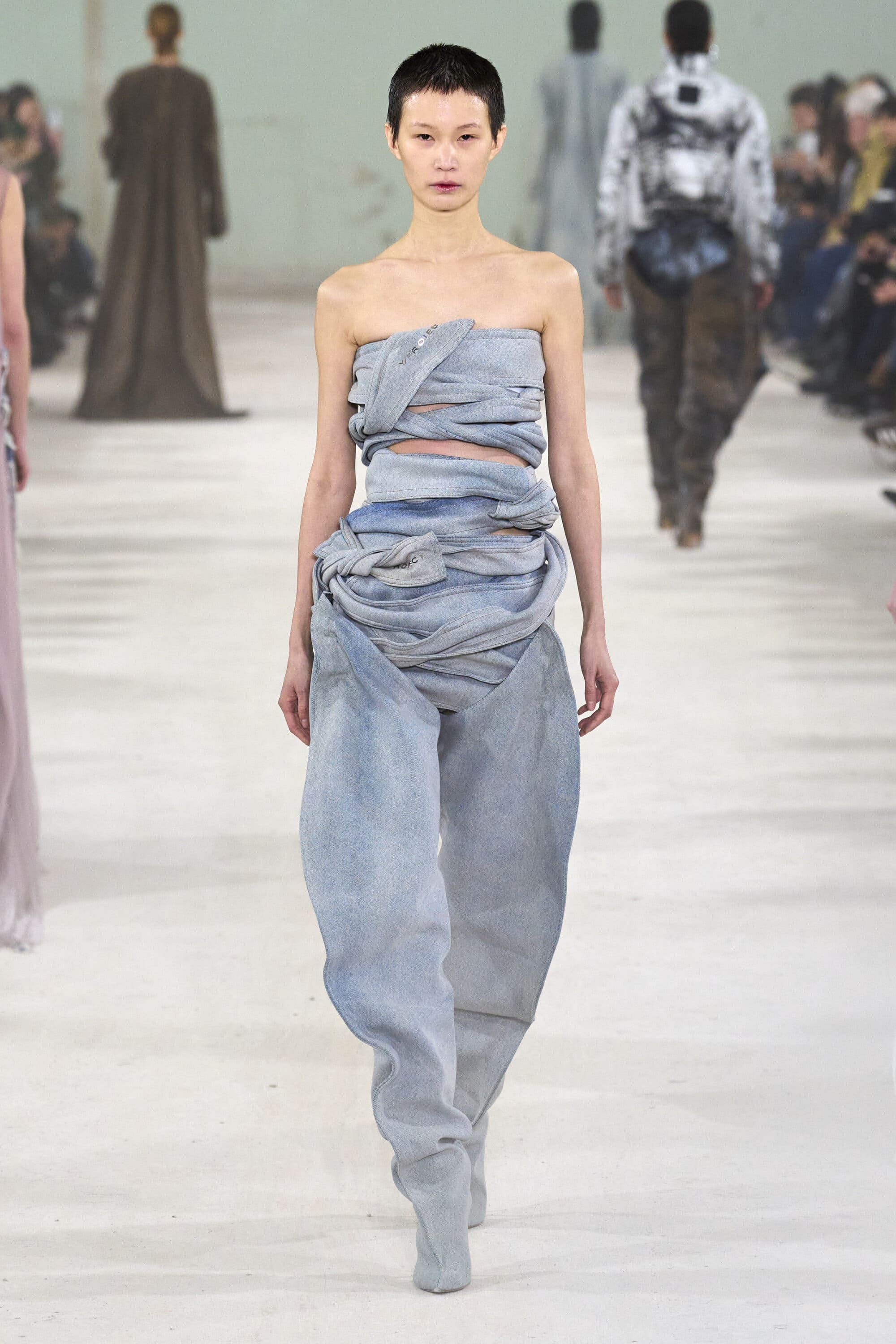 ---