---
Review of 1017 Alyx 9SM Fall 2023 Men's Fashion Show
Pop Punk
By Mark Wittmer
Embarking on a collaboration with an art-world provocateur and revisiting the hard-edged cool that propelled it to stardom, 1017 Alyx 9SM creative director Matthew M. Williams delivered a Fall 2023 collection that was big on style points and ambition, but took itself a little bit too seriously.
The show was held at the Spazio Maiocchi gallery in Milan, currently the home of an exhibition of artwork by American painter Mark Flood. Flood works both in abstract painting – his series wherein he dips scraps of lace into paint and uses them to print a canvas, resulting in an ephemeral balance of delicateness and chaos, is one of his best known – as well as punk-minded pieces that incorporate cheekily contrarian sloganeering and ready-made images and call to mind the work of Duchamp, Warhol, Holzer, and Kruger. For the Alyx collection, Williams and Flood lean toward this latter category.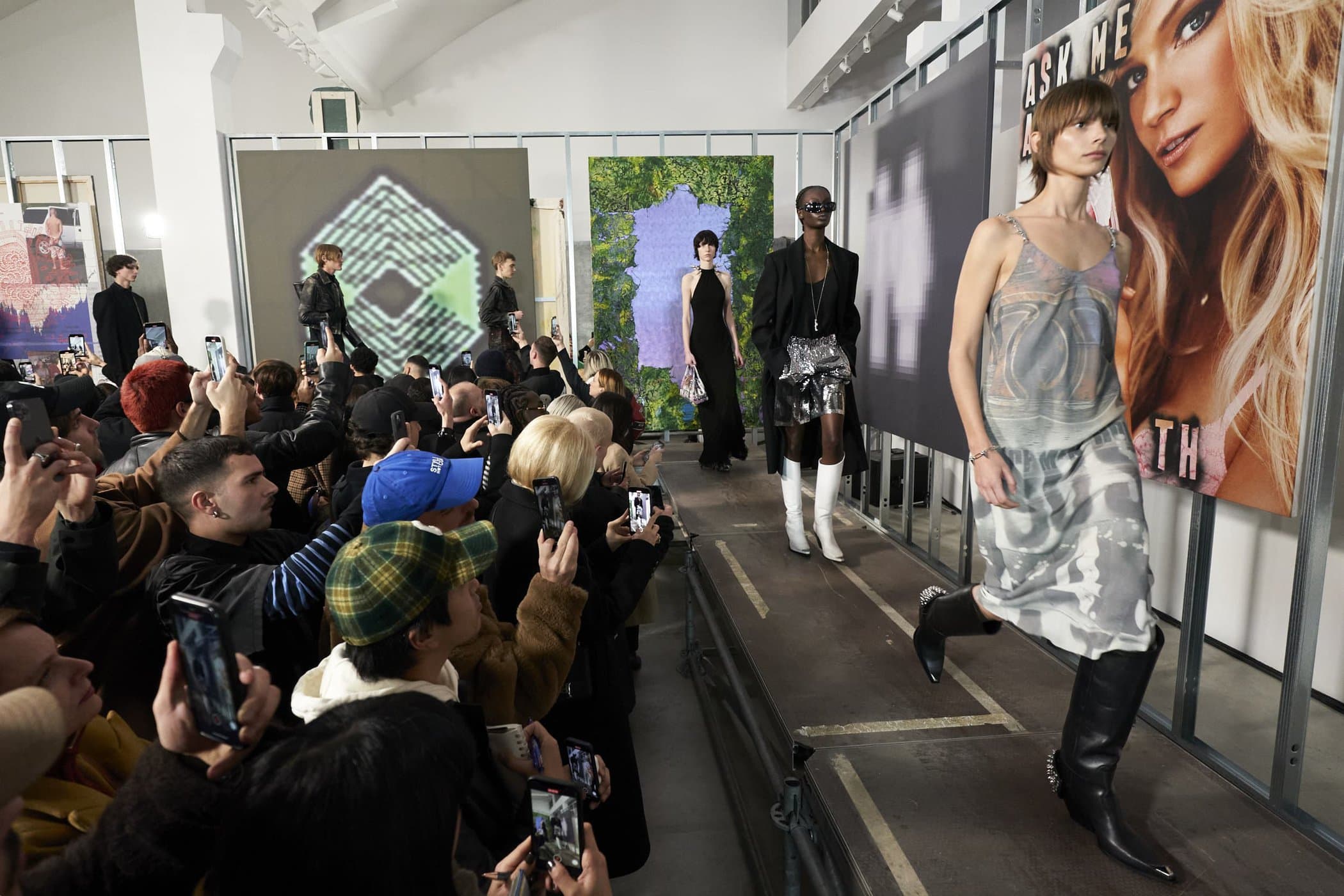 Some of Flood's more iconographic pieces, such as one featuring a remixed and spray-painted Kool cigarettes ad (edgy!), are directly applied to pieces crafted from technical fabric that are simple silhouette wise to keep things graphically impactful. Other references are more subtle, like the paint splotched distressed denim or the painted lace skirt, which was the smartest piece in terms of how to translate the artist's work into a fashion item.
While last season saw the brand go into party territory for the first time with bodycon dresses in shades of neon pink and yellow, the aesthetic and palette of this collection is a firm return to the industrial, technical, and moto-punk. The one or two neon flashes that pop up speak more to hazard gear than poolside brightness.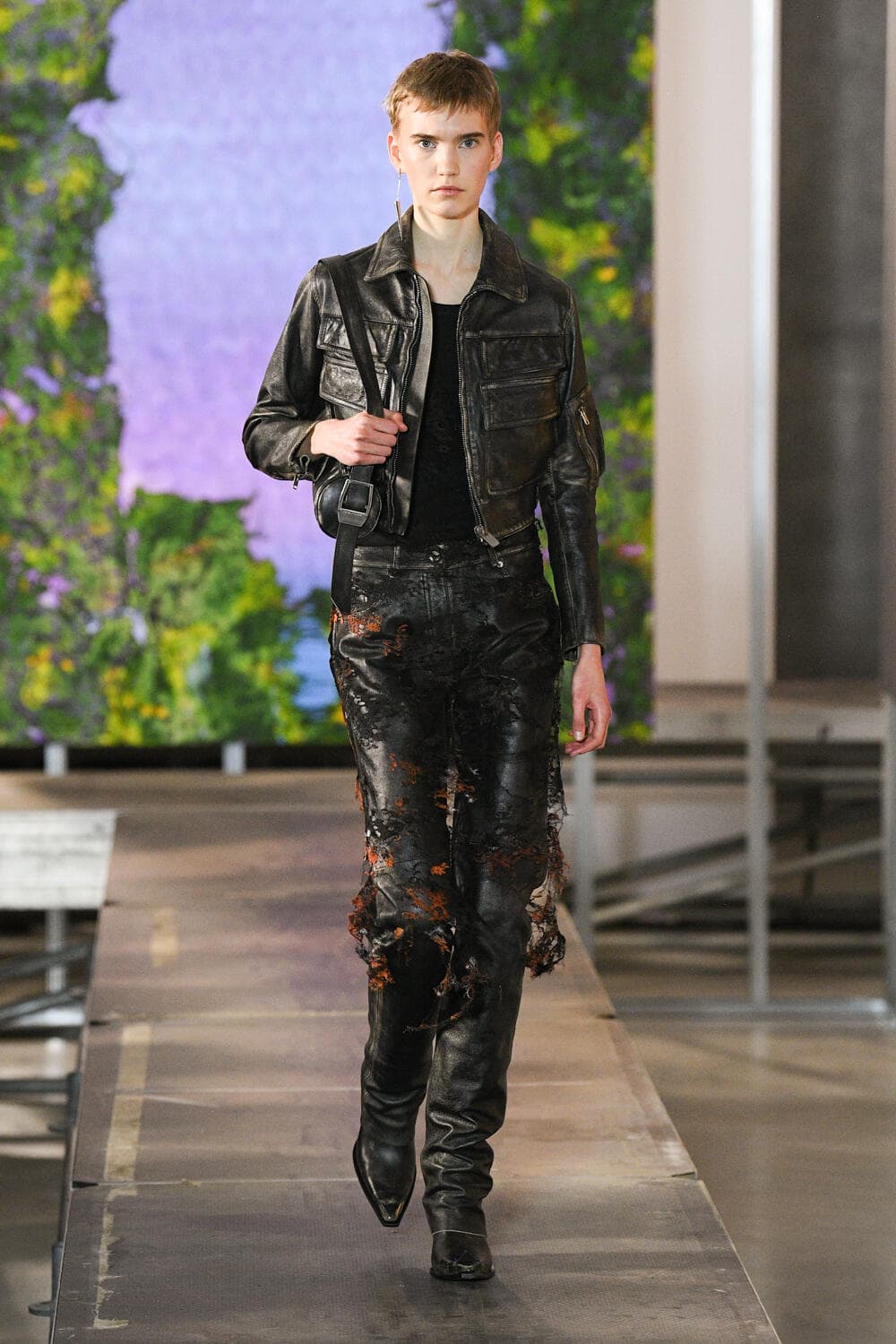 The series of hoodies and sporty quarter-zips with which the show began almost had us forgetting that much of the hype generated around his brand came from the praise for Williams' tailoring, which did eventually make its way into the running in the form of a fraying-hemmed long overcoat and blazer. While incorporating strong tailoring into streetwear and techy sportswear inspired pieces may have been new and exciting when Alyx first blazed onto the scene, but a "swing back towards tailoring" seems to be the mood of the moment, and the brand hasn't done that much to depart or advance from it. Still, Alyx's take on this synthesis feels more convincing and integrated than many others.
Mark Flood clearly thinks of his work as loaded with anti-consumerist provocation and a fractured mirroring of our contemporary age of digitally augmented libidos and unfulfilled desire. In a way, this approach makes more sense for fashion than painting, and the pieces that make use of wording and slogans do exhibit a punkishly fun sort of shock value. But to criticize branding and consumerism and then partner with a luxury fashion brand feels undeniably hypocritical. It's also mysterious what exactly Williams thinks his brand is getting out of the partnership – but some highly covetable, "hype" pieces might be exactly enough.
The crowd at the show felt noticeably much younger than that which typically characterizes the Milan men's circuit, and it seems like Alyx made an effort to invite the kind of client who engages with the brand and the scene around it. It's an atypical approach, but one that makes sense both in terms of sales and connecting with its target audience via organic social media engagement, while the mild shirking of industry standards is perhaps a bit punk after all.
With its artistic collaboration, thematic rumination, and meditation on contemporary fashion's points of intersection, the collection wants to say so much. But even though this collection is competently executed and bound for commercial success, when it comes down to it, it's tough to say what 1017 Alyx 9SM is saying here.
---