---
Acne Studios has announced a whole new look to refresh its Norrmalmstorg store in Stockholm. The refurbishment follows the brand's global store ethos, where each location makes individual use of the Acne Studios design language. The store's location is a historical site in Stockholm: a former bank where four employees were held hostage in 1973. After their release, the hostage's positive feelings towards their captor led to the coining of the phrase "Stockholm Syndrome".
It's a temple. For me the idea of a temple is a place that belongs to no one but is owned by everyone. It's part of our history but also the future. This is how I see our monumental flagship store in Stockholm.

— Jonny Johansson, Creative Director of Acne Studios.
To redesign the Acne Studios store on Norrmalmstorg, the architects Arquitectura-G first researched the origins of this historical building. It led them to clean out the store to reveal the marble structures that dominate the space. The new store design is like an essay in marble: the walls are painted the same color as marble, so the columns almost disappear into space. Meanwhile, new marble columns were constructed to frame the fitting rooms, as well as the behind-the-scenes spaces.
This investigation into marble is further heightened by five oversized marble tables created by long-term collaborator Max Lamb, as well as cantilevered shelves of fine marble that appear as if flying from the walls. Bespoke stainless-steel rails are designed to match the circle of rails that stands in the main hall. A unique lighting system by Benoit Lalloz further breaks the formality of the space. 
To mark the redesign of the store, Acne Studios has created a Stockholm Syndrome capsule collection, reflecting on the event that holds such a resonant place in the Swedish psyche. The pieces collage together newspaper reports of the 1973 bank robbery and hostage-taking, Sweden's first real-life TV crime drama which played out in the country's media. The collection consists of T-shirts, as well as tote bags, caps, scarves, wallets, and cardholders, and will be available at the Norrmalmstorg location, as well as selected Acne Studios stores worldwide and at acnestudios.com.
The store opened October 9th at Norrmalmstorg 2, Stockholm.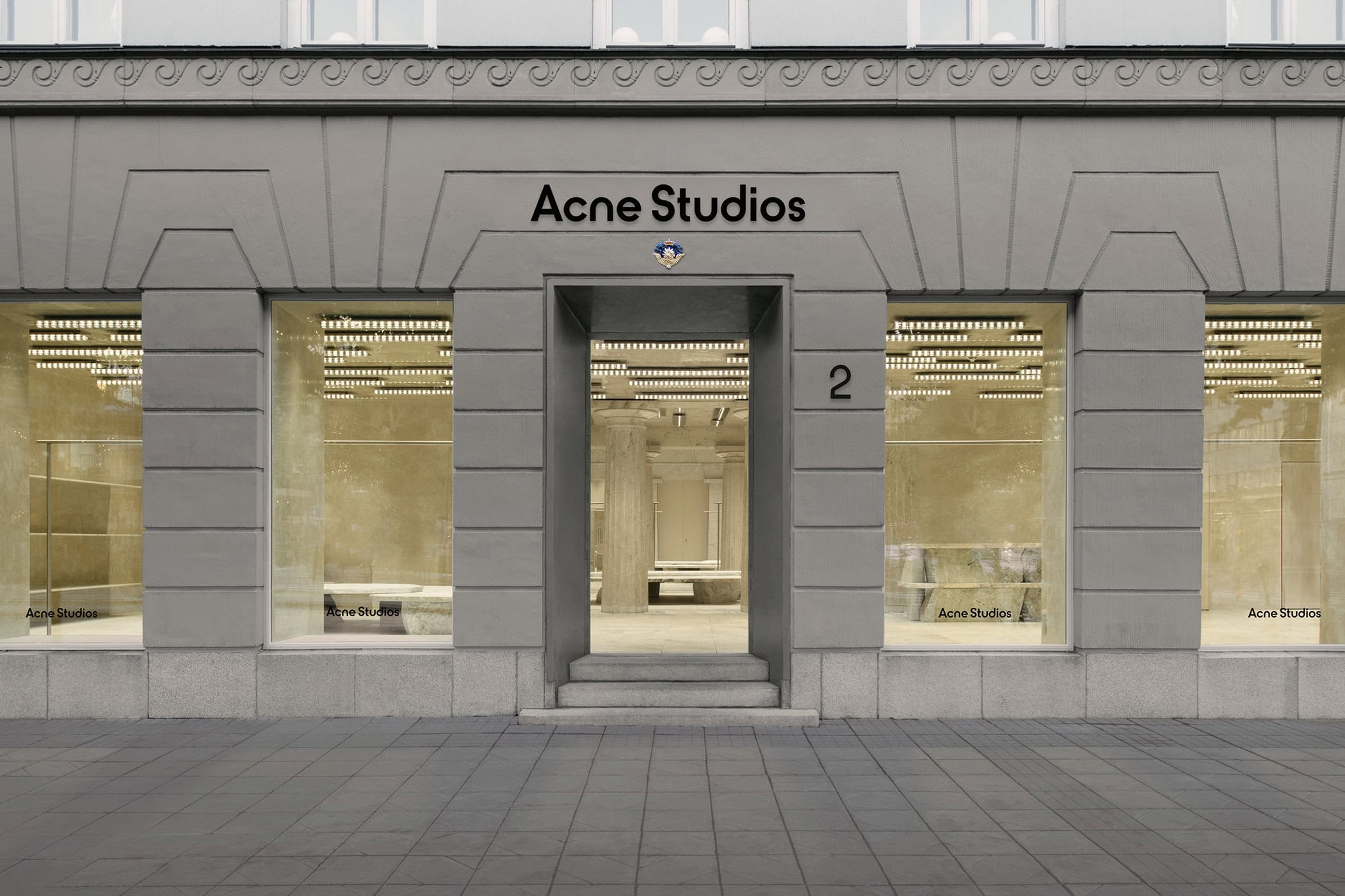 Location | Stockholm, Sweden

---