---
Review of Alaïa Fall 2022 Fashion Show
Divine Feminine
By Mark Wittmer
Alaïa's recently appointed creative director Pieter Mulier delivered a sensual and reverent Fall 2022 collection that left no doubts as to whether the legacy and future of the house are in good hands. Following his debut show last season, in which he confidently expressed his knowledge of iconic founder Azzedine Alaïa's design codes without pushing things too much farther, his excellent second collection sees him work with the same foundation while trusting more in his own design sensibility and leaning further into a sense of power and ingenuity.
Formally, the founder's presence is most felt in the bell-bottoms that permeate the collection, drawn from his Spanish skirt shapes. But Mulier twists, expands, and reimagines their possibilities, using them to lend flare and structural sophistication to everything from more expected dresses to jeans and catsuits. Sometimes he even lets them function as their own piece, detached from anything and hugging a bare leg.
There is no concept to the collection, but a theme of beauty and femininity runs throughout. It is not a coy and fragile feminine beauty, but one that is powerful, sublime. Bell-bottoms aside, Mulier's bodycon dresses show a studied yet almost primal reverence for the female form. From this it seems to go without saying that they're also quite sexy.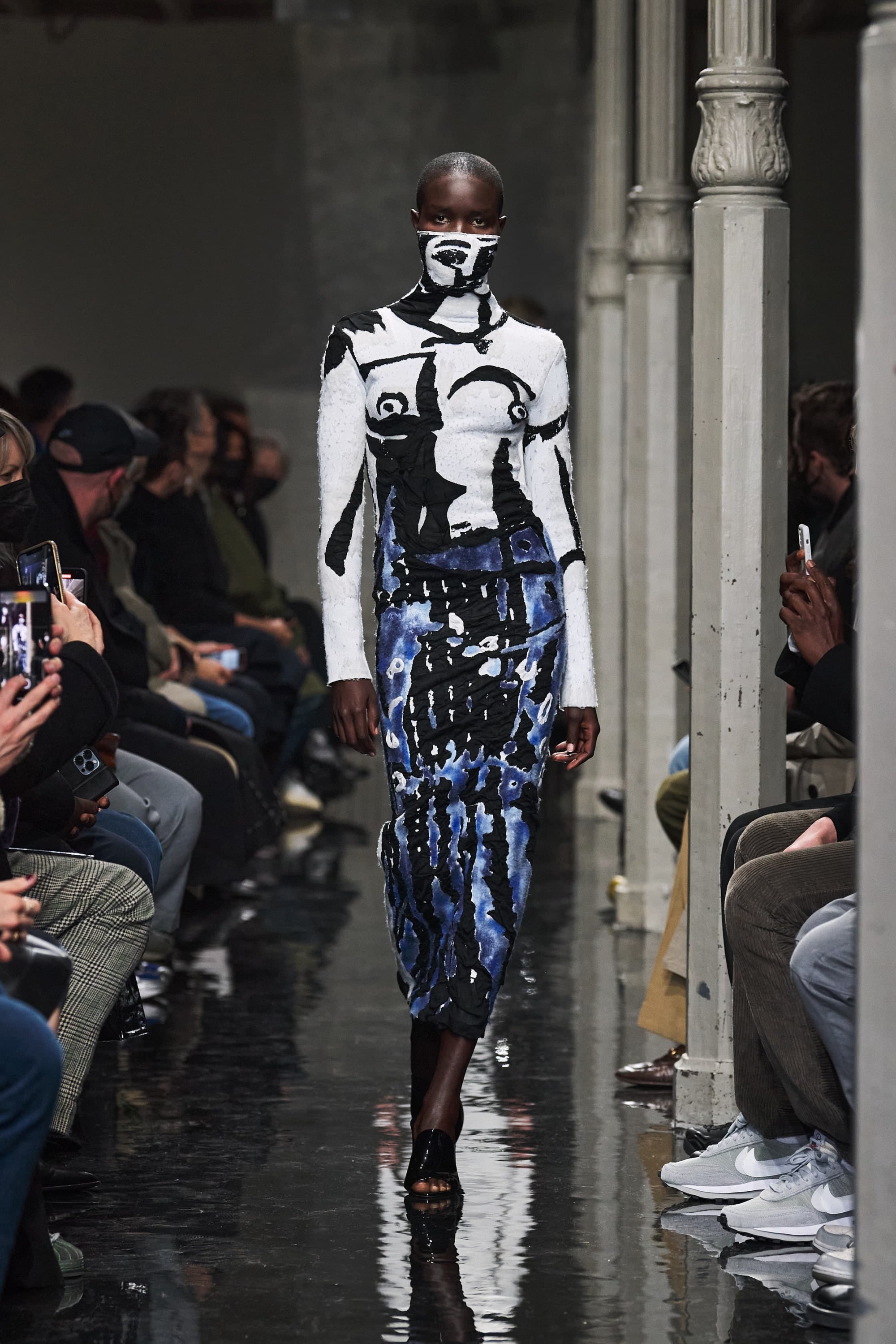 This pagan goddess sentiment is most explicitly expressed in the dresses created in collaboration with the Picasso foundation, which reinterpret several of the artist's primitive-art influenced ceramics as knit dresses with face coverings, creating a sort of optical illusion that transforms the models' bodies themselves into fertility icons.
(With this in mind, though, it would have been great to see some body diversity. These ubiquitously thin models don't come close to the abundant curves of a fertility goddess.)
Meanwhile, Mulier also showed that an Alaïa silhouette could be bulky and enveloping through a series of wide-shouldered coats and jackets, including trenches, bikers, and suit jackets…
…before wrapping things up with three show-stopper dresses.
Aptly fitted to the cathedral-like atrium of Azzedine Alaïa's building, it was an oracular show rife with sensuality, subtle surrealism, beauty, and power. Such a performance bodes very well for the future of the house.
---