---
Review of Alexander McQueen Fall 2022 Fashion Show
Fungible Tokens
By Mark Wittmer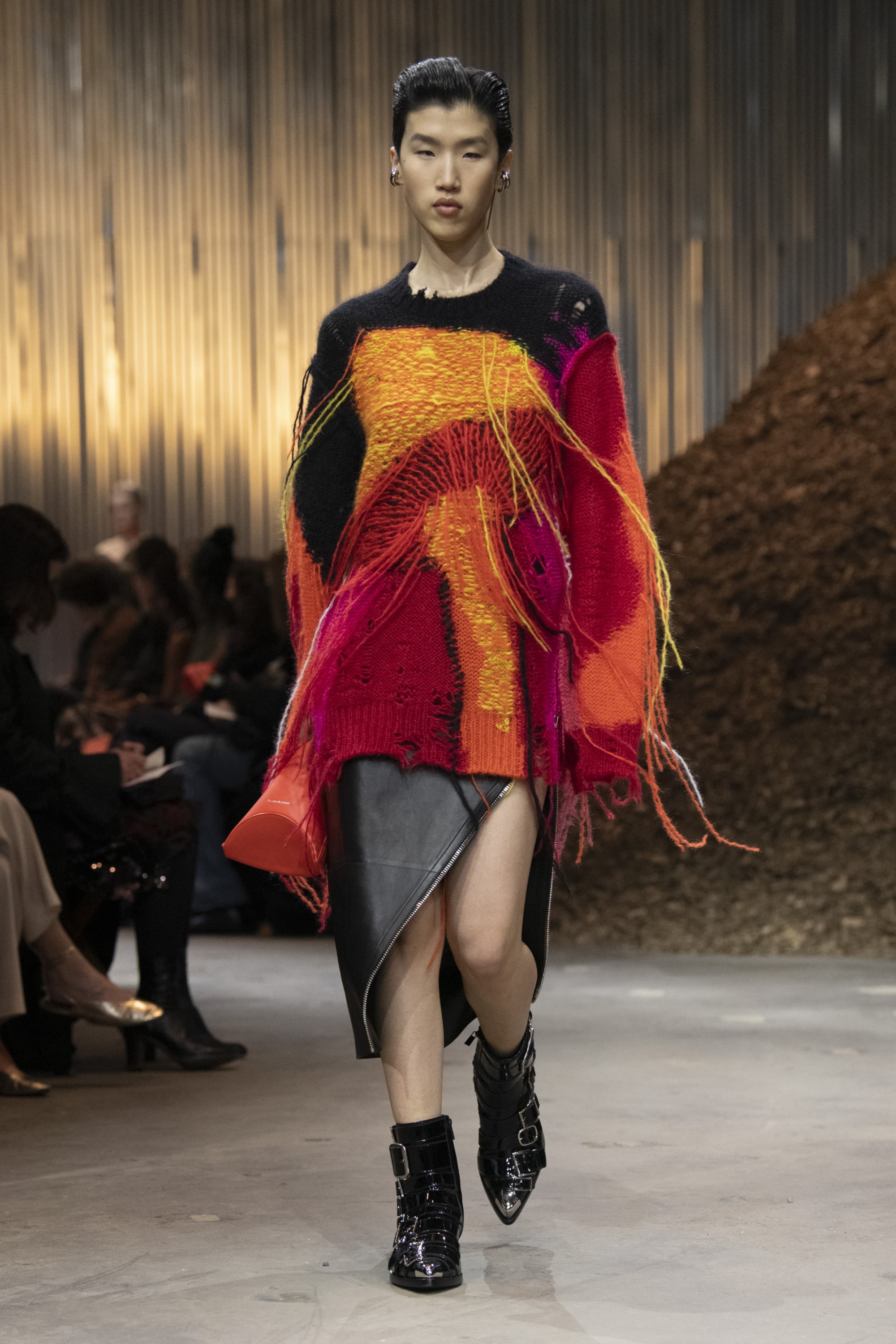 One of nature's most mysterious and powerful entities, mushrooms are having something of a moment these days. In a world that feels more and more broken, in decay, and disconnected, their ability to transform death into beautiful life and unite individual organisms feels deeply inspirational. The latest designer we've seen to investigate these treasures of the forest floor, Alexander McQueen creative director Sarah Burton turned her thoughtful gaze toward mushrooms and their mycelial connections for her Fall 2022 show.
The show is Alexander McQueen's second outside of the official fashion calendar (following last season's Spring 2022 show from London), with its Brooklyn location marking the first time in over two decades that the house has held a runway show stateside. It's not at all obvious why the choice makes sense now, but thinking about the location's sense of history and community – coupled with the setting of a repurposed warehouse filled with mulchy piles of dirt – can help us start to connect the dots to the collection's theme of mushrooms and mycelium.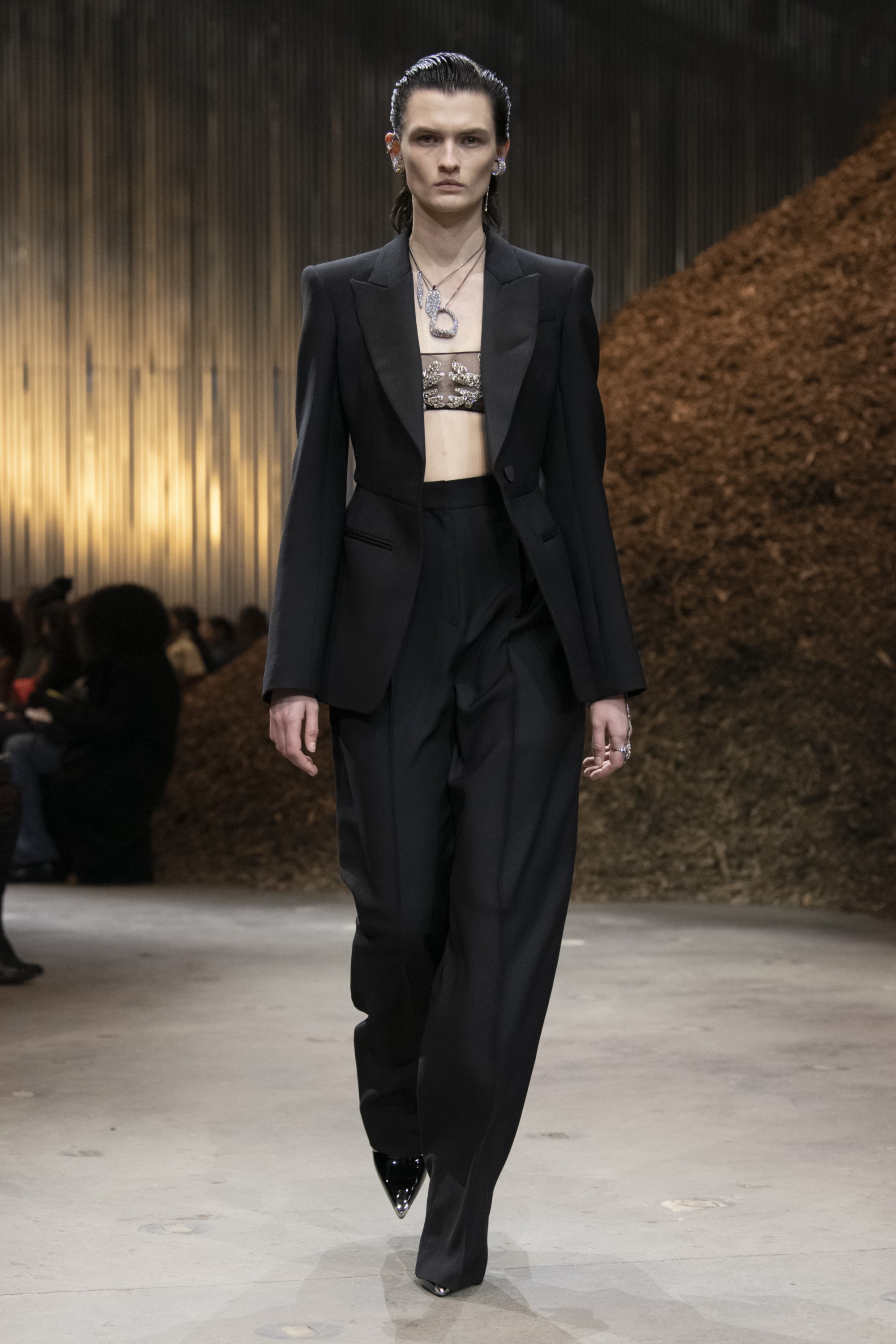 Brooklyn has undergone some serious revitalization (and gentrification) since Alexander McQueen's "Eye" show was held there in 1999. It is a place of new structures built up from and on top of old ones, a cultural hub where new communities tap into long-established interpersonal networks and reimagine old iconography. With these connections in mind, it's not a surprise that Burton might pick such a location for a collection inspired by mushrooms and mycelium, the fungal networks through which forest denizens communicate with each other.
This theme was most directly present in the collection's ubiquitous use of mushroom leather, an innovative and sustainable material that we've been excited to see has been getting attention and gaining traction in luxury fashion recently. The material made up a few dresses and a number of biker jackets, a frequent sight in Burton's recent collections that was particularly pushed today.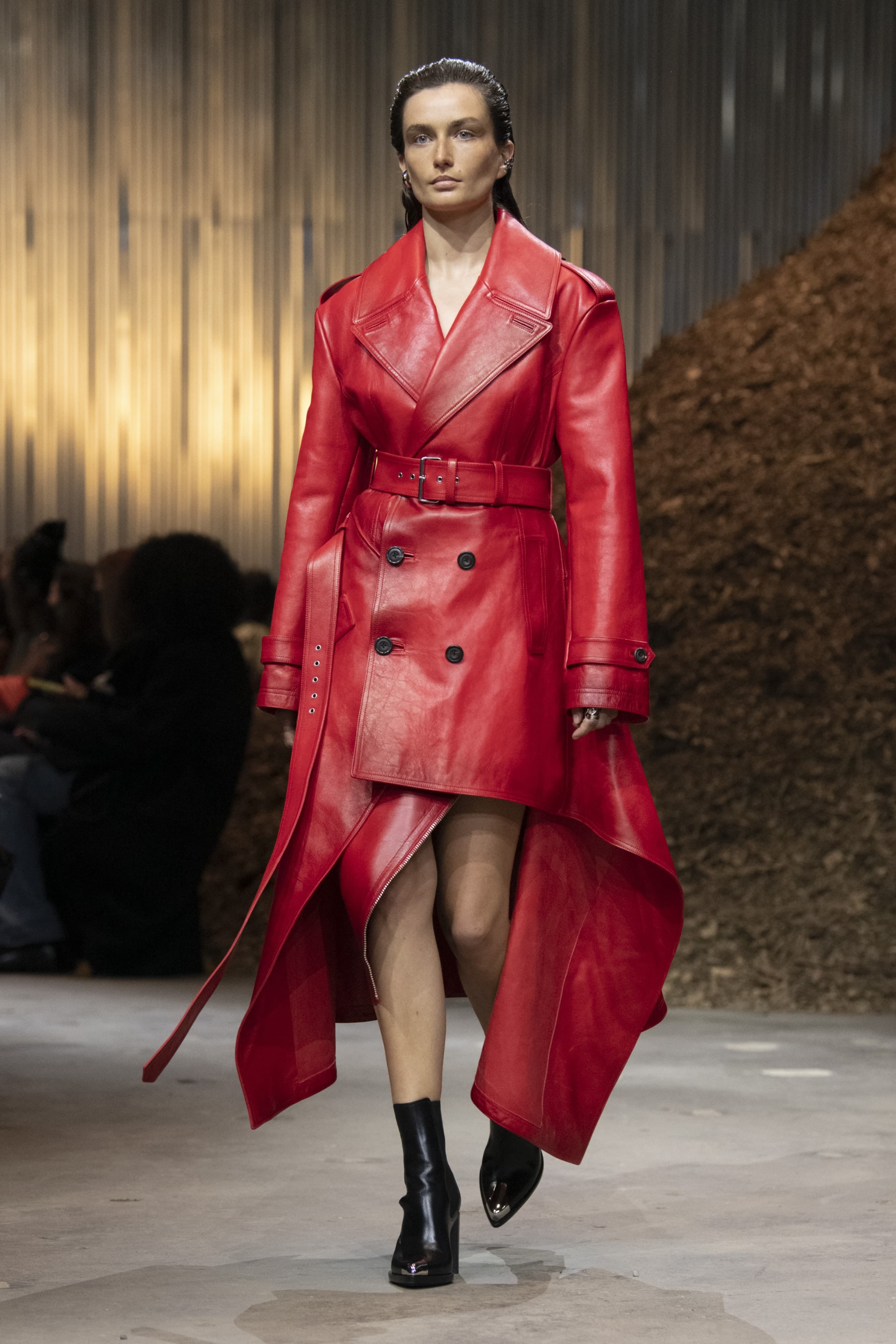 With these bikers and its focus on excellent tailoring and buoyantly layered dresses, as well as thoughtful structural details like excellently deployed slits and asymmetrical or hybrid constructions, the collection remained firmly within what we've come to expect from the creative director.
In general, the aesthetic side of the fungal theme was woven into these established signatures either subtly or quite literally. On one hand, dresses quietly echoed the stalk and cap structure of mushrooms, while on the other, knitwear featured unmistakably obvious shroom jacquards. A few striking, spray-painted black, white, and crimson looks recalled the iconic amanita muscaria mushroom while reminding us that it was New York where street art as we know it today really got going.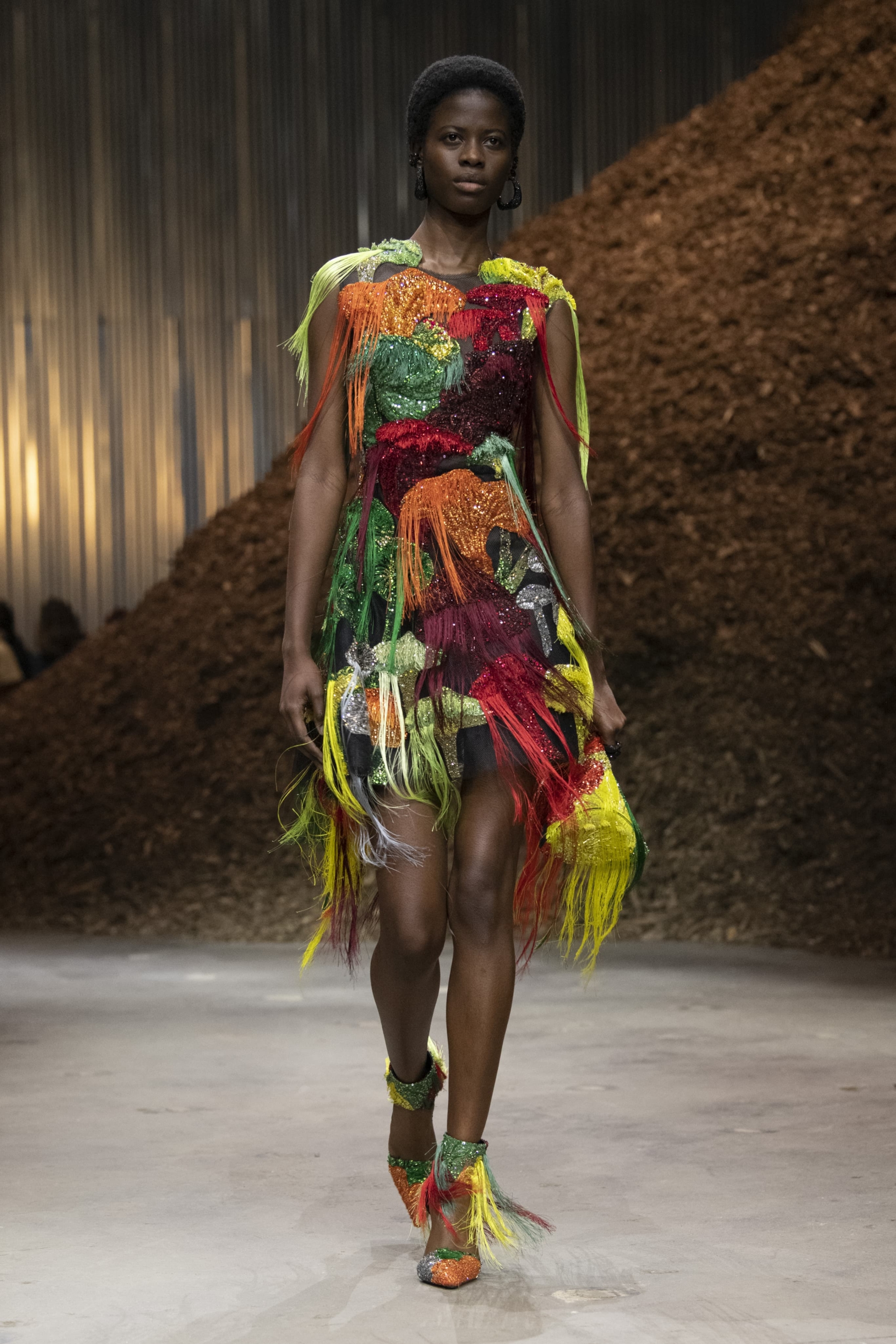 Burton managed to deliver on the clamoring for "the old McQueen" from the house's legions of internet fans while incorporating her own vision, especially in the final few dresses that maintained a very McQueen sense of imagination and theatricality. The most successful example of this synthesis were the intricate laser-cut dresses that applied the iconic McQueen technique and aesthetic to unfolding, mycelium-esque shapes.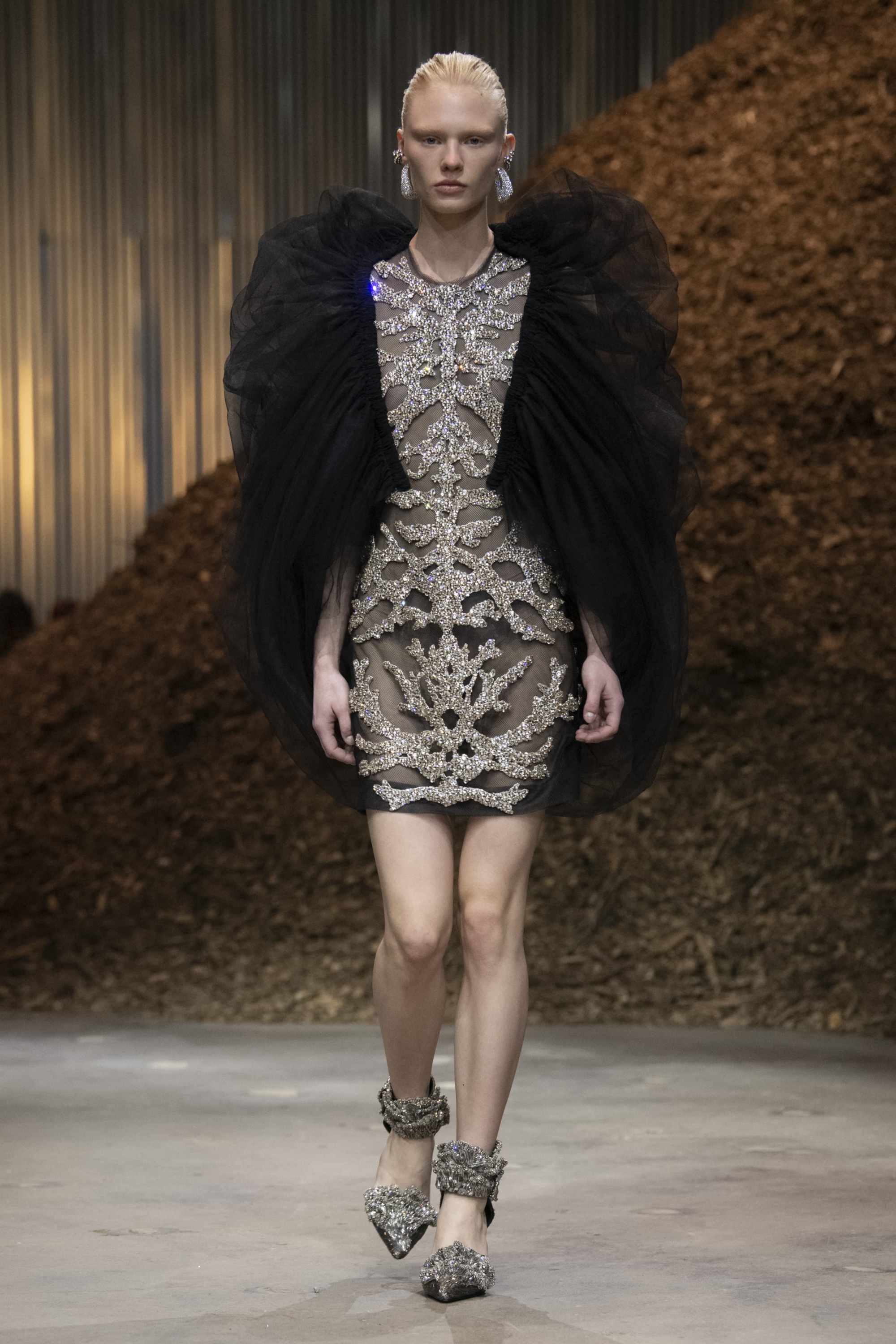 Also notable was Burton's use of color, which wove bright neons and reds and shimmering metallics among the all-black looks: bright signs of communal life emerging from a dark forest floor.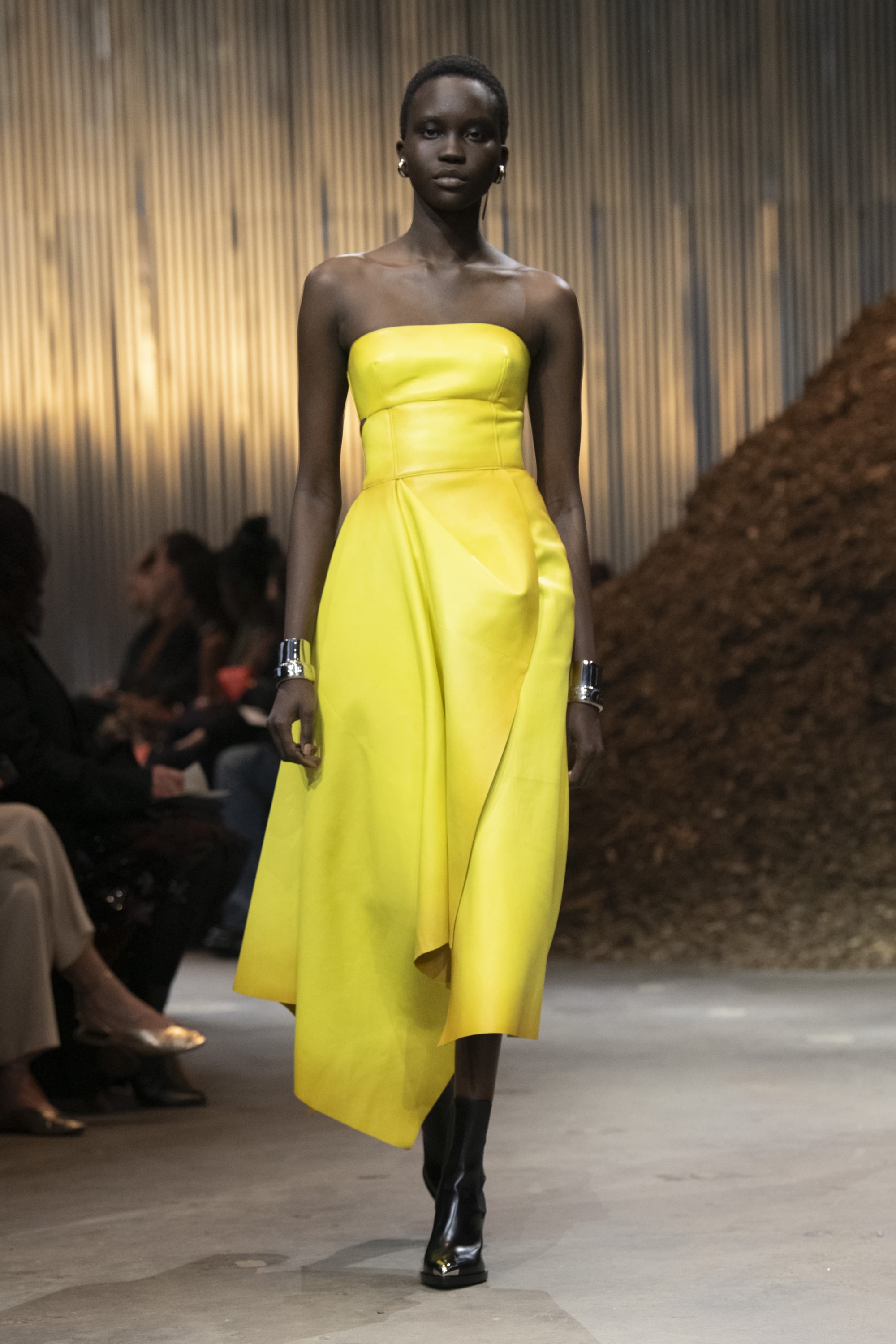 The collection was strong, but with both the rich world of fungal inspiration and the iconic, beloved McQueen archives to draw on, we might have expected a much more imaginative collection, instead of what mostly felt like a subtly mushroom-inflected rehashing of Burton's past successes. Considering the conceptual themes of decay, growth, and interconnectivity that could arise from such an inspiration (increasingly relevant in a late-capitalist world that teeters on the brink of environmental and industrial collapse), we might have also hoped for a deeper consideration of the relevance of these themes to today's world.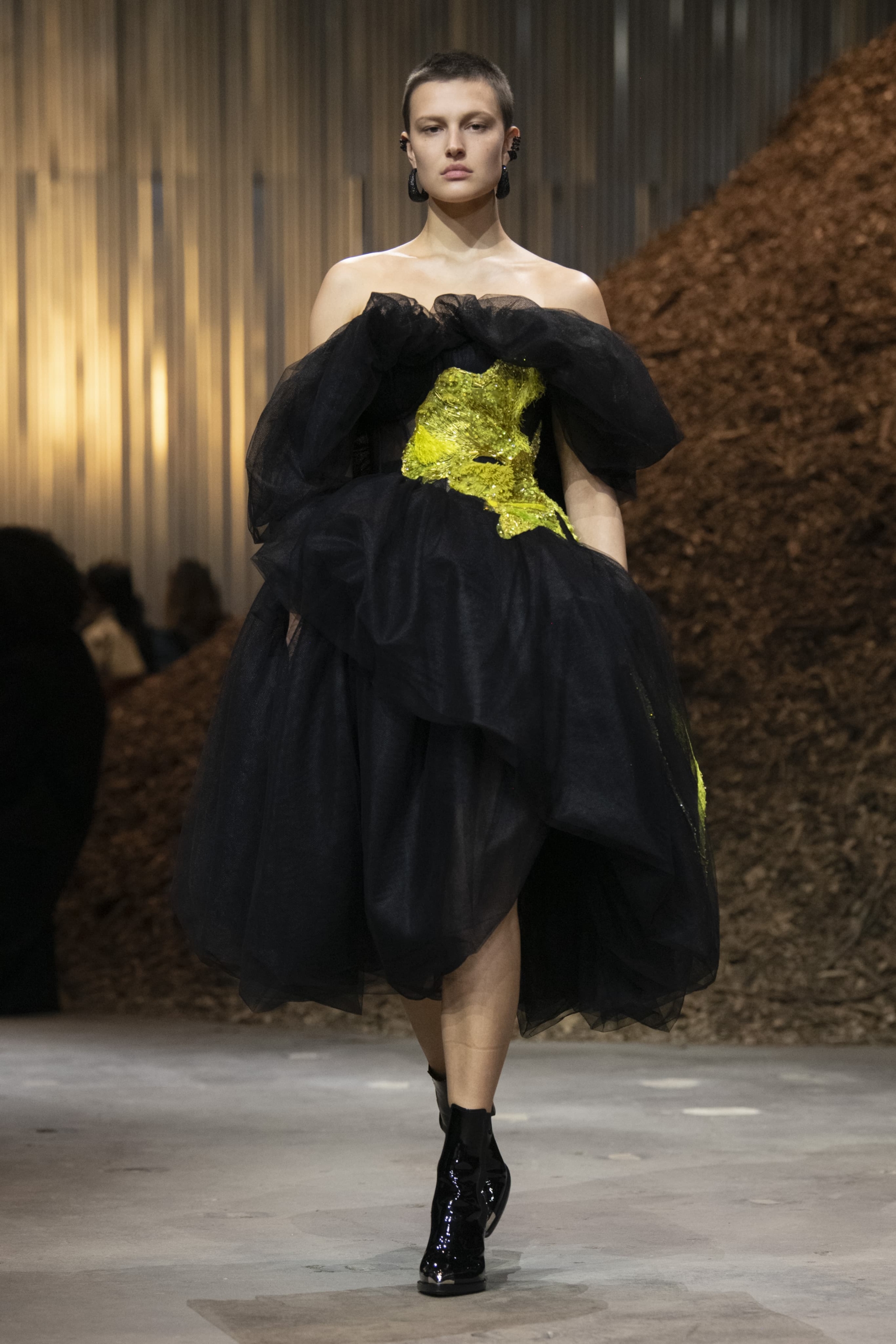 Mushrooms are quite trendy right now, but the only designer who has managed to fully draw out their visual and conceptual possibilities is Iris van Herpen. Perhaps comparisons aren't helpful, and, even if mushroom leather is on the rise (and hopefully here for the long haul), we're wondering if in terms of visuals and name checks the mushroom theme isn't starting to get played out.
Still, Burton did a great job of infusing her own vision and sources of inspiration with some of the beloved spirit and style of her house's namesake. Even if the show was no heroic dose, it impressively balanced drama and whimsy for a colorful and stylish walk among the forest.
---