Review of Alexander McQueen 'Slash Bag' 2022 Ad Campaign by Creative Director Sarah Burton, Photographer/Director Glen Luchford with model Kaia Gerber
Alexander McQueen and Kaia Gerber explore what it means to be 'More human, than human' in the British luxury brands new accessories campaign for the Slash Bag.
Beginning and ending with a close-up on Gerber's' eyes, Creative Director Sarah Burton and her team traced a thread back to the Spring summer 2023 show, where the Slash bag saw its first debut, and where eyes were featured heavily as an abstract expression of humanity and human connection across tailoring and gowns.  The dystopian neo-noir science fiction film Blade Runner was an understated influence in Burtons most recent collection of deconstructed tailoring, sculptured jewellery, and a palette of galactic red highlights.  The films striking audio-visuals set the stage for the campaign films opening shot of a smog-filled cityscape of the future (reminiscent of the film Blade Runner 2049), which lends itself to McQueen's signature sharp cuts as Gerber walks with urgency through brutalist buildings and clinical hallways.
The roll call of contributors who worked on the digital film reads like the credits of a major Hollywood blockbuster. As well as Burton overseeing production and partnering with Film Director and Fashion Photographer Glenn Luchford , Julia Crockett who is a creative movement director was on hand to guide Gerber as she comes face-to-face with her android for the first time – expressing an emotionally visceral reaction which was surprisingly convincing – as the model tries to decipher what she is encountering. The cinematography of Jack Webb takes the campaign into another visual realm of expansive set design, whether created traditionally of through digital FX the quality of this campaign which employs tricks of the movie trade is a keen example – whether intentional or not – of how the luxury industry is readying itself for the next revolution in advertising, namely partnering with streaming giants and transferring their particular method of storytelling to the big screen.
The stripped back nature of the Slash bag silhouette moulds seamlessly into this version of a dark future, where we are all searching for a connection to the human, and perhaps that can also be found in the tangibility of beautiful design.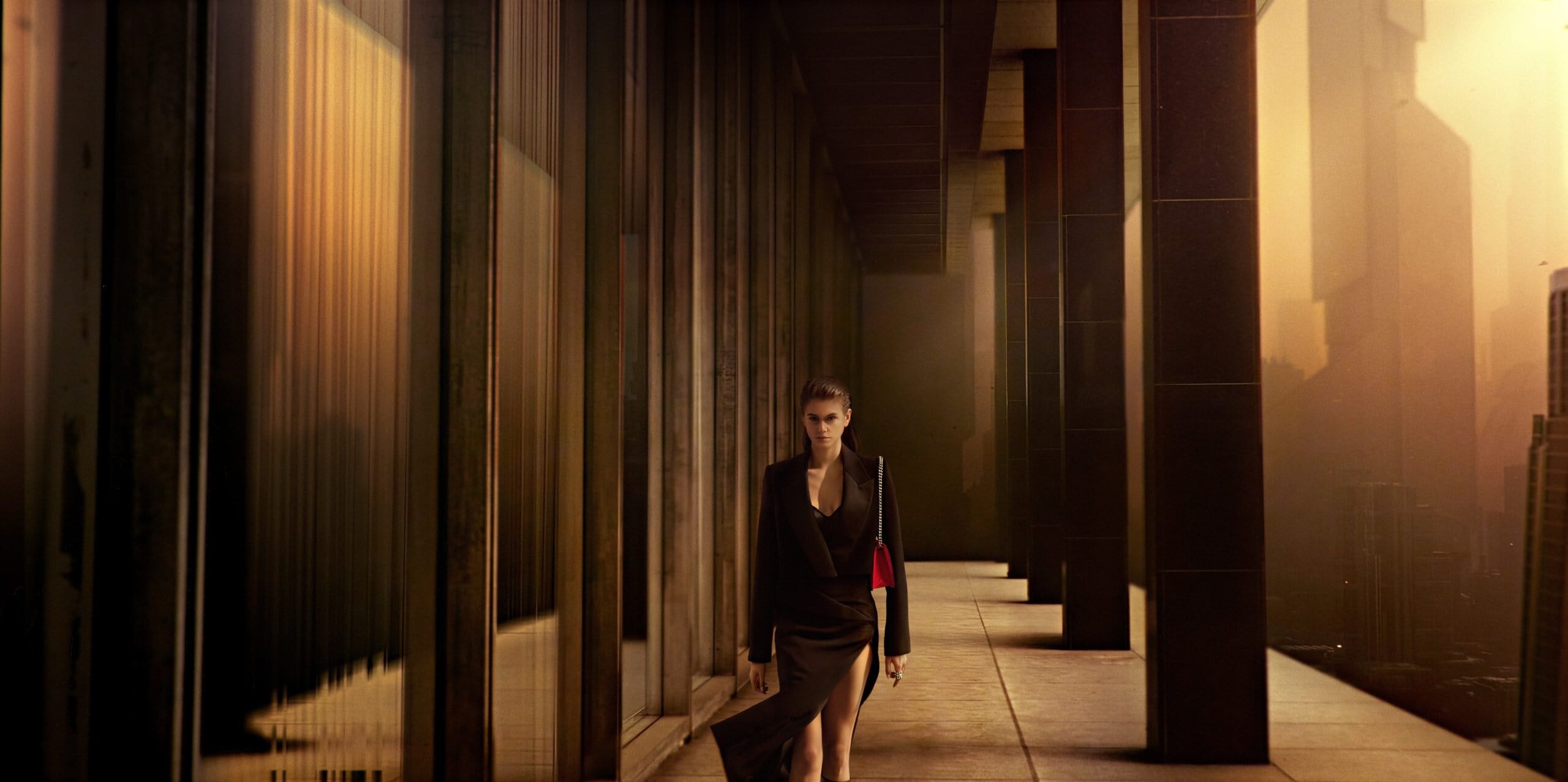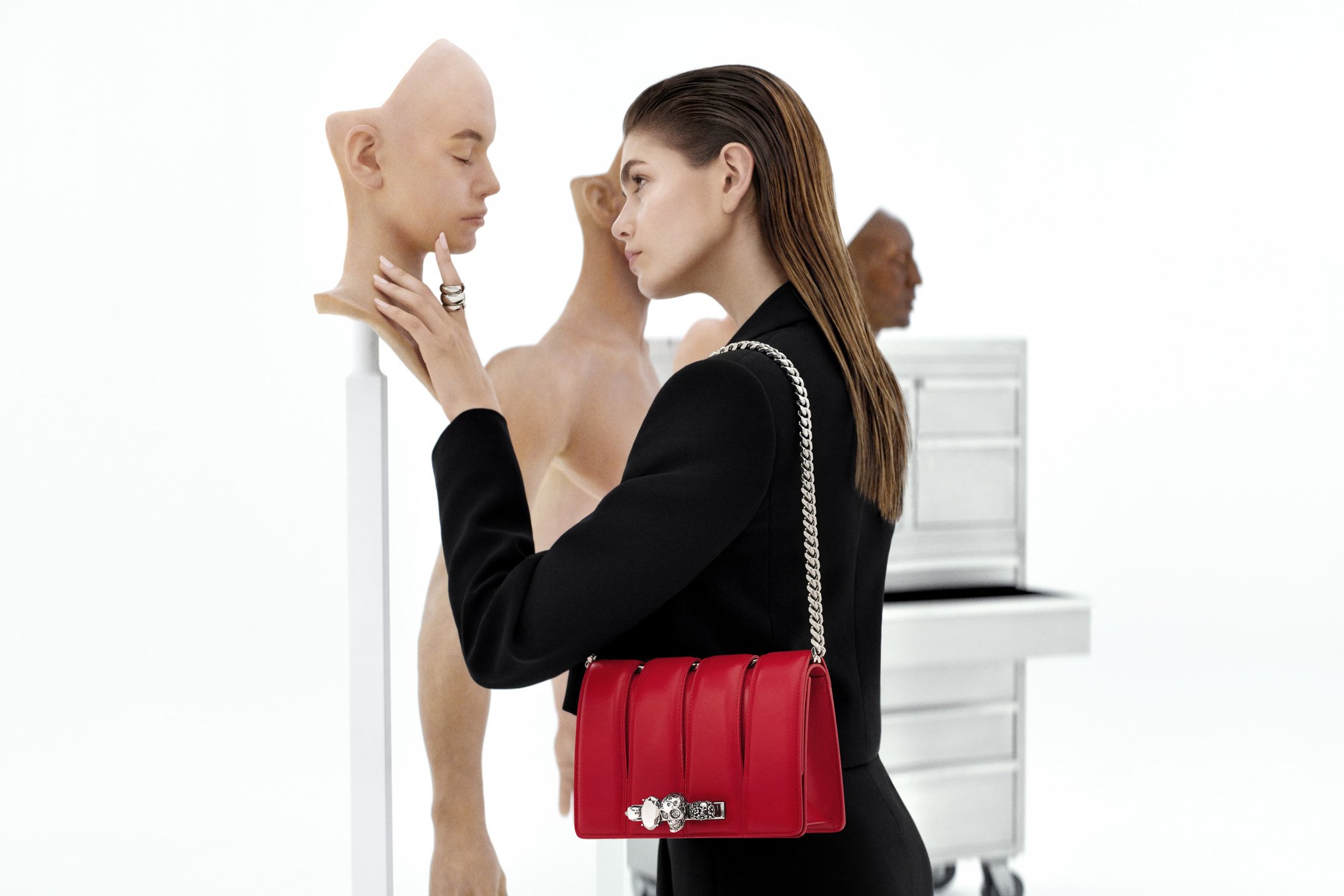 Alexander McQueen Creative Director | Sarah Burton
Photographer/Director | Glen Luchford
Stylist | Camilla Nickerson
Model | Kaia Gerber
Hair | Holli Smith
Makeup | Yadim
Manicurist | Emi Kudo
Casting Director | Jess Hallett
Movement Director | Julia Crockett
Producer | Partner Films
Cinematographer |Jack Webb
Production Designer | Gideon Ponte
FX Artists | Alchemy Studios
Editor | Felix Young
Music Composer & Producer | Peter Raeburn
Sound Designers | Henning Knoepfel, Nick Bozzone & Graham Norman
Music & Sound Company | Soundtree Music
ADR Supervisor | Lisa J. Levine
Post Supervisor | Gavin Emerson
VFX Supervisor | Jonah Austin
VFX | Jane Studios
Colour | Dante Pasquinelli
Executive Producer| Laura Lotti
Producer | Gabriel Hill
Line Producer | Suzy Kang
Associate Producer | Richard Polio
Assistant Director | Ev Salomon


---