---
Review of Alexander McQueen Spring 2022 Fashion Show
On Cloud Nine
By Anna Ross
London has a fashion-week reputation for car park showcations, but this one really blew the competition out of the water. As guests meandered their way up a ten-story car park at the Tobacco Docks in East London, a giant bubble-like dome (designed by the architect Smiljan Radic) perfectly showcased the sun setting on London's iconic skyline.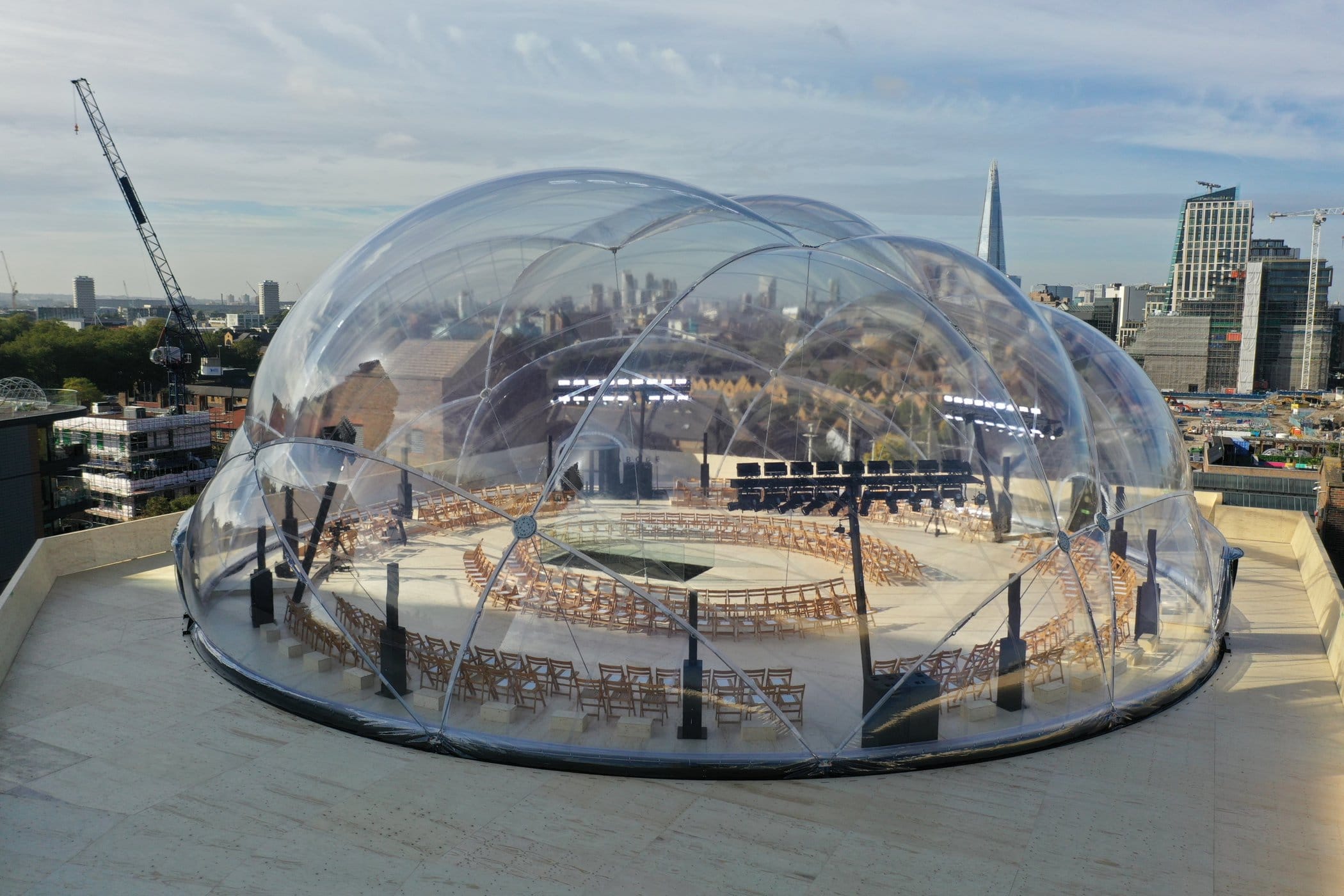 That very sky served as inspiration for Sarah Burton's Spring/Summer outing, who, it seems, like many of us during lockdown, has been doing a lot of window-gazing, finding herself inspired by her immediate surroundings.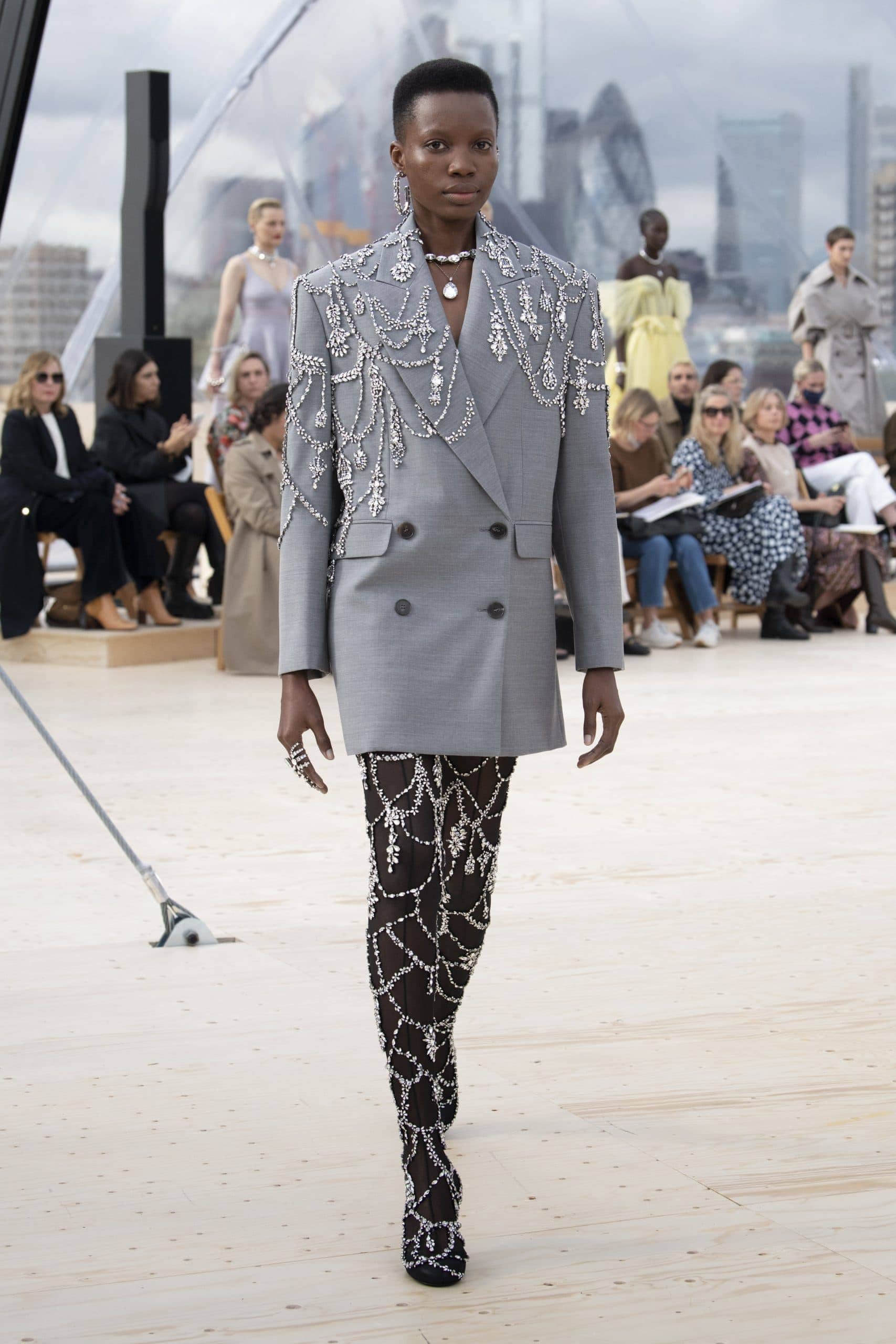 "I'm interested in immersing myself in the environment in which we live and work, in London, and in the elements as we experience them each day," said Burton, who's collection's palette introduced dusky lilacs, powdery pinks and sunshine yellow, referencing "London Skies."
Although, anyone who knows London well enough knows that those skies are subject to change. "That lead me to storm chasing," said Burton, who's dreamy cloud-like dresses in frothy tulle came intercepted by the toughness of leather, punkish hardware and denim – her palette rolling from deep midnight into stormy jet black, perfectly narrating the grit of London's eclectic cityscape.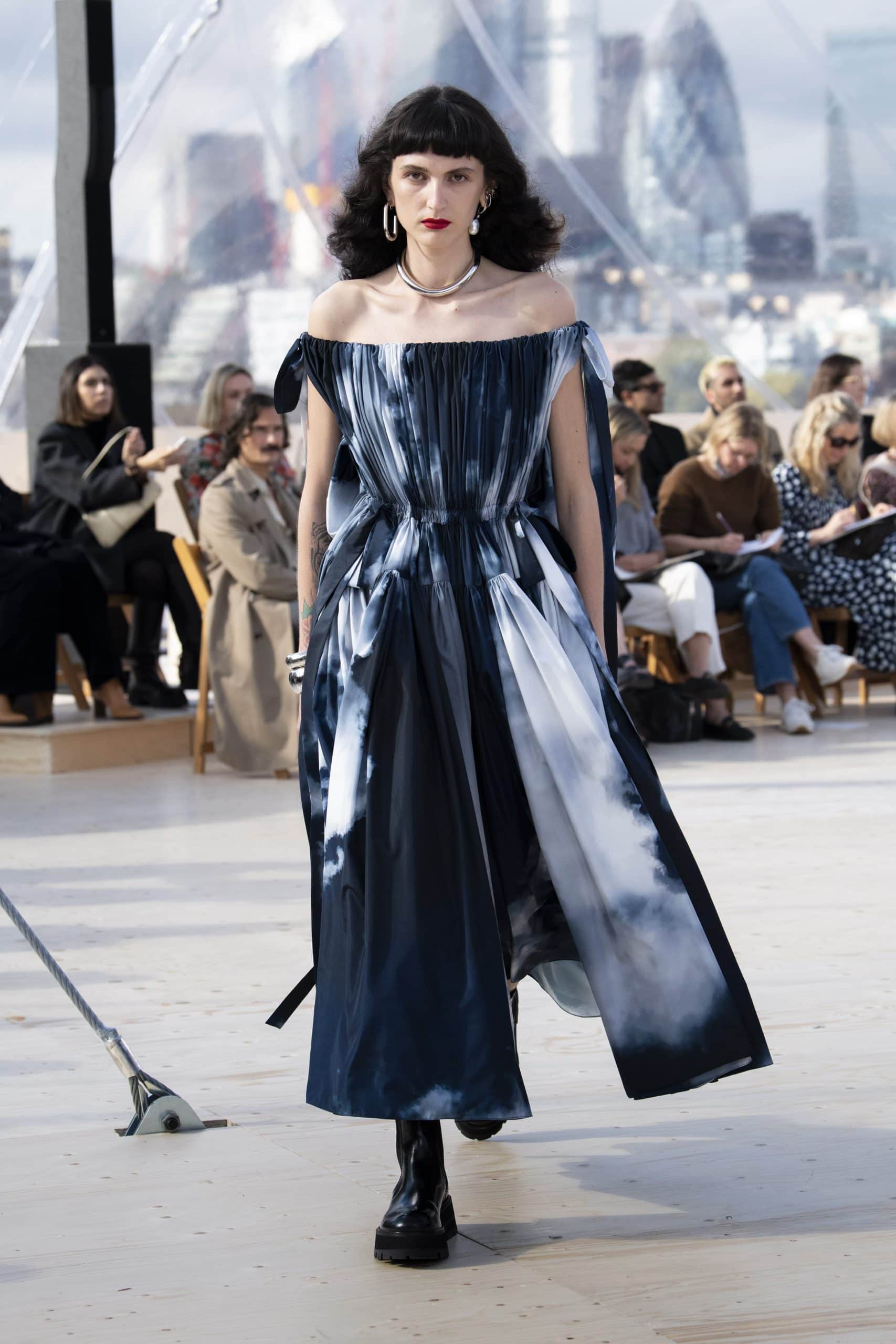 Storm chasing is not only about the beauty of the views, but also a sense of mystery and excitement – about embracing the fact that we can't ever be sure of what happens next.

–

Sarah Burton
Of course, the beauty of a McQueen show lies in this very unpredictability. The house prides itself on aesthetic and emotive juxtaposition.
Skyscape prints, taken from the rooftops of the McQueen studios, slowly darkened, transcending into rows of razor-like sequins that lashed around the torso like heavy rain, bodices dense with glistening droplets of beads. Trench coats with billowing sleeves and oversized storm caps were offered to brace the weather, paired with chunky derby shoes or 'Rave' Chelsea boots with tread soles – perfect for puddle-pounding. Tailoring came laden with chunky zippers, as if extracted from high-performance outdoors wear, ready to layer up or down whatever the weather. An all-white version came dissected at the waist and shoulder, one in piercing pink – the kind of colors only nature can muster at sunset.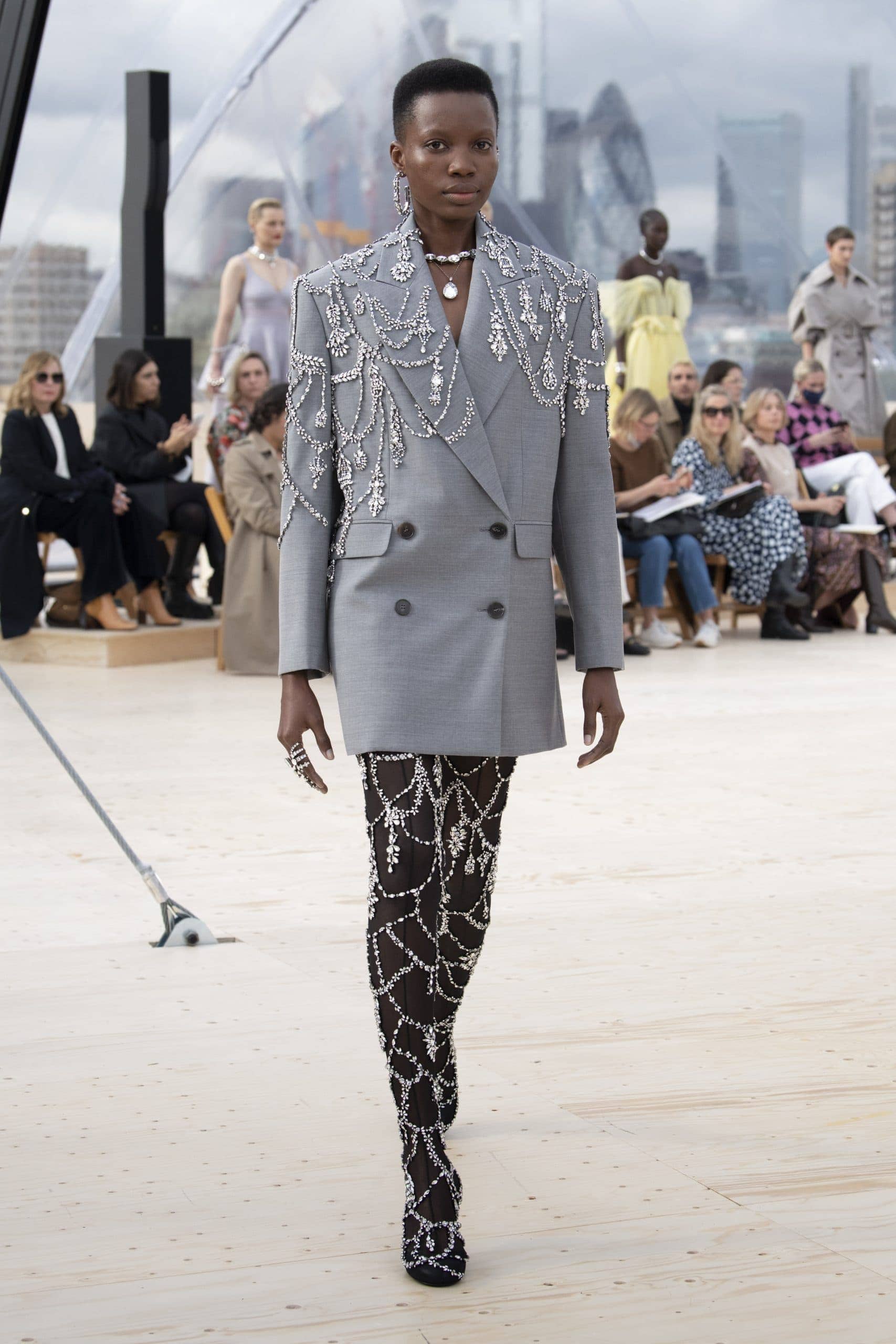 Then, the calm after the storm: as the music slowly crescendoed into a thunderous, juddering beat, crystal embroideries appeared to drip around the shoulders of tailoring, framing the bodices of skeletal corset dresses in blush pink or lilac silk, mesh and Paris net.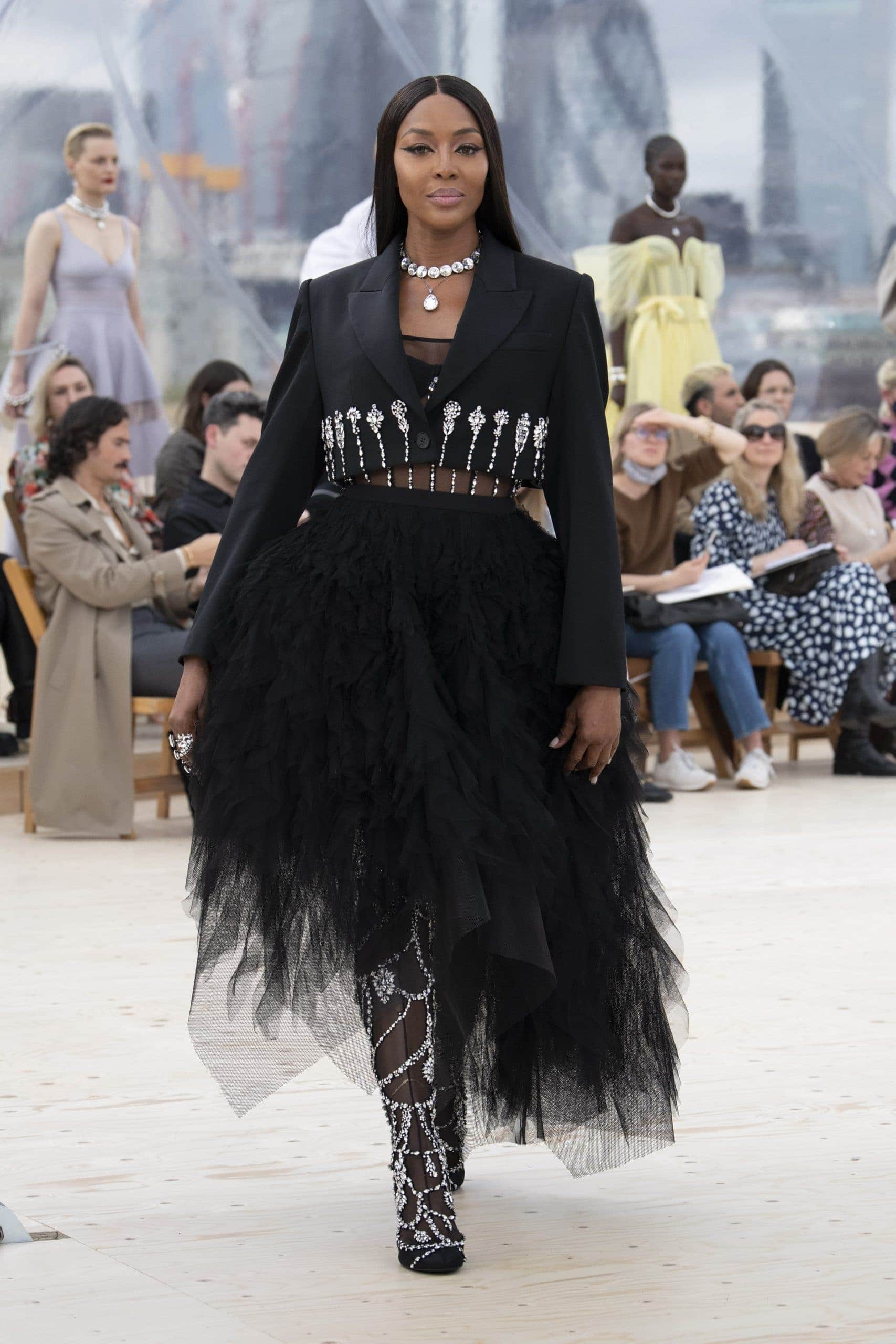 A closing duo of black ensemblés laden with sparkle symboled another storm on the horizon. This time – in the form of Naomi Campbell – in all her ethereal beauty, moving serenely in a giant storm-cloud skirt, dense with glimmering embroideries, like a raincloud ready to burst into a glistening downpour all over London town. To which I'd say, let it rain.
---