A (Fashion) Hero leaves the Stage
Review of Alexander McQueen Spring 2024 Fashion Show
By Angela Baidoo
THE COLLECTION
THE VIBE
THE THEME

Starting at the end. The end of an era, and the end of her final runway show. Sarah Burton did a well-earned victory lap through the audience to the soundtrack of David Bowie's 'Heroes', of which the most poignant of the songs lyrics summed up the moment of one of fashions greats choosing to exit stage left, on her own terms i.e. "We could steal time, just for one day, we can be heroes forever and ever, what'd you say?"
Bringing out an emotional reaction in even the hardiest fashion characters (Naomi Campbell wiped away a tear on her finale walk), Burton is a much-loved fashion fixture, making the brave, but also the only logical choice to step into the gaping hole that was left when the brands founder passed away in 2010. Despite tragic circumstances changing her career trajectory, as his right hand for years, it was only fitting that Burton take the reins of a brand that was as beloved for its sharp tailoring as it was for its fantastical gowns.
Burton's work was and is powerfully feminine, and as an unwritten rule for all those who would step into her designs, there was a requirement that they too step into their feminine power.
Her commercial eye brought McQueen to women on a global scale. Their denim was some of the most innovative in the market and was a prominent feature during the pre-seasons, often hybridised with an MA1 flight jacket, spliced with tailoring, or rendered into a bodysuit, unexpected yet exciting. And her crisp white shirts with exaggerated details (ultra-puff sleeves for example) were a friend to working women everywhere.
But in her beautifully intricate gowns she encouraged women to take up space, with couture-level underpinnings the wearer would have no choice but to stand tall, as some of her creations would often enter the room before they did, as the designer played with layers of undulating ruffles, hand-dyed silk fashioned into starbursts, and copious amounts of feathers and fringing.
Today's collection brought with it sculpted body armour, which was also incorporated into tailored blazers, and intricately crafted knits layering flora and fauna in an exercise of elevating, almost home-style embellishment. The gateway to female anatomy was also alluded to in the voluminous gowns which featured elongated split openings, subtle but effectively carrying her message across. The 'blood red' rose featured as a print throughout the collection and stood as a symbol of the brands heritage (Rose has both English and Scottish origins). And giving us one last look into the her expertise to create modern fantasy, Burton suspended liquid gold fringing between columns of knitted panels in an innovative technique which points towards the way in which all the McQueen women want to get dressed for the occasion.
THE BUZZWORDS
One Final Fantasy.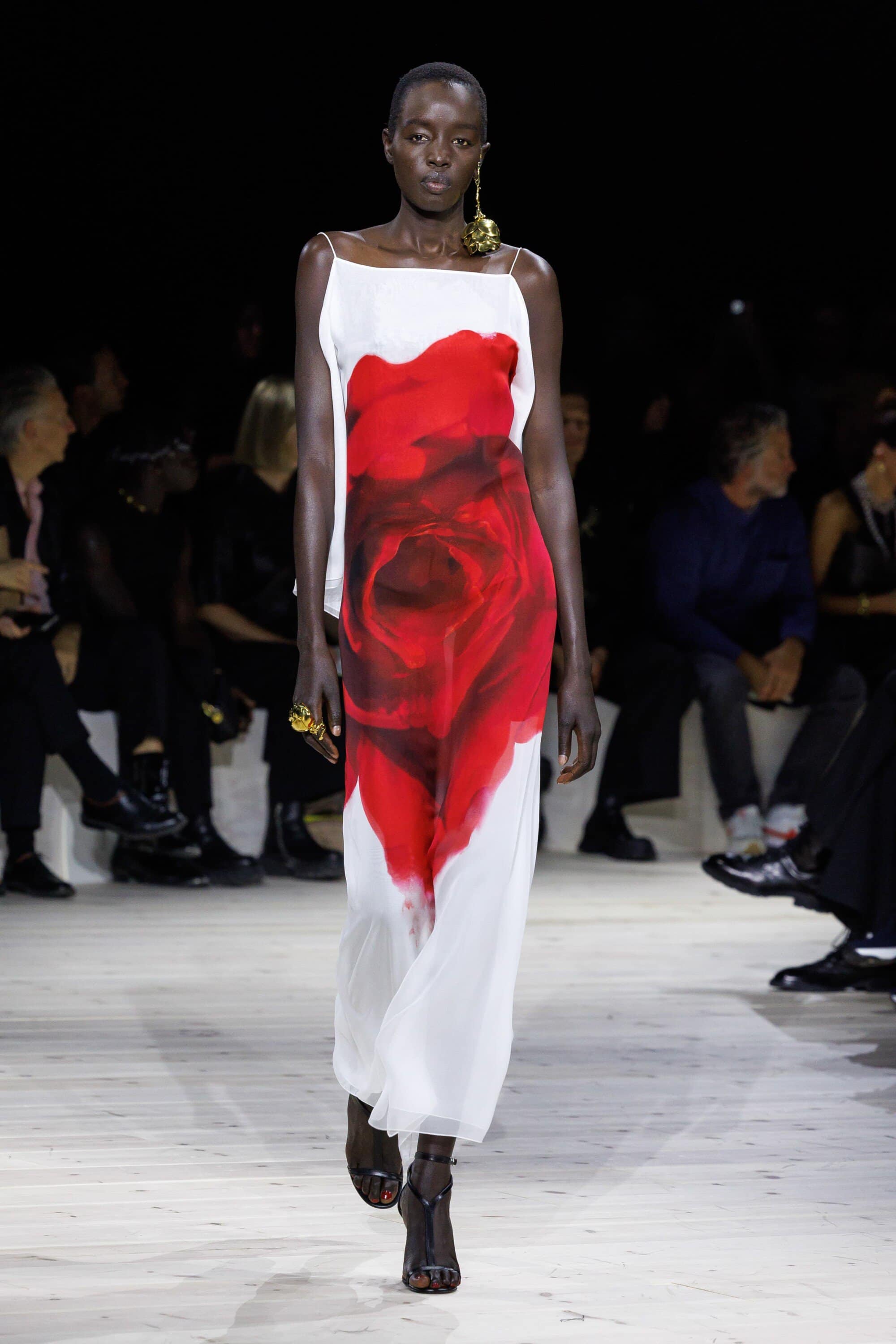 THE SHOWSTOPPER
Look # 45
Worn by Naomi Campbel the silver embellished dress with fringed skirt could have been a metaphorical suit of armour for women to face the world in, as her last act of solidarity for all womankind.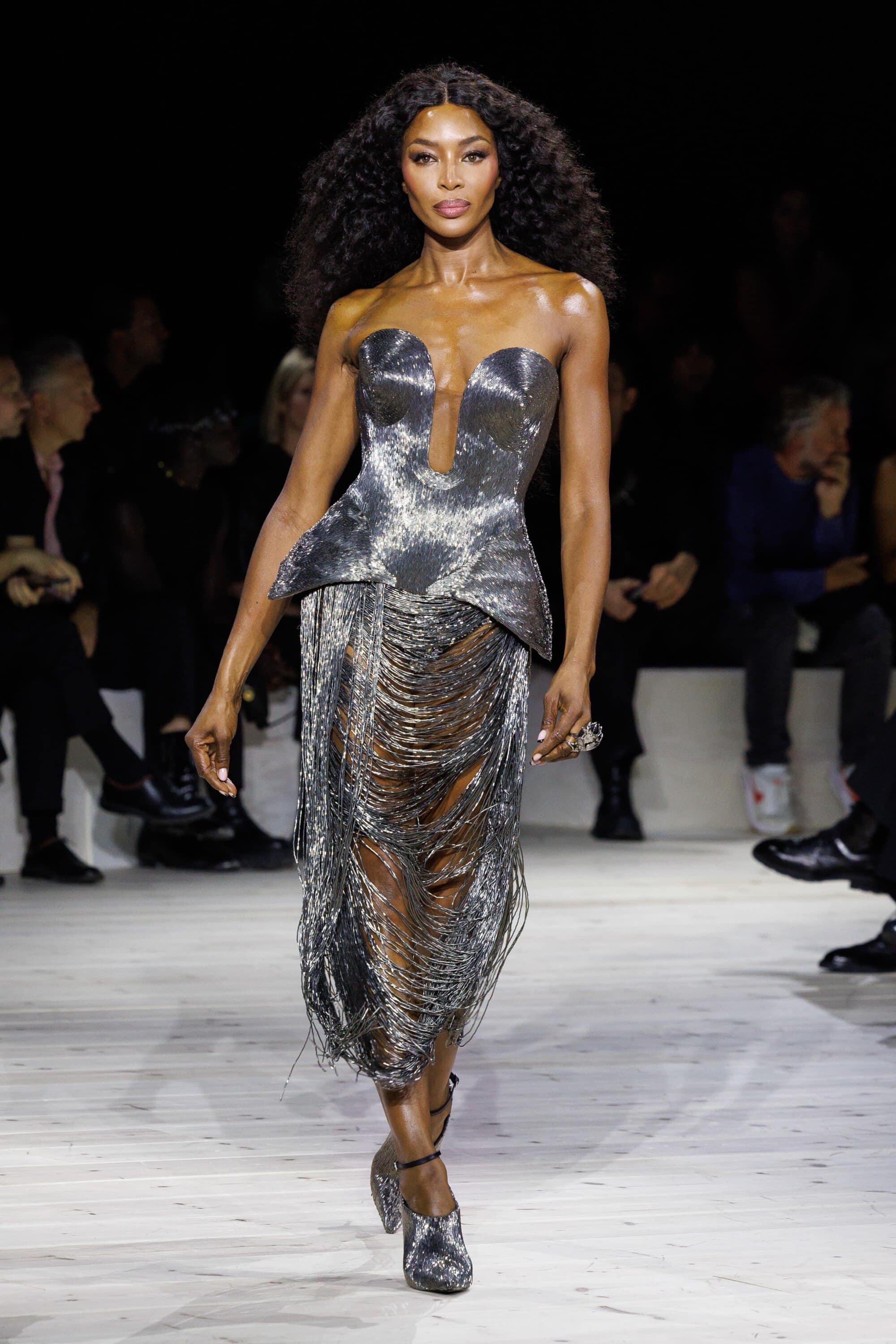 THE DIRECTION
prOS
A swansong of Burton's greatest hits for McQueen demonstrates her dedication and respect for the house she inherited and made her own.
CONS
The industry loses another female lead as the head of a design house at the luxury level.
THE QUOTE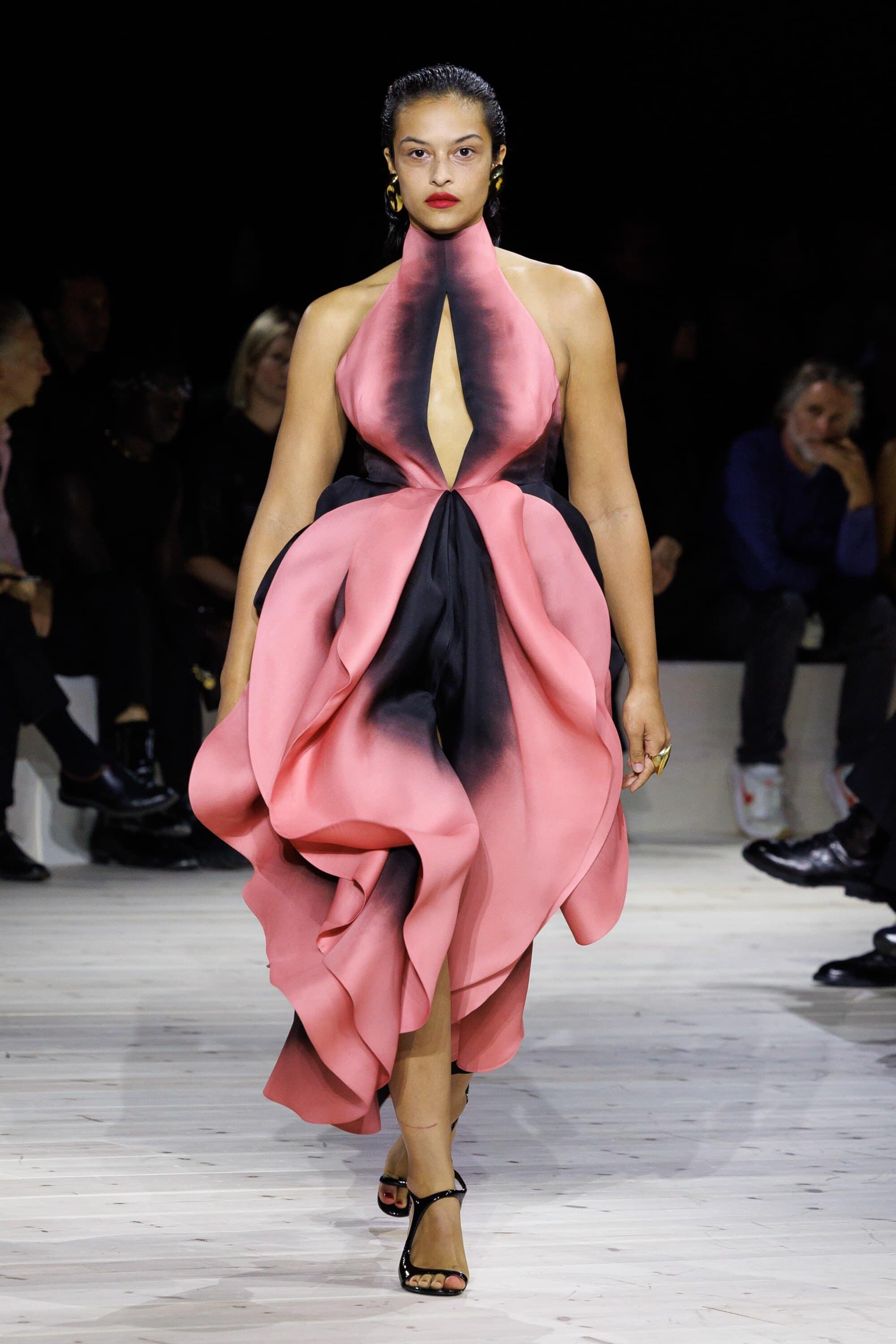 The collection is inspired by female anatomy. Queen Elizabeth I, the blood red rose and Magdalena Abakanowicz, a transgressive and powerfully creative artist who refused ever to compromise her vision. The Show is dedicated to the memory of Lee Alexander McQueen, whose wish was always to empower women, and to the passion, talent, and loyalty of my team"

– Sarah Burton, creative director, Alexander McQueen
THE WRAP UP
Joining the brand in 1997, Burton bows out after celebrating just over 25 years, a literal lifetime in fashion industry terms. Her seasonal subject matter may have been lighter than her friend and founder (one of McQueen's collections was infamously titled 'Highland Rape'), they were no less meaningful and impactful. What Burton brought to the table was an innate understanding of how to harness womanhood and honour craft. Never one to covet the limelight her strong, intelligent collections always spoke for themselves, evolving the brand while always remaining connected to the present. And for today that meant a final collection which signalled hope.
Highlighting the power of love as a reason to persevere even through the darkest of times (relevant both then and now) by amplifying the symbol of the Rose, as well as female anatomy – the original life-giving source – Burton's final message to the fashion world (and world at large) was one of hope and life, and that both can and will go on.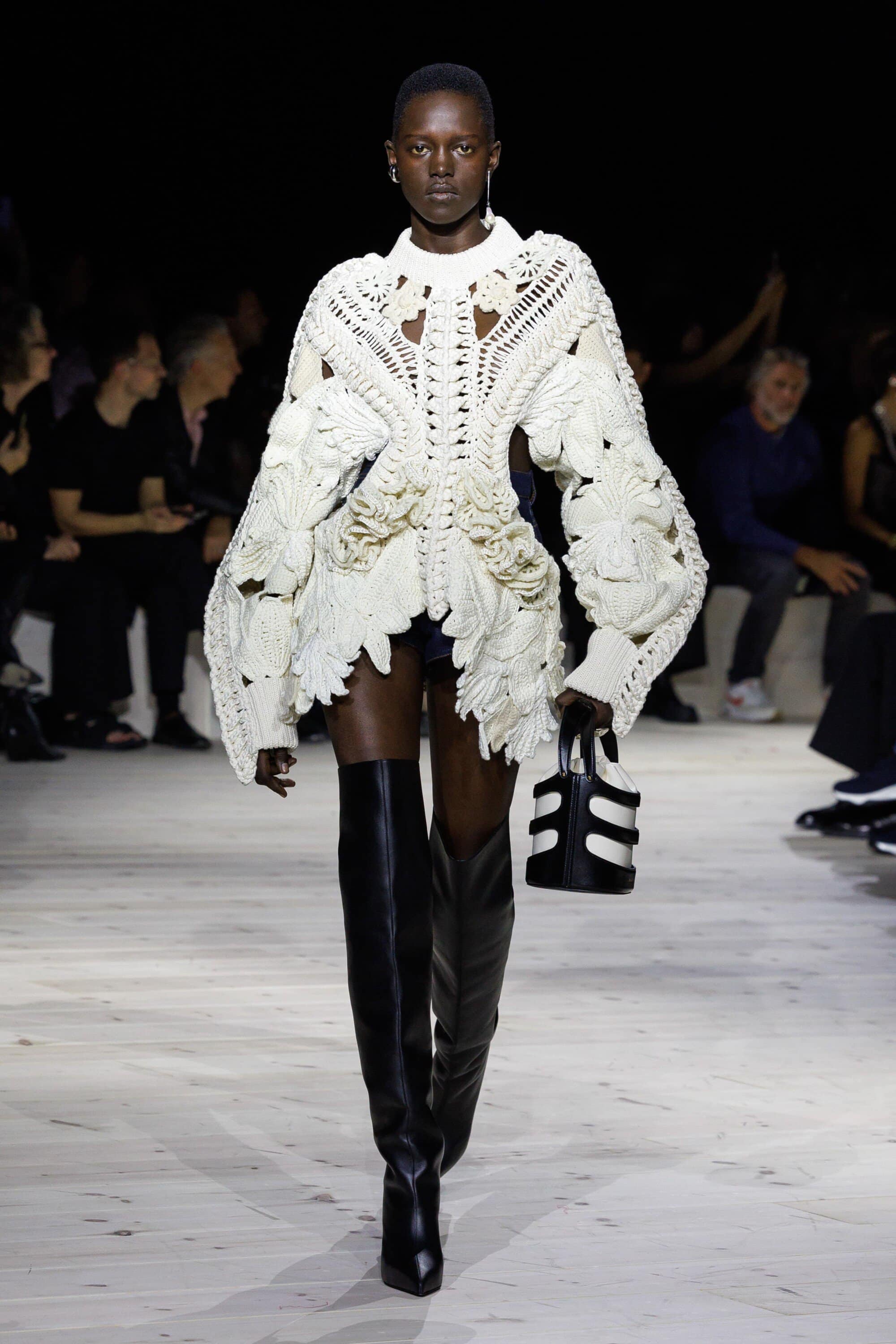 ---